Images: Zachary Tang.
This is the first in a series of stories told to us by Singaporeans from varying walks of life. The process was simple: meet someone on the street and spend time with them talking about life. Singaporeans often think other Singaporeans are boring, but everyone has a story to tell. Sometimes, you just have to ask.
Uncle Lee, 82. In front of the NTUC on Bedok North Street 1. 10:06 AM.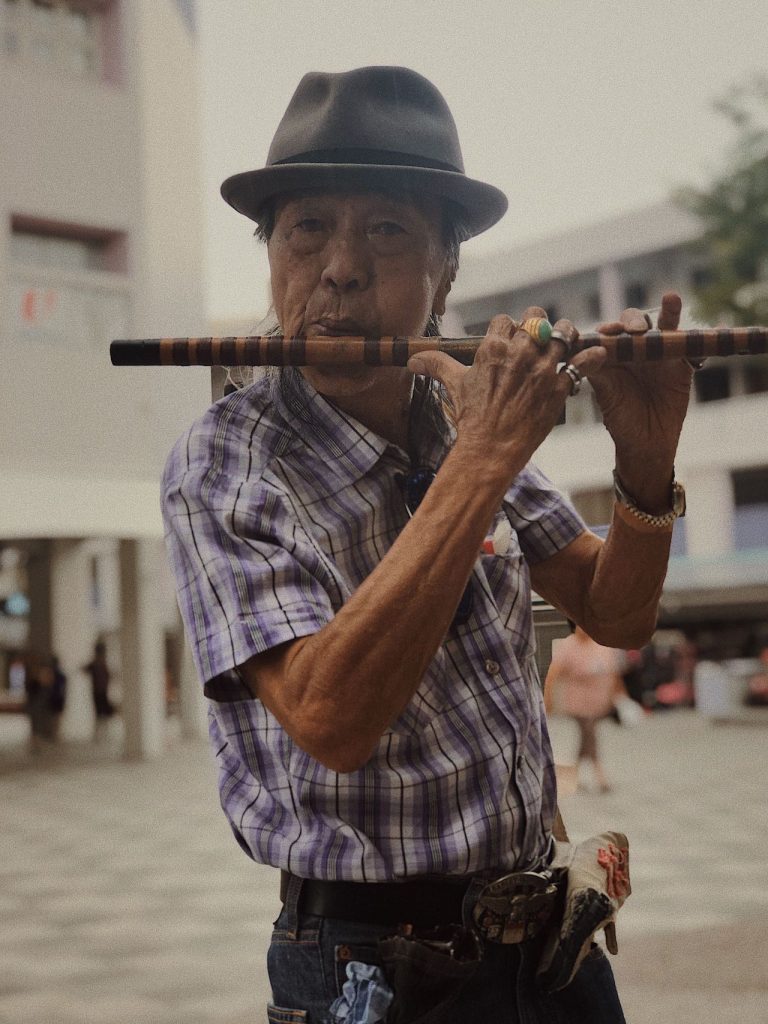 I've been a musician for over 60 years. I'm not a busker though. I don't accept money from strangers. Playing music just brings me joy. I used to play a lot for my wife whenever we went out together but she sadly passed away a few months ago.
We first met as teenagers, when we were about 16 to 18. Back then, we all used to live in a village in Geylang and she was the poorest one of the lot! Everyone was trying to woo all the richer girls but I only went after my wife. There was just something special about her.
Her family was from Batu Pahat in Malaysia. She had come here with her father and brothers to earn money so that they can send their younger brother to study and become a teacher or principal of a school back home.
Her father didn't like me. I was considered a shao ye (young master) and my family was more well-to-do. I didn't need to work. I just went swimming a lot, did a little gardening, had picnics, and made music with my friends. This made her father very worried. He was afraid of the tough life his daughter would have if she married me. He was so worried he even brought her back to Malaysia!
But I wasn't going to let her go just like that. To help convince her father, I went to find work and got a job in a factory. I built houses later on too. Manual labour, that kind of stuff. So after I learnt how to work, I managed to woo her back and eventually married her. Unfortunately, we ran into other problems when she moved in. 
Because my wife could sew and knew how to do a lot of things, my dad was very happy and doted on her a lot. I mean, his own sons couldn't do anything! We all had rather poor memories so we couldn't study well. I didn't even know how to read English. I stopped schooling at primary 2.
So yeah, there was a lot of tension because the rest of my family got jealous of the attention she was receiving. It got to the point where my wife and I decided to just run away and make it on our own. We left empty-handed.
Life then was really tough. My wife got a job as a seamstress while I found work playing the trumpet and piano in nightclubs. I remember one of them was on Clifford Pier. I guess it was a good thing I learnt how to play music when I was younger! Oh, in the olden days, my wife's work didn't just end at sewing. We still had to bring the goods to the customers via bicycle. Almost every day after my work in the nightclub ended, I would accompany her and we'd deliver all the goods together.
She really helped so much in earning money and looking after the children and grandchildren. They're all grown up and working now. I don't really know what they do, to be honest; I don't ask in detail because I probably wouldn't understand anyway. Some high-level job can already!
My children are very filial. They always try to give me money but I refuse. I'm still a man and should be responsible for my own spending and expenses, right?  But I do tell them I'm happy for the thought. I'm living alone now. My son and grandchildren wanted to move in but again, I refused. I want to be independent. I can still walk and am healthy—I don't even have high blood pressure! I just don't want to be a burden to them. I want them to get used to the idea that they can visit me for a meal, chat for a few hours, but still be comfortable enough to leave when they need to. They're not allowed to stay with me.
You know, outsiders all tend to laugh at me, saying that they take the money from their children and enjoy travelling around. I guess it's just strange to them that I'm not like that and refuse to accept money for playing my flute. 
I start playing in public only 5 years ago. I would push my wife out on her wheelchair and we'd go to places like Chinatown, Golden Mile or other places, just to see the sights. Since she enjoyed listening to my music and I like performing, I decided to spread the joy to other people. 
My wife was in a wheelchair because she kept falling down. It started last time when she was busy cooking for my kids and grandchildren. Somehow, she got weaker and weaker, falling often. Of course, I told her not to cook daily but she didn't listen. In fact, she got so upset with me telling her that one day, she hit the wok and shouted that she likes to cook for her children and grandchildren. She told me it was her joy and happiness to be able to do so and that all these falls are her own problem to deal with. She was very adamant. I knew I couldn't win and eventually just gave in.
In 2000, I found out that the reason for my wife's falls was because she had Parkinson's. She still insisted on being independent but I made it a point to be with her when she wants to go shopping or buy things. We would still go line dancing too. Gradually, her ability to walk deteriorated and around 2014 she had to use a wheelchair to get around. That's when I brought her out. Then a few months ago, yeah.
Nowadays, when people see me around at the market area, they would ask why I'm lazy and not bringing my wife out anymore. I tell them that she's gone to "find her parents" up there already.
I miss her. It has been very difficult for me after she left …
[Starts to cry.] 
Let's not talk about it anymore.
Have something to say about this story? Tell us at community@ricemedia.co