Cover image by Singapore Art Museum.
As a circus performer, 24-year-old Jonathan comes face to face with risk on a daily basis. In striving to perfect stunts like fire spinning and aerial performances, he has realized two things about life: one can never block out uncertainty, and it actually
is
possible to even appreciate life's ambiguity.
These days, Jonathan adopts what he calls a "philosophical" view of life. To him, challenges and risks exist to show him that the path to growth is through accepting that nothing in life can be set in stone. It was the attitude he adopted as 2020 drew to a close, and as he enters a new year where unpredictability will continue to define many of his experiences.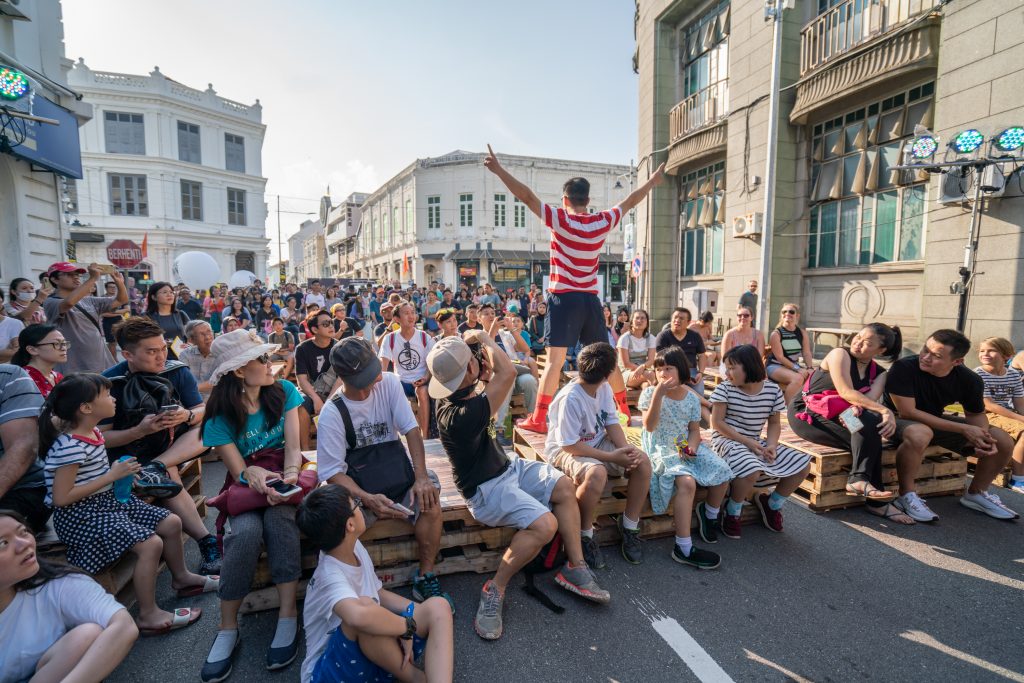 Taking risks is not about acting rashly, but getting comfortable with life's arbitrary nature 
Coming from a difficult family background, Jonathan had always been exposed to the fact that life doesn't go the way you expect. This was especially stark when experiencing his parents' divorce. 
He also hadn't expected that his life would take a complete turn as a result of an innocent weekend trip to Sentosa. 
"I got sent over to Sentosa to send parcels to my sister. That's when I stumbled onto this group of performers," recalls Jonathan. 
Intrigued by the different performing acts he saw, he soon became a regular visitor at these shows, going there every Sunday to catch the performances. It was a good distraction at a time when he was frequently playing truant in school, almost falling into bad company at one point. 
The circus performers stopped his unruly activities and encouraged him to try learning their tricks of the trade. 
"They had conditions like to stop mixing with these kinds of people. They kept me out of bad company." 
Over the years, Jonathan mastered a variety of circus acts, ranging from juggling knives and balancing acts to acrobatics and fire stunts. Preparing for his acts included rigorous training, during which physical risks are pretty much a given. He recalls falling from a height of two metres this year while training for a performance at The Esplanade. 
But Jonathan shrugs it all off. To him, the fall had significance beyond the physical injury. Missteps reveal to him his flaws, allowing him the clarity of what to work on. It is all about being unafraid to try, and gaining new experiences. 
"I have insecurities, but another side of me is like, F it la, I'll just do it. It's really just biting the bullet. And I think it takes a lot of courage to do that." 
The work and risk that goes into perfecting stunts make him see that it is normal to experience the frustration of having to get back up and start all over again. Eventually, he realized that it's the risk-taking that allows him to test out different moves—a process that is essential to performers. The more uncertainties he faced, the more Jonathan realized that the circus is full of possibilities, not dangers. This was how it started becoming his life's motto.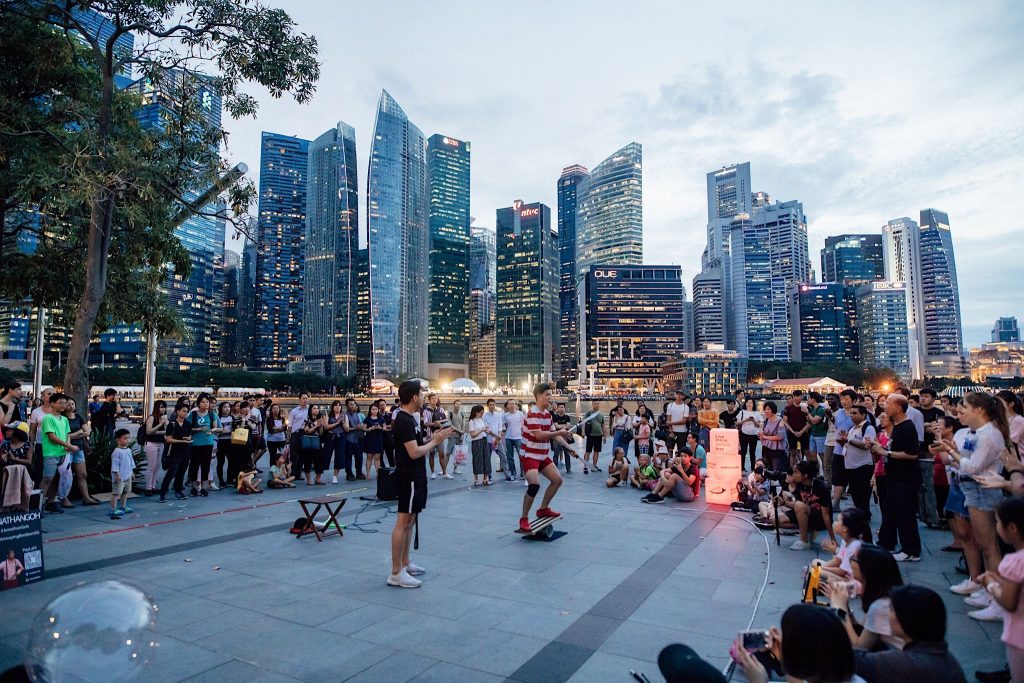 Not too long after, he was adopting the same beginner's spirit in his own life, especially when the pandemic hit and he was forced to pivot to food delivery since live performances came to a halt.
This too was a risk, but Jonathan trusted himself enough to take on something he otherwise would never have done if not for Covid-19. 
"I would say lifestyle changes (have happened) but it's not to the point where I say that oh no, my life is gone forever," he says, pointing out the upside of how the flexibility he had as a circus performer has remained intact in this new gig.  
"People always look at things as high risk, low risk. Mine is calculated risk … so even when Covid hit me, it's a lot of calculated risks. It's what I do (in the) circus la."
Jonathan's eagerness to try new things in life can come as a lesson for us. Rather than worrying about the uncertainties of life, embracing it as normal will let us develop the tenacity to find our footing even when circumstances are not ideal. What brings satisfaction is knowing that you have made the most of your situation, even if life is not very kind.
People are naturally creative and gifted with the ability to deal with uncertainty 
Jonathan did not always consider himself this mature. It was something he needed time to grow into. This is why he understands when people feel lost and fearful of taking risks during this time. 
Looking back on his own journey, he says, "I was very conservative … I didn't want people to judge me. But then I started to open up slowly."
Now, Jonathan embraces adversity, both in work and life: "For me, I'm comfortable in adversity. But for a lot of people, they are comfortable when there is no adversity." 
He explains that the circus is where he has grown up the most. Not only was he exposed to uncertainty, his experiences and interactions illuminated that there was nothing extraordinary about taking a plunge into something out of his comfort zone. He realized that people can thrive in ambiguity, because the circus showed him first-hand how creative people can get when dealing with the unknown. 
These lessons spurred Jonathan to venture into something of his own. With a partner, he set up Annoying Brothers, their own circus duo. Like every other venture, Annoying Brothers was off to a shaky start as they struggled to land gigs. 
"A lot of people were like, who the hell is Annoying Brothers?" Jonathan recalls.
There was no easy way to get their name out there, all while nursing the insecurities that came with going down the untried route. They had to busk on the streets almost every weekend. It was harsh, but definitely rewarding, says Jonathan. It took some out-of-the-box thinking for Annoying Brothers to make a mark in the local performing arts scene. 
"Back in 2015 and 2016, my partner and I were a bit more daring. We went to the Singapore Arts Museum courtyard, and we knew there were no shows there so we set up and started our own show."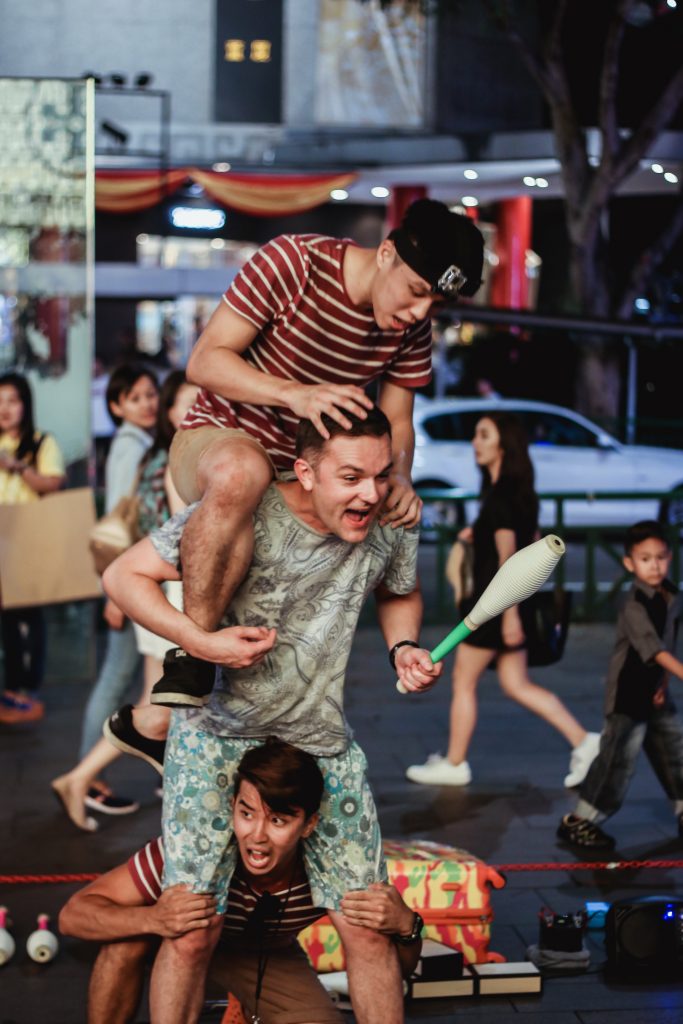 Jonathan sheepishly admits that this is not the most legitimate way to go about performing publicly. But their decision created a breakthrough for them as circus performers. 
"Nobody stopped us … and we only found out years later why," he laughs. 
They were not stopped by the Singapore Art Museum because the program managers saw their potential and the audience they attracted. Their continued faith in their ambitions would eventually lead Annoying Brothers to Asia's Got Talent in 2017. 
In hindsight, it was their readiness to create opportunities for themselves, and the ability to think creatively about their situation that made the difference: "I thought, if we don't get an opportunity, then we will go and knock on opportunity's door." 
Singaporean society is largely predisposed to believing that taking a risk to do something that hasn't been done before is not the wisest choice. Too often, going against social norms in society—rejecting a job that provides a stable income or taking an unconventional approach to life—is met with scorn or distaste. 
Such was Jonathan's experience with people's reactions to his career choice. 
"People will be like, why do you want to do this? Can't you just follow everyone else? (It's) not just about the circus but also in the way I act."
To which he would retort: "Why would I want to follow a rule that doesn't make sense? In Singapore, I notice that we always want to follow and try not to stand out … but when a rule doesn't make sense to me, I will speak up about it." 
Breaking stereotypes, to Jonathan, means choosing to stop living in a bubble. Risk is a self-perceived restriction, not actual hardship. It might be comfortable to live in your own reality, but a life based on assumptions is actually scarier than risking the unknown.     
He points out how it took a whole pandemic for everyone to know that times will always be uncertain, something which he has been trying to explain to those who continue to question his career choice. No one can ever be fully secure in anything, and therein lies the thrill of living. 
"For me, I always sit down and think. If I planned already, even if I'm uncomfortable, I'll just do it. Because my question is whether I will die or not. If you don't, then just do it." 
Risks and precarity can mean different things to different people, but choosing to work on yourself despite the uncertainties makes it possible to look back on life and say: I've made the best use of my situations even if they were imperfect. 
"The rules you set for yourself stop you from doing a lot of things … I used to think that the arts are for rich people, and as a low-income boy, who is uncouth, I too couldn't speak like how I'm speaking now. But through taking risks and questioning, that's how I really grew," he reflects.
Jonathan believes that everyone is more capable than they think they are. His job has taught him that risk-taking opens up our creative potential, and that new, unknown experiences are crucial for growth in life. Thus, he remains optimistic and eager to usher in the new year, even though it would no doubt bring new challenges.
In 2021, improvisation will be key to survival. And in a way, all of us are artists like Jonathan. Having made it through 2020, we are acclimatized to navigating difficult situations. And therefore, as long as we are willing to be creative, it is possible to make something valuable for ourselves even as we continue to face life's uncertainties.