Sunday. 14
th
July, 2013.
As Tong Ah Eating House begins shuttering its pre-war shophouse premises on its last day of operations at Teck Lim Rd, the filmmaker Royston Tan arrives as the final customer leaves. Stepping through the doorway, he is greeted by a cup of coffee, presented to him with the words, "This is the last one. We saved it for you."
It's a film-worthy moment that mirrors much of the tenderness imbued in his work. In a recent short film titled 36 Ways to Say Good Morning, scenes of morning activity play out to a soundtrack of familiar sounds.
The crunch of a knife slicing through two slices of kaya toast. The hard, persistent click of the green man at a traffic light crossing. A baby wailing. The understated terror of the beep as a car drifts through an ERP gantry.
How does one respond to the magic of such ordinary moments?
Do we give in to the nostalgia and weep? Or do we settle back into the cynicism that so often drives us to dismiss the little things we actually really love about Singapore?
Before we get into all that, here's a moment of honesty.
When I ask Royston Tan if there's a film he's made that he wishes had gotten as much attention as 15, he says no, and my heart sinks.
I'm disappointed because a part of me wants him to point to a lesser known film, expressing regret that of course it's the gangster movie that's become the most talked about; not Cut, his politically charged response to censorship in Singapore, or Bunga Sayang, his contribution to the film anthology 7 Letters.
Yet his explanation is simple: "It's a film I can never go back to again."
Hearing this, I recall a scene in 15, where two teenage boys whip out their penises to compare the size of their erections. In another, they are seen crossing laser swords against a fantastical backdrop reminiscent of both early Playstation games and Chinese martial art movies.
I remember how, when I first watched the film, I cared little for the gang fights or the secret society chants. Instead, I was enamoured by how accurately it had captured the experience of youth.
From the endless afternoons filled with boredom, to the aimless drifting around the island, Royston reminds me that this too, is a time I will never be able to go back to.  
No aspirations. No agenda. No anxiety.
"You miss it right?" Royston says emphatically. "But this is what it was really like. Back then, I asked them what they normally did in their free time. Those 5, 6 hours at home, what did they do? And they answered, nothing lor. Just chit chat. But about what? And they just say: don't remember, but it was very nice."
Back then, he tells me, he was able to make 15 despite the 10 year age gap between himself and the actors. And this is something that will never happen again.
"We were very much in tune with each other," he says. "But now, the current 15 year olds, I'll need like 3 years of research before I can do a film on them."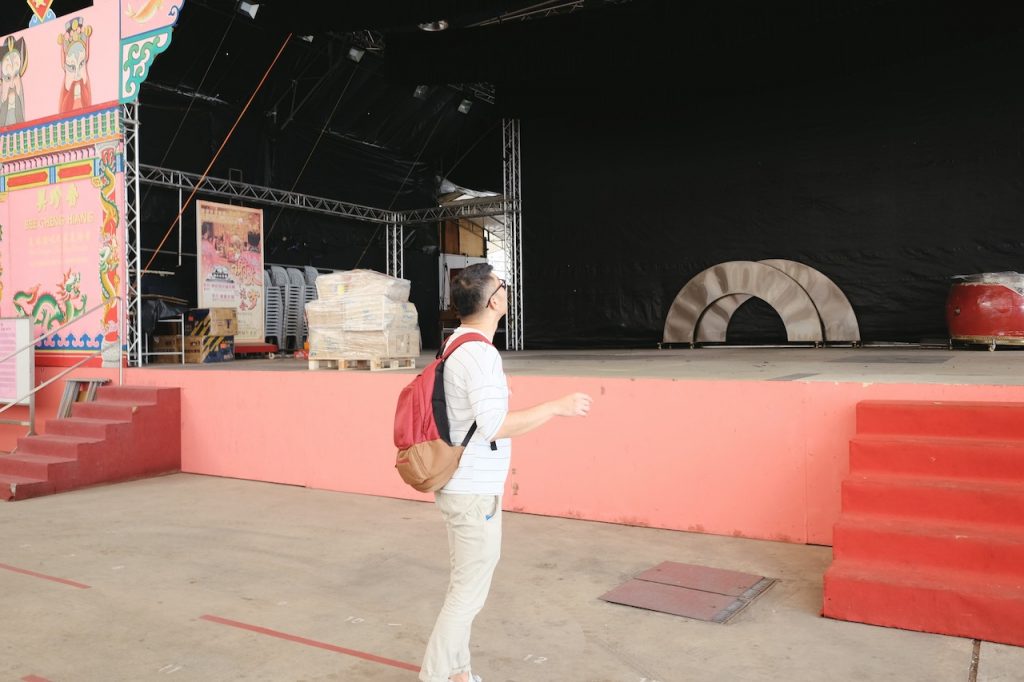 Listening to Royston, it can be a challenge to wrap your head around his obsession with capturing the past.
At the same time, he shares, "I'm actually very scared that I will get dementia. Because I've done too many of these dementia ads and all. So I'm quickly making all these things."
He has recently started forgetting things, often fumbling whenever he's asked to recall something or other. Yet this never happens when it comes to the work he's done.
"If you ask me what year what film, I can tell you exactly what happened. So really, I'm hoping that next time if I get dementia, you just play my film for me, and the memories will all come back."
For someone who doesn't share such morbid projections of their own future, this sounds melodramatic. But for Royston, the act of remembering is central to being alive.
When the old Queenstown theatre was being torn down, he managed, one day, to sneak into the screening hall. There, he was surprised to see that he wasn't the only one who had thought to do this. Dotted about the seats, wrapped up in the privacy of their own imaginary cocoons, were at least ten others.
"We were all like the ghosts of the theatre," he says.
"So if you ask me to imagine the future, I really can't. I think once we lose our memories, we lose everything. You lose a part of yourself, your connection; your Singaporean attachment to the country, all that."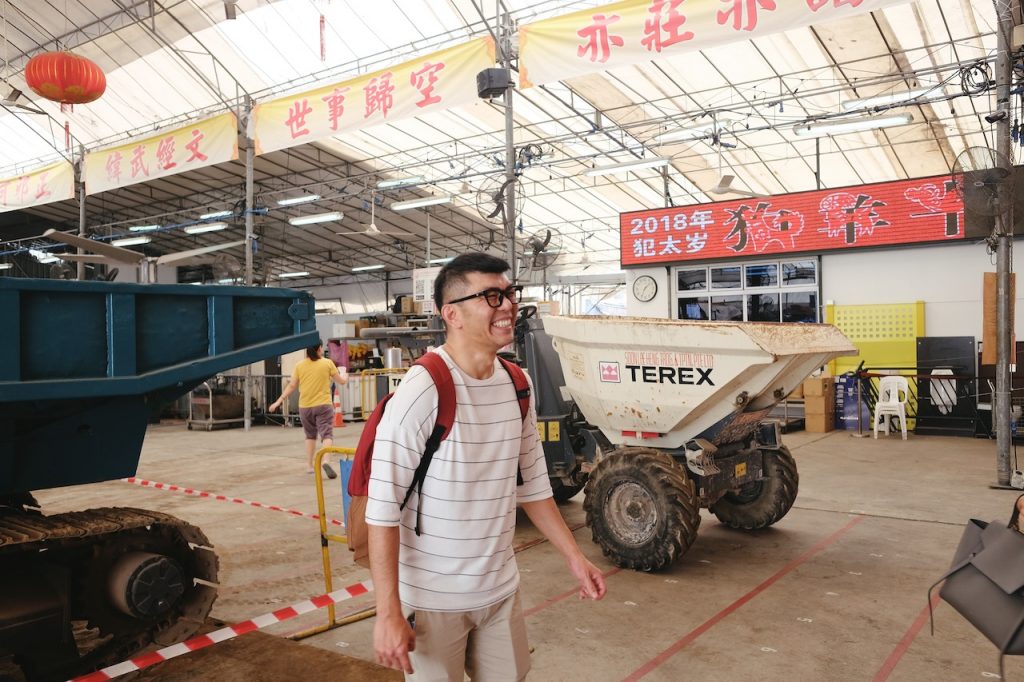 Today, Tong Ah Eating House sits on 35 Keong Saik Road, and Royston still frequents it with regularity. It still hawks the classic breakfast combination of kaya toast with soft boiled eggs and kopi, and the quiet hum of its ceiling fans on a balmy weekday afternoon can still transport you to a slower, less complicated moment in your past.
Outside, cocktail bars and 'modern European' restaurants have taken up residence in traditional shophouses—a microcosm of both creeping gentrification and Singapore's rapidly transforming urban landscape.
It's a reflection of why Royston ended up spending 7 years just documenting all of Singapore.
"This was after 881. After I made the film, I was so exhausted. Really so exhausted, so I wanted to do something meaningful with my life."
He then adds, "It's not just the places that are going to go. It's also the food. Now I know what they call the food court thing—the social enterprise hawker centre, ya—and eventually we'll become a big, mega, central kitchen machine. It's like Singapore, we are living in a Black Mirror society. That's not what I want to see.
"So I wanted to pay tribute to all these hawkers, and without realising it, it took 7 years."
Shortly after this, he shares that story of him visiting Tong Ah on its last day of operations, only to discover that the owners had saved him a last cup of coffee.
"You know, in Chinese this kind of thing is called what, 人情味 (rén qíng wèi). In Hokkien it's even more beautiful; it's like 'bua gam qing'—almost like 'gambling with feelings'. With dialect, you can really say so much by saying so little."
Laughing, he then exclaims, "So this is why I love Chinese opera so much! Because there are all these Hokkien phrases!"
This, I think, brings me a little closer to understanding what we stand to lose when we talk about 'heritage'. 'Heritage' is not something fluffy—the the exclusive domain of culture vultures, art students, and enterprising chefs turning their grandmother's traditional recipes into private dining menus.
It is not about our relationships with the older generations, or the need to hear their stories before they disappear (a sentiment I consider extremely patronising).
Instead, it's about having a language that feels like it belongs to us.
I don't know about everyone else, but as I've gotten older, I've begun to feel less at home in the English language. It's almost as though I need a new kind of syntax and vocabulary that feels … more natural? More ordinary? More sincere? Less imported? Less Westernised?
Therein lies the condition of being Singaporean today. Even as we struggle to figure out who we are—beyond Singlish, being kiasu, and loving food—the country continues to change. Buildings fall, roads are widened. And in the case of the HDB estate I grew up in, a playground is paved over for a carpark.  
All of this is echoed in Royston's lamentation, "You really cannot love Singapore too much! It just keeps taking bits and bits of your emotions away."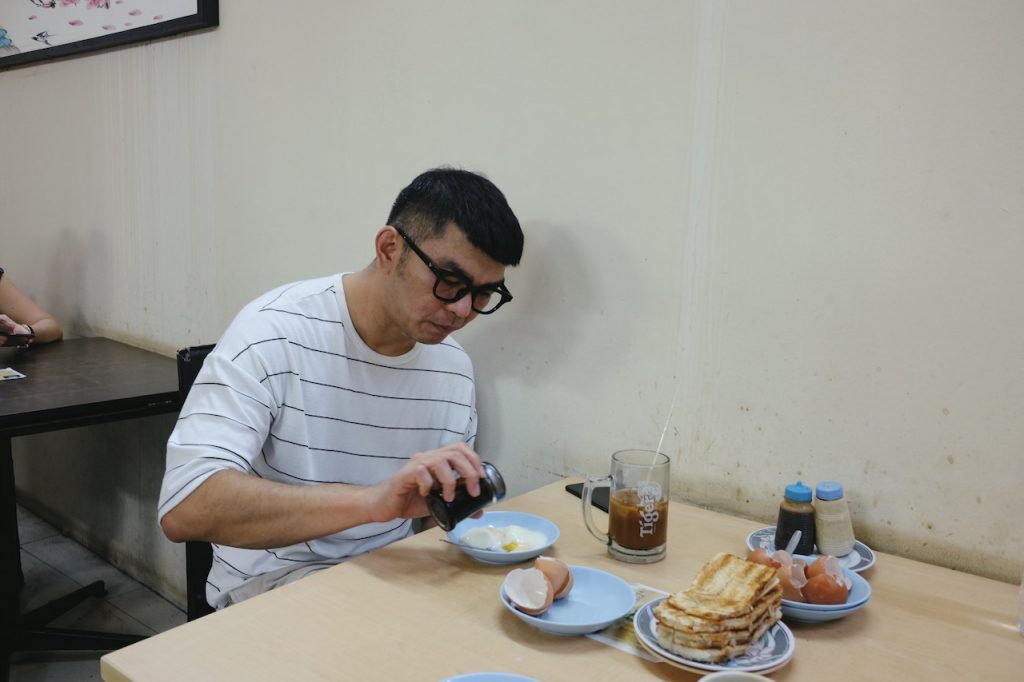 My interview with Royston Tan starts with lunch and coffee at Lim Beng Coffee House, which sits at the mouth of Lorong 16 in Geylang. Later, as we're having an early afternoon beer, he shares a story: "One night, after
15
came out. I got a call. The person on the line just asked, are you the guy that made that movie? I said yes. And the guy said, thank you for telling our story. When I asked who it was, he just hung up."
It's a great story. More importantly, it's a reminder that doing things with meaning beyond the material is both work and risk. And that it never stops because there will always be such stories waiting to be told.
Having turned 40, Royston has grown comfortable with many things. Whether it's content for the government or his own work, he's constantly stretching the limits of his creativity.
But to do this well, one must engage with everyone—even those one disagrees with.
"This is what my father taught me," he says.
"My best friends are prostitutes, but they are also ministers. I don't believe in just talking to common people. And the ministers have generally been receptive. Sometimes I get very upset, the chee bye word all that come out," he laughs.
"But I see this as, I have a chance to communicate with the authorities in a very direct manner."
As we wrap up, Royston shares that at least for his storytelling, he's begun to move away from the past to focus on the present. Because he's already been to all the parts of Singapore that are going to be torn down, and made films about all of them, he doesn't plan to revisit any of them.
"It's actually very painful to say farewell," he says, before adding as a caveat, "But also, every director is always telling the same story. And for me, I'm just actively chasing after time."
Have something to say about this story? Write to us at community@ricemedia.co.