All photography by Thaddeus Loh for Rice Media.
By the time Christina Quah departed from her job as an auditor more than a decade ago, she was already burnt out from juggling the long, unpredictable hours of her job. As much as it was a lucrative career that would have seen her yearly income balloon generously if she carried on, the constant crunch time to meet tight auditing deadlines meant sleeping overnight in the office on the regular.
Was that considered normal for people working in the audit industry? "Define normal," the 48-year-old laughed.
Sleeping in the office lounge, waking up under fluorescent office lights — that lifestyle, as it turned out, wasn't fun. Neither was it a sustainable one after Christina got married and tried to conceive. Facing complications during her pregnancy, she decided to quit her job and focus on her health. With two sons, now 12 and 13, there was no remorse for not missing out on her boys' formative years.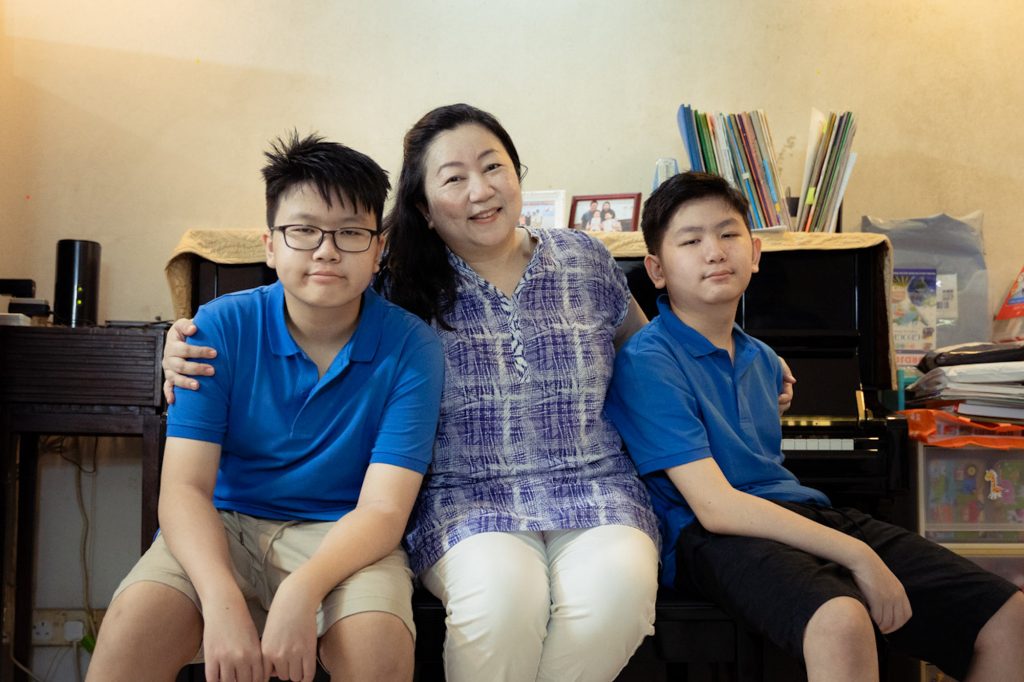 Shortly after becoming a full-time homemaker though, her father-in-law fell ill from diabetes. Her own mother, who resides in Malaysia, was just as medically fragile too — she had to undergo a hysterectomy. Suddenly, being in a single-income household wouldn't be so prudent. Christina and her husband would have to care for two dependent generations.
A Generation Caught in the Middle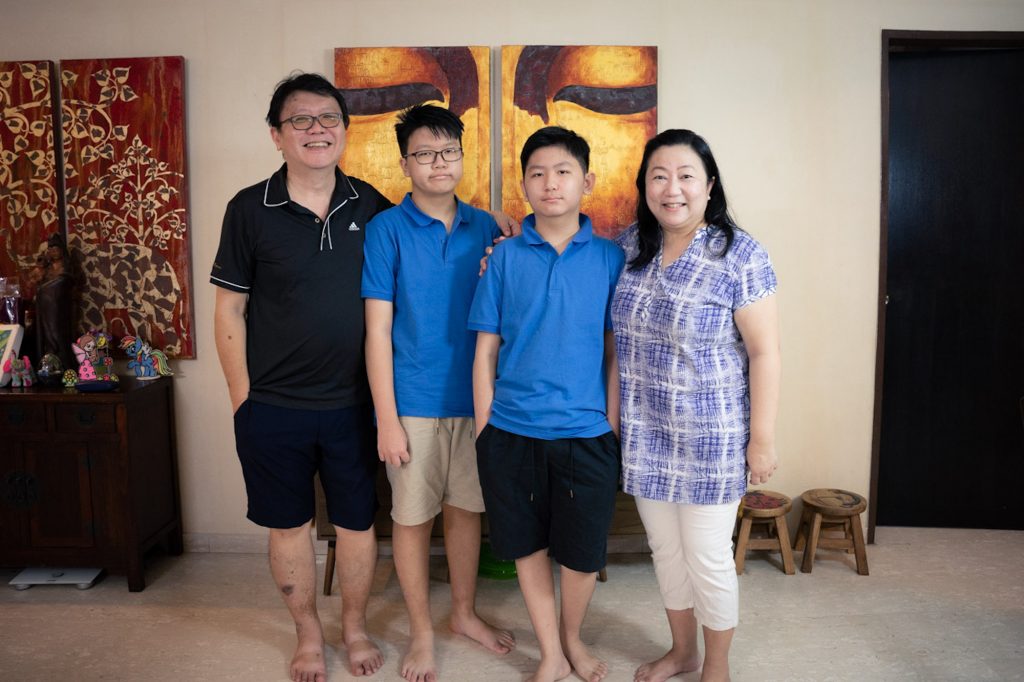 Christina and her husband belong to Singapore's sandwich generation—the group of middle-aged Singaporeans undergoing financial strain to simultaneously support growing children and ageing parents. The physical and emotional toll, on the other hand, can be downright taxing.
"I wouldn't lie to you lah, it was stressful," Christina remarked on the tumultuous time when she and her husband had to care for her ailing father-in-law, who has since passed away.
While they were lucky enough to have his medical expenses subsidised under a pension scheme, there was the matter of logistics: the couple lives in the northeast, while Christina's parents-in-law lived out west. Travelling took up a lot of their time, with constant visits to the National University Hospital and, later on, a rehab centre in Ang Mo Kio where the father-in-law underwent physiotherapy following a leg amputation.
"We were just running around a lot. And at the same time, we were trying not to show the stress on our faces—that we were tired and things like that," she recalled.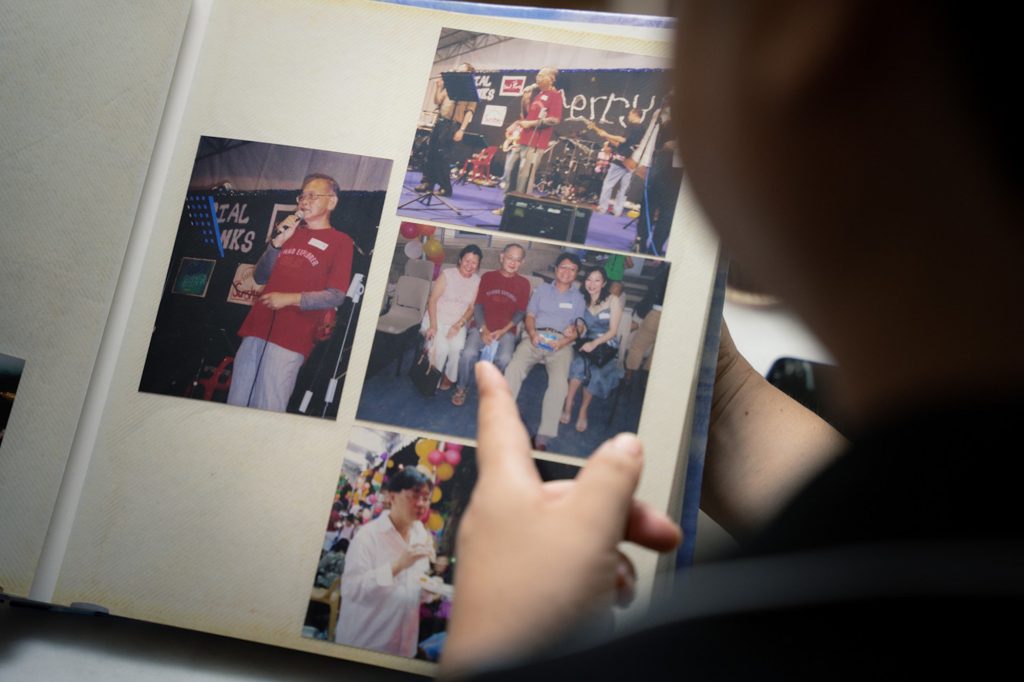 Thousands of Singaporeans like Christina have found themselves inadvertently caught between two sets of dependents, making single-income households almost impractical these days. Back in 2019, a survey by NTUC Income revealed that 94 per cent of parents aged between 35 and 55 already feel the squeeze of having to financially support their growing children and ageing parents.
And by the looks of population trends, the strain will only get worse. Singaporeans are among the world's longest-living people (84.8 years in 2017 compared with 76.1 years in 1990), and by 2040, the average Singaporean lifespan is expected to hit as high as 85.4 years.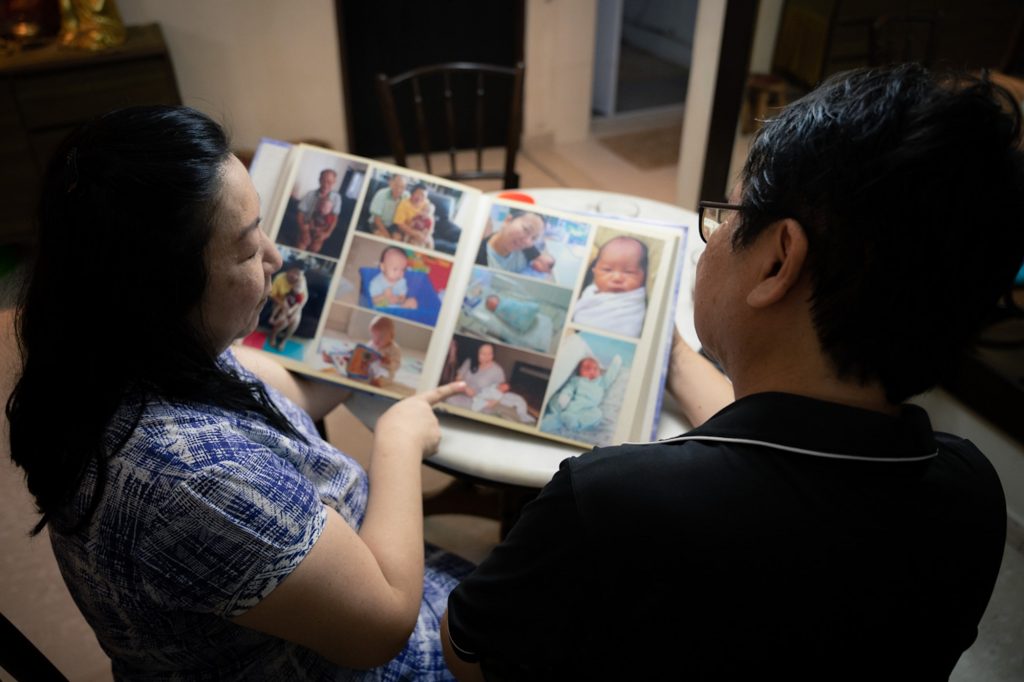 Live longer lives? Sure. But does one really want to, especially if you'll be ridden with health complications?
Harsh, I know, but the quality of life in the latter years inevitably declines when we could be outliving our retirement savings. The potent combination of rising costs of living (who knows what a pack of chicken rice will cost in the distant future) and the constant threat of chronic illnesses (or future global pandemics) would put even heavier burdens on the working population to care for the elderly.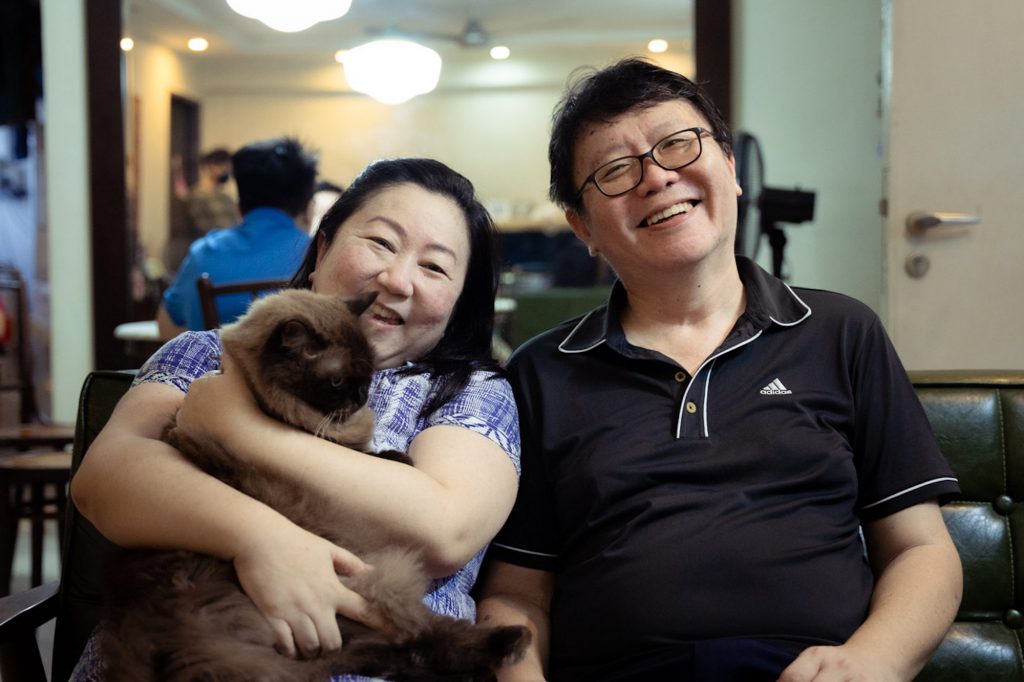 As far as Singapore's readiness for an ageing population goes, the government has been prepping for the upcoming paradigm shift since the 1980s. The youth of the nation, on the other hand, are coming to terms with the fact that they would have to finance—fully or partly—their parents' retirement. They're even foreseeing having to downgrade their lifestyles, have fewer children or even none at all to relieve the future pressures of supporting two sets of dependents.
Such is filial piety among Asian families. And the actual law that requires Singaporeans to financially support their parents.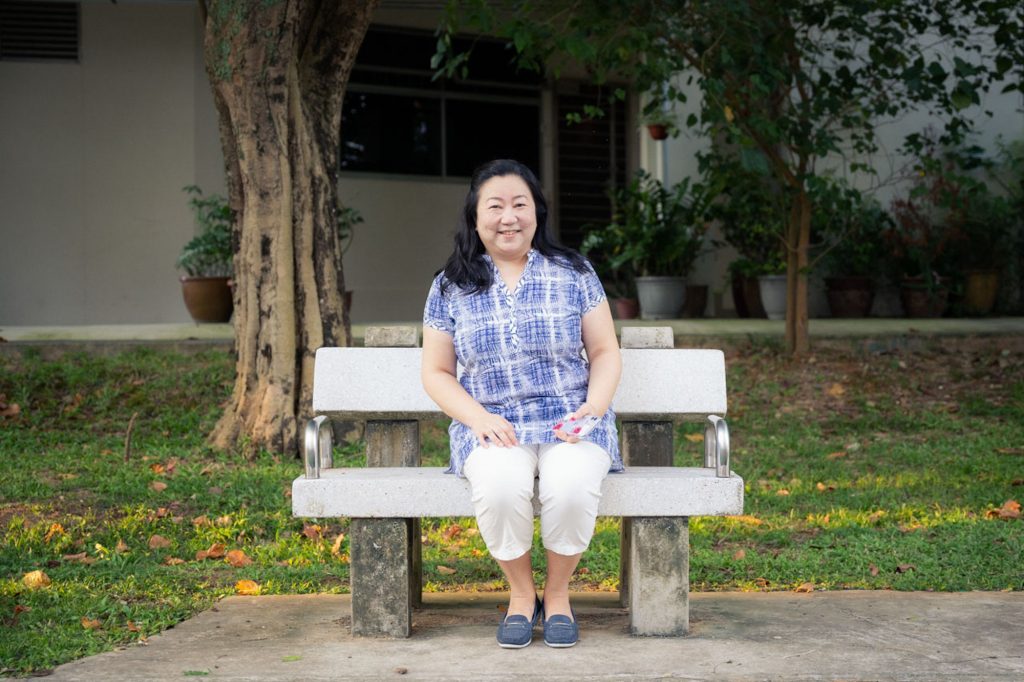 For Christina these days, the pressures of supporting her family aren't as tough as it was before. Her father-in-law passed in 2016; her own father passed recently; her kids are getting more independent and can take care of themselves without her around the house.
For many others, however, the role of caregiving duties still weighs heavily on them, especially so for those with parents who can't carry out activities of daily living (ADL) independently. The children of these seniors would have to play vital roles when their parents can't function — eat, dress, shower and even use the toilet — without assistance.
The conundrum here is they can't be around all the time. The carers would need to work, or even work longer hours, to continue having the resources to support their ageing parents. The implication here? There will be little choice but to get professional help.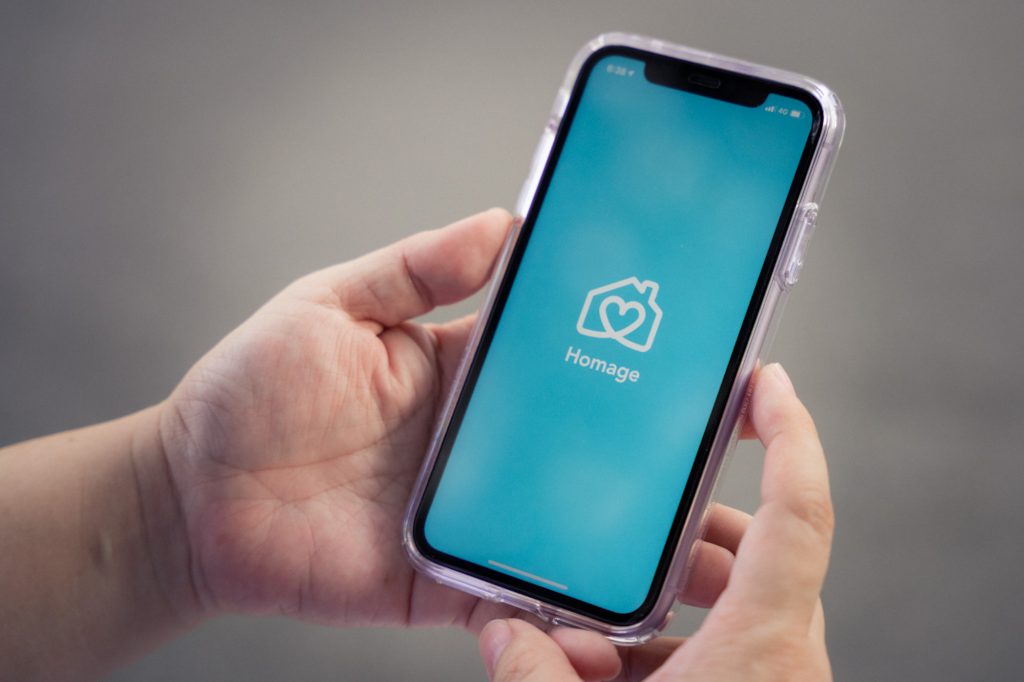 By some cosmic coincidence, Christina joined the very service that would have alleviated her caregiving anxieties when her father-in-law was around. Three years ago, she joined Homage, an online provider of on-demand caregiving services. A Grab for trained care professionals, for lack of a better analogy.
Homage operates primarily through an app, which means getting personal care, nursing services, rehabilitation therapy and medical consultancy are a couple of taps away. Users get to read up about the licensed care professionals — dubbed Homage Care Pros — after they've been assigned according to the needs of the job. Communications can be done in-app, so client and caregiver get to brief one another directly.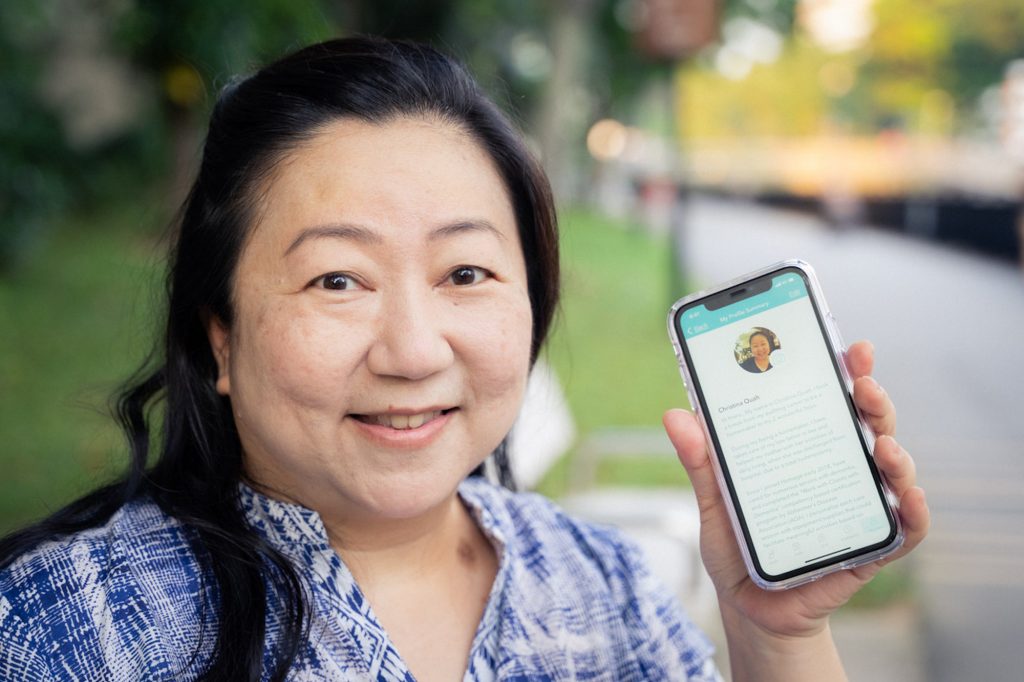 Landing a job as a freelance Homage Care Pro was kismet for Christina. While looking to get back into the workforce as an accountant once again, she came across Homage job ads while browsing online. She thought to herself, might as well try applying.
The response was pretty immediate and she was called down for an interview. Having passed it (unsurprising, considering Christina's infectiously bubbly demeanour) she quickly underwent the onboarding process, getting trained in various home nursing skills like proper bathing techniques, physical therapy and first aid. She remembers the up-skilling opportunities as well, such as attending a dementia caregiver training course through a collaboration between Homage and the Alzheimer's Disease Association.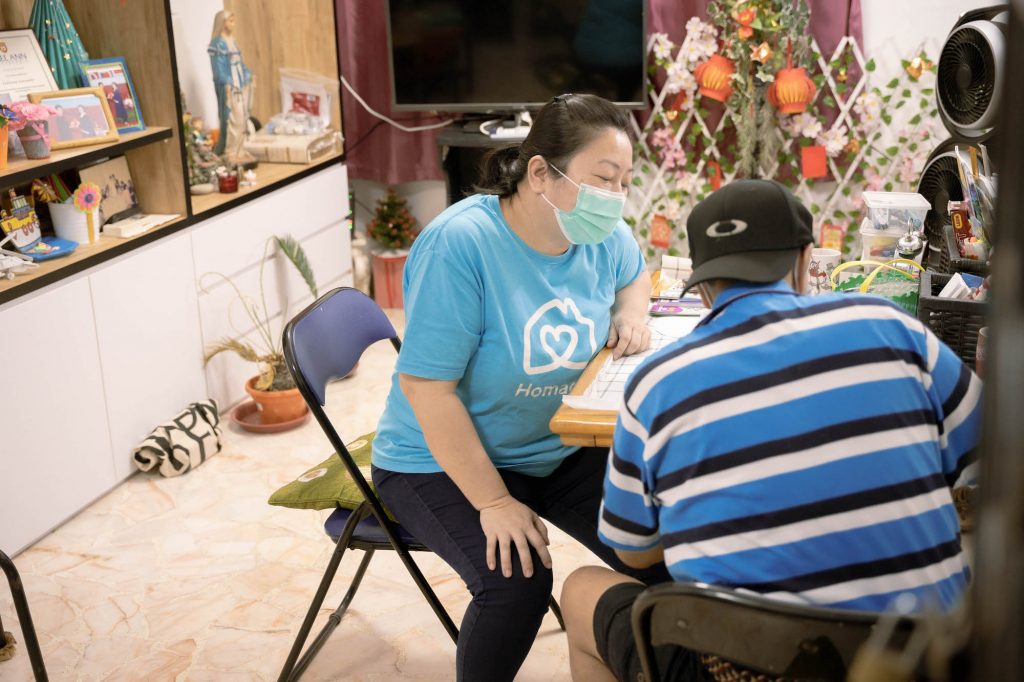 It was a hard pivot from her number-crunching days in the finance industry, but she enjoys the process. It was a reminder of her time as a Junior Red Crescent in her secondary school days in Malaysia.
"Meeting other caregivers, learning how to take care of seniors and people in need… you find that it's quite meaningful. I fell in love with the job lah, I'd say."
Of course, as a caregiver, she would need great interpersonal skills as well, like empathy, patience and positivity — all of which Christina had truckloads of, based on our conversations. They proved to be pretty useful in the first-ever case assigned to her.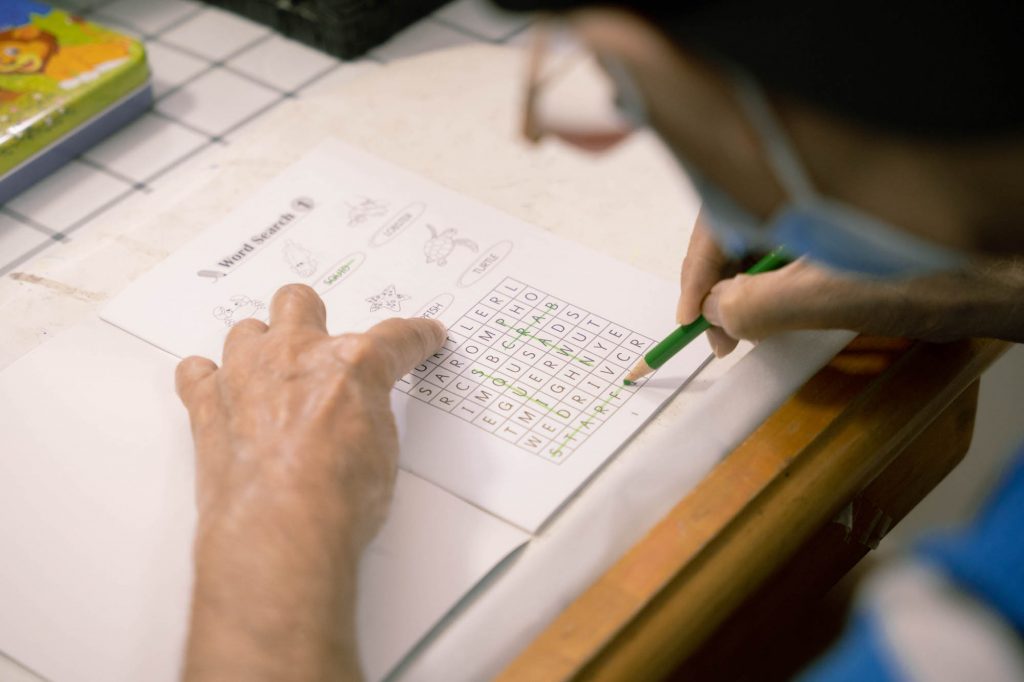 "This Ah Ma had just come out from the hospital after a fractured collarbone and was staying with her son. The son felt shy about bathing his mother, so he engaged Homage. I was pretty nervous, you know, first time on the job. But it turned out well—we chatted, we laughed, we sang. We spent so long in the bathroom until the son had to knock on the door and ask why we were taking so long!"
The Ah Ma enjoyed her company so much that her services were booked on the regular. As I learned from Homage, the Ah Ma wasn't the only one—Christina soon became one of the more hotly demanded Care Pros. Not only was she fulfilling the caregiving roles that the patients' children would not be able to; she was also improving the mental wellbeing and happiness of the seniors.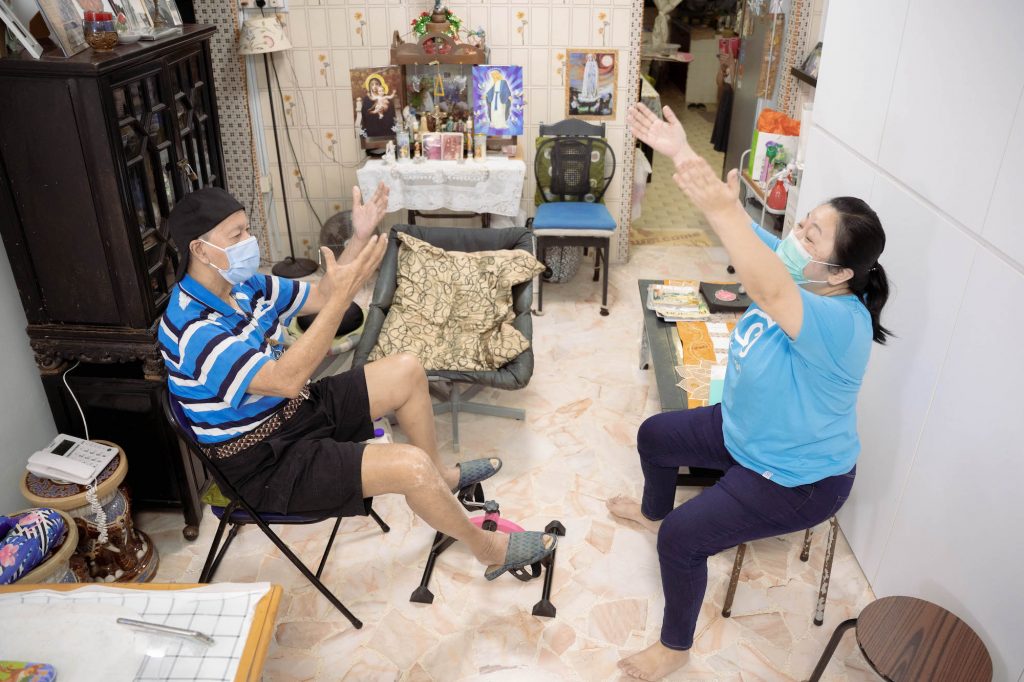 She does downplay her popularity, pointing out that her fellow Homage caregivers (who do their jobs in full-time capacities) are just as commendable. The network she forms with her colleagues is important, she says, as they exchange notes and discuss the best techniques to care for challenging medical conditions, like clients with chronic itching or how to handle dementia-driven meltdowns.
Reflecting on the abrupt switch in career, Christina realises that the job she once stumbled on has been a calling after all.
"After I took on my first case, I liked it instantly. It was a very heartwarming experience for me."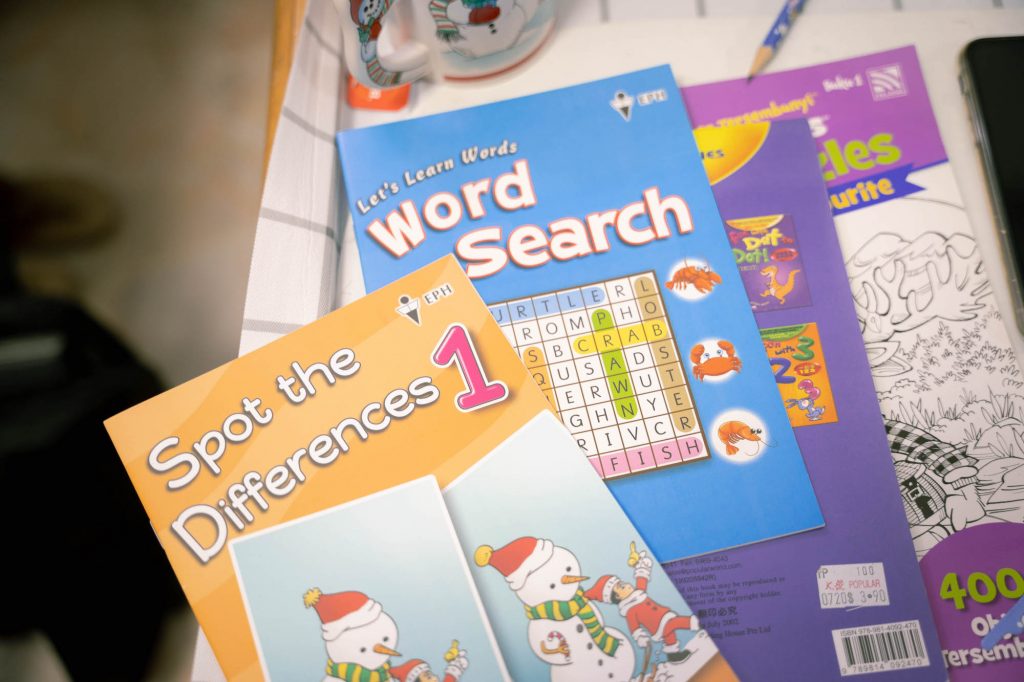 The fulfilment on Christina's end is palpable—she constantly finds joy and warmth when she makes care recipients smile.
The passion shines through the care she tailors specifically for each client. In the case of Uncle George, who is illiterate, she assessed his strengths and weaknesses to customise his activities accordingly. Sessions would involve arts and crafts and running through simple workbooks together on top of more unorthodox undertakings, like singing karaoke while guiding him through light physical exercises.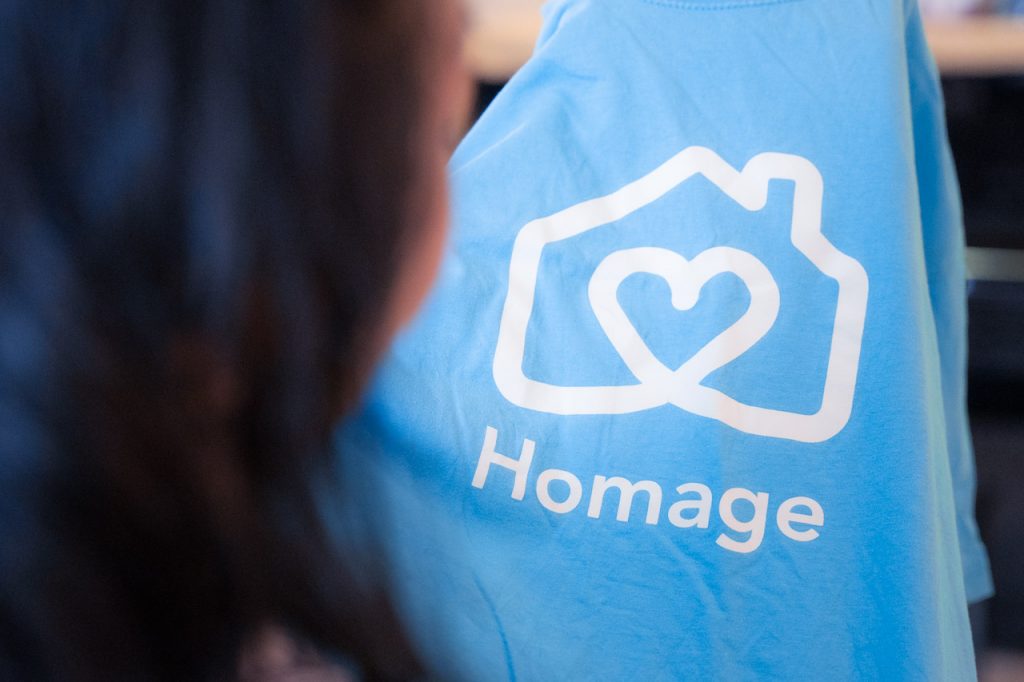 Christina feels accomplished when speaking to their family members after each care session too, informing them of what she observed, the progress made that day and suggestions on what they can do next.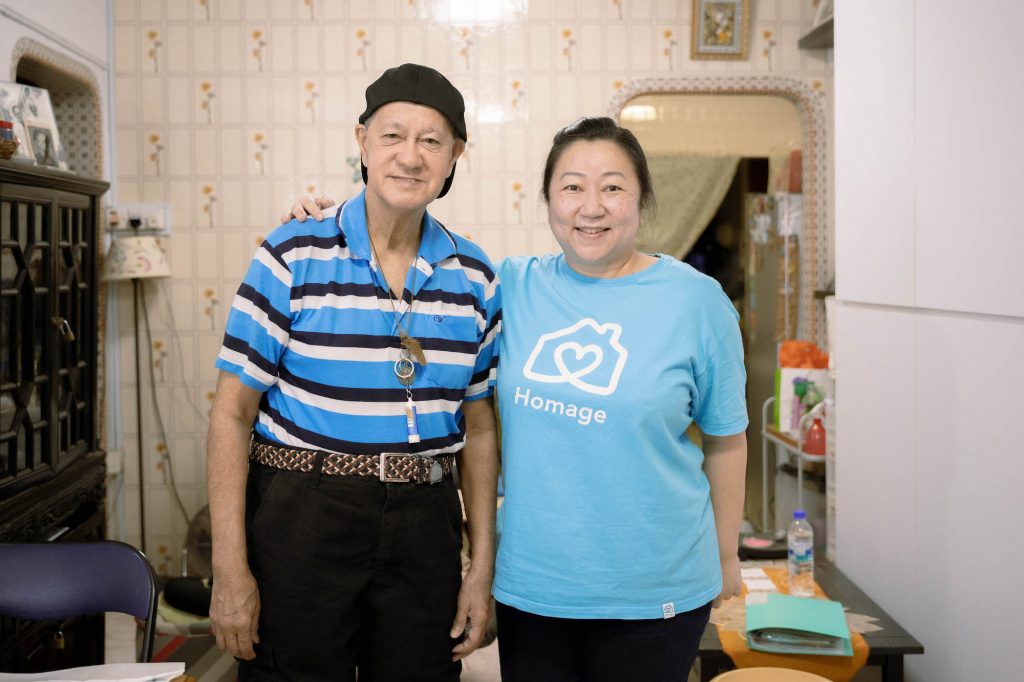 It's this kind of care for ageing parents that Christina and her spouse would have appreciated during their hectic caretaking years. Being in the sandwich generation herself, the struggles of other Singaporeans in that position are more than familiar. Now, as a caregiver herself, she's relieving the pressures of families who might have it harder than she ever did.
"All I can say to them is 'Hang in there, you're doing a good job!'" Christina enthused. "I know that sometimes they need to take a break, so just take a break."
"If they need to focus on work or maybe want some variety of activities to engage their loved ones … sometimes they could be facing personal difficulties or they need some respite care… that's where we come in!"
This story is published in partnership with Homage.
If you need quality home care or if you're inspired to make a difference like Christina, visit Homage.sg to find out more and download the mobile app.
Feeling the squeeze of being in the sandwich generation? Tell us more via community@ricemedia.co.