Flight attendants, or cabin crew, have always been something of a curiosity for the flying public. What kind of secret lives do they lead? Is their jet-setting career really as glamorous as it looks? 
Like the Mona Lisa, we wonder who this person really is behind their uniform and professional smile.
At Scoot, a crew member's cheerful demeanour is a testament to their excellent training. Yet conversely, this creates a distance that makes it harder for us to see them as human beings. We often forget that these are working people just like us, who have both good and bad days on the job. They, too, have to adapt and adjust to the new Covid-19 normal. 
Take Cherene, for example, a Scoot Crew-in-Charge and Team Leader who is responsible for the safety and well-being of 50 cabin crew members under her care. While the rest of Singapore has been under a two-month circuit breaker, Cherene has been flying Scoot's essential routes, which have been operating on a limited basis. 
Looking forward to this summer, travel routes will gradually open up. Talks are ongoing about establishing 'green routes' from Singapore to places like Australia and South Korea. Recently, Singapore launched a 'fast lane' with China for essential travel. This will only heighten passenger concerns about whether it's safe enough to board a flight. 
Luckily, Cherene was happy to talk about her flying experience during Covid-19, as well as provide updates on the enhanced precautions rolled out by Scoot. 
Below is a lightly edited account in her own words:
---

The New Normal of Air Travel, According to a Scoot Cabin Crew Member
Unlike most Singaporeans, I've been flying regularly during the circuit breaker period. Over the past few months, I've done a number of flights to Perth, Australia. Yesterday I just completed a flight to and from Hong Kong. I feel lucky that I still get to do a job that I love. Flying is such a big part of my life that I can't imagine going without it. 
Obviously, my mother still worries about me. Even though during this time, we only fly turnarounds, which means every day I get to come home to my family without having to spend the night at the destination. 
My parents have a routine of waiting for me to return home after my flights, even if it's 1am or 3am, so that they can see that I am home safe and sound. My mother is 75 and my father is 83. They are getting on in years, and I feel bad that they have to worry this much even though I keep assuring them that I take good care of myself.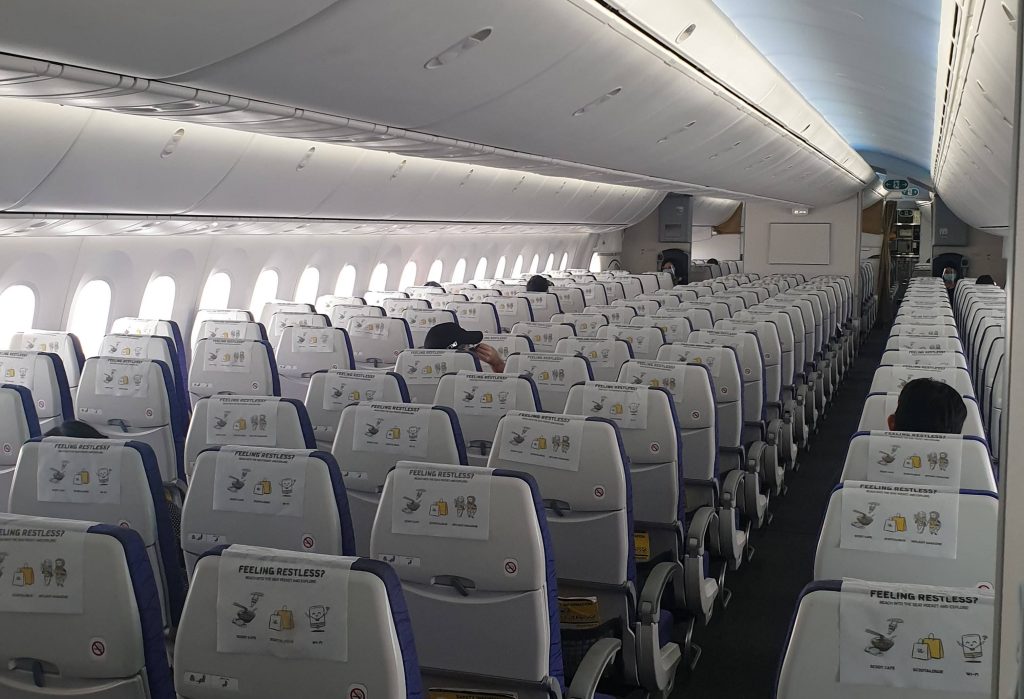 Before this pandemic, one of my favourite parts of my job was watching the excitement of passengers just before takeoff, sitting side-by-side, chatting, anticipating what lies ahead. All the couples, families, and friends going out on new adventures. 
I also miss feeling connected to our passengers. I used to love chatting with them whenever there was time, but now I only engage them on safety issues or to assist passengers with special needs. It's even difficult to exchange smiles when both the crew and passengers are wearing masks (laughs). But masks are required, of course!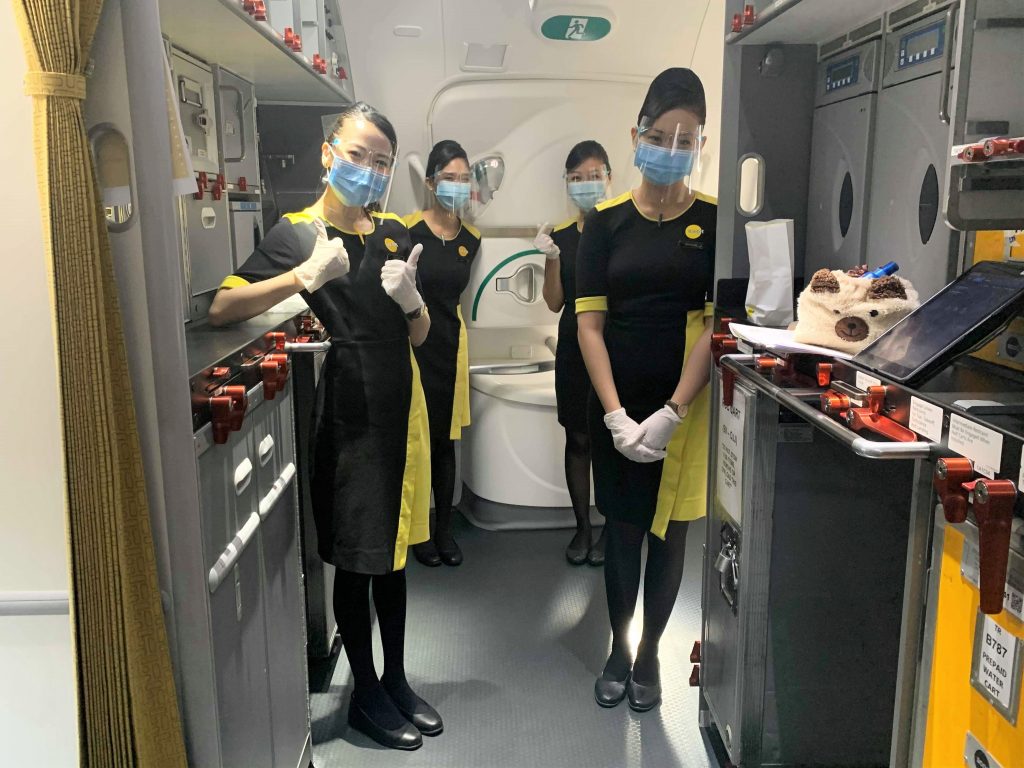 Working and Safety During the Circuit Breaker
For the safety and well-being of our passengers, airline staff and the wider community, there's unprecedented emphasis on precautionary measures across the travel journey, from pre-flight and in-flight to post-flight. Entry restrictions by respective countries and regulatory advice on these measures are also continuously evolving. As a cabin crew on the front-lines, it helps to reassure me that the company has been actively taking measures to keep us safe. 
For example, we are supplied with masks and gloves to wear during the flight, and a gown to wear over our uniform for extra protection when required. Recently, we've been given face shields as extra protection when we take temperatures for passengers. All cabin crew also have to get their temperatures taken twice: when they report to work, and before boarding the flight. Even on our off days, we studiously monitor our health and make sure to see a doctor if we are not feeling well.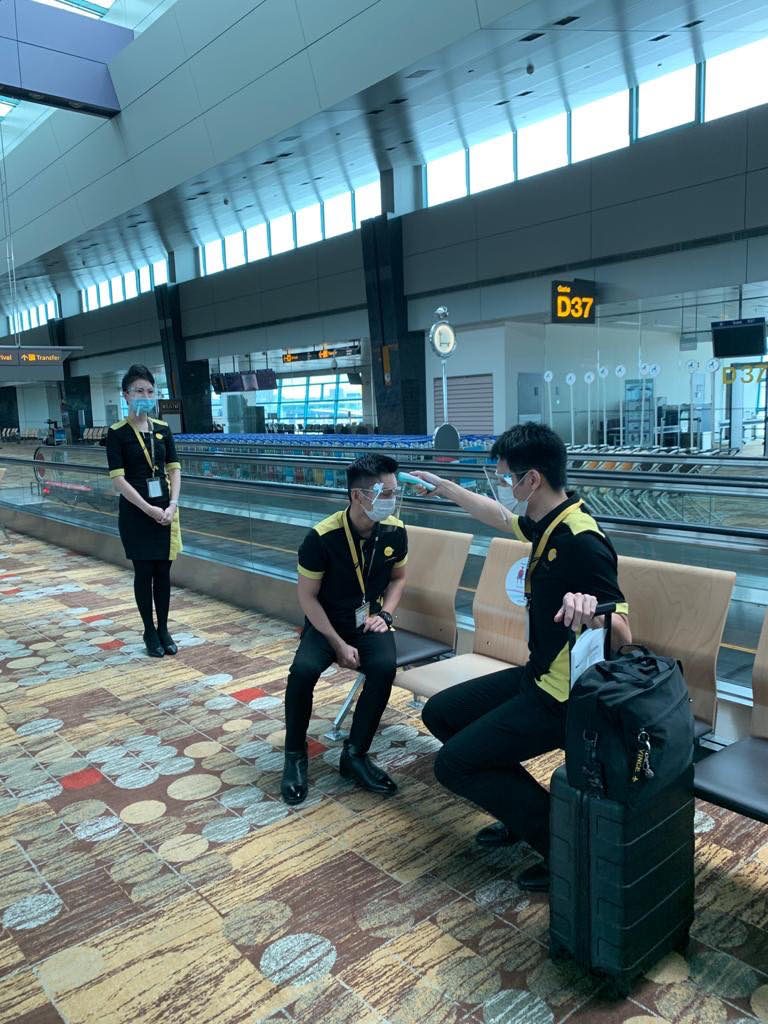 During the flight, crew have to ensure to keep a safe distance from each other. This means standing apart during briefings, reporting for flight at the aircraft rather than walking alongside each other in a group. Also making sure we stay within our assigned zones onboard and take turns to patrol the cabin during the flight. Nevertheless, we can still chat and bond while standing apart, so despite the new measures I still feel quite happy!
Prioritising The Morale and Wellbeing of the Cabin Crew 
This has been a rather stressful time for my crew members, especially the foreign crew who are away from home and miss their family, and have been affected by the drop in income due to the grounded flights. 
As Crew-in-Charge and a Team Leader, it is my job to ensure that the crew members under my care maintain a positive mindset. I listen to their woes and we try our best to encourage each other, with some of them starting virtual karaoke sessions together to sing away the blues. 
During a flight, the cabin crew are all part of a group chat to check on each other's well-being. If any member of the crew is feeling unwell for whatever reason, they know to report it immediately to their flight supervisor. During this downtime, Scoot has also enrolled cabin crew who are not rostered for flights in several training programmes on topics such as emerging technologies and service excellence, to hone our skills and prepare us for return to work.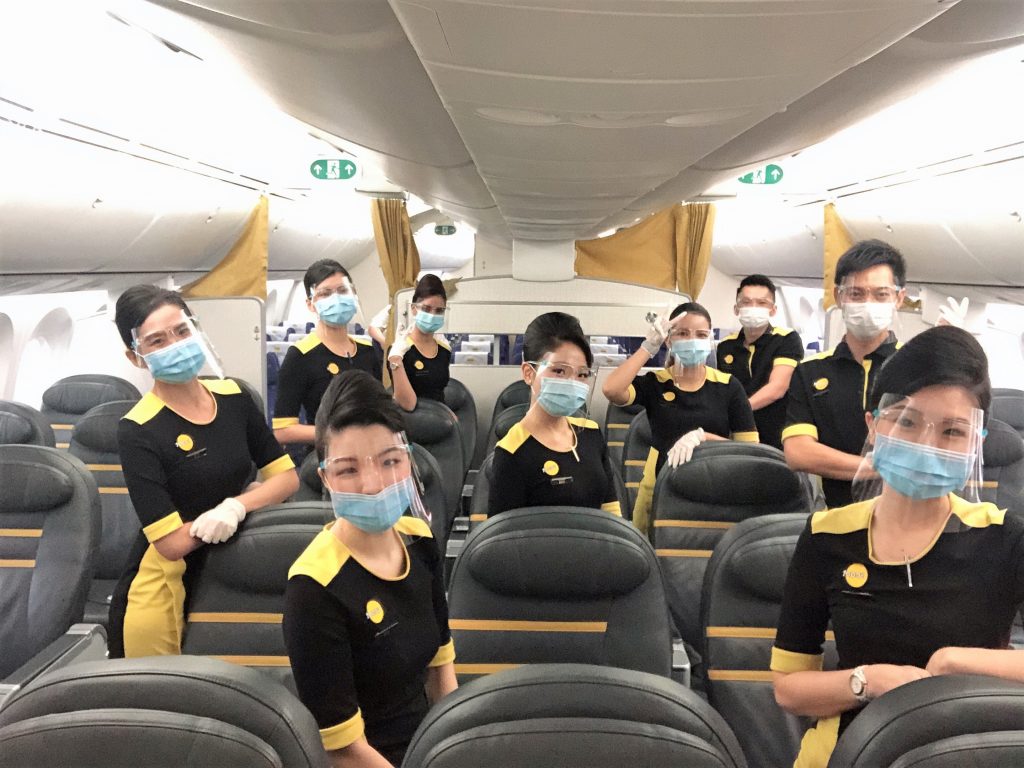 Passengers can also do their part by cooperating with crew instructions. During the circuit breaker, I've had really pleasant experiences with passengers. Everyone seems to appreciate the importance of what we're doing. 
As they disembark, some passengers go out of their way to thank us for our hard work. These small gestures mean a lot to us. Yes, it's part of our duty, but it's rewarding to know that passengers notice all the work we've put in. 
It really makes a huge difference to the morale of the crew. 
What New Measures Passengers Can Expect from 1 June 2020
When it comes to the 'new normal' of flying, Scoot introduced a couple of new measures from 1 June 2020. To avoid any delay, I recommend passengers arrive early to ensure sufficient time for additional check-in procedures, including temperature screening and submitting a health declaration form before check-in, either at the counters or via an online form.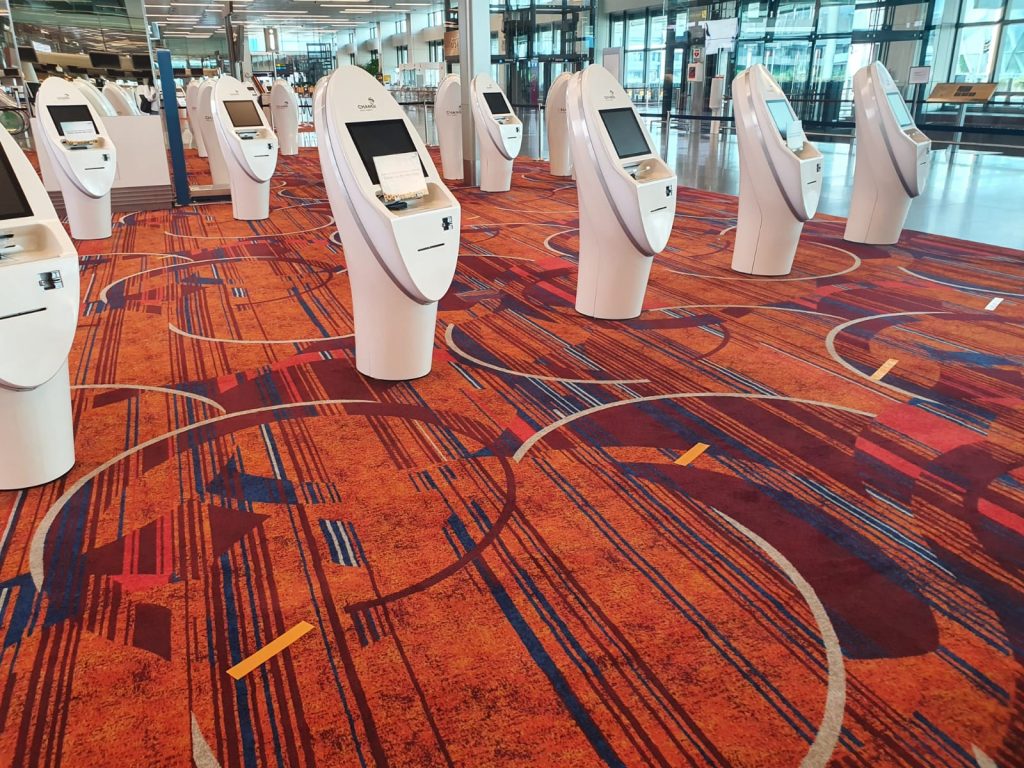 Going forward, passengers are only allowed 3kg of carry-on luggage on board and this has to fit underneath their seats. So make sure you bring along any essential medication or baby food for your child in your carry-on. The rest of the 7kg allowance will have to be checked in (at no cost). Keeping this in mind can save you having to find a corner to re-pack your carry-on luggage at the airport! So far I've observed that this adjustment really smoothens the boarding and disembarkation process, and therefore reduces unnecessary congestion at the aisles. 
Once on board, the biggest difference passengers will notice is that masks are mandatory except when eating and drinking. We have temporarily suspended sale of food and beverages to minimise interaction between us and passengers, so complimentary refreshments will be placed on the seats in advance. Alongside the refreshments is a care kit for passengers' use, which will include items such as anti-bacterial wipes, a surgical mask and sanitiser.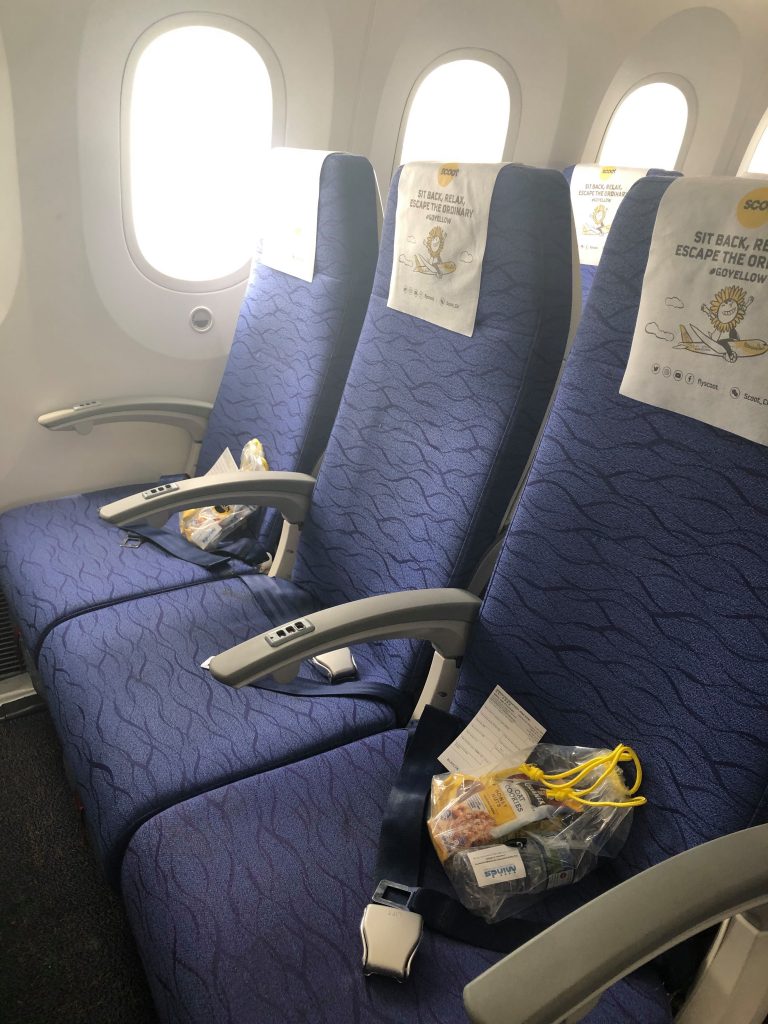 We have to practice safe distancing, so everyone is assigned their seats and unfortunately we cannot allow them to change seats in-flight. Safe distancing is essential everywhere – from check-in, the gatehold room, boarding to disembarkation. Even the queue to the restroom is limited to one person at a time! If a passenger is unwell, we've a designated seating area for them too. 
For those who are fans of perusing our in-flight magazine, or our Scoot Café menu and our duty-free catalogue during their flights, sadly these are removed too, so that we can minimise surface contact.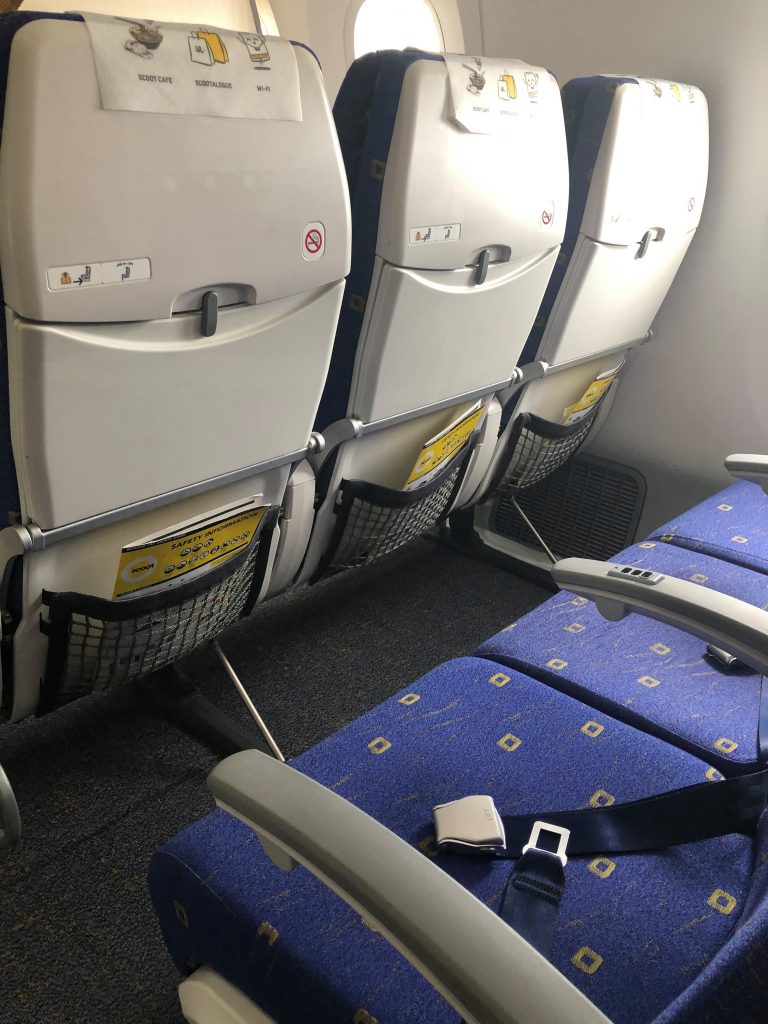 I know that moving forward, some passengers might feel anxious about flying. In these situations, my job is to be empathetic. First, I'd listen and try to understand their concerns. Then I will share what we are doing and the measures we have taken on board to safeguard their wellbeing and safety. 
Looking to the Future: New Measures Means New Habits
Scoot has been operating a reduced schedule, but more routes are slowly starting to come back online. 
In June, I've been rostered on flights to Penang and Ipoh. Currently, Scoot cabin crew don't layover at any destinations. Should we have to do overnight stays, we will be sticking closely to the guidelines and directives provided by CAAS. This means ensuring a safe means of transport from airport to the hotel, wearing masks in public areas, and to stay and dine in our rooms during the stay, and keeping close checks on our well-being.
During this alone time, I like to pamper myself with a Chinese novel. It doesn't matter what genre. Romance. Mystery. I'll read anything. It's my favourite hobby. Reading helps me relieve stress, and mellows me down after work. 
At the same time, it's hard to be alone sometimes. Before Covid-19, the crew would have lunch or dinner together and bond over our love of food and travel. I'm looking forward to that after this is over. I miss the closeness and camaraderie of taking meals together. 
I don't know, so much has happened since then. It feels like a long time ago.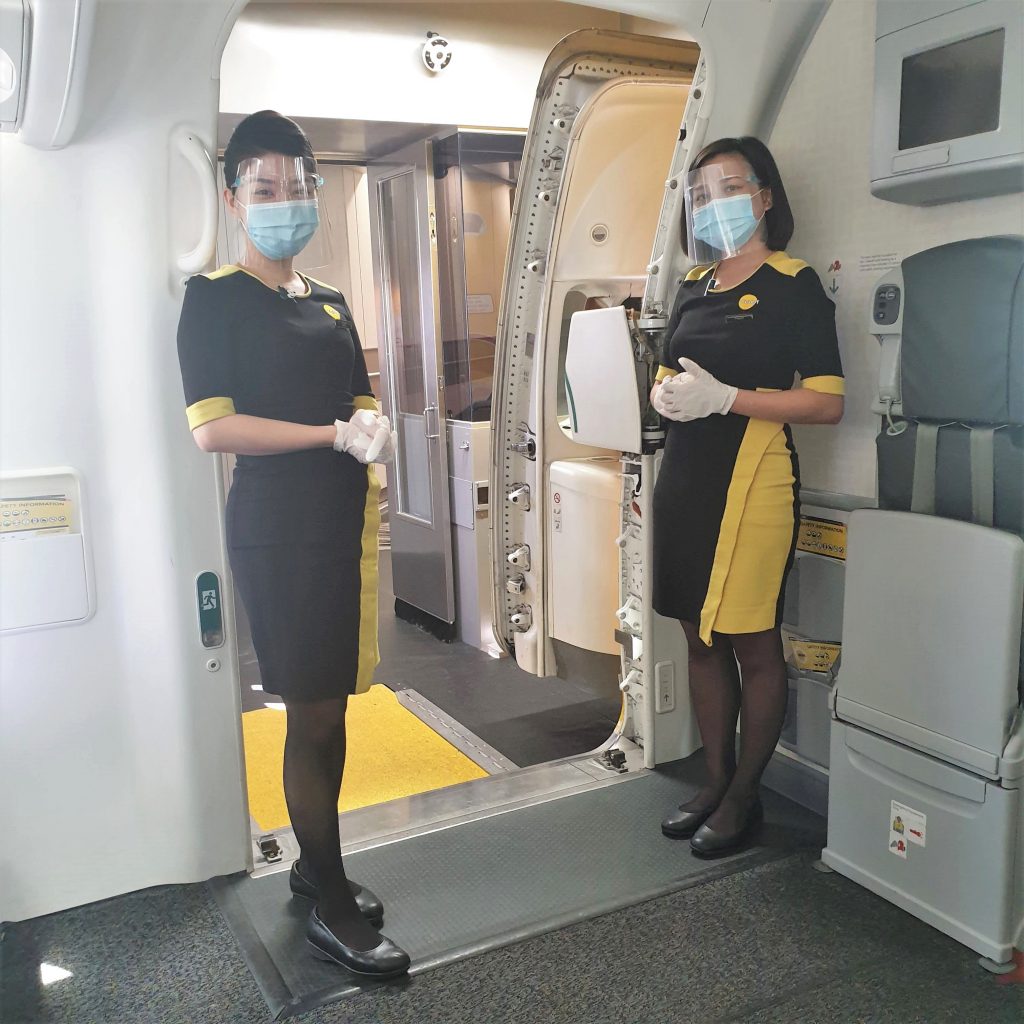 This article was sponsored by Scoot. 
Passengers can find the full list of Scoot's precautionary measures and requirements rolled out on their announcements page. Scoot will also be extending a one-time free date change to new bookings made from now till 30 June 2020.
---

Made any upcoming travel plans? Write to us at community@ricemedia.co.