Top Image: Zachary Tang
This year, Tiger Beer kicked off their 2019 campaign by announcing a slew of 20 limited-edition Tiger district bottles. With the aim of celebrating the uniqueness of each local district, the bottles have been customised to feature a prominent landmark from each respective neighbourhood.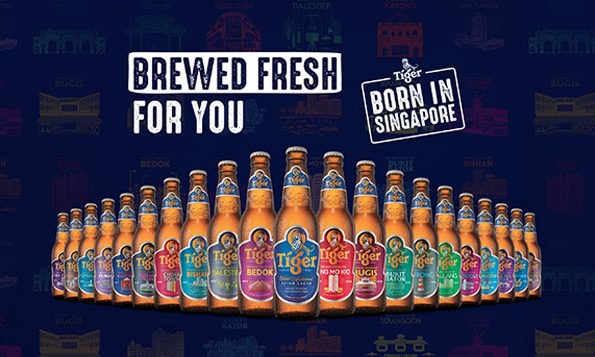 Certain neighbourhoods have reputations for a reason. Whether it's Yishun for being known as the 'crazy town' of Singapore, or Geylang for being a seedy red light district (and perhaps consequently, a superb supper stop)—these are what most locals consider the 'happening' parts of town.
But what about those that fly under the radar?
Most of us live in such districts, and the reality is that Singapore is filled with more "boring", residential neighbourhoods than it is with Yishuns, Joo Chiats, or Chinese Gardens.
Which made me realise: we don't celebrate enough the unique appeal of our understated heartlands. Why not explore and really appreciate the places that most Singaporeans have come to call home?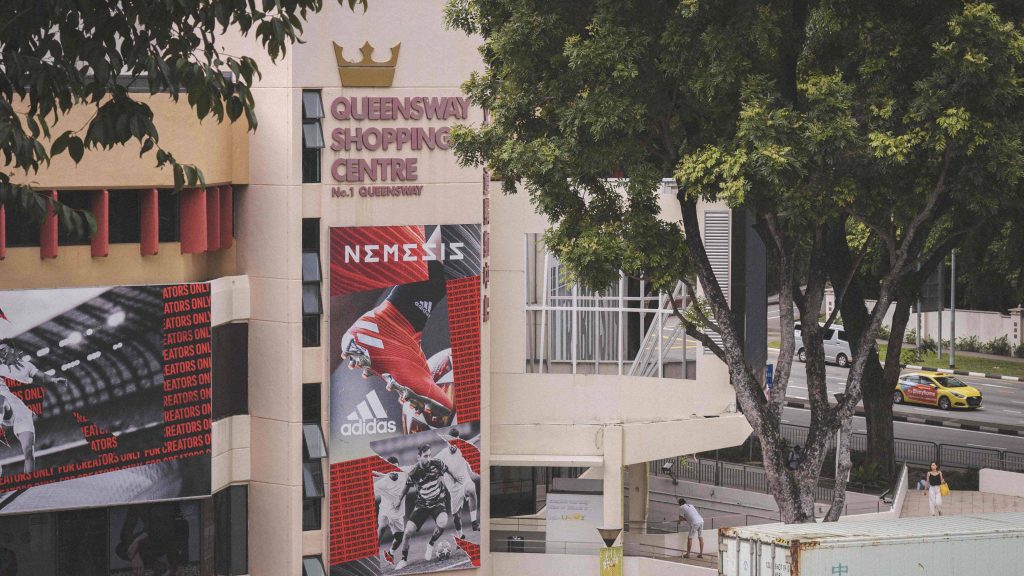 If you don't already know this, you can't talk about Queenstown without talking about Queensway Shopping Centre.
Known as the place for affordable sports gear, it's become somewhat of a household name. And you only have to look at its gritty, faded exterior and confusing hexagonal structure to recognise it's been around for a while.
Recently, the Shopping Centre made the news amidst talks of a potential en bloc sale. But speaking with Mr Singh of Salam and Sons (one of the OG sports shops), he insists that all this talk of it closing down is "nonsense fabricated by the media".
Emphatically, he tells me not to worry. Just as he's reassured other regulars, he says he's going nowhere.
Nasir from Arcade Sports echoes these sentiments. Describing how he's seen generations of athletes come through his stores, he shares how some of them have even become close personal friends.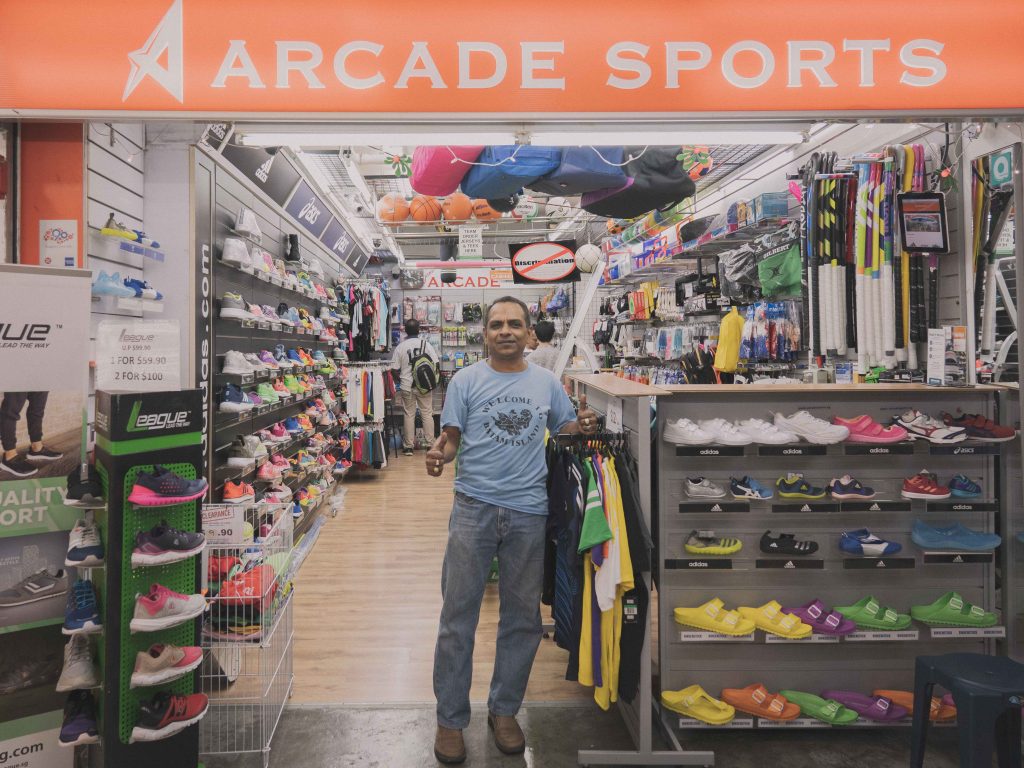 "It's like a family. Whether they buy or don't buy [my goods] is besides the point. Sometimes when they're in the area, they come by just to visit me. To me, that's very valuable."
What's important, he adds, is the relationships he's forged over the years. His customers keep coming back because they trust in the shopkeepers to offer reasonable prices and not rip them off. Between shopkeepers, they've decided to band together and fight against the en bloc of a mall that they all love.
"Where would I go anyway? There's nothing wrong with the complex as it is."
These sentiments are conveyed unanimously, in varying languages, by all the shopkeepers I  spoke with.
To these Singaporeans, Queensway Shopping Centre is much more than a physical space. This community, this sense of rootedness—it's not something that anyone can take away.
Sembawang
Okay, you might ask: why ulu Sembawang? What does it have to offer other than the famous white beehoon (admittedly very good) and its hot springs (currently closed for construction)?
Interestingly enough, every single resident I've spoken with echo these exact sentiments. They are the first to declare there's "nothing much" in Sembawang, and that "nothing really happens around here".
While they make this honest confession, their voices hold, oddly enough, a touch of fondness.
For example, though there's "nothing much" in Sun Plaza, Cherrell, 20, describes how the modestly-sized mall has deep sentimental value.
"I remember the McDonald's has always been there, even after Sun Plaza's countless renovations. Which [my best friends and I] are thankful for, because till this day it's our usual supper and breakfast place.
As a kid my grandma used to take me there, too, whenever I'd sleep over at her place. We'll always go to Chong Pang market, which is nearby. So I guess my attachment to Sembawang is because of the memories I shared with her, since she's no longer around."
Other residents share similar opinions, though their memories are, likewise, nondescript.
Wai Kit, a 21-year-old currently studying abroad, says: "Honestly, I prefer having less buildings around. The area that used to be an open field (along Sembawang Crescent) should have remained exactly as it is."
Back then, there was nothing special about that field. It was just a plot of land left untouched, except for kids like Wai Kit and his primary school friends who would converge to play soccer after school hours, and where families would fly their kites on weekends.
Wai Kit feels a bit dismayed by the trend of new buildings springing up in the past decade. Though they admittedly bring along new eateries and amenities, it feels like the wide, open spaces that he so loves is being reclaimed.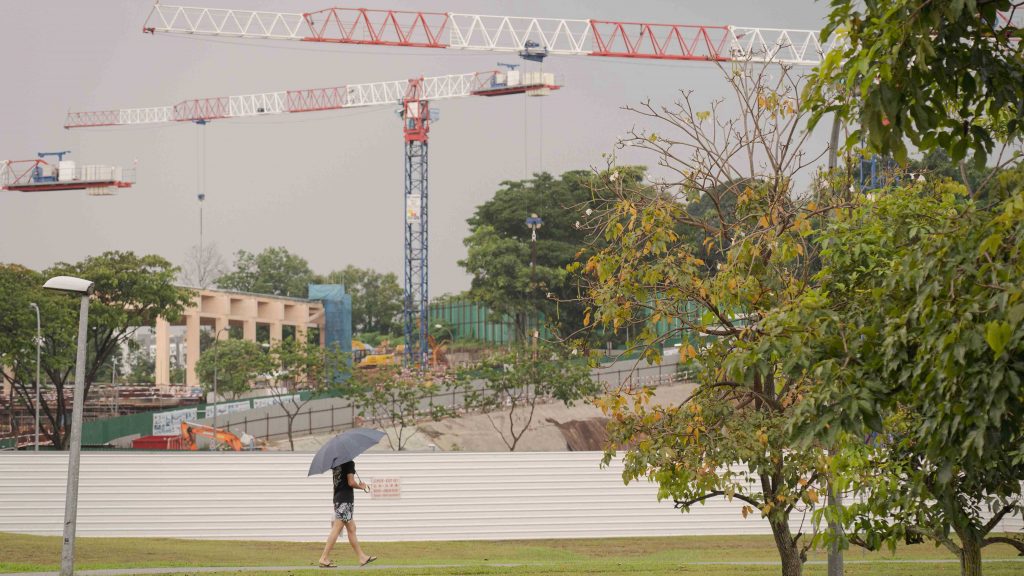 This came as a surprise to me, perhaps because my intuition has always been that most Singaporeans are obsessed with snagging a location close to the city. Small towns like Sembawang are typically considered too 'ulu'; the only thing mitigating the distance is perhaps the construction of new malls or amenities.
Maybe we Singaporeans are not as obsessed with the 5 Cs as we think. For many of us, we just want the quiet lives that far-flung, low-key neighbourhoods like Sembawang can offer.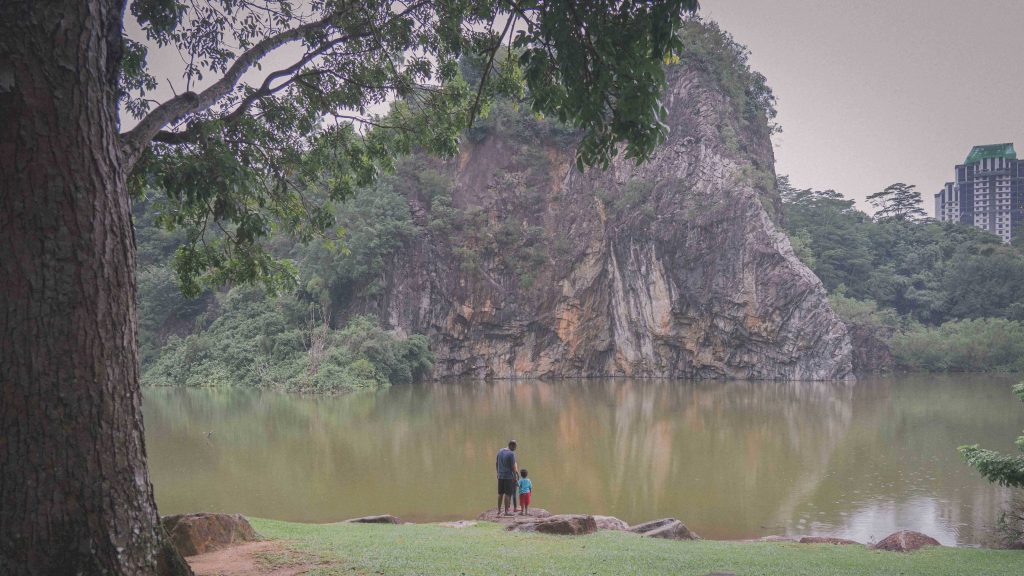 When freelance photographer Francis Lee, 56, moved out of Bukit Batok just last Saturday, he found his regular routine disrupted.
"I don't miss the food, or even the people. All I really miss is the park," he remarks wistfully.
At least twice a month, he makes sure to visit Xiao Guilin, his favourite spot in the neighbourhood.
If you scroll through his social media pages, you'll notice almost immediately that the iconic landmark is a consistent motif throughout this feed. Because he lives a mere "stone's throw" away, he's captured shots of Xiao Guilin at literally all times of the day in the seven years he had lived in Bukit Batok.
Some of them were taken in the wee hours of the morning; others at dusk. Crazier shots include photos of Xiao Guilin during blood moons and lunar eclipses. Once, he even braved the pouring rain at the height of monsoon season just to capture a shot.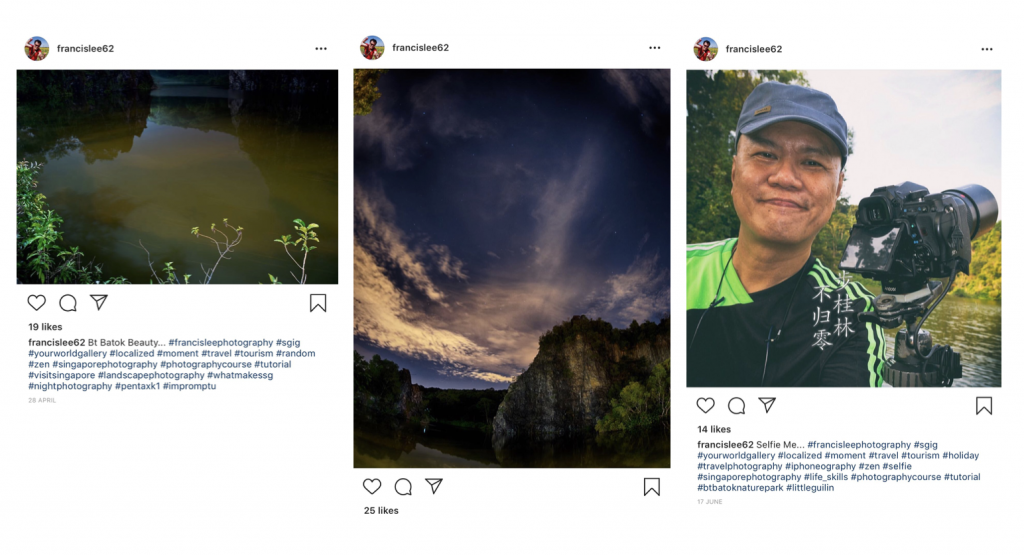 These quirks and idiosyncrasies tell a story of his unabashed love and affection for his neighbourhood.
This is because, Francis explains, being a photographer he can't help but appreciate Xiao Guilin's aesthetic appeal. It has all the elements of a perfect landscape: strong winds, ripple pools, and sometimes even circling eagles. As a photography teacher, he's even held landscape and night photography workshops there too.
Yet it's clear to me that his affinity for the park runs much deeper.
I see it how he'll sometimes dabao food to the park to eat just to have some quiet time by a secluded nook. I see it in how he sometimes takes a longer route home, just so he can walk through the park.
As a photographer, it's natural for him to wander, but he's always looking forward to returning home to Xiao Guilin.
Bedok
Bedok is a neighbourhood known almost exclusively for its food. I don't think people ever talk about much else when it comes to Bedok.
"That's the one thing I miss about Bedok," Healey says. "Where else do you get so many good hawker centres and coffee shops all within a 5km radius?"
Healey, 54, grew up in Bedok. Though he's since moved elsewhere, he's retained 30-years-worth of memories of the neighbourhood, and remains a frequent visitor. Whenever he visits his elderly parents who still reside there, he always makes it a point to stay for a meal.
One of his favourite spots is Block 85. He tells me animatedly about how the hawker centre comes alive at night, and continues to thrive even until the early morning.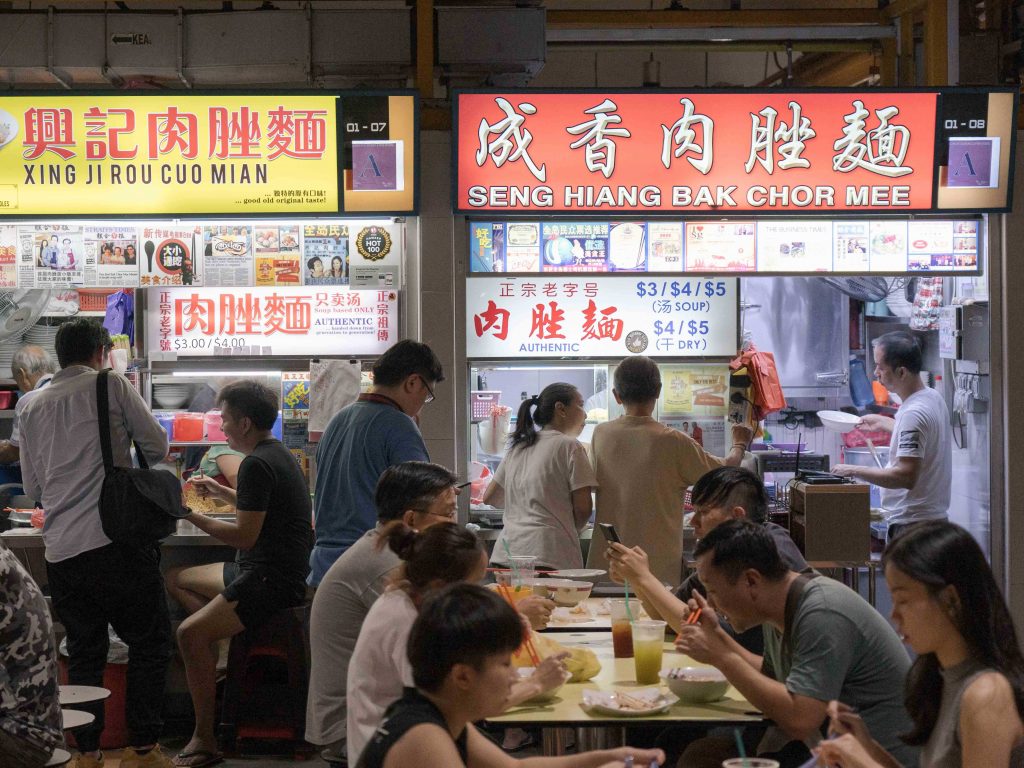 Boon, a prospective second-generation hawker, confirms this: "Bedok 85 is more of a dinner thing, [it's for] the supper crowd."
His parents' drink stall caters specifically to this very crowd, selling local favourites like kopi-peng and home-brewed ice lemon tea. And, of course, they have fridges stocked with beer.
And what better way to pair your supper than with a bottle of beer?
He helps out at the stall almost every day of the week, and while other stalls close around 1 AM, he usually only closes shop around 2 AM to serve the late-drinking crowd. He admits that it's taking a toll on him, and he's not sure if he wants to take over the business. Yet he remains conflicted about whether he wants to close that door entirely.
He explains: "When you see your parents working hard, [and you're leading] such a relaxed life, you will feel very 心里不安 (feel uneasy). Even if I stop working for a few months, they will complain that they are short of manpower."
When asked if he enjoys working here, he tells me: "I cannot don't like [the business]. This is the job that 养我大的 (literally raised me)."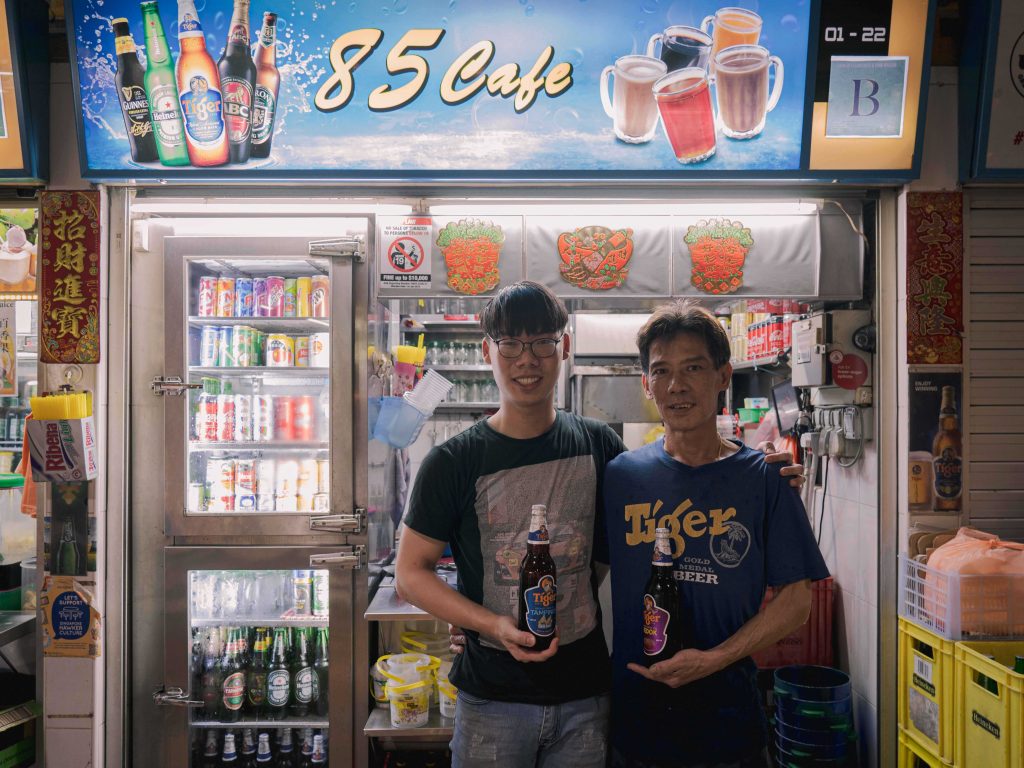 When speaking with him, I also noticed he was sitting with an older companion. Though they conversed in Hokkien with obvious familiarity, I realised belatedly that Boon's companion was actually a regular patron.
"He's been [coming] here for over ten years. Since [I was] young, he's been watching me grow up.
Everyday he comes, he drinks for about 1-2 hours. He only drinks Tiger."
He says this chuckling slightly, saying this is a common phenomenon for many of his regular patrons. Religiously, they head over to Bedok 85 after work, drink their fill, then trudge home and turn in for the night.
And to me, that's what one's love for their neighbourhood can look like. Sometimes, it's really just about the simple things. Seamlessly, inconspicuously, these small things intertwine with our daily routines. Instinctively, we gravitate towards them, seeking the stolid sense of comfort borne from decades of familiarity.
And this is the very message that Tiger Beer is championing via their campaign.
Our love for home is often not needy, flamboyant, or excessive. No one is inclined to proudly proclaim themselves fervent Bedok-ists or Queenstownians, eager to rub it in someone else's face.
Rather, it's felt in the subtle inflections in one's voice when describing favourite supper spots, or in the quiet sigh describing one's blissfully quiet neighbourhood. It is the indescribable feeling of gulping down your favourite beer at the end of the day: unchanging and dependable.
Even though we sometimes don't see it, our ties to our country runs deeper than simply being born in Singapore. They can manifest in mundane, yet powerful, ways.