Photography by the author. 
On Saturday, about 60 security officers stationed at the Hong Lim Park's seven checkpoints conducted bag checks and metal detector scans, all while verifying every individual's pink or blue IC before they were allowed in.
This year was the first time in Pink Dot's 9-year history that barriers have been erected around the venue. As queues of Singaporeans and Singaporean Permanent Residents snaked around Hong Lim Park, waiting to enter Pink Dot, foreigners who had come to show their support for the LGBT community could only watch from behind the barricades.
For some who had not heard about the new entry requirements and were turned away, this segregation came as a rude shock.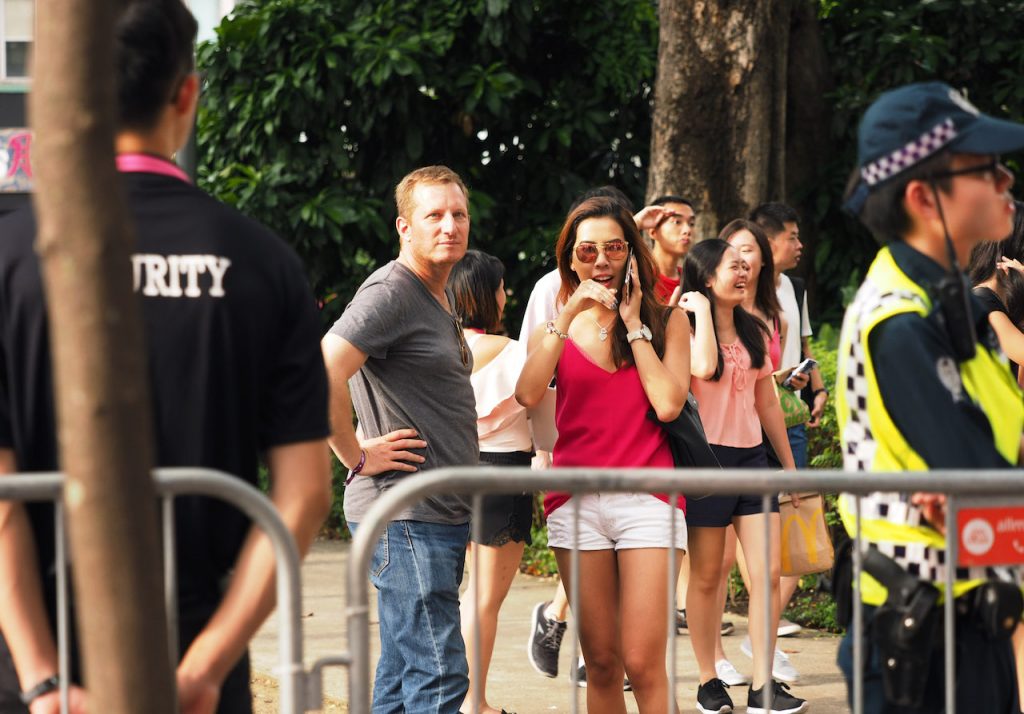 "I wasn't aware of the rule to not allow foreigners. After queuing outside for sometime when I reached the checkpoint they told me that I could not enter because I only had an Employment Pass, and that took me by surprise," said Hugo, 41, who has been working in the country's chemical industry for a year.
The Venezuelan could only watch from behind barricades on the far end of the park, and said he was sad to have been treated in this manner: "Erecting barriers to keep out foreigners is not nice, it's not inclusive. If the government thinks that doing so is the best for the country, then it's their decision. But I don't share that opinion.
He also added, "But maybe by not allowing foreigners to come in, this would prompt the locals to do more for this cause. I'll still come to Pink Dot events, even if I can't enter, to show my support because it is the right thing to do."
In June, human rights group Amnesty International released a statement denouncing the requirement of identity checks at Pink Dot, calling it an attempt to "restrict and suppress peaceful activism in Singapore."
"The organisation is particularly concerned that the new decision to impose identity checks on event participants sets a disturbing precedent. As such, it calls on the government to urgently clarify if all other assemblies will be subject to the same restrictions as Pink Dot," it said.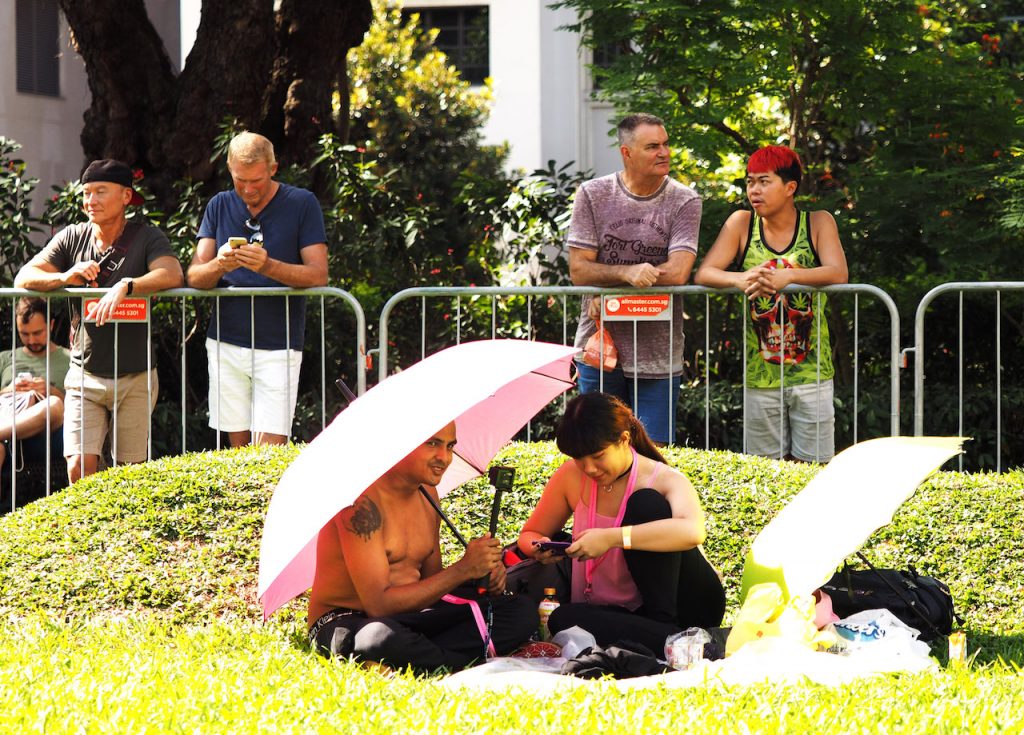 Spanning the perimeter of the 0.94-hectare Hong Lim Park, designated as Singapore's only legal place to stage public protests, Saturday's barricades were mandated after Parliament's amendment of the Public Order Act in April.
The amendment barred foreigners from participating in large-scale public events like Pink Dot, to prevent "foreign interference in domestic issues." At the same time, how this was supposed to be ensured was left entirely up to the Pink Dot's organisers.
On the 30th of May, at Pink Dot's official launch event (held at 72-13 Mohamed Sultan), Pink Dot spokesperson Paerin Choa said, "We want to make it clear that resorting to the use of barricades is not something we want, or would have ever wanted."
Because the responsibility of employing enhanced security measures was placed on the organisers, they weren't left with any other choice. It was the only solution the Singapore Police Force would accept after countless negotiations.  
With the setting up of barricades, designated entry points, and deployment of security officers, attendees would be screened before entering the park.
These amendments to the Public Order Act have also come a year after the government banned foreign companies and institutions from sponsoring Pink Dot.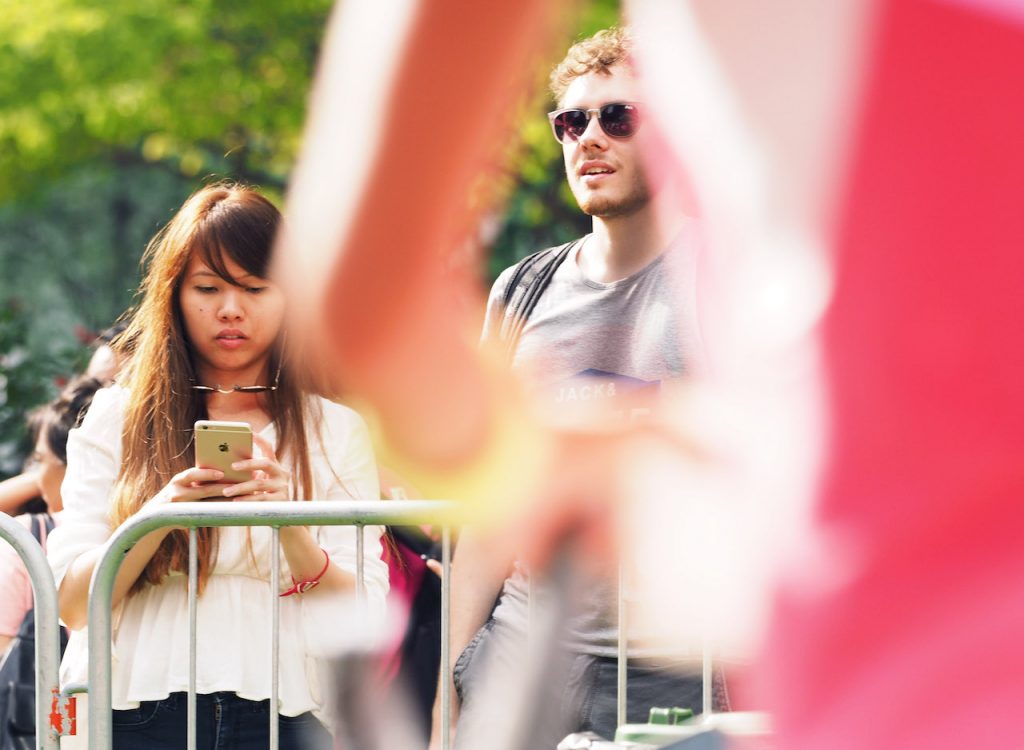 Josh, 26, a Briton working at an engineering firm in Singapore, told us, "It's shocking that we are in the 21st Century and such measures are in place. Singapore's multiracial society is in fact an inspiration for many other countries and sets an example of inclusiveness, but keeping out foreigners from Pink Dot today would definitely shine a bad light on the country."
"There would be massive protests in England if a similar incident happened over there," he added with a chuckle.
Among the foreigners whom I spoke to, many argued that the LGBT cause is not and should not be viewed as 'Western agenda'. There was also disagreement about the government's interpretation of foreign participation in public events like Pink Dot as 'interference'.
Bringing up Section 377A of the Penal Code that criminalises sex between mutually consenting men, Josh raised the point that this law was drafted by the British during the Victorian era when homophobia was rife. Hence, it would be hypocritical to use a law drafted by colonial powers to curb the proliferation of a "foreign idea."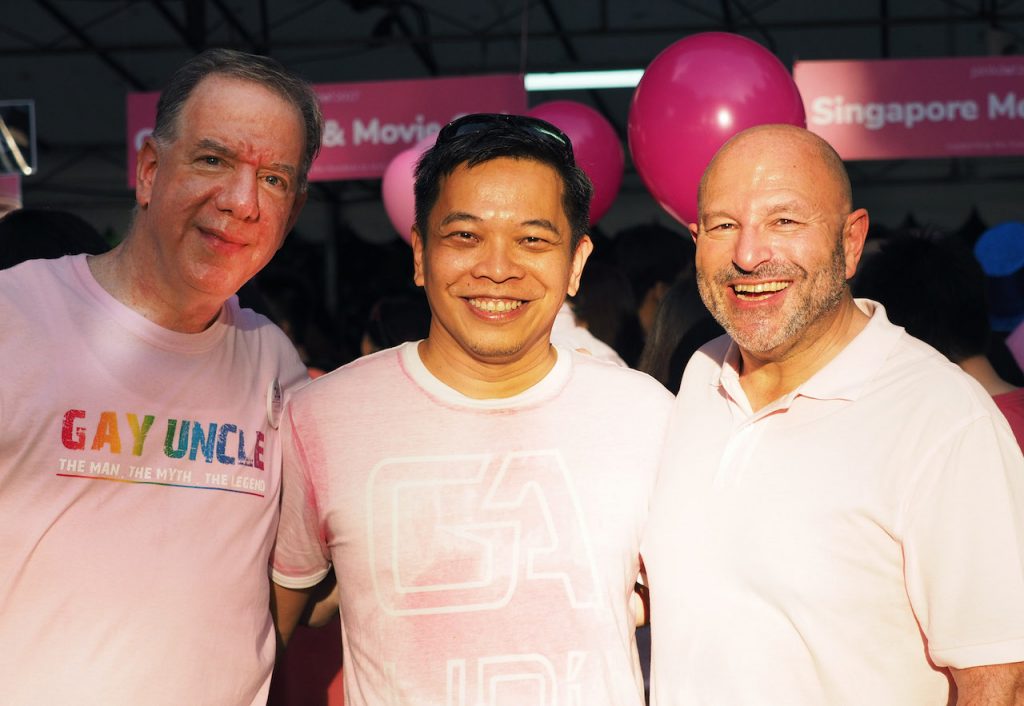 Jim, 56, an American who has been living in Singapore for 19 years, concurs: "377A was passed down from the colonial period to bolster the British's control. It does not reflect Singapore's values – we need to take a step back and ask ourselves if the law is truly a part of Singapore's history."
The executive at a foreign financial institution does not hide his bemusement when I pose the government's rationale of curbing foreign intervention to him.
"What is foreign intervention? It seems to imply that this matter in question is a political issue and not about people themselves, and I think it indicates an insecurity of those in power," he mused.
In response to law and home affairs minister K Shanmugam's recent comments on Facebook about potential pressure from foreign financial institutions imposed on their employees to support causes like Pink Dot, Jim was quick to deny such allegations.
"That has not happened at all," he says, "The company I work for has an anti-discrimination policy, and that also applies to all ethnicities, religions and faiths. To that end, I don't think foreign companies are pushing an agenda here."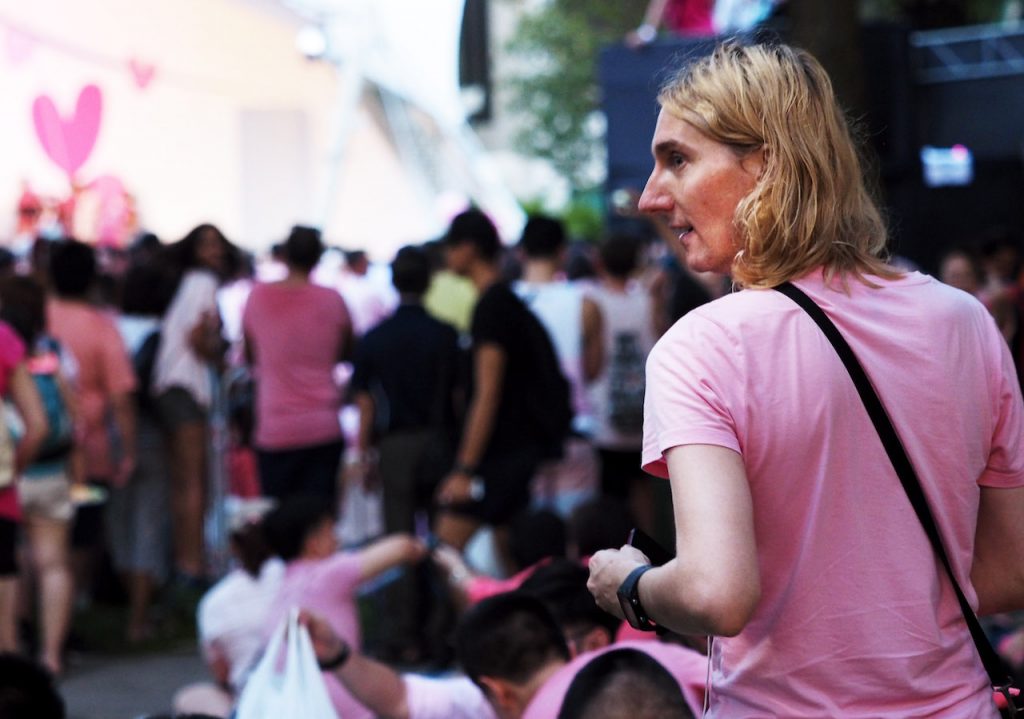 Last year, for the
22nd consecutive year
, Singapore was ranked the second-freest economy for its openness in the global economy and successful integration of multiple races in one society. This has given many foreigners the impression that we are a modern, forward-thinking city-state.
As such, those who planned to show their support at Pink Dot this year, only to be deterred by metal fences, said they were taken aback by the irony of the authorities' hardline stance.
While the barricades this year may stick out like a sore thumb at a park where inclusiveness and the freedom to love are championed, the crowd of close to 20,000 Singaporeans and Permanent Residents holding up their pink torches on Saturday night suggested that these are only minor obstacles to the cause, with or without foreigners.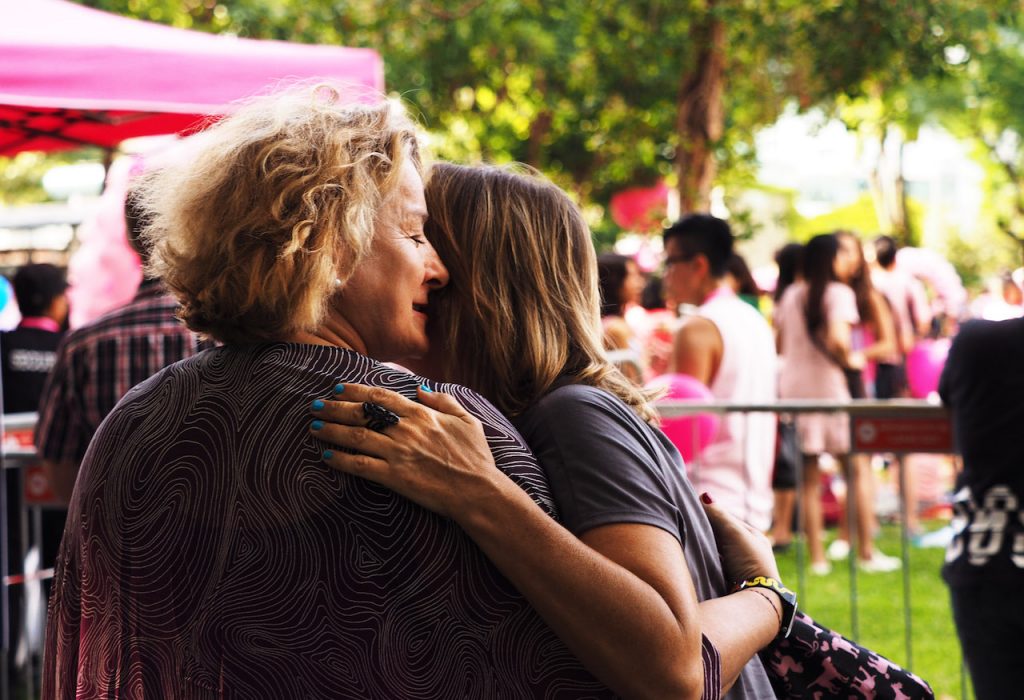 Hugo, who is gay, is mindful to point out: "From my experience, I think Singaporeans have been very accepting towards the LGBT community."
"When my Singaporean colleagues found out that my partner had problems coming to Singapore to find employment, they immediately went to help me find possible solutions and remedies. I'm very grateful for that, and it gives me hope for the country, even if the new ruling has been disappointing."
Jim, who is a Singaporean PR and thus was able to attend Pink Dot, said that he was thankful for the opportunities afforded to him here; while the country has been a "wonderful host" to tourists, companies and innovation, when it comes to issues like LGBT equality, it has been fairly inconsistent.
He added: "After last year's Pink Dot which had a huge turnout, there was probably a group of people who were afraid that the movement might have its own momentum. The reality is it's not Pink Dot that has momentum. It's that more and more people are realising that their relatives, colleagues and loved ones are gay or lesbian, they are real people and they enjoy spending time with them. More people are starting to realise that closets are for fools – that is the real momentum of change."