Even when the first case of Covid-19 hit in January, the business climate in Singapore still looked promising. MNCs were shifting operations from the politically-entangled Hong Kong to Singapore, and growth opportunities seemed to be concentrated in Southeast Asia. 
Buoyed with optimism, new business owners came into entrepreneurship—this was an opportunity large enough for them to commit to a change in careers. But as increasingly stricter rules were imposed, these aspiring business owners were soon badly hit.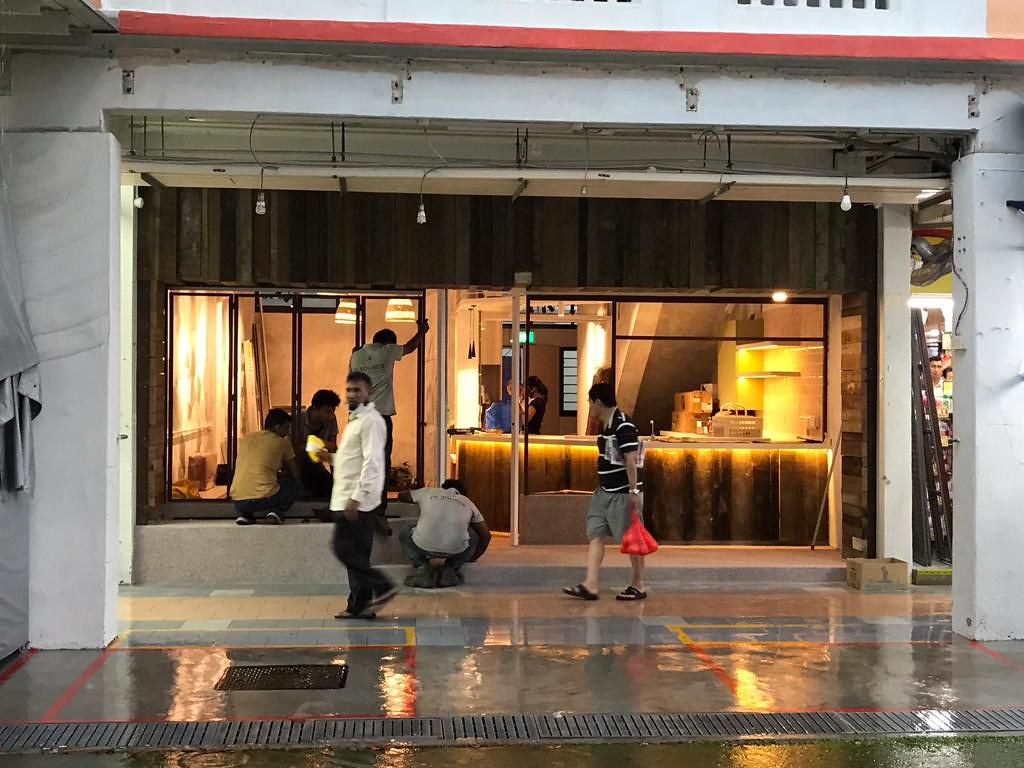 Against the backdrop of a frail disposable tablecloth-turned-curtain, Shen connected over video call on the second day of her cafe's reopening.
Just two weeks before this reopening
, stricter measures imposed during the CB had
closed
her cafe.
Shen's aunt was a second-generation owner of a 34-year-old bakery, and was looking to retire. Last year, Shen's aunt asked her if she wanted to take over, but Shen wasn't sure if her aunt and uncle had made up their minds about handing over the family's legacy. 
At that time, Shen was traveling frequently to Germany for personal reasons. She was also starting up a business in sustainable fabrics with two like-minded friends she had made during her travels. Upon her return from Berlin, Shen confirmed the transfer with her aunt, and started to prepare the paperwork while on her next trip to Vietnam. 
"I thought hard about what I could do with the place because I can't bake," Shen laughed. 
Instead of continuing with the bakery, Shen decided to start a cafe, envisioning a community for people to interact in a space surrounded by environmentally-conscious materials. But from building a community space to using environmentally-friendly materials, the pandemic changed Shen's plans almost entirely. 
Over our Facetime call, Shen ascended an unfinished staircase and showed me the second floor of a modern shophouse. Walls separating the bedrooms had been knocked down to create an open space for a 2.7 metre-long table. 
For Shen to change the shop from a bakery to a cafe, approval took months. And it took her yet another month to receive the approval to knock down the walls of the old bakery. Shen had pushed her timeline again and again. 
"I thought I would be ready (to open) by end Feb. And then later I thought, okay March. And then the situation got worse."   
More delays came her way when Malaysia announced its Movement Control Order in March. To continue renovations, Shen needed to find a new plumber when her original plumber returned to Malaysia before the MCO. Though those who remained in Singapore stayed to help, Shen still faced a shortage of workers. As we spoke, the staircase was yet to be cemented, and stacks of chairs sat in the corners. 
She considered offering the second floor of her cafe to her Malaysian workers to stay in Singapore, but was quickly told it wasn't allowed.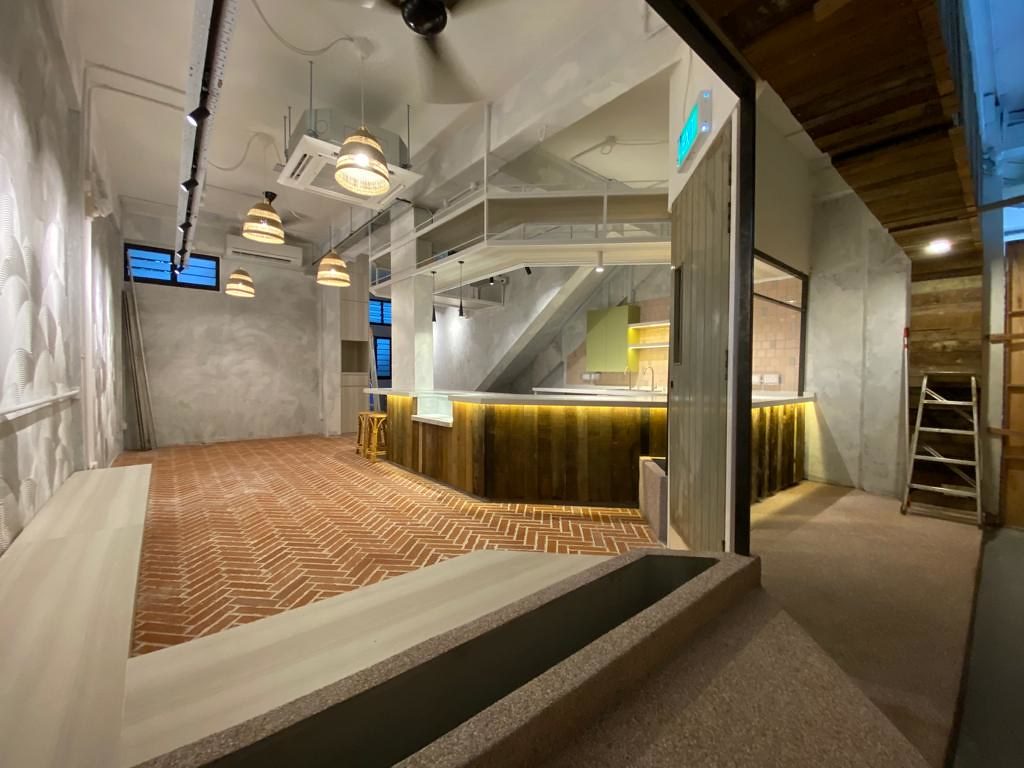 Months of renovation also meant months of rent payment without income for Shen. With a lease transferred from her aunt, she was not eligible for a
rent-free period during renovations,
typically made available for new owners. So when the first floor of the cafe looked ready for business in early April, Shen contacted Singapore Food Agency (SFA) for an inspection right away, and the news of CB soon followed. 
Things took an unexpected but positive turn when the SFA responded to her request in mid-April. On April 21, when dine-in was no longer allowed, Shen's cafe opened for the first time, taking only takeaway orders. With makeshift front and back doors and a barren second level, Shen's then-newly opened cafe had been under renovations longer than expected. 
But before residents in the area could ask about the months-long halt and its connections with the older bakery, Shen's cafe was banned from operating, together with other shops selling only beverages and desserts.  
On the same day, a 24-hour window to close had sent F&B outlets scrambling to add a hot food menu to keep business open. 
"It was not the clearest instructions," Zal, another coffee brand owner working with Shen, commented. After an hour of deliberation, Shen told Zal that she wanted to "keep to the spirit of the circuit breaker". And the temporary closure of the cafe began after two days of operations. 
With CB came restricted supplies of the most common sort: glasses and paper bags. To make sure she could last through it, Shen bought more supplies than needed when the surprise license to open came. Her paper bag supplier told her she was lucky to get them, especially when suppliers were saving quantities for their existing customers. In the following week, Shen was hurrying around the island to find new glass bottle suppliers for cold brew. To maintain the flow of operations, she now needed three different suppliers. 
The little takeaway window designed for customers with pets, baby prams, or a quick to-go order replaced physical interactions inside the cafe. With the sliding glass pushed aside, customers in the neighbourhood could exchange a few lines of conversation with cafe staff when they were handed their coffee.  
Shen's plans to build a community based on physical interaction will still be on hold before her contractors finish up with the works at her cafe.  
Ilya's eSports arena was amongst the first
entertainment venues to close. For Ilya,
the arena was both a childhood passion and physical evidence of his relocation to Singapore
. On the fifth week of his new venture in Singapore, he had to shutter the business.  
In 2019, upon his arrival in Singapore from Dubai for a telecom consulting project, Ilya fell in love with the country, and requested to relocate here. Just half a year later, in June 2019, Ilya quit the job for which he was spending a third of the year travelling. Together with a friend, he pooled his savings and raised funds to start his gaming arena and a professional gaming team based in Malaysia. 
When attending an eSport tournament in Germany in late January, Ilya heard news about the spread of Covid-19, but dismissed it as an "overhyped" problem. Upon his return, he oversaw the final touches to his 3,450 square feet gaming arena, and waited for the end of CNY holidays to start his business. Unlike the eSports team that now participates in online tournaments, the eSport arena is dependent on revenue from physical operations—something far from sight even in Phase 2.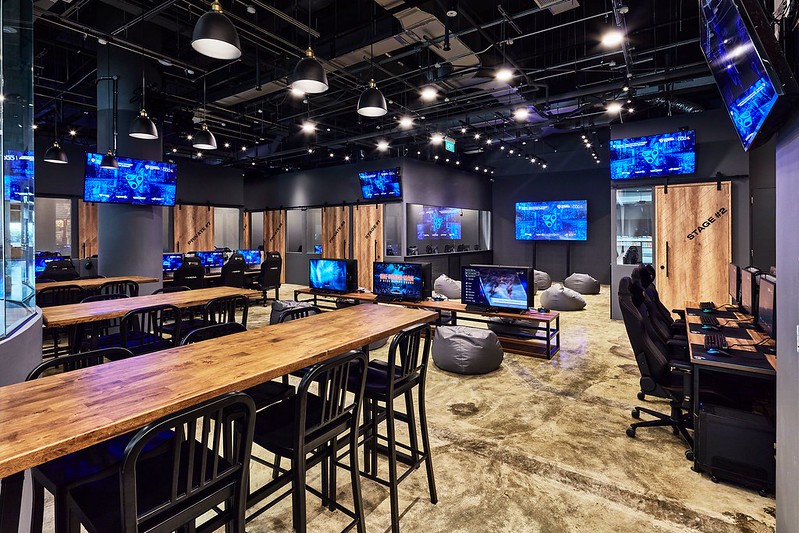 Just a week before Ilya's arena was set to open on February 7, MOH confirmed an unlinked Covid-19 case, and Singapore went into DORSCON Orange. Amidst a gradual build-up of anxiety, Ilya's eSports arena opened for business in Bugis. 
In those five weeks, business looked as promising as he had predicted for Singapore, which he called "a developed market with extremely underdeveloped gaming arenas". 
But when entertainment venues were told to close on March 24, Ilya's eSports venue was among the first to close. In Bugis, restaurants and bars were still packed with crowds. While some businesses have taken the chance to move their operations online, Ilya's e-sports arena depends entirely on their physical capacity for revenue. In what Ilya called "a good old LAN shop", it now weighs heavily on Ilya's finances. 
Ilya was expecting a closure at some point in time. Other countries were doing the same, and the overall strategy made sense to Ilya. 
"You need to make sure that there's less contact between people. At that moment of time, I didn't quite understand."
While the subsequent budget announcements made available financial support for Ilya to retain his permanent staff, Ilya was left with no income for himself, a foreigner in Singapore. On top of this, he has no family in Singapore. 
"You're allowed to visit your Singaporean relatives but I don't have Singaporean relatives. So nothing changes for me." 
Ilya has maintained his faith in his business model and the market for gaming in Singapore, using the closure to sort out more detailed staff instructions and check off the other 31 tasks on his to-do list for the day. 
"If the new reality is not normal for our business, then we need to see what to do with that. We don't have unlimited funds." 
As Singapore moves into Phase 2 of reopening, Ilya's E-sports arena remains shuttered but he remains hopeful for a reopening before Phase 3. 
"Hopefully more Singaporeans can know us and give us support."
Less than 10 minutes away from Ilya's store, a newly opened dessert shop sits among the fiercest supper competitors on North Bridge Road. Allowed to reopen on May 12, the Chinese dessert shop is now packed with colourful desserts stacked on wooden tables that had been intended for dine-in. 
Before opening the dessert place with his partner in early January this year, Andy was a loan consultant who loved to cook. At the end of February, when it was certain that Covid-19 had truly hit Singapore, things became more uncertain. 
Andy had wanted to make his move into F&B for a long time: "I love desserts a lot. I love to cook. I hope I can bring some of my specialties to share with more Singaporeans." 
It all started to change when the 1m social distancing rule was introduced. In the two-storey shophouse that can fit 50 people, maintaining the 1m social distance within a small food establishment meant the shop could only fit less than half of its original capacity. On April 7, just two weeks later, dining in was no longer allowed. 
"We hung on for about two, three weeks and then the second announcement by the government, all bubble tea and dessert shops have to close within 24 hours. Remember that one?" Andy laughed in resignation. "That was really a disaster for us." 
Other than to close, Andy had no idea of what he could or should do within the 24 hours. "At that point, we did not have any directions … There's nothing much we can do, in fact." 
Until the reopening of confectioneries and beverage stores were allowed on May 12, Andy was left with no alternative. 
Just like many other small F&B outlet owners, the closure directed Andy to expand their delivery services. They brought their business to more delivery apps, and started their own online ordering platform. 
After coming across news about doctors and nurses on the frontline, Andy initiated an effort to provide support to medical workers and spread the shop's name through charity. One of Andy's relatives had the same thought, and shouldered half the cost. With the finances secured, Andy quickly put his initiative into action. He emailed #SGUnited to request an exemption to operate and deliver desserts to medical workers. Hospitals like SGH, KK, and Alexandra gave Andy the green light to swing by with his 100 bowls of desserts.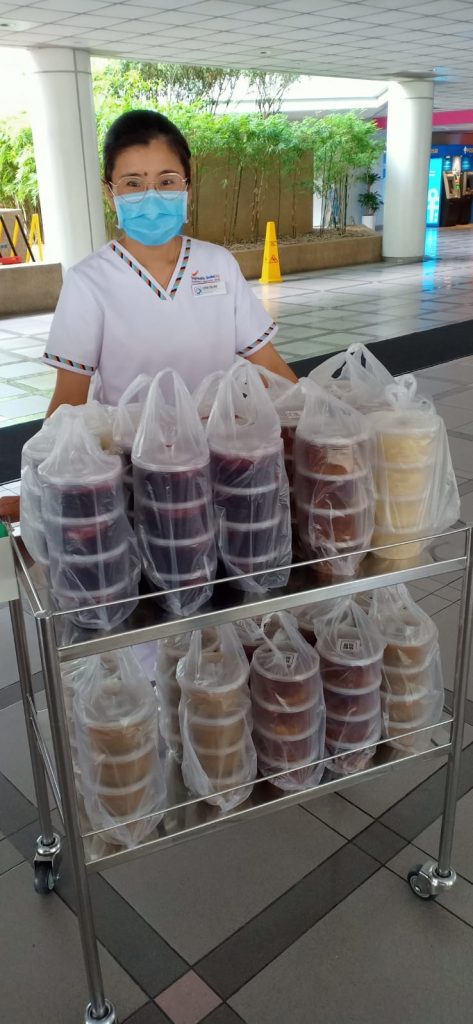 For the past
two months
, Andy and his crew have been getting up earlier than usual to prepare for bulk deliveries on three days of the week. 
After an MTI announcement in May, the dessert shop resumed business on May 12. When asked about the plans on future hospital deliveries, Andy hesitated. After a 50% drop in his projected revenue, Andy and his small team have to focus on getting the business back on track. 
At the time of our call in May, Andy believed that dine-in would not be possible in the next two months. He turned his attention to registering for SafeEntry and enhanced the shop's online ordering platform. 
But a month after reopening, messages from hospital staff saying "they love and say your glutinous rice is super nice" kept Andy going as he prepared to reopen for dine-in. 
"Hopefully more Singaporeans can know us and give us support."
In our communities, various home-based shops are closing for good. For these three business owners, determination propelled their switch. And now, they have to adapt to new conditions when opportunity turns into uncertainty and unforeseen losses. 
Shen runs Kizuna Cafe, Ilya, Reality Rift Arena, and Andy, Chow Zan Dessert.
Are you a business owner who's had to innovate and improvise to stay ahead of Covid-19? Tell us your story at community@ricemedia.co.