Illustration credit: Angelina Bambina
Women in Singapore: it's International Women's Day! Put down that hand sanitiser for just a moment, stop washing your hands, take off the mask and boldly Strike the Pose. If you don't know how to do it, because the only pose you've been striking these days is the "sneeze into the crook of your arm", or the "fierce stare through a masked face", then just take a look at the campaign pics of beautiful (but not airbrushed) women of Asian, African, Latina, or white descent pose in their hometowns, in idyllic neighbourhoods, or in a meadow to celebrate Women from all over the World.
The pose is easy. Imagine Madonna's 1990 hit single "Vogue" and get your sass on. Square your right arm above your chest, the left arm below, to form what can only be described as, well, a widescreen close-up shot of your chest. If this bothers you, then tell yourself the pose sums up what it means to be a woman: boxed in, with a ceiling that is invariably low (or inching upwards, depending on how strong your deltoid muscles are). But damn anyone who says you aren't going to smile from inside your box!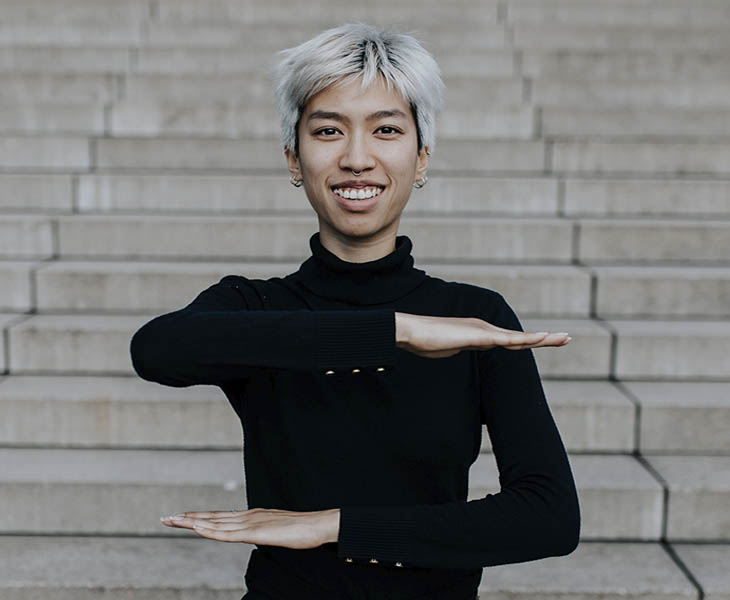 The theme for this year is #EachforEqual.
Stop reading right now, get yourself photographed striking the pose, post it on social media, and don't forget the hashtag. We want corporate mums, millennials, Gen X to Z, grandmas, toddlers, factory workers, lab technicians and more. For employees in multilingual work environments involving heavy machinery or assembly line production of smallish parts/laptops: please tell your supervisor that no, this social media pic is not a polite plea for a modest bonus for you, the maker of said parts, even if women comprise the bulk of assembly line workers in electronics factories across Southeast Asia and earn sixteen percent less than their male counterparts.
But are things really that bad? And surely we've got it good in Singapore? After all, we've climbed 13 spots on the charts to rank #54 in the world for the Global Gender Gap Index.
Let's explore just how boxed in (or not) women here are by unpacking some of the IWD campaign's goals for this year:
(1) "An equal world is an enabled world"
Yes it is, but enabled to do what? And where? Doesn't it make better sense to say that an enabled world makes for an equal world? If the society in which you live is unable to cope with how enabled you've become, you're basically disincentivised from asserting yourself. Hurrah inequality scores again! 
Let's take a simple example: families with newborns in Singapore. Let's encourage Singaporean men to take the blink-and-it's-gone two weeks of paternity leave that they're entitled to, and to revel in the four weeks of shared parental leave that is also there for the taking. In 2018, only 35 percent of men took their paternity leave. Clearly, they don't feel enabled to stay home, change diapers, wake up every few hours in the middle of the night, look colic in the eye without flinching, visit the paediatrician, and generally enjoy those first, blissful weeks with a newborn. 
This is how men and women can "challenge stereotypes, fight bias, broaden perceptions, improve situations and celebrate women's achievements". No, this is not lifted from the tail-end of a stirring speech by a presidential hopeful (whoops, sorry Elizabeth Warren). 
Remember, every man and woman has to reckon with the fact that challenging stereotypes starts with scrubbing the dirty toilet and wiping your baby's spit-up off your sleeve.
(2) "Equality is not a women's issue, it's a business issue"
Yes, definitely. Let's talk about money and wages. Singapore's adjusted gender pay gap (GPG) is at 6.0 percent as of 2018. That means women earn 6 percent less than a man who has the same job in the same industry with the same qualifications. Apparently, we're doing better than the United States (8 percent) and Canada (~8 percent). So we should stop whining.
If you're poking around for bad news (because 6 percent is really not that bad), don't be thrown by that other figure of 16.3 percent, which is the unadjusted GPG. 
We've been assured that this difference in the median income of men and women doesn't take into account why women make the choices they do, which might widen the income gap. Put bluntly, women (more than men) opt for part-time work, are caretakers of children or the elderly and juggle more shit in a system that doesn't reward you for juggling more shit. So. Hello income gap. 
In hard numbers, in 2018, a man earned, for example, S$4,680 and the woman in the same job with the same qualifications, went home with S$4,095.
(3) #EachforEqual is about 'Collective Individualism'
It's difficult to unpack this one because it sounds like a dodgy rendition of Cold War era Ultra-Maoist sloganeering. But let's run with the idea that "we are all parts of a whole" and that our "individual actions, conversations, behaviors and mindsets can have an impact on our larger society." In Singapore, the "parts" that make up our "whole" and the individuals who form our collective include foreign domestic workers (FDWs). As of mid-2019, there are 255,800 FDWs living and working in Singapore homes. 
That means 1 out of every 5 households employs a domestic worker. You know, that woman who makes your coffee, cleans your bathrooms, cooks your meals, takes care of your aging parents and plays with your kid so that you can contemplate the finer (or more complex) things in life. I employ one so that I can outsource my subordinated position in society to another woman and assert myself in meeting rooms, look hip and happening with my millennial colleagues, and convince everyone that the juggle is actually a recreational activity. 
So here's the rub: my ability to work, be a mother and maintain a healthy social life almost entirely depends on having the help of a woman who can carry the domestic burdens I don't want to.
Women in positions of privilege work in systems that deny those very same privileges to other women (
a fair wage
, at the very least). 
(4) Amplify via social media
Get your hashtags on! Use #IWD2020 and #EachforEqual and make some noise on social media (Facebook! Instagram! Twitter! LinkedIn! Youtube! TikTok!). While you're at it, maybe say a word or two about how pernicious things can get online, from reports of inaction when women are harassed on Facebook, the trolls and threats on that prettiest of virtual places—Instagram— to the generally grim prospects for trust and safety online. The victims are men, women and children. And if "collective individualism" is what we're advocating for, then IWD is as good a day as any to come up with your own inclusive hashtag!
(5) Take action
What are you waiting for? Write that letter to the Forum Page! Hand over the dirty dishes to your helper (whoops)/partner. Walk out that door and march! But remember to avoid big crowds, because Covid-19 doesn't discriminate based on gender.
Do such campaigns deserve criticism? Tell us what you think at community@ricemedia.co.