Top image: Zat/Rice Media
What's a RICE editor doing at the launch of Dreamcore, a new custom-build PC retail outfit, you ask? Curiosity, Susan. Curiousity.
Dreamcore, whether they realise it or not, is part of a global movement of demystifying complex processes and embracing things tailored and bespoke to you. In the past two years, you can make custom perfumes, custom phone cases, custom Nike sneakers, custom rugs, personalised health supplements, even keyboards. In the world of retail, customisation is no longer a perk but a way to solve problems when all else fails. It's about what customers can do for themselves—and it's intoxicatingly enticing.
Yet the world of custom-built PCs seems to defy that expectation—its very mention brings to mind neon coloured tubes, hulking machines, and a hermetically sealed world that seems intent on letting only those in the know in. New to the world of custom builds? Well, you can show yourself out because gamers have no time to explain to you the difference between all the GTXs in the market or why when it comes to ram, the more, the merrier is a huge misnomer.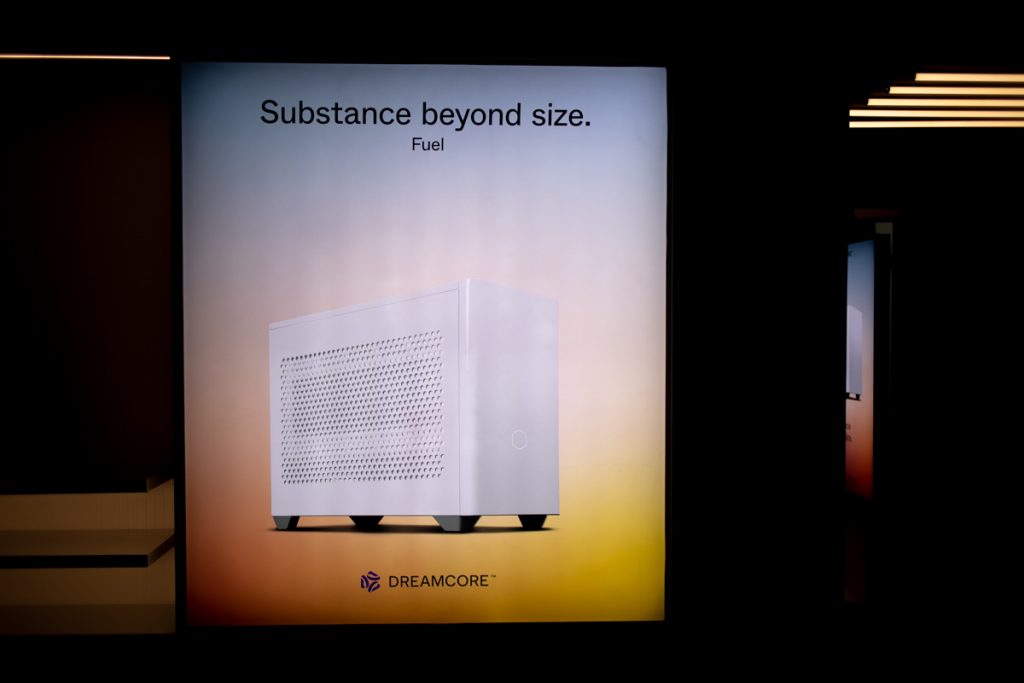 One wonders then if the world of custom machines needs better PR. It could benefit from a slick advertising campaign that "Puts U in custom" and repackage computer components so that it doesn't look nor come across like you need a degree in computer engineering to cross the threshold of unfamiliarity into the exciting new world of PC building.
But it's going to be an uphill battle which, I'm told, Dreamcore aims to conquer head-on.
"People may have a certain perception of custom builds," Shaun Tan, founder and CEO of Dreamcore, tells me. "The challenge is helping them overcome certain barriers around the perceived complexity and hassle of it. It can be a smooth and informed process, and that's what we serve to deliver."
Located in the Precise Tree building at Kim Chuan, the new 10,000 sq ft Dream Centre, in keeping with the philosophy of pared-down minimalism, has more breathing space than it does machines. Still, where there is a machine, it's pleasingly symmetrical, grey, sans unnecessary filigree, and might make a content creator with a strong aversion for too much personality in everyday objects wet themselves in excitement. Along the perimeter, Dreammakers are busy at work fulfilling orders behind a glass wall, slotting in RAMS, and attaching graphic cards to motherboards before shipping them out to creators across the island. There's a palpable buzz in the air if you listen carefully.
Outside at the foyer is a floor to ceiling mural painted in hues of turquoise, magenta, purples, and blue, an artwork by a proudly Singaporean design collective, Tell Your Children. Walking in, a neon sign above greets visitors—Work. Play. Create—a mantra that embraces the company's raison d'être as one that is #beyondgaming.
It's a positioning that makes perfect sense. Sure there are purpose-built stations in the middle where you and a couple of friends can gather for a wicked game of Call of Duty, but look further, and you'll see three consultation booths. Here, customers can seek help for custom build machines tailored explicitly for their needs. And not just for gaming purposes either—video editing, RAW photo processing, coding, or even for the retiree who wants to while away their golden years watching YouTube and catching up on world news.
At the root of it, Dreamcore wants the world of custom-built PCs to be more inclusive and not just reserved for serious hobbyists or tech-enthusiasts with deep pockets. Still, deep pockets are necessary if you want to partake in this custom revelry. With prices that start at S$825 for their baseline Dream Build model, buying a custom-built PC is not a decision you can make cavalierly. But with the cost of custom PCs at the mercy of fluctuating prices of internal components, there is little companies like Dreamcore can do to offer a better value-for-money preposition—at least where retail prices are concerned.
Well, there is one way, and it's a strategy Dreamcore places at the heart of the Dream Centre experience—customer service. The team prides itself on providing white-glove service to all who walks through the door, encouraging you to sit around, try some of the products on display, get comfortable, and, if you have questions, to ask any of the staff for assistance.
Another approach I'd recommend would be to have a dedicated team whose sole purpose is to conceptualise a marketing push that focuses on professional content creators—photographers, writers, illustrators, animators, motion graphic designers, YouTubers. These are people whose calling is to make a better and more beautiful world for us to live in; creatives who need the discipline of a high-powered machine to have the freedom to create to their heart's desire.
There's also the educational strategy up for grabs. By partnering with establishments such as schools, childcare centres, and lifelong learning institutes, Dreamcore would be poised to position themselves as investors of knowledge and, in so doing, a legitimate stakeholder within the space of education and learning. It's all part of the push to make the world a better, more informed place to live in.
But ultimately, the goal is, I'm sure, to make Dreamcore a household name that consumers from all walks of life can rely on for a tailor-made workstation that is beautiful and blends in seamlessly with your lifestyle while packing the gut of a stallion within. The opening of the Dream Centre is a worthy step forward into a world where the individual can work, play, and create. Dreamcore still has some ways to go to help ordinary consumers get over the fear of looking foolish and asking silly questions about graphic cards and SSD storage, but I reckon they already know that. Self-awareness, in this case, is rather enticing and might just be the key to fostering inclusivity and building community.
---
If you haven't already, follow RICE on Instagram, Spotify, Facebook, and Telegram. If you have a lead for a story, feedback on our work, or just want to say hi, you can also email us at community@ricemedia.co.