All images by Stephanie Lee for RICE Media unless otherwise stated.
Enik Teo was 19 years old when she first arrived in Singapore.
With a one-way ticket, she left home in Indonesia to carve a life on her own. Her dad had bought her a ticket after high school ended in the 90s. Safe to say, the city was initially foreign to her. Her humble dream was rooted in improving the lives of others—by first starting a business and completing her studies.
But of all things that could've hit, Enik was diagnosed with breast cancer. This story is told from her point of view.
---
Origins: Core Memories
I was taking a shower when I discovered the growth on my left breast.
Fast forward to the next day at the hospital. I was told by a doctor that surgery was necessary. I had stage one breast cancer—an illness no one saw coming at all, to say the least.
People say that life is unpredictable in many ways. It really is.
My first response wasn't panic. All I could think was: Why now? I had just established my own company—an employment agency. I was also holding the position of Parents Support Group Chairman at my children's school. On top of that, I had just enrolled as a Masters student.
Up until then, everything was seemingly going smoothly. But I had to remain positive. I've come so far from Indonesia to carve a better life, and I couldn't just give up yet.
I grew up in Kediri, a town that's a three-hour drive away from Surabaya, Indonesia. Ask anyone who knows me, and you'll hear about how I was always active in school.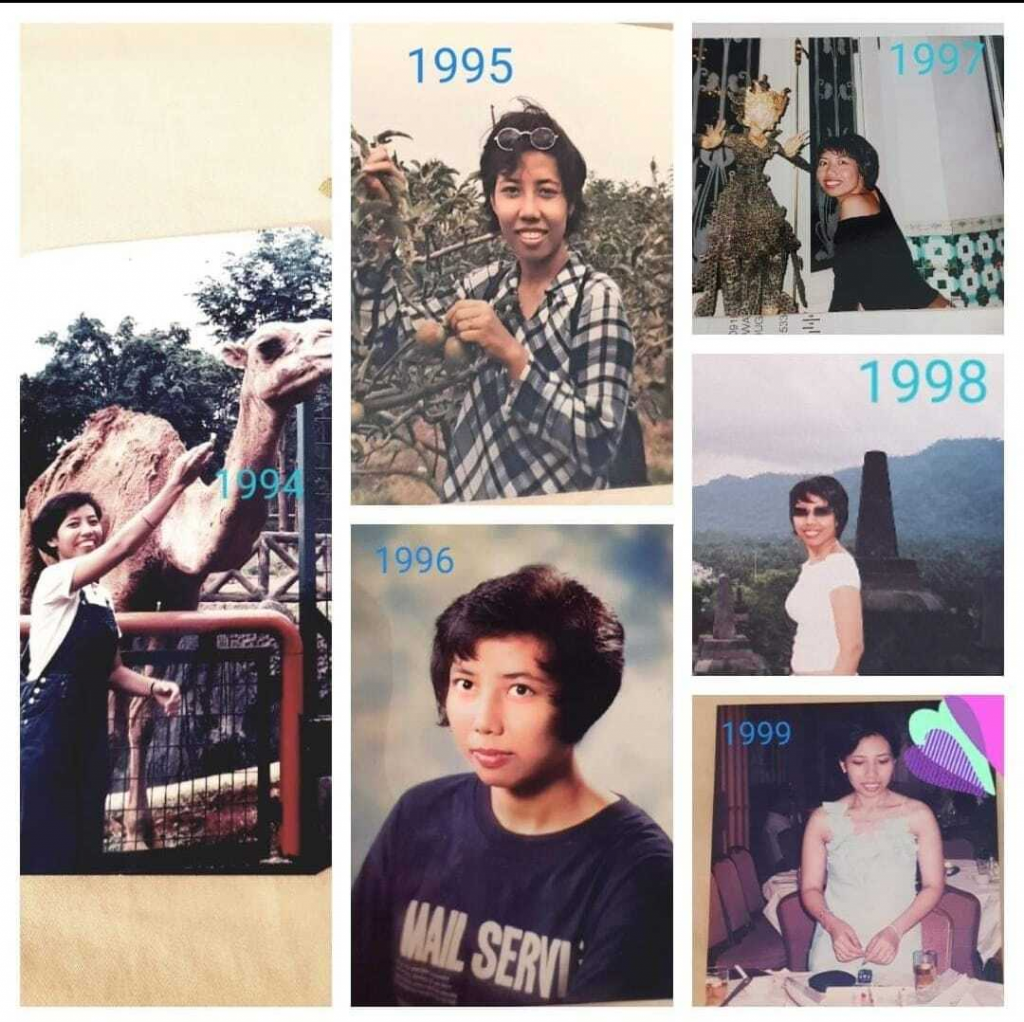 No, not academically. I don't think I'm incredibly intelligent. I'm just someone who's hardworking and curious about different things—from volleyball, to dancing and singing! (Even if my voice isn't great).
After high school, my father decided it was time for me to expand my knowledge overseas. I spoke English. It wasn't perfect, but good enough to get by. We barely spoke it at home. Singapore was the place my family and I decided would be the land of opportunities for me.
With a one-way ticket in hand, I arrived in Singapore in 1997. I was only nineteen, living in a rented apartment with other Indonesian women—majority of them were there as domestic helpers.
Even at that age, I was forced to adapt quickly. No longer did I have the comfort of family, or an entire house to myself.
I spoke to my parents only twice a week using a payphone. Sometimes, they would pretend to be busy, ignoring my calls. I later found out this was their way to teach me to be more independent. Fair play!
Being the youngest in the apartment, my flatmates never ran short of advice: "You have to study hard so that you will not become one of us," they would say.
Every day, I would hear a story about a woman coming to Singapore. Time and again, it's a mother who left their loved ones behind for a better life.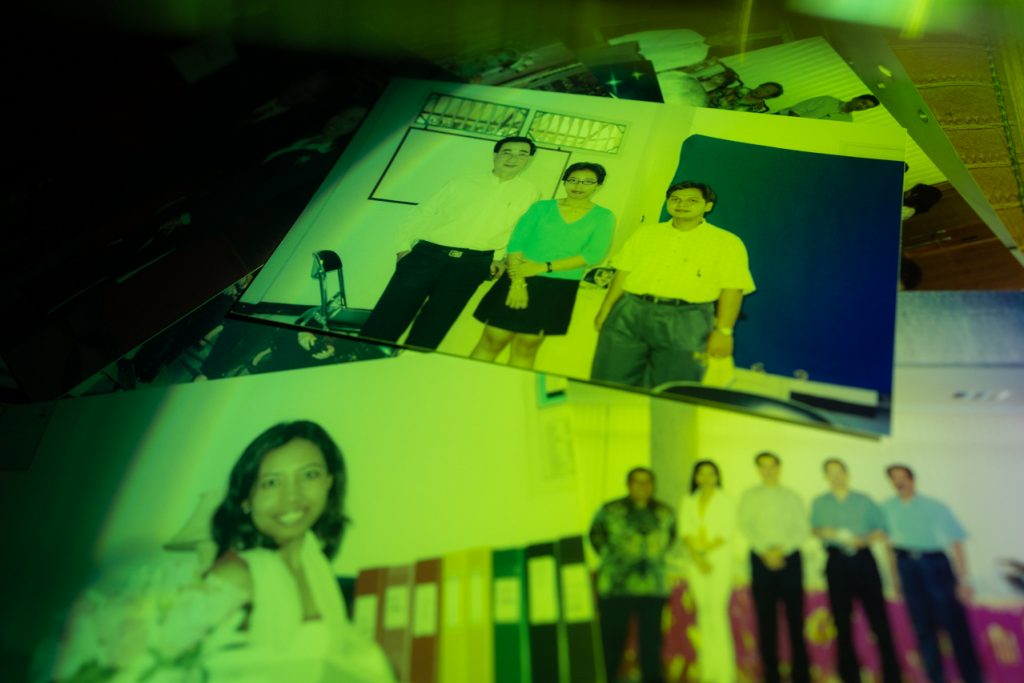 I began to think: If they were to come back, can they remain employable? If not, is there anything that can be done? Can I do anything to help them? What can I do to help them?
Decades later, I've established my own employment agency. I consider it an honour to listen to more of these women's real concerns, and to help out as much as possible.
Student of Life
I've been lucky in my life. When I first arrived here, I began working as an office administrator, thanks to an opportunity from Mr Roland Teo—a good friend of my dad's.
I worked at his company for more than two decades, rising to the ranks of a manager. I had a bunch of different responsibilities—filing data, managing appointments with business officials, including some basic human resource functions.
Deep down, I yearned to deepen my comprehension of the world, and that was fueled by an unrelenting determination to pursue my studies further. Of course, there was a weightier motivation driving me forward—that is, to become a true inspiration and role model for my two precious sons.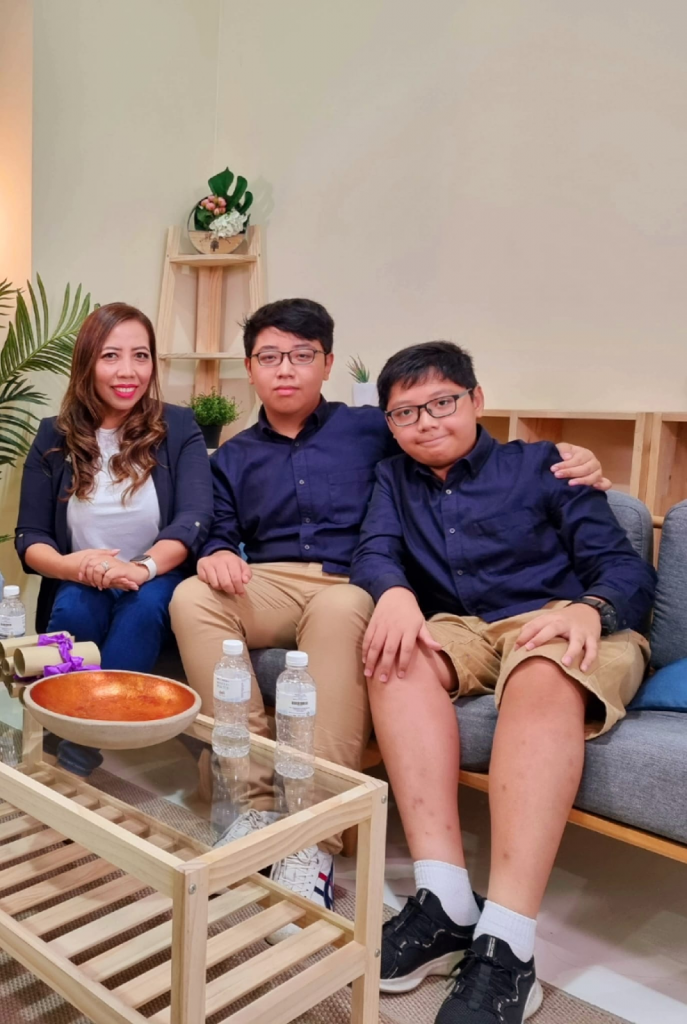 As I was undertaking a business management diploma with PSB Academy in 2017, I met a teacher—Mdm Salitha, for the first time in class.
From what I recall, she was teaching a Human Resource class. Like me, she's also a mother. Even while she juggled countless things, she remained supportive and kind to me.
Back then, I would work during the day and go for evening classes. Even though I was an older, part-time student, Mdm Salitha would always remind me that age is only a number.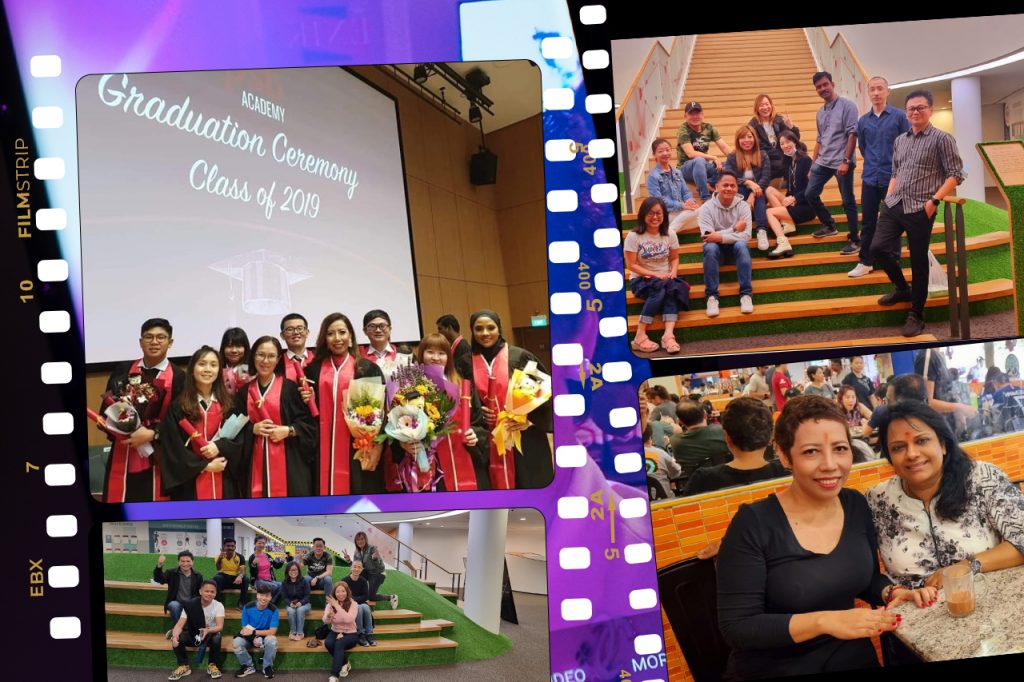 "Never feel comfortable. Always step out of your comfort zone."
These were empowering words she constantly instilled in all of us, even if we did not feel confident enough.
Perhaps it was subconscious, but those words pushed me further. It was one of the reasons why I chose to challenge myself by pursuing a Bachelor's Degree in Business Management (Top-up), awarded by Edinburgh Napier University (ENU) with PSB Academy.
Gradually, my time studying further shaped my desire to become an entrepreneur. At times, overseas professors, from the fields of finance to human resources, were invited down to provide industry-based learning to students. That really helped to broaden my global perspective.
Those lessons come in handy today, since my job requires handling people from different walks of life. These were technical aspects I lacked and needed to know in order to run a business.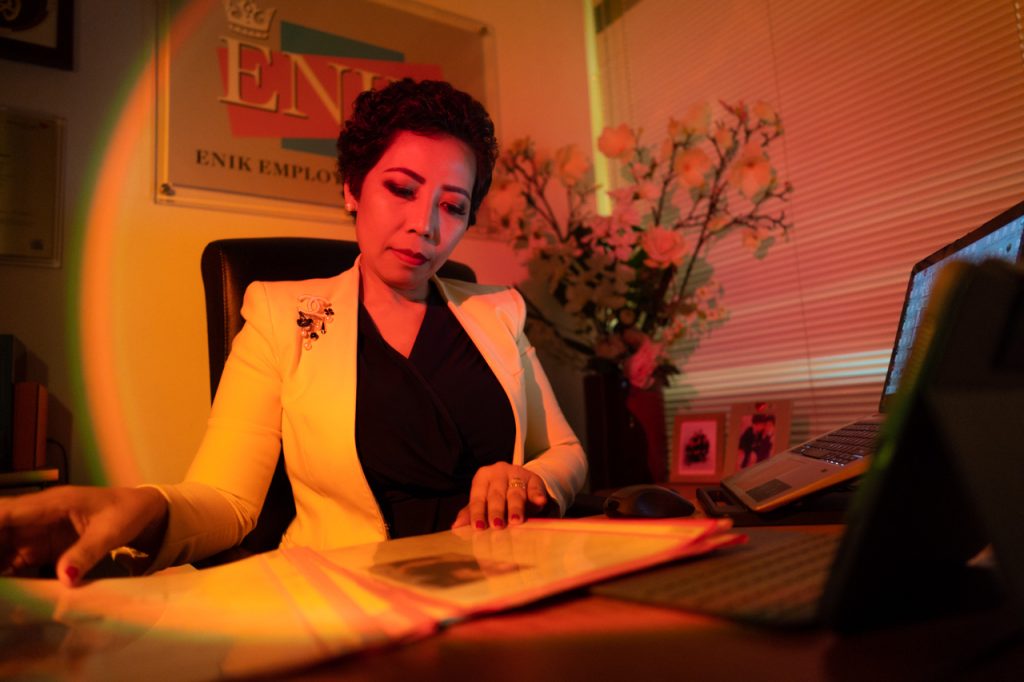 More importantly, Mdm Salitha taught us that education is not only about getting high grades, but knowing how to apply what you learned in your career. She was also the one who reminded us that education should be an equal opportunity for everyone; regardless if you're male or female, rich or poor.
Aside from the knowledge that I walk away from, what's most valuable is actually the sense of belonging. I've always been the cheerful one in class—that happy-go-lucky student who is always ready to greet others. I still keep in touch with some of them.
Cancer, Before and After
When I first got my cancer diagnosis, I told my mom straightaway. The next was Mdm Salitha. She picked up my call, only to ask if I was doing okay.
As much as I am an optimistic person, I genuinely opened up about my fear. I told her of my worries—about the size of the cancer growth, and if everything would start going downhill from there.
Mdm Salitha remained calm. She told me she'd pray on my behalf. I was in surgery for 14 hours. As the anaesthesia took its hold, I held onto the bracelet she gave me.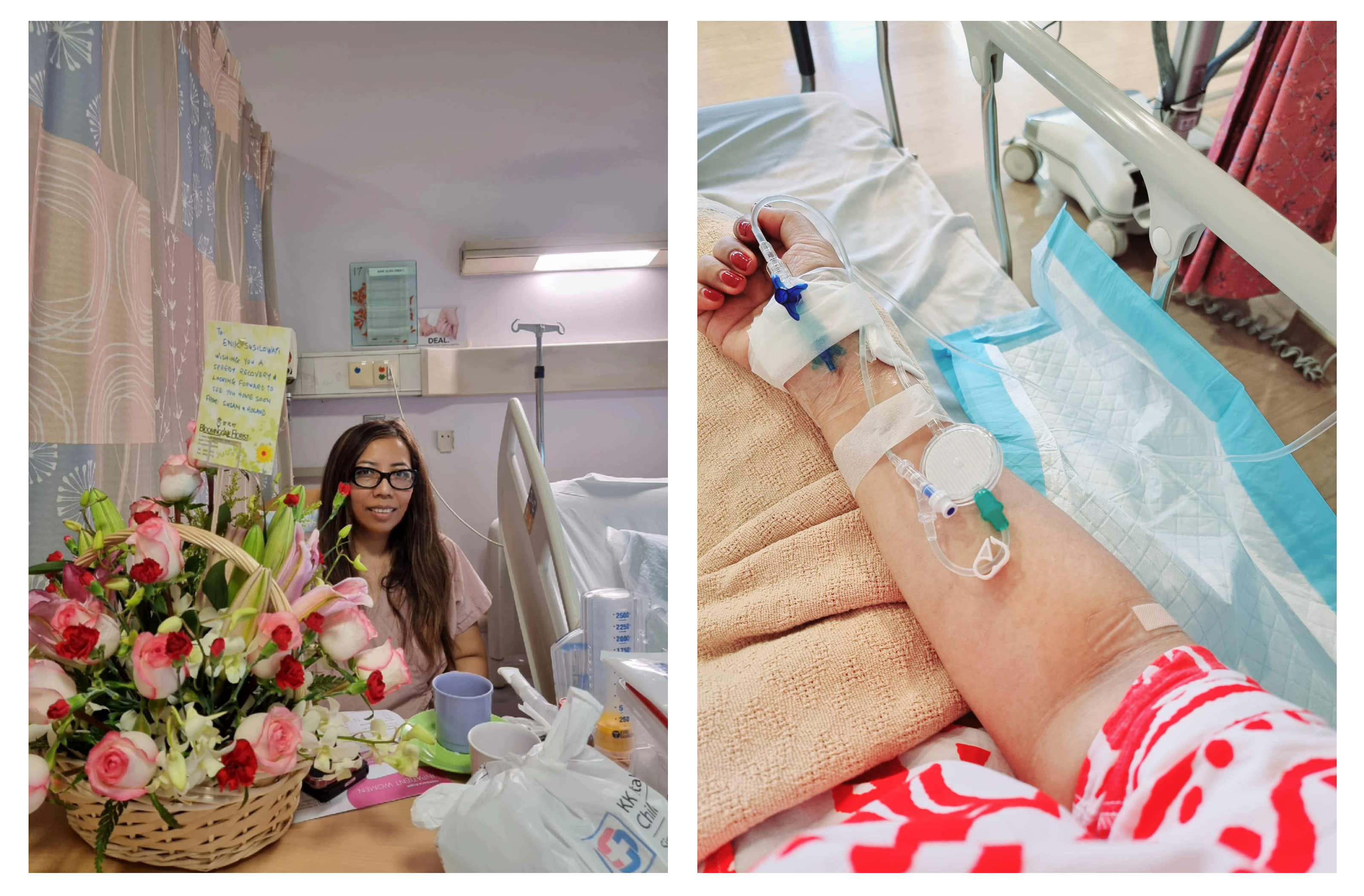 Five days after the surgery, to remove the cancer, I was allowed to be discharged from the hospital. I came home with three bottles of blood tubes, attached from my breast to hip.
My hair was usually thick and long. Cancer changed all that. While washing my hair at a salon one day, the stylist was shocked to see a huge chunk of hair fall off. My eyebrows and eyelashes began to thin as well.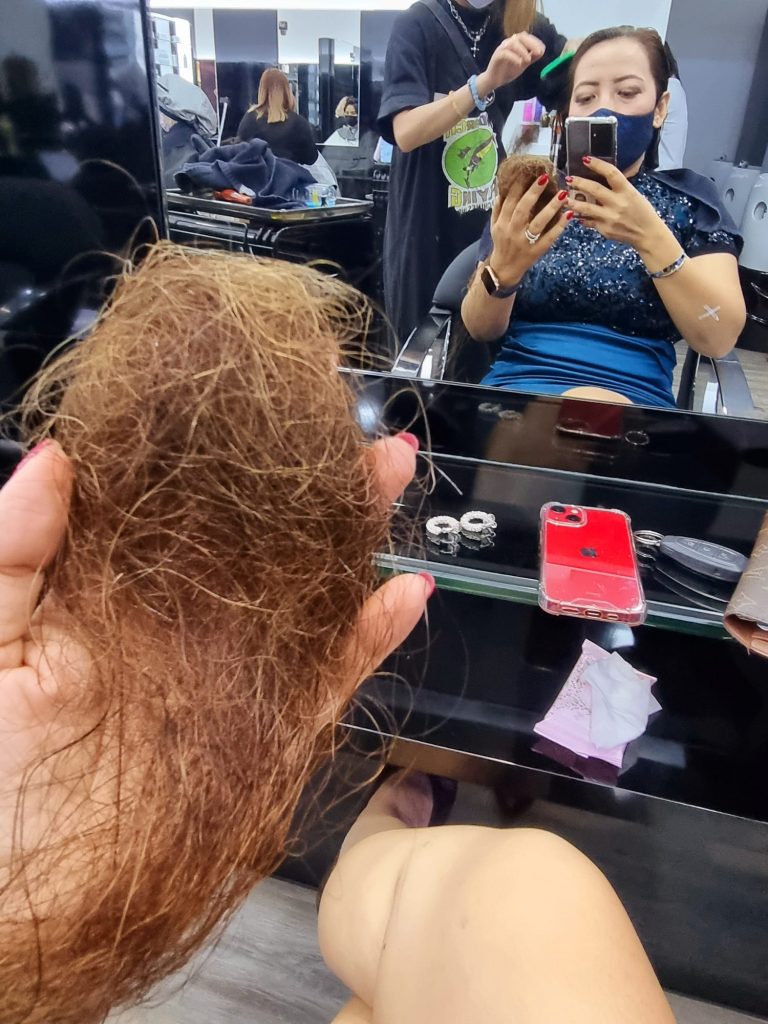 That's when I told them I would shave my hair.
Not many classmates knew of my cancer diagnosis, although word began to spread. Outwardly, I was still the same cheerful self—I kept smiling and projecting the bubbly person I always was.
But they noticed the change in my appearance. I wore wigs. A variety of different bandanas helped, too. Cancer can do that to you.
Despite all that, I never once lost hope for a future I could take on. Maybe it was all the help from everyone else around me. This includes my children—they're older now, and would always leave a note cheering me on.
In 2021, losing my father was more painful than anything I had ever faced. He passed away from a sudden heart attack. I was going through a busy work day–a form of normalcy I've come to appreciate. I picked up my phone to see 100 missed calls from my mom.
It was the same day I put up the sign of my company.
I'm still learning to digest this loss. We are only human so it is alright to feel pain. But right now, my strength lies in my kids and career.
It's not so much about profitability–I want to leave indelible footprints behind with the time I have left in this world. As much as possible, despite having gone through cancer, I choose to look forward and remain positive.
To All Women
From the day I stepped foot in this city, all I wanted was to be treated equally—as a lady, as a woman, and as a human being. After so many years, I'm now a Singaporean Citizen.
My life could've been very different if not for my educational pursuits, let alone cancer. This is why I believe in imparting as much knowledge to other women and domestic helpers at my current job.
When these women leave their hometowns, many are left with almost no money to even buy rice. Normally, they'd return as housewives after their contract. I hope to empower them in such a way that they can create jobs of their own.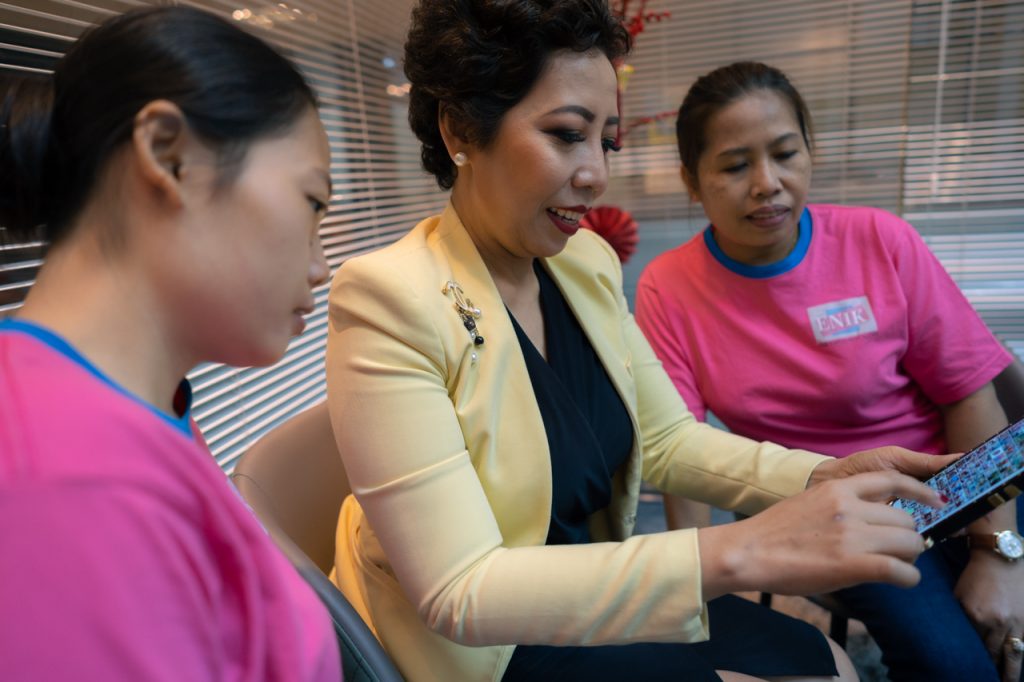 What I do every Sunday, at least, is to open my office for activities—things like baking and handicraft classes. Each week, they get to learn new skills like creating keychains using materials we provide. I also believe in imparting the importance of financial literacy and family planning.
These women are always excited to learn whenever they're given the opportunity to.
Of course, that includes finding the right employer fit and ensuring welfare is taken care of. If not, that will only put them in situations where they might potentially struggle even more.
With my cancer, I'm aware that everything in life is temporary.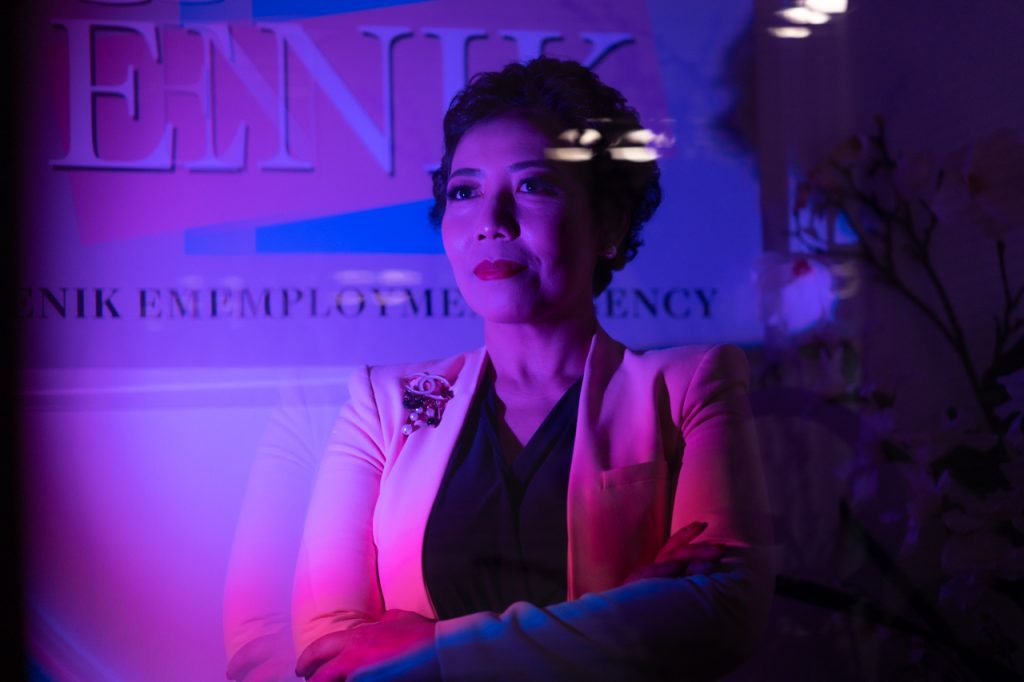 If you were to ask me if I'm ever down, the answer is that it's rare. I don't normally feel sad, but there has been one distinct memory that has stuck with me.
Two years back, I was invited by a business friend to an event. There were ten of us in total—nine of them were bosses. Back then, I wasn't one yet. When it came to my turn during formal introductions, my name was the only one skipped.
I began to wonder: Is it because I'm a lady? Is it because I'm someone who doesn't deserve any recognition? I drove home feeling beaten and didn't tell anyone about it.
Looking back, that incident further pushed my desire to prove my capabilities. I'm grateful for it. I've learned that happiness is not about the money one makes–it's also about good health, and about the people who surround you.
It sounds cliché, but education is really a tool for success. For now, my humble hope is for all ladies to start believing in themselves.
That alone is a step forward.
---
This story is brought to you by PSB Academy.

If you haven't already, follow RICE on Instagram, TikTok, Facebook, and Telegram. If you have a lead for a story, feedback on our work, or just want to say hi, you can also email community@ricemedia.co.