All images provided by the profile.
It pains me to say the obvious, but our world is pretty much still run by men.
Even with all the progress made through history, there's still a long way to go when it comes to celebrating women's voices and achievements. It's not just in STEM industries. It's also creative ones like design. Think TV show Madmen — a portrayal of backwards narratives in the '60s, where females in advertising were believed to be incapable of great ideas. How much of that sentiment remains today?
Danielle Ng, a 27-year-old Associate Creative Director of boutique brand consultancy Somewhere Else (SWE), affirms that challenges like gender parity and toxic work culture still remain. For the most part, there's still much to be tackled in Singapore's creative industry, and she resolves to make ripples through tiny but impactful ways.
Tying Good Work to Meaning
Danielle still finds it hard to explain her role to others. What she does can be hard to summarize, but one thing is certain: she plays the role of a lightkeeper who guides both brands and her team members towards a healthier work environment.

In other words, her job goes beyond just piecing the trendiest styles together.

On top of handling big-picture creative duties, she also supports junior members of the team. A typical day involves strategising for brands; each with unique positionings, products and needs. From logos to colours, fonts and more, each element is then created to help distinguish a brand's identity from another.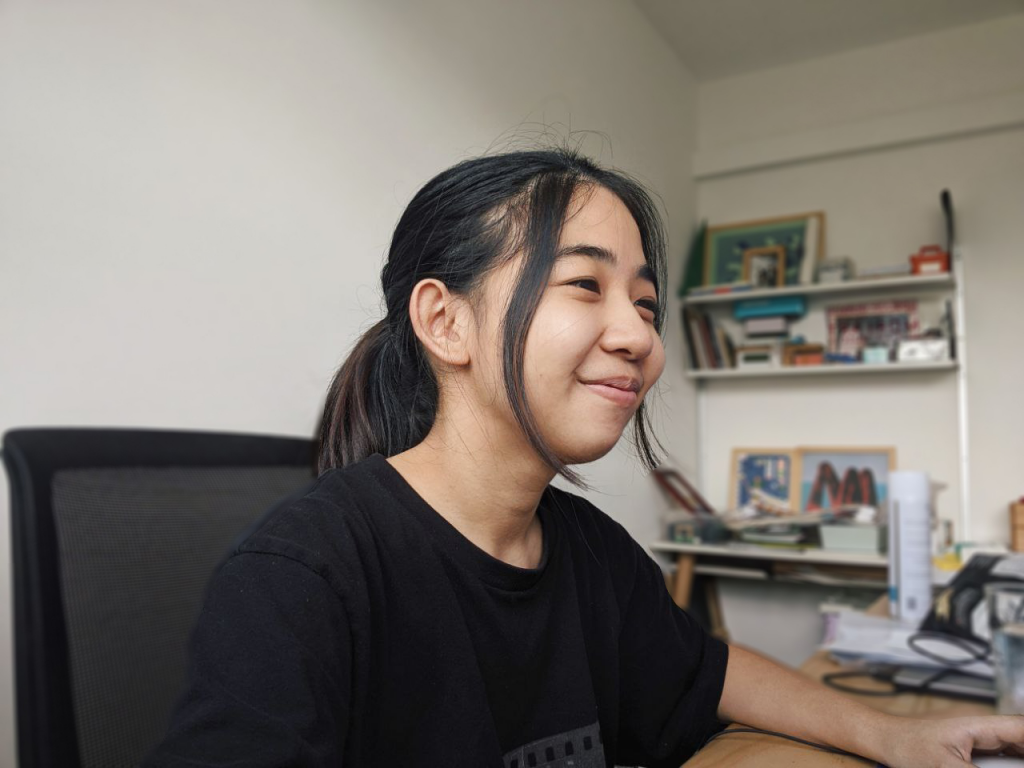 In fact, Danielle played a key part in building the RICE Media aesthetic too — it tops the list of interesting projects she's ever worked on. She tells me that there was much to consider: "How can we create an identity that's alternative but yet still appeal to the general audience? We didn't want the brand to appear rigid, nor too quirky to a point where it alienates people."

RICE takes a unique spot in the market. It's certainly not a chaser for trending news, but rather a site with deep-dive features and at times, even ~edgy~ opinions that may very well offend certain readers. Naturally, it needed to stand out visually as well.

It took a few iterations of fonts and colours before they finally nailed down what felt right. "That's just one of the many projects we work on — regardless of the client though, designers must be adaptable and always learn to listen."

And listen she does. During the Circuit Breaker in 2020, Danielle noticed a shortage of volunteers for non-profit organisations, whose work became extra crucial during the precarious period.

"In the news, I started seeing how non-profits are having big drops in donations. Everyone needed help at that time, and I didn't want to stand idle."

It prompted her to think about how designers can step in — envisioning a platform designed for creatives looking to put their skills to meaningful use. That led to the birth of her ground-up initiative, Making Meaning.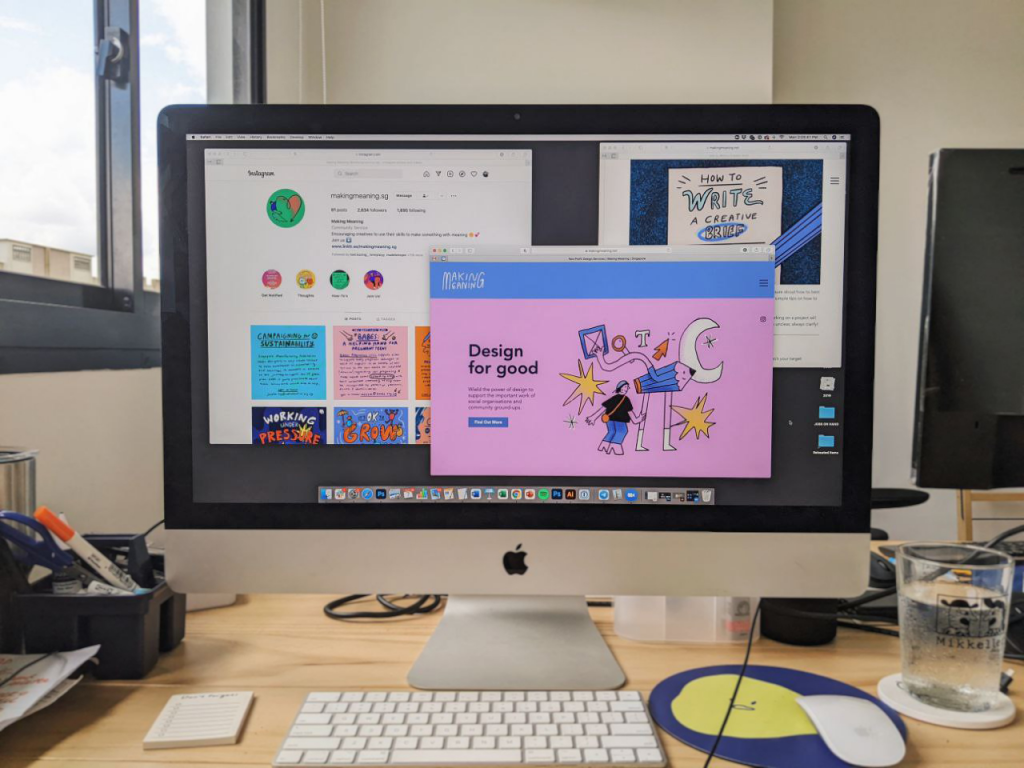 Benefits are twofold. On one hand, the initiative allows creatives to make valuable changes by designing for causes they care about — whether by creating posters or newsletters around topics like children's cancer, burnout, or debunking of dementia myths. On the other hand, this makes organisations think deeply about the power of good design.

"At the end of the day, people get pumped when working on things that align with their values. There was once a designer who volunteered for a dementia home. She was motivated for the cause because her grandmother suffered from the same illness."

Much of what she does now is inspired by her own personal experiences. Perhaps it's also because there was a lack of female role models when she was a junior, so she understands the importance of having someone to look up to.

Her involvement in Making Meaning fulfils that calling: it's an avenue where she aims to uplift aspiring designers from different backgrounds. Some of these volunteers are students looking to practice on a real-world project before stepping into the industry. Other times, these are people who are feeling low and are in-between jobs.
Saying No to Unhealthy Work Habits
In her free time, Danielle utilises Making Meaning to tackle important issues close to her heart. One common theme has been the focus on work-life balance, particularly of creatives getting themselves stuck in a hell hole of never-ending work hours. Her dedication to creating such original content serves as testament to her resolve in turning things around.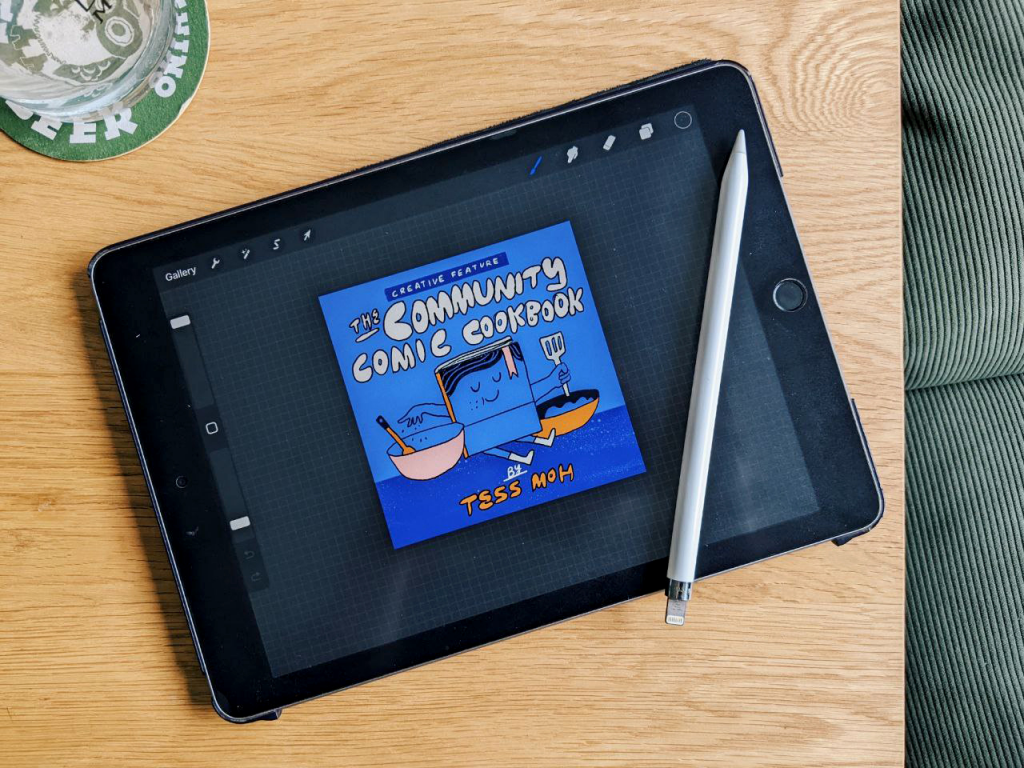 "Have you ever heard the mantra: 'sleep is for the weak?'" she asks me at one point.

It's often disguised as an odd joke meant to be laughed off, except that it isn't.

Danielle points out that the scariest part of it all is that there are still designers in positions of power who abide by this mantra and the toxic culture of hustling. Exceptionally low pay, intense workload and crazy work schedules that stretch past midnight? Unfortunately, these are commonly accepted practices in Singapore and they paint a bad look on the industry as a whole.

Even meme pages have taken to parody this workaholic culture. Laughter makes it easier for the pain to digest, after all.

"Why are people still glorifying this even today? It really doesn't mean you're less passionate or less hardworking if you're not willing to overwork yourself."

In the traditional Asian context at least, what's seen as a good employee is often the person who refuses to leave work on time. Designers selling their souls to client feedback? Completely normal (and entirely relatable in the realm of branded content). It creates a vicious cycle of favouritism towards those who actively respond to e-mails at ungodly hours.

At SWE, soft rules have been implemented thanks to Danielle's efforts. She's been a big push for this change: no seat warming and working past 6:30pm. And that's only some ways to strike a healthy balance. There's no love for overtime work in their office; internal meetings have been reduced as well.

"Creatives are often sold the idea that passion and hard work are closely-tied together. You start to believe in it. I once did too. But it really doesn't have to be one or the other. That's not true at all."

"I've heard of friends overworking almost every day in other design houses, and they're shocked to hear that we end work on time."

Surprisingly, their clients have given their support and approval to these healthy work practices. It's a collective effort, but it's not all that impossible.
Navigating Barriers, One Step at a Time
Having said all that — even with all of Danielle's contributions and experience, self-doubt somehow finds its way in at times.

"My biggest fear has always been if people don't take me seriously, " she admits. "I'm fine with taking the backseat, but I wonder how much of that fear stems from my gender and age."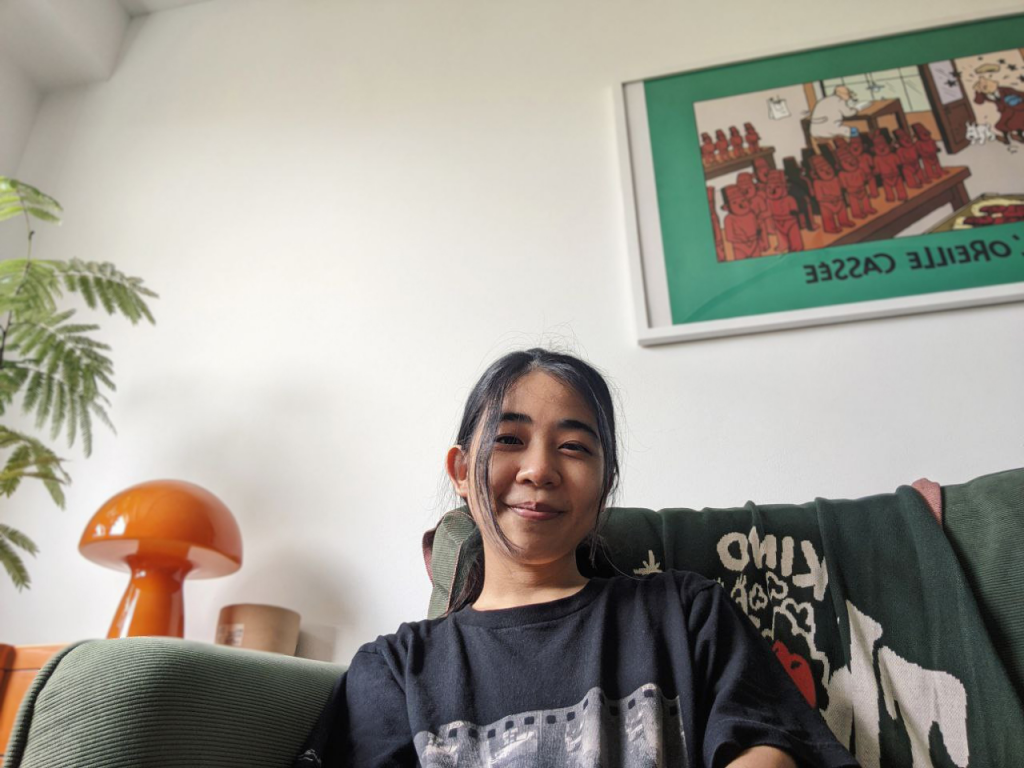 Danielle's relatively young for someone in a directorial role. It doesn't help that she's petite — her appearance less imposing than her male counterparts. There are times when she felt less confident compared to male colleagues despite her authoritative position. Like her, I've struggled to find my voice when in a room filled with more confident men.

As a student back in the days, Danielle would also attend design talks with classmates, only to see the same speakers over and over again. They were frequently held by the same pool of male designers; many of whom are already power players in the field. She hopes for that to change.

"Even though I'm confident in my own work, sometimes that doesn't translate to selling ideas. I'm not sure why — it might be an internal gender bias. We've been taught to believe that females should be softer and less commanding."

Change starts from the littlest things, and it needs to start from the top. While Danielle may still be on the journey to finding that creative confidence, she hopes to become a role model for younger designers.

"I may just be one person in this wide industry, but I guess little is better than nothing. I have to set a good example first."

It would seem simple: Love your work, then be proud of it. Own your voice, then be recognised. But it just isn't that clear cut. Regardless of industry, some of the work challenges she shared may be common among women around the globe.

The good news is that times are changing. Outdated expectations around gender roles are going away. The design industry may be well on its way to a better work environment with young leaders like Danielle, who's been quietly reshifting the way designers ought to work.

Transformation doesn't come overnight, sure. But it's reassuring to know of one more person who's fighting on the right team.
---
Whether it is to share education on healthy work culture, resources for personal growth, or to show support for social organisations and community ground-ups, Making Meaning helps creatives find value in their work. Wield the power of design by joining the cause here.

If you haven't already, follow RICE on Instagram, TikTok, Facebook, and Telegram. If you have a lead for a story, feedback on our work, or just want to say hi, you can also email us at community@ricemedia.co.