Top image: Ministry of Communications and Information (MCI)
By next year, Singaporeans will have a new face staring them down in public buildings. No longer will it be the warm, smiling visage of a lady in a pink hijab holding her gaze on students, badminton players, or any other patrons of state-run establishments.
Since 2017, Madam Halimah Yacob has occupied the margins of presidential portraits. But she will not pursue a second term, she announced in a Facebook post.
The 68-year-old made no mention of her post-presidency plans. Instead, she said that her experiences in office will inspire her to continue contributing to Singapore "in other ways for as long as she is able to".
That leaves the presidency up for grabs. And we just might get the chance to vote this time.
As Madam Halimah wraps up six years as president and many more in public service, it's perhaps fitting to examine her legacy. Despite the limitations of the office's powers, she's pretty memorable—and historically significant—as far as presidents go.
(At the very least, she made more of an impression than her predecessor. Tony Tan's expansion of the President's Challenge initiative aside, the main legacy of his unmemorable presidency is a meme-worthy resemblance to Colonel Sanders.)
Unfortunately, the good work she's done will always be blemished by the controversy surrounding her rise to power. While we doubt she orchestrated everything in order to clinch the presidential seat, the public won't forget the contentious beginnings.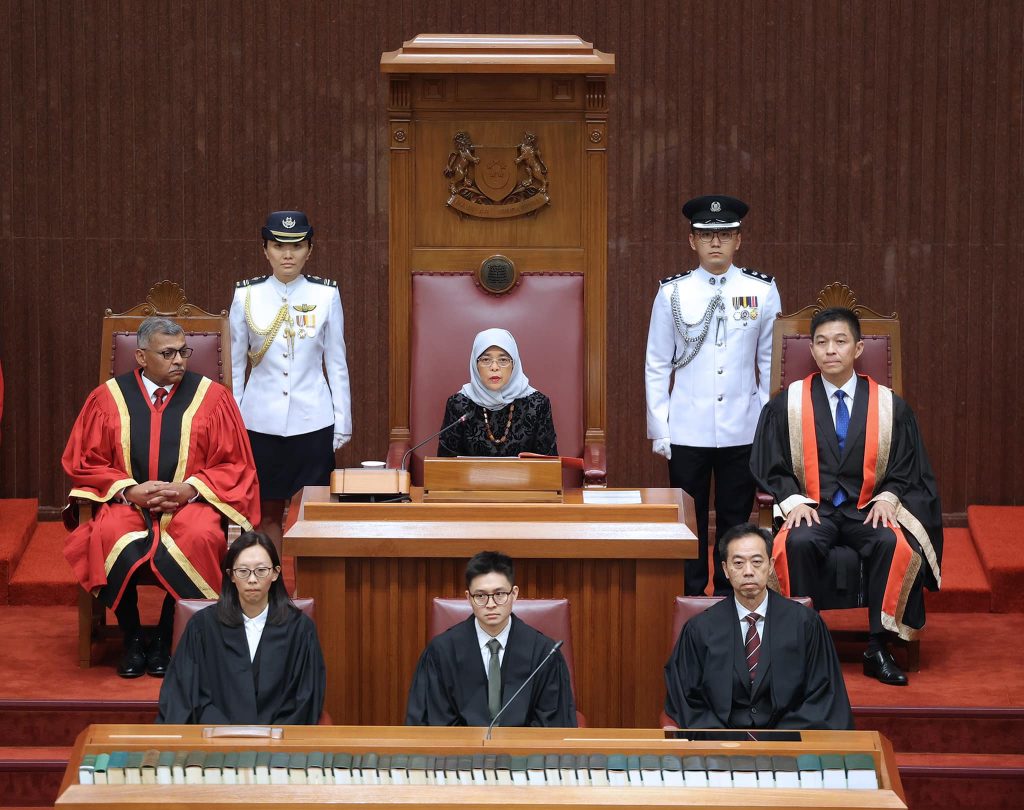 A Controversial 'Reserved' Election
From the start, the former People's Action Party (PAP) MP's ascension to the role was mired in controversy.
The first point of public concern was the government's decision to reserve the role for members of the Malay community, a move some political observers saw as a cockblock for opposition stalwart Dr Tan Cheng Bock. The Progress Singapore Party (PSP) chairman came so very close to winning in the 2011 presidential election against Tony Tan and had intended to throw his name in the hat once again.
In November 2016, amendments were made to the constitution to decree that a presidential election should be reserved for a particular race should they not be represented for five continuous terms. Since independence, Singapore has only had one other Malay president: Yusof Ishak.
The move was seen by many as a step backwards, especially in a nation so hung up on meritocracy. A protest was held at Hong Lim Park, with incensed members of the public airing their frustrations using the hashtag #NotMyPresident.
Cognisant of the backlash, PM Lee acknowledged at a PAP convention that the reserved presidency was a "political minus" but defended his decision:
"How would the minorities feel if year after year, the President of Singapore were almost always Chinese? In the long term, such a scenario would foment deep unhappiness and erode the founding values of our nation."
Not only was the decision to reserve the election for a Malay candidate controversial, but it also pushed President Halimah's racial identity into the spotlight.
She has a Malay mother and Indian father, which raised questions about her 'Malayness'.
Ultimately, though, the runway was cleared for President Halimah. She was elected without a vote after the Presidential Elections Committee and Community Committee decided that, yes, Madam Halimah was Malay, and no, her opponents weren't qualified to run for president.
It was a walkover. She could have been elected anyway in a fair unreserved fight for the role, but now we'll never know.
Sudhir Vadaketh, author, commentator, and current editor-in-chief of alternative media outlet Jom, told CNN back then: "The only beneficiaries from this reserved presidential election are Halimah Yacob and her team, as well as Singapore's opposition, which now has a new line of attack against the PAP. The rest of Singapore has suffered."
He continued: "All Singaporeans are unhappy that meritocracy and electoral fairness, core Singaporean values, have been eroded to fulfil perceived political goals."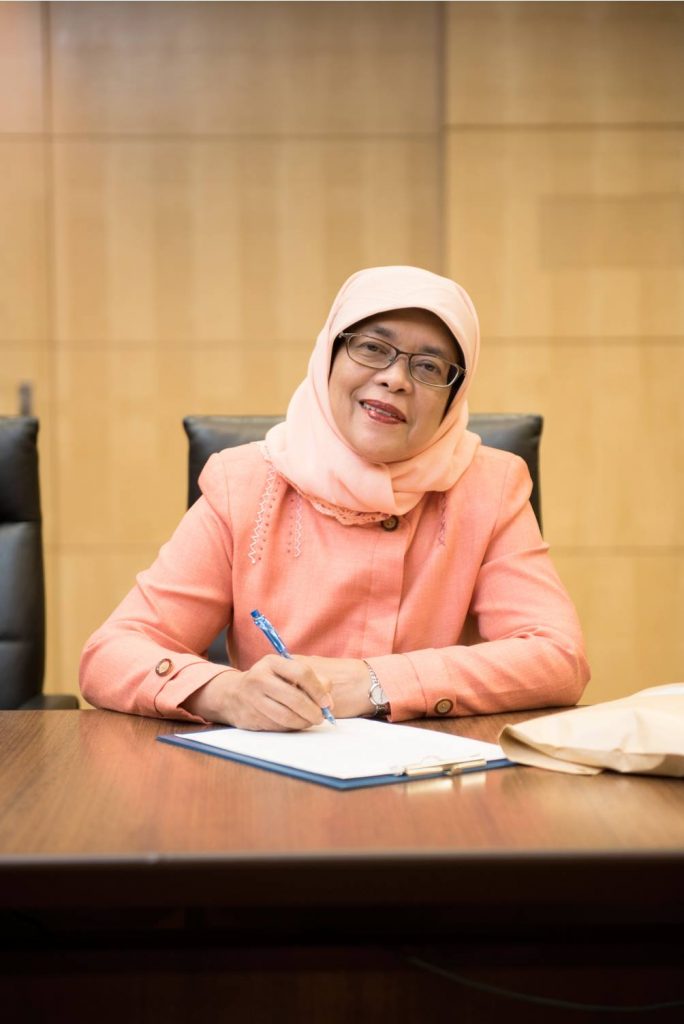 A Woman for Other Women
But perhaps how she got into office isn't that consequential since the role of the president in Singapore is largely ceremonial.
While Prime Minister Lee Hsien Loong leads our cabinet and government, the president represents the country at diplomatic functions domestically and internationally. While President Halimah has the power to veto governmental budgets and key public appointments, she hasn't.
That said, Madam Halimah leaves her term having made at least some difference in women's rights.
Most obvious is her legacy as Singapore's first female president. Perhaps this would have been more significant if she'd won the vote in an election instead of a walkover. Ceremonial capacity aside, it's noteworthy to have some female representation after decades of male rule.
She also did not shy away from thorny—and sometimes polarising— issues during her presidency. She called for rapists above the age of 50 to be caned (they're currently exempted), arguing that the impact on their victims lasts a lifetime.
Other instances where she spoke on women's issues include the time she championed Muslim women's right to wear the tudung at work and the time she called out podcast channel OKLETSGO for "humiliating and misogynistic remarks".
Madam Halimah certainly didn't hold back. It says a lot when one of the most powerful ladies of the land publicly declares: "It's not ok to treat women like dirtbags and punching bags."
And it wasn't just lip service. She served as patron for over 40 organisations, including a number of women's organisations such as Persatuan Pemudi Islam Singapura (PPIS), Singapore Council of Women's Organisations, and Casa Raudha, which provides shelter for victims of domestic violence.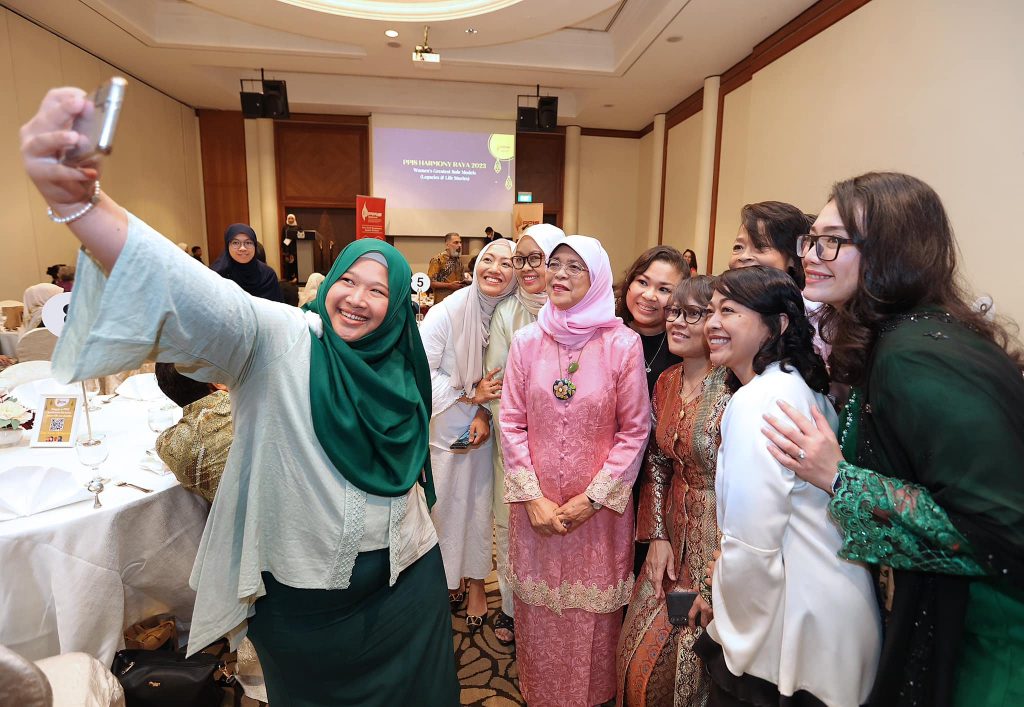 "I look forward to a more equitable and inclusive future, where every man and woman is valued, and every woman has an equal opportunity to achieve her aspirations," she declared in her keynote speech at the 17th Women's Forum Global Meeting last year.
She may have had a rough start, but Madam Halimah ultimately proved she walks the walk. Even when it required her to stop living in her beloved Yishun HDB flat.
Much To Cheer About
And since we're talking memorable moments, I would be remiss if I didn't bring up the most viral video to come out of Madam Halimah's presidency.
She'd graced the national swimming team's training session in June 2018 to encourage them ahead of the 18th Asian Games and somehow found herself in the middle of a circle of cheering athletes.
It's equal parts chaotic and awkward: Her determinedly genial smile, the half-clothed swimmers determinedly avoiding eye contact with her, and her swivelling around as if searching for a way out of a ritual chanting circle.
If anything, it speaks to her composure. Because anyone else would have noped out of that weirdness as soon as it started.
Never change, Madam President, never change.
---
If you haven't already, follow RICE on Instagram, TikTok, Facebook, and Telegram. If you have a lead for a story, feedback on our work, or just want to say hi, you can also email the writer at kim@ricemedia.co or at community@ricemedia.co.