Let me be clear from the start: this isn't a sad story about Peninsula Shopping Centre. I won't wax on about the bygone good times or the Old Singapore that decays in the strata malls. Too often these communities are depicted as cudgelled beings; gasping for air, waiting for the final scythe to end their misery.
I investigated Peninsula Shopping Centre under pretenses. I presumed this was the place where the Singaporean punk scene had thrived in the 70s'.
Turns out, I was describing Peninsula Plaza––which is across the street. The two are often confused, and the plaza is what most people are referring to when they say 'peninsula.'
Fair to say, the shopping centre has slipped under the radar—I haven't seen it referenced much in strata mall roundups. In my teenage years, I spent a lot of time at Peninsula Shopping Centre with my Dad. I had bought my first, second, and third guitars at Davis Guitar Music Centre in the basement.
Much has been said about the plaza and Little Myanmar, but its sister strata are more mysterious. It's always had this air of stillness and ease. My time there is a tale of joy, endurance, and gentle reincarnations.
All photos by Feline Lim for RICE Media unless otherwise stated.
I.
There's a time portal on the second floor of Peninsula Shopping Centre. From the outside, Trend Fashion looks like it barely survived a hurricane. The window display is a minimalist's nightmare.
A non-exhaustive list of treasures in the window: dishes with marijuana leaf decals, gold and silver watches that don't turn, lighters from Michael Jackson's concert at the old national stadium in 1997, a Bruce Lee matchbox set, dozens of religious artefacts, and three trays of gold, silver, and plastic rings covered in a thick layer of dust.
It's the rings that draw me in. The chunky, clear plastic reminds me of the accessories I coveted in my Y2K childhood. Inside Trend Fashion, access to the window display is blocked by spewing piles of patterned clothing and fabric scraps. I look down as we cross the threshold and the welcome mat says GO AWAY.
"Yes, boss?" The owner, a cheeky uncle with bright eyes, emerges from behind a television playing Tamil soap operas. I ask about the rings and he cuts expertly through the clutter to extract the trays, which look as though they haven't been touched in a few decades.
"I don't throw anything away. You never know what the kids want," he remarks off-handedly, admiring his store through my eyes, excitedly showing me the clothes which went out of style but recently cycled back in. In the past three years, Trend Fashion has seen a sharp increase in young shoppers.
"You know the bell-bottoms? They're my biggest seller." The owner of Trend Fashion, who calls himself Johnnie Walker, has owned two units in Peninsula Shopping Centre since its construction in the mid-1980s.
I'm almost certain that a quarter of the trinkets buried in Trend Fashion have been there since its inauguration 36 years ago. In the 80s', Johnnie Walker remembers a different clientele to the teens he greets in 2021.
"You know, my customers were older back then. I had many tourists and foreigners coming from the Excelsior Hotel. Back then, Peninsula Shopping Centre was the place to buy American jeans."
Johnnie Walker is an eccentric tailor. His creations hang throughout his grotto—in blue reflective faux leather, crocodile print, and polka dots. Some of his designs are sleeveless or cropped cleverly at the waist to show off a glitzy belt buckle.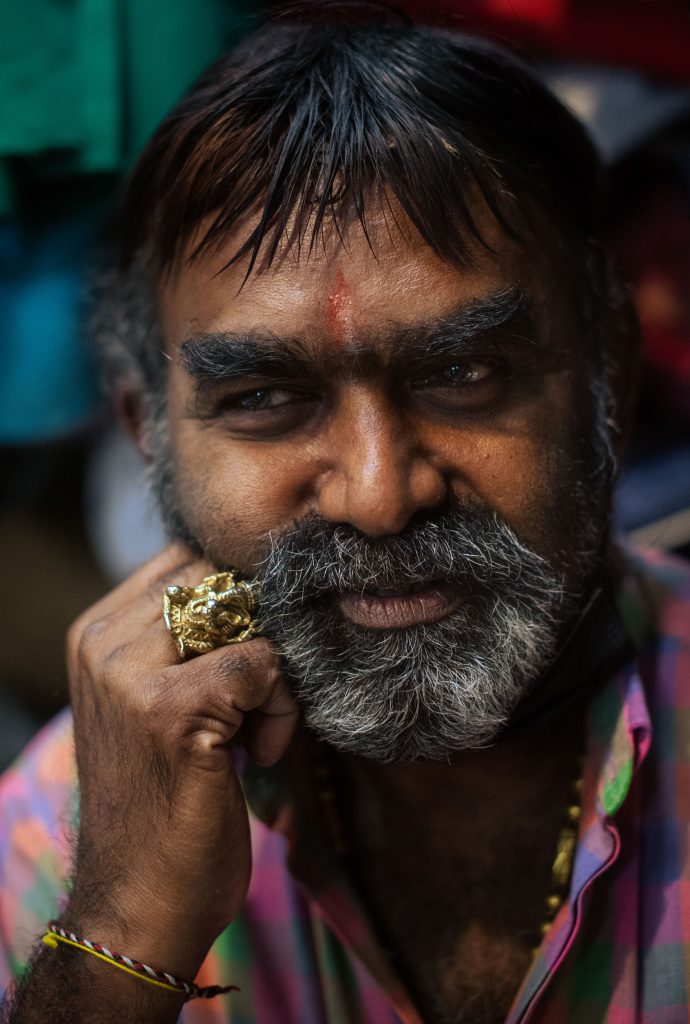 "Youngsters love my clothes. For a long time, I couldn't sell the pieces I designed in the 80s'. Now, I can predict exactly what will come in style again. Better yet, I have the originals left over. I don't even need to make new things."
II.
Johnnie Walker is the most successful conversation I had all day. Many shop owners are reluctant to speak with me. Perhaps because I am too forthright with my intentions. I am politely rebuffed by a stamp collector and a magician in their respective units on the top floor.
"Saying that you're looking for an 'interview' is very formal. It makes them suspicious." Feline, RICE photographer, says of my approach with the sexagenarians.
I take her advice and dial it down for a visit to a punk-ish shop called Khubchand Co, which offers metal chains, belt buckles, cowboy hats, and band tees.
The owner declines to offer his name for the story but I coax some stories from him as he shows me the most popular band tees. In the 90s' and early 2000s, his shop was the premiere destination for line dancing apparel. He supplied costumes for the international line dancers that performed in Singapore.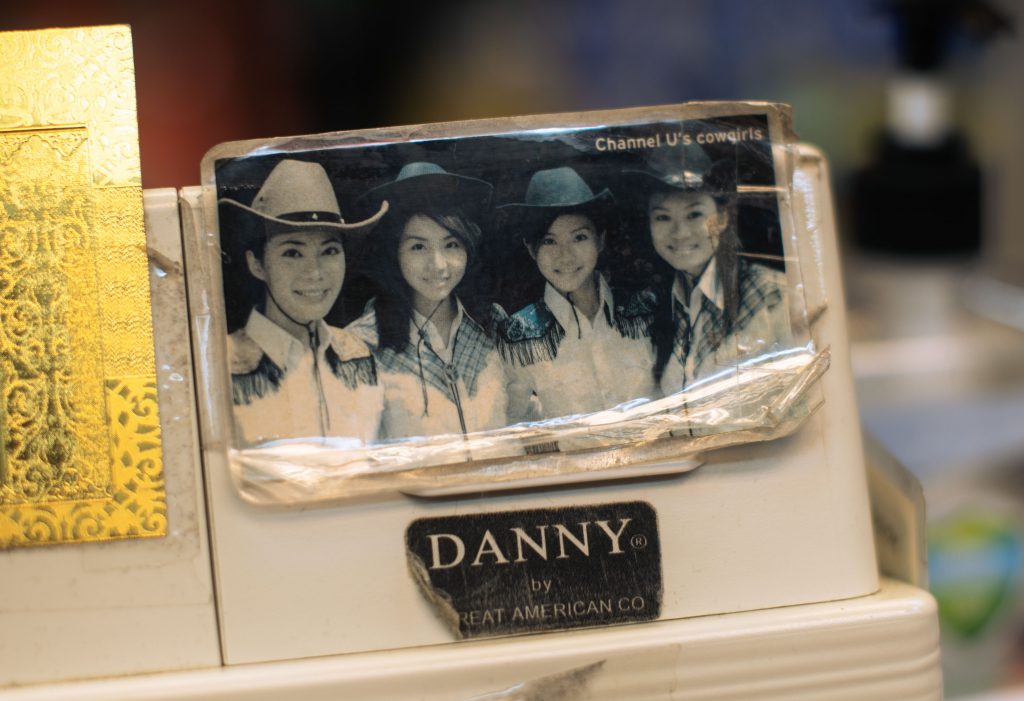 Although the owner claims he wasn't involved in the actual dancing, the pictures on the wall tell a different story. There are dozens of snapshots of him donning cowboy boots, a cowboy hat, and a large belt buckle.
I thought this was proof of shyness, and it endeared him to me. But as we talked more, I realized he was telling the truth. His collection of band tees is quite extensive—ranging from Avenged Sevenfold to Bring Me The Horizon—and niche. I presumed that to source and stock this apparel, one needs to be a fan of the band.
"I've never heard any of this music," the owner replies when I ask which band he is partial to. Instead, he pulls out an Elvis Presley tee from a hidden shelf. "The King is my favourite."
I suspected these special interest stores were run by hobbyists and collectors, but it turns out that most of the older tenants only cater to the fanatics—like bartenders who don't drink. I bought a Green Day shirt from Khubchand Co because I felt bad for annoying the owner with my questions. Also, I hoped it would endear me to him.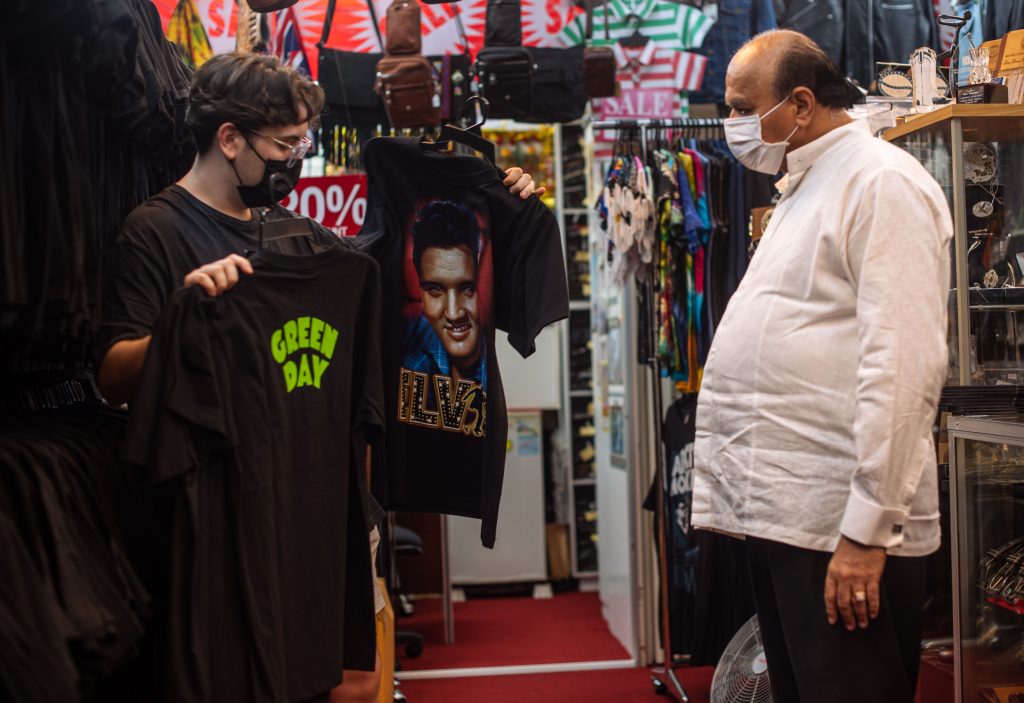 But it's all business in Peninsula Shopping Centre. After I make the purchase I'm waved out kindly but firmly. "No, I don't want my picture taken. Thank you, goodbye."
III.
Near the music shops on the bottom floor that I remember from my childhood, there's a slew of stalls selling vintage clothes—it's organised more like a flea market than the individual units upstairs.
Down there, I encounter young people. There are lots of loose-fitting, flared pants, faded band tees, and silver chained jewelry. Curiously, it's all young men who are shopping.
From afar, I spy the coolest tee in a sea of too-cool-for-school tops. It's a full-screen print of the Fight Club movie poster, resplendent in purple tones on both sides, worn by a 19-year-old boy called Shia, who studies maritime business at poly. I'm curious to know how he found out about Peninsula Shopping Centre, and how often he visits.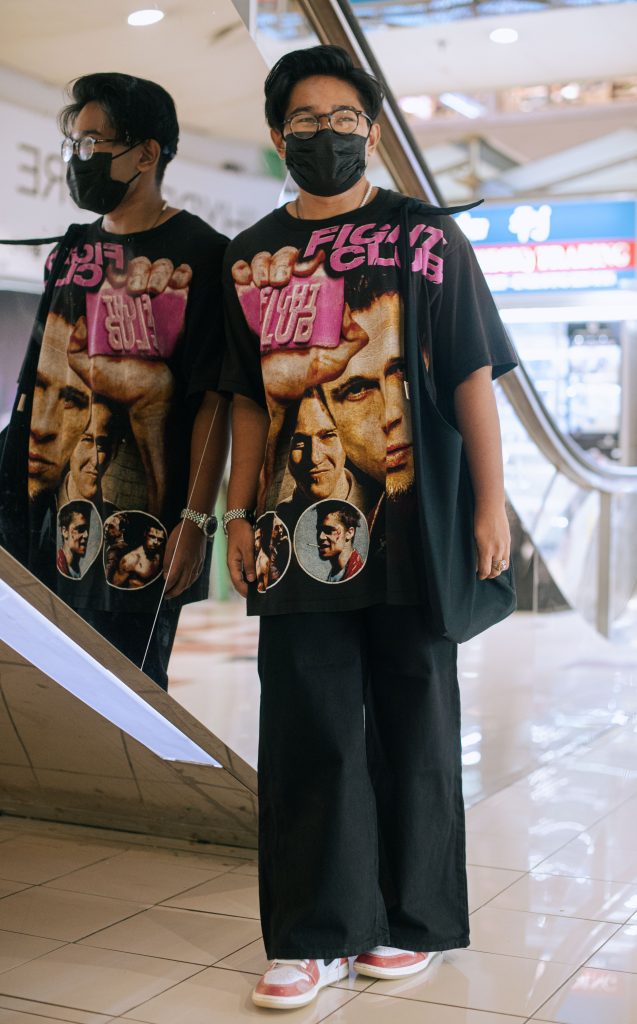 "I saw it on TikTok. It's only my third or fourth time coming, but I love it. It's one of the only places in Singapore where you can buy authentic vintage clothes."
At this point, I'm recalling Johnnie Walker's vast array of dusty wares. One man's trash, et al. Shia's interest in vintage clothes is not just about aesthetics, it's for comfort and quality too.
"You know the 90's era clothing is much sturdier, and softer as well. The collars and seams don't itch so much. It doesn't feel so flimsy, like what you'd find at Uniqlo."
Shia's hunting through Peninsula Shopping Centre is pragmatic fiscally, as well. He found a vintage Nirvana shirt for $40, which he has now listed for resale online. It's set to fetch upwards of $400.
"I do feel kind of bad buying these treasures for so little, sometimes. The shop owners don't know what value they have."
IV.
At the top of Peninsula Shopping Centre, where the oldies have record stores and travel agencies with SIA girl cutouts from the 80s', there's some young blood in a new business called Arcade Studio.
Started by Rex Chen, Ian Sing, and Ming Keat, Arcade Studio is an elevated photo booth experience. It's got a distinctly Gen Z charm, with clean white walls and floors to serve as a blank canvas for the social media photoshoots. It offers couples, families, and friends a space to take professional photos in a casual setting.
Arcade Studio has had great success with its soft launch, and Rex was keen to show off his growing collection of film portraits on the wall. Part of the appeal to renting this unit was its growing crowd of alternative teens. He also shared that in Peninsula Shopping Centre, there's a real communal vibe.
"I share a WiFi bill with the old man who owns the shop to my left, and my right is a baby store––we've collaborated with them for discounts on each other's services. Everyone has been very kind to us as we're starting. It's relaxing."
Arcade Studio is the perfect vehicle to describe what's happening in Peninsula Shopping Centre: it's an odd place with a long history that's inching forward incrementally, in a subdued manner, open to change but still delightfully stuck in the past.
On my way out, I noticed three edgy teens sitting against the cool granite pillars. They were draped lazily over each other, smoking cigarettes and playing music from their phones—their nose rings glistened slightly in the waning sun.
I came looking for the punks, really, for some sensational story about unconventional lifestyles. But I didn't stop to chat with them. I found a better story in the sleepy hollows of Singapore's forgotten strata mall. And for now, that's more than I could bargain for.