All images by Zachary Tang for RICE Media unless otherwise stated.
A warm light basks over Candice Phang's workspace in soft hues.
Light rain patters against the window before her, but she is too focused on the scatter of paper on her desk to notice. She's knee-deep in work, her paintbrush making gentle, rounded strokes on her notebook.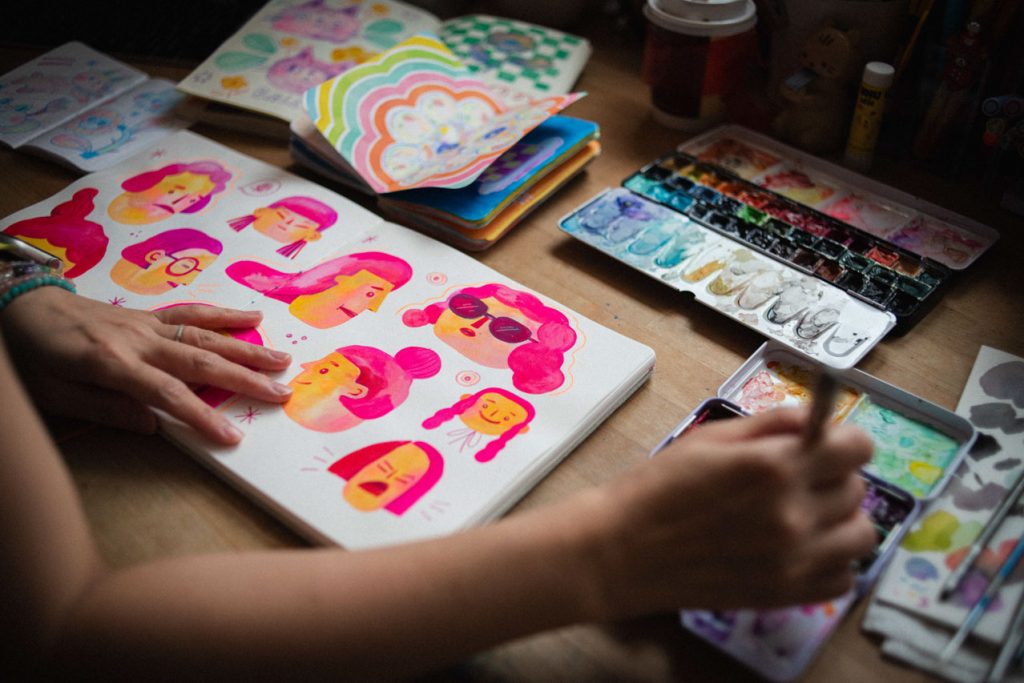 After some time–as if on cue–one of her feline muses, Fishball, jumps onto the desk. It stands stubbornly over Candice's workspace, blocking the palette and notebook from view. Candice laughs and scolds Fishball playfully, but it doesn't budge. She takes it as a sign to take a break.
There's no mandated lunch break, or an actual clock-off time—not when you work for yourself.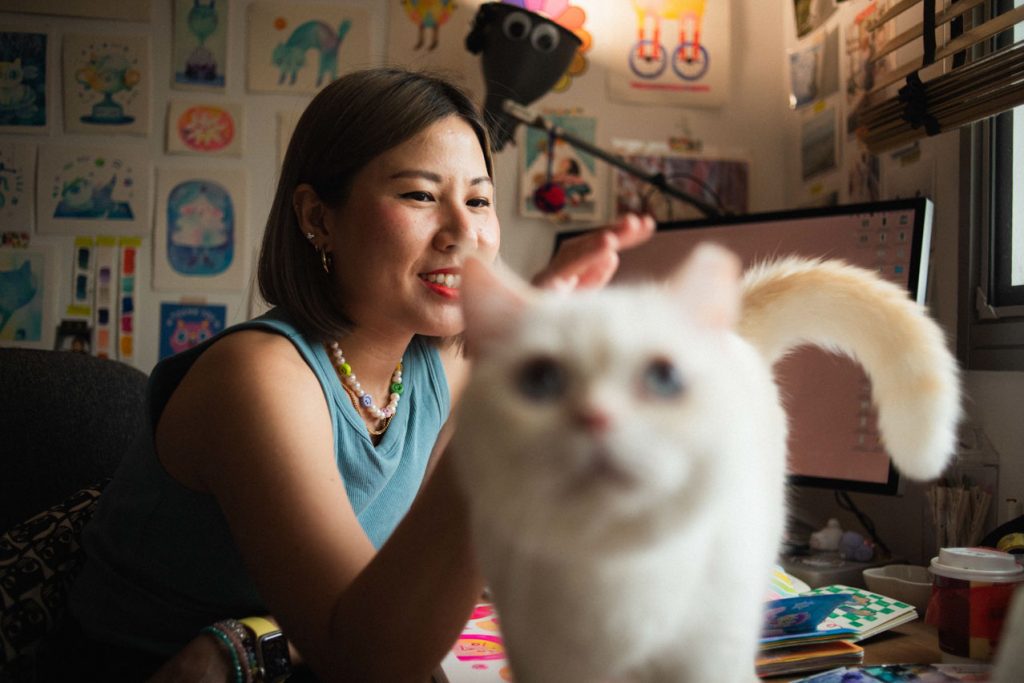 A One-Woman Show
Many dream of being their own boss. You get to set your own hours and own your workload. There's nobody to micromanage you. You're never tied to one desk, or an office in the CBD.
More importantly, working for yourself means being able to make a career out of something you love.
This pursuit for passion is what led 39-year-old Candice to leave her day job as a graphic designer eight years ago to start her own independent studio.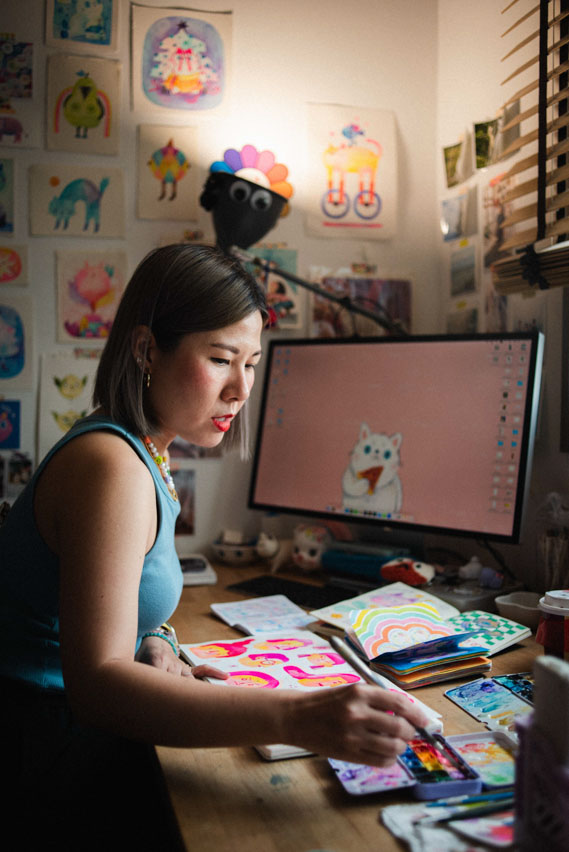 On the surface, Candice is an illustrator. As the sole employee at Puffingmuffin Studio, what most don't see is that she is her own accounts manager, publicist, finance department–amongst many other roles.
As a freelancer, she has to fill every position that you could imagine would exist in a small organisation, she explains. Wearing this many hats is not easy.
"Although I appear to be, I'm not very extroverted," she admits. "I have to step out of my comfort zone to take up outward-facing roles. And the finance side of things is especially painful, because I know nothing about it."
"Even if I don't like doing certain things, I still have to." She laughs.
Embracing Instability
As part and parcel of the freelancer life, Candice gave up a stable source of income.
"When I was deciding if I should become a freelancer, my biggest worry was financial instability. I really wouldn't know when jobs will come in, and when they won't."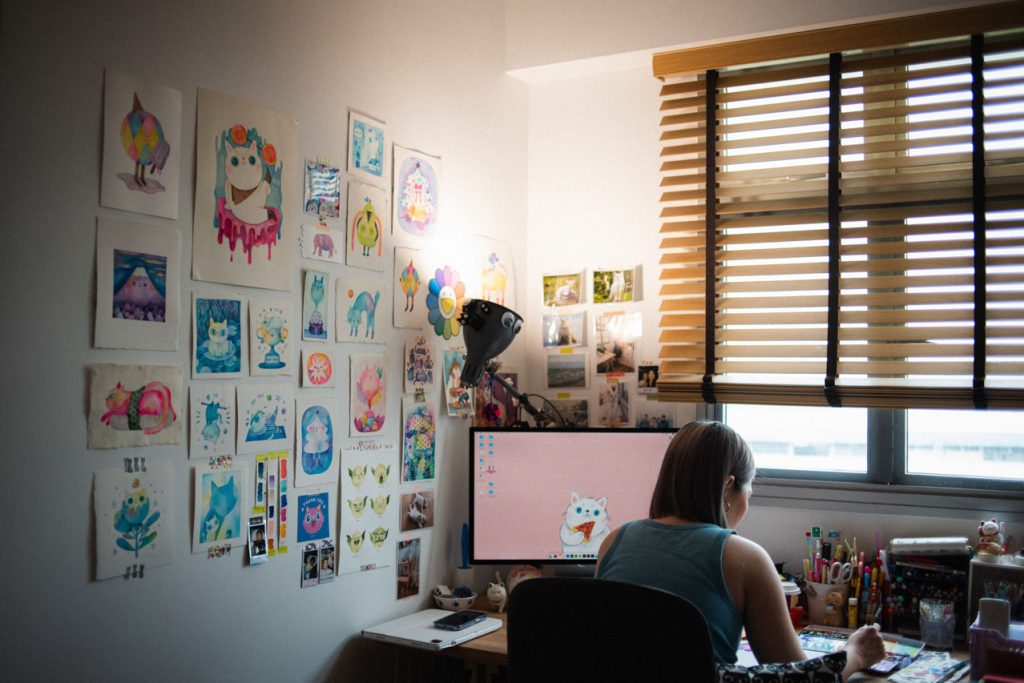 Another overlooked pain point about being a freelancer is losing company benefits. As her own boss, trips to the doctor and the dentist are no longer covered for her. Transportation costs to meet clients come out of her own pocket, instead of claiming it from the company.
Despite her impressive portfolio since she first started out, money was a worry–and it still is today. When she has "too much time", she frets over "not having enough money". And when she has "too many projects", the worries manifest as "not having enough time" to do them all.
"Having a stream of clients and projects will always be a concern. It will always be something that I can never take for granted."
Small businesses like hers are vulnerable. Candice has felt a need to adapt her business strategy to the changing times, all to ensure she doesn't go out of business.
For example: before the pandemic, she dedicated a lot of time to doing live drawings at events. But things came to a grinding halt during COVID.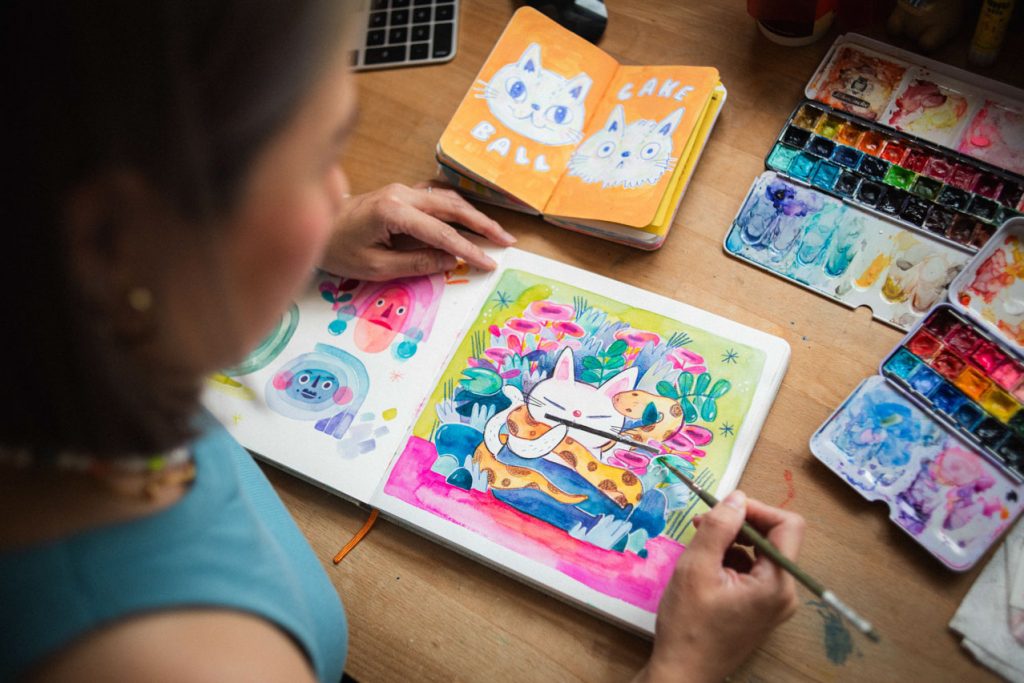 In response, she shifted her approach towards her work. Instead of over-relying on external projects and collaborations, she ventured into doing more personal projects, like private commissions, to see if that method could keep her business sustainable.
She tells me that as much as possible, she will never turn down any project because she doesn't know when the next project will come in. During slow months, she'd churn out more personal work and publish them on social media–putting in the legwork to get her work out there.
"I just have to keep it going," she shrugs.
Setting Up Safety Nets as a Freelancer
Diving headfirst into such a precarious lifestyle was not a whim for Candice. In Singapore, being a freelancer (and succeeding at it) means making calculated moves.
Puffingmuffin Studio started as a side hustle in 2013. While still at her day job, she joined a mentorship programme where she displayed her works in a group exhibition. Online, she stretched that momentum, reaching a wider local audience through her drawings and illustrations.
Eventually, her side hustle developed to the point that it was increasingly difficult to keep up with both.
"I would only have time to work on the latter during my lunchtime or on the weekends. A [usual three-to-five day] project [eventually] took me a couple of weeks."
As her business as an illustrator began to grow, she found herself at a crossroads. She could either stick with a stable job as a graphic designer or pursue her passion for illustration as a freelancer.
"I saw that there was a possibility that I could finally do something I like for a living. I realised there is a demand for illustration in commercial projects and murals. I was getting quite a good response for my work."
"It was now or never; I just thought I'd give it a try."
Candice was further persuaded to make the leap when she realised that these opportunities came at a time in her life that made fiscal sense. She had little financial commitment then; there was a two-to-three-year window before she had to start paying housing loans for her BTO.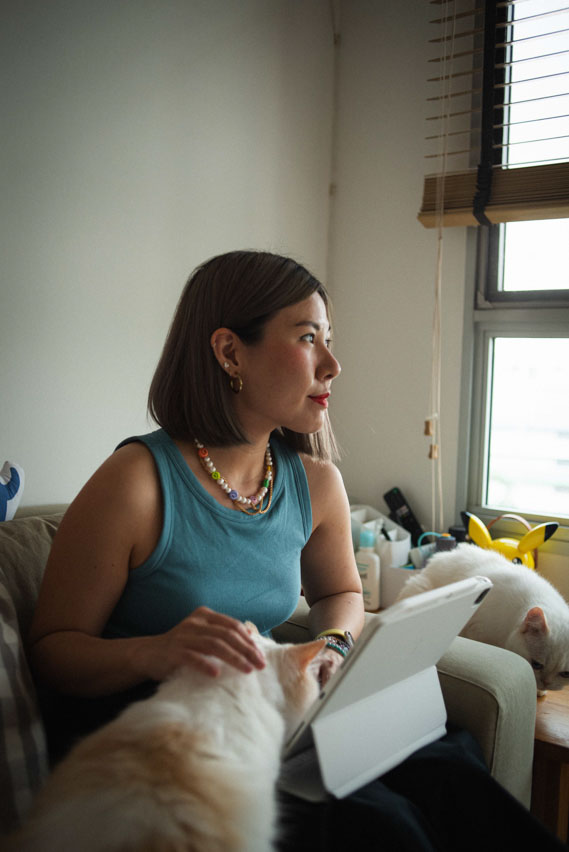 "I gave myself two years to see if I could progress as a freelancer. If by then, my business hasn't taken off, then at least I'd still have enough time to go back to a day job."
An additional safety net came in the form of her savings. Because she didn't know what to expect, she made sure that she had enough money as a backup to tide her through at least six months with no income, and made sure to cut down on frivolous expenses.
She had no idea what she was getting herself into. She was terrified, even with safety nets involved.
In 2023, Prudential launched their #LifeInAFlash campaign, where they offer financial solutions for those seeking to carve a bold, new professional life for themselves–young full-timers, side hustlers and freelancers alike. Candice, now a full-fledged freelancer, was on hand to design its bright, flashy characters–from an empowered maneki neko-looking cat to a worry-filled octopus–as its faces.
Taking the Scenic Route
Going solo doesn't always have to be a dive off the deep end, especially when you have someone by your side.
The founders of Tow Tow, Clarissa and Wei Fang, took careful steps in starting their leather goods label. In order to reduce financial risks, the pair, both 34, were intentional with cost-cutting.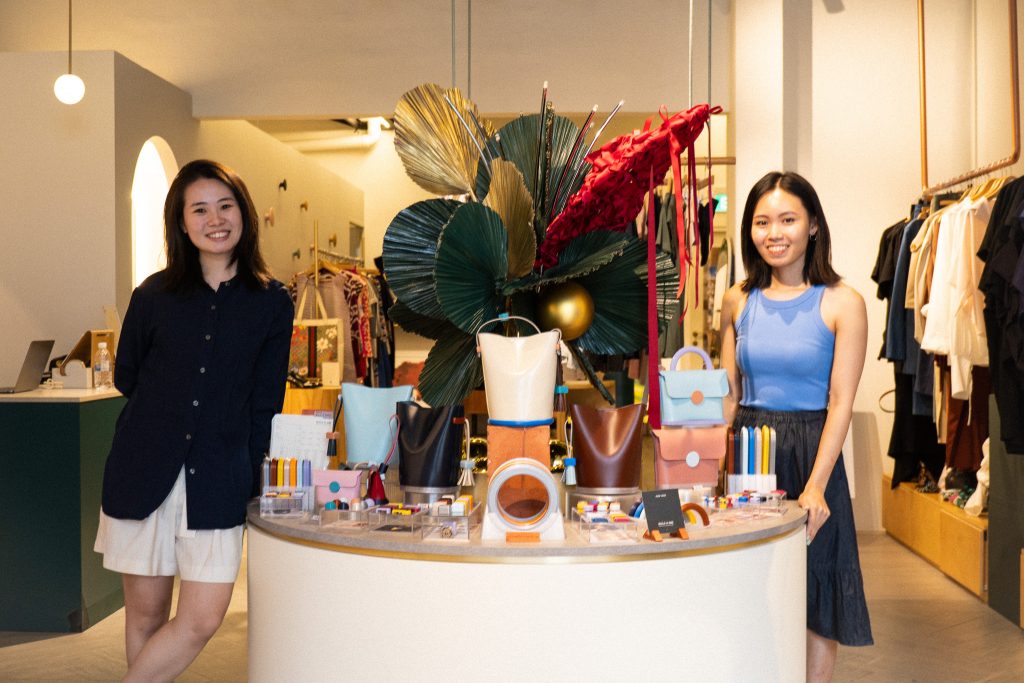 For example, as a small business, holding onto a large inventory only spells trouble. That requires paying for warehousing and transport fees, along with the pressure to rotate stock in the limited space afforded. In order for this to work, they knew inventory had to be lean.
So, when they first launched, each order was prepared on the spot. They manufactured the bags themselves only when a customer reserved it. After making a few sales, they then reinvested the money they earned into manufacturing more.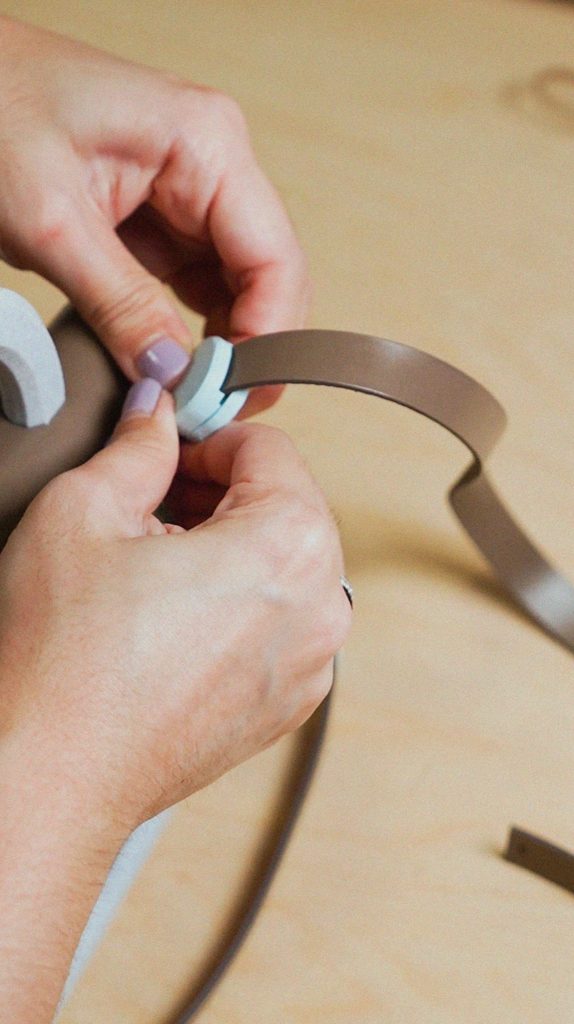 "Instead of pumping more money in, we were able to use our sales to achieve sustainability," says Clarissa.
Other than their business operations, another safety net they have are their full-time jobs. Clarissa is currently a product manager, while Wei Fang teaches at a private art studio. While they hope to be able to run Tow Tow full-time eventually, it simply isn't on the cards in the immediate future. On the other hand, their established work under Tow Tow thus far has reaped benefits–their latest collection is a series of limited handbags made in collaboration with Prudential.
"We hope to run Tow Tow full-time in the future, but right now we need the money to sustain the business," Wei Fang said, when asked if they would ever leave their day jobs. After all, starting a business isn't cheap.
The trade-off is having to work 24 hours, seven days a week. It's a demanding lifestyle, but the pair are far from running out of steam.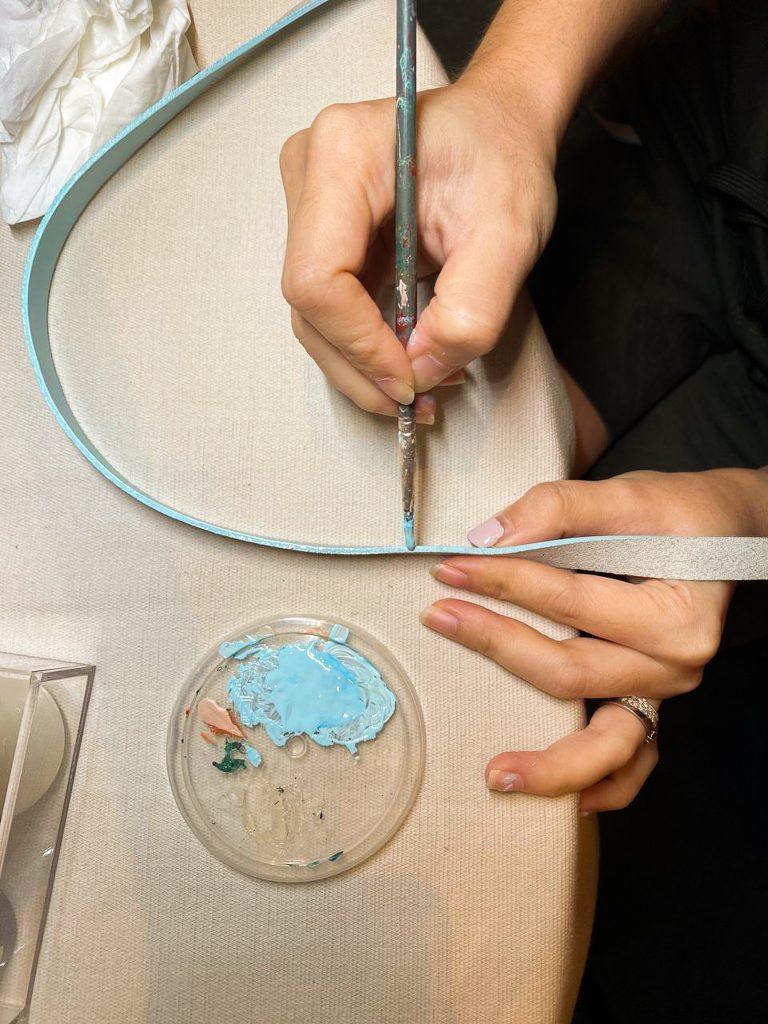 "There has to be a certain degree of commitment and tenacity to push through. There are months that are difficult, but they will always pass. What's important to us is that we have a renewed interest and constant excitement for what's to come that keeps us going," Clarissa explains.
"It's this excitement and the rush of it that spurs you."
Passion with a Touch of Pragmatism
Like Clarissa and Wei Fang, Candice does not regret taking the risk and jumping off the deep end, despite the struggles.
But in Singapore, it would be idealistic to chase after the passion without ensuring you have safety nets in place.
"Living in Singapore, there are a lot of financial responsibilities. You need to have back-ups in place before you venture into something as volatile as freelancing."
"It's important to have enough savings before you dive into this, especially if you're considering freelancing as a switch in career," she advises. When life happens, it's always good to keep a net to weather the storm. And you wouldn't need to do it alone either.
But in general, she encourages all who stand at the same crossroads she was once stood at.
"Never be afraid to ask questions. And you will never know unless you try."
---
This article is brought to you by Prudential Singapore.

Visit the Samsung FlipSide Market at 60 Arab St until 5 November to view Tow Tow's exclusive collection with Prudential, featuring #LifeInAFlash characters' bag charms designed by Candice Phang & Ben Qwek. For more details, head here.

If you haven't already, follow RICE on Instagram, TikTok, Facebook, and Telegram. If you have a lead for a story, feedback on our work, or just want to say hi, you can also email us at community@ricemedia.co.