All images by Zachary Tang for RICE Media unless otherwise stated.
In the middle of August this year, hundreds of cats and dogs housed in commercial pet boarding centres and animal rescue shelters located off Lim Chu Kang Lane 1 found themselves in a bit of a pickle.
The people running the boarding centres and animal shelters had been told to vacate the premises. The western part of Lim Chu Kang, where the shelters are located, sits among the replacement sites planned for military use.
Swathes of SAF military training grounds are being repurposed for major national projects such as the development of Tengah New Town. The animal shelters need to make way for SAF to take over the land.
The groups faced 31 July deadline to vacate their premises and relocate all the animals under their care. But they had nowhere to go back then as their new premises were not ready for them to move in.
"We are taking it day by day", said Terry Lim when I first spoke to him in late August. Terry is the director of Metta Cats and Dogs Sanctuary, one of the six affected groups.
Almost two months later, two of the six groups still do not know when they will be able to move out of their premises at Lim Chu Kang.
The landlord for the six groups, Globe Eximport, had leased the land from Singapore Land Authority (SLA). The landscaping and nursery business sub-tenanted part of it to six animal welfare establishments.
Globe Eximport has since been issued a summon to appear in court on 4 October for failing to vacate the land as instructed.
"We are still taking it day by day," Terry said when I spoke to him again on 8 September.
Would they be able to move out by 3 October?
"Should be able to if there [are] no muck ups," he said. The exact date of moving out—including animals, equipment, cages, tools, etc—remains unconfirmed. Even as the eviction date looms ever closer.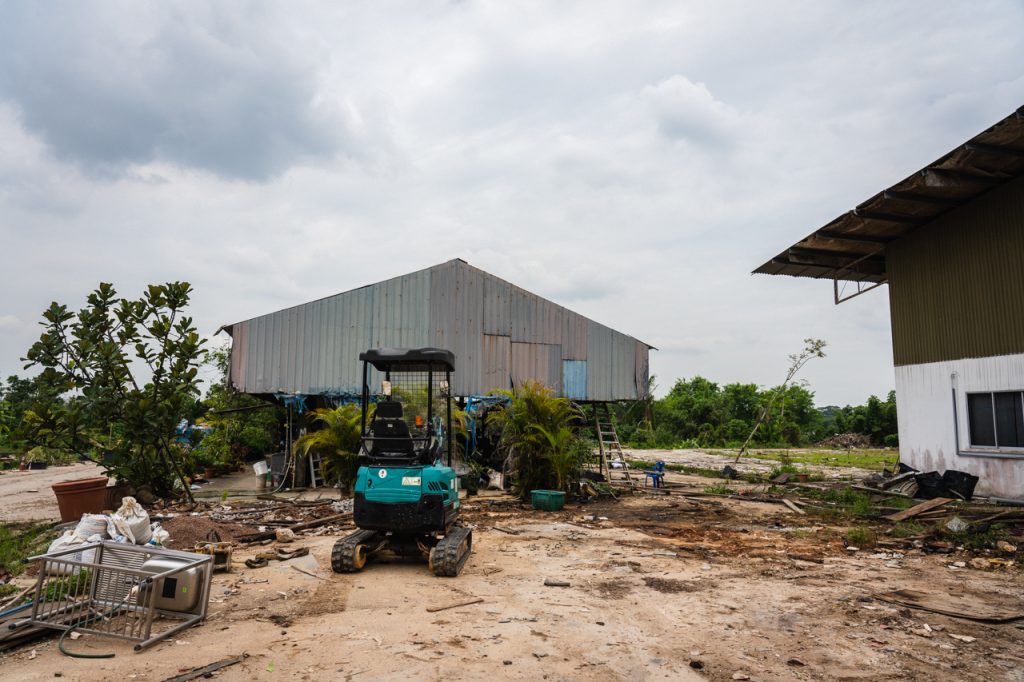 A Change Will Come. Or Not. Who Knows?
It all started with a delayed notice about the impending move.
In a joint email statement in response to queries by RICE Media, Singapore Land Authority (SLA) and National Parks Board (NParks) said that affected tenants in the area were informed of the redevelopment plans as early as September 2014.
NParks has been engaging the tenants' landlord, Globe Eximport, since 2017, advising it to use the remainder of its tenure to carry out transition plans.
An SLA spokesperson said that it was the duty of the landlord to inform them about the impending move. This information did not seem to have trickled down to the animal boarding centres and shelters.
Regina Gan, who runs Pet Boarding Centre with her husband, said they were the first subtenants at the farm.
Pet Boarding Centre, while a commercial business, also houses a significant number of pets for independent rescuers at subsidised rates.
They moved in around June 2008, right after the landlord received an animal boarding licence.
Regina said that she had known for the last two or three years that there was a plan to redevelop the land. The landlord had also told her that the lease for the land was being extended yearly.
She recalled that that's what happened when animal shelters, previously located at Pasir Ris Farmland, were made aware of intentions to redevelop the land in 2004.
At that time, she says, yearly extensions were granted to the tenants from 2004 to 2018, when the land was finally repossessed.
It was a situation Terry attests to, having lived through the experience first-hand.
His shelter, Metta Cats and Dogs Sanctuary, was also previously situated at Pasir Ris Farmland before relocating to its current home in Lim Chu Kang.
In light of the lack of updates, Regina says she went on with business as usual, expecting to be informed when redevelopment was imminent.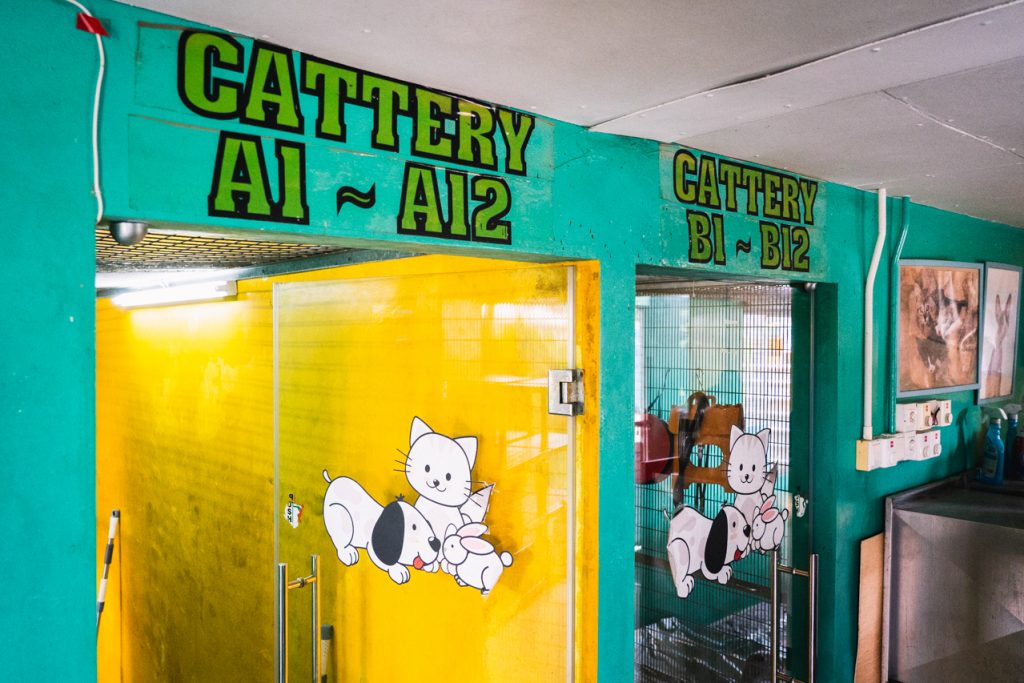 Where Else Can They Go?
Despite not being informed of a firm deadline, some tenants had already been looking for a new location since 2020.
"I went everywhere possible, from factories to warehouses, you name it. But I just could not find a place for us to move to," Terry said.
He even emailed the Animal & Veterinary Service (AVS), a division of NParks, asking if any suitable space was available. He was informed that his only option was agricultural land.
Similarly, Regina has also been looking for alternative locations in recent months after being notified of the 31 July deadline. She too faced difficulties.
She added that under URA regulations, there were no provisions for pet boarding centres to rent out spaces in light industrial estates.
And while shophouse units could rent to commercial boarding centres, nobody was willing to do so. Reasons include the presence of other nearby pet businesses, which did not want competitors.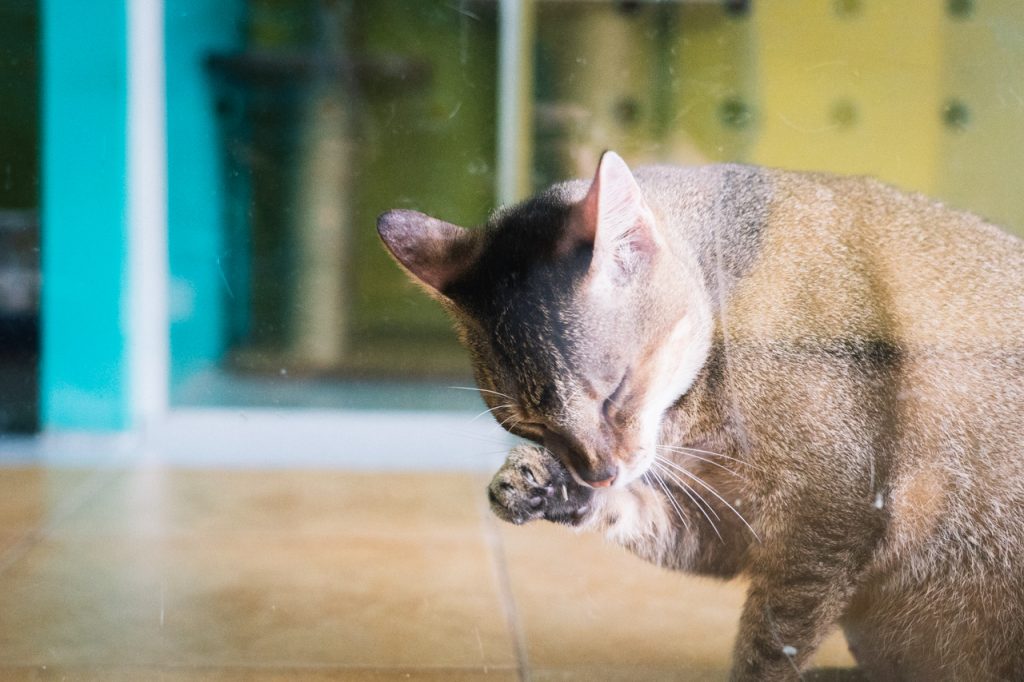 AVS Gets in Touch
Terry, Regina, and other operators I spoke to mentioned that the landlord informed them of the 31 July deadline to vacate earlier this year.
This was despite the deadline being announced in August 2021 last year, when a final short tenancy extension was granted.
Even then, all of them said that the landlord had reassured them that he had put in an appeal. He promised they would have until the end of the year to move out.
However, around March this year, the operators said they were informed directly by the authorities that they would need to move out by the end of July.
It was around this time that AVS officers got in touch with them to help them with the impending move.
During on-site meetings with AVS officers, the groups raised their concerns, including the possible lack of time for the move.
The officers were receptive and said they would look into the issues they shared, they tell me. At this juncture, the possibility of moving into units at The Animal Lodge was raised.
The Animal Lodge is a purpose-built facility that houses animal welfare groups, independent shelters, and pet farms run by Animal and Veterinary Service (AVS)—a division under NParks.
It was explicitly built "to provide an option for those affected by land leases expiring at Loyang, Seletar, and Lim Chu Kang", according to a July 2018 Straits Times forum letter by Dr Chang Siow Foong. Dr Foong is the former Group Director for the Agri Establishment Regulation Group.
NParks later took over the animal-related responsibilities of AVA in 2019 when AVA was disbanded—with it, the management of The Animal Lodge.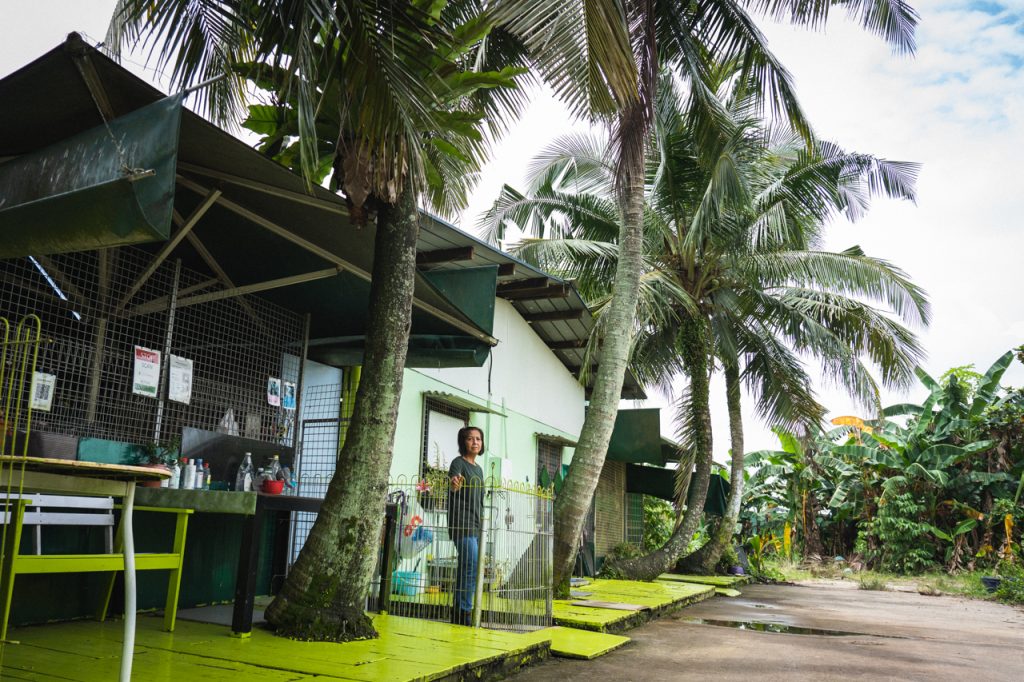 The Waiting Game
Commercial boarders like Pet Boarding Centre need to bid for units to get a unit at TAL, competing with other businesses for the same limited lots.
However, animal welfare groups and independent rescuers like Action for Singapore Dogs Society need not do so—there are allocated units for them.
Subsequently, a tender for units at TAL was put up from 10 March to 8 April this year. Those who attended a tender briefing at TAL were informed that the tender results would be out in June. Keys to their units would be given to them in July.
However, tender results were only released much later on 15 August—more than two weeks past the 31 July deadline, when the groups should have moved out.
As a non-profit independent rescue shelter, Metta Cats and Dogs Sanctuary did not have to bid or wait for the tender results.
Still, verbal confirmation from NParks that they would be allocated a unit at TAL only came in late July.
Metta Cats and Dogs Sanctuary eventually signed a lease for a unit at TAL only in early August.
"We basically kept bothering them about the units (in the interim), and their response was we are working on it, but we cannot promise anything," Terry recalls.
In response to our queries about the purported delays in tender results and unit allocations at TAL, AVS said: "An estimated timeline was shared with prospective bidders during the tender briefing. There was very high demand for the units, and more time was needed to evaluate all the proposals."
"Following evaluation, AVS awarded the units within the tender validity," it added.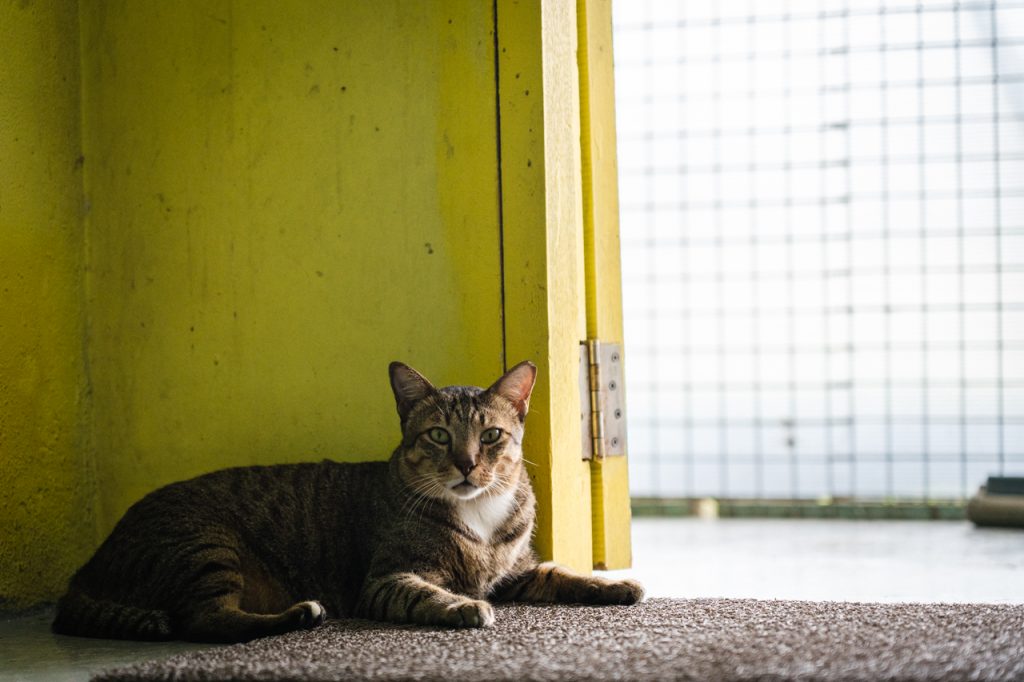 A Notice and a New Deadline
Amidst the confusion and delays, Globe Eximport Pte Ltd was issued a notice by the Singapore Land Authority (SLA) for failing to vacate the premises on 1 August.
The notice gave Globe Eximport Pte Ltd another 28 days to move out, failing which legal proceedings would be initiated against them.
Initially, the director of Globe Eximport Pte Ltd, Peter Chua, did not respond to queries from RICE Media over text asking for clarification on assertions made by the animal welfare groups we spoke to.
Just before publication, Peter texted: "I can only comment that your understanding of the story is not correct."
When asked about the precise date he informed the groups about the deadline, he replied: "If I am not wrong, (it was) one year ago."
When informed that multiple groups had suggested otherwise, he requested us to check with them again. He did not respond to any further queries.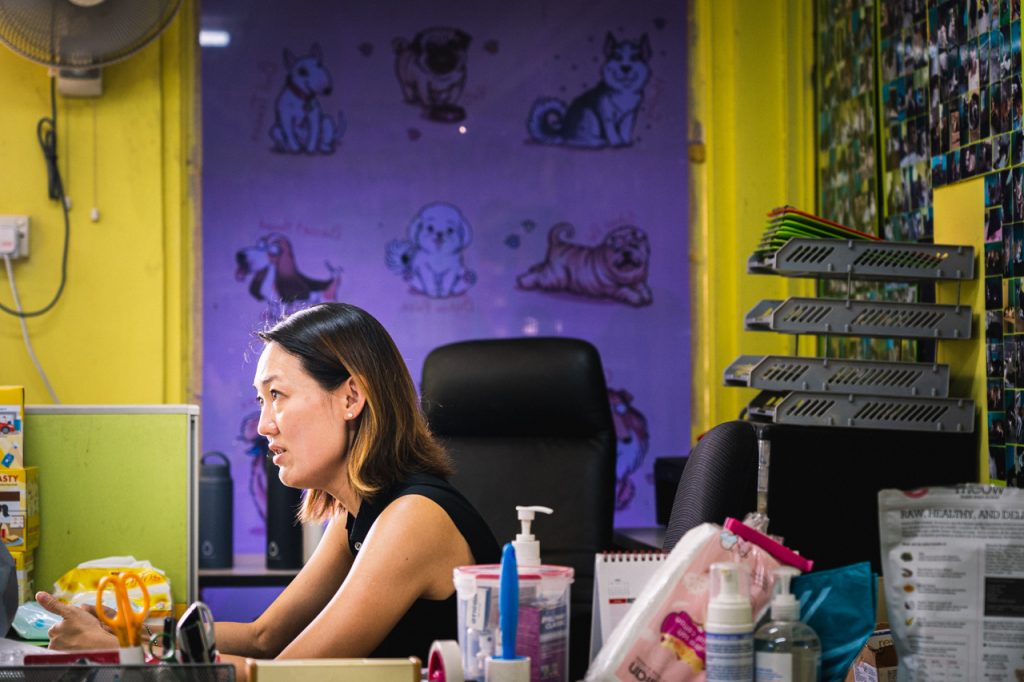 Pleas For Help
With the new deadline just days away and operators nowhere near ready to move out, several stakeholders took to social media to air their concerns.
Among them was Fiona Loh, an independent rescuer whose animals board at Pet Boarding Centre.
In an Instagram post on 25 August, she shared her frustration with the turn of events—being unable to vacate the premises as per SLA's instruction by 28 August.
She said that an SLA personnel in charge of the site assured her and the other groups that legal proceedings, should it happen, would "take a few months".
The personnel also added that "as long as the move is done before court papers are served, all is well."
"No formal confirmation can be given, though," Loh wrote. "Either we take the personnel's words for it, or we make interim plans."
Two days after the post was shared, the groups received phone calls from AVS, informing them that they would be given a bit more time to move out. A light at the end of a tunnel, finally.
In a joint statement, NParks and SLA said that "in accordance with the proceedings under the State Lands Encroachment Act, Globe Eximport will have till the end of September to vacate the premises".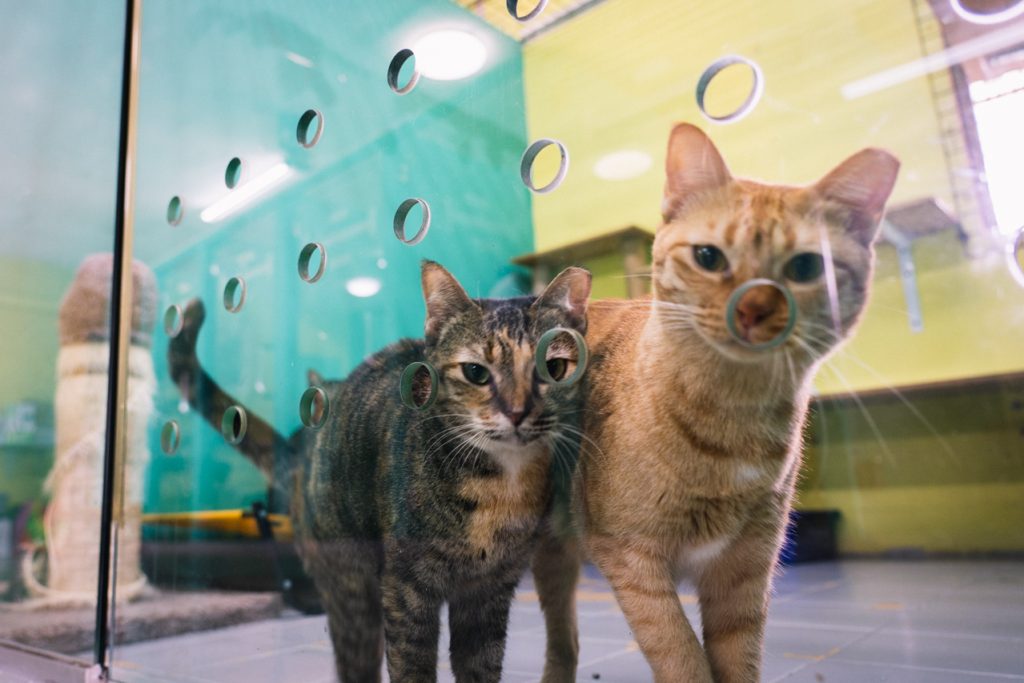 No Happily Ever Afters
Even after some of the groups secured a new unit at TAL, their troubles did not end.
"Our place at TAL is bare. There are no tiles or fans even, which is very difficult. It is like taking over a new BTO flat, we cannot just move in, and we certainly cannot let our pets stay there," Regina remarks.
Even kickstarting renovations of their units proved to be an arduous process.
The groups say they need to get a contractor to draw designs, which are to be signed off by a structural engineer, a plumber and an electrician.
They would then have to submit the paperwork to SCDF for approval. After receiving approval from SCDF, they would have to make a submission to AVS, which would then give the go-ahead for renovation.
Each of those steps took time—time that the groups did not have as they were already behind schedule.
On top of everything, the actual renovation would take one and a half to two months due to the workforce crunch and supply chain disruptions that besiege renovation contractors here.
In response, AVS said: "Upon allocation of units at TAL to the animal shelters and commercial pet boarders, AVS expedited their proposals for renovation to facilitate their relocation plans and allowed light works, such as painting and lighting installation, to be done at night."
AVS also clarified In a statement sent to RICE Media a few days after this story was published that "they had given approvals for the renovation to commence after AVS received the renovation plans from the animal-related establishments, while the groups work on other requirements concurrently."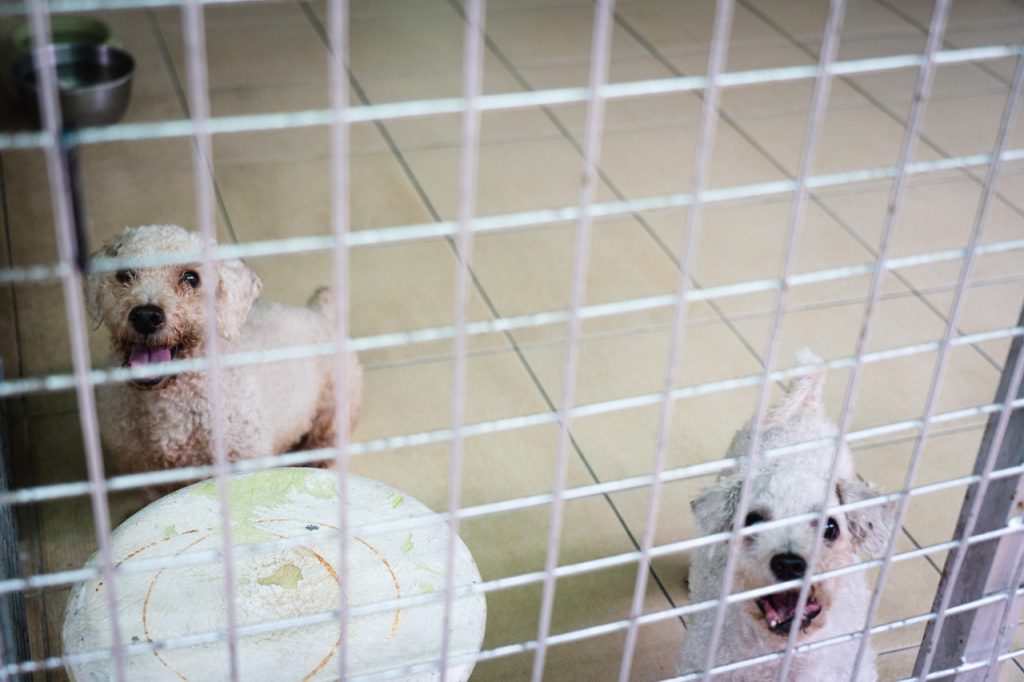 Temporary Units With Perennial Problems
Still, the question of whether their permanent units would be ready by the end of September 2022 remains unanswered.
As such, beyond giving the groups until the end of September to move out, AVS says it is "also providing temporary units at TAL that are equipped with partitions and separate rooms, to allow several of the animal shelters and commercial pet boarders to renovate their allocated units at TAL, before relocating their animals there".
When an AVS officer asked Regina to share the post with the independent rescuers whose animals were at her centre, she immediately called the AVS officer and said she could not do so.
"My independent rescuers have seen the temporary units offered (to me), and they know that it is not safe or secure," she said.
"If they are giving me free units with utilities paid for, of course, I also want to move in and enjoy the free rent," she added. "But the units they are offering just aren't safe."
One of the issues with the temporary unit initially offered to her was that the grills were too wide apart.
"My cats will get out, and for dogs with sharp snouts, like the German Shepards, they can come out and bite whoever walks past," she said.
Another significant issue is that the top of the units for cats are not covered. She says it is a big no-no, as the cats would escape.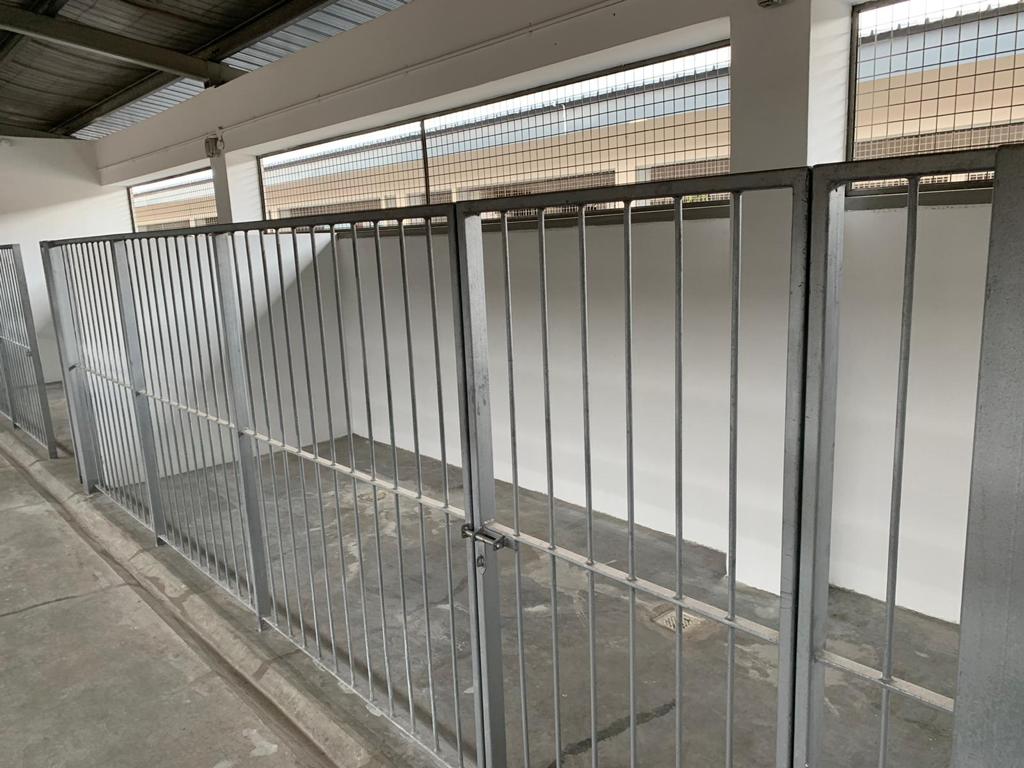 After she raised the issue with them, she said AVS officers wanted to use plastic or nylon netting to cover the top of the cat enclosures.
"And some of the cats are feral cats, so their nails cannot be cut. If it is just a few days, we can make do, but reasonably speaking, it might be one to two months before my permanent units are ready," she said.
Another unsafe suggestion raised by AVS officers was to place standing fans and floor fans within the units.
"My dogs will bite the wire and be electrocuted, right? And as a commercial boarder, I am answerable to people. It is my responsibility if anything happens," she says.
"AVS is trying, I know. They are communicating with us and asking us what we need, and I am telling them what I need, but (what they are offering) is just not up to the bare minimum standard," she continues.
"You are stressed, I am stressed, the cats and dogs are all stressed. When you are constantly shifting the animals, it is very stressful for them, especially the cats. Whenever there is a change of environment, they are affected."
When I check in with Regina again, she mentions that AVS is working with them to make some of the necessary modifications. She still doesn't know when the temporary units would be ready for her to start shifting the animals.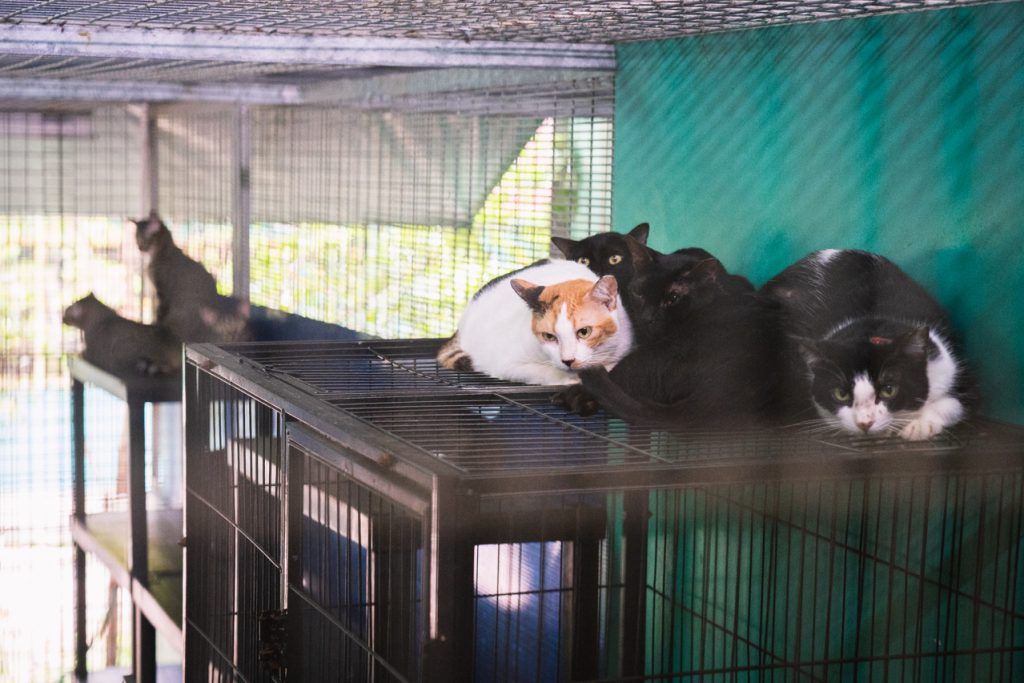 Confusion Prevails
For Terry, the temporary units offered to house the cats under his care were so far from being safe that he is not even accepting them. Neither is he working with AVS to make them habitable.
"There is no way to erect a structure in time for the cats to move in. It's basically impossible," he asserts.
And although he has also been offered temporary units for dogs, it just isn't enough for the number of dogs he boards.
"My dog unit has five cubicles, and because none of my dogs can be together, I can only fit five dogs," he said.
"All of these are special dogs. That's the reason why they are with us. They get abandoned and are problematic, so they can't mix with others."
"The temporary units are just not adequate for the animals to move into, full stop. That's pretty much it."
Still, Regina and Terry acknowledge that AVS staff often did what they could to the best of their abilities. But they are frustrated over what they see as confusion amongst the staff.
"The first time I went to The Animal Lodge, I said, 'I see fibre optic cables. Can I sign up?' But they tell me there is no internet service here," Terry recounts.
"But I'm here staring at a fibre optic cable. Last week I emailed them again with a picture of a fibre optic cable that I took, and I asked if I needed to subscribe. Only then did they confirm that yes, I can sign up."
"I have no idea what is going on," he adds.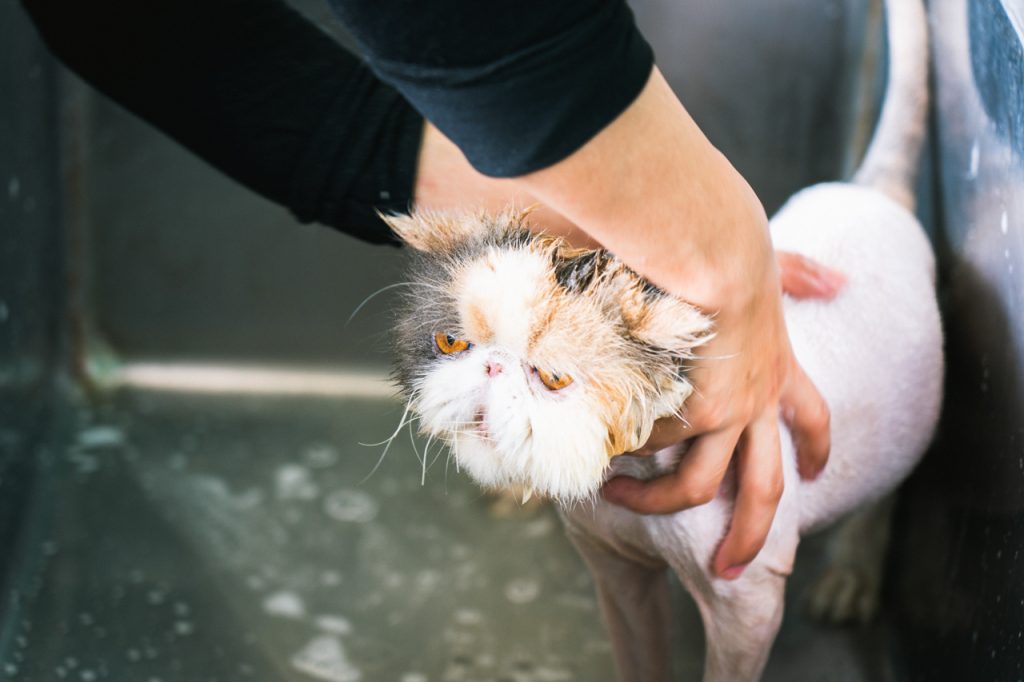 A Lodge, but Not a Home
TAL continues to be dogged by questions of how viable it is as a space for animals to be housed.
"The Sungei Tengah facility remains unfit for purpose despite ample feedback and consultation with the AWGs and shelters," said Marc Ha of the animal shelter Mutts & Mittens in a letter published in The Straits Times back in July 2018.
The establishment had just moved into TAL after being relocated from Pasir Ris Farmhouse in a move which Marc describes in the letter as being "an extremely stressful period".
He outlined several issues, including blocked pipes within weeks of moving in and the walls not being dog-proof. Some dogs were chewing the walls out of boredom or stress and ingesting the foam insulation.
The meshing on the windows was not weather-proof, causing rain to splash into the kennels.
A few days later, Dr Chang Siow Foong from AVA, which managed TAL then, wrote in a letter published in The Straits Times that "We have … been working with stakeholders on solutions to the concerns that have been raised (and) would like to assure the writers that AVA will continue to work closely with AWGs and animal shelters on their concerns".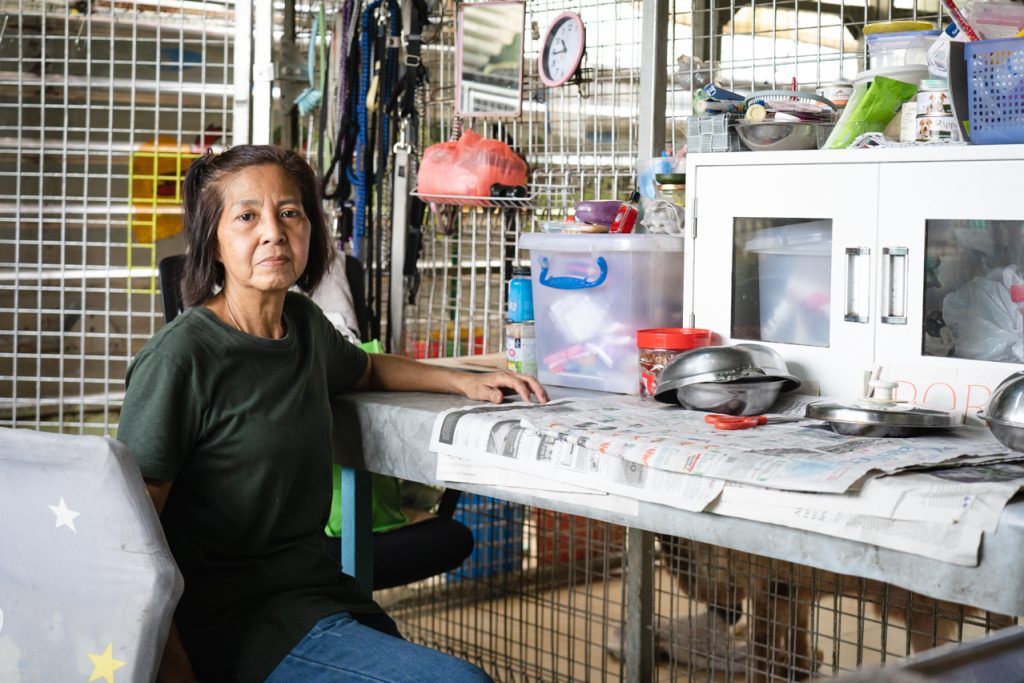 'Heartbreaking'
However, in November 2021, negative feedback surfaced again.
A concerned member of the public, Lee Ying, wrote into The Straits Times forum, saying that she went over to TAL to view a puppy she intended to adopt and that what she saw was "heartbreaking".
"The concrete blocks have narrow windows, very little ventilation and sunlight, and no fresh air to clear the smell of dog poo and urine. Most of the compact cages or spaces had wet floors," Lee Ying said, leading her to "wonder if the welfare of animals in shelters in Singapore has deteriorated."
Her letter prompted a volunteer at one of the shelters located at TAL to also write in.
"The internal drains are shallow and flow from one end of the block across the front of every enclosure. This is poor hygiene and is not good for disease control. In the initial period after moving in, a small group of newly rescued dogs were infected with canine parvovirus."
He went on to add, "The Animal Lodge has large outdoor enclosures for dogs to run about. (But) These enclosures were locked up and not used allegedly because of drainage issues, and remain unavailable today."
"The facility's design forces all occupants (human and canine) to live cheek by jowl … (creating) tension among the dogs. One stressed dog would cause other dogs to feel stressed," he added.
In outlining the need for a separate rehabilitation centre on its website, SOSD, a volunteer-run dog shelter, concurred.
"The high density of animal residents at The Animal Lodge means that rescue dogs are subject to unrelenting environmental stressors."
"This poses challenges to rehabilitating traumatised street dogs, making them stay in the unfavourable shelter environment for longer periods of time, hence poorer chances of adoption."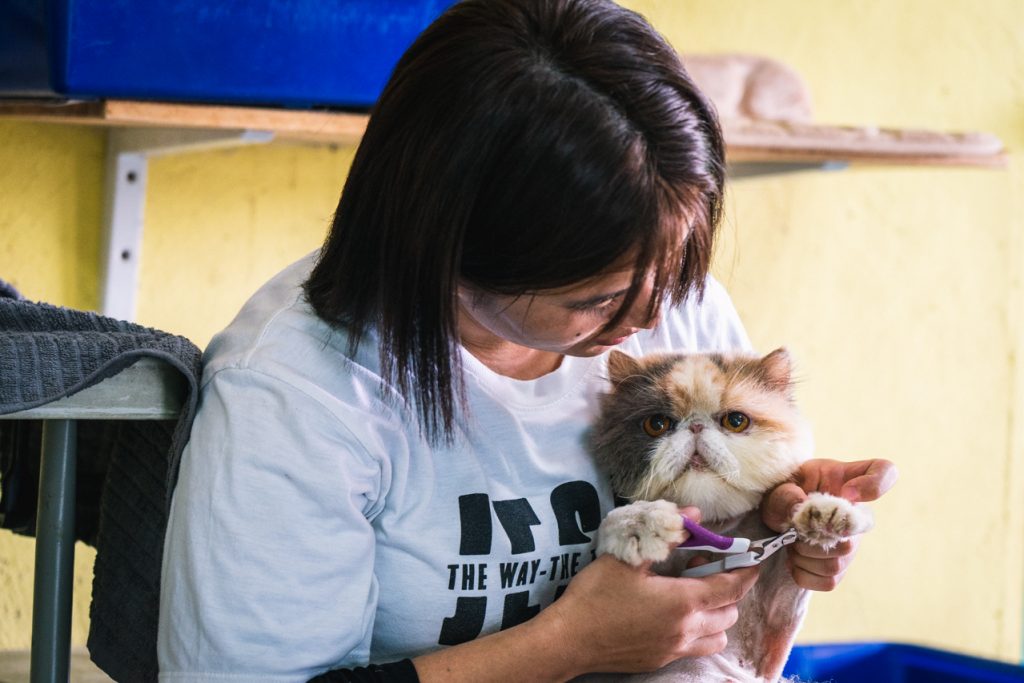 In a statement that was sent to RICE Media a few days after this story was published, AVS clarified that they worked "closely with and engages (sic) TAL tenants to consult them prior to making major improvement works."
"For example, since taking over management of TAL, we installed waste filters to reduce choking in the drains, developed grass turf dog runs, installed TAL maps for easier navigation around the facility," AVS went on to add.
In the statement, AVS also mentioned that they have "planted more trees to provide shade, replaced wall tiles in non-commercial units, added road humps to slow down traffic for the safety of the animals and their walkers, and completed scupper drain works to improve water flowing into the drains."
Up in the Air
As we near the end of September, both Metta Cats and Dogs Sanctuary and Pet Boarding Centre still have no idea when they will be able to move into TAL.
It's a tenuous position that is, undoubtedly and most critically, unideal for their little charges.
"We take in rescue cats and dogs with essentially no place to go. These are animals that have been completely abandoned or hit by cars and have nowhere to go."
Terry says some of these animals have PTSD, so it is tough to handle and move the pets.
"The move can be very stressful for them. Some animals do not even survive the move. They get stressed and just collapse," he adds, outlining the difficulty as well as the high stakes of the moving process.
Pointing out that the move was a severe logistical undertaking, Regina says she has been unable to start planning for it given the uncertainty over the dates.
"If I have a date, I can start planning which animals I want to move first and what things I need to already have there at the new site," she explained.
But with no confirmed dates given, she can't firm up logistical arrangements.
"Let's say I want to book transportation. How do I pre-book when I do not even have the dates?" Regina asked, frustrated.
"We are not talking about moving non-living things like furniture or plants. These are living animals that we need to move," she said.
"The sad reality is that most of our shelter cats and dogs will never get the chance to know what it is like to be someone's beloved pet," Metta Cats and Dogs Sanctuary writes on their fund-raising page.
"The least we can do is to love these unwanted animals and give them a safe place to live out the rest of their lives in peace."
*This story has been duly updated on 27/09/22 at 12.20pm with responses by AVS.
---
If you haven't already, follow RICE on Instagram, TikTok, Facebook, and Telegram. If you have a lead for a story, feedback on our work, or just want to say hi, you can also email us at community@ricemedia.co.