In 'Singaporeans Abroad', we share with you the stories of locals who—thanks to living in a globalised world—have found success in different corners of the globe, whether financially, romantically, or for the pure joy of adventure.
We've recently heard from Paul, the Singaporean who cleared Taliban landmines in Afghanistan, Gary, who was arrested while backpacking in Xinjiang, and Ethel, the chef who cooked her way to the Austrian Alps.
Now, we bring you Elene Soon. After growing up with a grandmother who taught her how to cook local Singaporean delights, she moved to Italy. In Genova, where she lives now, the food culture is entirely different from that in Singapore—yet, she is taking it upon herself to introduce Singaporean food to the region.
---
I grew up in the Changi Prison Complex for most of my childhood because my dad was a senior prison officer. It was pretty comical. Every time I took a taxi home as a young girl, I would laugh at the reactions of taxi drivers when I would tell them I needed to go home—to Changi Prison. That lasted until 2004 when my father retired and we moved to Woodlands.
No matter where I lived, one person was consistently there for me as a child: my grandmother. She taught me how to cook, gave me advice when I needed it, and was my guiding figure in life in general.
She first passed on her passion for cooking to me by teaching me basic dishes like fried eggs and porridge. Eventually, she also introduced me to the crafts of preparing more complex dishes like your Chinese New Year staples. I was so passionate about cooking because of her that I even chose home economics when I attended Bedok South Secondary School. If I recall correctly, I got a distinction in the subject too.
I never ended up enrolling in culinary school or becoming a chef as a profession. Instead, I got into shipping—which ironically brought me to doing what I love today, cooking in Italy.
It all started when—destiny-willing—I met an Italian man through work. One thing led to another, and I decided to take the leap and move to Italy with him.
The country had been on my bucket list forever, so being able to move here and travel the region has been my biggest dream come true—and here I am, still, 14 years later.
Many people always ask me whether living in Italy is dangerous or vastly different. I find it very safe—sure, there are some areas to avoid, but it's straightforward to do so. If anything, dealing with the complicated processes of the bureaucracy here is what I have found most challenging to adapt to.
The second most significant difference is the food—there are so many Italian dishes that I have never found or tried in Italian restaurants in Singapore. As I am based in Genova, I have gotten the chance to try authentic pesto, focaccia al formaggio, cappon magro, insalata di polpo, and other plates.
While I love Italian food, the pandemic has made me miss Singaporean food so much. Since lockdowns and restrictions started spreading worldwide, I've been returning to my roots and cooking more local Singaporean dishes. Particularly, I have found myself missing the Nyonya kuehs from the bakeries back at home. These are impossible to find here, so I thought, why not make them on my own?
As a child, my grandma and I would make pineapple tarts, peanut cookies, love letters, and almond cookies—but these were mainly for Chinese New Year. The recipe for the kuehs I was craving were all a mystery.
So I researched and asked around for good recipes, and as I learned to make them, I would let my family try. Eventually, I let my Singaporean friend here in Genova try. To my surprise, she loved it, and she told me the dish I made momentarily transported her back to Singapore. That was the encouragement I needed, so with that, I started getting more and more Italians who had never tried kuehs to get a taste.
First, I made Kueh Talam for an Italian friend who had never set foot in Singapore, and to my surprise, she was obsessed with the contrasting sweet and salty flavour profile. While she loved it, kuehs are still very unusual for Italians, so some individuals can't get used to the flavours.
To my surprise, however, I've found that Italians particularly enjoy Muah Chee, Pandan Chiffon Cake, Kueh Salat and Kueh Talam. I've even seen some Italians Google "where can to buy Pandan" after trying them.
This brings me to one of the biggest challenges of this endeavour—finding ingredients. Pandan, the essential ingredient for most kuehs, is not always available when I want to bake. And for other plates like Soon Kueh and Popiah, I still cannot find all the components necessary to make them here.
Italy's supply of fruits and vegetables heavily relies on seasonal cultivation; Singaporeans don't usually deal with a cycle like this. For example, as a strawberry and artichoke lover, I can only enjoy these during certain months of the year. In other months, they may cost more and not taste as good. For ingredients needed for Singaporean cooking, like Pandan, it is even more challenging.
It has been getting better over the years. In the past, I would have to load my luggage when I came from Singapore to have the ingredients I wanted. Even something as simple as wonton skin was impossible to find here. Over time, the Asian shops expanded. Between 2013 and 2019, my local Asian store grew into a whole supermarket and restaurant, making the selection of products available more profuse.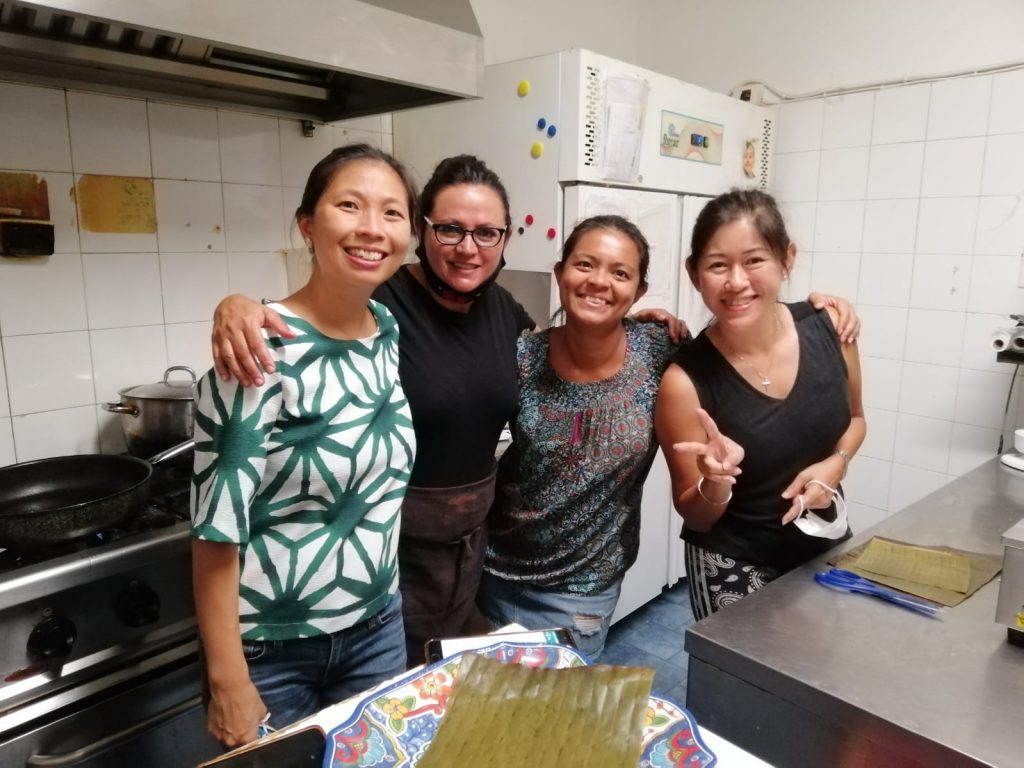 With the newfound possibility to cook more local dishes than before, my Singaporean friend Kat, my Malaysian friend Daisy, and I decided to have an Italian food festival here in Genova. We had been talking about doing this for a long time, but we pushed ourselves to do it sooner rather than later because of the pandemic.
People feel less safe going to each other's homes for meals now, so we thought doing an outdoor festival would be an excellent way to get people to try a new cuisine more comfortably.
We found a restaurant that often hosts showcases of different cuisines, and with the help of the Singapore Global Network, we were able to pull off what started as a one-day festival.
We started with the aim to serve 40 people, which ended up becoming about 120. Another 60 individuals were cueing to try our dishes, but we eventually had to send them away when we ran out of space. The response was so overwhelming that we even added a second day to the festival.
We made curry chicken, gado gado, beef rendang, and nasi lemak. The Singaporeans loved it, and many guests who lived in Singapore before thanked us for taking them back to their lives there through this meal. Since then, individuals from across Europe have been writing in asking us when the next festival will be so they can come down.
In a way, the festival brought me back to my roots as well. Being able to share Singaporean food with the world is a privilege I never thought I'd have. But most importantly, I'm helping my fellow Singaporeans and Malaysians find a slice of home abroad.
Many of my Southeast Asian friends here will order my Kaya jam to have a local breakfast from the comfort of their homes every morning. And my Malaysian friend Daisy was craving mooncakes over the Mid-Autumn festival, so I made her some.
Currently, we're planning the next 'Makan' festival for the end of November. It's been amazing to see the community formed around these, which beyond Singaporeans and Italians now includes Americans, Filipinos, Japanese, and more.
In a way, I wish I had a community like this when I had first moved here and had very little access to Singaporean culture in Europe. I was lucky either way, as I managed to form a community with other Singaporeans—something I recommend any local who moves abroad does.
Now more than ever, there are fragments of every culture in every corner of the globe, so you will always find a piece of home wherever you are. My advice to young Singaporeans is that they should go ahead and explore. You never know what another country can offer you—both positive and negative, which lead to immense personal growth.
---
If you haven't already, follow RICE on Instagram, Spotify, Facebook, and Telegram. If you have a lead for a story, feedback on our work, or just want to say hi, you can also email us at community@ricemedia.co.