Top Image: Anna Smith
In 'Singaporeans Abroad', we share with you the stories of locals who—thanks to living in a globalised world—have found success in different corners of the globe, whether financially, romantically, or for the pure joy of adventure.
Recently, we've heard from Gary, who was arrested while backpacking in Xinjiang, Ethel, the chef who cooked her way to the Austrian alps, and Paul, who moved to clear landmines in Afghanistan.
Now, we bring you Kathy Lee. After working as a successful lawyer for many years, she moved to Cape Town to open her own pole dancing studio, The Pole Project, and grow awareness of the sport. Here, she reflects on her journey towards finding success and fulfilment, her time as a lawyer, and her life now in South Africa.
---
If you were to tell my 16-year-old self: "Hey Kathy, one day you'll be living in Cape Town, running a pole dancing studio", I would have laughed in your face and responded with: "what the hell are you smoking?!"
My career path and life journey has gone vastly different from what I envisioned growing up in Singapore. The education system back home was excellent, but up to a certain point, I found it restrictive. I actually got into Raffles Junior College as a Humanities scholar, but I remember spending one day there and thought to myself that it wasn't for me.
So I decided to leave Singapore at 16.
I had always wanted to study Law growing up. I was very argumentative as a child, and I thought it'd be nice to make money doing that. It all came to fruition when a perfect opportunity cropped up–a principal of a college in the UK came to give a talk in Singapore about their courses, and they were offering Law as an A-Level subject.
I think I literally went back home and said to my parents, "Okay. I'm going to the UK."
It was a big decision made in a very short period of time, but my parents were highly supportive of it. So they sent me off, where I would go on to stay with an English family, and study Law.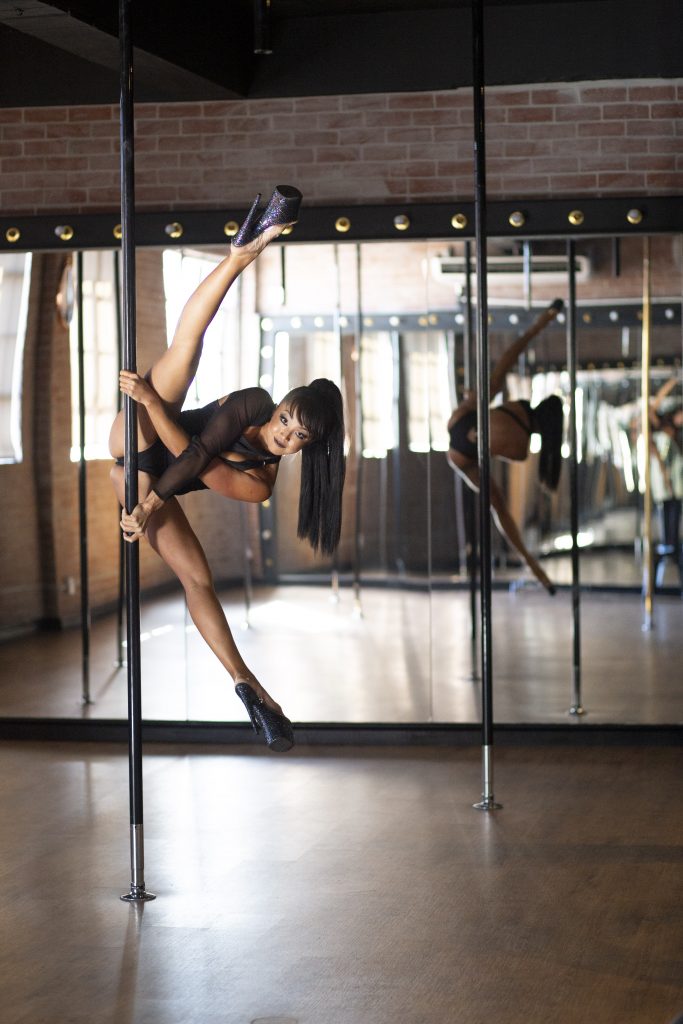 Leaving my parents was hard. They came with me to make sure I settled down nicely before leaving me on my own. There was a fleeting moment when my Dad said he wouldn't cry, and then he actually did. It was a big thing, seeing him tear up for the first time. I can only imagine how my parents must've felt, having to send their young daughter so far away.
But fear didn't dominate this new chapter in my life, and I didn't have much difficulty adjusting. Back in Singapore, I grew up in a small flat with my parents in Yio Chu Kang before we moved to a house. But in comparison, the English home was a lot smaller, cosier.
I remember it being warm and smelling just like baked goods when I first arrived. The family was also very welcoming. Everything there was vastly different from a Chinese household. To me, it was all fresh, new and thrilling–I loved the melting pot of different cultures at the college, I was studying what I enjoyed, and this new adventure felt exhilarating and magical.
After I completed my Bachelor's and Masters, I landed a job with a Magic Circle law firm in London, working there for four years. As part of our training contract, we had the option of doing an international secondment, so I chose to do mine in the firm's Shanghai office.
This was just before the Beijing Olympics, when there was a backlog of visa applications and we had trouble getting our visas on time, so I ended up working for three months in Hong Kong and another three in Shanghai. That was where I met my husband, who's South African.
At the end of my secondment, I moved back to London and we did long-distance for nearly two years before I decided to move to South Africa in 2012. It was actually quite fun at the start. We travelled quite a bit and met up somewhere exotic every two months for a holiday. Bali for a friend's wedding, skiing in France, road trips in Italy and diving in Egypt.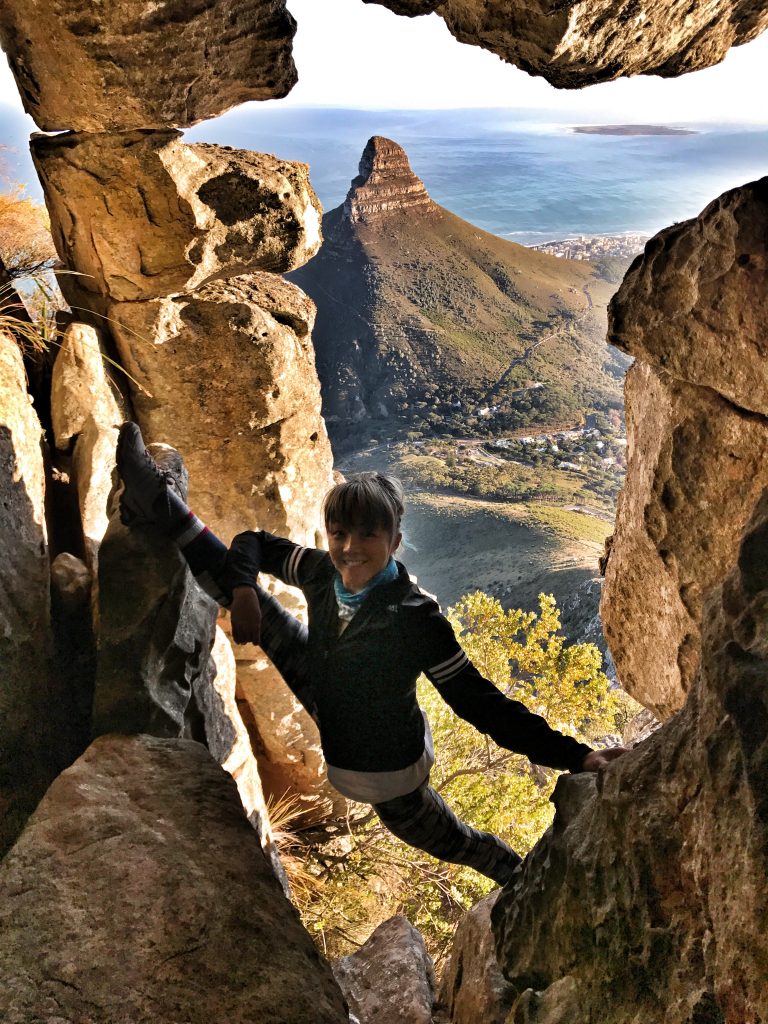 It was exciting and manageable initially. But as it went on, it got difficult because we had to start asking ourselves what our ultimate destination was and where this was all heading for our relationship.
Frankly, I'm amazed that we managed to survive those two years. We were both busy with our respective careers at the time, and our demanding work-life meant that there was no time for long daily conversations. However, being in the same time zone helped, and I think Blackberry Messenger, or BBM (remember the time before WhatsApp?) was thankfully what sustained our relationship.
Eventually, I made the decision to move to South Africa in August 2012, and found a job as an attorney with a law firm in Cape Town. My husband had just finished his pupillage and was now working as an advocate. Career-wise, it wasn't an easy decision because I had an excellent job in London.
One of the driving factors behind my decision to move was the search for a better work-life balance. A pay cut was expected, but I mostly hoped for a better quality of life. And when that didn't materialize, I asked myself what I really wanted to be doing in Cape Town.
I've always enjoyed dancing my whole life although I had never done it professionally. Back in London, I used to organize dance classes and performances within our law firm. We had a well-developed social program, so there was space for us to explore our other talents.
There was always a side of me–a creative one–that needed to be fed. I remember working until six in the evening, leaving for a couple of hours to attend a dance class, then coming back up to my desk and working till midnight. I was surviving on three to four hours of sleep whilst trying to grab the most I could out of life.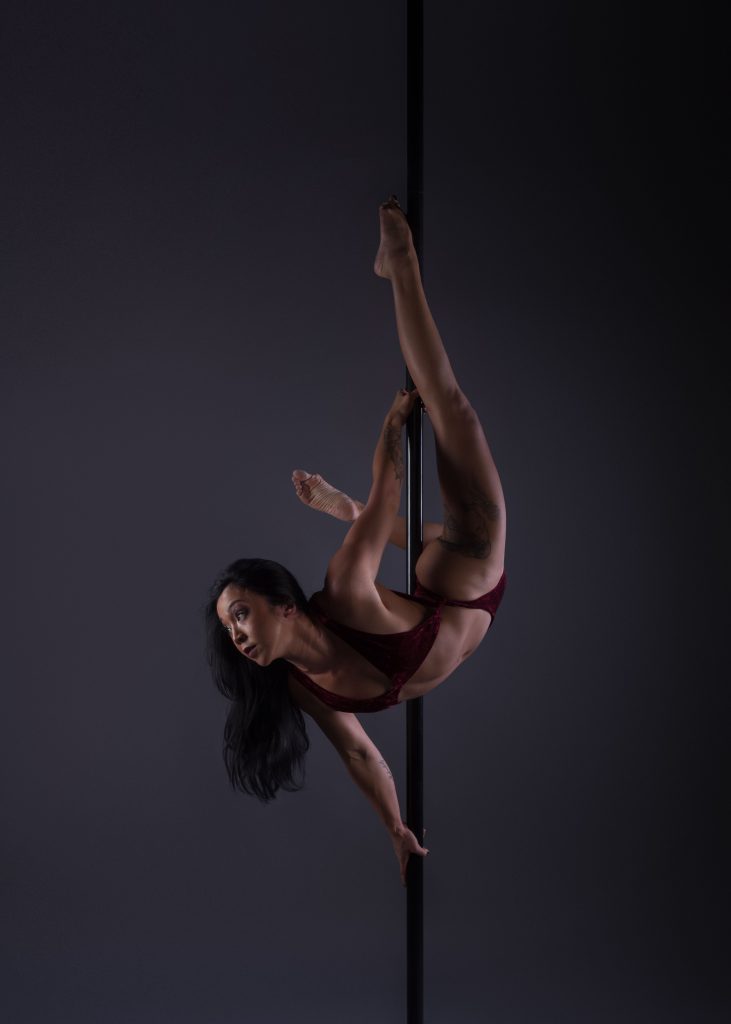 It was in 2011 in London that I was first introduced to pole dancing, thanks to a friend. At the time, pole dancing was still quite new. My friend had discovered it, learning through DVDs with her home set up. She was moving to Germany, and she said to me, "Do you want my pole? I don't want to bring it with me. Why don't you set it up at home and give it a whirl?"
And so I did, but trying out this challenging sport with no professional instruction felt impossible. Feeling lost, I spoke to some people for advice and they recommended a studio, which was very close to the firm I worked at. That was how I started attending pole dancing classes.
It was an instant obsession. I loved dance and sports growing up, and saw pole dancing as the most incredible combination of athleticism and artistry. It was the perfect culmination of sport and art, blended together in a mesmerising, challenging and impressive discipline.
My demanding career meant that I never had quite enough time to dedicate to pole. In London, and even in Cape Town, I was constantly working long corporate hours. Then came another shift in my life.
I remember looking at the partners I was working with at the time and thought to myself, "What am I working towards if I don't want your life? Is this really what I want?"
More than anything, the answer was the elusive work-life balance that we're all looking for. It still felt out of reach when I moved to Cape Town, and I didn't want to be stuck in the rat race for the rest of my life, doing something which didn't feel rewarding.
I saw an opportunity to grow the community and to spread awareness of this amazing sport. At the time, pole was still quite new to Cape Town. So after nine months in the South African law firm, I decided to take a leap of faith, quit my job and open my own studio, The Pole Project.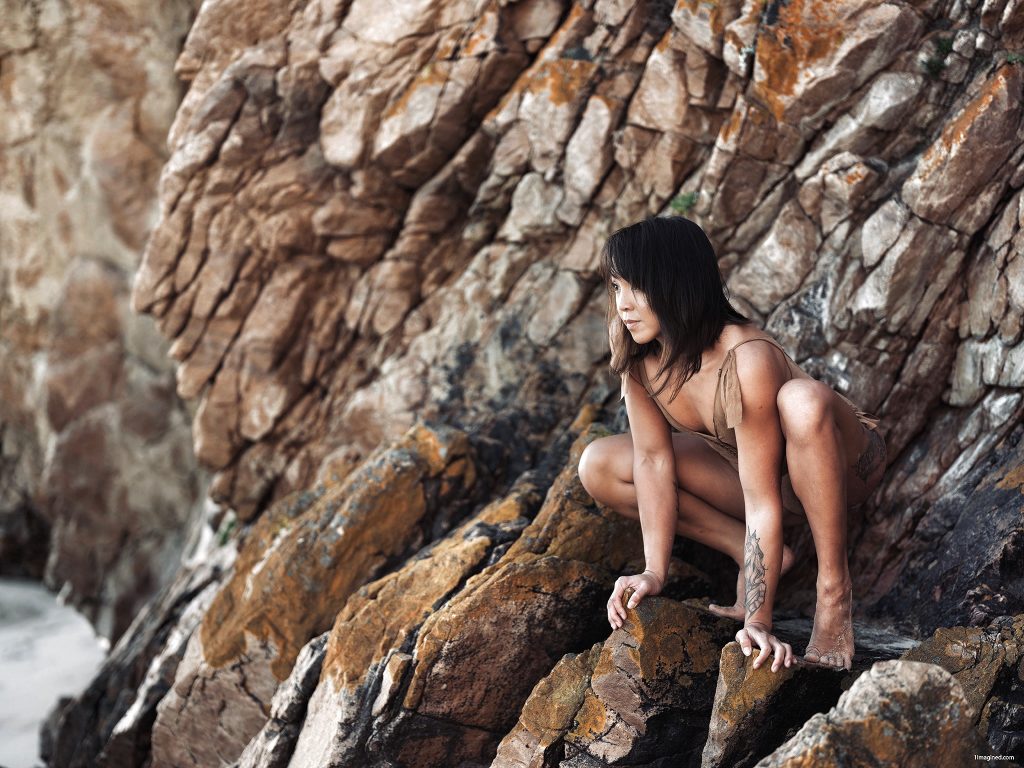 It was daunting at the time, having just moved to a new country, not knowing many people and setting up a new business entirely from scratch. I'm sure my friends all thought I was a little mad. Confident nonetheless, but still mad.
It was obviously quite a shock for my parents. They had dedicated so much time, money and effort to provide me with the best education, supported me throughout my Law degree, and they were very proud of where I had got to in my professional career. It was such a huge risk for me to throw that all away and open a pole dancing business. Moreover, my Dad knew how tough it was to be an entrepreneur, and didn't want me to go through the same hardship he went through setting up his own business.
Having said that, my family has also always trusted my decisions. As much as my dad probably still wishes I was a lawyer, he's still been hugely supportive. My mom is my biggest fan, and she shows off my clips to her friends all the time. I also have an older sister who lives in France, my ride or die, with whom I stay in contact regularly. And of course, I have my rock, my biggest pillar of support–my husband who is with me through thick and thin.
Before COVID happened, we were lucky enough to be able to travel often and see family regularly. This has all changed over the past two years, and it has been tough being away from family.
Starting something so new and different, not to mention in such a short period of time, was a huge challenge. I didn't have an established network or the connections in Cape Town, so I had to start from scratch. I think my family recognized that and realized that it was a bold decision and a formidable task, so they offered whatever support I needed right from day one. I am extremely fortunate in that regard.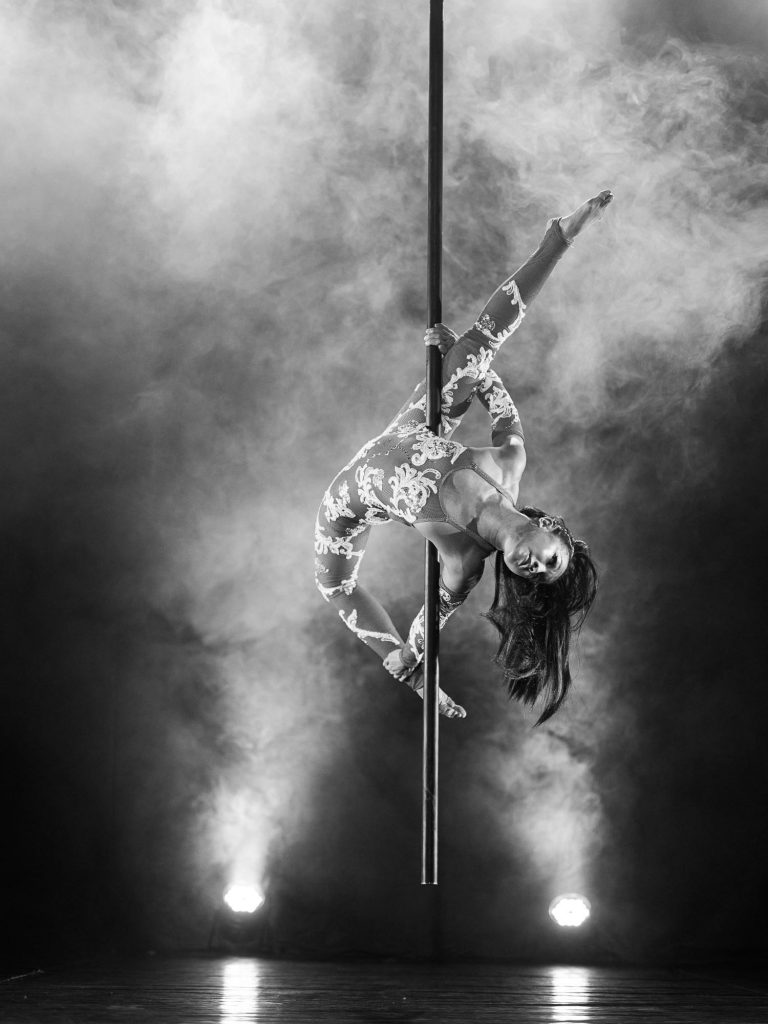 We only had maybe three main studios in Cape Town at the time. There was potential that needed to be tapped, and I wanted to play a key role in growing public awareness and appreciation of this sport. The pole dancing scene was, and still is, growing. We're constantly battling with preconceptions and fighting stereotypes all the time, although to a much lesser extent now. Pole used to be synonymous with stripping, but now there are fewer raised eyebrows. Now, when I tell people I'm a pole dancer, the response is often along the lines of, "Wow, you must be really strong!". It's increasingly being recognized as a legitimate sport and art form.
I'm proud to say that I played a huge role in growing the community here. I think that The Pole Project has been a key player in elevating pole dancing to a new level in South Africa. It has also put Cape Town on the map in the pole dancing world. And I hope that people will remember The Pole Project in this way.
I say this as a Singaporean–I believe we have certain remarkable characteristics. We're persistent, resilient, adaptable, hardworking, and we make things happen. And I think those intrinsic qualities played a big role in the success of my business.
Leveraging on my international contacts and networking, and also my understanding of how to run a business from my experience as a corporate lawyer, has really helped to grow The Pole Project. Which in turn has helped greatly in growing the sport, and the community in South Africa.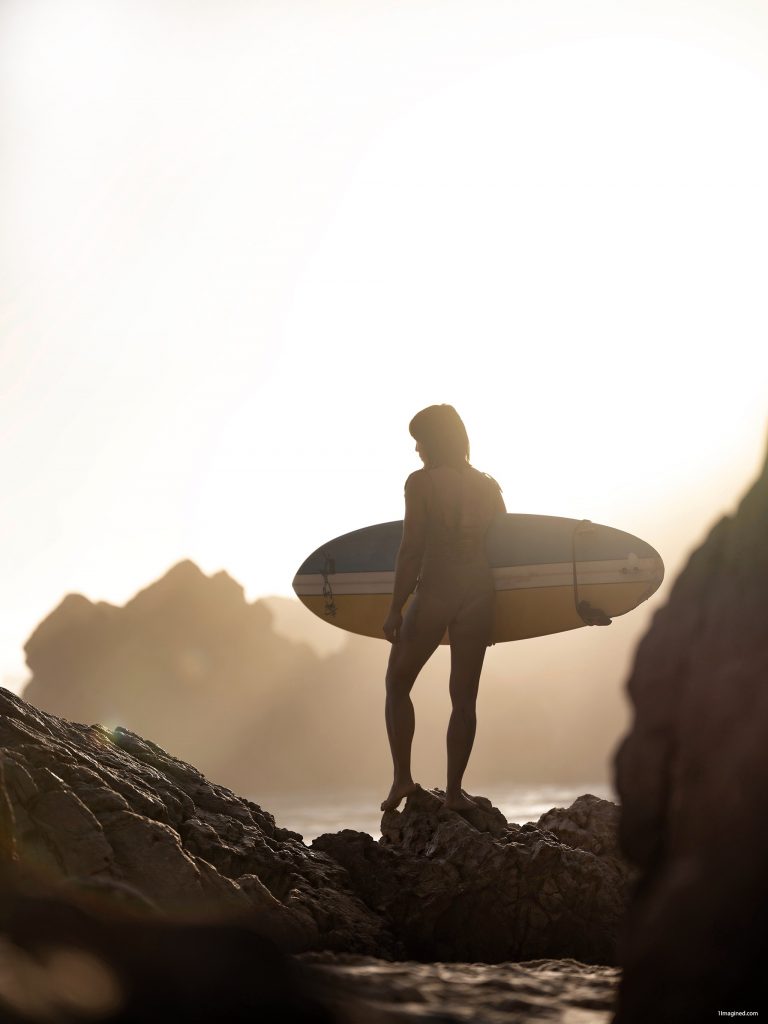 Now, the scene is so vastly different because of all the hard work that everyone has collectively put in over the past few years. One of the best things about pole dancing is that we have a very close-knit community. We follow and support each other on Instagram, and you can go to any country in the world and will probably know a pole dancer there. That is one of the great things about pole–you can forge meaningful friendships everywhere in the world. There's a wonderful camaraderie amongst pole dancers that you might not get in many other sports.
Looking back on my journey so far, I believe defining success is so different for everyone. I'm sure many might agree that a hallmark of success is having the "five Cs", and that's fine. I say that because my younger self is guilty of it too.
I won't say that doesn't necessarily define success, because it might be for a lot of people. But that was always the "right thing to do": you study hard, get a degree, get a good job, get married, start a family in a nice home.
But for me now, success is living a life that I'm proud of. I might not be earning the big bucks and running a highly profitable business. I don't have tons of disposable income to spend. However, I am living in one of the most beautiful countries in the world. My quality of life is exceptional. When I'm not hanging upside down on the pole, I am climbing a mountain or catching waves in the ocean. My life is healthy, happy and balanced.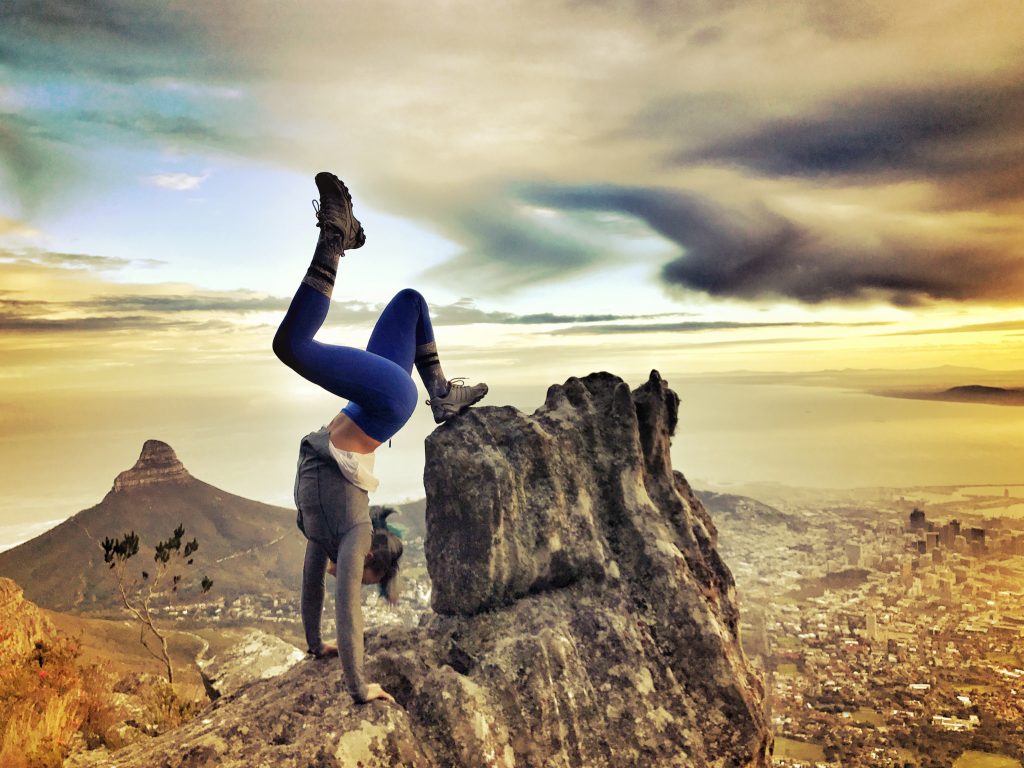 Having all your materialistic goods doesn't mean you've made it. And for me, my vision and ideals are so different from what I perceived success to be in my younger years.
Most importantly, I am training women to be strong and equipping them with new skills–like defying the laws of gravity. I am playing a role in transforming and improving the lives of women. I've seen how pole dancing has changed women. Some start off insecure, afraid or broken. They might be ashamed of how their bodies look. Then they hang off a pole, and realise how empowering and exhilarating it is to hold your body weight in the air. They become so strong on the outside, and ultimately on the inside too.
To be able to be a part of that is a much, much more rewarding thing to do, and I wouldn't give that up for all the riches in the world.
---
If you haven't already, follow RICE on Instagram, Spotify, Facebook, and Telegram. If you have a lead for a story, feedback on our work, or just want to say hi, you can also email us at community@ricemedia.co.