Top Image: Himal Rana / Unsplash
Smoking is hella gross, and I say that as a smoker myself. I'd say I smoked at least a few thousand sticks in my life so far, a nasty and unhealthy habit that kickstarted in the HDB stairwells when general awkwardness clashed into a stinking, sweaty plume of anxiety. The rank scent and yellowing teeth didn't help.
And yet, I've enjoyed every single smoke— there's meaning in each one of them. I've smoked because I had a good meal; I've smoked because I was hungry; I've smoked because I was celebrating; I've smoked out of grief. I've smoked alone and I've smoked with friends. Being a smoker is an identity, a fetishised vice no doubt fuelled by the desire to fit into the image of being A Struggling Creative.
But the end of cigarettes in Singapore is nigh, and I'm kinda glad it is.
Tobacco-free Dreams
Singapore detests smoking, that's for damn sure. The national efforts to deter people from smoking have been working, hitting smokers in their wallets and minds while literally pushing them to the fringes. The Singaporean dream is to go tobacco-free, so everyone can live longer lives being productive members of society until their last stink-free breath.
As you can tell, it remains a dream. For the powers that be, the endgame is to prevent future generations from getting addicted to smoking at all. They can't get addicted if they can't buy cigarettes in the first place, as the logic goes.
It's not that far from the proposals made by some Singaporean MPs, who've previously called for a lifetime ban on cigarette sales. And now with New Zealand planning to do so for any of its citizens born after 2008, the Ministry of Health is open to studying the same policy.
"It is an attractive proposal, in that it prevents young people from taking up smoking while not putting too many restrictions on older smokers," mentioned Senior Minister of State for Health Koh Poh Koon in January. "Then, of course, as the years go by, more and more cohorts are smoking free."
Even for a country that has seen a steady decline in smoking rates over the past decade (down 10.1% in 2020 from 11.8% in 2017), there's plenty to learn from New Zealand — which is exactly what the National University of Singapore's Saw Swee Hock School of Public Health did.
Earlier this month, the school held a dialogue to discuss what Singapore can learn from New Zealand and Malaysia to phase out smoking for good. A panel of professors and policymakers got together to share stats, showcasing the success and challenges of various campaigns to cutting down tobacco use in each country.
Interestingly enough, the data in New Zealand presents a fascinating case: smoking has gone down but vaping has gone way up. Robert Beaglehole, Professor Emeritus of the University of Auckland and former WHO director of the Department of Chronic Disease and Health Promotion, puts forth a statement that might ruffle the feathers of Singapore's policymakers.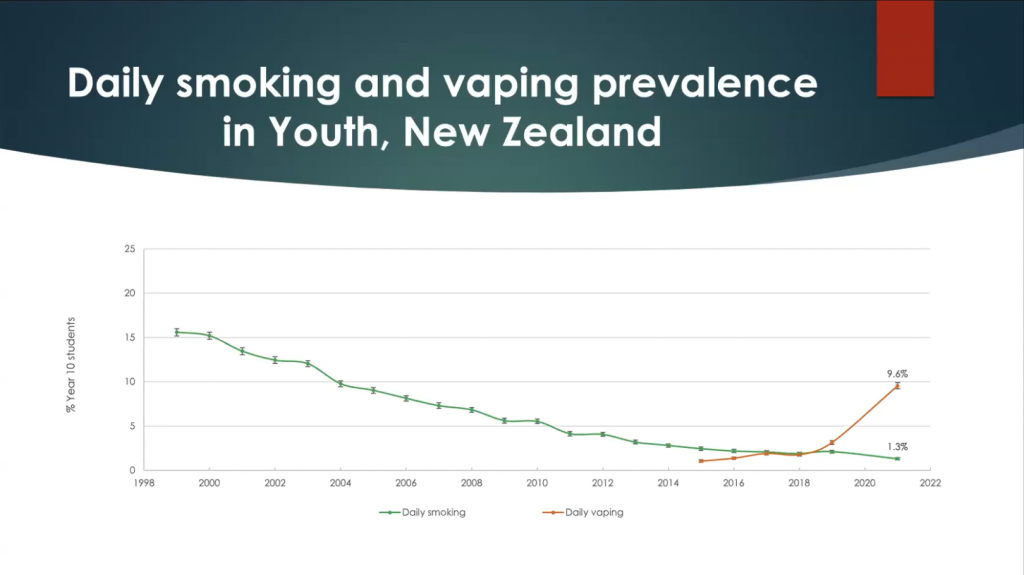 "As a parenthetical statement, I would say that at this point in time, there is no evidence that the increase in daily vaping has been associated with an increase in daily smoking. That is, in New Zealand indeed as elsewhere, vaping is not a gateway to smoking."
It contrasts with the long-established reasoning by MOH that e-cigarettes serve as a gateway for non-smokers and youths to experiment and get hooked on cigarettes later on. It's among the few justifications behind Singapore's ban on importation, sale, distribution, possession, use and purchase of imitation tobacco products.
Already, there are some concerns that New Zealand's smoking ban overlooks the worries about vaping, which — let's be honest — we still don't know the degree of its dangers. What's clear here is Singapore doesn't want to leave anything to chance (or leave room for nuance): might as well nip things in the bud before anyone suffers the potential consequences down the road.
Bad Habits in Reality
If a draconian approach is the way to go, then a draconian approach it will be. I won't be surprised if the future taking a puff in Singapore means going on a trip to an ulu designated smoking booth crammed with old smokers who paid $50 too much for a single pack of cigarettes.
But my fellow RICE smokers can attest that the problem of getting addicted to smoking (or vaping, for that matter) isn't rooted in access. We've known all about the black markets on Telegram and the contraband cigarette slingers in Geylang, so banning anything outright doesn't exactly eradicate the problem. It's just basic human tendency to get a zing of pleasure from getting your hands on things you're not supposed to have.
Basing health decisions on evidence-based information or restrictions can only do so much. There's always the romanticisation of smoking in pop culture and the unique social experiences only smokers know. Bonds between friends, colleagues and strangers alike have been formed over a pack or two.
I know that much is true for older smokers who've been at it long enough to find it hard to quit the dopamine rush with every drag. So what about the kids who've never touched a cigarette before? Is a tobacco-free generation actually plausible if the culture surrounding smoking is effectively denormalised?
Saw Swee Hock School of Public Health's Founding Dean Professor Chia Kee Seng points out that the success of phasing out tobacco for good goes beyond legislative exercises.
"It has to be a social movement," he affirms in the panel discussion. "We actually have the advantage of newer generations… they have very different mindsets and value systems than old cronies like me! Potentially, they value things like health and wellbeing rather than the pursuit of wealth at the expense of everything."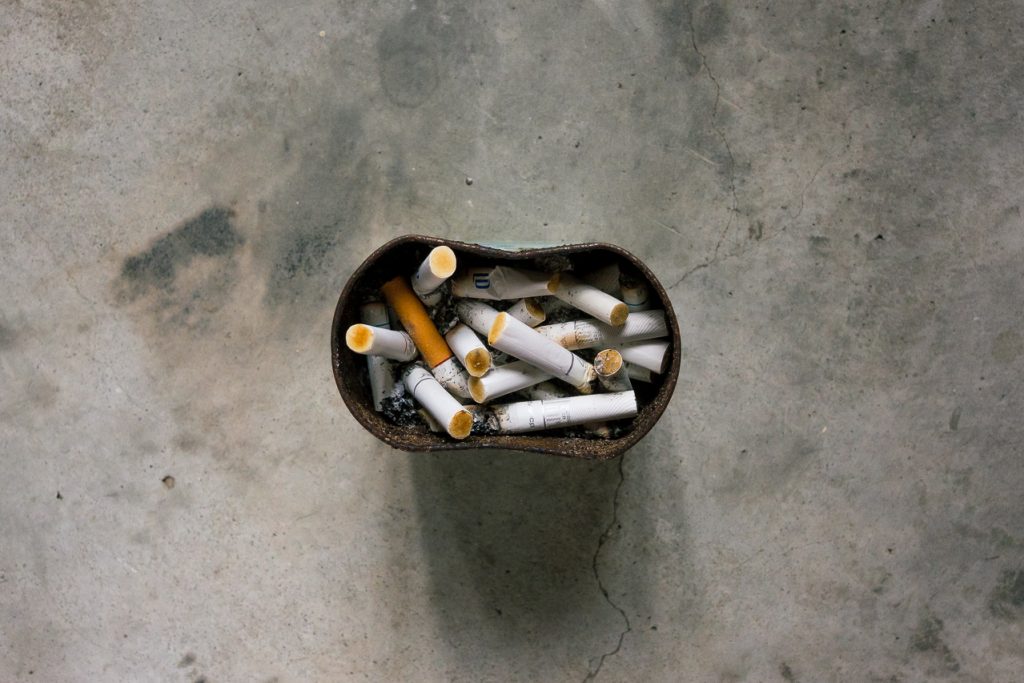 While Associate Professor Koong Heng Nung agrees with the power of youth, he still believes that it's the responsibility of policymakers and experts to harness their ability to make a change.
"The young people have the energy but they don't have the sustainability," the Tobacco Free Generation founder asserts. "Only when we marry these qualities that we will be able to overcome this five-decade-old pandemic that has been killing all of us."
If we're taking a page out of New Zealand's notes, then yes, it is entirely possible for a new generation of kids who might never even want cigarettes. But it comes with the concern that today's youth are also growing up in an age where there are available (but illegal) alternatives to traditional tobacco.
Only with further studies can we know if vaping will turn out to be just as dangerous. What we do know for now is this: Other countries are finding it to be a legitimate alternative to help people stop smoking cigarettes.
Again, if we're learning from the Kiwis, shouldn't someone at least consider their regulation of vaping products? The laws over there, after all, strike a balance between ensuring quality-controlled products for those who want to quit smoking and minimising both appeal and access of e-cigarettes to youth.
"I would say that vaping (devices) should not be a consumer product. It should be a prescription product for current smokers to quit. I think the messaging would be very different if (e-cigarettes) are a consumer product versus vaping as a smoking cessation aid," Professor Chia offers.
Dr Koh, at least, is aware of the vaping conundrum. The Senior Minister of State remains adamant that e-cigarettes will only undo "all the progress we have made on curbing smoking" when vaping gets entrenched among the younger generation.
Some might even say it already is. So if Singapore's endgame is to phase out tobacco use among future generations, that's entirely plausible — a cigarette just doesn't have that same vibe as it had before anyway. But if tobacco-free policies aren't considering the fact that people have long abandoned tobacco for other options that require regulation, we'll be one step behind yet again.
---
If you haven't already, follow RICE on Instagram, TikTok, Facebook, and Telegram. If you have a lead for a story, feedback on our work, or just want to say hi, you can also email us at community@ricemedia.co