All images by Benita Leong for RICE Media
We've never really given ergonomics the attention and investment it deserves, have we?
Like many dislodged office workers in the past few years, my makeshift workspace started on the sofa. Eventually, I switched to an old office chair. Big mistake. One of its jammed wheels had the amazing aptitude of leaving permanent scratch marks across the wooden floor.
The damage it did to my own body was just as bad. For nearly a year, my neck, shoulder and back hurt on weekdays about an hour into work, spilling over into the weekends as lingering stiffness. I know for a fact that shoving a cushion behind your back does nothing.
Chained to our desks, we're victims of long hours of sedentary work. Back pains have become part and parcel of office jobs, a form of masochistic pride related to productivity. Ironically (and sensibly), it has the opposite effect: The time lost from work as a result of lower back pain appears to be a significant local problem. No matter what any of us does daily, we're all craving pain relief.
In an age that's shifting towards a hybrid working, could we maybe find our way towards a culture of "work from pleasure"? After all, chairs designed to be one-size-fits-all are really just all-fits-one-size. True comfort comes naturally when we start being mindful about the very thrones we spend most of our days on.
TL;DR, I caved in and bought myself an ErgoTune Supreme last November after weeks of arduous research on legit ergonomic chairs I could actually afford. I've never looked back since. Well technically, I can look back now: my neck's no longer as stiff!
Despite converting many suffering friends into ErgoTune users, my quest to become the one true ambassador remained unfulfilled. With five spare ErgoTune Supreme V3 chairs in hand, I embarked on an adventure across the island, introducing to various people the gift of natural comfort—comfort that's only accessible when you have a fully-configurable chair that anyone can adjust according to their individual fit.
---
Joshua, Amateur Prawner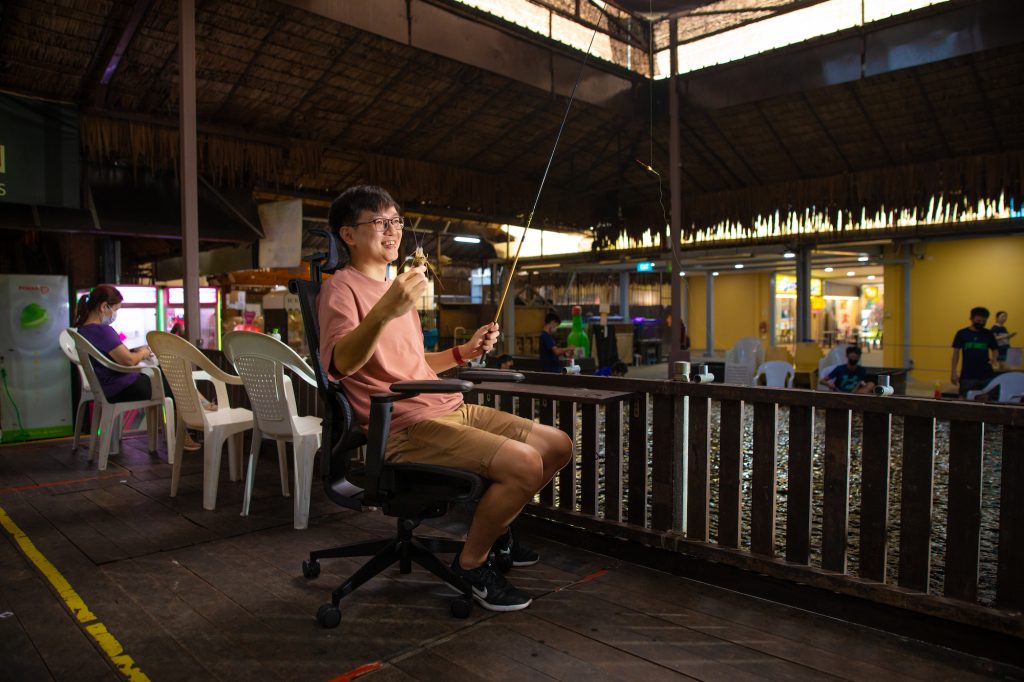 While other anglers had to make do with hunching over their poles in plastic white chairs, Joshua had his legs propped up, chilling comfortably on an ErgoTune chair in the middle of Punggol's Hai Bin prawning spot.
He seems like a regular, but the 29-year-old only goes prawning whenever he feels like it. When asked if he was any good, he laughed and fished out an empty prawn net from the makeshift pond.
"I've not caught anything yet, which is fine! For me, prawning is something I do to relax. With some excitement sprinkled in."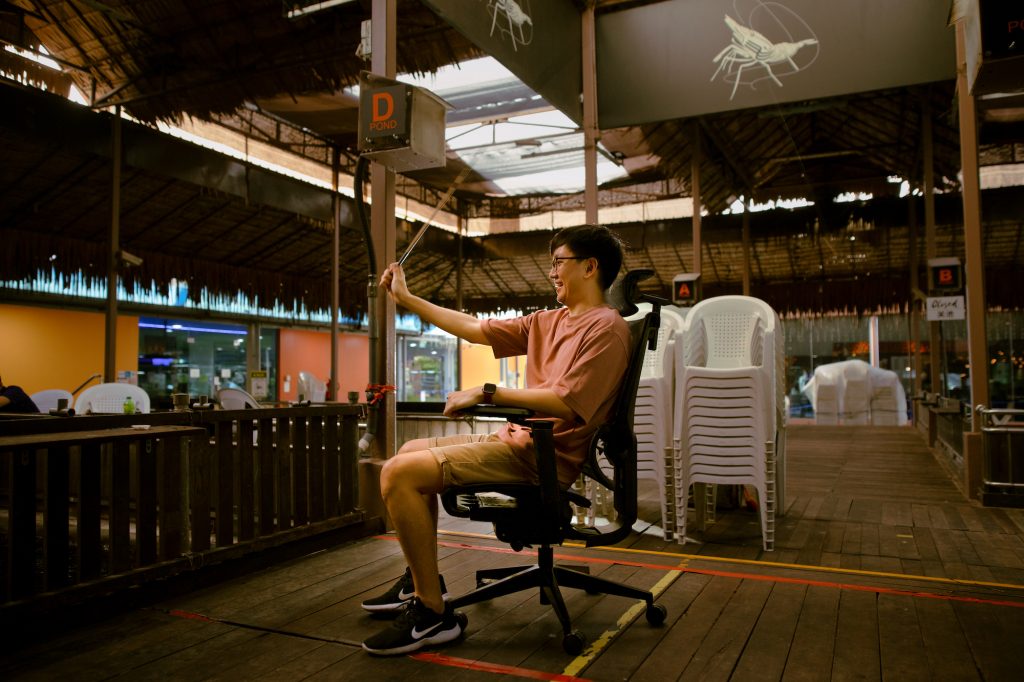 The slow pace of prawning allows Joshua to literally sit back and unwind. It's a stark contrast to what he has to do at work as a financial analyst: deskbound for long hours, staring at multiple screens and crunching data. Because of his time in front of the computer, he gets frequent backaches and a stiff neck.
Still, he loves his job. Adjusting the lumbar support on his ErgoTune Supreme V3, Joshua believes that the chair is practical in any situation. I see his logic — 11 adjustment points for tailored ergonomics do come in handy, regardless if you're trying to snag elusive prawns on your hook or deducing financial trends for major corporations.
He revolves on his chair, preparing to whip his pole into the water. We stand away from his hook's trajectory, perspiring from the humidity. "There's mesh on the chair so it's very airy and can mould itself to your body. You don't need to fit the chair, it fits you. When I lean back, it's also secure and not wobbly. I feel safe in it. This is way better than all my office chairs."
Joshua's float dips underneath the surface and his chair creaks forward. We took our leave just as he snagged a wriggling prawn on his hook.
Weish, Musician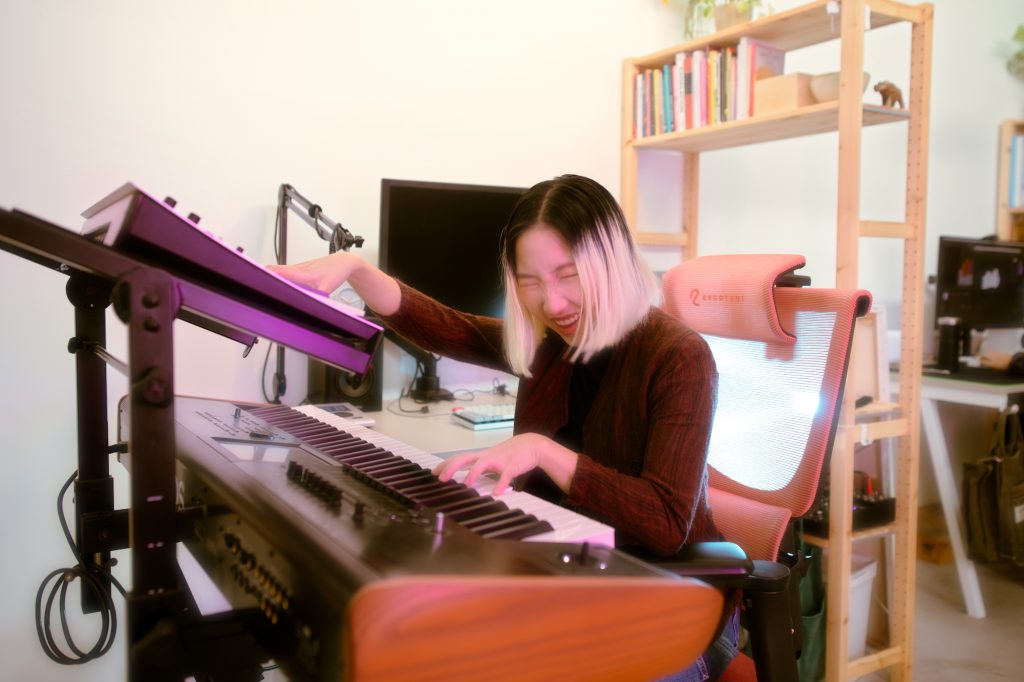 With all that Weish has achieved today as a full-time musician and sound artist, you wouldn't have thought that the 32-year-old started covering songs at weddings and cafes over a decade ago. It was all part of the hustle back then to earn pocket money for school, she tells us.
Over time, she came up with original songs, which she humbly terms as "nonsense that I write in my bedroom". Things snowballed into subsequent success — now she makes enough from creative projects to justify occupying a studio in Goodman Arts Centre.
Sitting on the coral ErgoTune Supreme V3 (which blended in with the minimal chic of her sunlight-filled studio) Weish recalls how she used to help run an open mic at now-defunct Duxton Hill cafe, The Pigeonhole.
"On some nights, I'd panic because there were very few signups. Or, I have enough acts for only part of the night, but nobody's on stage between 9 to 10 PM. So, I threw myself on stage to fill the gaps!"
It was in 2018 when Weish pivoted from six years of teaching literature and turned into a full-time musician as she was saying no to too many music opportunities.
"When you are emotionally invested in your students' lives, you can't half-ass it. On a typical day, I'd get home at 1 AM or 2 AM, and wake up for school at 6 AM. In backstage rooms or jamming studios, I'd often be marking papers or planning lessons."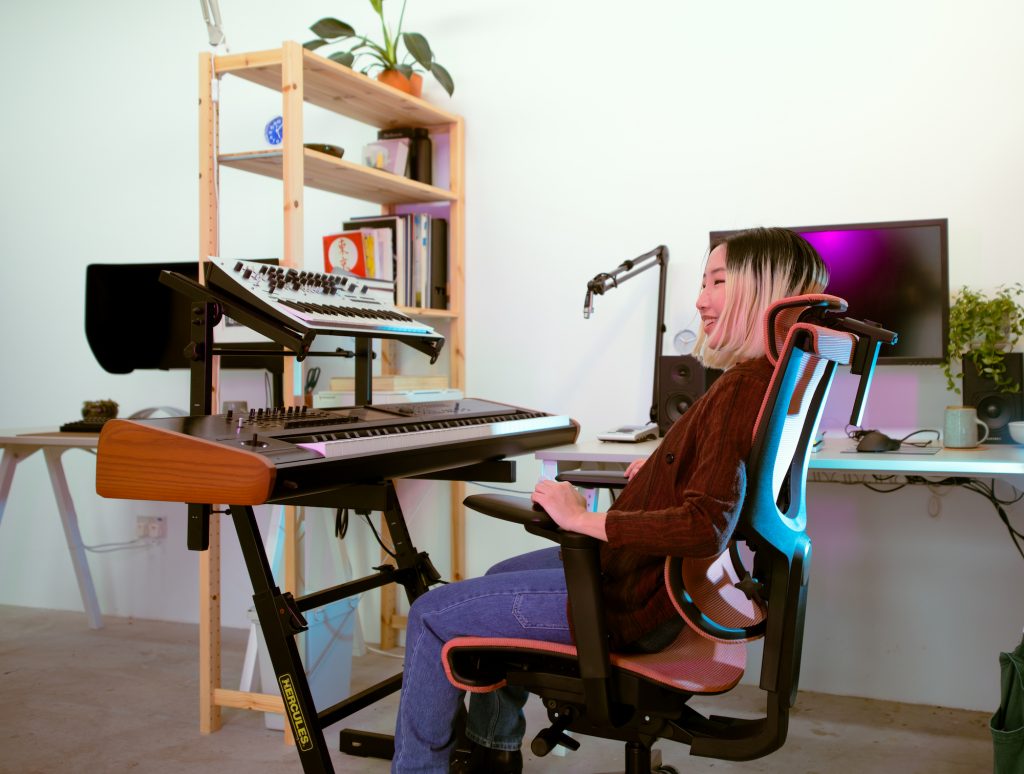 Doing meaningful and varied work keeps her going. She may be composing music for a dance choreography today, doing sound design for a theatre production tomorrow, and performing shows or collaborating with other creatives the day after.
"I'm anxious about creating work that doesn't mean anything to anyone. Then it's like, for what?"
As Weish reminisced how it was like scribbling songs while sprawled on her bed, a stark contrast with her current snug fit on the ergonomic chair, she adjusted the armrests.
"I love that I can do this. I have a small frame and tiny hands so this is great. I can even play the piano without lifting my elbows!" She demonstrated ease by vamping on her synth keyboards.
"For most chairs, my feet can't even reach the ground. But with this, everything feels customised and centred."
Thiva, Security Guard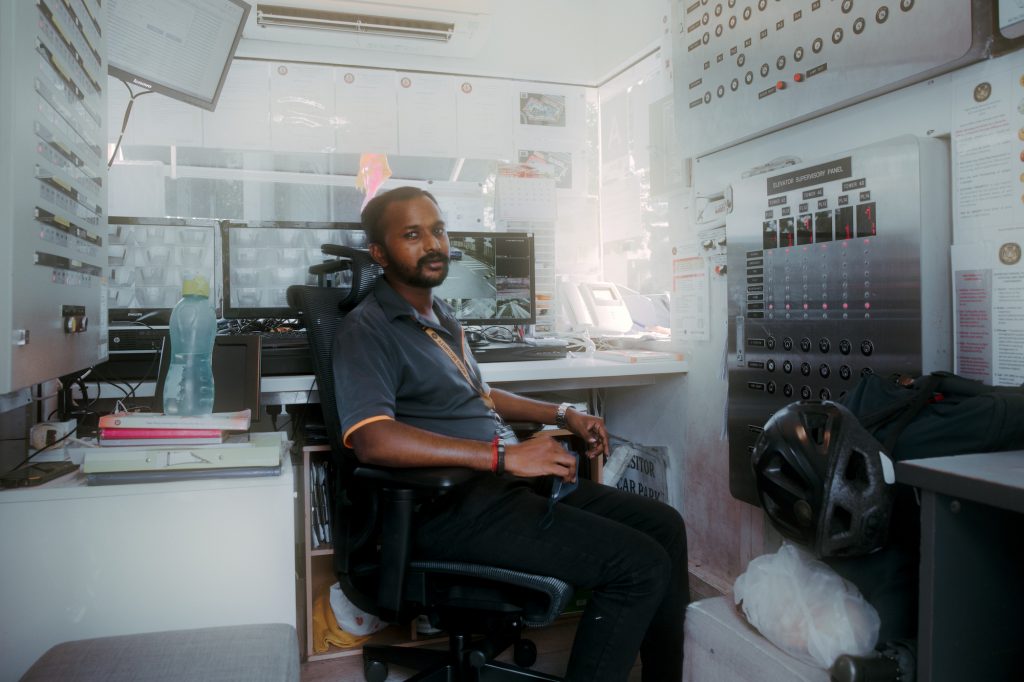 We caught Thivakaran, a 30-year-old security guard, just before he was heading out for a patrol around a condominium somewhere in Woodlands.
It's been a year since he started working as a security guard in various dormitories and condominiums. Before this, he was a warehouse assistant. "During Covid, I couldn't find work in most places. My friend recommended this job," Thiva shared.
While the guardhouse is air-conditioned, Thiva mentioned that guards do need to stand outside the sheltered area outside to collect visitors' particulars, rain or shine. Comfort and relief are crucial in his line of work, so he's glad that we dropped by with an ErgoTune chair in tow.
In his personal free time outside of work, Thiva also enjoys playing shooters like Counter-Strike and Call of Duty, so he knows the importance of having a proper chair to sit on for long hours.
When asked about how the chair differs from the current one in the guardhouse, Thiva pointed to the lower back support and notes how comfortable it is. He adjusts the lumbar support, shifting his body to keep the natural C-shape curve of his spine supported. "But when it is busy time, I won't even think about the chair," he admits.
As we spoke, Thiva's eyes continued to float back towards the many live CCTV streams behind him. His lunchtime is coming up, and a colleague will be relieving him of his duties soon. He's glad that the colleague — an older gentleman — will get to enjoy a nicer seat now.
Gracelyn, CEO of Sing See Soon Floral & Landscape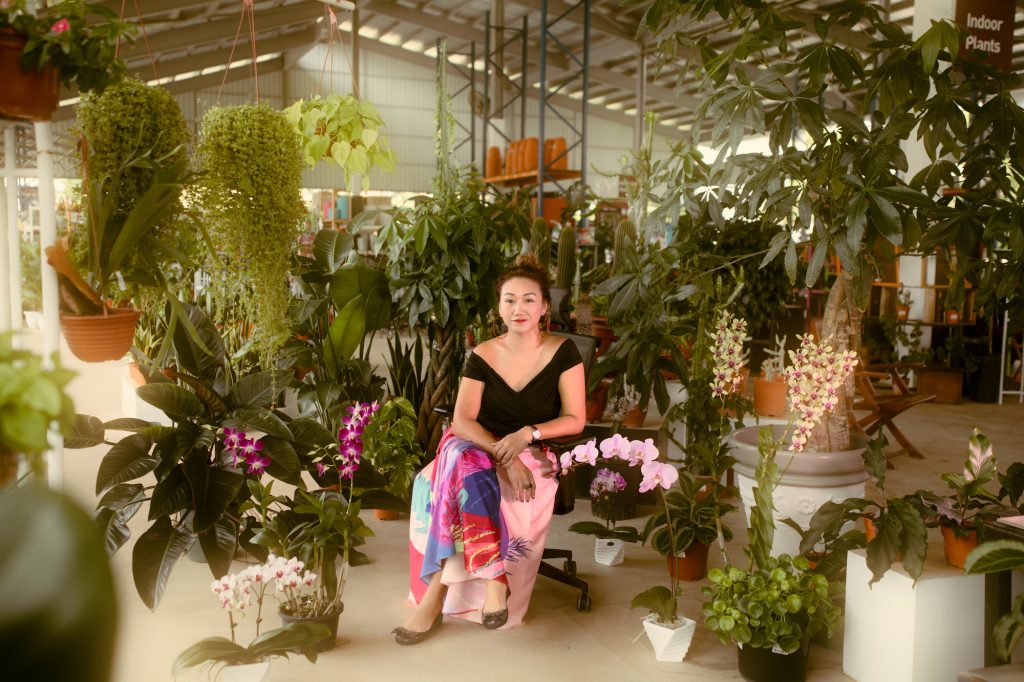 We caught Gracelyn picking up dead leaves at Sing See Soon Floral & Landscape Pte Ltd, a family-owned business that has been around since 1879.
As part of the current fifth generation of women running operations, she remains super-involved — the mum was arranging pots to ensure that their experiential garden in Simei is in tiptop condition. Even as she requires a crutch to move (she sustained an injury recently), she refuses to let discomfort get in the way of her work.
The 41-year-old CEO is motivated by her love to push boundaries. Unlike typical plant nurseries, Sing See Soon's Simei offshoot does not have every floor space suffocatingly covered in plants. Flea markets, pop-up stores and other events can be set up across the available space.
When asked why, Gracelyn affirmed her belief in providing a platform to support local businesses while letting communities reconnect with nature as a form of therapy.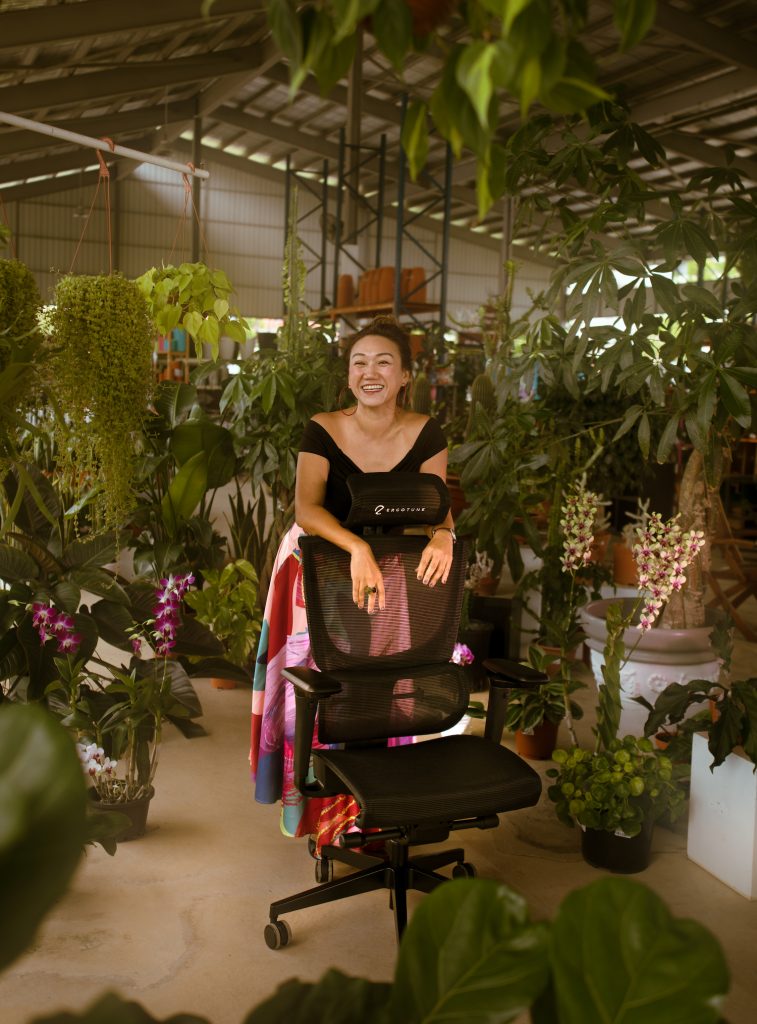 Gracelyn often receives questions from friends about why their plants died. She would sometimes even receive photos of plants which have turned yellow or looked droopy, with just two words: "Why ah?"
Gracelyn readily admits that even she faces the same issues as other amateur plant collectors. She lets Balu, her lead green technician, grow the greenery while she oversees other aspects of the company: administration, logistics, visual aesthetics and partnerships.
Unsurprisingly, sitting on her new ErgoTune Supreme V3 after an entire day of errands feels invigorating.
"I like the bottom bouncy part of it. For once, I don't feel like my bum is fighting against the seat, and I'm quite nicely supported."
As Gracelyn corrects her slouch and sits upright, adjusting her neck against the chair's adjustable headrest. It's surreal, watching her fix her posture amidst the botanical collection.
"The chair makes me feel proud behind the desk. Boss vibes," she beams.
Nuruddin, Bouldering Gym Manager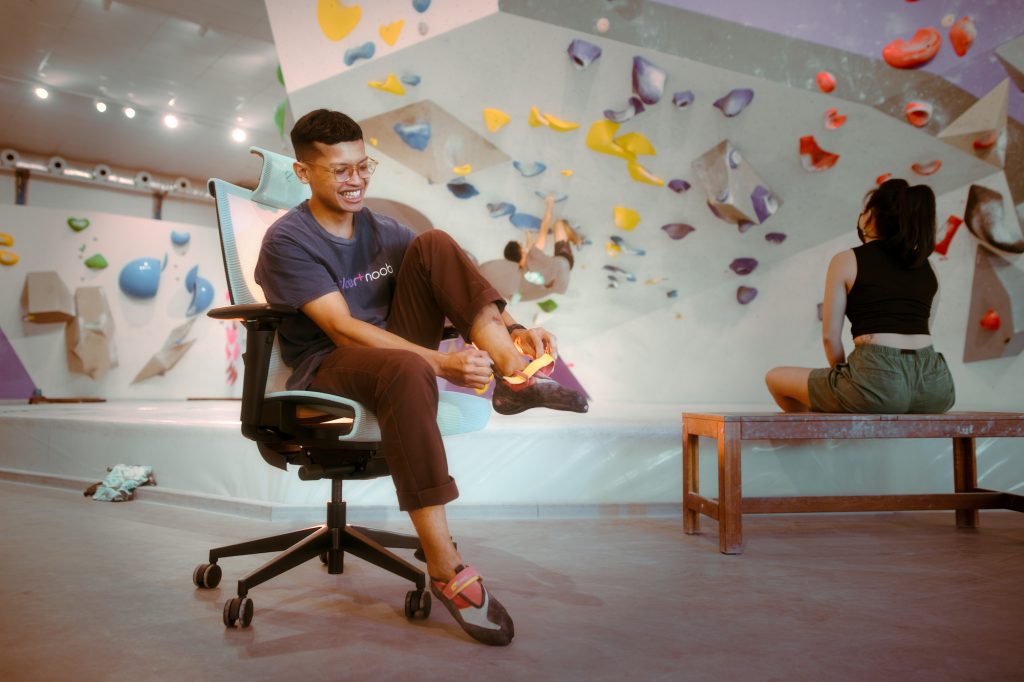 When we entered Boulder+ at The Chevrons a little after lunch, Nuruddin had been rolling around the premises on the chair, leaving chalk dust in his wake.
It's been three years since Nuruddin started working at Boulder+. The 26-year-old sociology student first got into bouldering when he and his friends were thinking of new things to do to kill time after 'O' levels, so they went to check out a bouldering gym. "I just know that there is a route to follow, and to just reach the top."
Now, Nuruddin is able to explain that bouldering is a sport that requires you to go from A to B through strategic movements. Unlike top rope or lead climbing, there is no harness. All you need to scale the colour-coded routes are chalk (for better finger grip) and climbing shoes.
And the courage to fail. Staring up at the 4.5-metre walls, I reckon that any fall from a slip must be quite painful—even if there are safety mats at the bottom.
Nuruddin shared that he enjoys the problem-solving aspect of bouldering which tests his techniques, strength and flexibility. He said, "You know you can do it, you just have to figure it out. It's similar to other things in life." 
As someone who's very in tune with the physical limits of the human body (and the aches sustained from strenuous climbing), Nuruddin understands the importance of keeping your body in optimal positions. Unlike the demands of his job, others might not have the chance to move around that much in their work. 
To Nuruddin, a chair's base function is to be comfortable. "And this is very comfortable," he says of his new ErgoTune Supreme V3. As a gym manager, he does not sit for long hours but thinks that there will be changes in the need for comfort for someone who does. 
Just as how it's important for climbers to get snug climbing shoes for optimal performance on the walls, Nuruddin sees the same need for tailored fits in the realm of chairs. 
"The good thing (about the chair) is that it's adjustable to your needs. Sometimes you may need it to be higher, or lay back a bit more, and you can adjust accordingly. If we're being specific, there's lower back rest support, your arm rest is just nice, and your neck as well."
In Tune With Ergonomics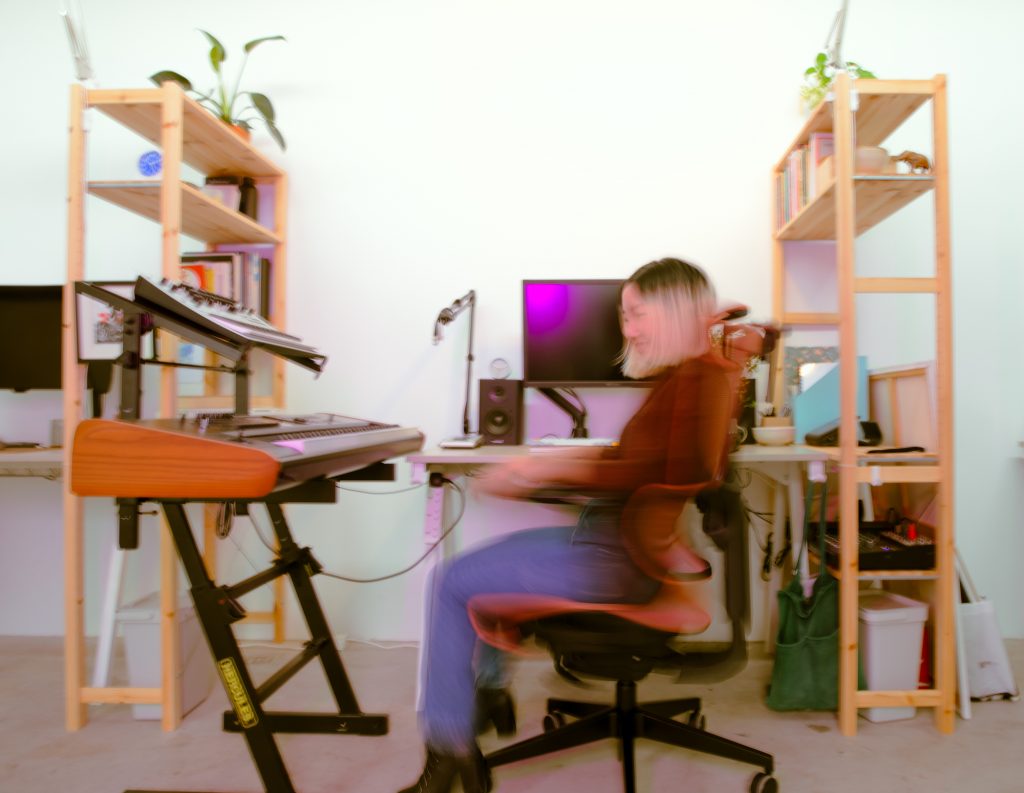 In the pursuit of their craft, passionate individuals may sometimes forget about their own physical well-being. Quality deliverables always come first, and that works in the short run when adoration for the job is enough adrenaline to keep the pains at bay.
In the long run, however, your neck, back and shoulders all take a toll, so much so that monthly trips to the masseuse may no longer be of much help. Those who remain stubbornly attached to Taobao chairs, despite having accumulated back pains from two years of WFH, may not see the point in getting a good chair. Everyone deserves personalised comfort, and you can achieve that with a chair that is able to fit you as you are. It's a fair assumption that ergonomic chairs are expensive. Fortunately, this is not true—unless you insist on a Herman Miller.
Investing in a sound ergonomic chair is one way to empower yourself to continue doing what you love. If there's value in taking the time and effort in searching for the right mattress, then there's no reason why we shouldn't do the same to make our eight hours of daily work a wee bit more comfortable.
Self-care exists in many forms; deskbound jobs need not be backbreaking. It's not you, it's not the job. It's the chair.
---
This article was brought to you by ErgoTune.
If you haven't already, follow RICE on Instagram, TikTok, Facebook, and Telegram. If you have a lead for a story, feedback on our work, or just want to say hi, you can also email us at community@ricemedia.co