Top image: Katie Rainbow 🏳️‍🌈 from Pexels
In my line of work as a luxury-lifestyle writer, I've had the good privilege to have had access to thespians, royalty, and pop culture celebrities. I've met Nicole Kidman, made tennis legend Chris Evert laugh, interviewed Joseph Schooling, and even broken bread with Malaysian royalty. I've also had the fortune of having a private audience with President Mdm Halimah Yacob.
Still, all the experiences I've had with an international audience has not diminished the anxiety and dread I feel in the impending moment a restaurant hostess or waiter attends to me. At that instant, I know I would be judged for my gender non-conforming appearance that leans towards trans-masculine.
A recent incident at a restaurant at Seletar Aerospace Park several weeks ago reminded me of this reality, yet again.
I've been a regular customer for years. Still, each visit is accompanied by a shadow of unease trailing not far behind—I've never felt warmly received by the female front-of-house hostess. But I've always shrugged off the questionable vibe and kept returning simply because I love the ambience of the place, with its twinkling fairy lights and sprawling lawn.
That is, until my most recent visit this month.
She was standing at the entrance as we left the restaurant, and I made eye contact to acknowledge her and say "Thank you" as a courtesy. Contact was made, but she turned and looked away immediately.
In the next instant, I heard her say "Thank you" to my male, straight, cisgender friend right behind me. The friend I was with ascertained my version of events lest it turned out to be a figment of my imagination.
Inside, I was shaken. I don't know why I was even shocked that the disparity of how we were treated was so blatant when I've already been conditioned to expect such microaggressions over years of discriminatory treatment by retail and F&B staff throughout my lifetime.
Unpacking cisgender & straight privilege
To be fair, my encounters at F&B establishments aren't always negative, and, for the most part, the majority tend to be positive or neutral. I reckon it's due to how much progress the world has made in the awareness of the issues the LGBTQ+ and trans community face and the greater understanding and acceptance that has generally come about as a result.
Still, while much has been said about white and male privilege, less is spoken about cisgender and straight privilege. It certainly exists and, many of us in the LGBTQ+ and trans community feel it acutely.
My encounter at the Seletar Aerospace Park restaurant unwittingly unleashed a lifetime of deep-seated trauma arising from such trans-discriminatory treatment compounded over 30 years from the time I began living this identity.
I took to Instagram Stories to share my experience, and it was quickly ascertained that mine was not an isolated incident.
My DMs hummed busily like never before, and a clear pattern of responses emerged: Shock and outrage from straight, cisgender friends on learning that such discriminatory treatment was still being practised in our society in this day and age.
This was peppered with a good dose of commiseration from fellow trans and LGBTQ+ folk and acquaintances, who then shared similar experiences of discrimination by service staff.
An editor of a lifestyle website recalled witnessing how poorly her ex–who presents butch–would often be treated by service staff throughout their 10-year relationship. Another, a femme lesbian, described how she noted different treatment by F&B staff if she held her girlfriend's hand.
A third, a gay man who had built a successful business that a public listed company acquired in Singapore, assured me I'm not alone in this, as he's endured his fair share of such experiences.
Beyond mere inconvenience
In their initial DM acknowledging my "feedback" and assuring me that actions were being undertaken to investigate the matter internally, the restaurant's reply also included a standard "We apologise for any inconvenience caused" clause, which woefully demonstrated how they failed to comprehend the full extent of the damage done, despite my lengthy explanations on IG Stories.
It was not simply an "inconvenience"; I had to suffer the indignity of unprovoked and unnecessary humiliation in the presence of another, and it resulted in real emotional distress.
Unsatisfied with the restaurant's email in response to, and handling of, this sudden public relations fiasco they found themselves in, I grew more curious to find out just how prevalent these instances of discrimination are and conducted an informal poll on my Instagram Stories.
The poll found that up to 80% of those who identify as belonging to the LGBTQ+ community reported experiencing some form of discrimination by retail and F&B staff.
While unsurprising to trans folk such as myself, these results are an indictment of how society views and treats people they consider 'other'. They point to a deeper issue of a frayed moral fabric that deems someone who looks like me unworthy of the same respect as my cisgender male friend.
Still, one of the most common forms of microaggressions we face is being treated as invisible. When they see you but act like they didn't, or when your request for service or assistance is ignored. This invisibility is intended to diminish the individual, and it's not okay.
Sensitivity training
First and foremost, never underestimate the importance of staff training. It cannot be an afterthought.
There are many valuable lessons that all businesses can glean from this regrettable episode, particularly those with staff working on the frontlines.
Frontline staff ought to be trained beyond operational competency. It needs to go beyond the perfunctory "Hello" or "Thank You", which, sadly, I find myself lamenting the absence of these days.
I feel for the chef who has spent decades mastering their craft, pouring their soul into perfecting each dish and garnishing it with love before it leaves their station, only to have the customer experience blighted by a server deficient in basic etiquette.
I feel for the restaurant owner who's suffered sleepless nights these 20 months struggling to keep the business afloat and keep paying staff wages, only to lose a customer (or two or more, who knows?) over a tactless exchange that causes the diner to vow never to return.
This is where I would advocate such businesses to invest in sensitivity training for their staff.
Oogachaga, Singapore's most established non-profit organisation supporting the LGBTQ+ community, conducted one such training for the staff of DTAP Clinic last year, attended by more than 60 doctors, nurses, and support staff in Singapore and Malaysia.
Presented together with The T Project, Singapore's first and only social service supporting the transgender community, the training was led by certified professionals with backgrounds in psychology and social work from both organisations.
The training aims to address commonly held misconceptions and beliefs regarding LGBTQ+ individuals to help create a safe space for such individuals. The ultimate aim is to treat every patient with a uniformly high standard of care, regardless of gender or orientation.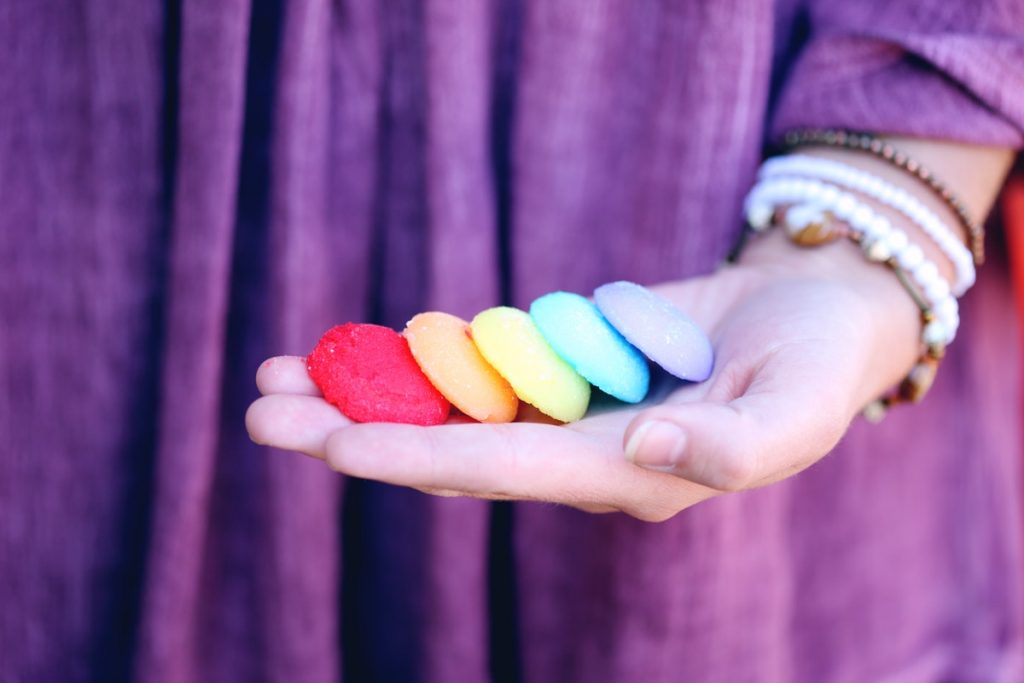 Actionable steps towards inclusivity
For starters, restaurateurs could and should educate themselves and their staff on pronouns usage and endeavour to use more inclusive language. Granted, topics such as these may be new in many heteronormative circles, and you may not always get it right, but as long as the effort is made to understand and practice proper pronouns usage, that's a good start.
Many brands I work with have been asking me for my pronouns from time to time, and I can attest that it is greatly appreciated.
In an F&B establishment, servers could consider asking the person's preferred pronouns. Yes, this is okay, as long as it's done with sincerity, to accord respect.
What's sure to ruin my experience, on the other hand, is when the wait staff insists on calling me "Ma'am", even though I'm outwardly presenting in traditionally masculine attire.
I know this can be tricky, as they may simply be following standard protocols if they have identified me as anatomically female (as I've yet to transition medically). Still, as the recipient, I sometimes wonder if they are intentionally dismissive of my patently apparent gender identity.
Next, an establishment can easily demonstrate inclusivity in the design of customer forms. There is, for example, an additional salutation that can be included for people who do not ascribe to the standard gender binaries: 'Mx'.
I recall once, many moons ago when a waitress at a gourmet restaurant-bakery chain invited me to sign up for its membership programme via an online form. Under the 'Gender' field was a 'Non-binary' option which I felt was pretty extraordinary.
It would not have cost the company anything to simply add an extra option to the drop-down list on the form, but the way it made me feel was tremendous—to be seen, acknowledged, and validated.
And I would have been thrilled to spotlight this establishment by name as a positive example of a progressive beacon of inclusivity. Alas, in fact-checking for this article, I revisited that membership form and found only the typical plain vanilla 'Male/Female' options under the 'Gender' field.
The 'Non-binary' option has, disappointingly, since been removed.
Epilogue
For me, it's not simply about voting with my wallet. This issue of trans-visibility is rooted in respect for all human life and every individual's right to a dignified existence regardless of race, language, religion, colour, gender, and sexual orientation.
It's why LGBTQ+ rights are a human rights issue.
We must look beyond those mellifluous notions of false democracies of a creed we learn by rote and regurgitate absent-mindedly. We ought to honour and attempt to understand the lived experiences of those we perceive as different from us.
We should shift focus instead to our intersectionalities, and the most potent intersection of all is the fact that we are all human. It is only our beliefs that separate us. And ideologies, by their very nature, are inherently flawed in that they, invariably, seek to divide rather than unite.
Through such a lens informed by empathy and compassion, inclusivity can triumph, and there is no need for the phobia of the 'other'. Homophobia and transphobia will have no place in that world.
On that note, Happy Transgender Awareness Week to all my trans brothers and sisters. May you live free in your authenticity, and may your visibility be celebrated because you are a worthy being.
---
If you haven't already, follow RICE on Instagram, Spotify, Facebook, and Telegram. If you have a lead for a story, feedback on our work, or just want to say hi, you can also email us at community@ricemedia.co.