All images by Stephanie Lee for RICE Media
A large patch of overgrown grass sits between the Four Seasons Hotel and Hard Rock Cafe along 90 Cuscaden Road.
The road leads to a dead end; nothing of interest. It stretches past Forum Shopping Mall and ends abruptly at the loading bay of Four Seasons Hotel. Locals and tourists have no reason to venture past Hard Rock Cafe, which sits at the road's entrance.
But if they did, they'd find themselves in front of a colossal compound behind large metal gates. Hidden behind the swathe of greenery is a signboard that says 'Che Sen Khor Moral Uplifting Society' and 'Free consultation and medicines'.
The society sounds like a civil organisation at first. But the name elicits curiosity—how does this society exactly uplift morals? Has Singapore's moral compass ever been in peril that we needed to form a society to tackle the issue?
My colleague, Stephanie, and I took longer than expected to find the building. Its red metal arches, the entrance to Che Sen Khor Moral Uplifting Society, is at first invisible to passers-by. However, the gates are hard to miss once you know they're there.
The arches open up to a gentle incline. A lone pagoda stands in a grass patch on the incline's right. Stone benches, tinged with mossy green, form the perimeter of the grass patch.
High-rise condos, offices and shopping centres surround the Che Sen Khor Moral Uplifting Society. The compound remains frozen in Singapore's past, as if its industrious urban planners had forgotten about it and left it to its own devices.
Even more bewildering is that the same urban planners would leave this plot of land completely untouched. After all, like most land in Orchard, it could be redeveloped into another high-rise building.
What's puzzling is how this place, apparently where morality can be elevated, manages to stay untouched.
The Moral Uplifting Society — A Place of Worship
Across the building's imposing facade are the words: 'Che Sen Khor Moral Uplifting Society Singapore'. We scale its marble steps and onto its veranda. An altar sits in the centre of a prayer hall with a deity keeping watch.
What we thought was a civil organisation was a place of worship for followers of Dejiao—the 'teaching of virtue' in Chinese. The building's facade disguises its purpose; the interiors seem more like a clan association than anything else.
But Che Sen Khor Moral Uplifting Society is a Dejiao establishment—a religious sect with Taoist influences. The Chinese folk religion was founded in Chaoyang, Guangdong, before extending its reach past China's borders and southwards into Southeast Asia in the 1950s.
A volunteer sits outside the prayer hall's entrance, unperturbed by our appearance. The volunteer, Ah Boon, estimates that the folk religion has about 400 to 500 followers, mostly older Singaporeans.
The 69-year-old, who went to a Chinese-medium school, responds in Mandarin when we ask whether the religion has younger followers. Speaking in Mandarin, Ah Boon says attracting younger Singaporeans to join their society is hard.
"Younger Singaporeans are more havoc. They aren't really concerned with these traditional activities."
Indifference among Singaporean youths towards Dejiao impedes the religion's primary goal of propagation. The faith emphasises ten virtues and encourages its followers to live and spread them to others.
Loyalty and obedience are just two of the 10 virtues Dejiao teachings emphasise. Interestingly, Dejiao's virtues stem from its central claim of including teachings from five different religions: Confucianism, Buddhism, Taoism, Christianity, and Islam.
Five portraits, each portraying a central figure from the five different religions, sit beside each other, displayed across a wall facing the altar.
Familiar figures such as Confucius and Jesus Christ hang on its walls. The picture representing Islam is left blank; Muslims prohibit visual depictions of God or the Prophet Muhammad.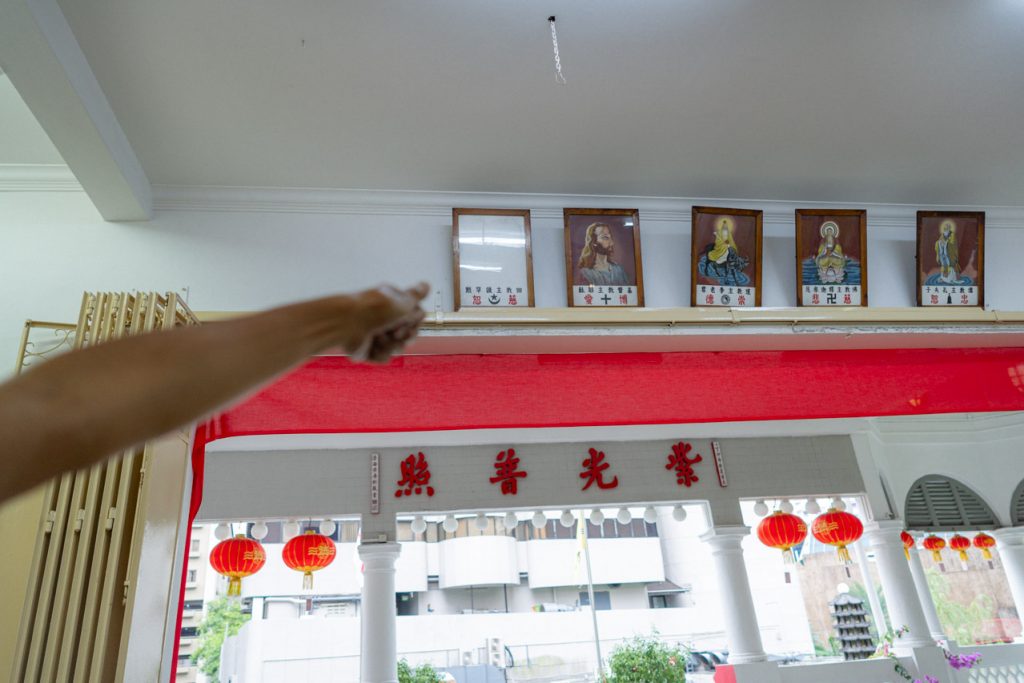 The Journey of the Moral Uplifting Society
A middle-aged man greets Ah Boon before entering the prayer hall to offer incense. Ah Boon returns a polite greeting and turns our attention to us.
The man has volunteered at the society for the past 20 years. Ah Boon takes meeting minutes, writes announcements and reports, and does other administrative work for the society. He points in the general direction of his office, a large room concealed behind the altar.
The luxuries of space in bustling Orchard Road are a far cry from its humble beginnings in a cramped room on the second floor of a River Valley shophouse in 1952.
"When we first started, we had about 10 members. We organised activities which attracted even more people," he explains.
"In 1953, the society had about 40 to 50 members. The shophouse was too small, so we raised funds and rented a bigger space along Carpenter Street."
Dejiao became popular among Singapore's Chinese population. The folk religion became known as "Moral Uplifting" from the English translation of Dejiao.
The unorthodox religion owes its rise in popularity to its central religious ritual: Fuji. According to Ah Boon, the practice is believed to allow mediums to speak directly to Taoist deities.
While holding a willow branch over a tray of sand, practitioners enter a trance that allows them to receive messages from an oracle. During the trance, two practitioners leave marks in the sand, an assistant reads the messages, another transcribes the messages on paper, and the last one erases the messages in the sand.
The marks in the sand vary. Sometimes, they come in poems, verses, and Chinese characters.
Singaporeans turned to Fuji to ask questions about their careers, love life, and health in its heyday. They would flock to the Moral Uplifting Society on the 1st and 15th of each month of the Lunar calendar—the ceremony is specifically held on these dates.
"After they consulted us, they recovered from their illness or had smooth sailing careers," Ah Boon says. Eventually, their original space along Carpenter Street could not contain its growing numbers seeking divine guidance.
"We received a divine message to look for a permanent space. Renting is not the solution. We can get kicked out at any time."
Whether by mere serendipity or an act by the divine, a businessman intended to sell one of his two bungalows in Orchard.
According to Ah Boon, the businessman feared communists taking over Singapore and wanted to make a profit before a potential communist takeover.
A Permanent Fixture in Orchard
The society moved into its current location in 1959 after Dejiao followers banded together to raise a handsome sum of S$500,000 to buy the plot of freehold land along Cuscaden Road.
Ah Boon laughs when asked whether they've ever considered selling the land because of its value. He admits that it has never crossed their minds.
The compound is also home to the Nanyang Moral Uplifting General Society, the headquarters of the various Dejiao establishments in Nanyang. The other Moral Uplifting societies can be found in the heartlands—Sengkang, Balestier, Bukit Pasoh, Bedok, Jurong West, Eunos, and Boat Quay.
"We are scattered around the region, but the headquarters are here," Ah Boon explains.
"Actually, we used to have other Moral Uplifting societies in Malaysia, but we operated independently from them after Singapore separated from the federation."
Ah Boon recalls the history of Che Sen Khor Moral Uplifting Society as if reciting from an open history book. He never falters, not even once. He's been with the society since he retired in 2005, returning day in and day out to open and close its red gates.
"I was considering joining the military but decided not to. My family asked me to take over the family business, but I couldn't. My business was not doing well. I saw an advertisement for the new temple and sought help."
The advice turned Ah Boon's business fortunes around. He chooses not to disclose the specifics of his past venture but acknowledges that his significantly improved luck led him to become a full-fledged Dejiao devotee.
A Time Capsule
Ah Boon brings us into the room behind the altar. A row of portraits of the society's benefactors and founders line the walls, their gaze directed towards the large meeting table in the centre of the room. He moves from photo to photo, explaining how each benefactor contributed to their society.
A middle-aged woman is busy working in the back office, oblivious to our spontaneous tour. Another visitor enters the compound. "They usually come in the evenings or early mornings. I am here from seven in the morning to six in the evening."
Perhaps, even without being a follower of the religion, Dejiao's ten virtues offer a way to 'uplift morals' in modern society. My morals may not have been permanently uplifted given the short visit, but my spirits were lifted, as if I had just walked in a park.
It's nice to get away from the fast-paced city. Ironically, I found that respite in the heart of Orchard Road.
This building stands as a pushback against rapid urbanisation. Singapore's districts are made and remade for different purposes—industrial areas, residential estates, and leisure hubs.
The monumental building of Che Sen Khor Moral Uplifting Society stands as a reminder of Singapore's past before modernisation. How religion, divination, and mediums held sway over people before they became, like Ah Boon says, "havoc".
Ah Boon sees us off as we walk down the incline towards the red metal arches. Che Sen Khor Moral Uplifting Society, perhaps through divine intervention, planted its roots in the heart of the Orchard district. And it will continue to remain in its (very prime) spot along Cuscaden Road.
Ah Boon waves us farewell, and we chase after our Grab ride, which passes us by. "I didn't know this place existed," our Grab driver says. "I was about to call you."
We drive away, the red metal arches disappearing into the overgrown grass again.
---
If you haven't already, follow RICE on Instagram, TikTok, Facebook, and Telegram. If you have a lead for a story, feedback on our work, or just want to say hi, you can also email the writer at hykel@ricemedia.co or at community@ricemedia.co.