Returning Michelin stars to the Michelin Guide
–
widely seen as the gastronomic bible of the world
–
is a rare thing to do in the culinary industry.
It is akin to a filmmaker or actor returning an Oscar to the Academy of Motion Picture Arts and Sciences. After all, Michelin stars are the highest aspiration that a chef can dream of, and only a handful have dared to give away their due recognition.
But Andre Chiang has had enough. He's hanging up his apron at Restaurant André after eight years, and in shuttering the restaurant, he will lose the two Michelin stars that he's earned since 2016.
He wants to return to his roots and explore more of his culture back home, something which he could not do while running a Michelin-starred restaurant.
A third Michelin star will not change anything, he says in an interview with the media yesterday at his Bukit Pasoh establishment.
"Will it make a better success story? Maybe. But do I have to have a movie ending that everybody wants to see?"
In that respect, Chiang is a bit of a rebel. He is a perfectionist, yet he does not let anyone, not even a world-renowned award, define what an impeccable restaurant, or culinary career even, should entail.
Giving up the Michelin stars is however not a factor of Restaurant André's closure, nor is it a statement against the Michelin Guide, he emphasises.
Simply put, "We are grateful for and truly appreciate all the recognition. Announcing that I'll be returning the stars is simply a gesture of courtesy and respect."
Yet Chiang's request to exclude Raw, his restaurant in Taiwan, from the Michelin Guide (should its inspectors go to his homeland), raises many more questions.
He only cites wanting to keep the restaurant "pure" as the fundamental reason for this decision, stopping short of suggesting a disconnect between pursuing his passion and upkeeping the culinary excellence expected of the Michelin star rating.
As for why he chose to use the word 'pure', that's anyone's guess.
As such, it's only natural that Chiang's announcement has drawn him comparisons to French chef Sébastien Bras, who just last month pleaded to be stripped of the three Michelin stars which his establishment Le Suquet has held for almost 20 years.
Bras said that he could not withstand the tremendous pressure of being judged on every dish he serves, and just wanted to focus on cooking excellent local produce "without wondering whether my creations will appeal to Michelin's inspectors".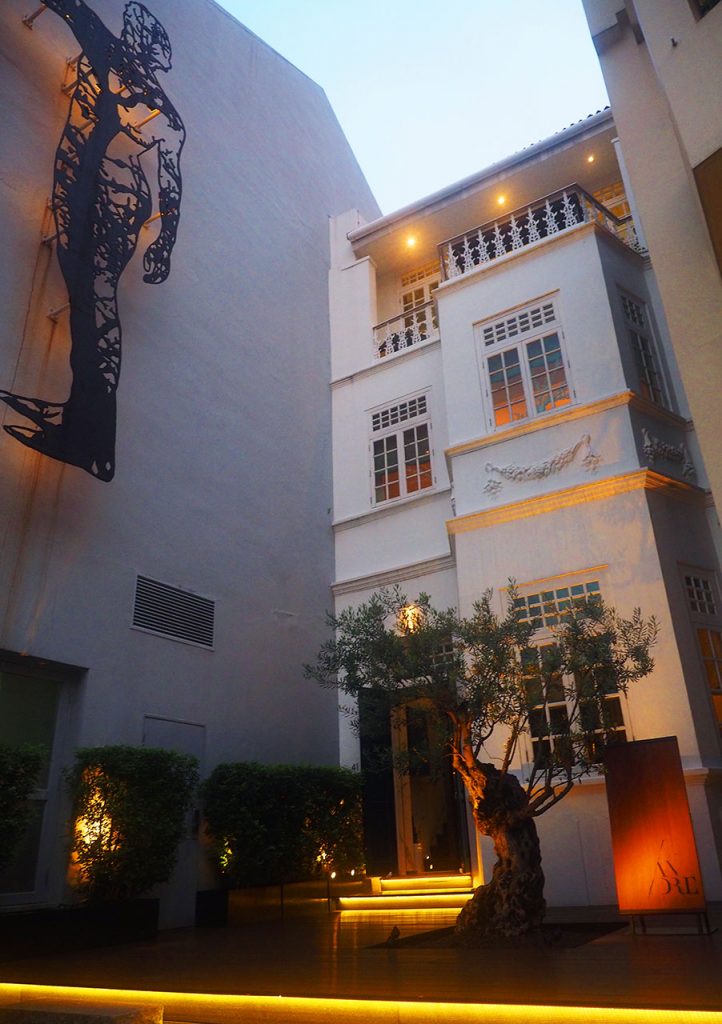 According to Michelin, this is the first time a French chef had asked to be dropped from its restaurant guide in this manner, without a major change of positioning or business model.
While Chiang's intention is to start anew by completely tearing down a part of his legacy instead of keeping the restaurant, his ultimate goal of concentrating on his love for cooking isn't quite different from Bras's reason to quit the restaurant guide.
He did clarify that while he had been mulling over the decision for a couple of weeks, he was in no way influenced by Bras's decision. The pressure of staying at the top of his game also comes primarily from his perfectionist disposition, not from Michelin or any other recognition or award, he tells me.
Today, he does not want or even feel the need to compete any more.
Perhaps, we may never know the true reason behind Chiang's decision to close Restaurant André.
But his decision to keep Raw out of the Michelin Guide is consistent with the reasons cited by other former Michelin-starred chefs for giving back their stars.
If Chiang thinks that a menu at Raw that is true to Taiwan's produce and flavours might be perceived as unappealing to the taste buds of anonymous French connoisseurs, then it says a lot about the accuracy and relevance of the Michelin Guide as the ultimate food guide.
After all, the world's food bible hasn't exactly had a compelling reputation in Asia. It was criticised for being a marketing ploy in awarding an incredible number of stars in Tokyo for its first guide in 2008 – 191 for 150 restaurants, despite many being deemed unworthy by locals.
In 2013, the guide was slammed by prominent food critic Andy Hayler for the controversial and often erratic awarding of stars to establishments in Hong Kong and Macau.
Singapore, which received its first guide in 2016, also did not see the most ideal launch.
Critics panned the guide for the glaring omission of hawkers in lieu of luxe restaurants. Only Hill Street Tai Hwa Pork Noodle and Hong Kong Soya Sauce Chicken Rice and Noodles represented the country's distinct food culture, and these were located near the central business district, suggesting that inspectors were lazy in their hunt for good hawker food.
These instances point to a common trend of Michelin inspectors clearly not understanding Asian food culture, and the guide runs the risk of skewing perceptions of the region's food for all the wrong reasons.
Granted, the fame and prestige, and thus increased business that ensues, are undeniable benefits of the Michelin star award. To be able to win over the French's stamp of approval would be seen as a colossal achievement for an Asian chef. That is why it remains the highest form of aspiration for many in the culinary business.
Chan Hong Meng, who worked at a hawker centre in Chinatown for decades, has seen an impossible dream come true. His humble chicken noodle stall, awarded one star, is now a chain with outlets in Thailand and Taiwan, and more in the pipeline.
However, it should not be the only aspiration for Singaporean hawkers and chefs.
Our food is unique and reflects the country's melting pot of cultures and ethnicities. If the French don't like it, so be it. We shouldn't be pandering to their tastes with pretentious or bizarre fusions and concoctions anyhow.
This snobbery associated with the Michelin Guide is also its biggest flaw, and the reason why Singaporeans shouldn't pay too much attention to it. It breeds insecurity and vanity among chefs, leading to creations that are sometimes more complicated than sophisticated, which draw in a pretentious crowd wanting the bragging rights on social media. It is a self-perpetuating cycle.
Not all restaurants that Michelin endorses fall in that category of course. Even Andre Chiang disagrees with the negative perception of the Michelin Guide, calling it his primary motivation to pursue his dream in the French culinary world since he was 15.
But there is no question that the Michelin Guide is not the standard-bearer that we should be worshipping.
So when Chiang announces that he would be returning his Michelin stars, we should not be mourning the loss of a two-starred restaurant or the fact that he has lost his status as a Michelin-starred chef.
Instead, we should be applauding his decision to pursue something more genuine and true to heart, something that would actually help propel the culinary industry forward. It's also an opportunity to ask if more chefs should do the same—especially those not too keen on having their Asian cuisine judged by European tastes.
We should be celebrating the courage to say a very polite "fuck you" to culinary haughtiness.