If it's 60% glass, 40% concrete, rectilinear in shape, and painted white and grey, chances are, it's a condominium in Singapore.  
There are the odd exceptions like The Interlace, Sky Habitat, Reflections at Keppel Bay, and d'Leedon, bright sparks of design brilliance with sleek lines and impressive forms.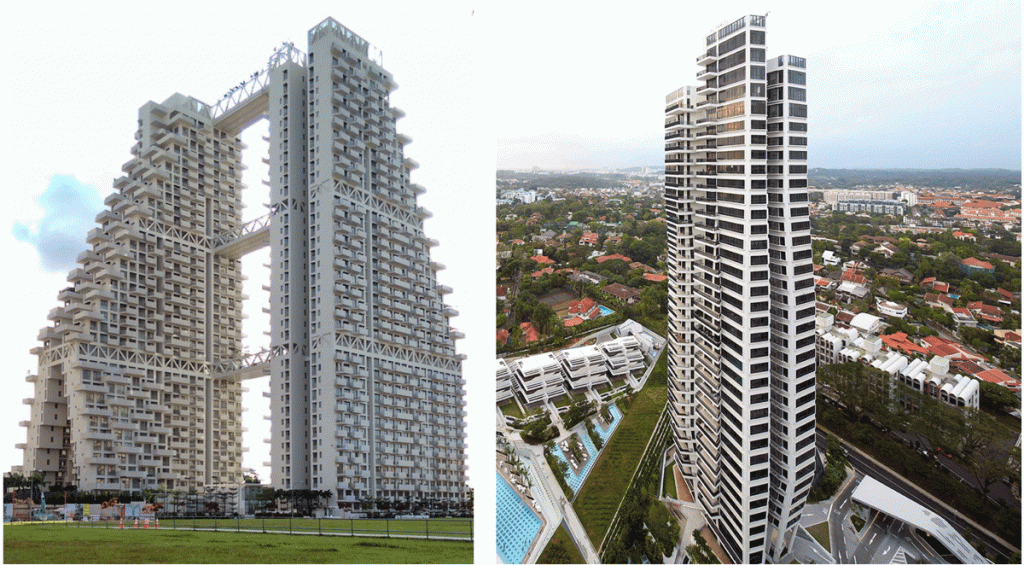 Then there are some of the older condominiums as well, in 'daring' shades of light pink, baby blue and sunflower yellow, showcasing more colonial styles of architecture.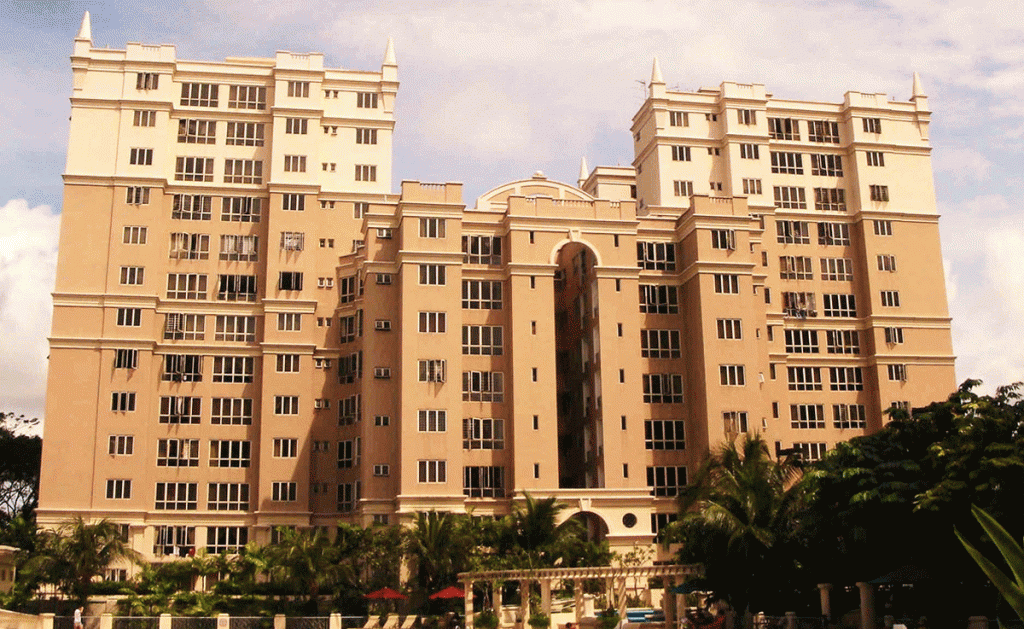 For the most part however, 90% of condominiums in Singapore look disturbingly alike: towering, one-dimensional structures made of rigid lines, boxy angles, and tinted blue-green glass.  
It's almost as if somewhere out there, there exists a template and colour scheme developers and architects alike just love to repurpose over and over again.
Here are a few popular combinations:
White on white.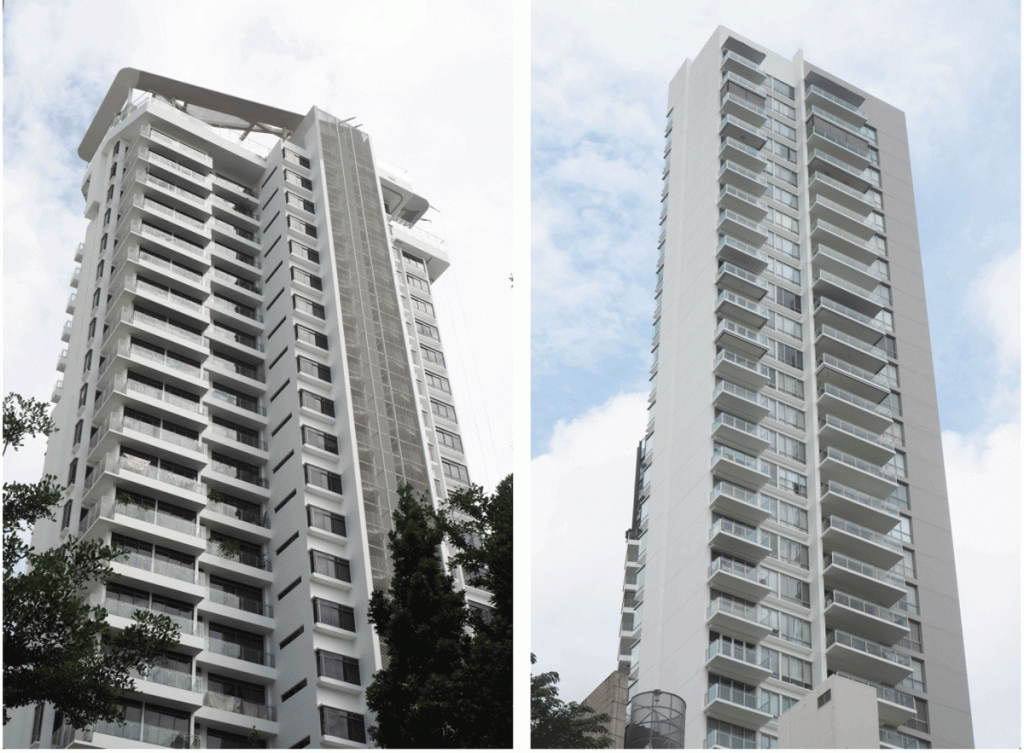 White with tinted windows.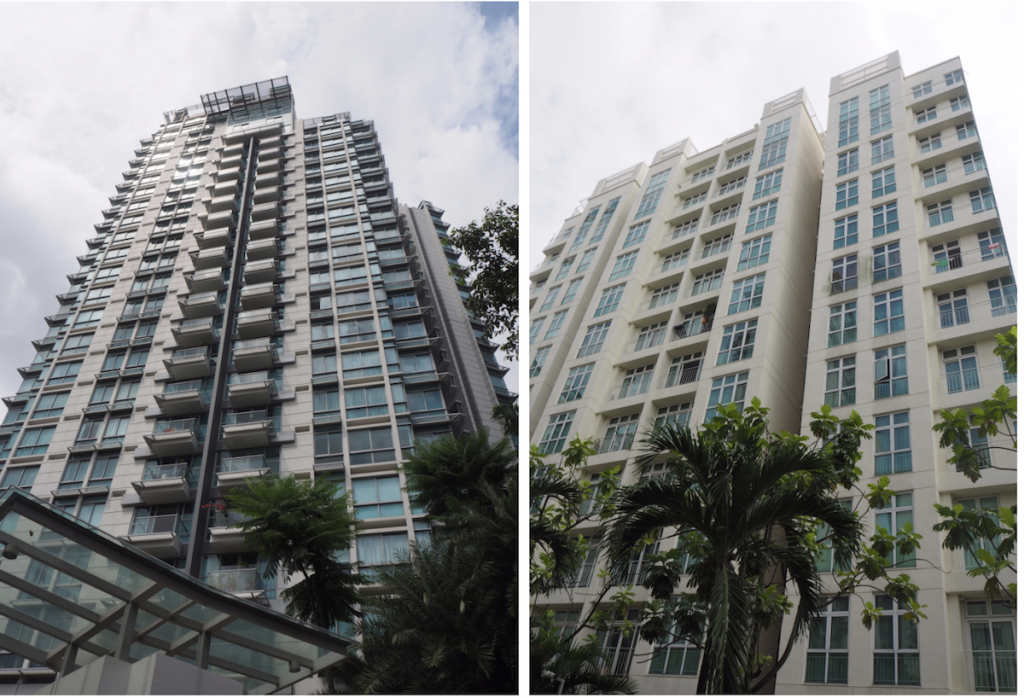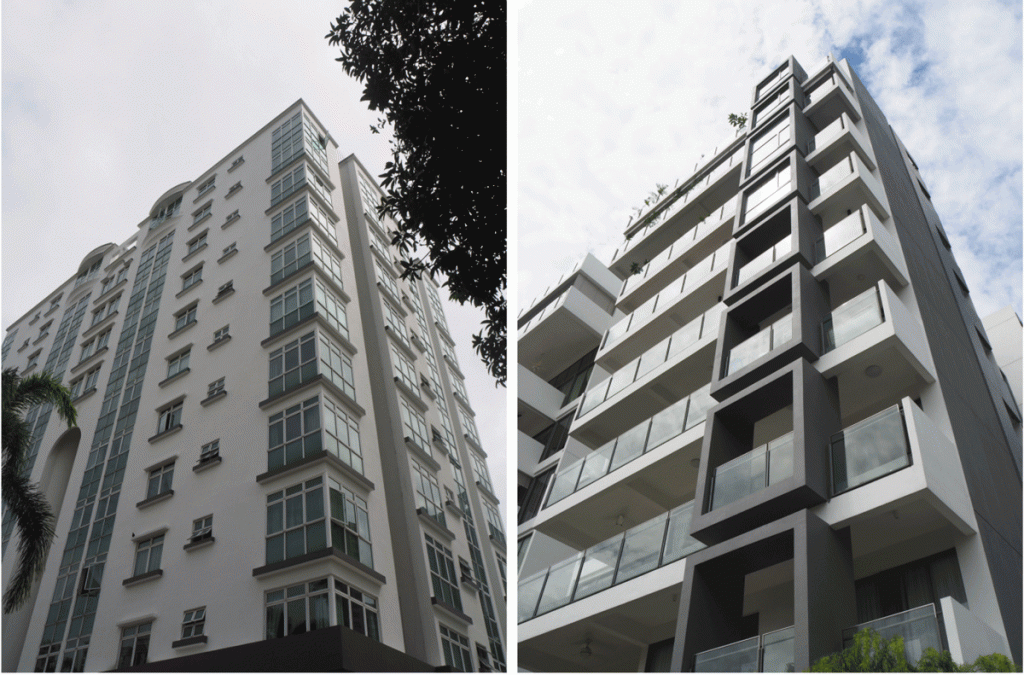 And finally, grey on white.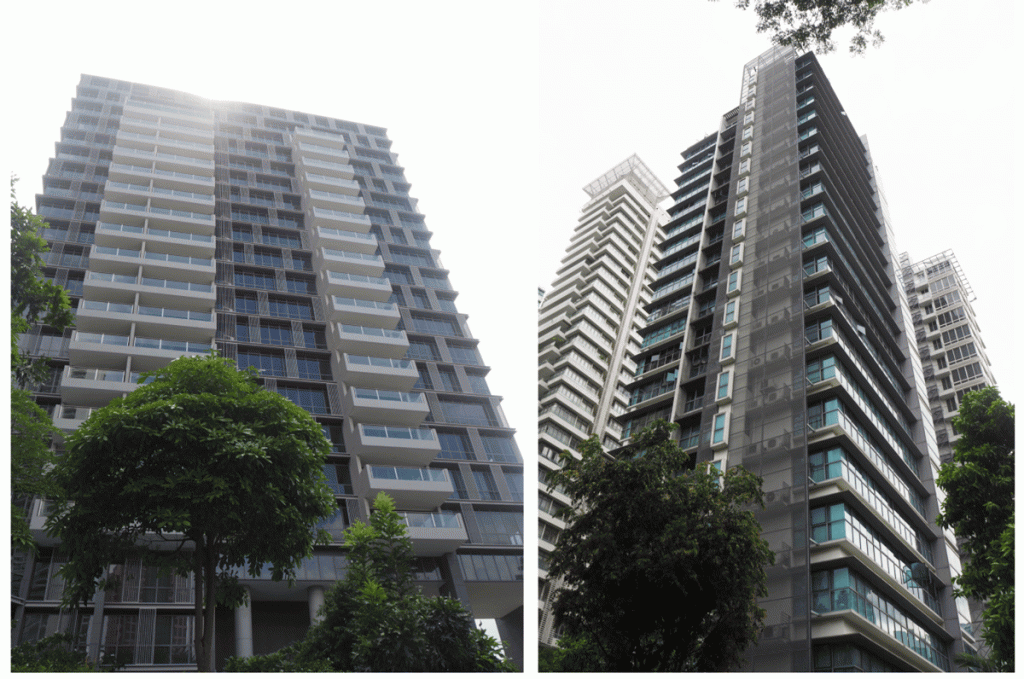 Whatever the combination, you can bet that it's going to look flat, repetitive, and featureless.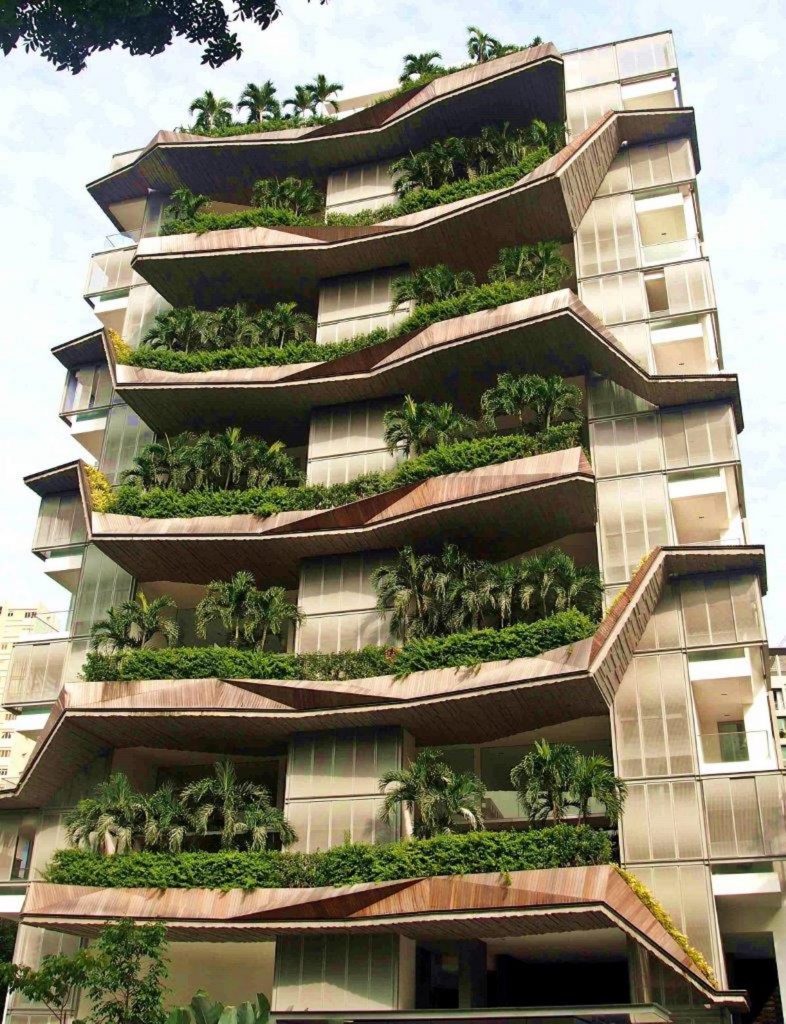 There are several reasons I can think of that perhaps explain this visual "meh".
Firstly, 'minimalism' is in.
Minimalist architecture in the form of basic geometric shapes, elements without decoration and the repetition of structures are all rather symptomatic of the condominiums we see today.
Practically speaking, the appeal is obvious.
Rectilinear, standard-shaped condos are quicker and easier to build while monochromatic colours are easier to maintain and obtain. If your condo is painted cerulean blue and it requires a paint job, there might be difficulties in trying to obtain the same exact shade some 10 years later. 
Aesthetically, alone, or in small doses, minimalist buildings can help to create a sense of order in an otherwise chaotic urban landscape.
But when building after building starts adopting these design elements, that's when we end up with a landscape that is both sterile and mundane.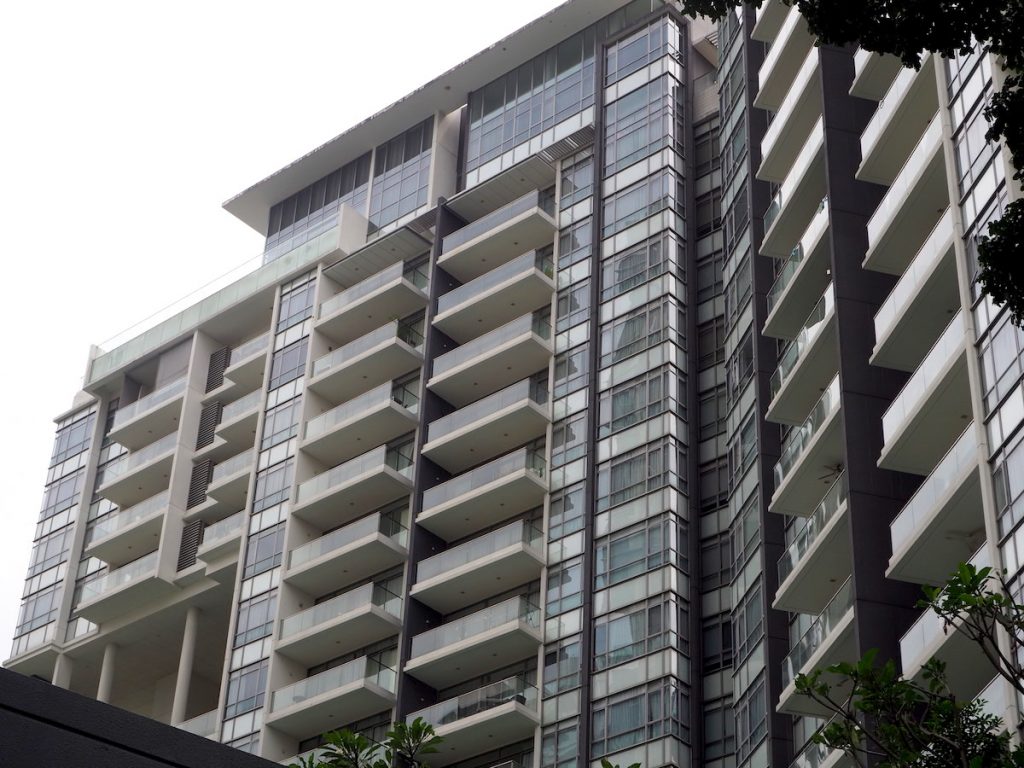 Secondly, design costs money.
Standout buildings don't usually happen by chance, but by the very deliberate hiring of renowned architects. The d'Leedon was designed by Zaha Hadid, The Interlace by OMA, Sky Habitat by Moshe Safdie, The Scotts Tower by UNStudio and Reflections at Keppel Bay and Corals at Keppel Bay by Daniel Libeskind.
These are all architects with creative vision, international acclaim, awards to their name and very expensive fees.
It goes without saying that these striking buildings cost a pretty penny to live in. An apartment at Bishan's Sky Habitat is priced at a minimum of $2,800 to $4050 per square foot whilst Bishan 8, also a stone's throw away from Bishan MRT comes in at $1155 per square foot.
They are, after all, meant to be symbols of wealth and status for those who can afford it. You won't find buildings like these in neighbourhoods like Yishun or SengKang either, but rather in Singapore's central or premier areas.
Unfortunately, not everyone can or is willing to pay for an aesthetically pleasing home.
As suggested by Dr Jeffrey Chan from the Department of Architecture at NUS, form follows finance: "Mass market products like condominium housing are more dictated by the finance considerations of real estate than by the design factors of architecture."
What he means to say is that finance—or the lack thereof—imposes constraints on the kinds of built forms we see.
For us pragmatic Singaporeans, aesthetics is secondary when it comes to buying a house. 
What we're really concerned about and prepared to pay for is space, accessibility and the probability of having our property put up for en-bloc. Save for the 1% of Singaporeans, housing, whether public or private, is still first and foremost a necessity rather than a luxury to splurge on.
Staying in an architecturally award-winning building feels good. But if it comes at the cost of $50,000 more per unit? No thanks.
Aesthetics may be great to have but for the majority of Singaporeans, we're still at the stage where we can happily do without.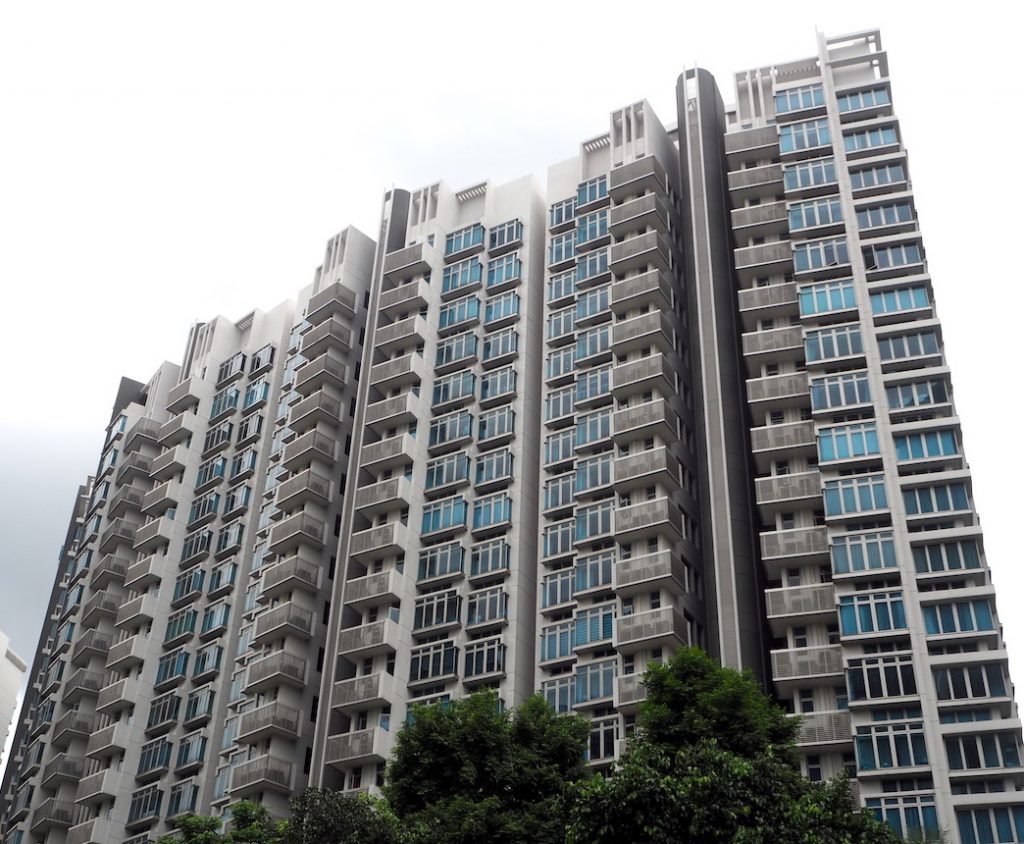 Which brings me to my third point: demand.
A condominium, no matter how plain, will still sell out if it successfully ticks all the abovementioned boxes.
Moreover, as status symbols, most Singaporeans will readily upgrade from a HDB to a condo if given the chance—regardless of how lifeless it might look on the outside.
As long as this demand remains steady—which it has for awhile— there is little incentive for developers and architects to differentiate themselves via design and improve their product offerings.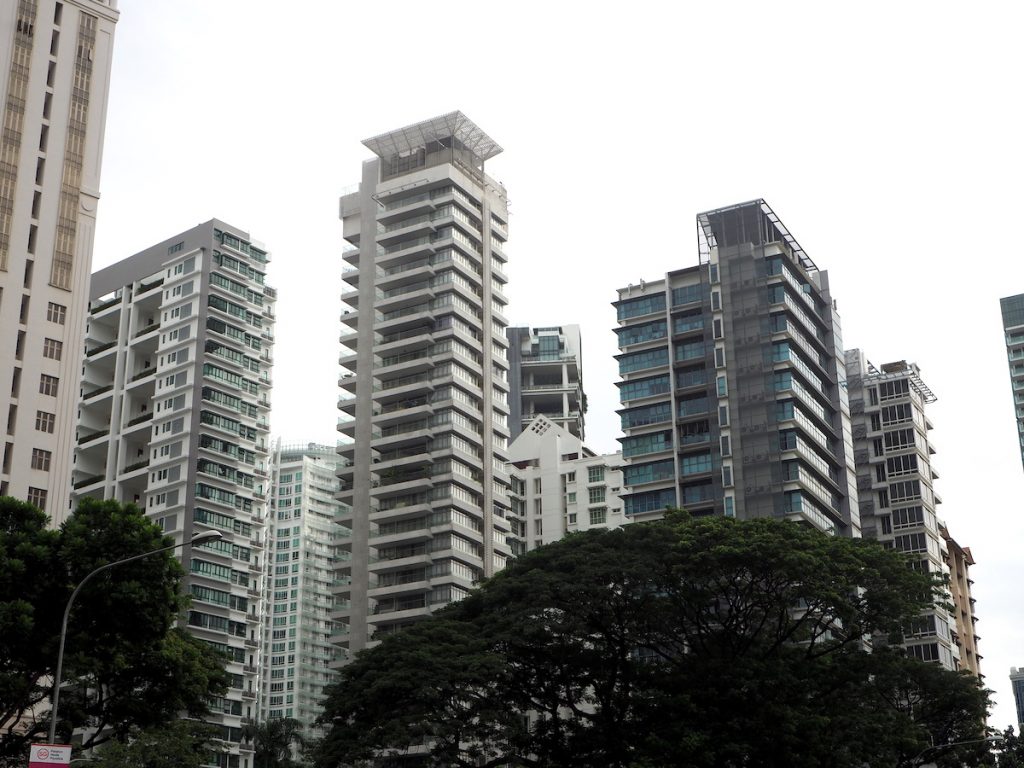 Although I wish it were, the cookie cutter condominium aesthetic isn't a standalone phenomenon. Rather, the same market forces that give rise to a homogenous living environment could in future, lead to similar working and playing spaces as well.
Already, most of the newly constructed office towers in our CBDs are starting to look eerily alike.
And it doesn't just stop in Singapore. "The dollar is the same here as in China, or Belgium," says Dr Chan. "And this same dollar has the tendency to replicate very similar environments of sameness filled with the same shops, offices and housing blocks elsewhere."
As a generation, we've come to favour diversity, variety and even to some extent, complexity and contradictions. Yet the ways in which our cities are structured say otherwise. This, Dr Chan warns, can work to stultify our urban imagination.
So the next time you decide to paint your bedroom white to match the outside, you might want to think twice.