The Rules of the Game: 
Welcome to Money Bootcamp, where we help our readers reach their personal goals by putting them through a rigorous financial transformation. We'll be tracking their spending over the course of a week, and keeping them accountable to every dollar spent.
To prevent cheating, participants will make purchases exclusively via DBS PayLah! Cash purchases that are unavoidable must be deducted from their wallet balance.
Our first intrepid spender/saver is a 25-year-old accounts exec who tells us about her quest to attend the Tokyo Olympics, and her consequent battles with temptation: 
"I've always wanted to go, but this is the first one that's actually within reach (in terms of distance and cost). I'm also a huge fan of Simone Biles (the US women's gymnast), and this might be the last Olympics she competes in so I really want to catch her in action before she retires.
Saving for this will be a stretch. I work in an SME, and like every other SME employee in Singapore, I'm not exactly raking it in. 
I don't really drink or club, but like most basic Singaporeans, my biggest vices are food, travel, and online shopping. To afford Tokyo 2020, I'll have to cut back on everything—aggressively." 
My life at a glance:
Age: 25
Industry: Media
Income: S$2500, (after CPF deduction)  
Goal: Attend the Tokyo Olympics in July next year. This will cost me around $3,800, which covers flights, accommodation, transport, meals, and tickets to the opening ceremony (and other events) for 8 days.
Fixed monthly (recurring) expenses:
Investments ($250)
Netflix ($10)
Spotify ($10)
Gym membership ($100)
Insurance ($150)
Church tithes ($300)
Parents ($300)
Transport ($80)
Total: $1,200/month, or $300/week. 
Savings: Currently $500/month.
What's Left (food, leisure, shopping, etc): $800
The Challenge:
To build up my Tokyo 2020 fund, I'll need to save an extra $400/month. Therefore, I will have 50% less to spend—from $800 down to $400/month (this adds up to $100/week).
Deep breath, let's go.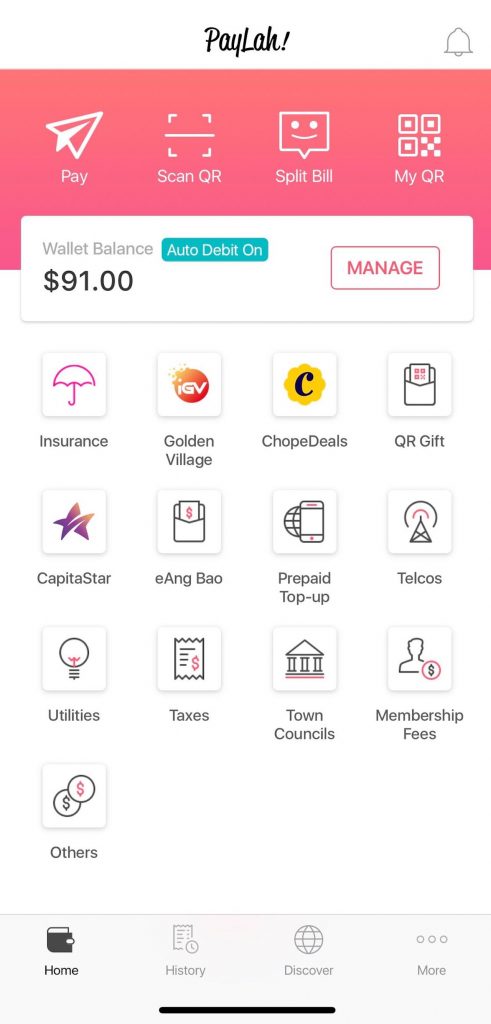 MONDAY—The First Day is Always the Hardest
AM: 
It gets off to a rough start when I forget my water bottle. The office water cooler is broken, so I ask a colleague to buy me a bottle from 7-11. He texts back to say that a single bottle costs $2.  
$2!!! 
Tap water from my cupped hands it is. 
PM: 
Having done my research, I manage to find the most economical salad option for lunch ($4.50) around the office. There aren't any fancy fixings; it's an exorbitant amount for a mere bowl of leaves, but hey, it's better than actual grass.
I meet my friends at the Geylang Serai Bazaar for dinner, but one of them only breaks fast at 7:10 PM. When I arrive at 6:20 PM, I have to hold myself back from my usual habit of killing time via snacks. I avoid eye contact with the churros, the cheesecake, and the deep-fried squid vendors. Not only do I save $11, I also manage to hold off until my friend breaks fast. 
When it's finally time to eat, I get a roti john ($4.50), which is so huge and filling I have no room for dessert. 
Day 1 total: $9.00
TUESDAY-– The Angel of Frugality Is Watching
AM: 
Skip breakfast ($0). Actually, I overslept, but will chalk this up to divine intervention.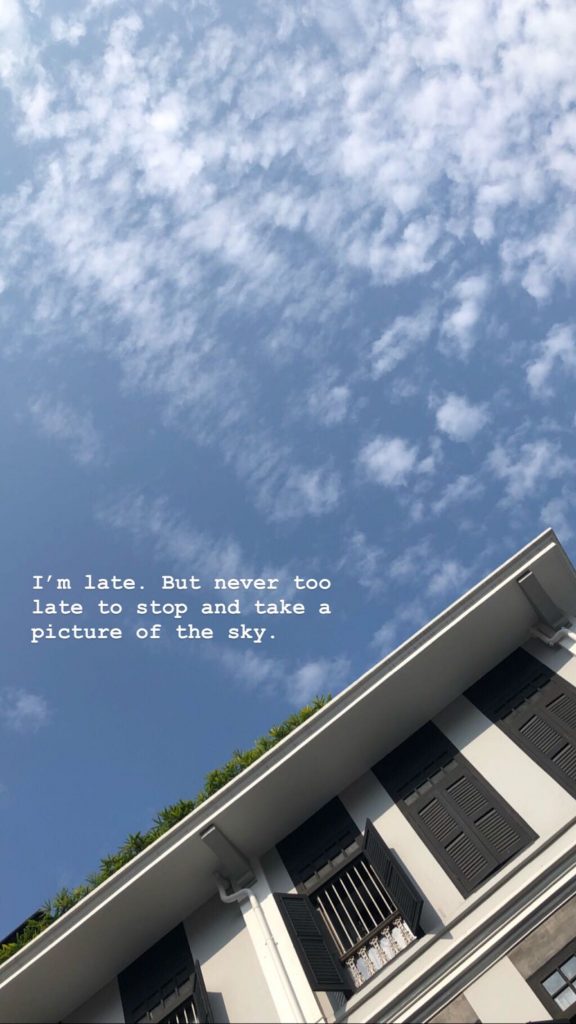 PM:  
Lunch today is a satisfying and relatively cheap wanton mee ($3.50). A colleague's iced coffee looks amazing in the heat, but I enviously slurp lukewarm water from my water bottle.
I usually have dinner out maybe twice a week, but during this Money Bootcamp, I'm endeavouring to have dinner at home every weekday. It's a good thing Mum's a great cook. 
Dinner at home ($0).
Day 2 total: $3.50 
WEDNESDAY—Creativity Wins the Wallet
AM: 
Skip breakfast again ($0)—this time, it's a conscious decision to ignore my favourite kaya toast on the way to work. For a brief moment, I question whether the Olympics are really worth it. Before I can u-turn for that Set A, I quickly YouTube one of Simone Biles' performances just to remind myself why I'm doing this.
PM: 
I'm tempted by Soup Spoon for lunch because they've got a special that's calling my name, but  baulk at the $11 price tag for a soup, salad, and drink. HECK NO. For that amount, I could get two plates of chicken rice (and more).  End up getting one of those instead ($3.50) and feel like I'm owning this bootcamp. 
Mum's cooking at home <3 ($0)! 
Afterwards, I work on a present for my boyfriend. Our one-year anniversary is coming up, and while I bought his present months before (planning skills on point), I'd meant to get a few more things to accompany it. Alas, buying them is no longer an option.
Instead, I'm making a card with scrapbook materials I already have, and printing photos to put in it ($0).
Day 3 total:  $3.50. On a roll!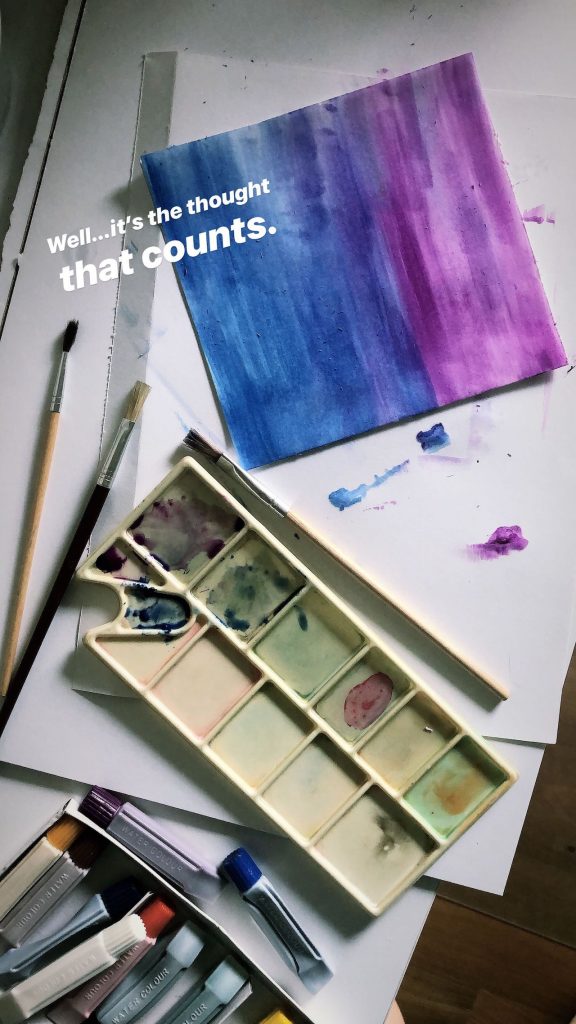 THURSDAY— Eyes Peeled for Promo Codes
PM:
Temptation, thy name is noodles.
Since finding out that a certain hipster noodle stall had opened near work, I've been determined to try it. The problem is that at $8, its fancier options (truffle-flavoured omg) make it a more expensive bowl than the usual hawker fare. I persuade/arm-twist a colleague into ordering it in anyway using DBS WHYQ, and because it's our first order, we get $5 off (therefore, $5.50 each). Not bad at all.
 It's team dinner tonight, paid for by my company. 
Day 4 total: $5.50 
FRIDAY—Small Sacrifices Go a Long Way
 AM: 
I make a cup of coffee in the office instead of buying one, and am still skipping breakfast. ($0 + eco-karma points)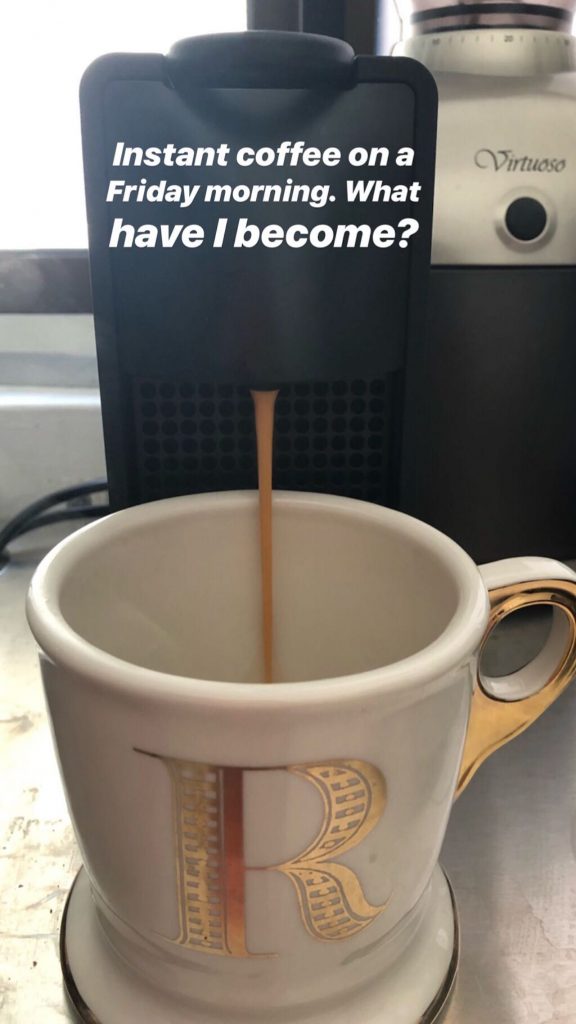 PM: 
After last night's heavy dinner, I wanted something light for lunch, so settled for porridge and was pleasantly surprised by the unintentional savings ($3).
The real test of endurance comes during date night that evening. 
I make the biggest sacrifice for anyone of my generation: instead of getting a salmon don with mentaiko ($13.50), I get a plain one ($12) instead.
Later, my boyfriend and I watch John Wick 1 and 2 (he arrives with both on his laptop; I know nothing about how he got them). We were originally meant to catch John Wick 3 at the cinema to round up the marathon, but tickets with the weekend/peak period surcharge give us pause. 
Day 5 total: $15  
SATURDAY—Splurge Like You Mean It 
Uh, I can explain. It all began when a friend said, "Let's go for yoga". (Ikr) 
I don't really do yoga but said friend guilt-trips me into going with him, even though it costs … $35.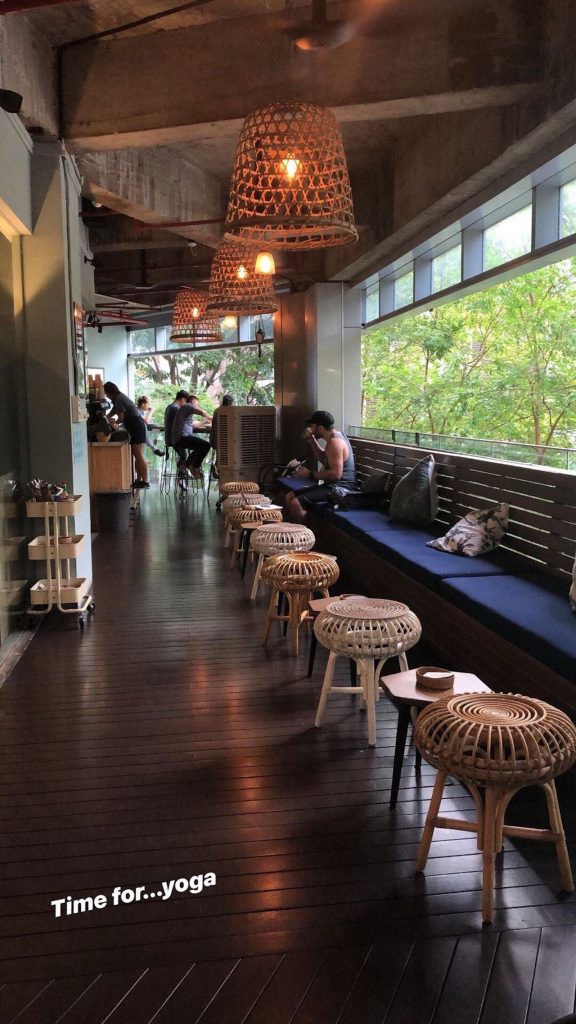 I drag myself to the yoga studio at 8:45 AM, envisioning myself as a productive, over-achieving, athleisure-wearing human being. Once there, I end up chugging fruit-flavoured water to get my money's worth ($35). 
Saturdays aren't complete without brunch! I usually just skip over prices on the menu during this ritual, because it always feels like a well-deserved treat at the end of a long work week. And so, after a week of conscious spending, I blow $22 on a pancake, a fried egg, a sausage, and some tater tots.
Thus begins the spiral out of control. WE SOMEHOW CONTINUE ON TO PLAIN VANILLA BAKERY, WHERE I BLOW ANOTHER $7 ON ICED TEA AND A CUPCAKE. 
Just like that, I spend $64 in 5 hours.
At the last minute, my friend saves my broke ass by offering to pay for half my yoga class (he got his for free and knows I'm saving money for the trip). 
Faith in humanity restored, but eat dinner at home in shame ($0).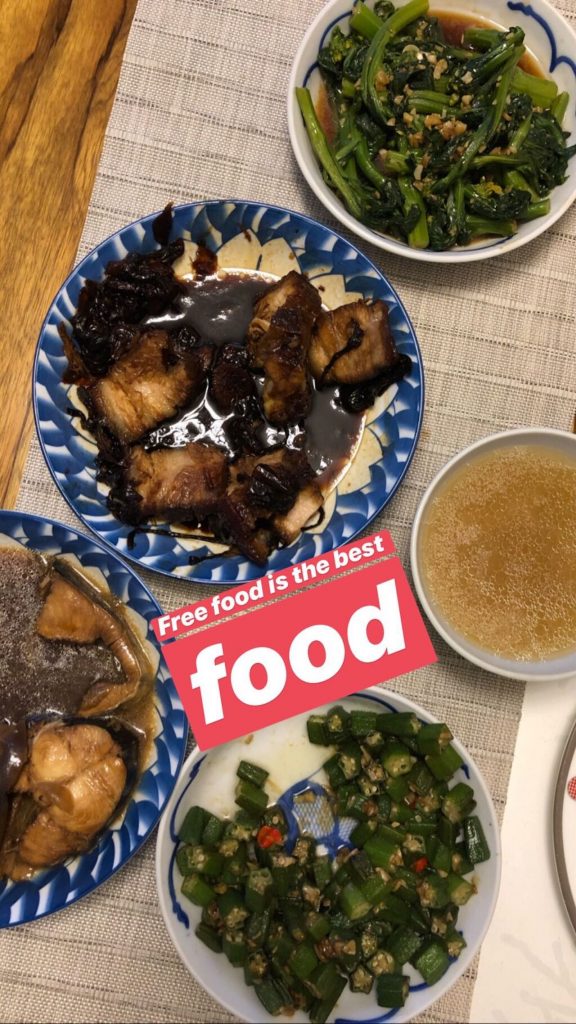 Day 6 total: $46.50
Sunday—I Think I Finally Know How This Works
PM: 
Saturday weighs heavy on my mind, but I remind myself how well I did during the week. I even feel good enough to head out for a ban mian lunch ($4.50), and happily have dinner with the fam at home ($0).
My resolve is tested by a dress on a local blogshop ($39.90), which FB is insisting I reconsider every time I check my feed (advertising algos are dangerous). I must've blacked out because next thing I know, I'm selecting my size and keying in my billing details. 
My sensibilities return to me at the last minute and I immediately log out, quit the page, and determinedly tell FB to 'Hide ad' as it's 'Irrelevant'. Triumphant hand flick at screen.
I think I'm getting the hang of this fiscal discipline thing.
Day 7 total: $4.50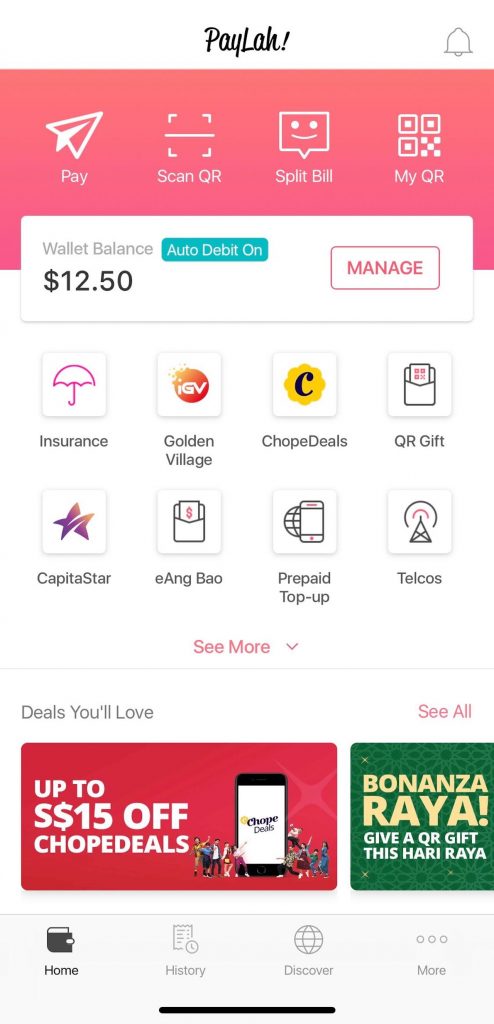 TOTAL WEEKLY SPEND:  $87.50 
Money Bootcamp Results:
It was tough, but more doable than I thought it would be. 
I saved a fair bit by eating dinner at home where possible, and being mindful of lunch (through a little effort, this can be kept consistently low). ha
This week showed me that if I'm disciplined enough, I can afford a few splurges on the weekend without busting my savings goal and feeling guilty. On top of this, the interest I'll accumulate with my Multiplier Account by the time 2020 rolls around should help with my trip fund. I can practically see Biles' doing a perfect aerial cartwheel against the Rising Sun on the horizon, can't you?
All I know is, I'm done with yoga.
Our DBS Money Bootcamp trainer says, '
Well done! Your savings ratio is at 20% ($500 savings / $2,500 income), which is looking pretty good considering the benchmark for FPAS is 10% savings ratio. So that's a great start!
The best way to cut spending in the longer-term is to focus on cutting the recurring expenses (rather than scrimping on smaller day-to-day expenses that will be much tougher to keep to). I recommend looking at your Netflix and Spotify subscriptions, because $20/month can really add up! Maybe bear with the ads on Spotify, or simply read a book from the library?
And there are definitely cheaper options available for getting your exercise rather than the gym membership, like community gyms, which cost only $2.50 per entry.
Beyond this bootcamp, you can continue using Your Financial GPS to track how you're doing for your goal. Send back photos from Tokyo!'
This article was brought to you in partnership with DBS.
Make your money work for you with the DBS Multiplier Account, which earns you higher interest with no minimum salary credit or card spend. Finally, keep track of all your spending (or saving!) with the new DBS Digibank app.
Would you succumb to the lure of online shopping? Tell us at community@ricemedia.co. We won't judge.