If you're sick of cloistering yourself at home because of Covid-19 and social distancing: good news! Provided you have $200 a night to spare, you can now bunker up at the Shipping Container Hotel instead and experience "luxury living off the grid".
I don't have that amount of money, but my company did, so off I went for a night at the hotel in the name of Content.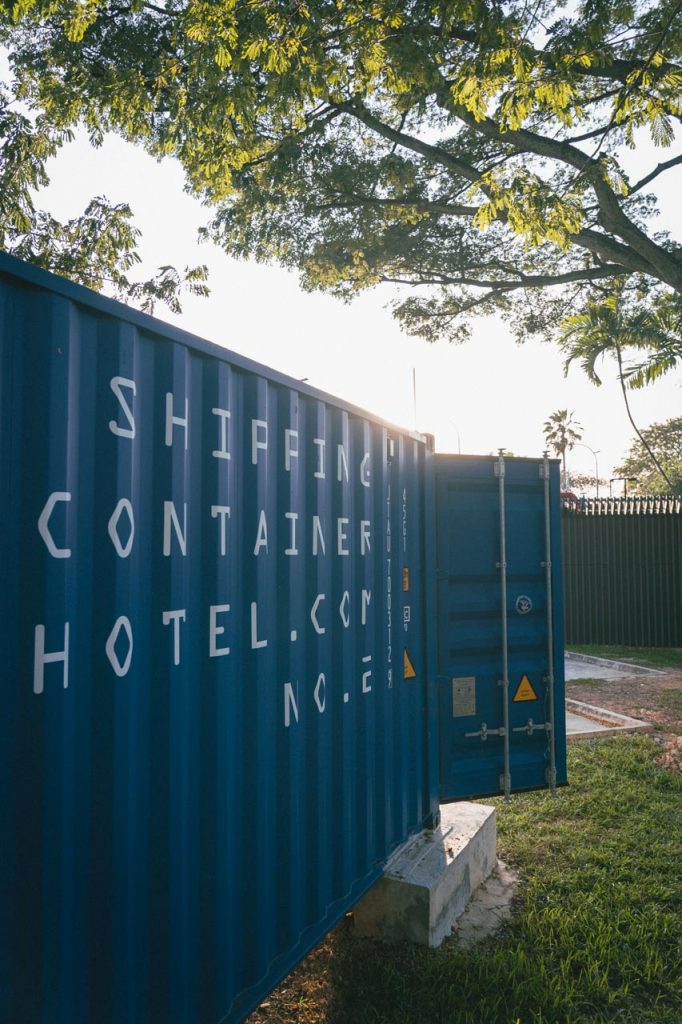 The Shipping Container Hotel is exactly what it says on its gigantic, corrugated tin: a hotel room in a shipping container. That's it: there's no front desk, no service staff, no fellow hotel guests sharing your container with you, which the introvert and hypochondriac in me greatly appreciated.
Actually, calling it a "hotel room" is a misnomer. You're not going to get a mini-bar stocked with $20 cans of Tiger beer or a Sealy bed tightly bound by three layers of bed sheets and blankets into which you can crawl at night, feeling as if you have just returned to the comforting strangulation of the maternal womb.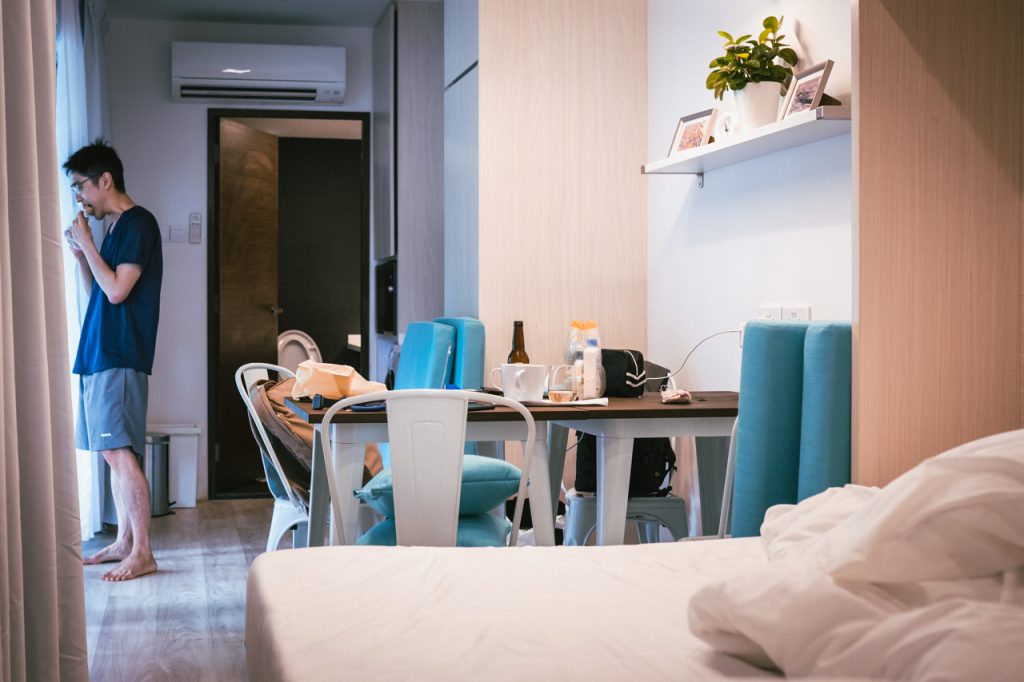 Instead, you will get two Murphy beds, i.e. beds you pull down from the wall, making literal the phrase "hiding in the closet". The beds are rock stiff and will punish all capitalist scum who have grown used to their $5000 memory-foam mattresses from Takashimaya. 
You will get a kitchen, complete with a full-sized fridge, induction cookers, and cooking utensils that you will not touch because you are having a staycation, goddamnit. 
You will even get a washing-machine-cum-dryer combo which will make you regret not bringing along some dirty-cum-stained clothes and detergent capsules because you're a cheapo Singaporean who wants to save on their water bill at home.
In other words, the interior of the Shipping Container Hotel—I'm lazy so I'm just going to call it SCH from this point on—resembles a generic Executive Condominium in Sengkang named something like Le Parq Vista more than it does a typical hotel room. 
But it does have the requisite, lonely painting of a seashore hanging on the wall, emblem of faceless hotel chains everywhere.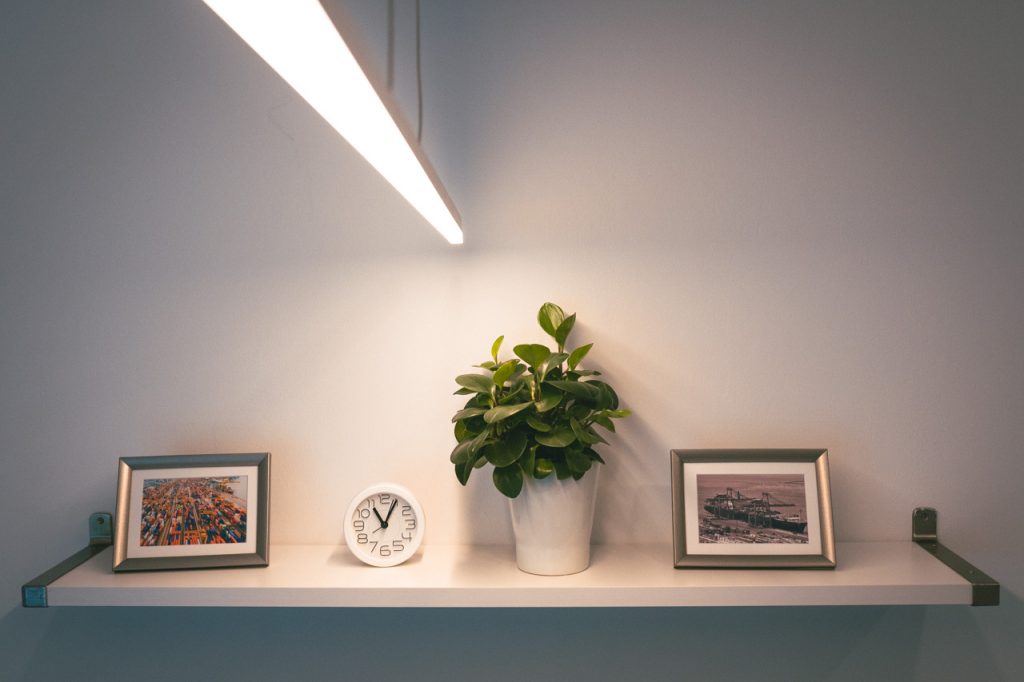 Apart from the novelty of fulfilling your fantasies of being kidnapped and made to live inside a shipping container/underground bunker à la
Kimmy Schmidt
—a frisson which lasts all of 5 minutes—there's nothing to distinguish the room from that of any other studio apartment. 
Its location is disappointing too. As a portable container you can dump anywhere on Singapore—say, Coney Island or The Botanic Gardens—it's somehow plonked in JTC Launchpad, an industrial estate located in the bowels of Ayer Rajah. Shakespeare wrote that a rose by any other name would smell as sweet. Conversely, an industrial estate, no matter how snazzy its name, is still an industrial estate.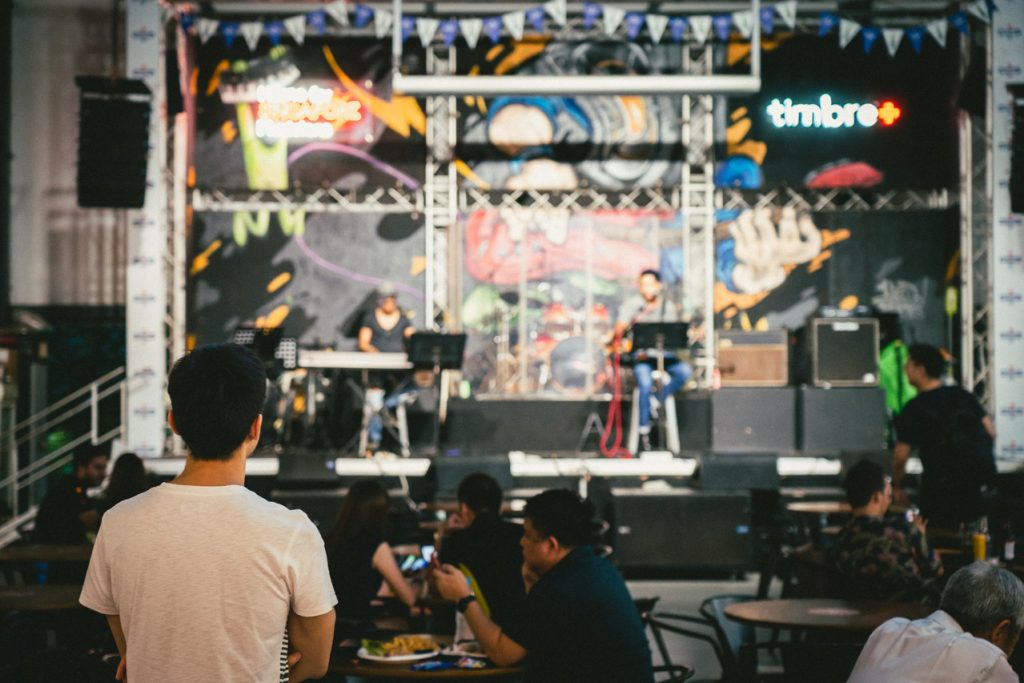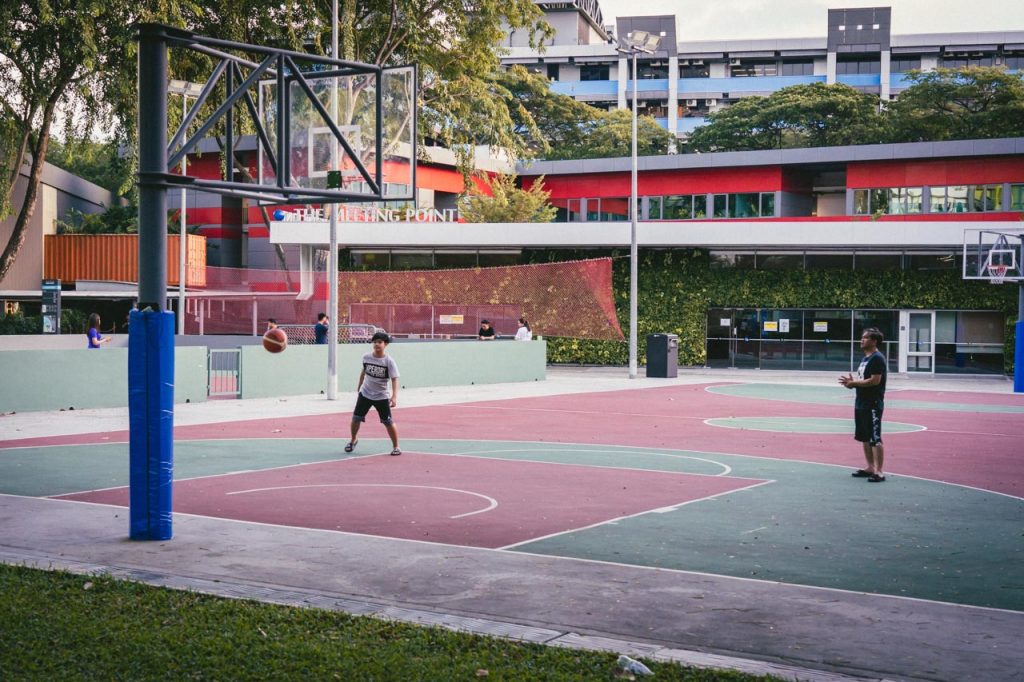 Yes, JTC Launchpad's food court is Timbre+. Yes, there is a basketball court, where sweaty ACS (I) boys congregate to fight over a ball in the afternoon, Pilates ladies and CrossFit bros gather from their start-up offices to flagellate themselves (metaphorically) in the evening, and which the SCH shamelessly lists—a public basketball court, for god's sake—as an "amenity" that comes with the hotel room. 
But you can't escape from the fact that you're going to be having a staycay surrounded by grey buildings filled with offices where people "work with a cross-functional, highly capable team … inventing and iterating end-to-end product experiences and who are passionate yet capable to analyse customer behaviours and identify opportunities while being able to articulate human-centred approaches in a fast-paced environment".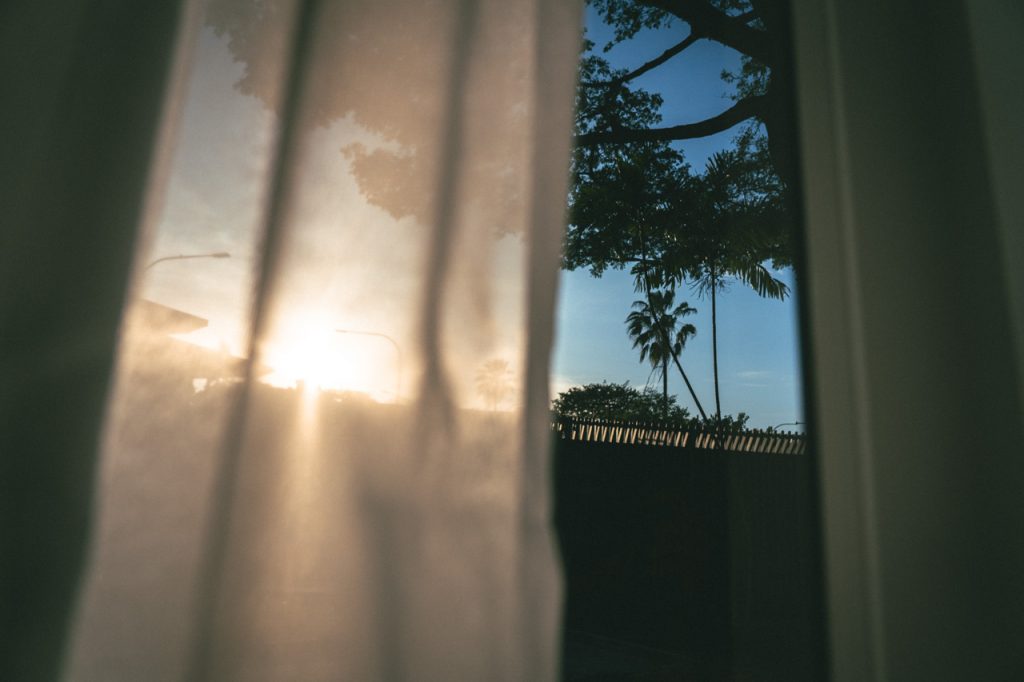 It's not that staying at the SCH is depressing or boring. My experience was … okay.
 3 PM. I check into the hotel. I ogle, obligatorily, at the architectural marvel that is a room in an empty box. After that one minute, I sit down to work, like the obedient employee I am, until 6:30 PM. Dinner is a burger from Timbre+. It is not enough. So I buy $20 worth of mala for supper and a bottle of wine from the Cold Storage (another hotel "amenity") across the street. 
At 9 PM, I sit on the front porch of the hotel, the night air perfectly still save for the languorous wisps of smoke blooming, then disappearing, from a lit cigarette.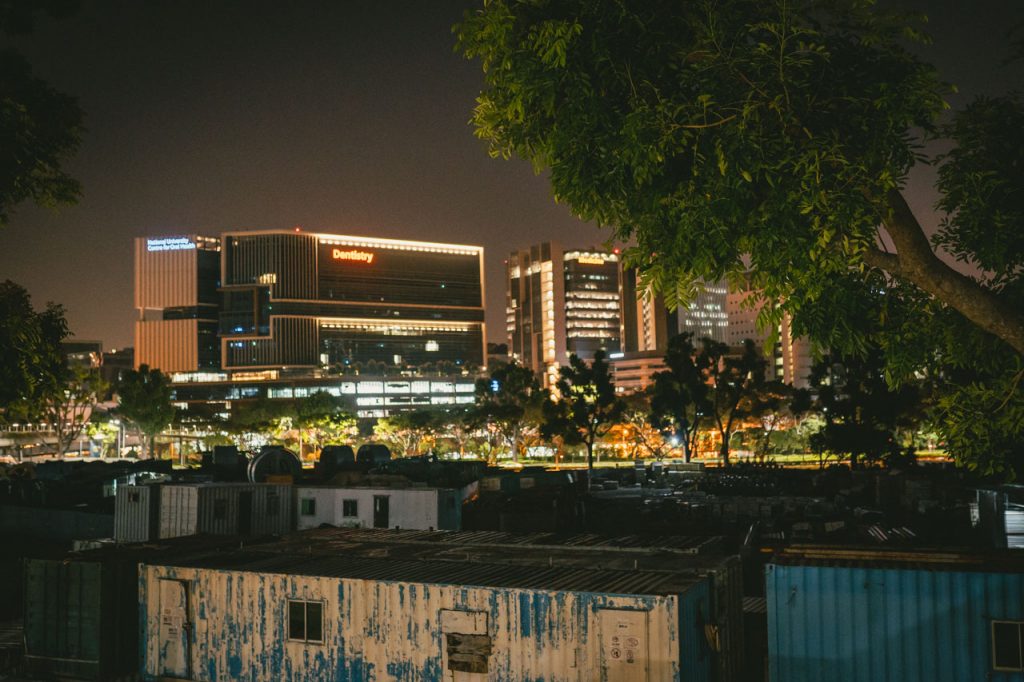 Now that all the Launchpad techbros have dispersed, the entire industrial estate goes quiet and dark. I suddenly realise how truly isolated and far from any other human beings we are, so I inhale deeply, free from the fear of breathing in someone else's sneezes. I realise that I've been holding my breath for the past two coronavirus-plagued months, and some knots in my brain spontaneously untangle themselves, if only temporarily.  
I lean into the deck chair and look at the stillness of the surroundings. They are so unmolested by human presence that I spot the native wildlife of the island going about their night: a squirrel scampering up a tree, a cement truck churning lime into cement within its great revolving belly. 
I take a bite of mala. Then a swig of the wine.    
The wine, like the mala, the hotel room and its location, and everything else in my life, is mediocre.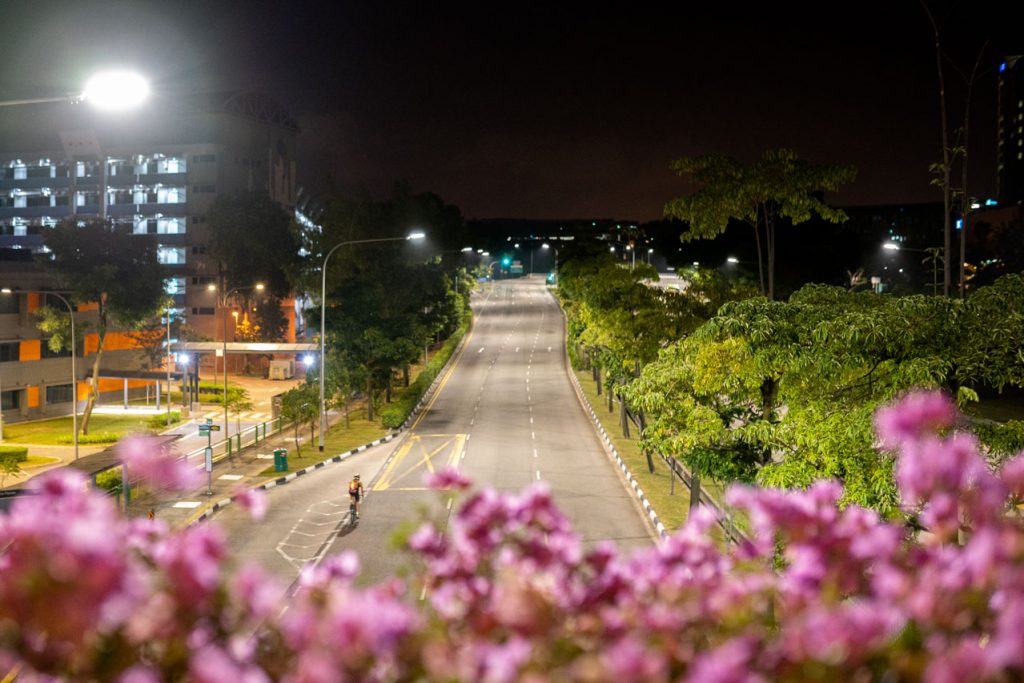 But, the meal, combined with the faint rustle of trees and the sense of infinite solitude, tastes like the memory of barbecuing raw chicken thighs at East Coast Park, when I was 13 and happy in the knowledge there was no school for the rest of the month. 
That's the magic of the SCH, I think. It is so bland and located in so characterless and isolated a plot of land that it's the perfect empty vessel for you to escape to, and fill with whatever makes you happy. At this point, I am grateful for anything that can get my mind off Covid-19. And a staycation at SCH managed to do that.
And the cherry on top? Through no conscious effort on my part, I was practising responsible social distancing while doing so.
This is not a sponsored post. RICE paid for all our (my) expenses incurred at the Shipping Container Hotel.
Again, please take all necessary precautions and practise responsible social distancing if you are planning to go for a staycation, wherever in Singapore.
Is a staycation in a shipping container claustrophobic or contentment to you? Tell us at community@ricemedia.co.