I used to look forward to my meals.
The anticipation for lunch was what got me through long, stressful periods at the office (i.e. every day). Even if I had a deadline coming up, a steaming bowl of yong tau foo followed by an açaí bowl (don't judge) could always make me feel better. 
Weekends were reserved for family meals. Or, I should say, family expeditions to far-flung corners of Singapore where we would wait one hour in line just to slurp up the coconutty broth of 928 Yishun Laksa, crunch into the cracker-like crust of Mr and Mrs Mohgan Super Crispy Roti Prata, and so on. Once, we went to bed at 8 PM for a power nap so we could get up at 12 AM and troop to Bukit Merah for the mysterious Soon Li Yong Tau Foo, which, as legend has it, opens only when the auntie has insomnia.
Food was not just a sustenance for our stomachs. It also made us aware of the rich heritage of our food stalls, and forged bonds between our …
Okay, you know what, enough of that fluff. We were just greedy pigs. Good, cheap food made us happy.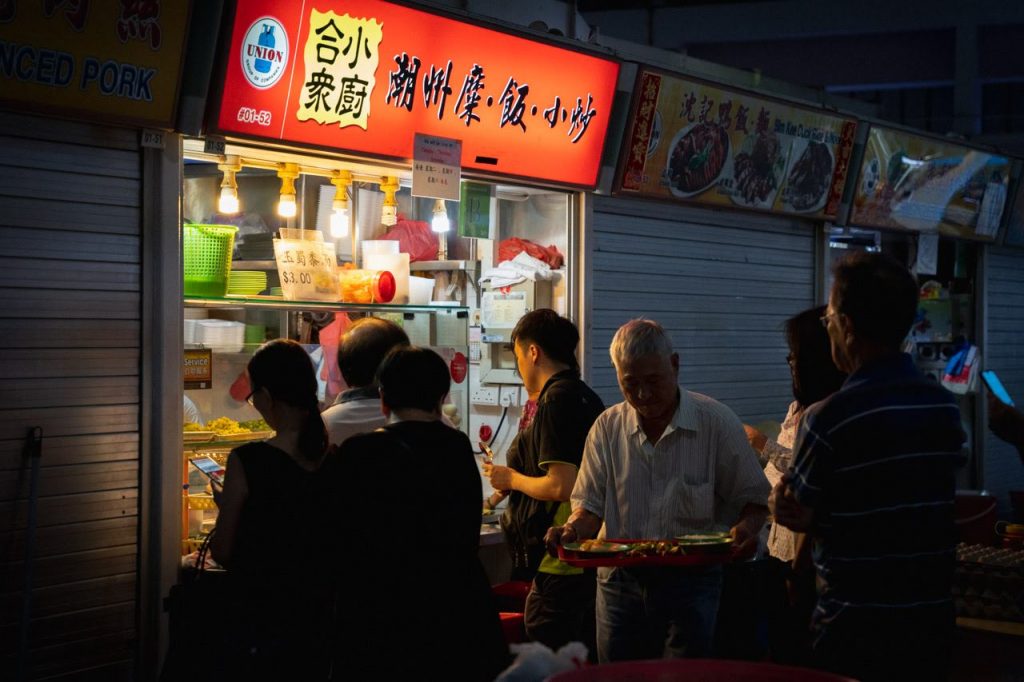 Four weeks into the circuit breaker, I have developed a murderous hatred for mealtimes. From the highlight-of-my-workday lunches and the intimate affair of Sunday dinners, mealtimes at home have degenerated into this one scenario that plays out every single day:
SCENE ONE

12 PM at home. Mother peeks her head out of her room.
Mother: Boy what you want to eat?
Boy: I don't know. You leh?
Mother: Eat until sian already.
Boy: Ya lor. Nothing nice also.
Mother: Ok later when hungry then decide.
SCENE TWO
1 PM.
Mother: Not hungry ah?
Boy: (very hungry but refusing to make a decision because there is no good decision to make) No leh.
Mother: (similarly obstinate) I also not hungry.
SCENE THREE
3 PM.
Boy: Ma you don't need to eat lunch ah? 
Mother: I eat bread can already.
Boy: Ok me also.
SCENE FOUR
Repeat scenes one, two, and three from 6 PM to 9 PM.
END. IN MISERY AND HUNGER.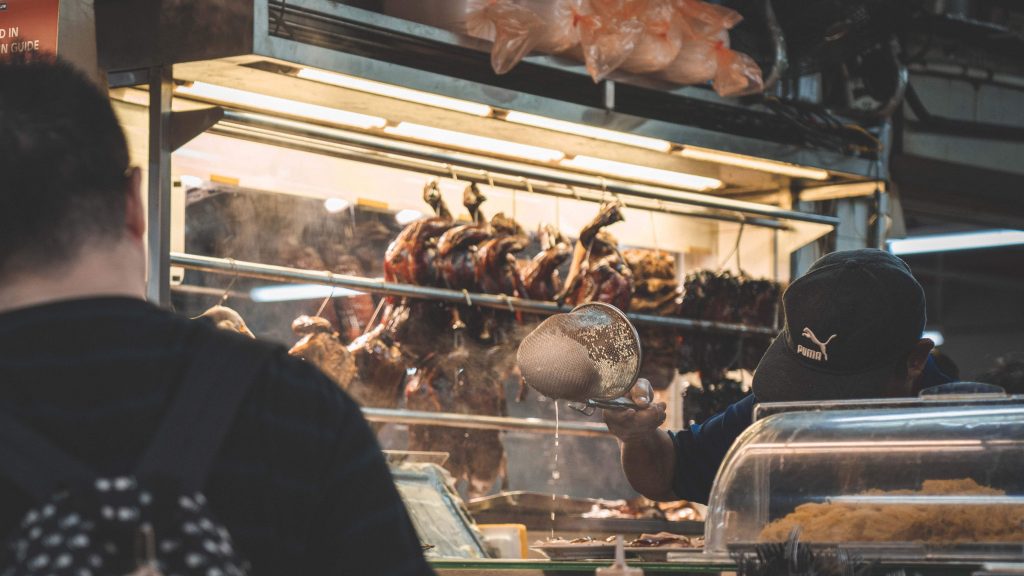 It's not that there's nothing to eat around our house. There's a perfectly serviceable cai fan stall just five minutes away by foot, which we patronise at least five times a week. And one has to acknowledge the gift that is cai fan. It is 20 dishes in one meal. It can transform from a plate of plain, white rice into anything you want it to be: curry stew, healthful vegetable medley, platter of fried things bad for your body but good for your soul … 
But sometimes one needs more than cai fan. Especially if you, like my family, are miserable creatures that derive happiness from food. You know what I'm talking about. The good stuff. Like a huge chunk of Lam's salt-baked chicken, wrapped in its parchment like a swaddled baby waiting patiently to be eaten. Okay. No one eats babies. I hope. But you get the picture. We need something more than food as sustenance.
Of course, there's the option of taking a bus to the nearby mall. In the midst of a pandemic, however, it doesn't seem worth it taking these unnecessary risks.
What about food delivery? It's certainly an option for when we share a craving for a particular dish—say, mala hot pot. But more often than not, when I feel like pad kra pao gai (extra chilli padi), she wants something soothing like mushroom stroganoff. And when she craves Thai, Hong Kong roast meats, lovingly kissed by the breath of charcoal, speak to me. So we either end up placing multiple orders—ergo, paying the delivery fee multiple times, which feels very bo hua—or we compromise on something inoffensive that neither of us really wants. Like fish soup. And because of that, we end up resenting each other silently.
This is why this family has, for weeks, been surviving on cai fan for one meal, and instant noodles with kiam chye from a bottle and braised peanuts from a tin for the other. And one egg. At least that's fresh, right?
It's not that bad, as I like to tell myself. When we are feeling truly desperate, we bust out our stash of instant noodles from Taiwan, those hand-pulled noodles with packets of goji berries and scallion farmed in Yilan. 
It's not that bad.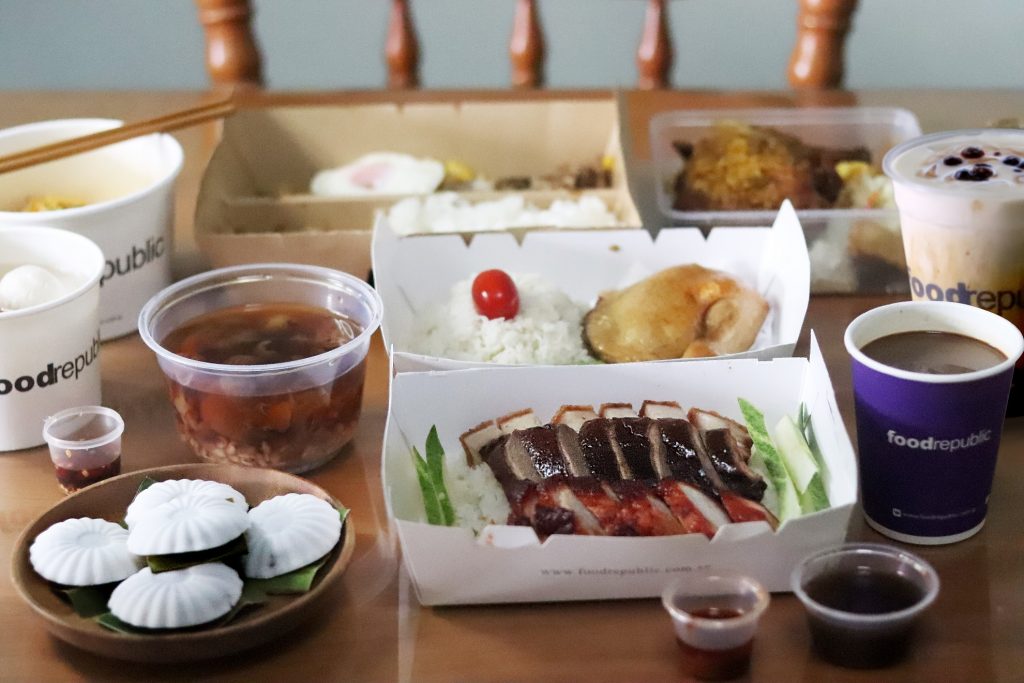 With that in mind, you'll excuse the flagrant behaviour my mum and I exhibited when we found out that Food Junction and Food Republic are on Deliveroo—and will soon be on GrabFood too.
Here's another short play to illustrate the shameful debauchery that took place.
SCENE ONE
12 PM at home. 
Boy: Ma, there's Food Republic on Deliveroo leh.
Mother: (grumbling) Orh. What you want to order? Don't order roast meat today ah. I feel very heaty.
Boy: I am ordering roast meat leh. 
Mother: Tell you don't order already—
Boy: We can order different dishes together la.
Mother: I thought delivery needed to order from the same shop one?
Boy: Ya but Food Republic don't need. Can add separately. Can even add drinks and dessert.
Mother: Wah! I very long haven't eat dessert for a very long time. They got dessert?
Boy: Got cheng tng …
Mother: I want.
Boy: Haven't even finish. Got Chinatown Tan's tutu kueh …
Mother: That one I eat before when I was young and pretty. Add.
Boy: (restrains self from reading the rest of the desserts) Drinks leh?
Mother: Can add drinks also?!
Boy: Ya.
Mother: (suspiciously) Is it like those $5 cans of Coke?
Boy: No la, this is standard drinks stall price. $1.50 like that.
Mother: Kopi o siew dai. 
Boy: Got bubble tea leh, you want? Now everywhere else also cannot get already.
Mother: You buy la.
Boy: Ok I buy. Food leh?
Mother: Got what?
Boy: (recites list) Lixin Teochew Fishball Noodle, Lam's Salt Baked Chicken Leg, Guan Chee HK Roast …
A noticeable puddle appears below Mother's mouth.
Mother: Aiya. Just order everything la. They are all the famous stalls. Cannot go wrong one.
Boy: I love you.
SCENE TWO
12:30 PM. Delivery man rings the doorbell and walks away so Boy can collect the food, contact-free, enough to feed a family of 8. 
Boy places feast on dining table. Mother and Boy commence tearing into food, their craving for good hawker food finally satisfied.
SCENE THREE
Family dissolution is prevented and malnutrition averted as Mother and Boy reconcile and put aside their differences caused by the angst of circuit-breaker meals. 
END.
Honestly speaking, the scenes above were not too far off from reality. Behold what we ordered from the Food Republic at Parkway Parade when we realised our cart wasn't restricted to a single stall: 
1. Lam's Salt Baked Chicken Leg with Rice
2. Li Xin Teochew Fishball Noodle – Specialty Noodle
3. Guan Chee HK Roast – Three Treasures Rice (roast duck, char siew, roast pork)
4. Penyet & BBQ – Ayam Penyet Set
5. Pepper Lunch Express – Pepper Chicken Steak
6. Chinatown Tan's Tutu Kueh – Peanut and Coconut
7. Ice Shop (Desserts Stall) – Cheng Tng
8. Hot & Cold (Drinks Stall) – Boba Fresh Milk and Hot Kopi
The order was motivated by greed, yes, but also excitement at the sudden availability of choices and variety. 
When the food arrived, the usual dead glaze in our eyes was replaced by a hunger that the circuit breaker had killed. It was as if we had recreated in our dining room our usual weekend hunts: in front of us were plates upon plates of famous hawker food, ready to be devoured.
So we pounced.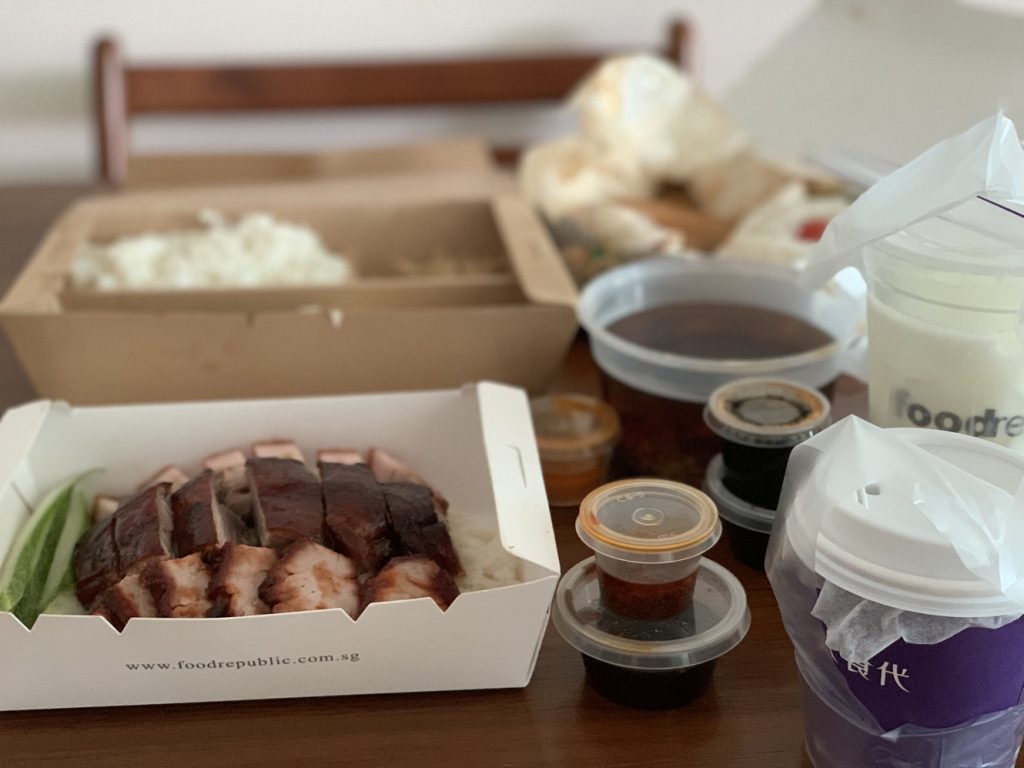 And it might be the novelty talking, but the food tasted no different from eating it immediately at Food Republic. Maybe the food delivery people were riding some warp-drive engines, but everything arrived while still steaming hot. 
The skin of Guan Chee's roast pork—undeniably the most important component of the dish—shattered with a satisfying crunch. 
The char siew, on the other hand, stayed moist, the honey-sweet glaze still glistening on the meat striated generously with fats, while the herbal notes of the duck finished so elegantly this trifecta of tastes and textures contained in just one box. 
Next: the salt-baked chicken. After I delicately unwrapped the parchment hiding it, a blast of steam fogged up my glasses. That was how I knew the chicken was still tender. 
A taste test proved me right: biting into the chicken leg, salty, meaty juices squirted into my mouth; the meat was even better when paired with the citrusy, spicy dipping sauce that came with it. 
Eating it, I could understand how Lam's Kitchen has been around for almost 50 years—a taste like that does not just go away, even in Singapore's hyper-competitive F&B scene.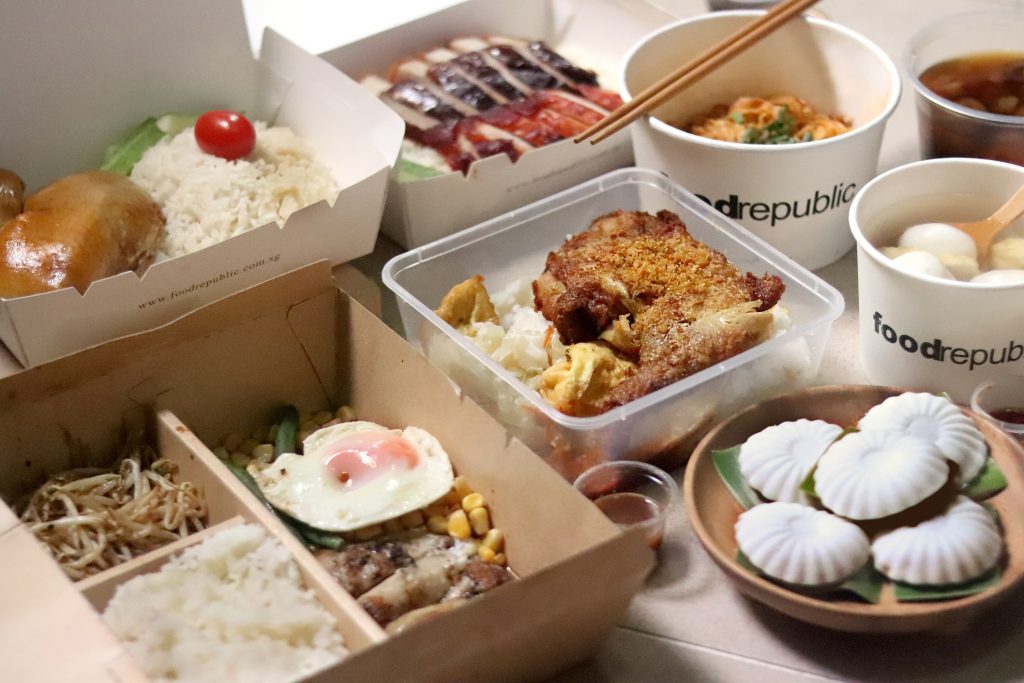 More impressive were the dessert and drinks. Tutu kueh becomes stodgy when cold, but this practically flaked softly into sweet powder that dusted my table. And, yes, there was bubble tea. Let me repeat: bubble tea. On delivery. 
Now, I'm not claiming that delivery from Food Republic can replicate the experience of sweating buckets in a hawker centre, complaining about how slow the queue is moving, how can that #(&$#($ uncle in front buy 20 packets of chicken rice and that cathartic, exhilarating first bite after waiting one hour for our food.
For one, there's no queuing for inordinate amounts of time. We can wait for the food in the comfort of our own home and spend the time doing work. Or taking a nap and pretending to do work. Best of all, there's no compromise in the quality of food available. In fact, the more famous the stall, the more likely it is to be featured in Food Republic, it seems. The only downside, then, is …
Is … 
Wait. 
Why have we been spending our weekends queuing for these hawker stalls when we could have just gotten their food delivered?
This post was sponsored by Food Republic.
Search for the nearest Food Republic or Food Junction outlet on Deliveroo, Mix & Match different cuisines from different stalls in ONE delivery order. Available on GrabFood soon.
Have mealtimes threatened to break apart your family too? Share your woes with us at community@ricemedia.co.