Renée Ting was barely 19 years old in 2011 when she first got the call telling her that she was hired at BooksActually. To the quiet teenager, the bookstore was her escape from the volatility of home.
"I was really completely mesmerised by this beautiful place," she says, recalling her first impression of the bookstore, which had relocated to Club Street. "It was a three-storey cement floor, wood shelves, books floor-to-ceiling, cats… the place was cosy, the music was good, the books were good: it was my dream."
BooksActually first opened its doors in 2005 in a shophouse along Telok Ayer Street. The two co-founders, Kenny Leck, then 28, and Karen Wai, then 21, had started the business as a couple.
Karen, then an undergraduate studying Literature, designed the look and feel of the brand, while Kenny was in charge of BooksActually's business and operations. They ran the bookstore with a crew of young part-time staff—elves, they were called—growing up under their wing. It was a familial picture, a dreamy haven, especially in comparison to the surrounding corporations in the district.
Sixteen years later, BooksActually is arguably the most successful independent bookstore in Singapore to date. A particularly strong champion of fiction and poetry titles, it is now armed with its own publishing house, Math Paper Press. It is often cited as one of the pillars in Singapore's arts and cultural landscape and has been covered extensively in publications ranging from local news outlets to The New York Times.
In a country like Singapore, the survival of an independent bookstore can feel like a win, a liberal middle-fingered affront to the corporate elitism that fuels much of the economy. Considering the Amazonization of bookstores globally, it is easy to romanticise a small business centred around the love of reading as the little man fighting the good fight.
The rarity of such an institution can possess such an allure that one ends up overlooking its flaws.
"Somewhere along the way, I became okay with romantic advances"
A few months after joining BooksActually, Renée realised that her boss, Kenny, then 34, was romantically interested in her. By this time, Karen and Kenny had split up but continued to run the bookstore as business partners.
Kenny was also in an ongoing relationship with another young employee.
"At that time, I didn't think there was anything wrong," she says as we sit down in her apartment in May 2021, recounting her time there. "I wouldn't go so far as to say that I had strong feelings. It felt a bit like a mentorship, but then somewhere along the way, I became okay with romantic advances."
Kenny broke off his relationship with the other employee and got together with Renée.
It was around then that Renée and her two older sisters were kicked out of their home.
Unmoored and desperate for any sense of normalcy, Renée poured herself into the BooksActually. She would become its most loyal employee, and by extension, Kenny's unwavering partner, devoted to his literary dream.
In media interviews and public Facebook posts, Kenny often reiterates the narrative of David and Goliath, citing his lack of socio-economic privileges and educational qualifications, rising rental costs, and the noble dream of the bookstore that could. He comes across as an unconventional figure when placed among the literati, a self-proclaimed Ah Beng who will not hesitate to yell at rude customers to his staff. It is a narrative that fits well into Singapore's storytelling caricature.
Still, bookselling has never been an easy industry to navigate in Singapore. For years, BooksActually had struggled to pay rent, and in 2018 even started a Shophouse Fund that consisted of selling $50 bricks.
The pandemic hammered this harsh reality in; last year, BooksActually shuttered its beloved space in Tiong Bahru and shifted its operations entirely online. Together with the recent closure of the Huggs-Epigram Coffee Bookshop, it doesn't seem like a particularly smooth road ahead for the book business.
But the well-built brand of BooksActually still stands. Its publishing arm continues to be one of the first places aspiring authors turn to, and it holds the loyalty of many local writers.
To writers and avid readers alike, BooksActually remains an irreverent, pure-spirited bastion: a cause to believe in.
However, no legacy is built alone. Looking past the public image of a lone man, it becomes a little clearer that the bookstore's success is also much due to the little-attributed labour of the many young women such as Renee, who has worked within its doors.
Some employees came and left with their professional boundaries intact, but others found themselves spun into Kenny's web of personal affairs. While their experiences varied in consent and consequence, it is worth noting that they tended to start their employment at the bookstore between the transitional ages of 19-21, and for various reasons, would leave by their mid-twenties.
"We got married—my entire life was the store"
Barely six months into their relationship, Kenny started discussing marriage and a house with Renee. It was the safety she had been seeking.
"I was sold to the idea because this person who owns and runs an establishment like that, who is so powerful, wants to have some kind of future with me, sees worth in me enough to want to settle down," she says. The small voice of hesitation she had was hushed by the overwhelming prospect of a secure future with someone she thought loved her for who she was, even though she hadn't quite figured out who that person was yet.
And so Renée committed herself fully to this idea. She was, as she says, "In it for life."
Life meant working at the store, now at Yong Siak Street, and sleeping there, in a small storage room at the back. Every night, she would roll out a thin mattress that curved onto the wall because the room was too small for it. Kenny, due to his back problems, would sleep on the single bed.
For the next six years, Renée barely had a day off. Nor did she have much of a social life outside of BooksActually.
"I would see my family three times a year, sometimes four. So my entire life was the store, I had nowhere else to go, so there was no real point negotiating any sort of off day," she says.
Kenny had disliked her sisters, calling them "frauds" who were not going to be there for her if she was in trouble. Although she had no reason to believe this was true, she started distancing herself from them too.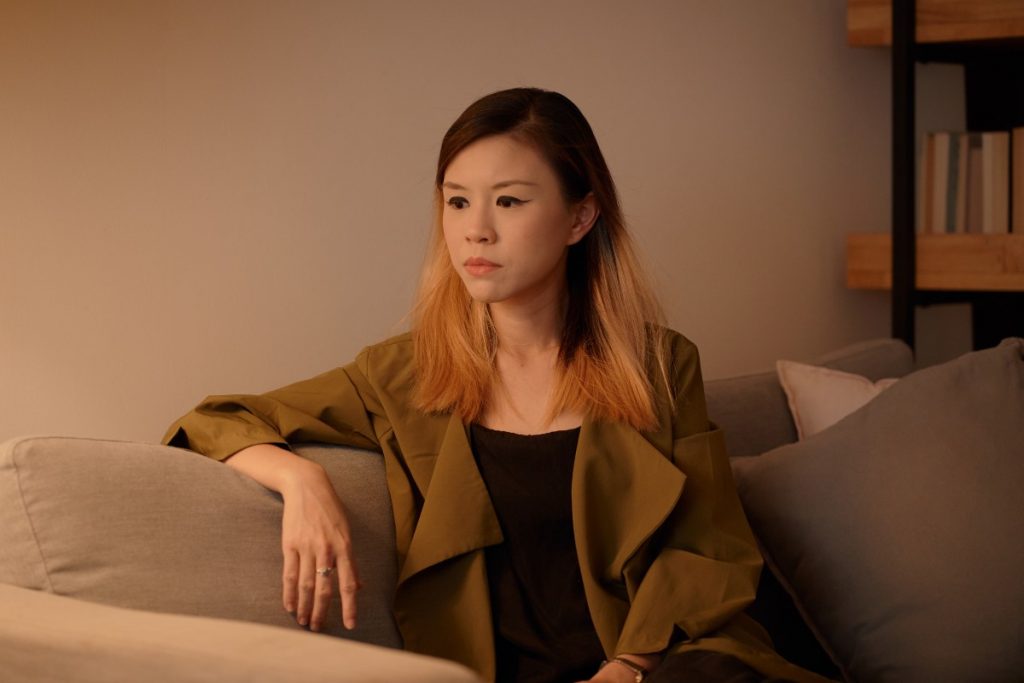 Unspoken & uneasy compromises
Her life became enmeshed with the bookstore, with any markers of independence slowly whittled away. She even stopped drawing a salary.
Early on, when BooksActually was facing financial trouble, Kenny and Karen had sat her down and asked if they could pay her the month after. A month became two, then three. When Renée got into a relationship with Kenny, "It became a discussion we never had, but I fell into a default, like, since he's not drawing a salary… I shouldn't, even though I was an employee in the eyes of the law."
It was the first of many unspoken, uneasy compromises made with the perception of trust, which muddied the boundaries between the personal and the professional.
But it didn't matter much to Renée. She lived in the store, after all, and didn't need to pay for rent or transport. (Much later, an ex-employee recalls Kenny telling her that he didn't see the need to pay Renée when he was already housing her.)
"Any transport I took was for errands for the store. I didn't even spend or buy much anyway. Every once in a while, I'd look to Kenny and be like, do we have enough this month? Do you think I can bank in one cheque? He'd be like, I let you know. See how. And then once in a while, he would be like, this month got enough, and I'd bank in one cheque, which was S$1,500. To buy things, like books. So the money went back into the store anyway."
These practical concerns meant little when Renée was 20 and armed with a cause to believe in.
"And I think before I knew it, it's almost like I jumped into the role of wife and business partner all in one without actually figuring out whether or not I was interested in this guy," Renée said.
A few years after her marriage and subsequent divorce to Kenny, Renée continues to re-assess her life at BooksActually.
"It was more like the responsibility of things or the idea of running something so big and important at the time that maybe might have been for me the appeal… It's a calling, it's a decision that we're helping so many people, it's a cause, and I'm doing good, I'm benefitting the literary community—all these writers—by creating an important space like the bookstore."
Life At BooksActually
Renée was not the only employee; she worked alongside a slew of staff who fit a similar demographic: primarily female and in their early twenties. Hires were made based upon vague criteria such as whether or not they seemed to fit in with the environment.
Kenny seldom made male hires, and the employed few did not seem to stay for long. There was no firing system in place; instead, Kenny would ask Renée to give certain employees fewer and fewer shifts until they got the hint.
Ex-employees spoke of an environment conducive to this transitional phase in life: right after tertiary education or right before a higher education degree. It was low-paying, but at that age, the dreamy idea of working in an indie bookstore such as BooksActually was a bigger draw.
At least until Renée left, there was no designated break hour nor were there seats, so lunch meant buying food back from the nearby hawker centre and eating while standing up, but many employees perceived these to be the minor inconveniences of a larger vision.
Among many of the staff, it seemed like a congenial, almost familial environment. But throughout the years, a few complained about Kenny's tendencies to blow hot and cold when it came to preferential treatment, at first seeming to treat one person with exceptional friendliness, then giving them the cold shoulder soon after.
One ex-employee recalled him telling her that there was no one in the staff that he could trust and rely on and that she was the "only one" he "would dare to withhold pay from" because she'd "understand."
In her experience, this closeness soon degenerated into him ignoring her and refusing to communicate even on professional terms. More than one staff member eventually left BooksActually, citing this recurring state of affairs.
According to them, Kenny seemed to have a chip on his shoulder and frequently painted himself as a have-not who was doing all he could. Once in a while, he'd have an angry outburst and abruptly declare that he knew many people in power; that whoever offended him would never have a career in the arts if he said so.
He would even mention off-hand that he was in a gang in his polytechnic days and that he continued to associate himself with its members.
As overextended as these claims seem to be to a neutral observer, and while some of the staff waved it off, it was enough to make many of the 15 ex-employees interviewed for this article hesitant to speak up.
Like many small bootstrapped businesses, BooksActually did not have any internal human resources infrastructure and operated on a relatively informal culture. This meant that there were no set guidelines on romantic relations in the workplace, nor any safety nets for employees such as Renée.
While she might have willingly entered into and therefore normalised her situation, she found that she did not have the same amount of agency that Kenny did. And beyond the most explicit example of Renée, this lack of infrastructure left marks on the lives of several other young women involved in the bookstore.
Cracks in the facade
For L, who worked in BooksActually on-and-off for over a period of five years, from 2012 to 2017, learning of Renée's experience caused her to re-assess an email exchange that she had initially considered a harmless event long relegated to the recesses of her memory.
L was in the middle of her undergraduate degree in the UK when she started receiving emails from Kenny via a private email address. The email correspondences were friendly, with Kenny asking about her well-being and encouraging her to send her writing to him for publishing consideration.
But what surfaced in her memory in light of Renée's divorce was one paragraph in which Kenny wrote: "Always very tricky business to talk/email/text you/. Ren can get paranoid when it comes to a few individuals. And yes, I have this secret email address that no one knows since ages & ages ago. So this is the safest way to communicate with you. Apologies for resorting to such under the radar communication."
L remains puzzled about what that insinuates. Why was that not done in an official capacity? Why the need for language that seemed to blur the lines between the personal and the professional?
While she was unclear about his intentions, it was enough for her to purposefully include well-wishes to Renée in her replies in a subtle bid to maintain a friendly, professional tone. Another ex-employee interviewed for this article mentions that this was not the only email exchange sent under this guise and that Kenny had multiple private email addresses.
'Mel'
Renée and Kenny married in October 2016 in a small ceremony held in the bookstore. Three months later, in December, Renée began to suspect that there was a romantic affair developing between Kenny and another employee.
At the time, Mel (name withheld) was 22-years-old and two years younger than Renée. Renée had noticed how they would stand close to each other, their body language suggesting a casualness that the other employees did not share.
Kenny would show particular concern whenever Mel was feeling unwell and insisted on running errands with her under the pretence of training. The bookstore became a microcosm in which every interaction grew increasingly tense for Renée, but there was nowhere else to go.
The "affair", however, was more complicated than it seemed at first glance.
Mel had just come back to work from an overseas trip in December 2016 when she realised that Kenny was suddenly ignoring her. Perplexed, she texted him to ask if she had done anything wrong. Kenny replied, requesting a private meeting with her, on the pretext of work. In the 15 minutes they were alone in the apartment across the street that he used as an office, Kenny then confessed that he had fallen in love with her. He planned to "phase Renée out" over the next two years.
Shocked, Mel told him she was not interested, to please stay faithful to Renée, and asked if she should quit.
Kenny said no, promised that he would keep things professional and that there would be no more advances, on one condition: that Mel would spend a day with him.
Was he asking her out on a date? Or was it more like simple accompaniment? Confronted with this, Mel agreed, but the end of the day led to the same conclusion: she was not interested in getting involved in his marriage. Kenny then apologised and told her that he would leave her alone.
"I just wanted to work in the bookstore"
However, a month later, Kenny once again asked for a private meeting where he confessed his romantic feelings for a third time.
Amid Kenny's emotional outburst, Mel grew sympathetic and made an offer: "I'd let him hug me for so long as he wanted, then to please, stick to the promise of being professional and not talk to me about this again. He asked if he could also hold my hand, and I relented. Then he asked me if I really didn't like him at all, and I, not wanting to be mean, told him that I did like him, but he was married, so no, I wasn't interested…"
"I guess that was where I was wrong because I lied that I did like him. While I did like him, it was in a, "I like what you've done for the local art scene, for our local writers, and I respect you a whole lot" way. I obviously did not elaborate on that. and I did go out with him that one time. so I may have given him the idea that I wanted him to do some sort of grand gesture for me …" she says via email.
The fallout was immense. In January 2017, Renée confronted Kenny about his feelings, and Kenny painted a picture of a reciprocal affair. Unsurprisingly, Mel never stepped into the bookstore again.
"I remained quiet about it, all because I just wanted to work in the bookstore. For what? I don't know. Maybe it's because I never felt like I belonged anywhere, and the bookstore felt like a sort of home," Mel says.
Kenny, position, and power
Like Renée, Mel had gone through much turbulence in her youth. Coming out of familial and intimate partner abuse, with both cases resulting in the perpetrators getting away scot-free, she learnt to adopt deference to people in authority, as well as a belief that her version of the story was never going to matter. Until we spoke, Mel had never told anyone the complete account of what had happened.
According to Varian Monteiro, Counselling Consultant at The Relational Counselling Studio, "Looking again at the differences in position and power, what would be the consequences of rejecting such an advance? The employee could be blocked from future projects, be the first to take a pay-cut or be retrenched, or might be asked to resign for some flimsy reason. Some people might have the resources (e.g., financial, mental) to face the consequences that could follow their refusal, but most are unable to and for good reason/s."
"Imagine having to walk that line of not provoking your boss (to maintain one's job) without compromising one's morals, each and every working day. The toll of having to do that must be immense," Monteiro added.
"It sounds to me that true mutual consent was not present, and this ex-employee chose to play it cautiously by not outrightly rejecting, not burning the bridge (that connects to her rice bowl), and even trying to maintain respect for this person. In an ideal workplace, employees should not have to be put in such positions."
It is clear that this lack of infrastructure in place at the bookstore, paired with an authority figure who did not prioritise such boundaries, had serious consequences. No one was trained to deal with conflict or hold behaviours accountable.
Still, the vocabulary around such experiences continues to be debatable in the public sphere. Can such incidents be considered harassment?
A 2021 AWARE-Ipsos survey shed light on the sobering reality that two in five workers have been sexually harassed at the workplace in the last five years, with many having a nascent understanding of what harassment constitutes. Only three out of ten workers chose to report these incidents.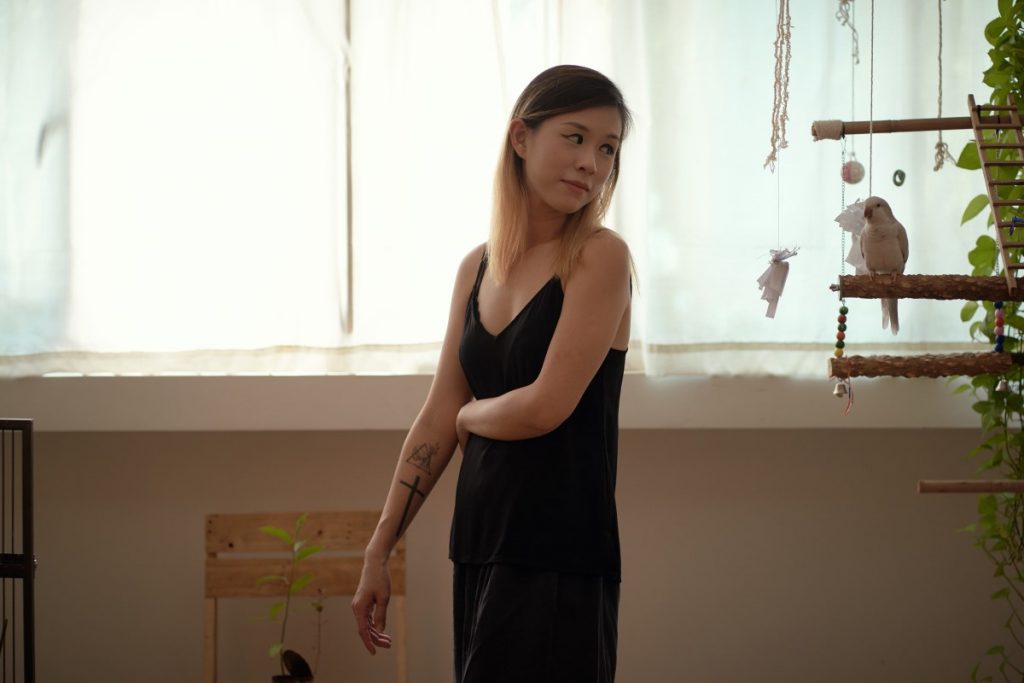 Aftermath
By the time Buy SingLit Fest rolled around in March 2017, Kenny was romantically involved with yet another employee—according to former staff of the bookstore. This time, the girl was 20.
Time passed a lot slower for both Mel and Renée, whose involvement in the bookstore spiralled into more than they could have ever foreseen. It has taken them years to rebuild their lives, and the road to healing continues to be one of starts and stops.
The dissolution of her marriage shattered Renée and called into question the foundations of her life, one that was built around Kenny and BooksActually.
The dream, it turns out, had never been theirs. It was solely his. And his partners were bright-eyed 20-year-old women who bought into it.
Years later, Mel continues to question her complicity. "I did encourage his behaviour, I did let him 'touch' me, and I did keep quiet the entire time when I could have just told Renée. I still believe that I'm at fault."
Traumatised, it took Mel four months before she started looking for a new job, one that was unrelated to the bookstore or its vast network of collaborators. In that time, she also had to field anonymous calls and emails from friends of the couple, convinced that she was to blame. The emotional toll was almost too much to bear.
While these lives were overturned in the wake of Kenny's irresponsible decisions, it seemed that until recently, some boundaries continued to be casually crossed—lessons had not been learned.
An ex-employee, X, who worked at the store between 2017 and 2019, recalls how Kenny would tell her, to an uncomfortable degree, that she reminded him of Renée. "This is Renée's camera," he would say. "You should try picking up photography."
When walking past an eatery that he and Renée used to frequent, he would point it out. "We should have breakfast here one day." He would also encourage her to consume Renée's favourite books and films. To X, it felt like he was encouraging her to become a new Renée.
Eventually, he told her that he couldn't talk to her anymore because he felt guilty each time he looked at her. It was precisely this inability (at best) or unwillingness (at worst) to draw boundaries between the personal and professional, particularly towards the young women who came to work at the store for a livelihood, that needs to be called out.
Epilogue
Undoubtedly, BooksActually has played an important role in Singapore literature and has been an invaluable resource to many. This might tempt us to let these imperfections go.
But to what extent can we do so without perpetuating real harm? For a business like an independent bookstore, which prides itself on its inclusive, liberal values, the hypocrisy is glaring.
An ex-employee, Si-Min, states plainly, "I don't see the loss. I don't mourn these symbols. It has to reckon with its shadow. It's just what it is."
More importantly, would the bookstore be the success it is today without the vulnerability, labour, and trust of these young women strung together across years of belief in a cause?
What, then, is our collective responsibility? Is the answer a series of social media posts re-shared into oblivion, dissecting every truth and fallacy? Is it a boycott of the store?
Si-Min offers a sobering perspective. "The truth is that no one cares. Institutions will not care. BooksActually will still thrive," she says.
Amidst heated discourse, we need to remember to prioritise the well-being of the survivors above all. We need to believe their stories, honour their privacy, and give them the support they need. As a society, the onus is on us to call out inappropriate behaviour, demand clear human resource policies, and be aware of our rights as workers. We need to create the safe spaces necessary such that no one else will have to go through this again.
---
RICE has reached out to Kenny Leck via email about the allegations mentioned in the article. He asserts: "I'd like to categorically state that each and every allegation that has been mentioned in your email is untrue."
---
AWARE's recommendations of some factors to consider to ensure a safe and healthy workplace, given by Ms Corinna Lim, Executive Director:
1. Drawing boundaries that emphasise the importance of consent. For example, Airbnb and Google have policies barring employees from asking a co-worker out more than once. They don't get to ask again if they are turned down, whether through a direct "no" or simply a response that conveys hesitation or a lack of enthusiasm. Any persistent efforts may be considered workplace sexual harassment.
2. Introducing an anti-harassment policy. In cases where romantic pursuit escalates to harassment, the company should have measures to protect the victim and hold the harasser accountable.
3. Define acceptable behaviours for romantic relationships as part of the company's code of conduct. Some examples of unacceptable behaviour would include touching inappropriately in front of colleagues or clients and exchanging an excessive number of instant messages during working hours.
4. Have mechanisms to assess (to the degree a company can) whether a relationship is consensual or not. For example, some companies use "love contracts": written contracts that disclose when workers are in and out of relationships. Clear dating policies can help companies by limiting coercive romantic relationships.
5. In cases where there is a relationship between a senior manager or director and a subordinate, the conflicts of interest are most severe. These relationships are generally not encouraged, as they open up a grey area of potential favouritism and abuse of authority. Still, some important considerations to make in cases where the company allows the relationship are:
– Reassigning the direct report or transfer to a new boss. It is hard to be objective when giving someone you're dating a performance review. It can erode a team's confidence and morale if there is even a remote perception of undue favouritism.
– Ensuring that there are protections against retaliation and victimisation. This is especially important in cases that seem ripe for forms of abuse or power dynamic differentials if the relationship ends.