Top image: Stephanie Lee / RICE File Photo
"We'd always been close. But not close in the kitchen, you know?"
Kristie Yeong loves cooking. On her Instagram Stories, she often posts stories of her homemade culinary creations, from spaghetti to shakshuka. She isn't a professional. She just got it from her grandmother.
As Chinese New Year rolled along this year, it's common for households to be abuzz with movement. Specifically, in the kitchen. It doesn't need to be said that food is crucial during this time of year.
Often, you'd find the household matriarch whipping up the delights that bring families together, aside from beer and store-bought yu sheng. Of course, this is a broad generalization—an almost picture-perfect recreation of the holidays, as depicted in an insurance commercial.
For Kristie, it's just right. She speaks to me after a weekend of house visits. It's about the same routine every year, COVID restrictions aside.
"My family is fine but going out in general has been exhausting!" the 32-year-old sales manager, who caught COVID twice in 2022, tells me. What does redeem the season for her is seeing her grandmother—the person responsible for her love of cooking.
As a young 15-year-old, Kristie would sneak into her household kitchen, where her grandmother would be prepping for another day handling vegetables and raw meat. Back then, her grandmother stayed in the same house.
Kristie quickly became enamoured by her grandmother's meticulousness—she would be swept up in making large batches of food, but there was no mess to be found. Every essential ingredient and cooking utensil was right where it should be. Her workstation was clean as a whistle. No ant swarm could bother for a quick feast.
Her grandmother usually preferred being left alone while in her element, but she picked up on her granddaughter's nosiness—she wanted to cook like her.
Translated Recipes
"She wanted me to focus on my studies," she remembers. "She would tell me, 'You don't have to spend time in the kitchen'." Kristie, an acolyte of the digital age, is accustomed to "doing two things at once".
As a teenager, she wanted to be as good at cooking as she was in her school exams. She would be chided by her grandmother for not prioritizing her responsibilities, or for eating unhealthy food.
Yet, food is what has brought them together, time and time again.
Kristie heeded her grandmother's advice, reluctantly. Having put her kitchen dreams aside, she pursued her studies in the UK around the same time her grandmother moved in with her aunt.
With stacks of books to study and projects to finish, Kristie opted for Chinese takeout for some comfort food. But it wasn't enough. Kristie missed her grandmother's food the most.
As a kid, Kristie was a fussy eater—if what was cooked wasn't appetizing, she would happily settle just for "rice and ketchup".
"She would tell us not to eat fried food, not to drink ice water, not to sleep with the air-con on," Kristie says. It's all the things one would hear from a concerned, even overbearing, parent. And yet, it's stuck with her as an adult. "It's all true," she attests.
The years had passed by since, and Kristie found herself yearning for her grandmother's soy sauce ginger chicken.
Her grandmother doesn't speak English. Kristie would text her aunt in desperation, requesting for meal ideas that she could whip up herself. Her aunt would help translate whatever her grandmother suggested into a readable recipe—making a bowl of bee hoon fish soup to fend off the winter cold, or whipping up a serving of cereal prawns for her British friends.
In her Norwich flat, with one cooking attempt after another, Kristie felt closer to her grandmother and her halcyon days of daily home-cooked delights.
Eventually, Kristie returned to Singapore. She made it a point to visit her grandmother every weekend. Kristie had the recipes. Now, she needed to know the methods. "Ah ma, can I come see?", she would ask before stepping into her grandmother's kitchen, a sacred place.
She would hover over her grandmother, who would guide her through her process.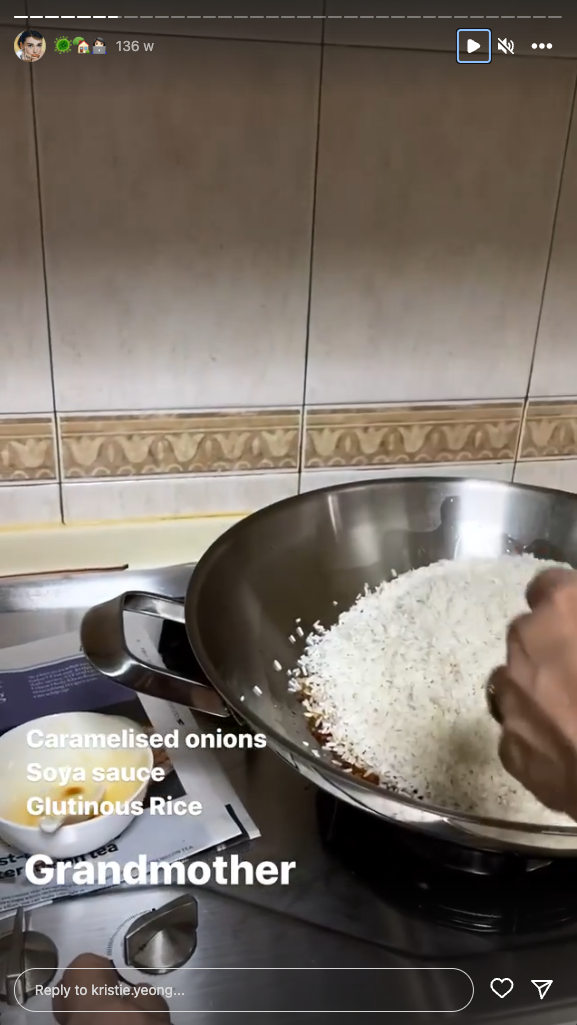 The matriarch doesn't hand-hold but isn't prescriptive either: "She wouldn't tell me how to do something and then watch me try to do it. Her process wasn't scientific." Kristie was just shown her grandmother's method—everything else was left to her imagination, to observe and learn.
Kristie attempts to explain to me what it's like to be in the kitchen with her grandmother. It's hard to illustrate a process that is, after all, profoundly intimate and unpretentious. Kristie's description to me, instead, brings to mind a type of video that remains a popular draw.
On YouTube, where content creators vie for the attention span and viewership numbers of millions, cooking videos thrive. These videos often do not rely on an onscreen personality—it's shot as if from the point-of-view of a child peering over the tabletop, watching their parents cook.
Like Kristie's grandmother, these content creators opt for delightfully simple demonstrations. You instantly feel comforted by their steady hands and brief recipe instructions.
Perhaps, some of these viewers yearn for the days they were children, sneaking into the kitchen and watching their parents work their magic with quiet awe. Nostalgia is a handy tool to reconnect with the past and the important people who shaped it.
As an adult, Kristie isn't keen on letting the past be the past—she wants to reconnect with her grandmother to create new memories together.
Culinary Connections
Back when she was a teenager, Kristie would post pictures of her grandmother in the kitchen on her WordPress blog. She was always in awe at her composure in handling many ingredients at once.
This time, she began depicting her grandmother's kitchen activities on Instagram. Just like in the old days, she loved spending time with her. She wanted to share that experience with her friends. Food is usually what draws them together. It's the one thing that has drawn her ever closer to her grandmother all these years.
Most stories that follow this beat result in a newsworthy angle of virality. Kristie's posts didn't go viral—it simply drew the attention of people who meant the most to her.
As her grandmother gets older, she's used her personal platform to capture the maestro at work. She connects with her grandmother not by sharing stories, but by sitting and watching.
"My close friends loved watching my grandmother making wanton noodles from scratch," Kristie says. On her Instagram page, she has her past stories sorted by themes.
One collection gathers all the footage from cooking with her grandmother. It covers, step by step, how she makes ba zhang, a handmade delight that is otherwise not for newcomers. Her process of making handmade wanton noodles is in there too.
Most of these stories observe her grandmother in action. In one, Kristie admits to messing up when attempting to make her own. "Even when you put the ingredients together, you have to wrap it up nicely so that nothing falls out," she explains. "I keep thinking to myself, 'Oh my God, why am I not getting it right?!'"
Kristie has tried making ba zhang again. And again. She's gotten better at it, but nowhere close to her grandmother's precision.
Muscle Memory
There isn't a secret that she can inherit and learn—aside from the Sarawak white pepper that gives each dumpling a unique kick. "It's just muscle memory," Kristie admits, adding that her grandmother learned cooking the same way when she was younger. Despite the hard work at hand, her grandmother seems always at peace when cooking. That's what Kristie admires about her the most: "I just want to be as chill as her," Kristie laughs.
These stories were posted two years ago, back when Singaporeans were inching back towards socialising with their relatives and friends. Now, Kristie admits her grandmother "doesn't cook as much", preferring to spend her time like any retiree—reading the news and meeting her friends. Kristie spends most of her free time in her own kitchen.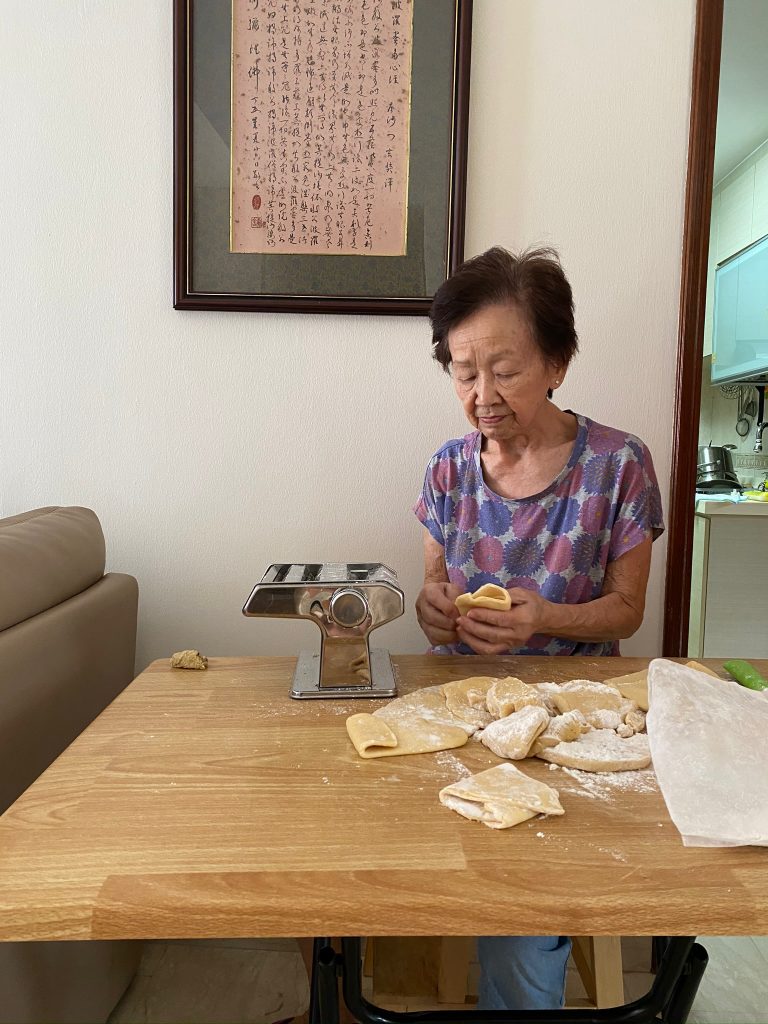 Her grandmother is in her 70s. Cooking has been an integral part of her life. Even now, she's blissfully unaware that she has a small legion of fans who await any new story of her cooking process. "She's just shy," Kristie says.
Last weekend, as usual, Kristie visited her grandmother and aunt. She stepped into the kitchen, asking the busy matriarch what she was prepping. Her grandmother, busy as usual, scolded her with tongue firmly in cheek: "Why you wake up so late?!"
Some things change, and some things stay the same. For Kristie, she wouldn't have it any other way.
"I'm just blessed she's here with us."
---
The Lunar New Year is a time for families and friends to gather, young and old alike. No matter how wide the generation gap may seem, we can always find ways to reconnect through common threads that bring us together and help us create moments to remember for years to come.
If you haven't already, follow RICE on Instagram, TikTok, Facebook, and Telegram. If you have a lead for a story, feedback on our work, or just want to say hi, you can also email the writer at hykel@ricemedia.co or at community@ricemedia.co.