All images courtesy of Giraffe Pictures.
If people didn't "fuck up all the time", Anthony Chen wouldn't have films to make. 
In an exclusive interview with RICE to discuss his latest film, Wet Season, the award-winning Singaporean filmmaker begins by stressing the human tendency to keep making mistakes in our personal relationships with our parents, loved ones, and friends. His films are driven by the complexity of being human for a remarkably dystopian, albeit understandable, reason: "We keep sort of tearing one another apart." 
Despite the media's tendency to reduce art into the issues that it highlights, Anthony doesn't believe in hinging each film on specific, 'trending' topics, as many new filmmakers are inclined to do. Many approach a new film wanting to talk about the rights of migrant workers or gender equality, for instance, without a feasible storyline or compelling characters.
For example, with Ilo Ilo, his debut feature that won him the Caméra d'Or (i.e. Best Feature Film) award at the 2013 Cannes Film Festival, Anthony didn't set out to shed light on the plight of domestic helpers or migrant workers. He simply chose to observe a Singaporean family in the most honest light possible.
"When I get one character, their relationship with another character, and then the entire family and the workplace and the school right, when I keep building these layers, what you get is a picture of society. The bigger issues will naturally come into play," he says.
"Besides, how do you make a film about an issue? If I want to make a film about loneliness, how do I do that? But I can make a film about a mother whose son moved to America and she has to deal with restarting her life again. My lens is always on the characters or the people." 
Anthony's deliberate decision not to make each film about issues also means that a good story isn't solely contingent on the plot, but "flawed" characters who reveal the "fractures and weaknesses in our humanity". He understands that people can never be reduced to being just kind, polite, or a singular characteristic.
"There are certain topics that are 'hot' at the moment. But life and its problems are so complex that I can't imagine that you can arrive at a simple answer to all these questions. I'd be worried when a film attempts to do that."
For the record, Wet Season cannot be summarised into a clear takeaway—which is, as I'm learning, the whole point of Anthony's films.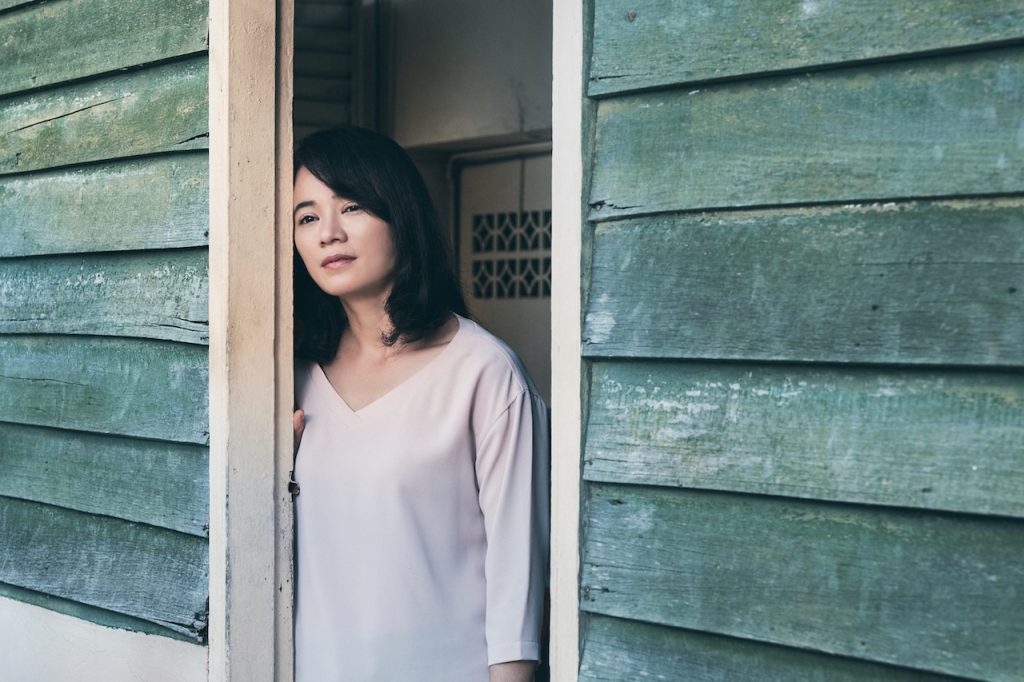 Reviews of
Wet Season
, which had its world premiere at the 2019 Toronto International Film Festival, tend to boil the film down to one central theme: entanglements in a teacher-student relationship. This understanding sets the context for the film, but doesn't quite do it justice. 
Playing Ling, a Chinese language teacher, Yeo Yann Yann's poignant performance captures the invisible battles one might fight every day, where a single wrong move could completely unravel one's mental and emotional state. 
At home, Ling deals with an increasingly distant husband, diligently cares for her father-in-law like his own daughter, and goes for regular IVF treatment sessions by herself. In school, however, she appears stoic and soft, even as her students disrespect her, belying the immense pain and loneliness she's drowning in. 
These aren't meant to excuse the questionable circumstances people might find themselves in, but reveal the multitude of possibly contradictory and complicated aspects of life beneath an individual's veneer.
As a result of her ongoing suppression of her own feelings, she finds an 'outlet' through developing an unusual kinship with her student, Wei Lun, played by Koh Jia Ler. He falls in love with his Chinese teacher through their constant interactions that mostly comprise remedial lessons and getting frequent lifts home from her afterwards.  
Throughout the film, Ling's distress is painfully understated, often portrayed through what's not shown or said. While her eyes are noticeably sad, her hesitant actions and too-long pauses before she speaks form the essence of her character, as though she makes calculated decisions not to speak up or fight back despite being unhappy. In her self-rejection, she represents every woman who decides it's better to just ignore her own feelings than cause trouble or inconvenience. 
"Asian women, especially, seem to be able to endure all things and still have a smile on their face, no matter how much pain they're in," Yann Yann tells me, explaining what drew her to the role.
"She's very different from who I am. I look for characters that challenge me. I even had to learn how to walk like her." 
Similarly, Wei Lun's transparent naivety is exceptionally relatable—a throwback to first love that feels too on the nose. This childlikeness leads him to fixate on getting what he wants, regardless of consequences. In the end, the trauma of having his innocence tainted by unrequited love is portrayed through his palpable heartache. 
As a sophomore feature, Wet Season meets Anthony's objective of presenting human beings as complex creatures—each a kaleidoscope that twists and turns to reveal that blacks and whites are essentially made up of varying shades of grey. The red flags of Ling and Wei Lun's burgeoning relationship are presented with as much delicate care as its silver linings. However, the film doesn't—and shouldn't—inspire agreement or acceptance of relationships with a dangerous power imbalance, merely empathy.
This much is clear: while the film industry has always taken its cues from the West, the world is opening up to myriad Asian narratives that no longer revolve around dated stereotypes. Wet Season could, therefore, lead the next big wave in Singaporean and Southeast Asian cinema.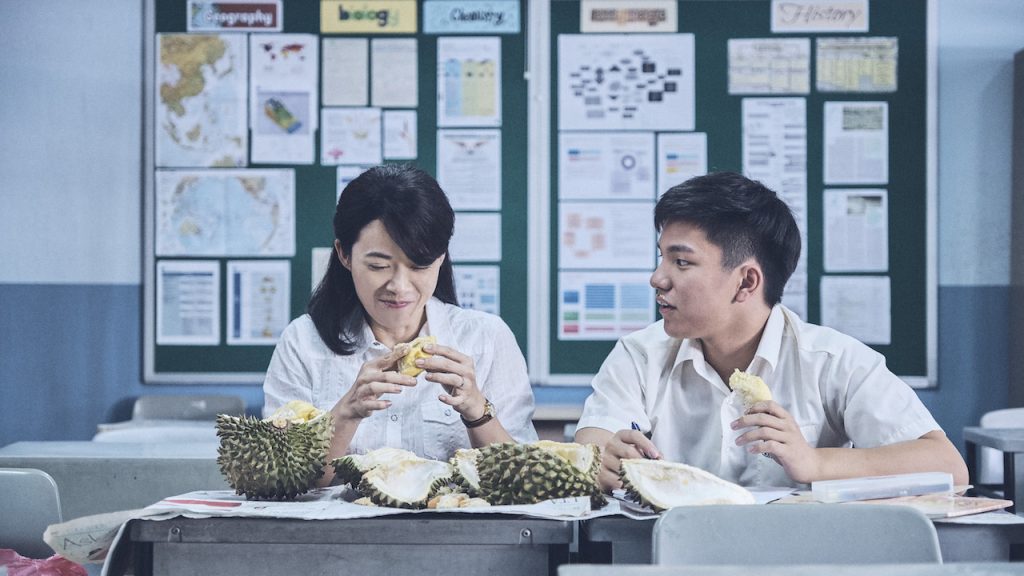 It would be no surprise if Anthony has felt the burden of representing Southeast Asian cinema since winning at Cannes six years ago. After all, Southeast Asia isn't homogenous, never mind its films, as much as Western media might paint the region's culture with a broad brushstroke. 
"I've been wary of being pigeonholed by labels. It's very important that I exist because I'm a filmmaker, and not just because I am a Singaporean filmmaker. It's about telling stories that connect in a global, universal, and most human way. Not just because Singapore is an 'exotic' country," he says. 
Ergo, he is "maybe more than slightly offended" by a film like Crazy Rich Asians, which is almost like "the Asian American whitewashing of Singapore culture". His frustration with the film isn't solely because Singapore is painted in an inauthentic light, but that it squanders its chance to accurately reflect the nuances in our diverse culture. 
On the contrary, this is why Anthony's films aren't flashy Hollywood blockbusters. The vignettes in Wet Season are softer with more implicit messages, but still inherently Singaporean. 
As a filmmaker, he realises the significance in what's not shown rather than what is, from the blurred lines in a teacher-student relationship to the desperate pining of a woman trying to save her doomed marriage. 
"If you make an American romcom, you can showcase the country in a certain way, but there'll be, like, 100 other romcoms to present it in a different way. But in Singapore, in a good year, you get 15 local films. Most years, it's eight to 10. It's so rare that we get to see ourselves on screen," he explains. 
For a country of five million, Anthony is proud of the vibrant filmmaking sensibilities we have, but maintains the next five to 10 years are crucial because "you can feel a new wave brewing". In order for Singapore to make a splash, instead of merely dipping our toes into the water, the entire country needs to rally together behind our film industry. We need to believe that our stories are inherently worth telling, regardless of their accompanying lessons. 
To this end, Wet Season doesn't set out to delve into controversial topics such as unrequited love or forbidden fruit. It's merely about a lonely Chinese-language teacher who develops an unexpected friendship with a student in her class. 
"Somehow, whether it's a lack of patriotism or whatever, we're not keeping the dream alive. From government agencies continuing to support filmmakers through grants to the public buying tickets to the cinema, we need to really let Singapore take that step and break out or break away [from our current state]," he says. 
"The onus is not just on the film industry or a group of filmmakers to make this happen."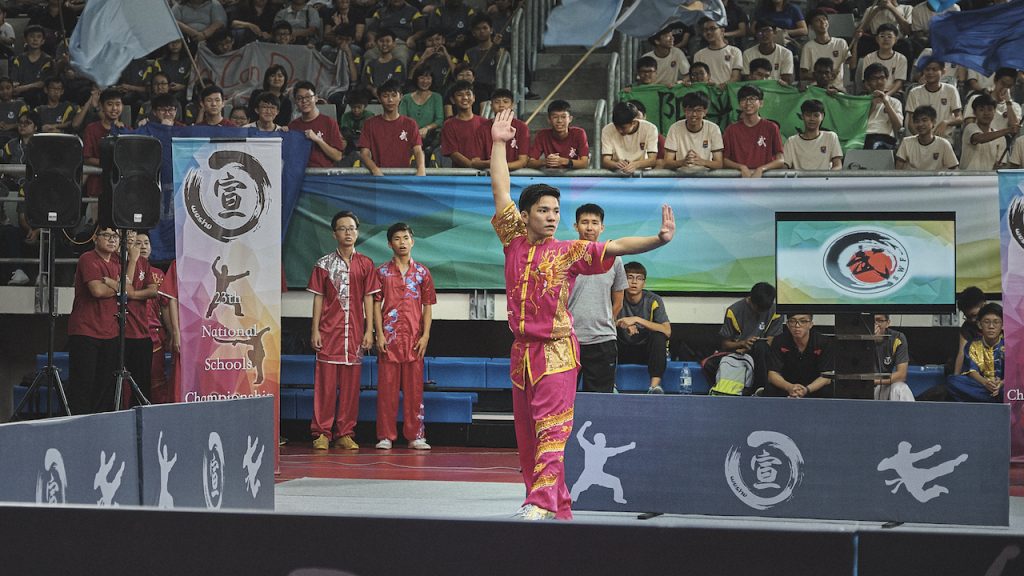 To walk the talk, Anthony's production company, Giraffe Pictures, has signed a three-year first-look and co-production deal with HOOQ.
Wet Season
, for starters, will show on HOOQ in March 2020, after its premiere in Singapore at the Singapore International Film Festival in November this year. 
The Asian video-on-demand platform champions Asian cinema and series, with the long-term objective to bring Southeast Asia's stories to the world, as per Netflix. 
Seeing as Anthony has broken norms in his own industry, the partnership hopes to push similar boundaries and continue surprising audiences worldwide with riveting plots and strong characters from Southeast Asia. 
Inclusivity is an entire mindset change. But fundamental change takes time; we shouldn't immediately discredit any initial effort to promote and advocate for Southeast Asian stories, as counterproductive as these efforts may seem. 
For example, we can start by understanding that Western media might be unwittingly ignorant about the diversity present in the region, so they might believe each country in Southeast Asia is largely similar to another, instead of acknowledging and celebrating our distinct differences. This, in turn, influences their coverage of Southeast Asian films at big film festivals in the West from Toronto to Cannes.
"I remember in the case of Wet Season, we originally told our sales agents, who are French, that we hope to have the Southeast Asian premiere at the Singaporean Film Festival as the opening film. Somehow, they promised a Filipino festival that this would be the closing film. I reminded them that we'd already promised the Southeast Asian premiere to Singapore. It didn't dawn on me that they probably didn't know what 'Southeast Asia' is," says Anthony. 
That said, if sustained, such discourse could be potentially detrimental to Southeast Asian cinema. There might be a tendency for people to believe that just because they've seen one film from one country in Southeast Asia, they understand every country in the region. 
But for a start, Jennifer Batty, Chief Content Officer at HOOQ, believes we could benefit from this general awareness. 
"Somebody in, say, Germany or the US or Columbia might hear 'Southeast Asia, Thailand', and then go and look for all these other Thai films. It kind of opens their eyes to the whole spectrum of content available in Southeast Asia," she says. 
"We want to tell our stories in the HOOQ territories but we also want the chance and ability for them to be told in, say, Canada or the US or the Netherlands. It's about introducing them slowly." 
Regardless of accessibility, raising awareness about the region's stories is about remaining dedicated to telling true, honest, and nuanced stories. This means embracing that much like how Southeast Asian countries cannot be generalised under a singular, all-encompassing characteristic, most stories cannot be whittled down into tidy endings or tangible lessons, because most people contain multitudes. Most people will be unkind, cruel, and hurtful, even as they are generous, pleasant, and sweet.
The difference with Anthony is he uses this uncomfortable truth as both the starting point and essence of his films.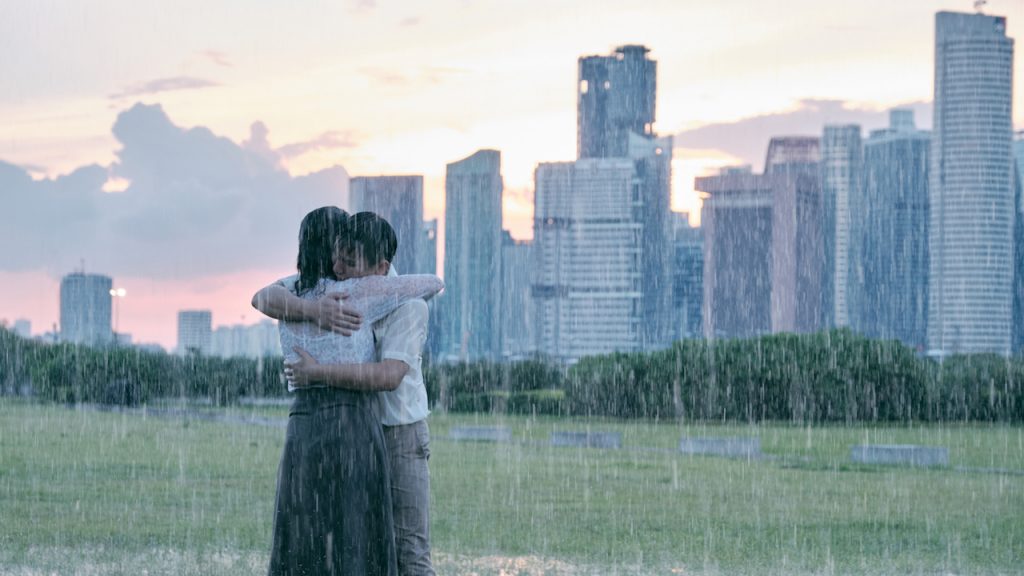 In
Wet Season
, the weather expresses the characters' turbulent emotional landscape, enveloping every scene—then the entire movie—in a fog of dark melancholy. The visceral, almost suffocating, despair settles in early on in the film and doesn't lift until the credits roll. 
Ling sits in her car injecting the IVF medication into her body as thick raindrops drum down on her windshield. She pulls the needle out from her flesh and sinks into the seat. 
Wei Lun dashes from her car, running to an open field by the side of a busy road, and sobs openly from heartache. Ling sprints after him. The pair force an embrace, each of them drenched from the downpour.
A sudden thunderstorm jolts Ling to rush into her father-in-law's bedroom to shut the windows. She is too late; the floor is wet.
"Sometimes, a film is like a mirror. Whenever people connect with it, and whenever a film is so good, it stays with you for so long. It continues stirring up inside you for two days, three days, four days, and you wonder why," Anthony tells me.
Someone once told me that rain was his favourite weather because it represents a transition state. In limbo, everything is on pause. The sound of raindrops hitting the ground creates a blanket of white noise that temporarily protects you from focusing on what you're trying to forget.
People do fuck up all the time. But in the rain, salvation feels within reach.