All photography by Hizuan Zailani.
The north is the best part of Singapore, said absolutely no one ever.  Even I—a life-long bitch of the North-south line—would much prefer to live in Bedok or Clementi. The north is emptier, further from town, and terribly uninteresting. 
Easties have East Coast Park, Golden Mile, and the excellent sports facilities in Kallang. In Yishun, I make do by cycling to Sembawang 'beach', a sorry strip of sand barely 500m long but with an excellent view of Johor's many landfill fires. No wonder most of my friends only visit me when receiving inpatient treatment at Khoo Teck Puat Hospital. By the way, can you buy me a pack of cigarettes? C'est La Yishun.
As for the unfortunate souls who live in Woodlands or Choa Chu Kang, the less said the better. The highest point of their lives was getting posted to Gedong during National Service.
Thankfully, our government is doing everything it can to make the north more habitable. On Saturday, they reopened Sembawang Hot Spring Park after a two-year renovation. You might have visited the place when you were younger. Here's what to expect in 2020:
1. Too Many People, As Usual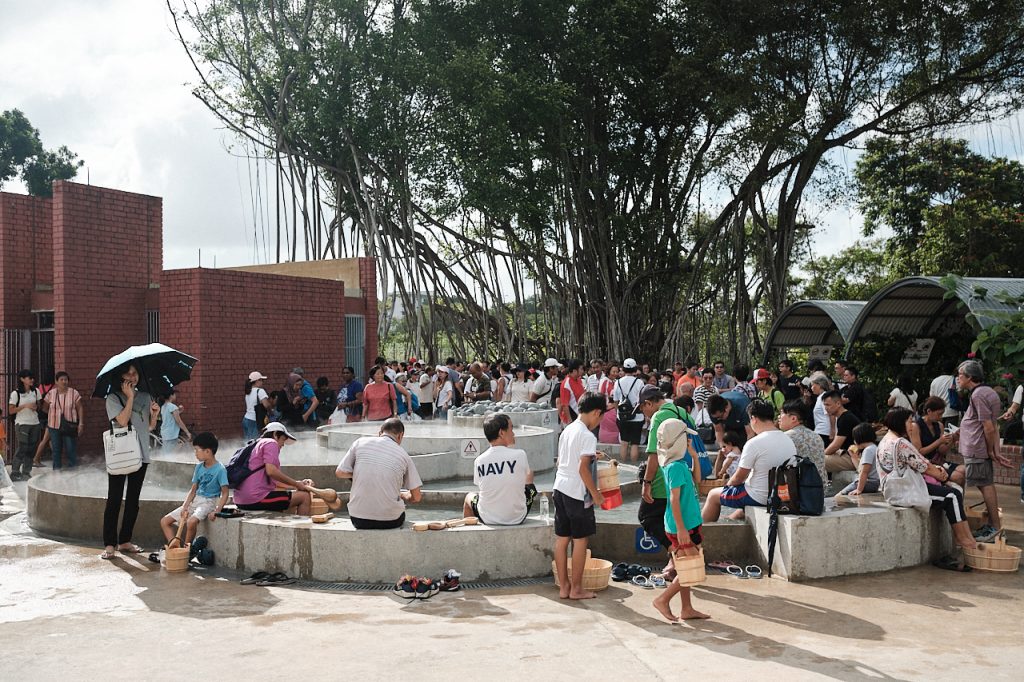 The park is the size of a hawker centre, so it feels very crowded. Less crowded than Five Guys, more crowded than Bishan Park.
However, most of the people present on opening day were SPH journalists explaining how very hot the hot spring is, so I expect the situation to improve.
2. Henry Thia Enters Politics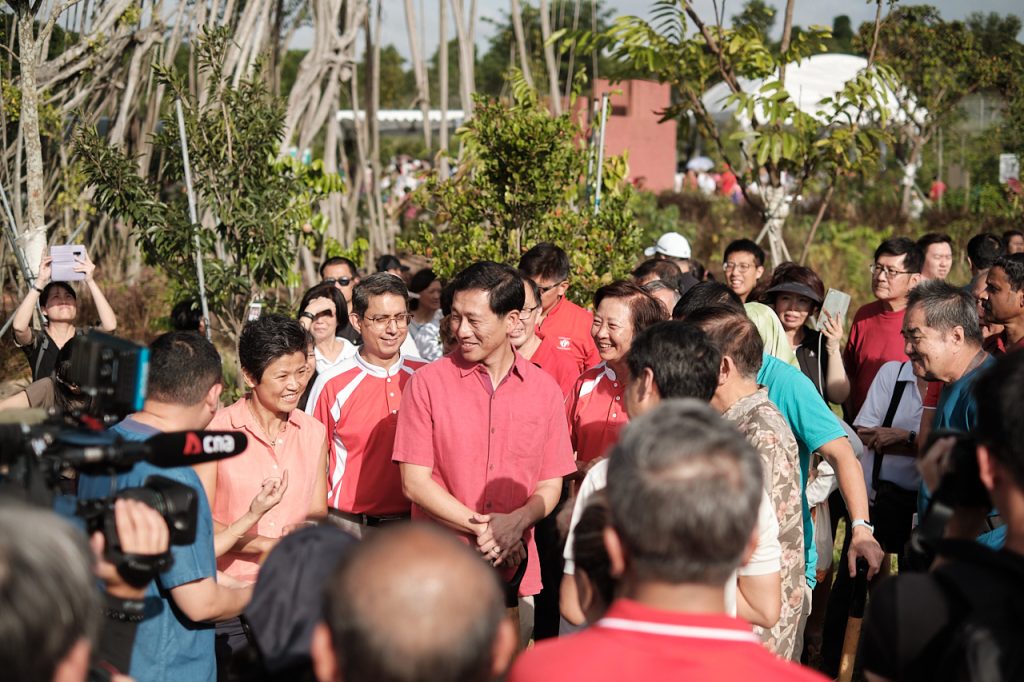 When you turn off Gambas Avenue, the first thing you will see is a cafe. The second thing you see is Ong Ye Kung, Lee Bee Wah, and Henry Thia planting a tree. It is a lychee tree, explains the Nparks person, which is not the same as a Rambutan tree but belonging to the same family.
There are many Nparks people standing around in polo shirts. I feel sorry for them, for having to get up on a weekend to stand around watching Minister Ong Ye Kung play with water.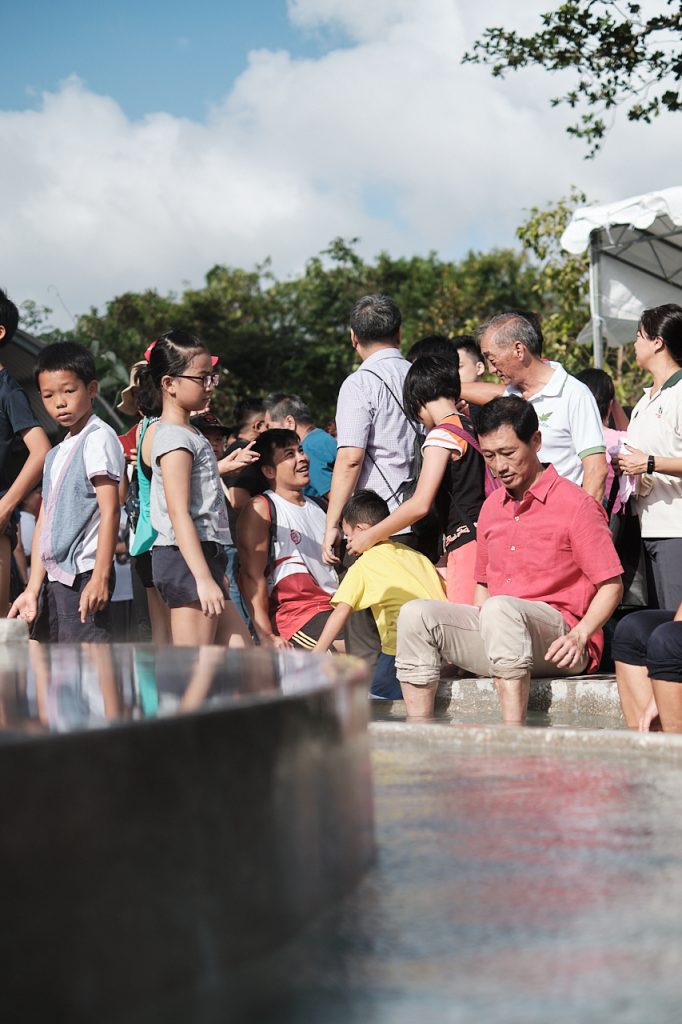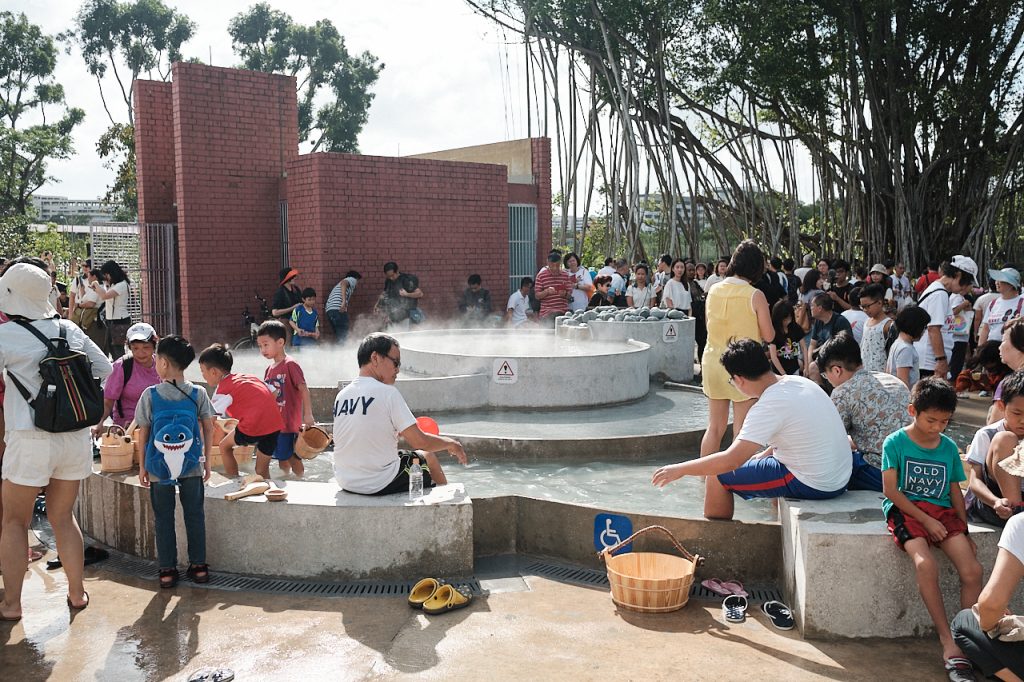 The old springs were just a few taps sticking out of the concrete. It was popular with elderly folks, who bought their own buckets and chairs.
The elderly folks are still here, but substantial improvements have been made.
Nparks have really outdone themselves this time. Instead of taps, we now have a four-tiered, wheelchair-accessible pool with different temperatures for every tier. The main water collection point has taps of different heights, including a 'shielded water collection' to protect wheelchair users from the backsplash, and a 'two-level' collection point for kids or very short people.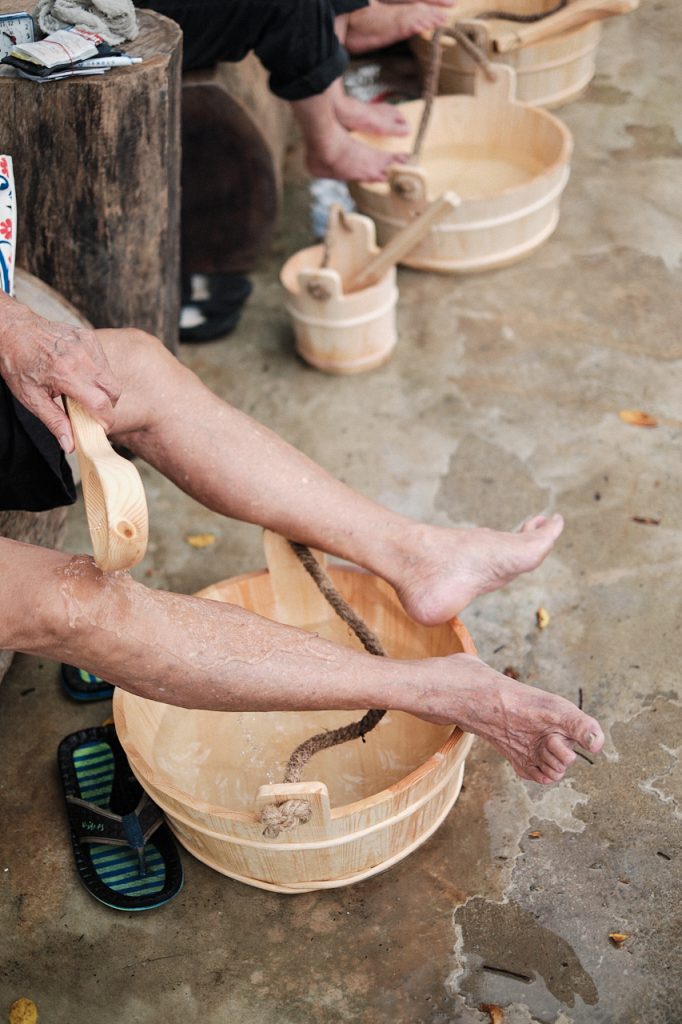 Best of all, you don't even need to bring a bucket. The park provides large, shallow pails for foot baths and small deep ones for cooking your eggs. 
They also provide wooden spoons. Some visitors used the spoons to rinse their calves, while others used it to scoop their eggs. 
It's probably fine so long as you do not try to eat your eggs with the spoon.
5. Sadly, My Intelligence Is Lacking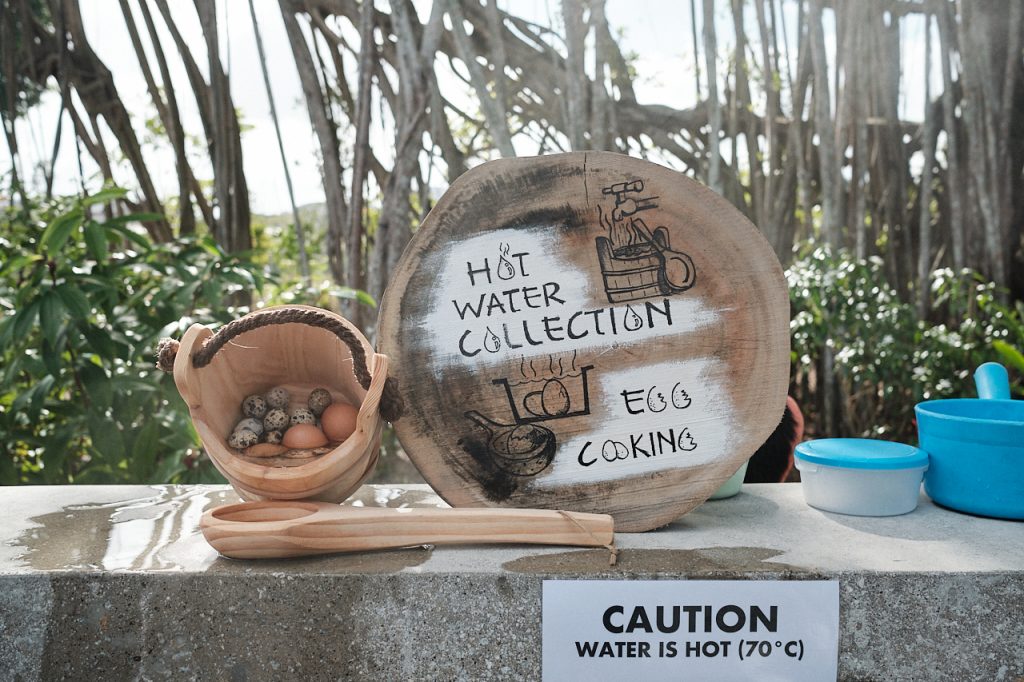 Here is some practical advice if you want to cook eggs in the hot spring. Put your egg in a bucket and place them under flowing water for at least 10 minutes. You will get soft-boiled eggs.
Do NOT, under any circumstance, just leave your eggs in a container of rapidly-cooling water. You will get raw eggs. This is—uh—what my friend did. He had to make the walk of shame to dispose of his uncooked eggs. It was thoroughly, utterly humiliating—or so he tells me. 
Some of the more intelligent visitors brought quail eggs, which are smaller and easier to cook. Sadly, I was not amongst them.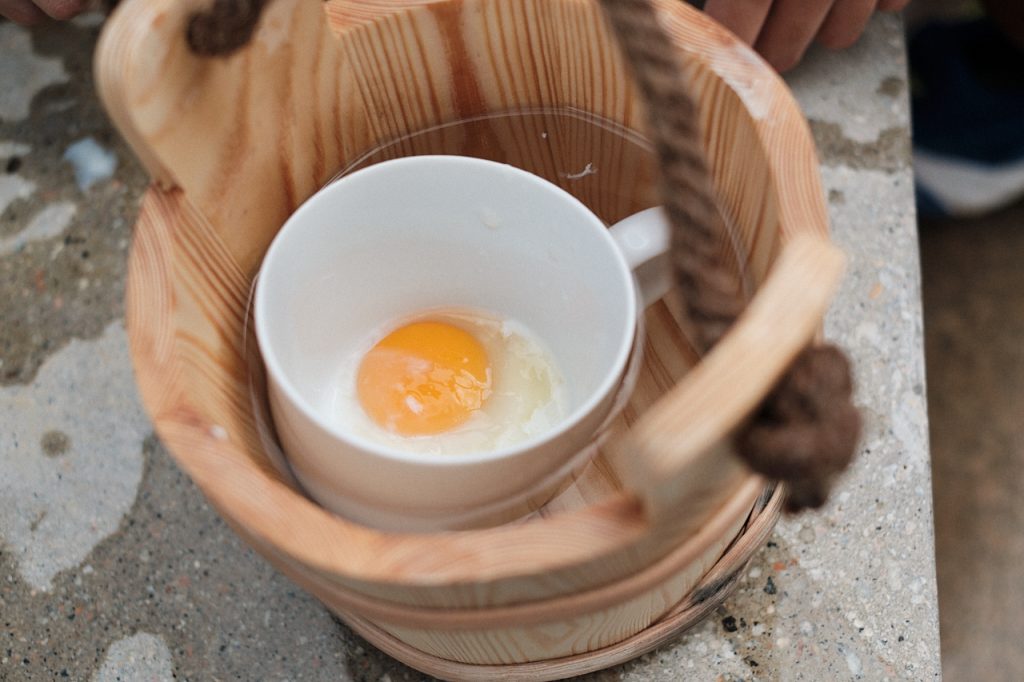 6. Hot Spring Is Very Hot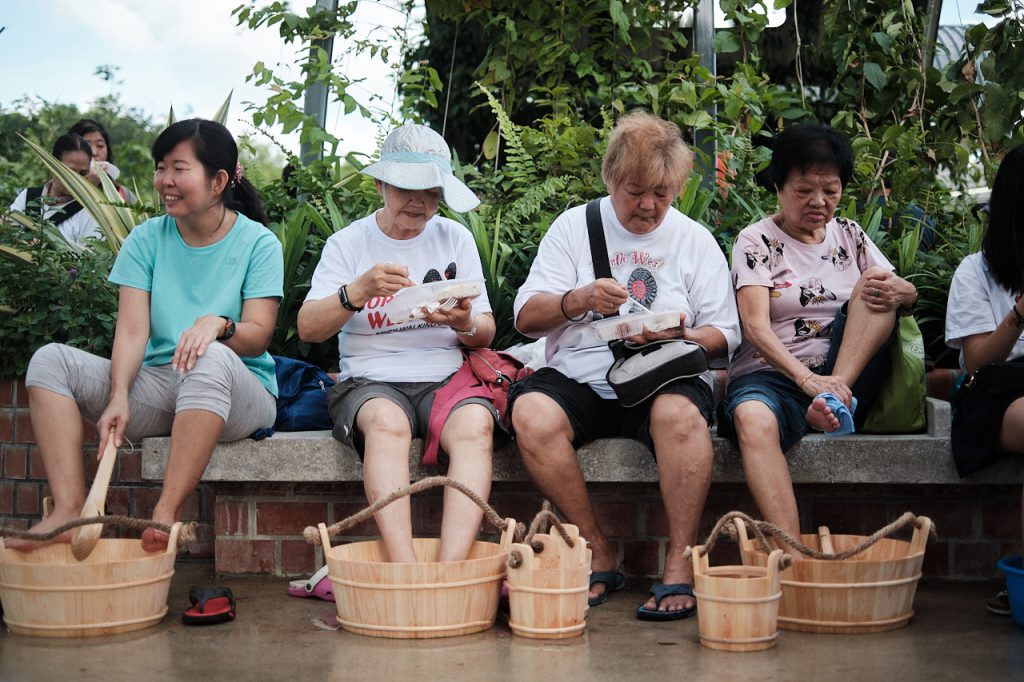 The water from the water collection point is 70 degrees. Unless you are an elderly Japanese uncle who has spent the past decade pruning in some volcanic onsen, this is way too fucking hot. Unless you wish to sous vide your own toes, mix it with cooler water from the pool for a less scalding soak.
You might laugh, but you'd be surprised to see the number of people who made this mistake. Many of them are staring at their too-hot water with the forlorn expressions of Narcissus staring at his own reflection in the pool. From time to time, they dip their toes in the water, only to flinch and jerk away, cursing and complaining.
7. Where Is My Avocado Toast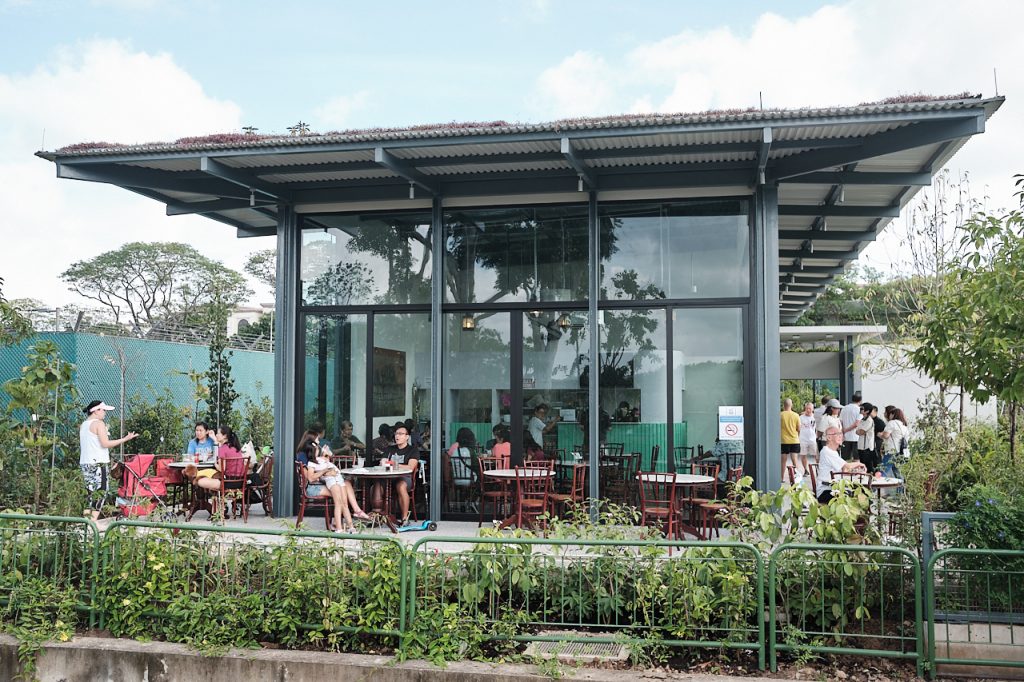 The park's cafe serves Laksa and Kopi, not grain bowls and espressos. If you don't want to pay food court prices, Chong Pang is a 5-minute walk away.
8. Nparks Preparing Kids For A Career In Nparks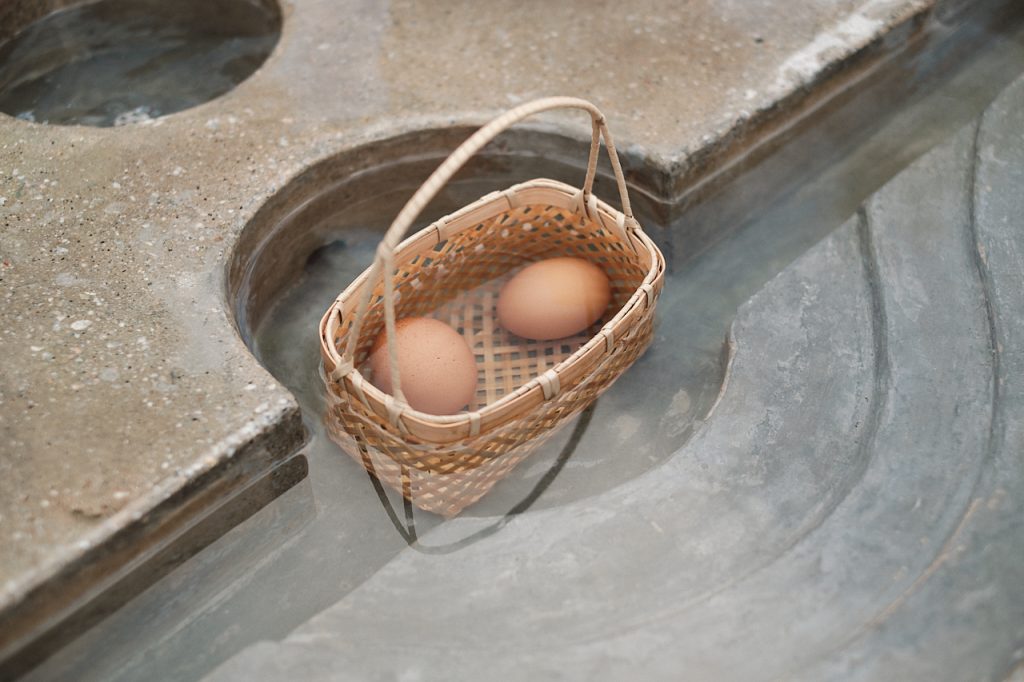 There is even an 'educational' water feature where kids can learn about the underground aquifers which supply Sembawang hot springs. Most of them are too busy playing with water to care about geology. Perhaps Nparks would be better served by a TikTok account. I hear it's all the rage these days.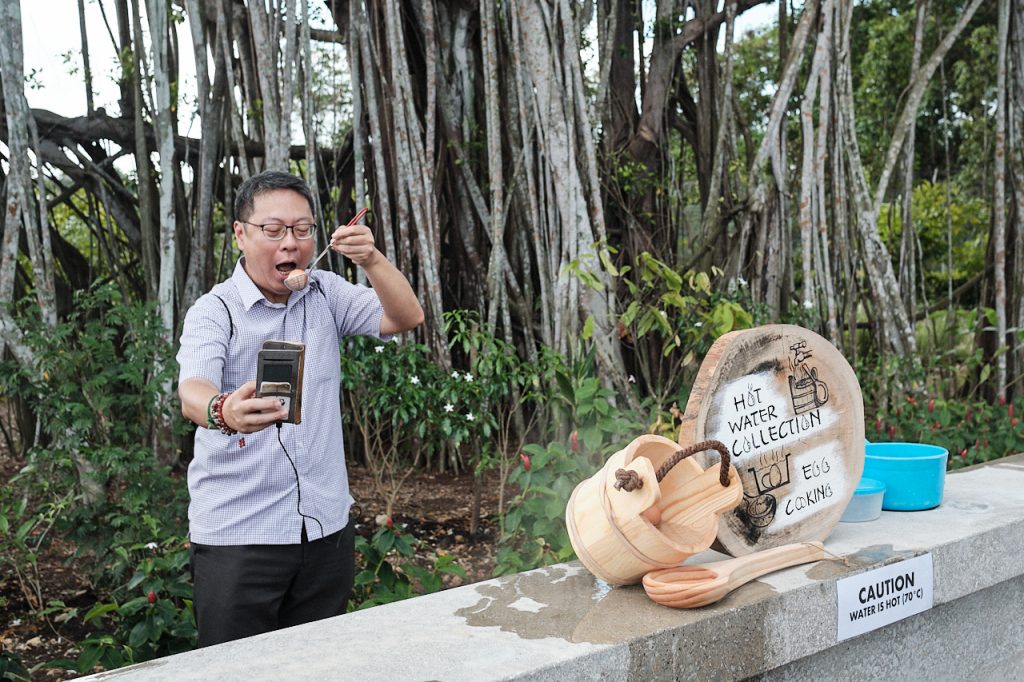 Is Sembawang Hot Spring Park worth a visit? 
Probably not. According to Google Analytics, the average RICE reader is a white-collar millennial between 20-30, with above-average education and below-average income. As such, you are unlikely to visit Yishun for a foot bath. If you do,  you will be bored out ofyour skull within 15 minutes.
That being said, Sembawang Hot Spring Park is lovely. I salute the government's efforts to build and maintain public parks in the most godforsaken corners of our island. The kids and elderly folks seem to be enjoying themselves thoroughly, and I feel  a sense of  'secondhand' pleasure. This is what happens when you approach 'uncle' age.
The only pity was Minister Shanmugam's absence. I thought he would be present because his ward is Chong Pang. All the dumb POFMA squabbles must be keeping him busy.