Photos by Liang Jin Tey; annotations by RICE's photo department.
If COVID-19 has rallied us around anything, it's local F&B businesses. The pandemic has already claimed countless eateries, many of them beloved (RIP, Thaipan and your glorious butter squid). Since the start of the current ban on indoor dining, social media has been abuzz with campaigns aimed at averting further losses.
This said, most of us, myself included, know butt-all about restaurant economics. We cringe if our local bak chor mee stall raises prices, or at shelling out $15 for avocado toast, just because we know what we'd pay for the ingredients at NTUC—but this doesn't account for all the costs that go into making a dish, or how much restaurants can make at the end of the day.
So armed with an empty stomach and a list of questions, I set out to eat my way around Singapore in search of answers. The idea: get F&B owners to break down the costs and challenges of staying in business, using a dish from their menus.
The 4th Gen Zi Char Hawker: Tang Kay Kee
Debbie, the upbeat 4th-gen owner of Tang Kay Kee, perks up when I arrive at her stall around 3:00PM. "I thought you were a customer," she explains.
The business was started by her great grandfather in the 1940s, before moving into fixed premises at Hong Lim Centre. Today, Debbie's great-aunt owns the business, and she and a cousin came on board a few years ago. On top of zi char dishes, they offer a limited lunch menu of items like rice and hor fun bowls.
Ingredients (approx. 27% of gross margins)
Zi char places make most of their profits on dishes like har cheong gai or cereal prawns, compared to 'main' carbs like fried rice. Debbie illustrated this with their popular Mixed Hor Fun lunch bowl: ingredients alone cost the business nearly 50% the menu price ($5). In absolute numbers, there's not much profit to be made.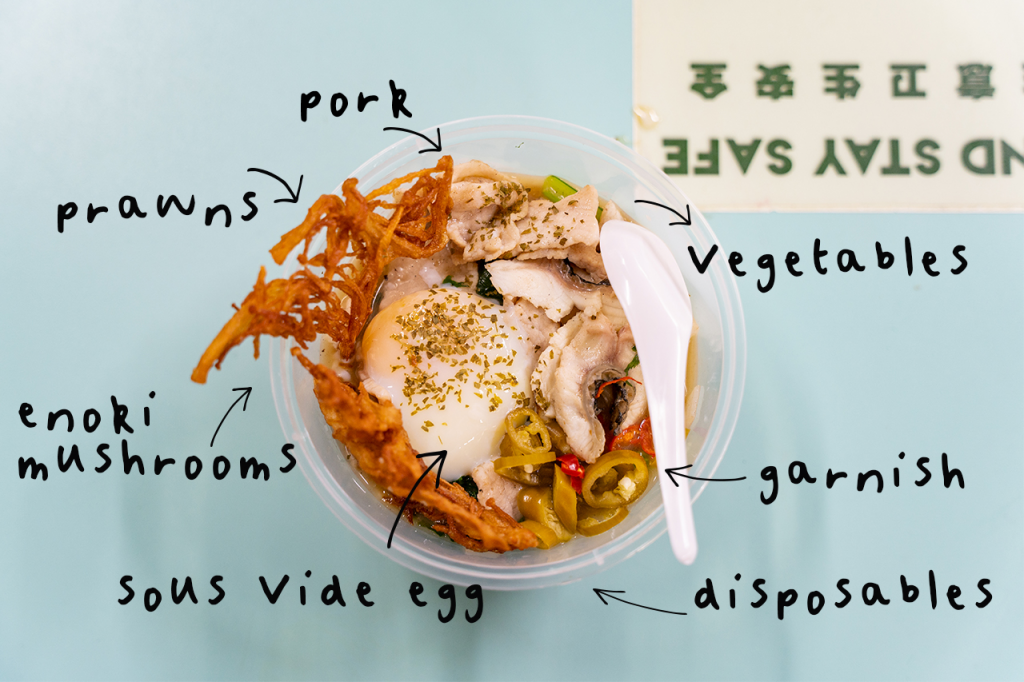 "For lunchtime, people go for 'filler' items like carbs, and my grand-aunt always gives people more because she doesn't want customers to go back hungry," says Debbie. "But per head spending for these is a lot lower than if people get dishes."
Moreover, zi char is usually only ordered at dinnertime— the period of their business which has been worst hit. While they are getting by at lunchtime, thanks to lingering office workers in the area, dinner takings have plunged about 50% without families and large groups coming in.
Overheads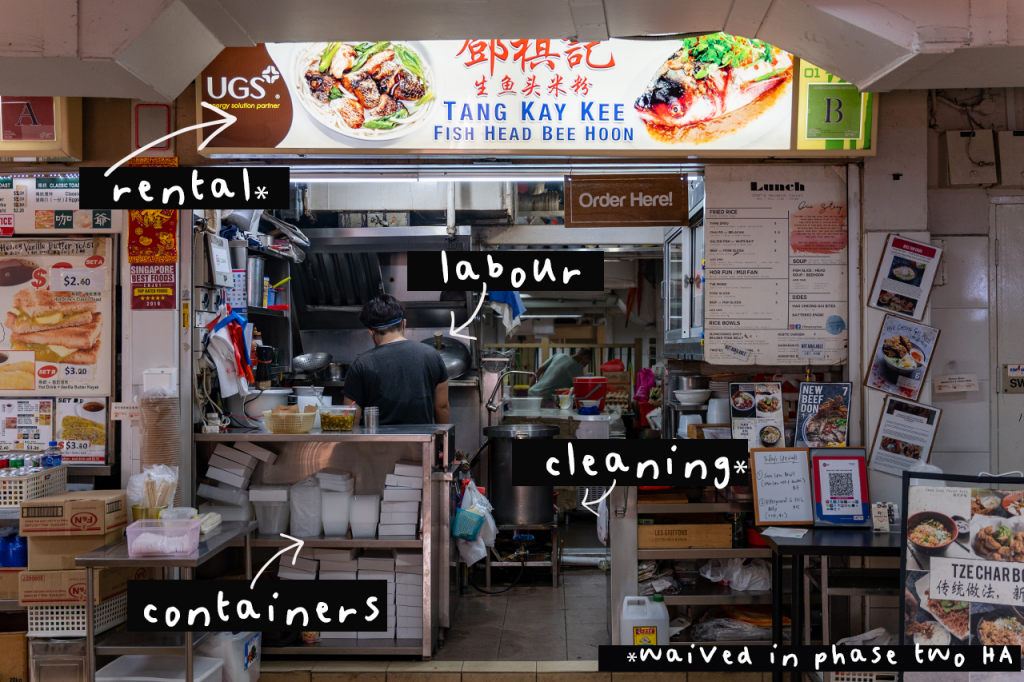 Rent: Approx $2,000 a month for two stalls. Debbie considers them lucky, because this is cheaper than what many surrounding stalls pay: as an older-generation hawker business, their rent is partially subsidised. (As tenants in an NEA-managed hawker business, their rent is currently being waived during Phase 2 (HA)).
Cleaning charges: $800 for two stalls ($400 each). While these have also been waived during Phase 2 (HA), she isn't sure how this will change when the upcoming measures to get diners to clear their own trays at hawker centres take effect. While this would reduce the need for a clearing service, they haven't heard if the charges will be slashed accordingly.
Packaging costs: With the entire F&B industry pivoting to take-aways and deliveries thanks to the pandemic, packaging costs have shot up, pushing their operating costs up as well. Due to a shortage of white cardboard boxes (8-10 cents per piece), they had to start using more plastic takeaway containers (14-17 cents per piece).
This is partially passed on to consumers: they now charge a flat rate of 30 cents for takeaway packaging, including disposables like cutlery, though this is waived for large orders.
"My aunt wasn't happy about this, but I explained that we really don't have a choice," said Debbie. "We just couldn't keep absorbing the costs. Some of our regulars weren't pleased too, especially older customers, but most younger consumers seem to recognise it's necessary."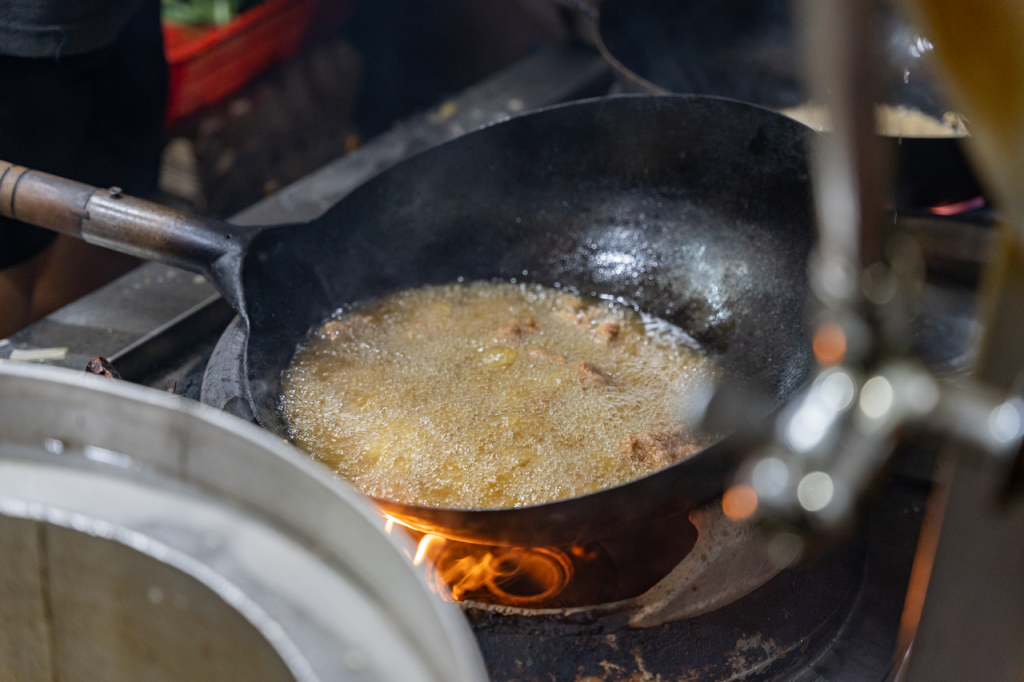 Given how rare young hawkers are, I'm curious as to why Debbie joined the business, especially after she shares her hours: 8:30am to 10:00pm most days, although she has breaks in between. The punishing schedule means late nights out and impromptu meals with friends are rarely possible.
She shrugged. "I'm with my family, so there's a stronger incentive for me to keep doing this. My grand-aunt has been doing this for a long time, and she keeps us all grounded."
Nonetheless, she knows exactly how hard it is to find staff, having struggled with hiring challenges even before Phase 2. NEA-managed hawker stalls like hers are only allowed to hire Singaporeans and PRs—but given the pay, unsociable hours, and perceived lack of prestige, few locals want the gig.
"I think this is why a lot of hawkers, especially elderly couples, just do what they can and close up when they're done for the day," she surmised. "If they had higher labour costs, this would drive up the price of their food, and I don't think Singaporeans are willing to pay more just yet."
The Small Dessert Shop: Merely Ice Cream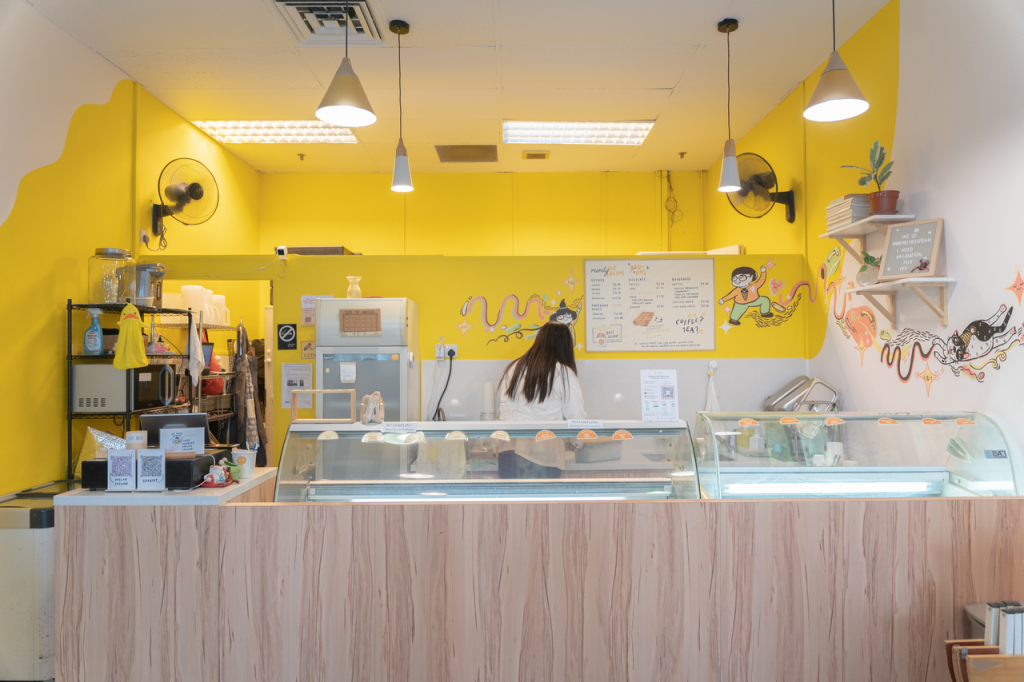 Things were grim at Merely Ice Cream, a small-batch ice cream shop with two branches.
"I don't see an endgame any time soon," says Ying Wai, the owner, as we chat by the glass shopfront of his Sunshine Plaza outlet. Since the start of Phase 2 (HA), takings here have plunged around 70-80%, while their Tampines outlet has fallen 60-70%. Of the three places I interviewed for this story, they've taken the worst hit.
Being in the middle of the museum and university district, the branch used to attract significant footfall from office workers, students, and—pre-pandemic—tourists. Today, I'm the sole customer in the store, and the only people outside are delivery riders walking past.
Ingredients (approx. 27% of gross margins)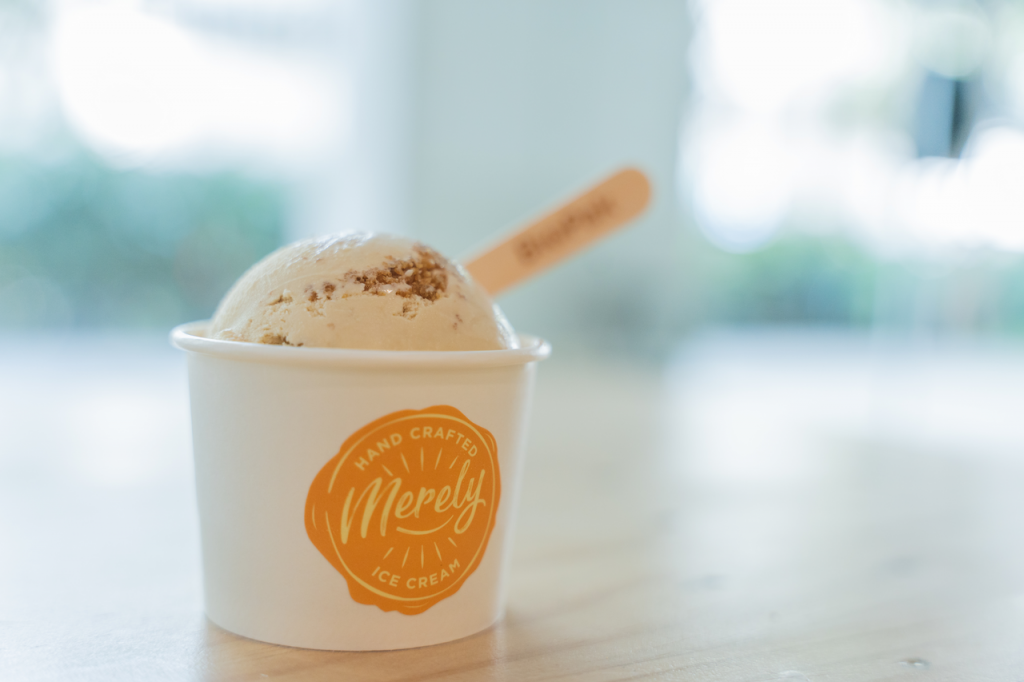 If there's a silver lining in all this, it's that ice cream is a relatively flexible product. Production can be adjusted depending on demand, and sudden changes don't result in the same amount of scrambling as highly perishable cooked food, like cai fan.
"Although walk-in demand was hit badly, most of our ingredients have a longer shelf life of a few weeks to a few months, so there's less wastage and you don't have to throw everything out at the end of the day," said Ying Wai.
To adjust to the falling demand, they've consolidated their supply orders for the two outlets. Still, I can't help but wince as he shares some numbers: where they used to order 8-10kg of pasteurized egg yolks per outlet per week, they're now getting by on 2-4kg.
Overheads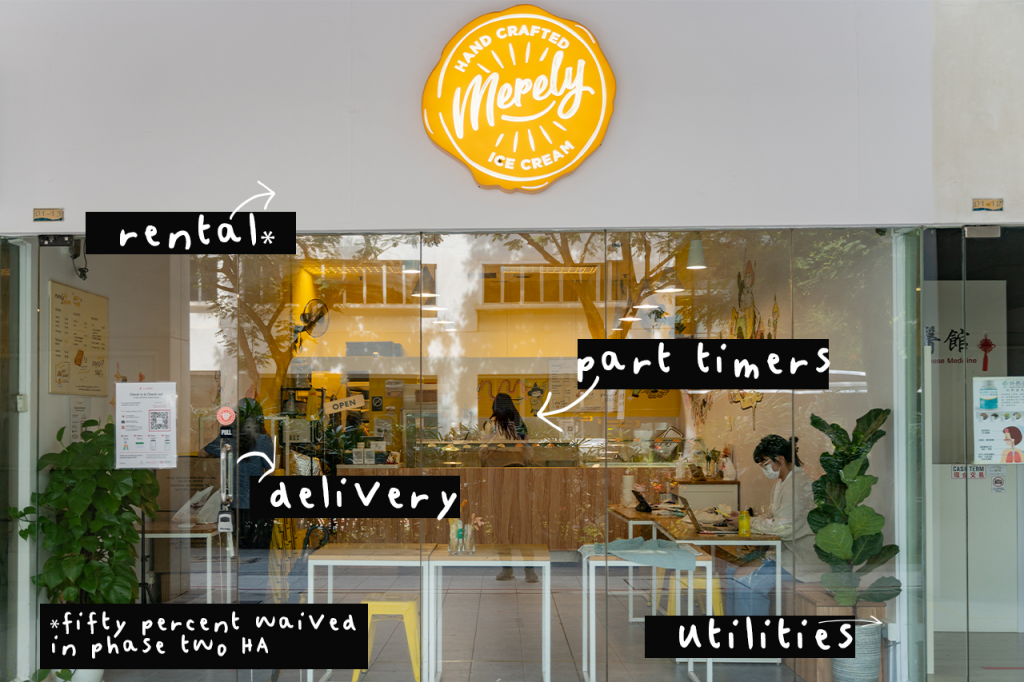 Rent: Approx $6,000 per month for a ground floor, street-facing unit in Sunshine Plaza, a strata mall. Due to the prime location, this is on the high side for the area.
(Financial assistance measures for Phase 2 (HA) were announced shortly after our interview. Ying Wai is still working out how the business will benefit from these, but expects to receive rebates of 50% and 100% for the Sunshine Plaza and Tampines outlets respectively.)
Labour: While they've benefitted from the Jobs Support Scheme, this has been limited by a snag: the rebate only applies to full-time employees, and the bulk of his staff are part-timers. (PT staff earn about $7.50-$8.50 an hour, depending on shift, experience, and commitment.)
"I feel really bad not being able to give them shifts, because many of them are students paying living expenses and so on," said Ying Wai. "I'd been planning to expand the team before Phase 2 kicked in, but that's on pause because there's simply no work."
Delivery: Both outlets are on Grab and Deliveroo, for which they pay around 30% commission. They also take in-house orders via their website, sent out via Lalamove (flat delivery fee of $12, waived for orders above $45).
While Ying Wai finds the app charges bearable, on the basis that they get marketing and exposure on top of delivery services, the clear preference is for in-house orders. Orders tend to be larger, and even if they waive the delivery charge as an incentive, "all in, it's still cheaper than using Grab or Deliveroo."
To my surprise, he explains that despite the push to #supportlocal, delivery demand has actually fallen compared to last year.
Since the start of the pandemic, the whole food delivery business has become more competitive. Operators—including home-based businesses— have proliferated, and everyone is competing for a slice of the pie. Moreover, the 'gifting novelty' of circuit breaker, which was enough to tide them through last year's closure, has worn off.
"Last year, people couldn't see each other at all, so the volume of gifts was much higher. People would send ice-cream to their friends, boyfriends, as Mother's Day gifts, and so on," he explained. "That's dropped off now."
The Institution: Warong Nasi Pariaman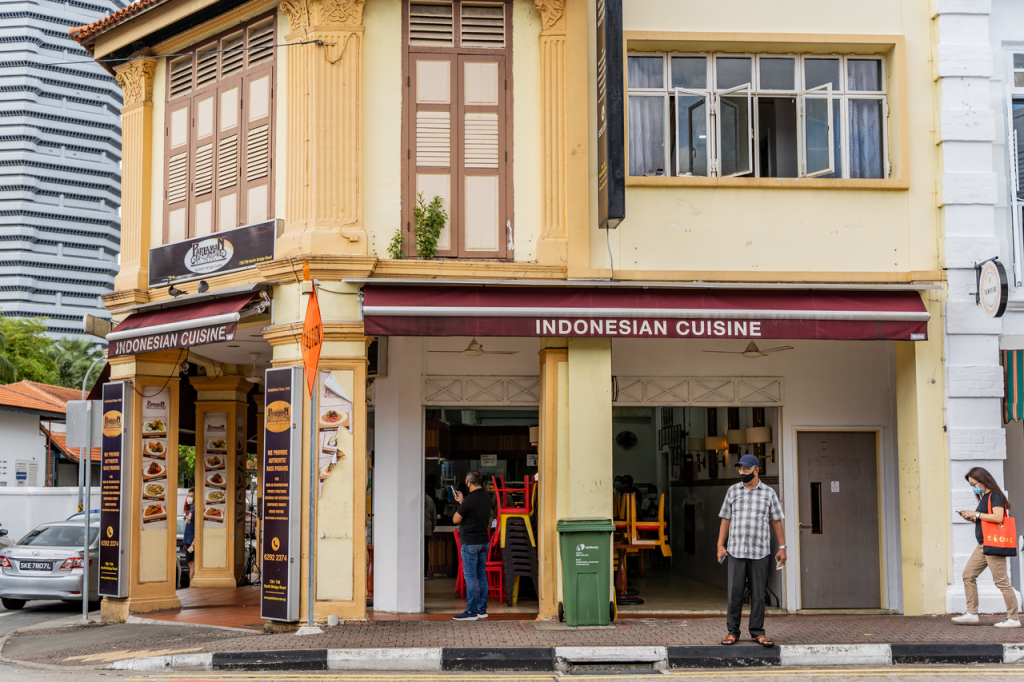 For my last stop, I wanted to look at something different: an established restaurant with a decades-long history and a loyal customer base.
Warong Nasi Pariaman, located a stone's throw from the Sultan Mosque in Kampong Glam, is said to be the oldest nasi padang restaurant in Singapore. The business is currently helmed by Mr Jumrin and his family, whose father set up the restaurant in 1948.
Ingredients (% of gross margins: …it's complicated.)
Despite his gentle, fatherly air, Mr Jumrin looks exasperated— as far as I can tell behind his mask, anyway — when I ask if he can break down a standard nasi padang order.
He gestures to the bento box in front of us. "Sophie, look at this. Got so much. How to break down like that?"
Looking at the tray, I concede he has a point. The mix must contain at least 20-30 ingredients — and there are at least another dozen dishes at the counter downstairs.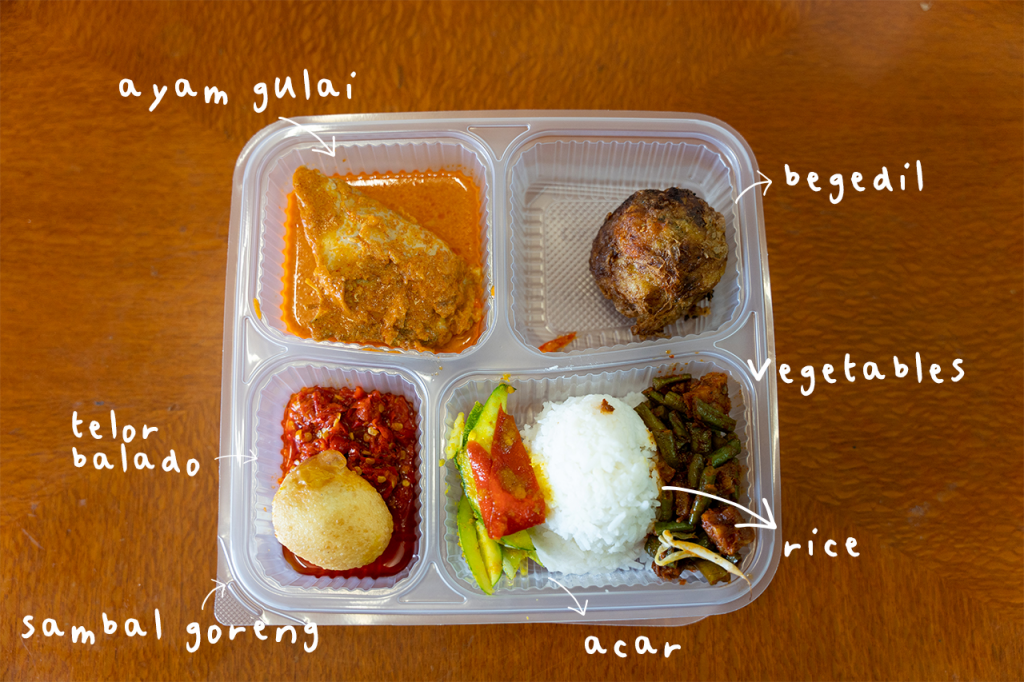 What he can tell me, at least, is that the cost of ingredients has skyrocketed over the years. Mr Jumrin still goes to Tekka Market early in the morning to get some groceries, and where $400 or $500 would cover this in the past, he now forks out as much as $1,000. They manage the volatility of market prices by relying on suppliers, some of whom they've worked with for years.
Although he says they're not doing too badly in Phase 2 (HA), business has still suffered from the various restrictions.
Extras like drinks and rice top-ups are where they make the highest margins, but those have vanished with the loss of dine-in customers. During Ramadan, bulk orders for iftar also fell, and they no longer benefit from walk-in customers stopping in after prayers at the Sultan Mosque.
"Normally, that mosque has a capacity of 5,000," says Mr. Jumrin. "Now, it's more like 50 or 150."
Overheads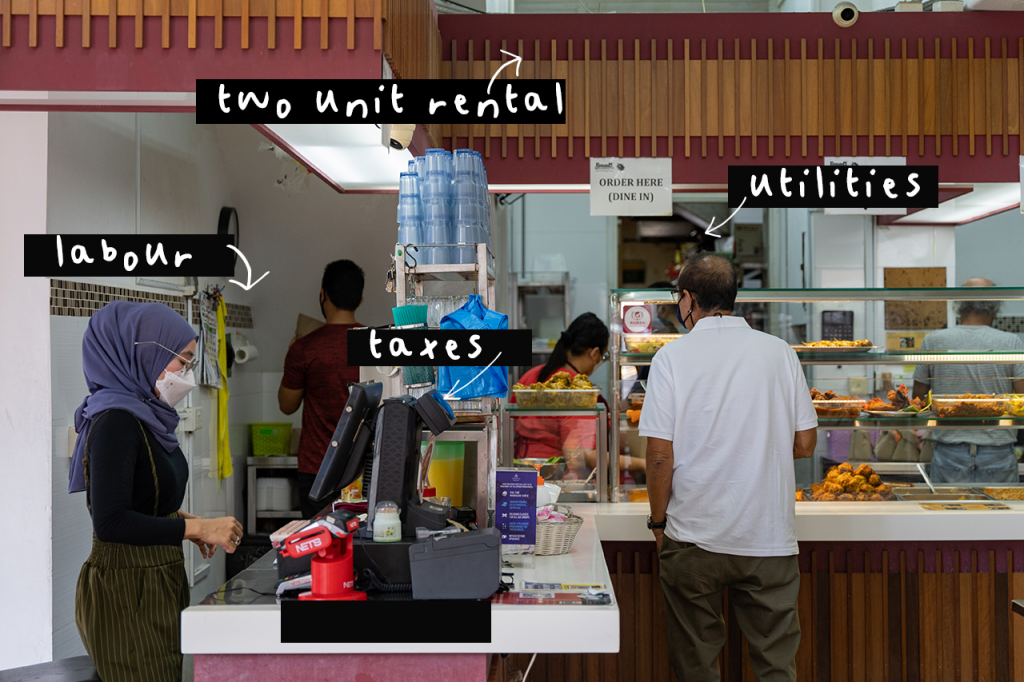 Rent: Although he declines to share the exact amount on the record, the business pays a sizeable five-figure sum for two units. (While they used to allow dine-in customers on both floors, the upper storey has been closed for the last year.)
Labour: Costs here have grown, albeit not due to the pandemic. The business employs a handful of work permit holders, and the local qualifying salary—ie. the minimum amount that a local worker must receive in order for the business to be allowed to hire foreigners— has been increasing. (It is now $1,400, up from $1,200 previously.)
"So for example, for five local workers, that's an extra $1,000 a month. Small things like that, but they add up."
Other costs: The business budgets for tax duties in their cash flow, on top of regular utilities like electricity, water, insurance, packaging, and delivery costs.
Throughout our interview, Mr Jumrin keeps stressing that making ends meet is enough. His priority each month is just to break even with no debts, and ensure that all the staff are paid. Nonetheless, the sustainability of the business is a growing concern.
"Frankly, if you ask whether we still can make money, yes," he says. "But margins are very, very small compared to my father's time."
" I'm here because I've been here for 30 years and I am committed to it. Older generations like me, we just keep going. It's just the way things are now, but young people don't want to start a traditional business like this. So what to do?"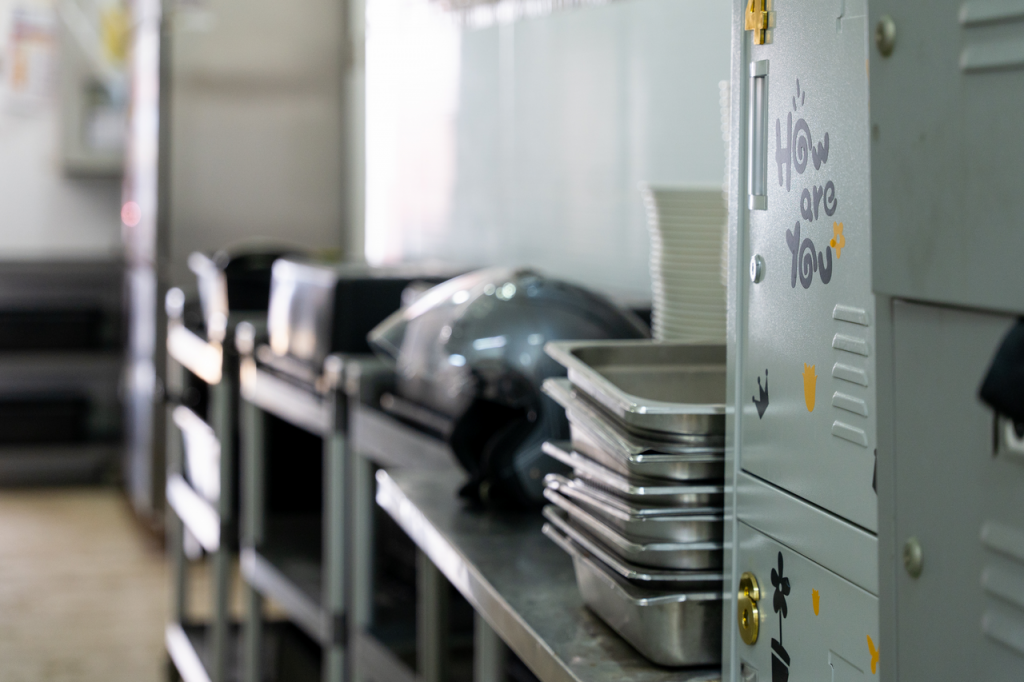 By the end of my eating tour, I was stuffed, sweaty, and fighting a losing battle against my food coma. (Digestion: 1. Deadline panic: 0).
Even with the urge to nap, however, one thing was clear: while the loss of dine-in customers has blown a hole in business' balance sheets, many of the underlying challenges also preceded the pandemic.
In fairness, it's no secret that F&B has always been one of the hardest industries to make a buck in, but COVID-19 has made it painfully clear how these businesses are vulnerable to forces beyond their control.
While margins on ingredients are generally good, prices are volatile to supply shocks like trade disruption and climate disasters. After that, overheads like rent and labour gobble up most of what's left. While all three places I spoke to have raised their prices over the years, this is barely keeping pace with costs.
Moreover, even after COVID-19 recedes, issues like labour shortages, business sustainability, and the difficulty of changing customers' mindsets will persist. There's no clear way of solving any of these. If, like a vaccine, a pill could be developed to cure the delusion that hawker prices can stay fixed for all eternity, I'm sure Debbie would love to hear about it.
So even if it's really sticking a band-aid on the problem: #supportlocal. Buy from your favourite places (and get a takeaway or their in-house delivery, if you can). Suck up that extra packaging charge, or bring your own containers.
It's the least we can do.
Note: This story was amended on 8 June to reflect that Tang Kay Kee pays around $2,000 per month in rent, not $1,000 as previously stated. We apologise for the error.
Tell us what you thought of this story at community@ricemedia.co. And if you haven't already, follow RICE on Instagram, Spotify, Facebook, and Telegram.