Top image credit: Nathaniel Yeo/Unsplash
As the circuit breaker drags on, I've been getting more and more worried that it's making me dumber.
It wasn't supposed to be like this. The start of the CB was an optimistic time, marked by wholesome visions of 'catching up on reading'. After all, what better time than eight weeks of confinement to start on War and Peace?
Delusion, thy name is Sophie. 
Between the ball-and-chain that is WFH and the nonstop despair of the current news cycle, I've barely been reading at all. In fact, for anything non-work-related, my media diet now has the nutritional value of a KFC Double Down meal. 
Give me the Lip Sync Battle reruns. Give me the 'if you can get 15/20 on this Harry Potter quiz, yer a WIZARD' quizzes. At one point, I found myself watching an episode of Too Hot to Handle. There's a real chance that I will emerge from my bedroom on June 1st with the brain function of an amoeba.
To balance this out, I've been trying to consume slightly more enriching material, starting with these audiobooks on Storytel. Now that libraries and bookstores are closed and shipping times are uncertain, their catalogue has provided welcome (and easily accessible) relief.
None of these are The Wealth of Nations, but they are illuminating, informative, and importantly, entertaining. No one wants to die from boredom on top of brain rot.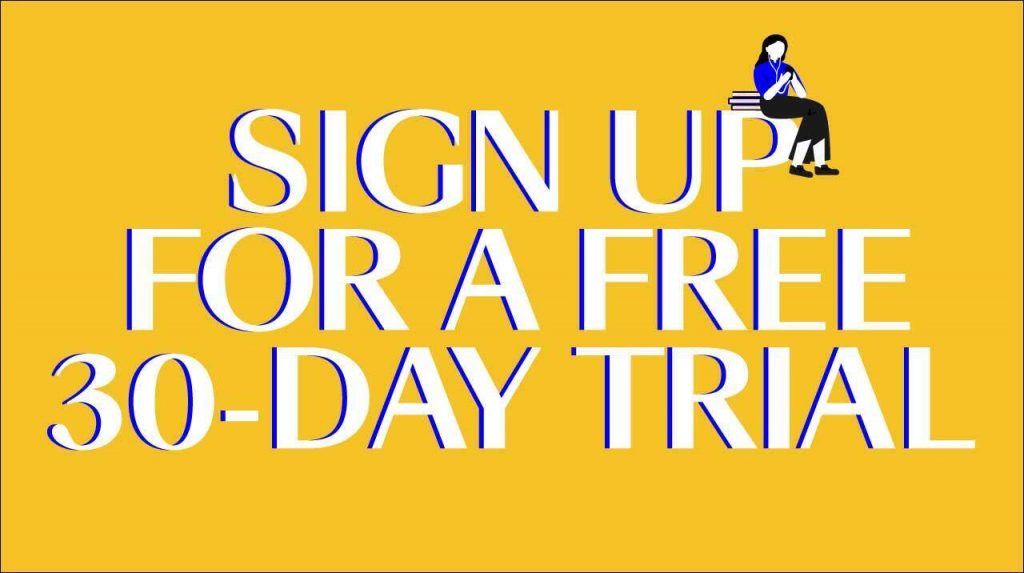 No Filter: The Inside Story of Instagram (also available in ebook format)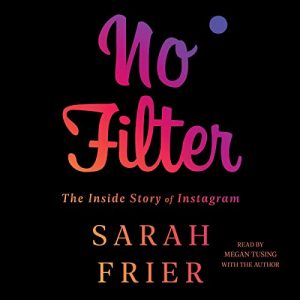 This new release (it came out only in mid-April) reads like several things: a fly-on-the-wall peek into Silicon Valley, a commentary on the rise of social media, and a character assasination of Mark Zuckerberg.
I'm not a fan of 'business biographies' generally, but No Filter is a fascinating study into how Instagram became a cultural and economic juggernaut. We see how initial ideals about aesthetic curation (ie. sharing pretty photos) slowly evolved into a more ruthless, rewards-driven system of likes and shares, following the company's takeover by Facebook in 2012.
There's plenty going on, between the corporate drama, clashing visions, and how Instagram's own preference for less in-your-face ads helped create the influencer economy. However, what makes No Filter especially riveting are its human details. If anything, it's a study of how products reflect the personalities of their makers.
Kevin Systrom, one of Instagram's founders, is an ex-barista who experimented with leather-crafting in Italy and proclaims that 'Instagram is not for half-eaten sandwiches". Zuckerberg is a Bay Area hacker/Machiavelli, who serves Systrom an unidentified animal he's killed and cooked himself at a barbeque to discuss the terms of the acquisition. There is a supporting cast of bankers, lawyers, regulators, and cameos from other tech legends like Jack Dorsey.
In sum: has the delicious pleasure of lunchtime gossip while being meticulously researched. Would have a listen to this over The Social Network any day.
The Courage to Be Happy: True Contentment is Within Your Power (also available in ebook format)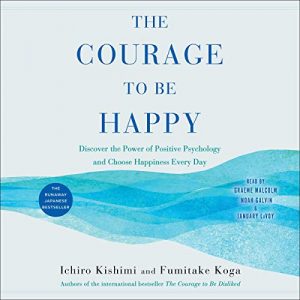 I know, I know: the title sounds like the marketing copy for an Adam Khoo workshop. Whoever came up with it should be fired for making me want to scroll right past to Harry Potter. And what do self-help books have to do with reversing brain rot, anyway?
However, as many wiser people than I have pointed out, remaining a semi-functional human being might be all we need to aim for at this time. In other words, don't worry about using lockdown to get smarter; just try and stay sane. And in this, The Courage to Be Happy is instructive.
The book takes the unusual form of a Socratic dialogue between a 'student' and an unnamed philosopher. Its ideas, based on the theories of the Viennese psychiatrist Arthur Adler, are presented as a question-and-answer exchange between the two. 
In other words, my howls of 'magical thinking' were made for me and earnestly debated in the spirit of philosophical inquiry. On this basis alone, it's much better than most 'personal development' books out there, which trumpet 'positive thinking' as though it's a panacea for all of life's problems without acknowledging self-help's credibility issues.
I'm still not fully sold on Adlerian psychology, but the book raises a lot of interesting points about the benefits of searching for solutions (beyond being fixated on problems), and how open, communicative relationships help support democracy. Which is to say: it made me think. 
Midnight in Chernobyl: The Untold Story of the World's Greatest Nuclear Disaster (also available in ebook format)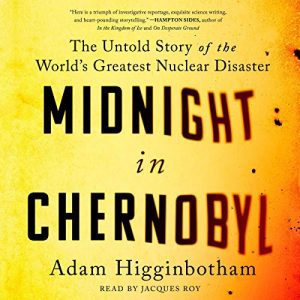 I didn't watch the HBO miniseries last year, so I was eager to start on this acclaimed account of the Chernobyl disaster. It didn't disappoint.
At nearly 14 hours, Midnight in Chernobyl is a marathon listen, but worth every minute. Its author, Adam Higginbotham, has reconstructed the Chernobyl disaster in extraordinary detail, pieced together from extensive interviews as well as declassified archive material.
The result is so richly themed that it's hard to classify. There's history: how the accident shattered the USSR's reputation and accelerated its fall. There's politics: how the Soviet state's ego issues contributed to a culture of number-fudging, secrecy, and denial.
There's science: there are chilling passages explaining gamma rays ("[which] pass straight through a human being … like microscopic bullets"), as well as the problematic engineering which contributed to the explosion. And there are many eerily resonant themes, from 'fake news' and misinformation to the dangers of groupthink.
But at its heart, Midnight in Chernobyl is a damn good story. At the outset, we meet Viktor Brukhanov, the plant's manager, when he is still a fresh-eyed university grad, and watch his transformation into a resigned lackey, at once both villain and victim. We watch as the Politburo—all too eager to claim credit for the plant's initial success—panics, realises its damage-control propaganda isn't working, then throws the engineers under the bus. It's not exactly a mood-lifter, but it's perfect for losing yourself in.
Bad Blood: Secrets & Lies in a Silicon Valley Startup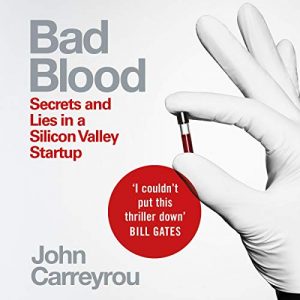 More Silicon Valley drama! 
By now, you've probably heard of the downfall of Theranos, hailed as one of the OG unicorn startups, and helmed by Elizabeth Holmes, a charismatic-but-possibly-psychotic Stanford grad. Everything was great, until it turned out that the company was a scam on par with the Fyre festival. (Fun fact: Holmes did an internship at Singapore's Genome Institute in 2003, which was one of her inspirations in starting Theranos.)
Bad Blood, much like She Said (about the New York Times' investigation into the Harvey Weinstein assault allegations), is part of a trend of converting the biggest stories in investigative journalism into bestsellers. The result is a 2-for-1 deal: the claims are expounded on in cinematic detail, while readers also get a behind-the-scenes look into how the story was researched and reported. 
Personally, some of Bad Blood's most gripping passages had to do with these insights. As the journalist who ran the original expose, Carreyou drills deep into the challenges of securing sources, as well as attempts to derail his work and standoffs with lawyers hired to sink the story. (All this culminates in—surprise!— Rupert Murdoch recognising a losing battle and abandoning Holmes to her fate.)
This said, even without the meta-commentary, Theranos' story is compelling on two levels: for the sheer audacity of the lies which propped it up, and the willingness of people—including C-suite execs, Secretaries of State, and other formidably educated types— to believe them. 
It made me recall the saying: the bigger the lie, the more people will believe it. Unfortunately, Bad Blood suggests there's some truth to this.
Fashionopolis: The Price of Fast Fashion and the Future of Clothes (also available in ebook format)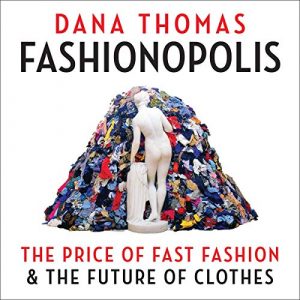 For a book about clothes, Fashionopolis is a very angry read. It simmers right from the epigraph, a quote from Much Ado About Nothing ("but seest thou not/what a deformed thief this fashion is?") and steadily boils over, as its author lays out the environmental and labour abuses of the fast-fashion industry.
It's a long list, and one which has uncomfortable resonance, given how Covid-19 is currently tearing through the garment industry, with low-wage labourers in countries like Bangladesh and Cambodia amongst the hardest hit. 
In the first few chapters, Thomas lays into the sweatshop-like conditions found at many factories, even in her native America. Then there's the ecological fallout: citing the World Bank, she points out how the fashion industry contributes to around 20% of industrial water pollution annually, and 10% of carbon emissions. Neither is revelatory, but Thomas takes pains to explain how and why everything is connected.
Fashionopolis' ire is mostly directed at the industry, rather than consumers like you and I who are complicit in keeping it going. For us, her suggestions are simple: buy less, and buy more responsibly. It's also not all doom-and-gloom; the third part of the book is devoted to exploring alternatives like 'slow fashion'.
This is one thing I wish Thomas explored further: beyond 'buy less', what options exist for people who can't afford to shell out $70 for an organic cotton, sustainably made t-shirt? There are rental services, but those don't exactly come cheap, and thrift shops haven't really gained traction in Singapore yet. 
Still, if you, like me, have been finding it harder and harder to ignore the twinges of your conscience when buying impossibly cheap $40 jeans, this book is worth a listen. At the end of the day, its message is simple: our choices matter. Whether you buy Chloe or Cotton On, that's a takeaway which is built to last.
So there we go: five audiobooks to hit your brain like a double-shot espresso after weeks of decaf. 
Did I feel smarter after finishing them? Not exactly (though if all you want is to feel smart, you could just read some of Donald Trump's tweets). Did I swear off trashy TV forever? Also no. 
But I enjoyed myself, learnt a thing or two about tech sociopaths, and even came away with a couple of points to chew on. The great irony of reading is that the more you learn, the less you realise you know. And in these strange and turbulent times, it's more than okay to feel a little stupid.
All the books featured are available as audiobooks on Storytel, a subscription-based platform. RICE readers get a 30-day free trial, so download their app to get started, and check out over 200,000 titles they have available for streaming or download.
Is your brain still working? Let us know at community@ricemedia.co.