Photography by Ilyas Sholihyn
It might have felt like eons ago (blame the time-warping tendencies of 2020), but it's only been about a year since the Great Pandemic Panic-Buying.
Folks hoarded foodstuffs like instant noodles, rice, canned meat, soy sauce, bottled water and other long-lasting items that could be prime currency in the post-apocalypse. For those who were yet to be convinced by bidet sprayers, forests' worth of toilet paper piled high in their shopping carts.
Yet their fears were well-grounded—after all, Singapore does import over 90 per cent of the food consumed here. Nearly everything we eat has been flown or shipped to our shores and onto our plates.
As slim as the risk of food running out, Singapore is aiming to ramp up production of the food we consume—mainly eggs, leafy vegetables and fish. If all goes well, we'll all enjoy way more bounties of our land within the next decade when we've reached our goal of producing 30 percent of our nutritional needs locally by 2030.
It's not that far fetched either, considering millions of dollars are being pumped in to take traditional farming (which requires massive plots of land that Singapore can't practically allocate) to the echelons of advanced tech for maximal output.
So how easy would it be for one to survive on just homegrown produce in Singapore? It's an issue that deserves thorough investigation by way of living it for two weeks to give this 'eat local' business (Xtreme edition) a fair shake, though it required some caveats:
– Everything eaten has to be locally grown and produced. That cancelled out a lot of foodstuffs and/or processed goods—I wasn't able to eat rice, bread, potatoes or anything else that isn't grown within the country's boundaries.
– This challenge only applied to food.
– Seasoning doesn't count. What? I'm not that masochistic; leave me my dignity and right to salt and pepper like everyone else.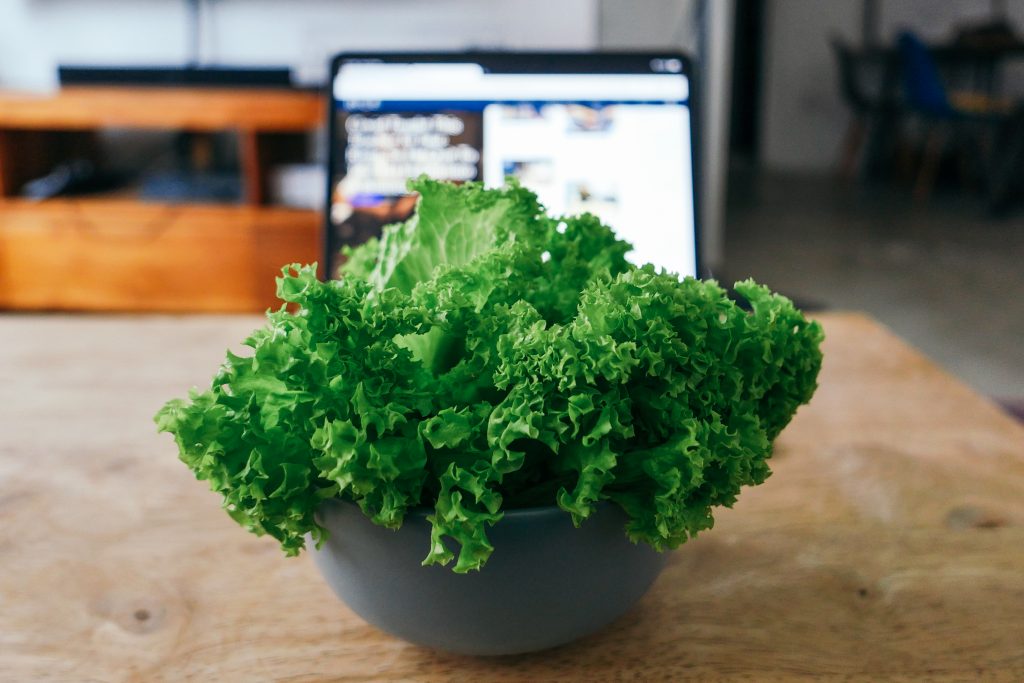 "That's your lunch??" a colleague gasped, expecting me to whip out something more substantial than just leaves of lettuce from a plastic bag.
The first day of eating only local kicked off swimmingly—if swimmingly meant spending your team lunch session with just homegrown greens from the supermarket while everyone else had chicken rice, cai png and other food from Amoy Street Food Centre.
As one would imagine, it's not easy finding dishes with locally-sourced produce from hawker centres, even one as massive as Amoy. My attempts to ascertain the origins of ingredients elicited raised eyebrows from multiple hawkers, or in the case of one gentleman waiting in line, a polite request for me to "shut up lah" and "siam". In that order.
Those that did know where their supplies came from would often cite Malaysia, Taiwan and China as their ingredients' countries of origin, which is unsurprising. A bit of a bummer to realise that, really, because that doesn't leave people much of a choice when wanting to buy and eat local. Which warps the semantics of "local food" a little, no?
So where does one acquire meals on this highly-niche diet then? Neighbourhood supermarkets are thankfully stocked (but not that much) with local produce. I didn't have much time to peruse or cook today, so raw homegrown lettuce it was for lunch and dinner, courtesy of NTUC FairPrice.
I'll be honest, it sucked. But at least I only spent about $2.60 for an entire day's sustenance.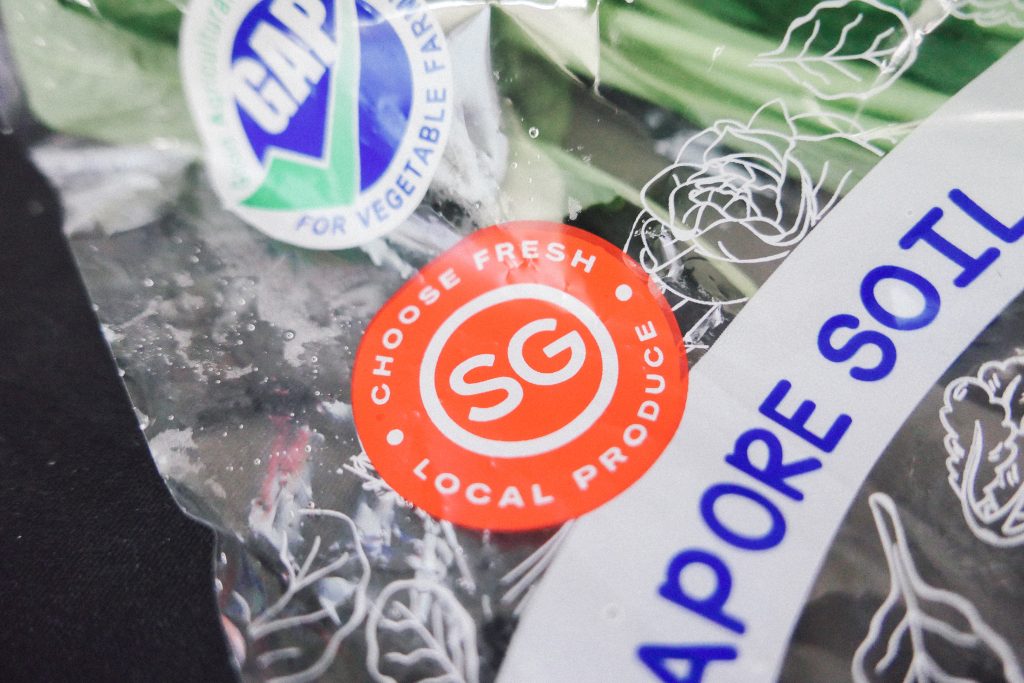 Trips to the supermarket—a gleeful undertaking upon reaching adulthood, it seems—hit differently once you start paying attention to the origins of the items. No longer can you toss the usual groceries in the shopping basket, because you're looking at more than just the price points on labels this time. You learn to look for "Country of Origin". You learn to pick out words like "distributed", "manufactured", and "imported".
Here's another fact: it's not that tough to find legit produced-in-Singapore food in local supermarkets. To help people identify produce grown and cultivated on our shores, our local farm uses the SG Fresh Produce logo on their packaging. It's striking enough with that bright red colour and "SG" in big fonts.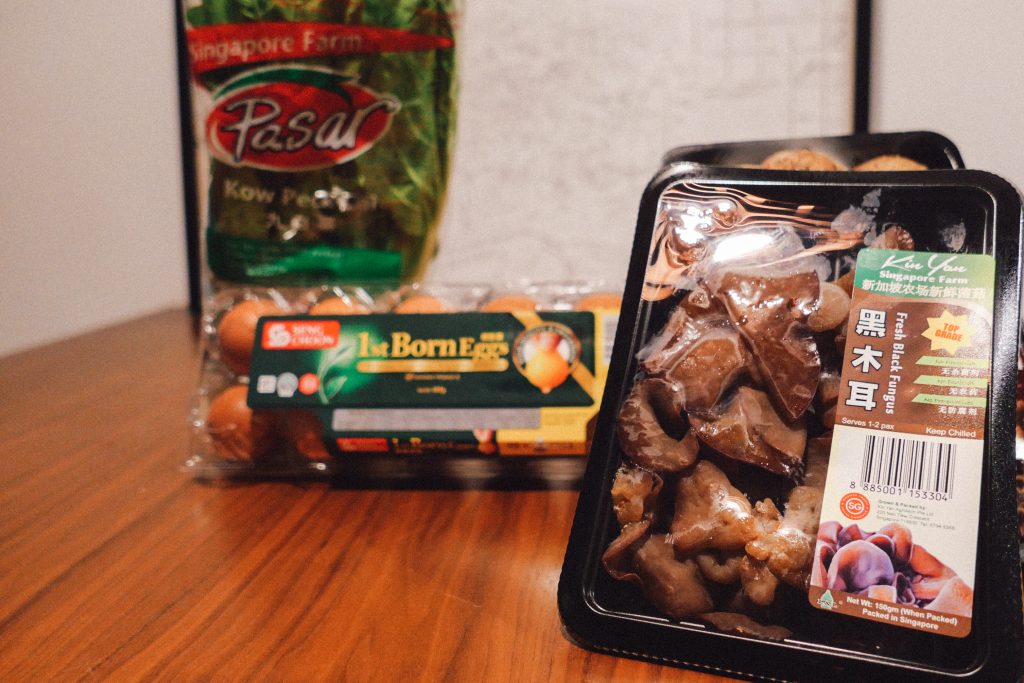 I managed to find some thicc fungus from local mushroom growers Kin Yan Agrotech, while the egg rack was positively abundant with multiple Seng Choon Farm variants. There's some sort of leafy green called Kow Peck Cai (it's a type of cabbage, apparently) from Kok Fah Technology Farm as well.
Alas, no meat went into my shopping basket because there's no homegrown chicken or beef available. Which is okay, I suppose, but man's gotta have some meat sooner or later (apologies to plant eaters).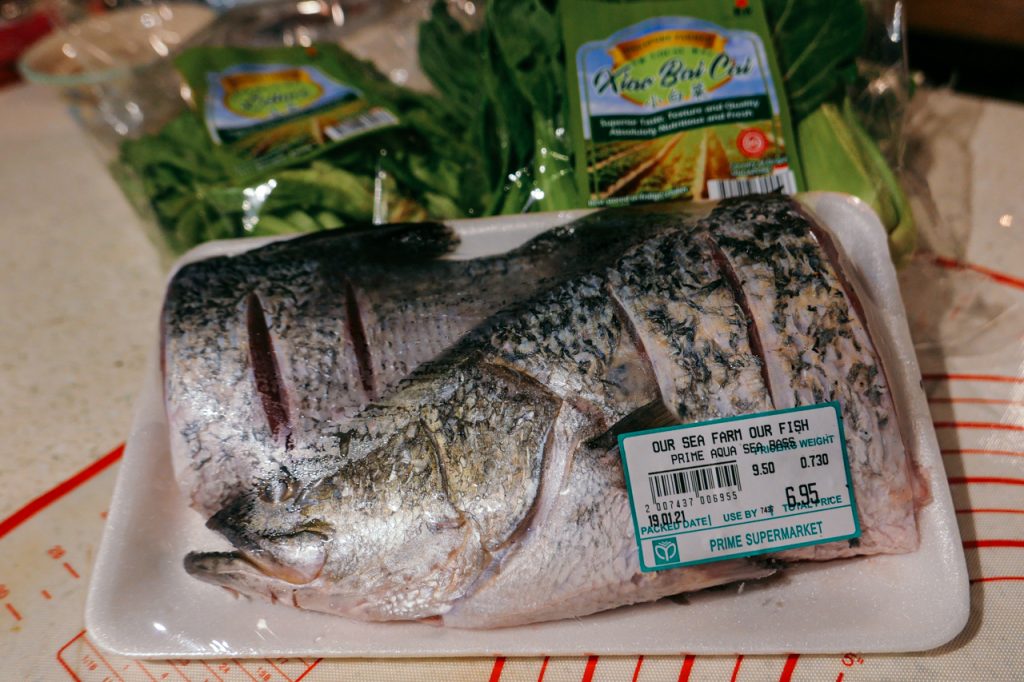 So how fresh do you like your fish? Unless you're inclined to master a fishing rod, the next best option would be eating fish raised and harvested from a local farm, flash-frozen, and delivered to supermarkets within hours to ensure freshness.
I lucked out—the Prime supermarket near my Buangkok home is pretty in tune with the whole support homegrown thing. They've got all the 'Support Homegrown' signs and stuff for easy picking of locally-farmed leafy vegetables to last the rest of the week.
As it turns out, Prime has a sister company called Prime Aqua Sea Farm that delivers fish on the same day they were harvested.
I settled on a pretty massive sea bass that was already scaled, cut and packaged for less than $10. Who says eating local is an expensive endeavour?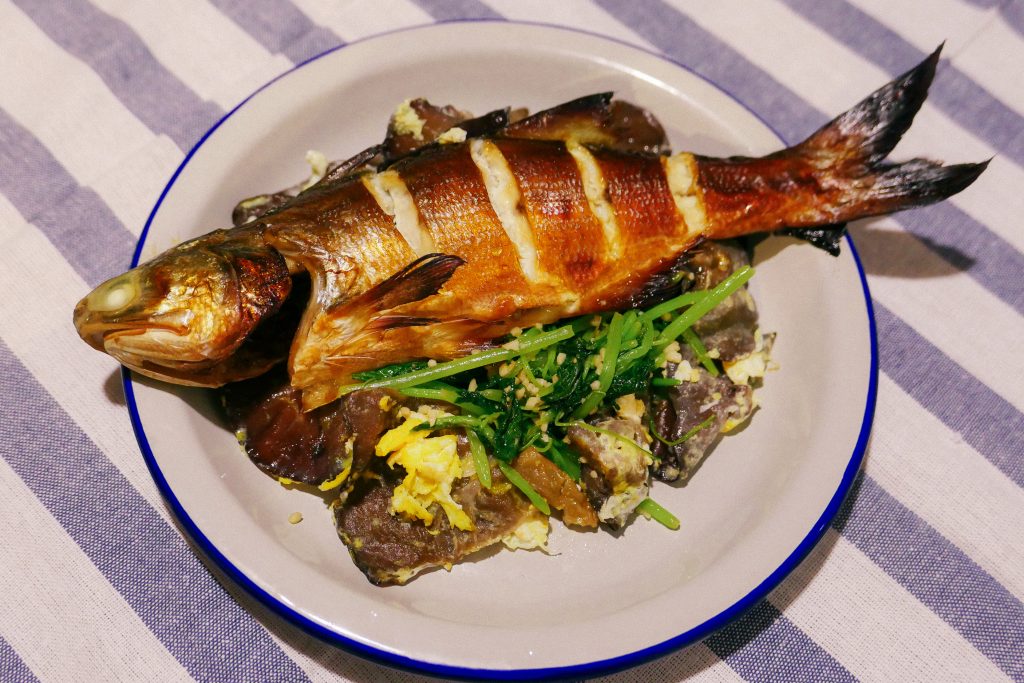 Got another piece of fish! It's a locally-harvested threadfin this time round, which I marinated in teriyaki sauce and roasted in the oven. The end result is one of the juiciest, softest, and creamiest fish fillets I've had in a while. This was perched on top of seared fresh black fungus and sauteed round spinach, infused with corn-soya eggs. Basically stir-fried lah.
Freshness does make a whole lot of difference in quality. Might turn pescatarian after all this is done.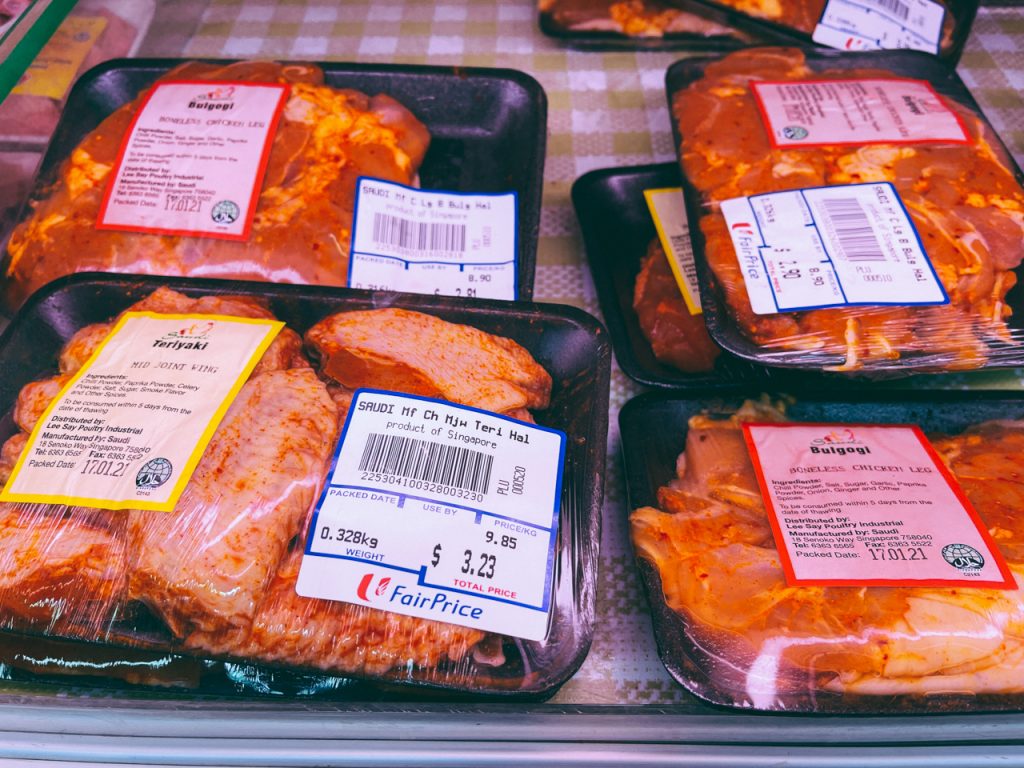 Food labels are tricky. Dozens of produce and foodstuffs proudly bear the 'Product of Singapore' tag on the stickers, but they're not entirely of Singapore origin.
At an NTUC FairPrice outlet, I asked an employee if one of their ready-to-cook Teriyaki chicken cuts are indeed obtained from a local chicken farm. The young man paused for a moment, glanced warily at the 'Product of Singapore' label on the wrapping, fixed me with a confident look and replied: "I don't know."
The truth is complicated, as it always is. Take the supermarket's mixed nuts label kerfuffle from back in 2016. As the company explained back then, when the label says 'Product of Singapore', it simply means that Singapore is the last place where ingredients are processed and packaged—even though ingredients may have been imported from overseas.
My point here is that I made the mistake of eating a tube of egg tofu, said to be a 'Product of Singapore' but not really. An honest misstep. I make up for it by eating a bag of locally-farmed bean sprouts (I absolutely detest taugeh).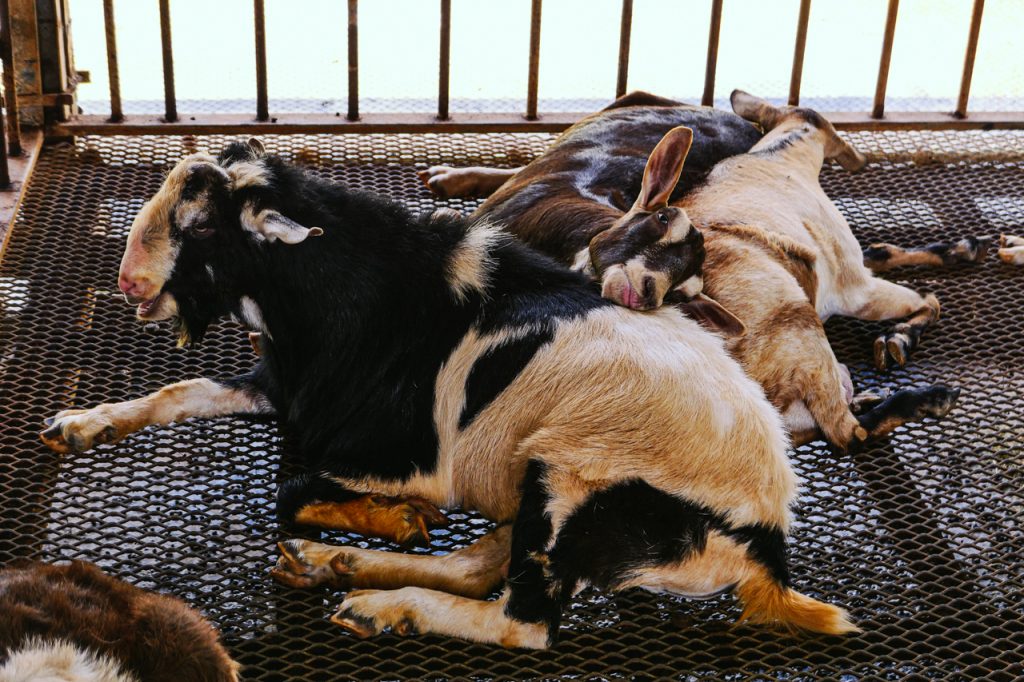 Lim Chu Kang is the closest thing Singapore has to a countryside, an area that can only be aptly described as ulu. Aside from army camps, cemeteries and roads that seem to stretch on forever, it's where farms are located.
The first thing that hits you hard at Hay Dairies is that distinct farm smell. The odour shouldn't be shocking—this is a goat farm (and the only one in the country) after all.
What's a surprise, though, is that this is not a place to get fresh cuts of goat meat. It's a dairy farm, and people seem to like goat milk enough for Hay Dairies to kick start expansion of its herd to at least 4,000 of the bleating hooved animals.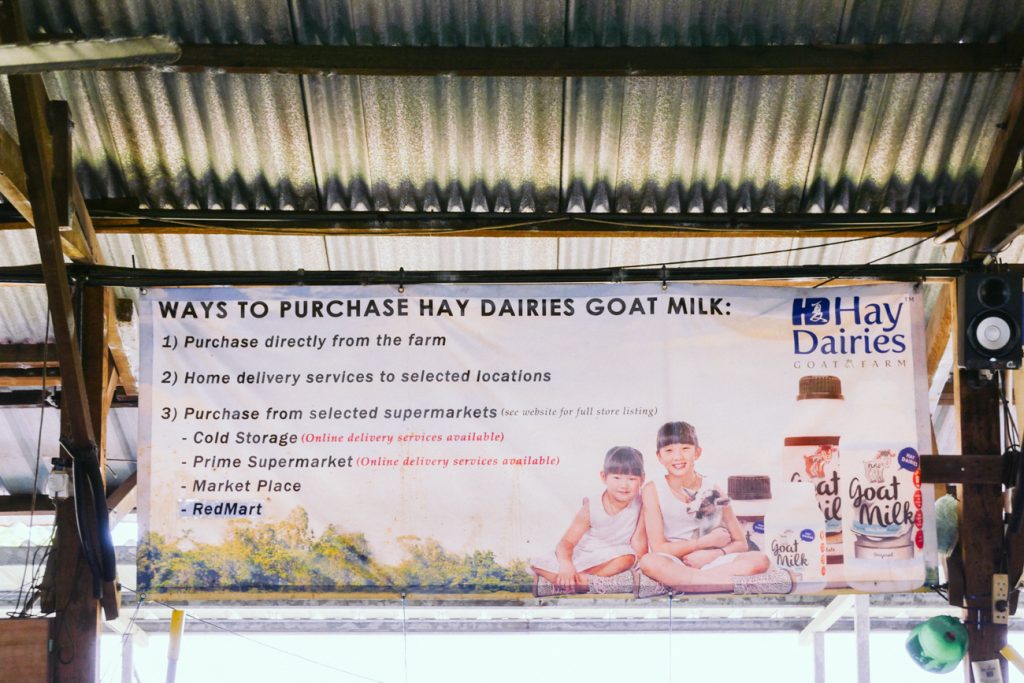 If there's a place to get locally-produced milk straight from the source, this would be it. As a treat, visitors can have fun personally feeding the milk makers with alfalfa hay at $5 a packet. A banner tells people where they can easily find and buy Hay Dairies milk.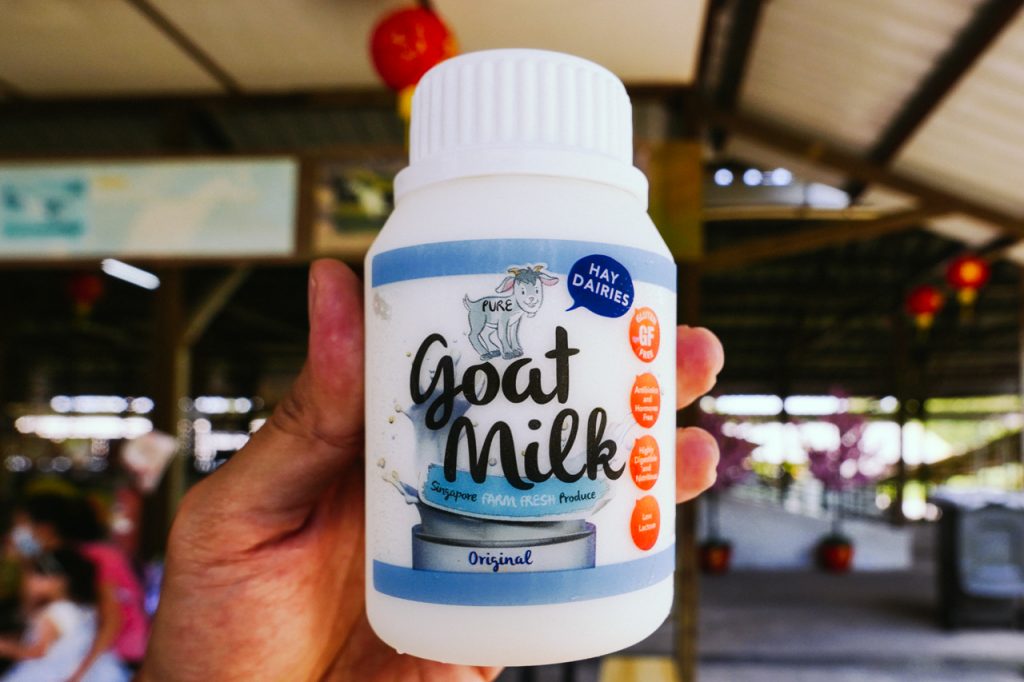 That is, if you like goat milk in the first place. Despite the initial hesitation, I didn't actually find the taste that offensive or gamey.
I chatted with a family of four sitting at a table next to mine. The young-ish parents were proud to claim that they only let their kids drink milk from Hay Dairies. "It's just fresher," they enthused, as their two children nursed their chocolate-flavoured goat milk popsicles.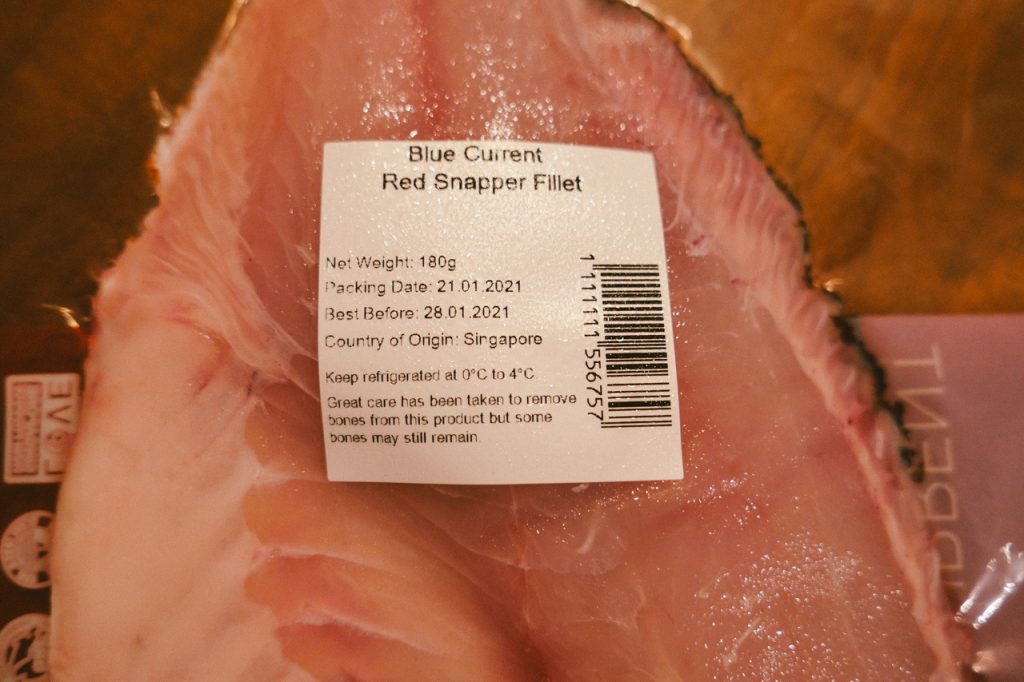 Met a friend whose family just happens to be one of, if not, the biggest poultry distributors in Singapore. As someone who's looking to start his own store for organic and ethical local produce, he was fascinated with my little experiment.
I asked him if his family's chicken are reared right here, already imagining myself getting my hands on one for a simple lemon herb roast.
"No leh, all our chicken farms are located in Malaysia."
So it was back to fish (a fillet of red snapper from BluCurrent) and some xiao bai cai cabbage from Yili Farm. May we one day get to devour chicken from our own backyard.
Caved in and ordered a burrito bowl after my first ever spin class in the morning. The less said about today, the better.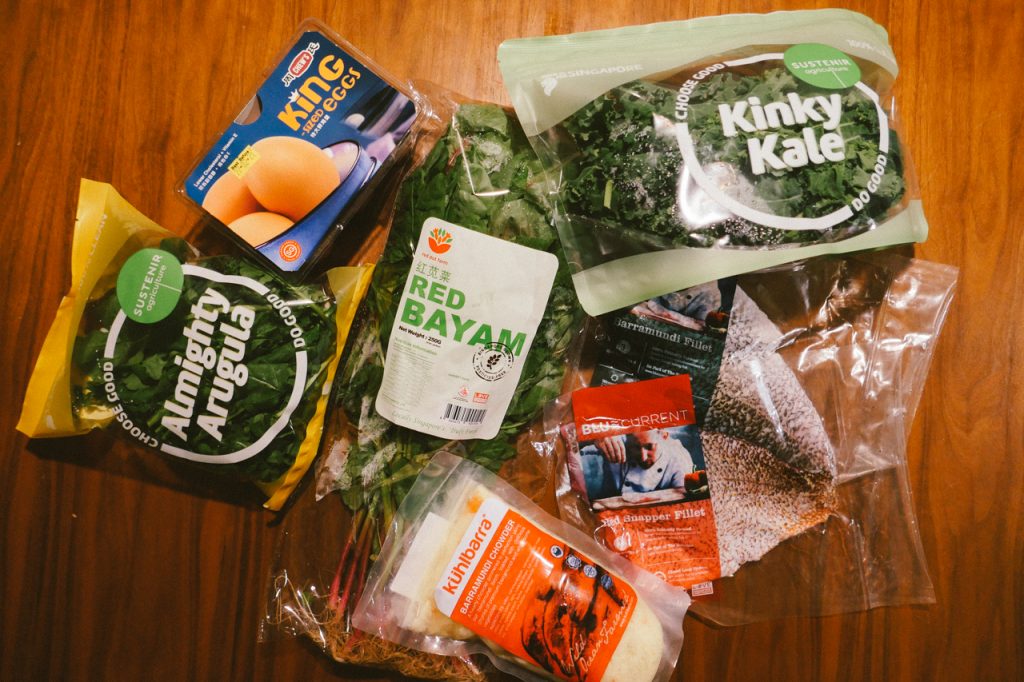 Where physical stores falter, online platforms deliver. Quite literally. Just found out that Redmart hosts an entire section dedicated to local produce from farms like Sustenir, Red Dot Farm, Chew's Agriculture, and a heck of a lot more names I've never heard of.
I can't tell you the utter relief after over a week of just eating standard greens, eggs and whole fish. Here I've got access to locally-grown kale, cherry tomatoes, arugula, pesto dip and fish chowder.
Beansprouts too, if you hate your taste buds that much.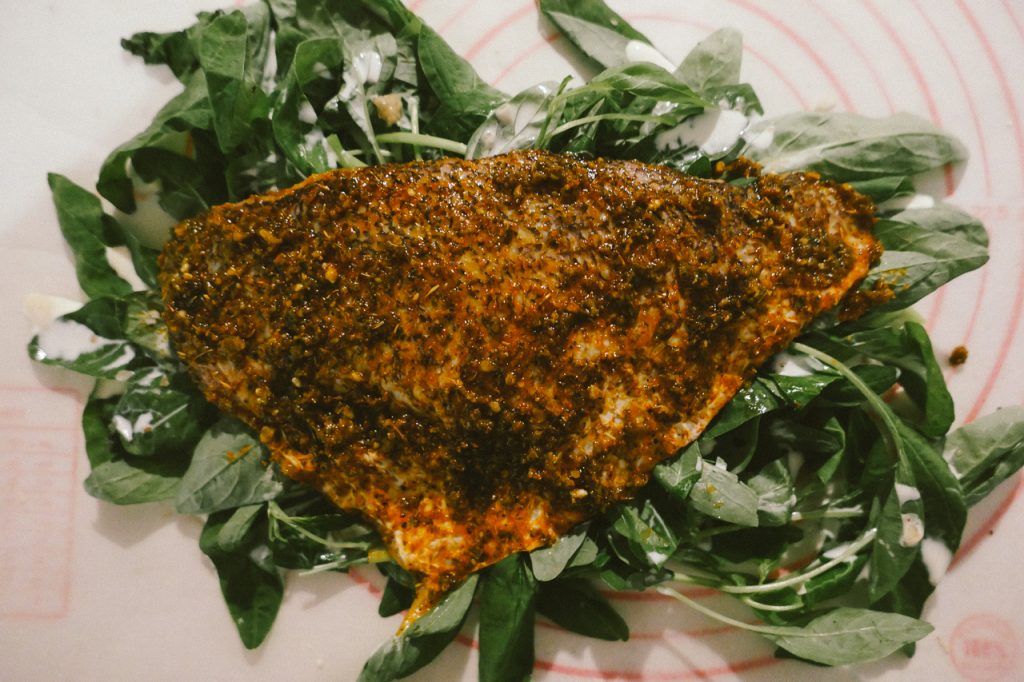 The endless cycle of fresh local produce has allowed me to store even more energy within, enabling me to transcend time and space. The absence of carbs, cream and caramel has unlocked a truth I've never known: life is simpler on a strict diet of lightly seasoned eggs, mushroom, leaves and fish.
The knowledge that I've reduced my personal carbon footprint from relying on a domestic logistics system has cleared my conscience. The increased intake of greens has cleared my bowels.
God, I miss fried chicken.
Considered dropping by Ah Hua Kelong's Hamilton Road restaurant to try out a locally-farmed seafood dining experience, but laziness got the better of me.
Still managed to replicate a fancy meal at home, though. This I did by performing the revolutionary act of plopping a king-sized egg from Chew's Agriculture into a pot of Kuhlbarra barramundi chowder. The quality was remarkable enough to impress my fish-disinclined wife to the point where she placed an order of chowder for herself.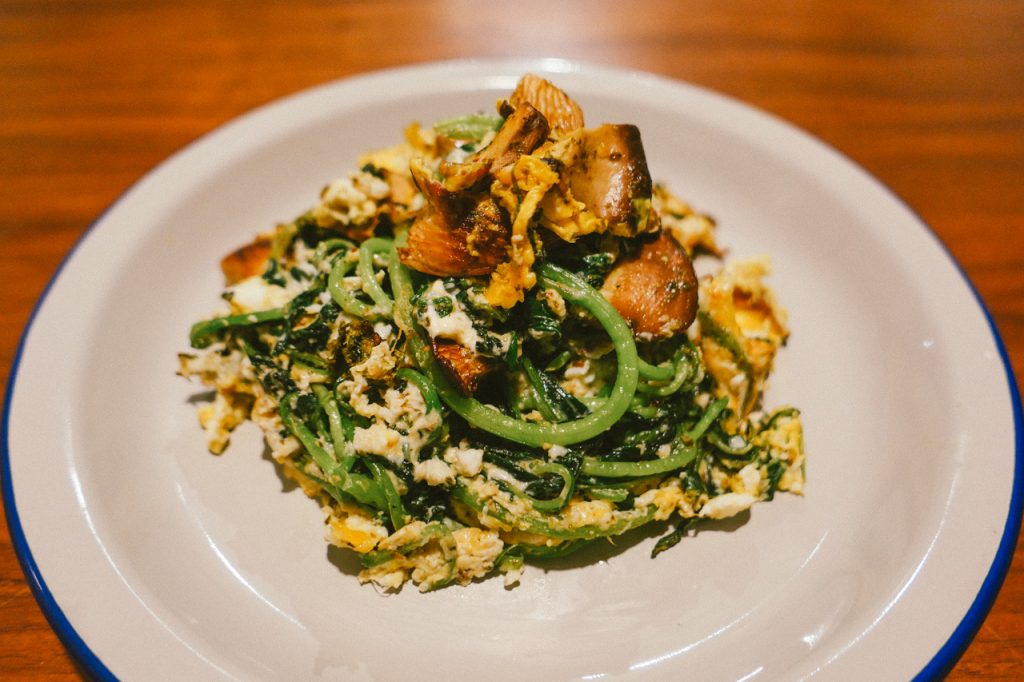 Another day, another plate of stir-fried eggs, mushroom and spinach. I got pretty good at plating them. Many Instagram Stories were shared.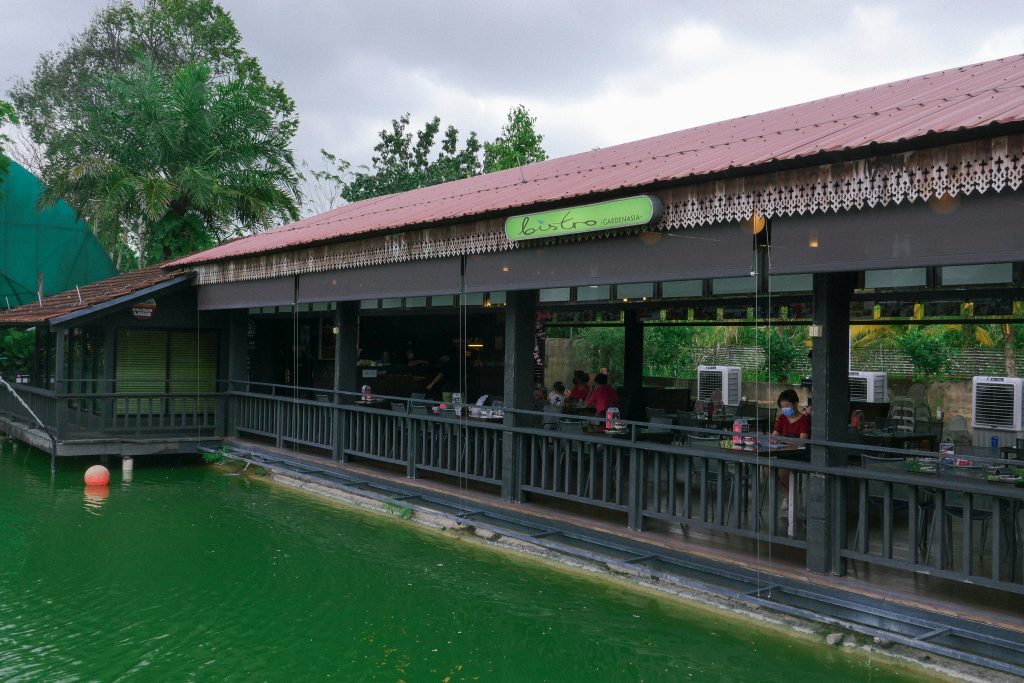 The final day of this conscience and colon-clearing project had to be celebrated, so it was back to Lim Chu Kang for a visit to Bistro Gardenasia. Rustic meets atas in this far-off spot, where a massive pond sits next to the restaurant, turning it into a waterside dining experience with mists of water cooling the vicinity in lieu of air conditioning.
The eatery is unapologetically sumptuous for a farm-oriented cafe in the deep forested northwest. Peep at the menu to be pleasantly surprised by the restaurant-quality Asian fusion offerings — from grilled ribeye hor fun to pan-seared salmon fillet.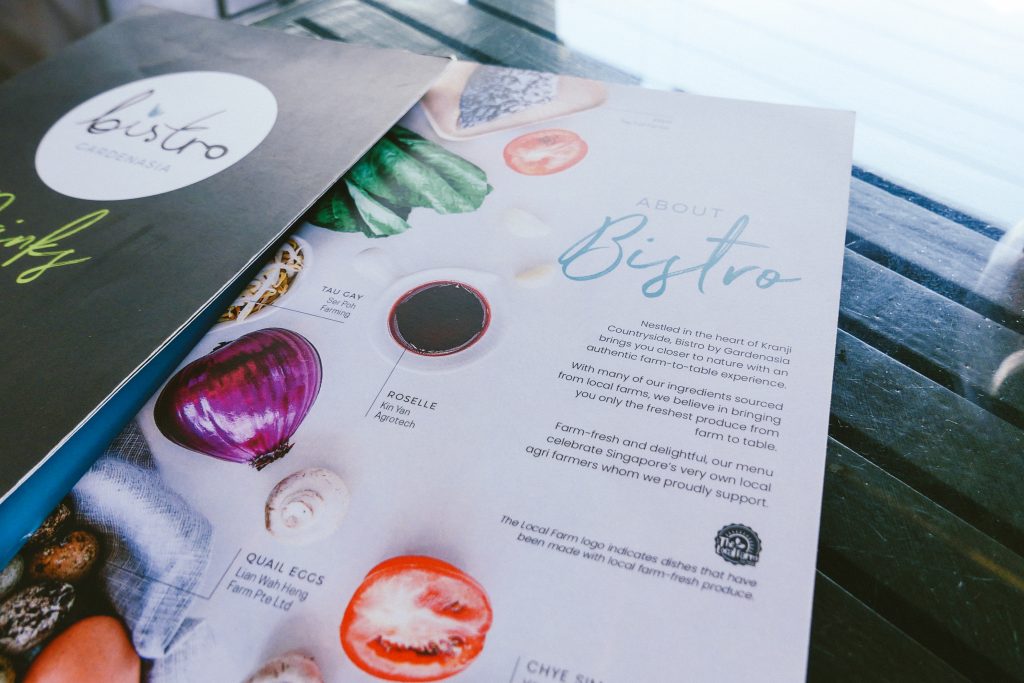 As much as a rack of seared lamb would be well-deserved after a long bumpy motorbike ride, I was here for Gardenasia's admirable dedication to an authentic farm-to-table experience. An array of dishes has been made with local farm-fresh produce, including (and not limited to) salads and a popular Assam fish chowder made from locally-farmed mullet fish.
The one I settled for was fish and chips, with its star ingredient being a local sea bass fillet. It was perfectly decent, actually. I appreciated how it wasn't too heavily seasoned, allowing the full flavour of the fresh, plump fish to shine through the light batter.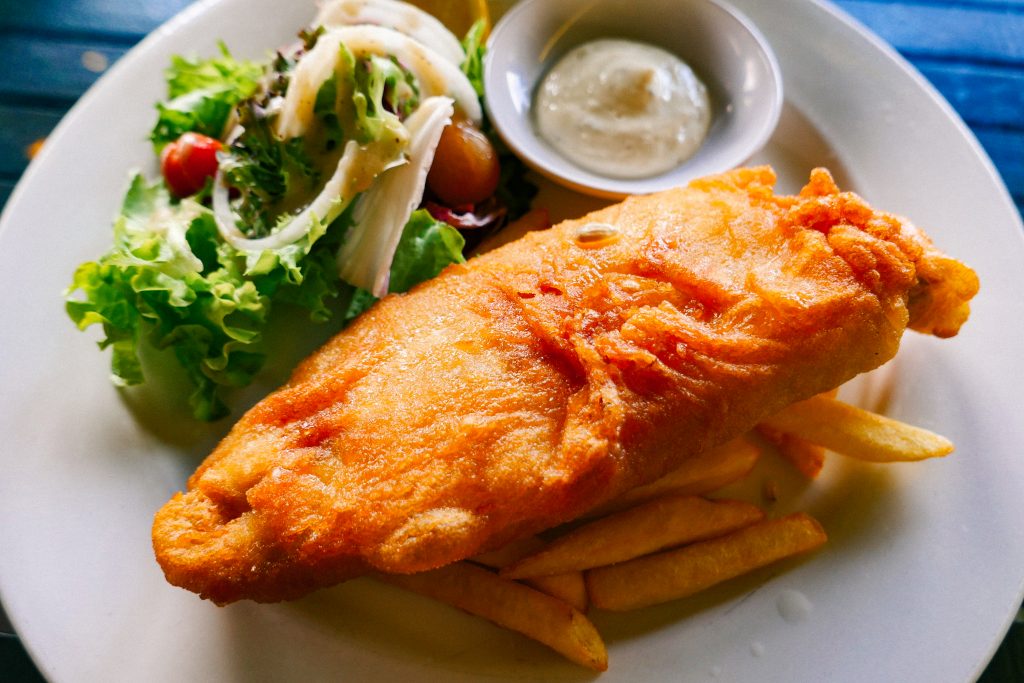 Accompanied by thick cuts of fries, greens and a dollop of tartar sauce, I can't really say that it's a totally local dish. A microcosm, perhaps, of Singapore's food supply. That is to say, only a portion of the ingredients used are locally sourced.
But the commitment to get people to support local farms is laudable, especially with the presence of The Local Farm, a retail store at Gardenasia that stocks everything homegrown from various farmers.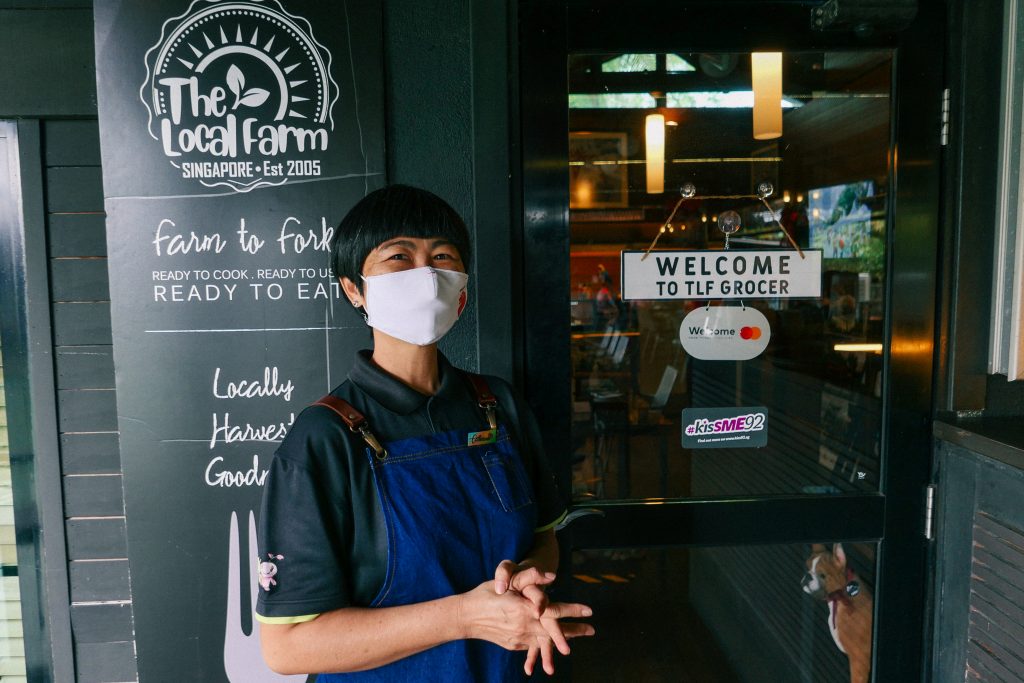 Cat, the jovial sales staff who manned the store that day, repeated to me the mantra of how important local farmers are to the food industry and highlighted their tireless efforts to ensure fresh products for their fellow countrymen. The kangkong, spinach and kailan up for sale, for example, were picked and delivered early that morning for utmost freshness. Thus the "premium" label—and they were going for an affordable $2 each.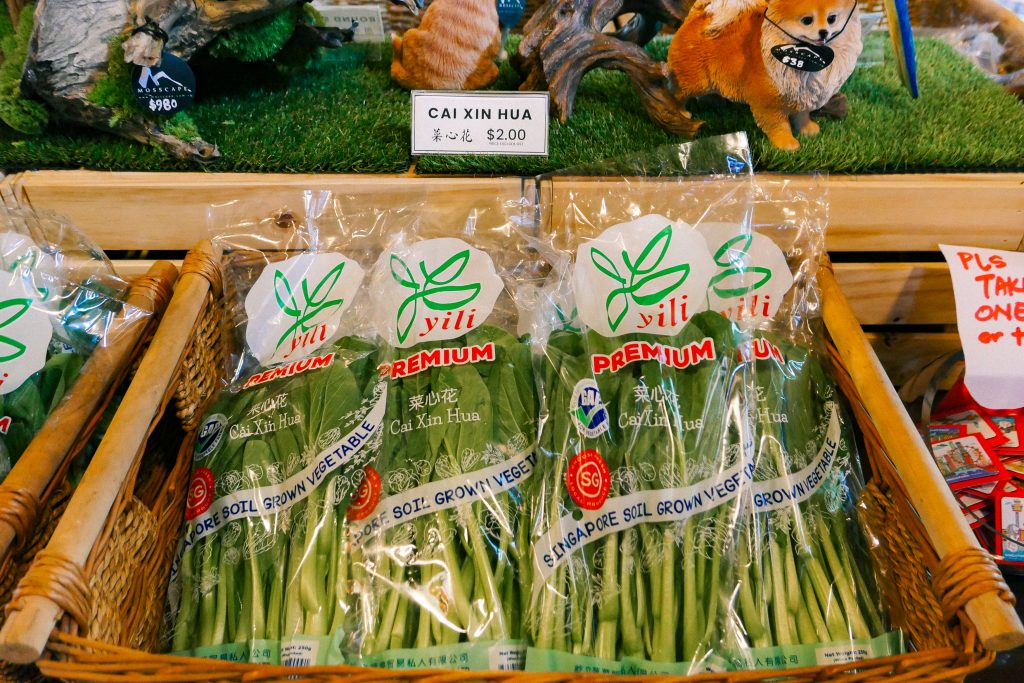 For these farmers to survive and stay viable however, there has to be demand for local produce. Cat noted thankfully that there has been an increase in interest for homegrown produce enough for The Local Farm to introduce a subscription package for its farm packs: a bundle of curated goods from Sustenir Agriculture, Kin Yan Agrotech, Yili Premium Vegetables, The Fish Farmer, as well as eggs from N&N Agriculture and Lian Wah Hang Quail Farm.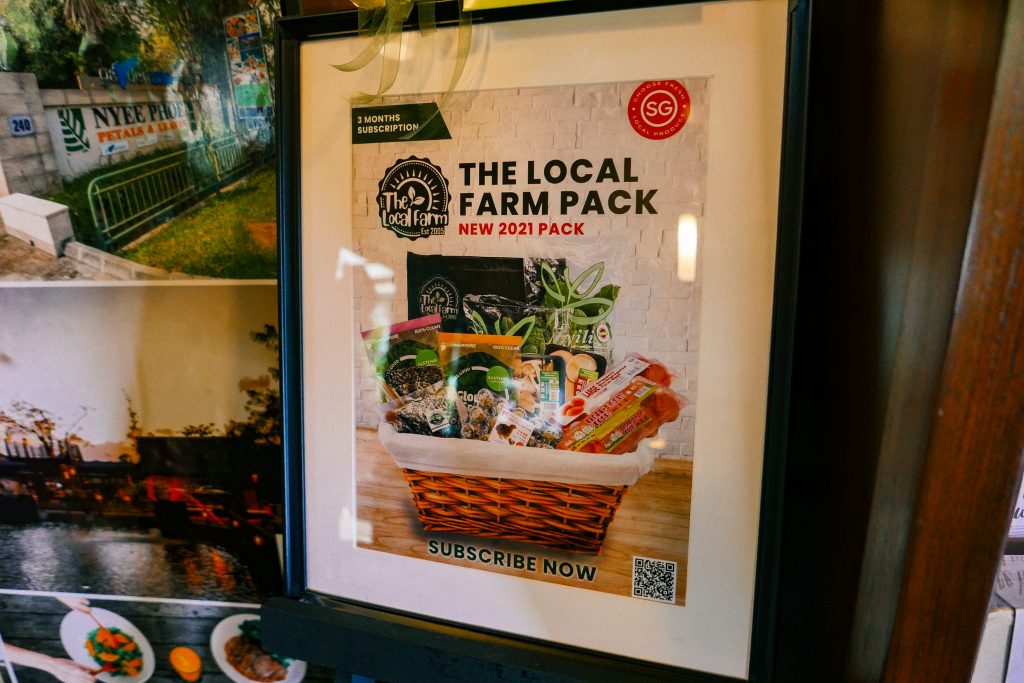 "We've been so heartened to see an increase in orders, especially during the circuit breaker," Cat mentioned, bundling up my purchases of local kale and spinach.
Heartening it may be, but more could (and should) be done to continue supporting the efforts of the country's farmers—they're the ones helping us wean off our heavy reliance on food imports, after all. Food resilience can't wait, especially these days. Political turbulence overseas could cut off trade or inflate prices of food imports; another outbreak could decimate food supplies with new strains of diseases; a nuclear incident could spawn a bipedal amphibian large enough to destroy vital cities we trade with.
As the past two weeks have shown, it is perfectly plausible for one to survive on only locally grown food. Plausible too was how one could also cut down personal carbon footprints while at it—not to mention supporting local farms in the effort to not let the national larder go empty.
If that's already the case now, things should get even better with a concerted push towards the growth of tech-driven methods in local agriculture and aquaculture, especially ones that continue to produce food in spite of climate fluctuations or the lack of landmass.
But at the end of the day, those efforts of local producers can only be sustainable if there's enough groundswell to support them on our end as consumers. Demand creates the product, which then creates the supply. And if enough of us petition for it, perhaps those smarter than us can finally find a way to somehow cultivate lab-grown fried chicken right here.