Top image credit: Hayspixels
In December of 2009, I chanced upon episode 63 of Xiaxue's popular Guide To Life series: her wedding proposal.
Along with me, 290,000 other people watched through the lens of a hidden camera as Xiaxue, completely unaware, sat in a cinema waiting for a movie to begin. Minutes later, her then-boyfriend Mike appeared—first in a movie commercial, and then in real life, all just to pop the question in front of an entire cinema full of people.
The surprise was a success to say the least.
She nearly cried, he nearly cried. Onlookers clapped and cheered. It was sappy but, admittedly, also beautiful.
–
For as long as I can remember, I've wanted and assumed that my marriage proposal would come as a surprise. One minute, my to-be-fiance and I would be eating dinner at a Chinese restaurant. The next, I'd be cracking open a fortune cookie to find a ring inside (idea courtesy of Bride Wars).
Yet pulling off a surprise proposal is never easy. Especially not when, like most Singaporeans, you've already BTO-ed.
"I think all proposals should be a surprise," says Charlotte, 26.
"Without a surprise, you can predict what's coming next and that takes the excitement out of this next big phase. It becomes just another thing on a to do list."  
Since the introduction of Built To Order flats 16 years ago, they've quickly become the template of the Singaporean dream for newly-wedded or to-be wedded Singaporeans looking to move into their first homes.
Yet due to strong demand, BTOs carry with them risk and uncertainty. Ivan, 28, and his fiancee, May, 26, have suffered 7 unsuccessful BTO attempts. Their most recent attempt to clinch a Sale Of Balance flat was also rejected.
Unwilling to marry and move in with their parents while without a home to call their own, couples have begun applying for BTOs earlier and earlier.
How early? That's up to you, really. But the trend, according to the headline of this Straits Times article appears to be, "BTO first, propose later: Young couples don't regret applying for flat first."
To some, an early BTO may be jumping the gun. To others, it's the pride of a well-prepared Singaporean.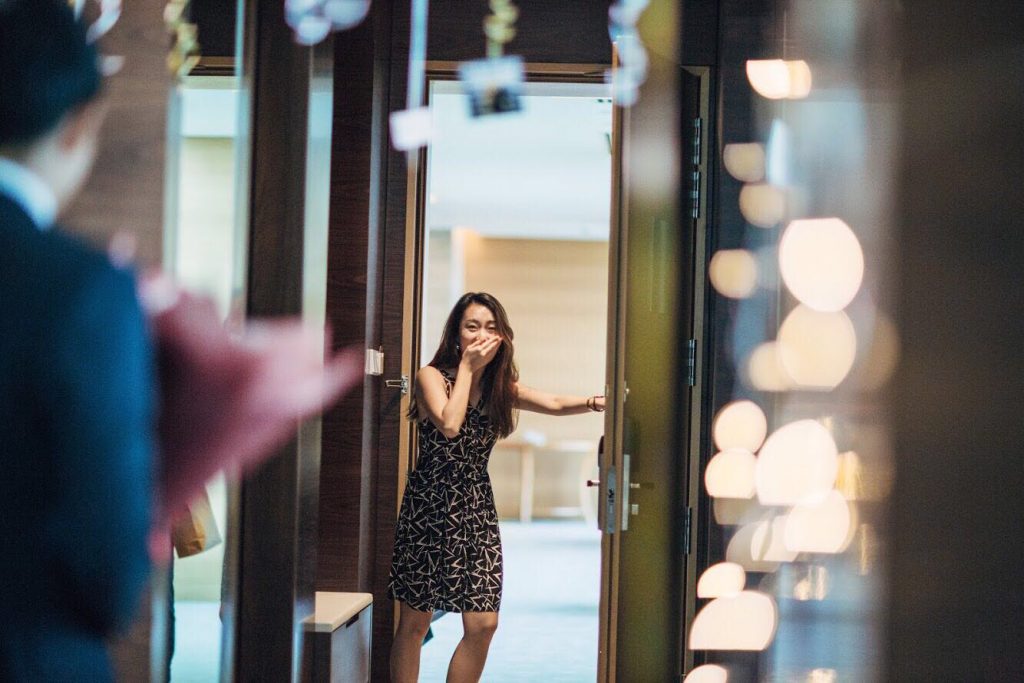 But can a well-prepared Singaporean still be surprised? 
 Even after BTOing, do people still want and expect an official proposal? With marriage already on the cards, is the proposal still about saying yes? Or has it become more about the showmanship and "quality" of the surprise?
Is the pressure now about making the proposal video go viral?
Given that one can register for a BTO flat under the Fiance/Fiancee scheme without being married or even necessarily engaged, it's now widely assumed that BTOs constitute an "unofficial" marriage proposal. 
Melanie, 26, shares with me, "I don't think BTOing beforehand spoils the surprise proposal. If anything, I'd say it's even better. There's less uncertainty, more security and a tangible future together. There's also romance in waiting for something greater together too."
Others like Andrew, 25, thinks,"It's akin to saying that you're confirm going to get married. So she's going to expect the proposal sooner or later."
Before popping the question on his fiancee's 25th birthday, Andrew first had to fish for information from his fiancee's friends to gather if she was ready. His fiancee Rebecca later told me, "Because he didn't mention anything about settling down or getting a BTO, it added to the surprise factor."
Some even take it a step further, believing that BTOs don't just ruin the surprise. It also defeats the entire purpose of a proposal.
For my friend Hilda, 24, she had "expected him to just ask 'Wanna BTO?' instead of proposing."
However, like Andrew, Hilda's then-boyfriend eventually chose to propose first before asking to BTO as he "didn't want [her] to not have a chance to say yes or no."
"If we had BTO-ed before, then there's no more suspense. When he asks, I 100% will say yes right? We both know the answer," she says. "It's asking for tradition's sake, not because my answer will make a difference really."
From Hilda's answer, it seems that Singaporeans who propose post-BTO don't give a shit about the surprise being ruined. And given our pragmatic nature, this might be accurate.
Then again, do surprises even matter?
After all, to the typical pragmatic Singaporean, the security of a BTO can be pretty sexy. One might even argue that you shouldn't even think of proposing if you haven't yet secured your BTO unit.
And while the most daring, outlandish, or logistically complex surprises feature the most prominently on social media, they don't matter in the larger scheme of things.
Maybe the only things we Singaporeans need to worry about now, when it comes to proposals, is to focus on getting it done right.
As such, some may choose to propose via an elaborately planned day out, a simple surprise picnic at the Marina Barrage, or even spontaneously after a long walk at East Coast Park. Whatever it is, these gestures aren't really that important.  
Ivan echoes my sentiments. When he proposed to his fiancee May, they had already applied to BTO a year before. But that didn't matter.
"At the end of the day, I just wanted it to be meaningful to us. That was the most important. So I chose to do it on 01/05/16, the 1st of May, also because, I'm her first boyfriend," he says with a grin.
Judging from the pictures and expressions I later saw on Instagram, it's safe to say Ivan achieved what he set out to do, and then some.