Since the Circuit Breaker began, Singapore has seen an increase in online vigilantism. 
I'm sure you've already seen the images and videos. One video shows an elderly auntie eating her kway chap at the hawker centre, in violation of the safe distancing rules. Another shows 4 masked boys being chased from the lift by a man who was shouting angrily as he filmed them with his phone. 
One of the main platforms for such comments is SG Covidiots—a newly formed Facebook group which calls out 'covidiots doing their best to sabo us all'. Their images have attracted likes and shares in the thousands, as well as no small amount of controversy. 
Some have wholeheartedly joined in. Others have questioned the necessity of such public shaming. An Asiaone article described the SG Covidiots as "a Facebook group known for noxious content that includes harassing people who flout the circuit breaker rules.". Lawyers warned that such content could constitute doxxing if personal information is included.
We interviewed SG Covidiots co-founder and admin Ben Tay to find out what he thinks of all this:
How was the SG Covidiots Facebook group formed?
It started from some of us spotting people gathering outside and we thought that's only the tip of the iceberg. Many more must be out there breaking the rules so why not set up a group for others to chip in and report? 
Why did you feel there was a need to create such a community?
For the circuit breaker to be effective, we all have to take it seriously. In the beginning, there were many flouting the rules and the OneService app was not launched yet then. The authorities and enforcement officers do not have eyes everywhere either. We hoped the community could be where the public can come together to fight the problem together and encourage the public to comply with the measures.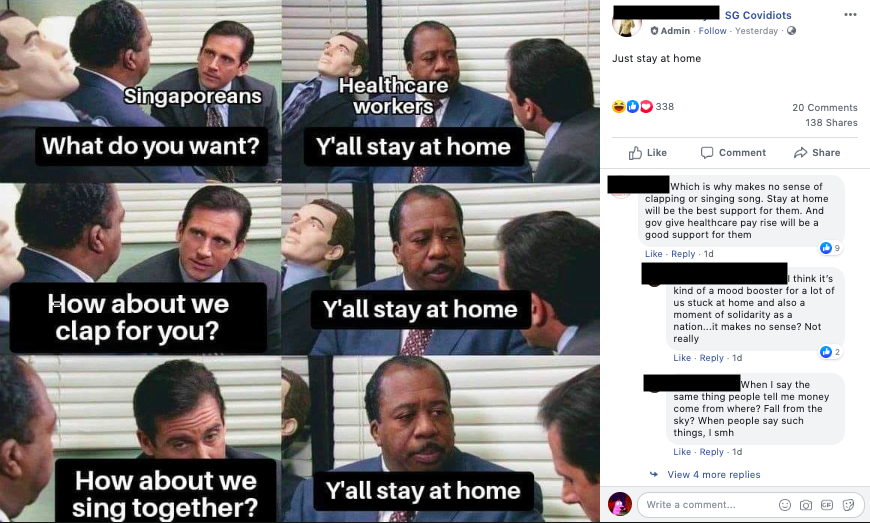 Do you think that public shaming/STOMP-ing is an effective means of getting Singaporeans to comply with the circuit-breaker?
We believe it has empowered people to report rule-breakers and may even have sounded the alert on the issue of flouters early on, leading to tougher penalties and tighter enforcement.
Does this mean you are okay with people taking images/photos without their consent?
What has to be done has to be done. These are evidence of people breaking the rules and this necessarily means the photos or videos would be taken without consent. It's the same with a police report. Offenders would never consent to their photos being sent to the police. We believe there is nothing wrong with people sharing these photos or videos as long as they do not give rise to offensive conversation. If a post is seen as erroneously shaming someone, we take it down.
Do moderators verify or approve the images before they are posted to the group?
Yes.
How are the images verified?
We check if they are in violation of any group rules, we check against offensive overtones e.g. racist, violent, partisan, xenophobic. We do not permit content promoting or slamming any political party as we do not think politics should interfere with our efforts to curb the outbreak. We also verify if the content is relevant and accurate as much as possible.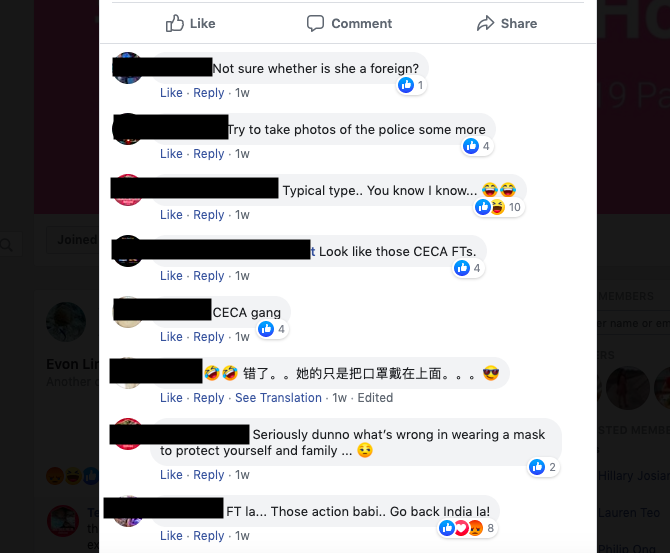 Many of the comments have become rather violent and xenophobic (i.e. the lady filming the police officers in a wet market), are you concerned about the tone of the conversation?
We do monitor comments and we do not tolerate violence, racism or xenophobia. It is not our intention for any post to spark such conversation. We delete offensive comments.
I understand. However, are you at all worried that citizens might be empowered to act violently because in some of your most popular videos (i.e. 4 boys inside the lift), the person taking the video behaved with hostility by shouting and threatening? 
If anything, the videos and comments have highlighted not only the rule-breakers but also the less than palatable manner in which the person filming the video is acting. There is enough citizen voice to condemn unacceptable behaviour.
There are also comments like 'taser them la', 'typical of these indian foreigners' and to 'go back india". Are comments as such acceptable under community standards?
These comments are unacceptable and discouraged. While we try our best to moderate discourse, there is a limit to how much we can control it.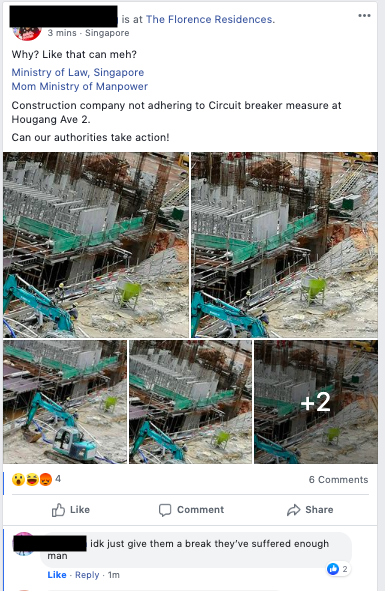 If the person inside a video or image contacted SG Covidiots and requested you take down their video/image, would you accede to their request? Has anything like that happened?
If they have a valid explanation (e.g. another side of the story) we would consider taking down the video/image but it has not happened before.
What if the images are of the elderly? Since they (presumably) do not use social media as fervently, they would not know of their images being shared and distributed on the internet. Doesn't it constitute a one-sided story, since some of the images are evidently taken with their consent?
As mentioned above, rule-breakers seldom consent to their pictures being taken. Consent cannot be given retrospectively. As long as the person in the images or videos did not ask us to take it down, there is no reason for us to make an exception for the elderly, especially since they constituted a large part of the rule-breakers.
According to a comment by your fellow admin Gordon Tay, members have to state the 'time and location of each incident they post'. Is this to verify the images/videos posted, or to report the incident to the authorities?
This is to prevent people from posting old pictures or videos which would be inaccurate.
Do you think that the police and social-distancing ambassadors are doing an adequate job of dealing with rule-breakers?
They are doing their jobs as best as they can and have even taken pains to speak with rule-breakers who can be unreasonable. We hope to assist them to be their eyes where they can't be present.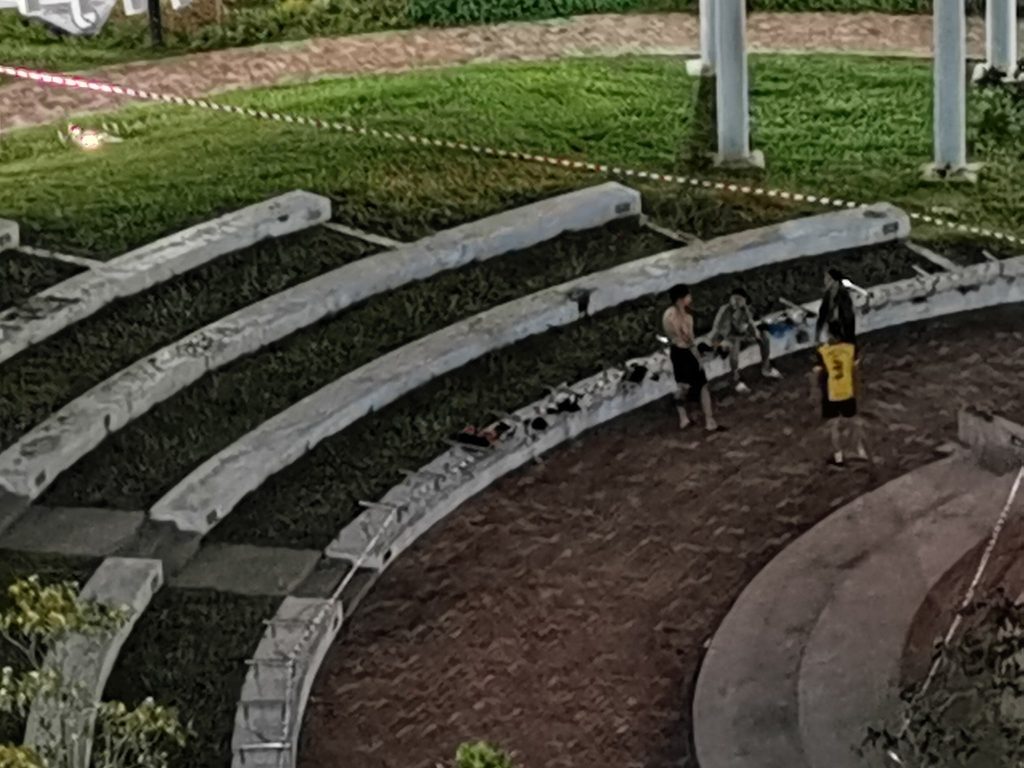 Are you working with the authorities or keeping in contact with them? If so, which stat board/organization?
No, we are independent of any organization and not affiliated with the authorities.
Other netizens, like Praveen Ramesh and Henry Sng have accused your group of inciting hate, bullying, and racism. How would you respond to his accusations? 
They are known trolls and we have no time to deal with their nonsense. It is already too time consuming to ensure contributions are real and moderate hateful comments.
Are you aware that some of the posts may constitute doxxing under the POHA (Protection From Online Harassment)?
We do not allow posts containing names, addresses or any identifying details of the person. We have deleted such posts whenever we see them. The only details we ask for are the date, time and location for accuracy so authorities can follow up as well.
If the public states personal details in the comments, it is out of our hands and the individual persons should be responsible for it. Our mods delete such comments when they see them but it is impossible to moderate everything 100%, just like how authorities cannot promise 0 crime in Singapore.
Endnotes
Although names and addresses are forbidden, photographs of a person count as identifiable information under Protection From Online Harassment Act. The legality of posts depends mostly on 'intent'. According to the Ministry of Law, it is doxxing if you post such information with the intent to harass or to ''encourage others to teach him a lesson'. It is not doxxing if it's a factual account of a 'public dispute'.
SG Covidiots' stated intent is for people to come together to fight the problem of 'rule-flouters'. Whether or not such an intent is shared by all, is another question altogether. 
As many of the admins readily admit, many of those filming engage in less than palatable behaviour with a clear intention to shame or harass. The Burger King altercation video comes to mind, since it was not CB-related and filmed with the explicit intention to make someone 'go viral'.