When
Tumblr banned pornographic content
towards the end of 2018, a host of alternatives popped up all over the web. In the local scene, there was the reliable SammyBoyForum, where users already discuss and share their own pornographic content.
For the Tumblr romantics, proxy sites such as Tumbex and Cumbler have been available to use to keep browsing their go-to Tumblr sites for porn. You can even start to find all of this content being uploaded on platforms such as Twitter and Discord.
Yet I had heard from friends that none of these could hold a candle to what people were sharing in massive private group chats on Telegram. These were supposedly elusive 'invite-only' chats that only the truly resourceful could find and gain entry to. According to them, Telegram was used as the platform as it featured higher levels of security than other messaging apps, although this has largely been proven otherwise.
After a worryingly short google search, I found the Telegram invite link. And so began my introduction to a world that would put Playboy Mansion parties with coked-up Playmates to shame.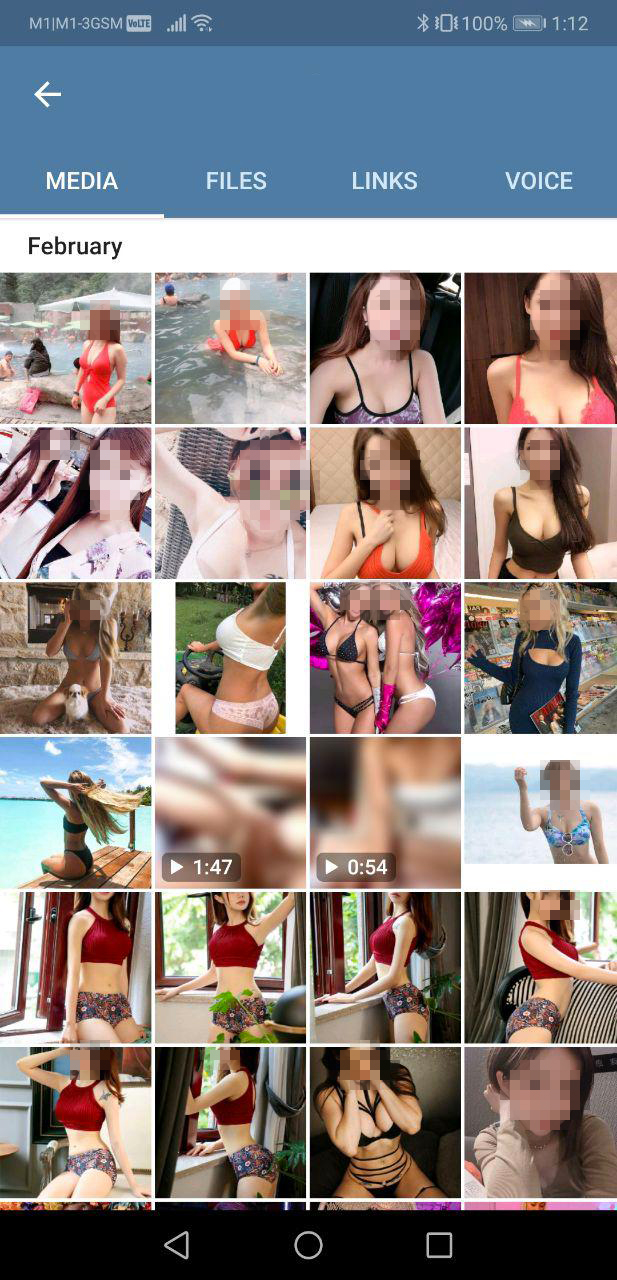 I found and joined not one, but a total of seven of these chats. The most popular one is a group moderated by the people at SammyBoyForums, which has over 6000 members who have shared over 70,000 photos and videos with each other. The members are Singaporeans of all shapes and sizes, although most of them hide behind a pseudonym and do not have a profile picture.
Content featuring Japanese or caucasian porn stars is the most common, but the posts that receives the most engagement from members, and are high in demand are those featuring local women.
What often happens is this: someone will share images of an individual fully-clothed, before asking established members of the chat if there are nudes of her circulating on the interwebs.  Think of it as a 24/7 leaked nudes concierge service.
Pictures depicting women engaging in sexual activity are par for the course, as is voyeuristic content such as upskirt and downblouse photos. Alarmingly, most of these photos were likely not taken with consent, just like the higher profile Joal Ong leaks from last year.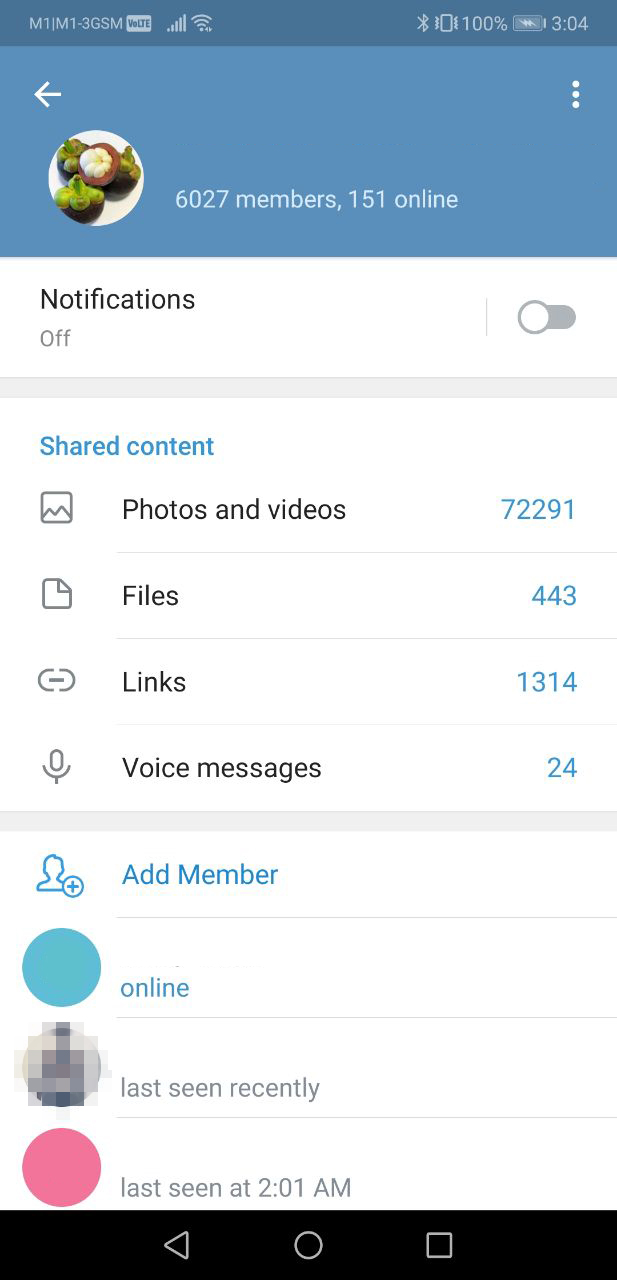 Let me be honest for a second. Like any hot-blooded heterosexual male out there, I've watched my fair share of porn. During my first few hours in the group, I found myself battling feelings of lust as the pictures and videos bombarded my phone. It was a buffet of leaked sex tapes and bikini pictures lifted off social media; content that used to be shared freely on Tumblr before the ban.
But then the hours became days, and the days stretched into two weeks. By then, I had become desensitised and disgusted with the regularity with which the photos and videos were being sent by group members. This was fortified by the knowledge that majority of these videos were either taken or shared without the consent of the women in the videos.
Eventually, each time I received a Telegram notification from one of the chats, I would squirm in my seat, almost like a Pavlovian reaction.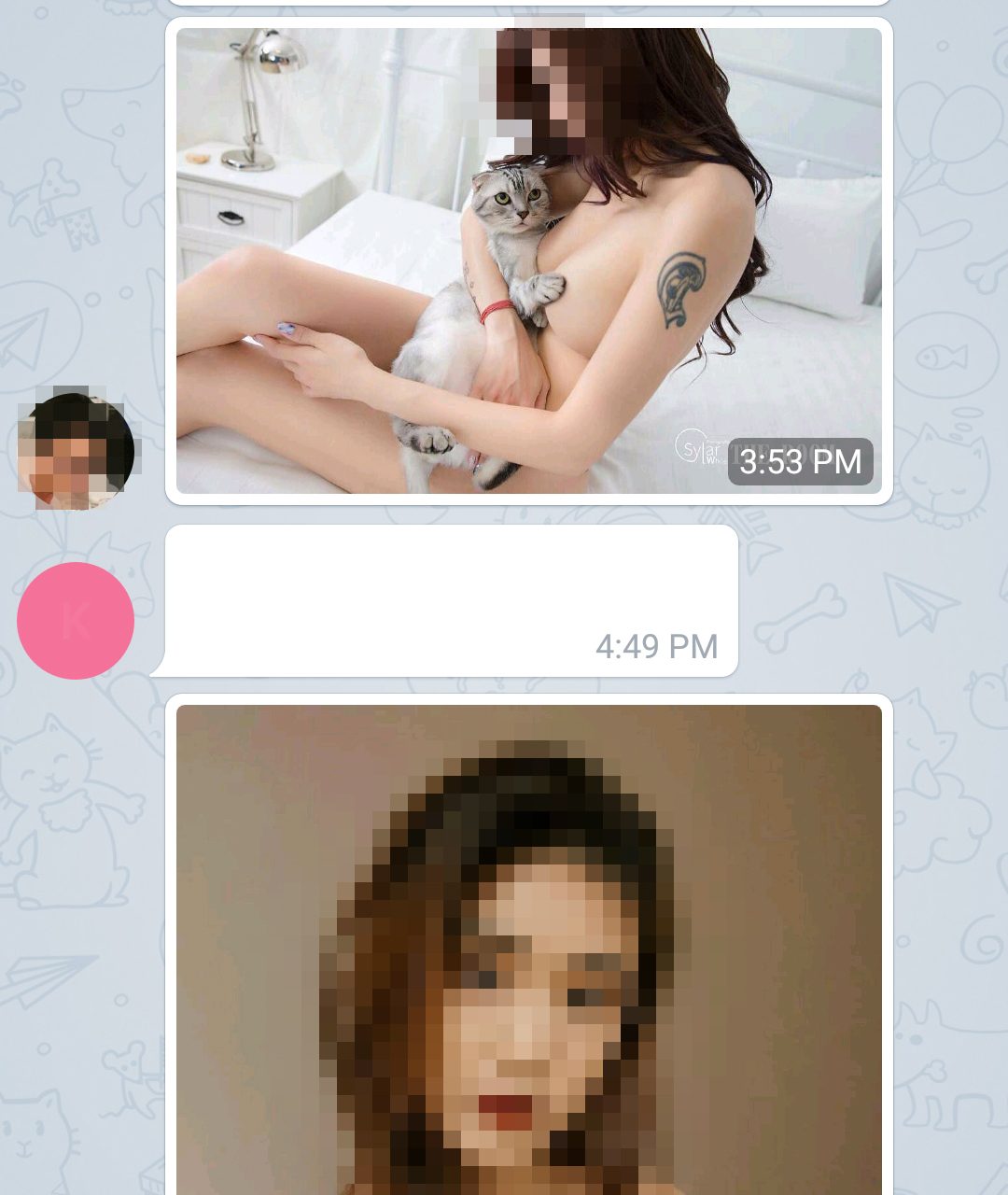 Aside from pictures and videos, custom-made Telegram stickers featuring the women are also made to be shared amongst users. For the uninitiated, stickers are basically higher quality emojis that are smaller in size and can be sent to other users. In these chats,the graphics in stickers are replaced by photos of the victims. The stickers usually come in packs as well, and are categorised according to the racial groups of the women.
The first issue this raises is that stickers are not regulated, and are much easier to share than traditional media formats. This means that anyone with a Telegram account can easily gain access to the photos.
Secondly, this brings the objectification of women to new heights. It seems almost absurd to say this, but at least with videos, you would have to take time and spend data to download the content. Meanwhile, stickers are dished out on a whim, and reduces women's bodies to pornography in emoji form.
Telegram sticker packs are open to any user and have no age restrictions. This ease of access is dangerous and could easily fall into the hands of minors. Because the stickers come in packs, users can save entire sticker packs before sending them to anyone in their contact list. In other words, there is every chance your 10-year old nephew who has been sending We Bare Bears stickers to his friends might one day come into possession of one of these sticker packs on his Telegram account.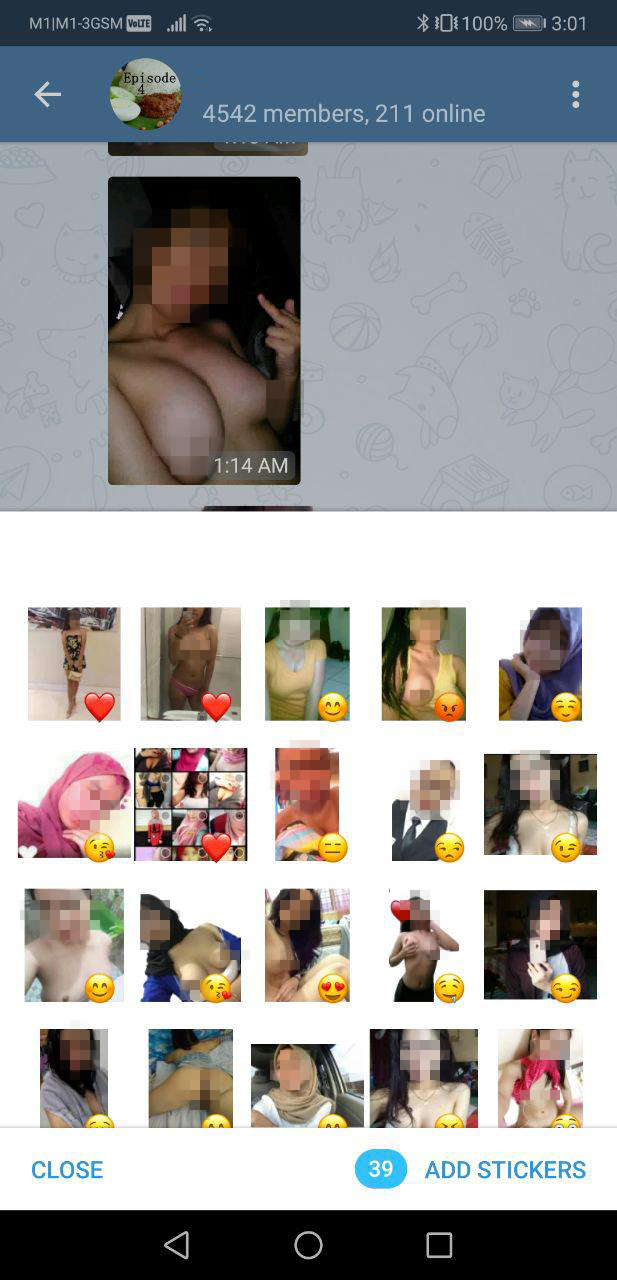 Exposure to pornography at an early age is already dangerous, but when younger people get exposed to these brands of voyeuristic pornography, where women's bodies are casually bartered and manipulated, there is every danger that such behaviour becomes normalised, leading to unhealthy attitudes towards women.
This might already be the case for the younger men who, as you might have guessed, make up the majority of the members in these group chats.
In fact, on several occasions, men under the age of twenty asked openly on the chat, looking for "lobangs" for prostitutes to lose their virginity to. Call me a romantic, but when I was younger—as desperate as I was to pop my cherry—the thought of seeking out a prostitute never crossed my mind.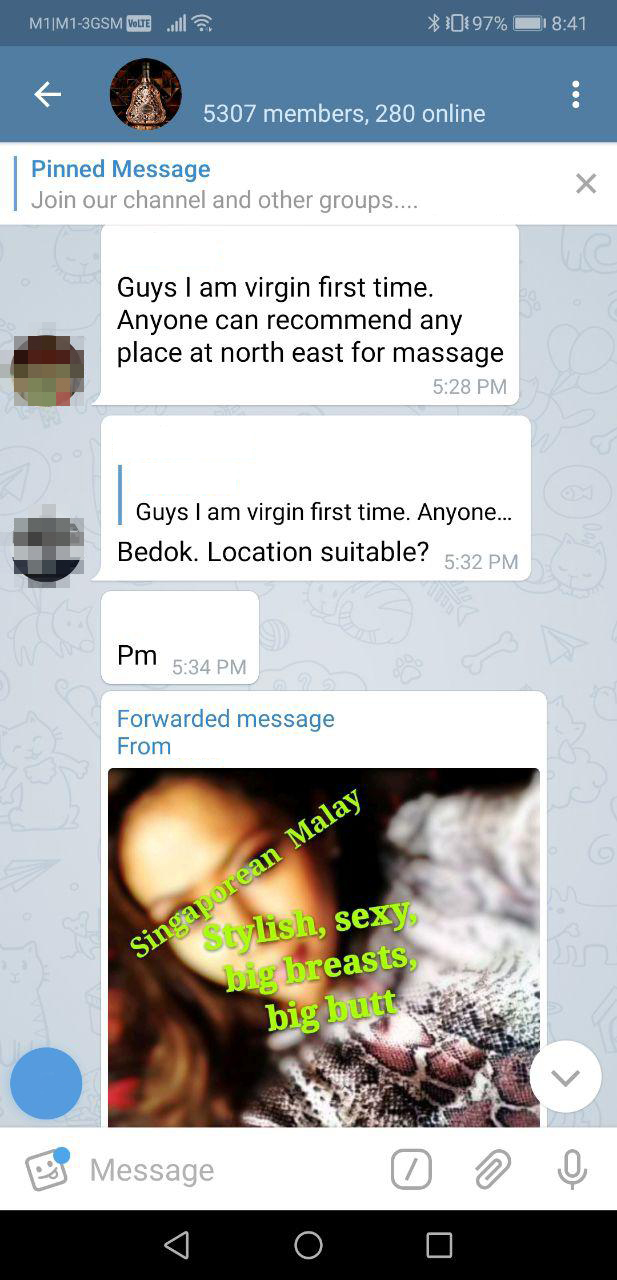 These barely-men would ask for "FL lobangs", where FL referred to freelance sex workers. Often, they would be FT (Foreign Talent) from neighboring Southeast Asian countries.
Perhaps, being in an environment where people are constantly looking for "lobangs", whether at 9 AM in the morning or 11 PM at night, has helped nurture a mindset that reduces sex and women into products you can buy with money.
I quickly learned that the amount these women charge varies according to their age and attractiveness. FTs from China, Thailand, Vietnam etc. form the majority of these women. Some are apparently domestic workers looking to supplement their low salaries.
I spoke to one of the more active members in the chat, and found out that local girls are deemed "better" and thus more expensive than foreigners.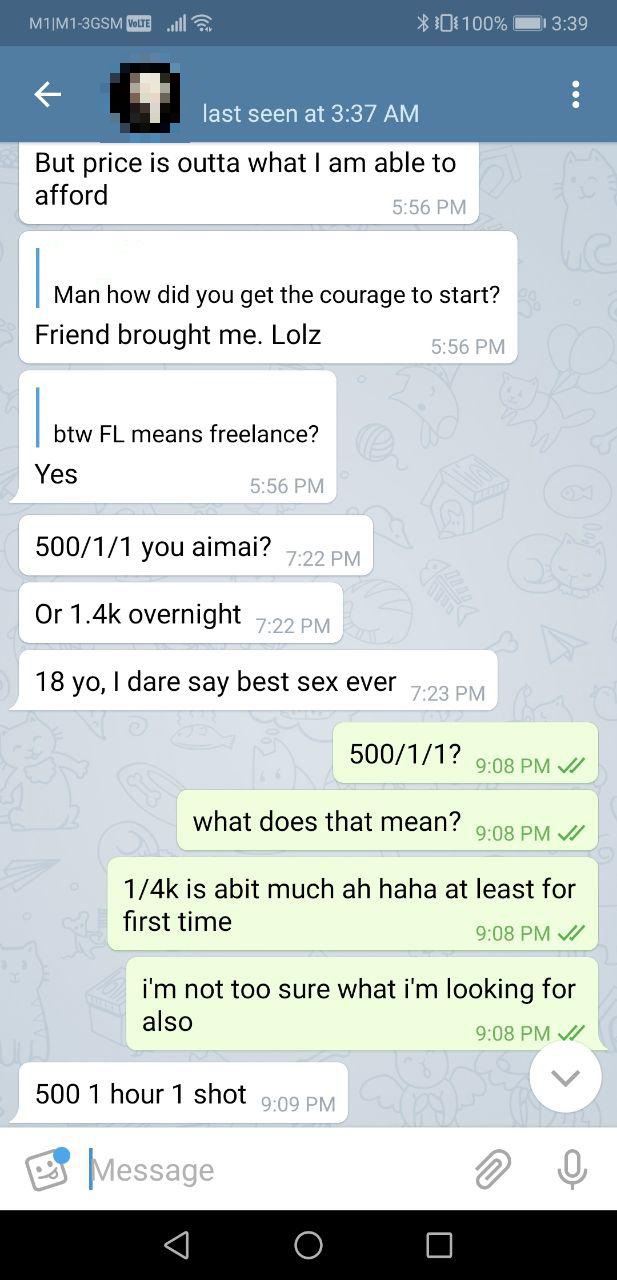 Local women (Sinkies) are prized and can fetch a higher price. After probing around, I was quoted $1400 to spend a night with a local 18-year old who, according to the guy, was the best sex he's ever had. If I had less money to spend, I could instead opt to buy an hour of her time, where I would be allowed to ejaculate once.
The worrying thing is that many of the chat group members often boast about their conquests. On SammyBoyForum, there are over 2000 sets of photos of sexual escapades taken by unique contributors, and it is clear that sexual gratification has become more than just a physical desire. Here, it's been elevated to a hobby; a pursuit of conquests that somehow feeds the egos of  these men.
It's common for members to collect files and share them on file sharing sites such as Megaupload, even offering to trade their 'trophies' with other members in a bid to expand their photo libraries, very much like trading Pokemon cards, except Pokemon don't wear clothes by default.  
The funny thing is, I used to think that people who constantly thought about sex were sick and depraved. But the members in this group have forced me to think otherwise.
After all, they don't fulfill the stereotype of being obese, greasy men who stay at home and masturbate to porn all day. Based on their profile pictures, most of them look like the average Singaporean male who works in the CBD. In fact, many of them likely take the train to work, just like you do.
Which is the scary thing. That these men are often hiding in plain sight, waiting for the opportune moment to strike so that they can take upskirt or downblouse photos of unsuspecting women. All just so they can add yet another victim to their collections.
When I showed these Telegram chats to my female friends, every single one of them was shocked. They were appalled by the fact that even seemingly innocuous outfits can be sexualised on these chats.
If you're wearing a pair of loose denim shorts, this just means that there's a chance they might catch a glimpse of your panties. If you're wearing a pair of tight denim shorts, this just means that your pantyline is now visible. In either case, it's open season for these chat group users and forum contributors.
Just yesterday, a newly-proposed anti-voyeurism bill was introduced, and it will criminalise the "production, possession, and distribution of voyeuristic recordings" should it be passed in parliament.
While I remain hopeful that the new laws, if passed, can help to mitigate this voyeuristic culture that continues to thrive on forums and Telegram chats, I have a strong feeling that it will never truly go away, just like how alcoholism became even more widespread during prohibition in 1920s America.
The sad truth is that if people are truly desperate for something to satiate their carnal urges, they will stop at nothing to get it. And sure, perhaps more informal channels for sharing such content will soon emerge.
But if the authorities are truly intent on tackling these issues, they need to start by looking for it in the right places.