All images by Stephanie Lee for RICE Media unless stated otherwise
"I realised I cannot do it because my pussy is tight."
It's my first time meeting Jade*, a sex worker. She doesn't mince her words when she explains why she doesn't do penetrative sex with clients, mostly men ranging from 19 to their 50s.
I'm a little caught off guard by the 24-year-old's candour. So are my colleagues—a photographer, a videographer, and an intern—who'd filed into her hotel room just 20 minutes prior. Unperturbed, she carries on.
Besides the risk of sexually transmitted diseases (STDs) and pregnancy, some men are just too big for her, she says. An encounter with a well-endowed 20-year-old client pushed her into the decision.
"We tried every position to go in, but cannot. I had to refund him half [the fee]."
Jade still considers herself a sex worker, even though she no longer offers coitus. Under the Women's Charter, sex work is defined as the act of a female offering her body for sexual penetration for hire.
And looking at her 'menu' of services, most people would probably agree.
Jade conducts business on her Telegram channel. Her list of services, which ranges from wholesome to kinky, is pinned at the top of the chat.
Clients can purchase a one-minute video message on any non-sexual topic for $50. An hour of cuddling will cost you $50, and it's an extra $50 to lose the clothes. A hand job goes for $100. A blow job sans protection? $300.
The Murky Legality of Telegram Sex Work
Three to four times a week, she books hotels for 'in calls'—escort lingo for when clients visit them at their place of business.
On other days of the week, she does 'outcalls', heading to clients' homes, hotel rooms or cars for services.
The hotel we're at is pretty far-flung, but it's nice—spacious, with high ceilings, a panoramic window and lots of natural light. Jade's been hosting clients in one-hour blocks here since the day before. She's squeezing a chat with us in before she checks out of the place.
In essence, the things that she is doing flout the law. And she's clearly not the only one operating under the radar.
The only sex workers with legal protection in Singapore are those operating in regulated brothels. And under section 19 of the Miscellaneous Offences (Public Order and Nuisance) Act, soliciting by prostitutes is prohibited in public.
Soliciting online via a "remote communication service" is an offence, but only if it involves a syndicate.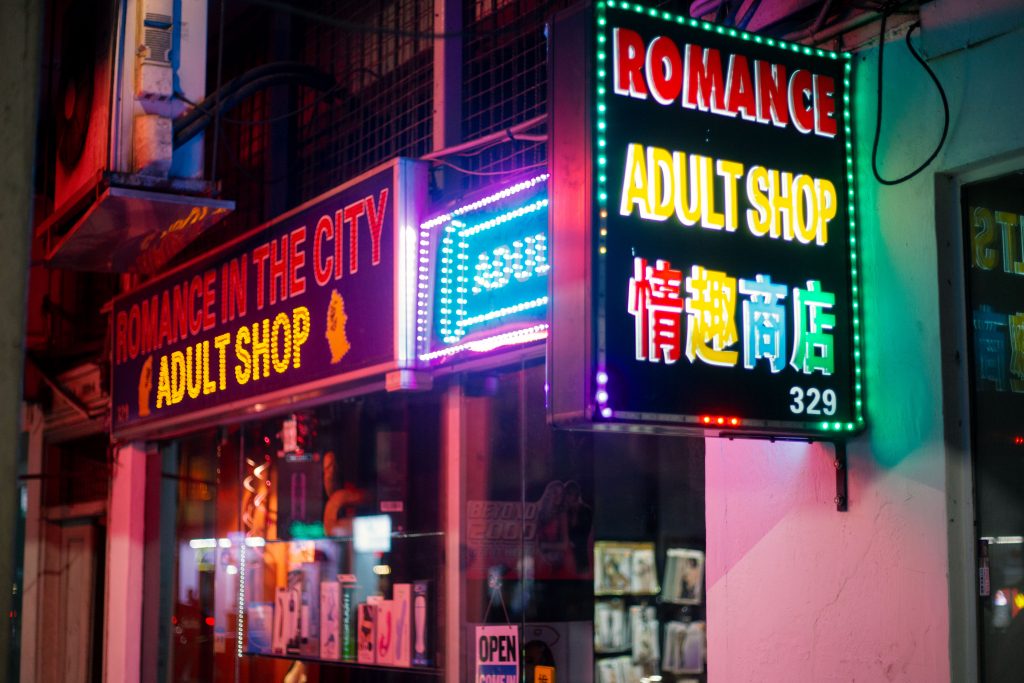 There is a growing number of young women like Jade turning to websites and social media to solicit clients independently, without the involvement of syndicates. In 2015, 16 percent of women arrested for vice used an online platform to solicit. In 2018, the figure grew to 55 percent.
Personal websites are common, as well as platforms such as Backpage, Skokka, Locanto, and Yelp.
Project X, a non-profit organisation which advocates for sex workers, tells RICE that this online shift has been a growing trend since the 2010s. And for good reason.
"Less regulated and informal spaces such as online platforms may provide sex workers, escorts, and content creators with greater autonomy and flexibility in their day-to-day work," a Project X spokesperson says.
More recently, the rise of encrypted messaging platforms like Telegram has also provided a space for sex workers to advertise their services and connect with their clients independently.
"Instead of relying on brothel structures—full-time sex work where 50 percent of earnings go to the boss among other restrictions—sex workers and content creators are better able to maintain client relations and organise their work according to their schedule and convenience."
"This benefits people with working other part-time or gig-based jobs, disabilities, and/or care responsibilities at home."
On Telegram, sex workers can advertise their services on their personal channels and groups. And to grow their client pool, they post their 'menus' on open groups with thousands of subscribers.
Part of the allure of the platform is also that it lends well to discretion. Messages are encrypted and can be set to disappear after a certain period of time. Channel owners can also disable screen recording and screenshots.
To keep things extra low-key, Jade, who's been doing this for three months, says she prefers to deal in cash. She also books different hotels each time and stays away from boutique hotels. Frequent visitors are more noticeable at smaller hotels, she explains.
All the sneaking around is worth it—the money is good. She earns between $13,000 to $20,000 a month, including about $3,000 from her OnlyFans account.
She contrasts this with her old nine-to-five job in the banking sector: "There are a lot of rules and regulations in terms of banking, like very strict culture, long hours, KPI (key performance indicators) to hit, and everything. So I decided not to continue."
For now, at least, this is the career she has chosen. She tells me it's really about the money at the end of the day.
"I don't think you can find a job that earns as high outside. So I think I'll probably give it, like, maybe one year plus to see how it goes first."
Her eventual goal is to earn enough to buy a condominium unit in three or four years. Going by her monthly earnings, she's well on track.
It also doesn't hurt that her takings are enough to pay for her self-confessed "high-spending" lifestyle and her penchant for Balenciaga clothes.
From Clients to Friends
In the short few months that she's made her foray into sex work, she's managed to build a following of over 1,000 subscribers on her Telegram channel.
One of the benefits of building a Telegram community is that she's formed a bond with some regular clients. And it goes beyond sex.
"I feel like I'm helping someone. I do bring joy to people's lives. Some of them can be very lonely. They have no friends or have never ever dated before in their life. So I feel like I can be the emotional support for them."
Some clients pay for her services as they've never kissed a girl before. Others might be in need of a cuddle after breaking up with their girlfriend. She doesn't appear the slightest bit put off when she tells us this—Jade is genuinely happy to help.
In turn, her clients also support her through tough times. Some have even offered to rescue her if she ever finds herself in a dangerous situation with another client.
"Sometimes I do call them and like, like, just tell them about like when going through, and they'll just be there for me."
This blurring of lines sometimes affects her relationship with her partner, she admits. "I think the main difficulty is actually comparing him to clients."
"Like providing food, meals, and money, even emotional support. Things that he can do, my clients can do even better."
So why date him, then? She considers for a moment before settling on an answer: "I think the only difference between him and the client is that he doesn't come to me to pay me for services."
"It feels real, in a sense."
While her partner is still generally understanding of her choices, she reveals that her conservative Christian family disapproves of her OnlyFans career. They don't even know about her sex work.
She smiles wryly when she brings up her family situation. It almost seems like it's easier for her to talk about sex than her feelings.
She grew up in a strictly conservative household—sex was a taboo topic, she had a curfew, and she was expected to live at home till marriage. But the restrictive upbringing only led to her wanting to explore her sexuality more in adulthood, she says.
Her decision to become an OnlyFans creator became the source of their disagreements and the eventual cause of her exodus from the family home. After one too many arguments, she decided to up and leave to seek more freedom, she says.
"To them, it's like sexual immorality, that kind of thing. So, it's difficult for them to accept."
Her clients, of course, came in clutch. She stayed with one of them temporarily when she first left home.
Today, she's essentially a one-woman show. But the downside of running things herself is that she has no one around to help when clients overstep boundaries. As much as her regulars avail themselves to assist her in times of need, she's usually alone when unpleasant client interactions unfold.
She recounts one incident from the night before—in the very same room we're in—where a client was "obsessed" and would not leave.
His 11 PM booking slot was well and over. Instead of leaving, however, he simply shut her door and stood in her doorway.
She eventually worked up the courage to chase him out, but it was only around 2 AM that he finally left.
It's concerning. This client didn't get violent, but who's to say the next one won't?
The consternation on our faces is probably obvious. Jade quickly adds that these incidents are rare. She's still "very satisfied" with her job, she says.
Besides unruly clients, Project X notes several other common issues Telegram sex workers run into.
For one, these sex workers face online sexual harassment, where clients distribute intimate images without their consent. They also have to deal with non-payment of fees, lowballing or bargaining, and clients trying to coerce them into unsafe sexual practices.
And with all of their operations conducted via the messaging app, another unfortunate side effect is getting confused with credit-for-sex scams when they ask clients for deposits, says Project X.
The Changing Needs of Sex Workers
When we think of sex work, most of us probably still think of women taking to the streets of Geylang. Now, if you so wish, you could find a sex worker on Telegram without so much as leaving the house.
The proliferation of Telegram sex work also lowers the barriers for would-be sex workers—pretty much all you need is the ability to create a Telegram channel and sell yourself.
For Project X, which provides sex workers with social, emotional and health services, advocacy efforts on the streets aren't enough. They've also had to extend online.
"Our online outreach efforts are currently driven by online-based sex workers who vouch for Project X and speak to other workers on the platforms on our behalf, asking them if they have heard about Project X and recommending them to connect if they haven't."
As the face of sex work changes, the organisation hopes that there can be more efforts and campaigns in Singapore to reduce the stigma of sex work and safe sexual practices. To better protect Telegram sex workers like Jade, clients need to be educated and/or warned when intending to distribute intimate images of them, exploit them, or harm them.
"First responders, such as police, hotel staff, and helpline operators, should also be trained on handling these issues in a sensitive manner."
Just Another Way To Hustle?
Considering the popularity of OnlyFans among the younger generation, most people (at least among the more liberal crowd) will hardly bat an eye when they're told someone is making a living off the platform.
But the same can't be said of sex work. The industry is very much still taboo and shrouded in stigma.
Jade shows a rare moment of vulnerability, admitting that it gets to her sometimes. In these moments, she "thinks lowly" of herself and tells people that she's a content creator instead of a sex worker, she says, adding that she wishes sex workers got more credit.
"It's still difficult. It's a job that you have to hustle hard for."
However, the thorny legal aspect of the job means it's probably a long way before it has the same legitimacy as any other career.
Jade's of the opinion that sex workers like her shouldn't have to be afraid of legal repercussions: "It's also an honest way to earn a living. I think that in our day, people have all sorts of ways to earn money."
But it's not as simple as decriminalising or legalising sex work.
For one, there's a distinct difference between the two: Decriminalisation refers to the removal of laws that make certain aspects of sex work illegal, while legalisation refers to the introduction of laws to regulate the industry. Each has its own pros and cons.
Then there's the fact that sex workers themselves aren't just divided between the two camps. A third group also exists: Those who want sex work to remain unregulated due to the freedoms afforded.
Is Telegram sex work a source of empowerment or endangerment? Which is more important: Autonomy or protection?
Until we're able to have more of these tough conversations, sex workers like Jade remain in the grey area.
*Name has been changed to protect their identity
Editor's Note: We originally noted that soliciting any sexual service online is illegal. This is inaccurate—it's only considered a crime if it involves a syndicate. Being an independent sex worker online is not illegal.
---
If you haven't already, follow RICE on Instagram, TikTok, Facebook, and Telegram. If you have a lead for a story, feedback on our work, or just want to say hi, you can also email the writer at kim@ricemedia.co or at community@ricemedia.co.