All image by Sean Lim for RICE Media. Top image: Tey Liang Jin
Three words: They are screwed.
With most of us forced to work from home, the de facto circuit breaker we are experiencing now has been a nightmare for stallholders at industrial parks. This is pretty much a death knell since their businesses cater mainly to workers there.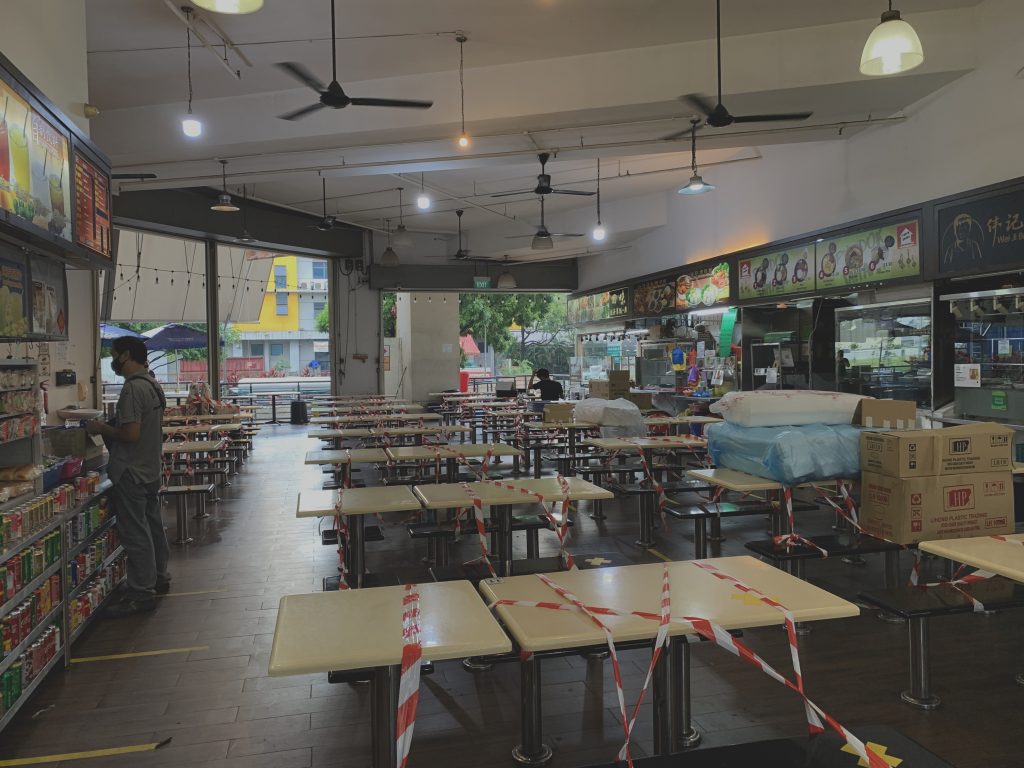 It is 2.25pm on a Tuesday. I've decided to visit the 280 Cafe coffee shop at Harvest@Woodlands, which is located in Woodlands Industrial Park. 
The journey there takes me more than half an hour from Woodlands Bus Interchange, as I board bus 858 and alight seven stops later. After alighting, I walk for another 15 minutes before arriving. Given how far-flung the coffee shop is, it is no wonder places like this get overlooked unless one works there. 
As if the restrictions were not damaging enough to the stallholders there, they were dealt with a Covid-19 cluster from the same building during the last week of May. 
The coffee shop is eerily quiet, with sound coming only from the humming of the large overhead fans. Among the beige tables taped with the familiar red-white barricade tape, I spot 31-year-old Jomin Goh taking a breather in front of her noodle stall. 
1. Noodles are difficult to takeaway – Jomin Goh, 31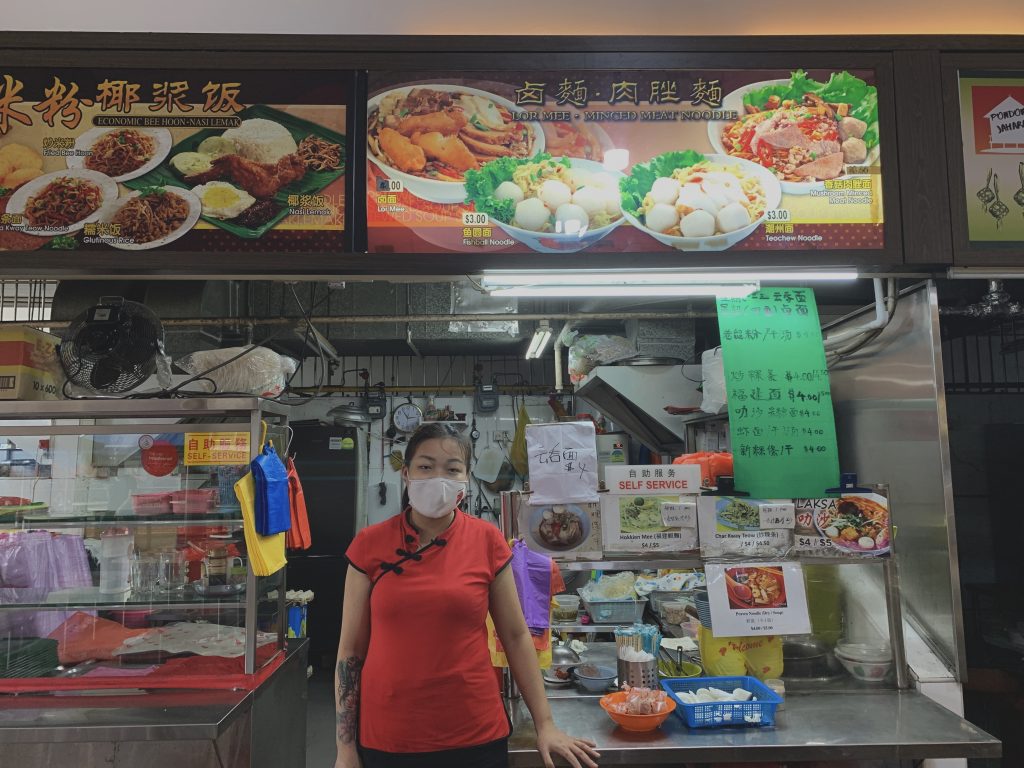 Dressed in a red, short-sleeved qipao top, Jomin tells me the deserted scene of the coffee shop is a daily sight—even during lunch time—since May 16 when Phase Two (Heightened Alert) started. 
Normally, Ms Goh doesn't even have time to rest because long queues are a constant when she whips up piping hot bowls of fishball noodles or bak chor mee from 8 AM to 7 PM daily, except on Saturdays (when she operates half-day) and Sundays (when she closes). 
Her business used to flourish, selling more than 150 bowls of noodles daily. Those were the good old days when office ladies, who make up the majority of her customers, had lunch at her stall. 
But sadly, most of them are now forced to work from home and Ms Goh struggles to even dish out 80 bowls per day. She said men cannot be depended on either—gastronomically speaking—because they usually prefer heavier meals such as cai fan (economic rice) over lighter fare from her stall.
Ms Goh forks out almost $2,000 a month for rent and other miscellaneous fees. Last year, she received relief during the circuit breaker and paid about $500 a month after accounting for the subsidies—which was still a burden since she barely sold 20 bowls a day then.
I asked her: Why don't you hop onto the delivery platforms? Isn't this the most logical thing to do? 
Food sellers like Ms Goh are not stupid. Obviously she is aware of them. Due to poor business during the circuit breaker last year, she applied for her stall to be listed on Grab, FoodPanda and Deliveroo. But she lamented that none of them got back to her due to the large volume of applications. 
Ms Goh did not follow up with the application process after the circuit breaker because business gradually picked up. She reckoned that by accepting online orders from those platforms, she would struggle to cope as there were already many orders from customers at her stall. 
Little did she know the same fate would befall her again this year with the dine-in restrictions. 
I can see she takes pride in her noodles, as she describes enthusiastically that the chilli paste, fried shallots and crispy pork lard are all prepared in house once every few days—less commonly seen these days as many hawkers take the easy way out and buy them from a supplier. 
And it is this same pride which makes her reluctant to embark on delivery platforms: her food was never meant to be dabao-ed in the first place. She wants her customers to feel satisfied eating her noodles. 
By the time the delivery person in the signature green long-sleeved shirt arrives and hangs your bag of mee pok tah (dried noodles) on the door, the noodles would have gone soggy and become an inseparable lump of mess. This is not the kind of food Ms Goh wants her customers to chomp on. 
I pity Ms Goh, who is a working mother of four children, aged four, five, six and 10. Life is not easy for this Malaysian here on a long-term visit pass. Her Singaporean husband, 51, used to help her at the stall but has gone to look for other jobs in the past year to supplement the family's income. He is now working as a linen attendant at a hotel. 
Like me, Ms Goh has her fingers crossed that restrictions will be lifted on June 13, because things are not looking good should there be an extension. 
"If this situation persists for another two to three months, I might consider closing down the stall," she says. 
2. A double whammy for HMJ Malay Cuisine – Razali, 58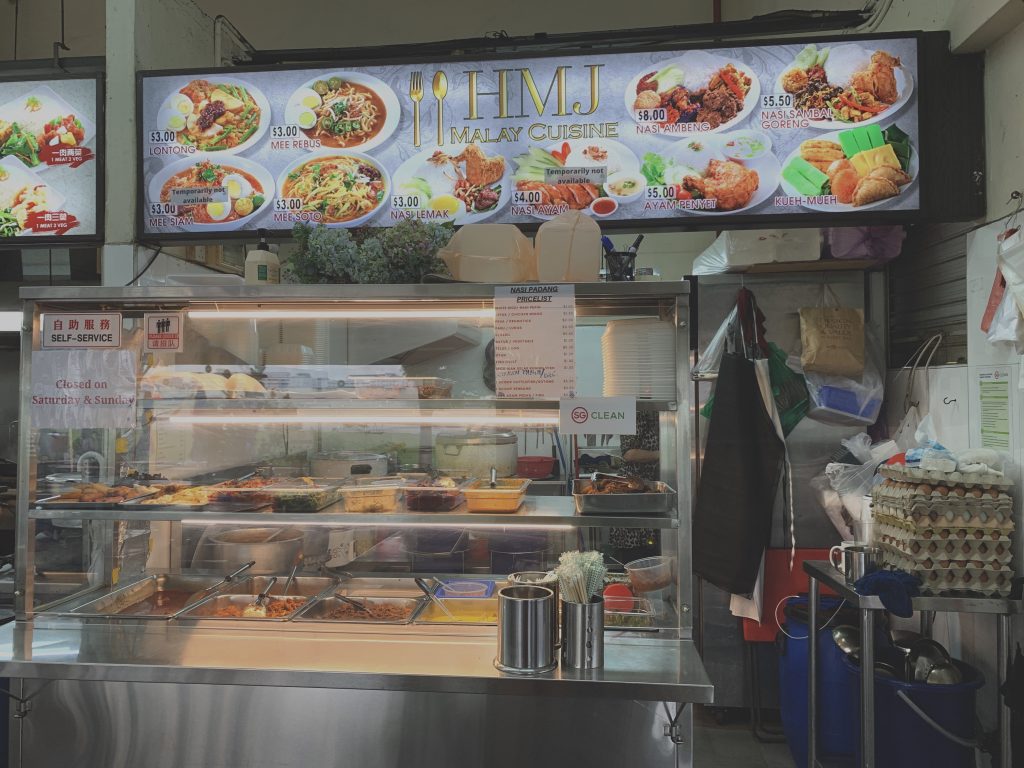 At Gold 186 Food Court, I get hold of 58-year-old Mr Razali at his corner stall and he immediately tells me the no dine-in rule is a double whammy. He is a newcomer in this F&B business—at least in the coffee shop industry. 
The opening of his stall after Chinese New Year this year was actually a pivot from his previous business of wedding catering, which he was running for 15 years. Due to the pandemic, he found it untenable to continue his family business of more than five decades. 
With the current restrictions which only allow customers to take away their meals, he claims his sales have plummeted by more than half, with barely enough money left to pay his rent of about $4,000 a month. 
Meanwhile, it does not help when he—as well as other stallholders—depends on workers from the nearby semiconductor factory Micron (a 10-min walk away) to have their lunch here. 
According to him, due to the pandemic, Micron has instructed their staff—some of whom are still working on site—not to leave the workplace for meals and consume food sold in the factory instead. The factory did not respond to queries on this as of publication time. 
The HDB dwellers in Woodlands don't patronise his stall either. 
 "HDB there already got makan, they want to come here for what? So leceh, " Mr Razali says. He opens his stall only on weekdays, from 6.30 AM to about 3 PM in the afternoon.
Even among the few who drop by his stall, such as taxi drivers, they pick fewer dishes for their nasi lemak than they normally do. Not because Mr Razali's food is unaffordable (his prices are modest at $3 to $4) or that people are tightening their belts. But these customers who have to eat their meals in the car prefer to keep it simple.
Maybe one chicken wing and a fried egg to go with their rice, tops, so the packet of food is easier to hold onto on the go, Mr Razali says.
But Mr Razali is not one who throws in the towel easily. Instead of moping when his catering business became untenable, he opened a food stall. Instead of swatting flies at the coffee shop, he dabbles a little in his old trade by preparing bento sets for couples who push on with their weddings (solemnisations can still take place, within limits). Better to have bread crumbs than nothing—an attitude I see in Mr Razali. 
Then what about food delivery platforms, I ask him.
"You ask the claypot guy lah, he uses all these!" gesturing me to another stallholder a few tables away who sells claypot dishes. 
3. Business is still horrible despite being on three delivery platforms – Au Chee Meng, 39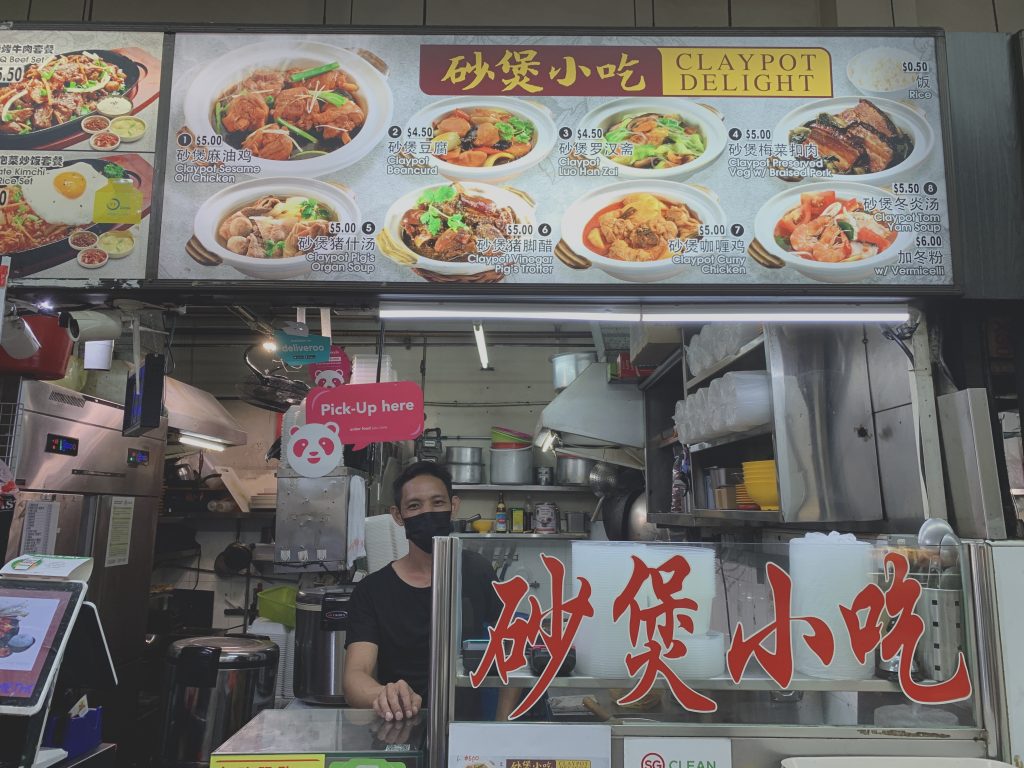 I walk over to the Claypot Delight stall, and clearly, its stallholder is a forward-looking one. Mr Au Chee Meng, 39, has numerous food delivery labels attached to his stall-front—GrabFood, foodpanda and Deliveroo. 
Not bad, I tell myself, business should not be too bad. Online, commentators have lauded the usefulness of these delivery platforms in the—pardon the cliche—pandemic new normal.
Statistics from SingStat have also painted an optimistic picture, with Enterprise Singapore funding 5% of the commission cost charged by four food delivery platforms—including Bungkus—until June 15. These platforms usually impose a charge of about 30% of the total food order. 
The Infocomm Media Development Authority also launched the Digital Resilience Bonus cash grant last year to help stallholders like Mr Au to go digital.
But if food sellers are indeed benefitting from food delivery apps, Mr Au isn't one of them. He claims his business has fallen by 70%, selling only 20 to 30 claypots worth of food a day. This is a blow for someone who used to sell more than 100 claypots. 
"I don't even know how to think anymore," Mr Au sighs. He said his rent and miscellaneous fees which add up to about $3,600 have been weighing down on him. 
He blames his dismal business on the inaccessibility of the coffee shop. While it may be convenient for workers nearby to pop by for a meal, residents don't do so—the nearest flats are a kilometer away and walking there takes you 20 minutes. Food delivery riders are not keen to serve this area either, Mr Au says. 
Like every stall in the coffee shop, he also relies heavily on his customers from Micron. Before the restrictions, the coffee shop would normally be packed to the seams with more than half occupied by Micron workers. But the crowds are no longer here. 
Despite the difficulties, Mr Au soldiers on. He continues to dish out piping hot claypots of curry chicken and tom yum soup every single day, from 11 AM to 9 PM. 
He's also gotten creative with his outreach efforts, getting his friend who is an insurance agent to advertise for him. His clients who order those claypot dishes from Mr Au enjoy a 10% referral discount.
For the past few weeks, I have read countless stories online about the plight of hawkers, especially those in the central business district. Like stallholders in the industrial parks, they are also suffering from a dearth of customers as most of us are working from home. Some even chose to shut during this period of tighter restrictions. 
For now, they stand to benefit from a one-month rent waiver and full subsidy of table cleaning and centralised dishwashing services from the government if they are managed by the National Environment Agency. 
CBD stalls have also had their fair bit of media coverage in recent days (here and here). The more well-known ones in the area—numerous of them—may have loyal customers from other parts of the island patronising them, even if they don't have their usual clientele of office-workers. 
But those stalls nestled deep inside the industrial parks are usually nondescript and cater specifically to workers who work in the vicinity. Few of us would make a trip down to these food establishments to have a meal because of how inaccessible they are. 
When the government imposed the no dine-in rule, these stalls suffered, even with measures such as the Job Support Scheme and Covid-19 recovery grants. 
The road ahead looks bleak too: for coffee shops not under government agencies such as JTC Corporation and Singapore Land Authority, they will receive only half a month of rental relief instead of a month's worth. 
And only from mid-August this year will the taxman dole out the rental support cash payout directly to coffee shop operators and their stallholders.
These stallholders also do not receive any waiver for dish collection services (or any other miscellaneous fees for the matter) from the government, which is understandably so for privately-owned coffee shops. If they do, it is usually due to the goodwill of their operators.
I'd say the odds do not seem to be in their favour.
These are stories of persistence, determination and maybe even desperation. We can only wish them all the best in surviving the rough journey ahead. After all, they are the ones who keep the industrial parks fed and running.
Will you visit and support these stalls at industrial parks? Tell us about it at community@ricemedia.co.
If you haven't already, follow RICE on Instagram, Spotify, Facebook, and Telegram. If you have a lead for a story, feedback on our work, or just want to say hi, you can also email us at community@ricemedia.co.