Photography by the author. 
All photos taken with a Leica M10, Leica Summilux-M 35mm f/1.4 ASPH, Leica Store Singapore. 
It's Saturday night, and countless skull-painted faces are roaming the compound of the old Beach Road Police Station.
But it's not your typical Halloween party with The Nightmare Before Christmas as the theme.
In fact, Día de los Muertos, or Day of the Dead, is a Mexican holiday that has more in common with the Hungry Ghost Festival in Southeast Asia than its Western counterpart. It's a joyous occasion that embraces death and honours loved ones who have died. During the two-day holiday, families make altars decorated with flowers and the favourite possessions of the deceased. They also bring gifts to graves and hold parties to commemorate the dead.
Unlike Halloween, it does not revolve around anything spooky or deliberately "horror themed".
There's no trick-or-treating either.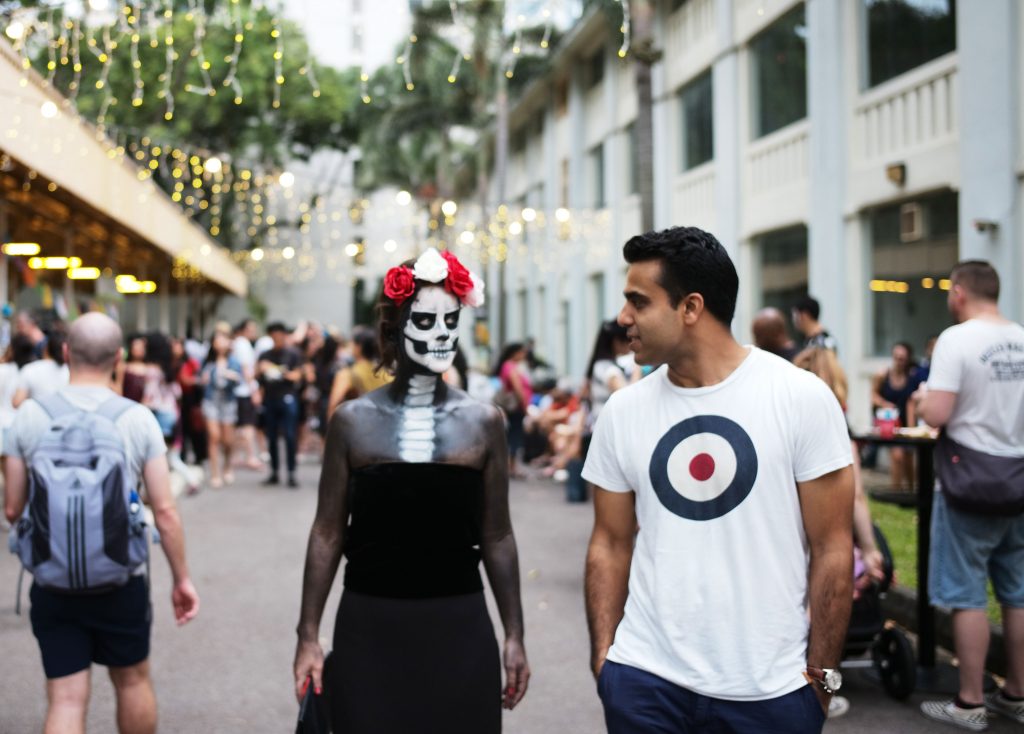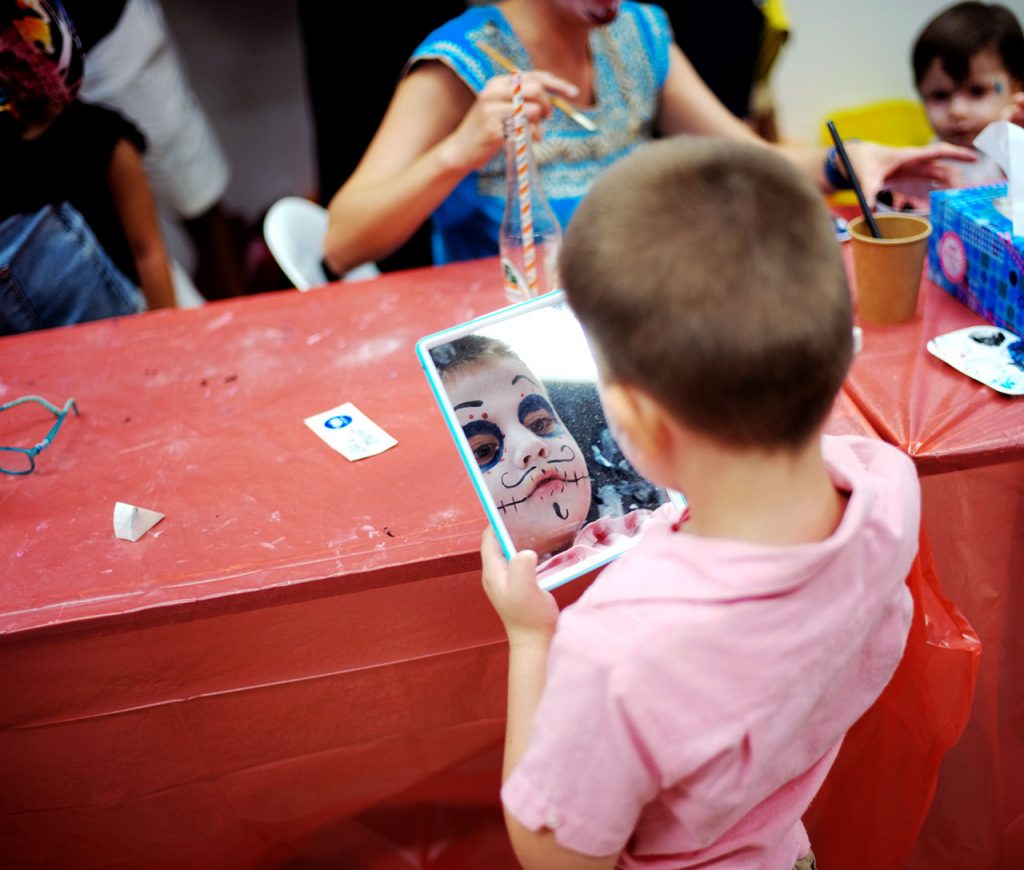 The roots of the popular skull (or 'calavera' in Spanish) that is painted during the Day of the Dead can be traced to a piece of a Mexican artwork that is more than a hundred years old.
La Calavera Catrina depicts a female skeleton dressed only in a floral hat that bears early 20th-century European styles. Done by famous Mexican cartoon illustrator and lithographer José Guadalupe Posada, it is a satirical portrait of Mexican natives who were aspiring to adopt European aristocratic traditions in the pre-revolution era.
Many of the women wearing the calavera face paint at last night's festival are dressed in similar fashion – European-influenced gowns in a mix of black and other colours.
Marie, one of these elaborately dressed ladies, tells me that the choice of colours is symbolic. Black represents mourning, but bright colours are predominant since Day of the Dead is a merry celebration.
I subconsciously look down at my own clothes and realise I'm entirely in black. I must have stood out like a sore thumb in the sea of colours.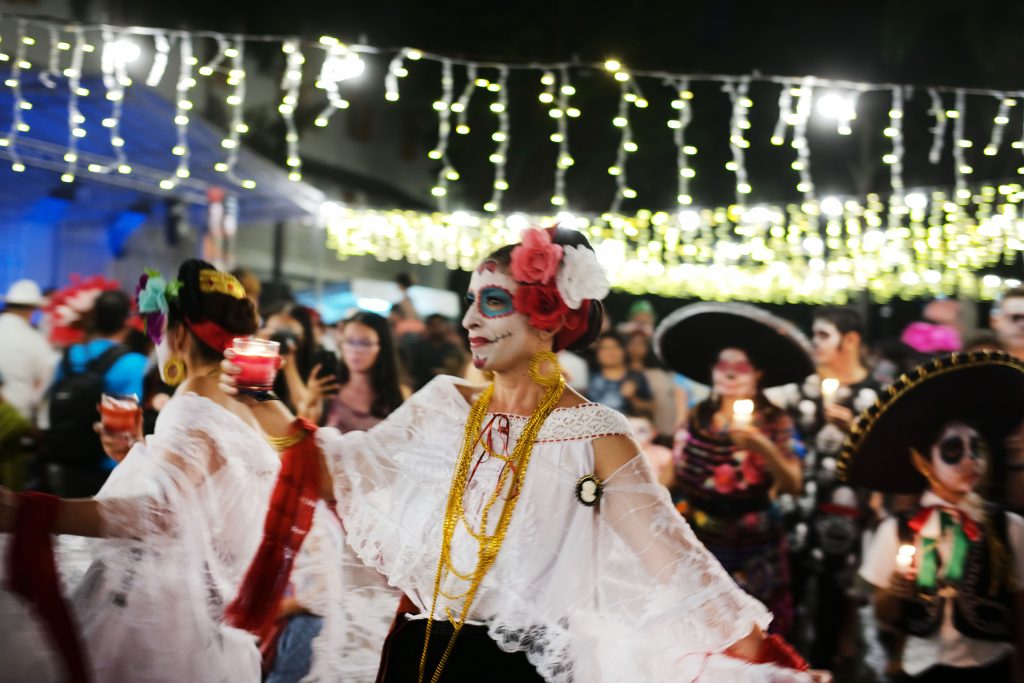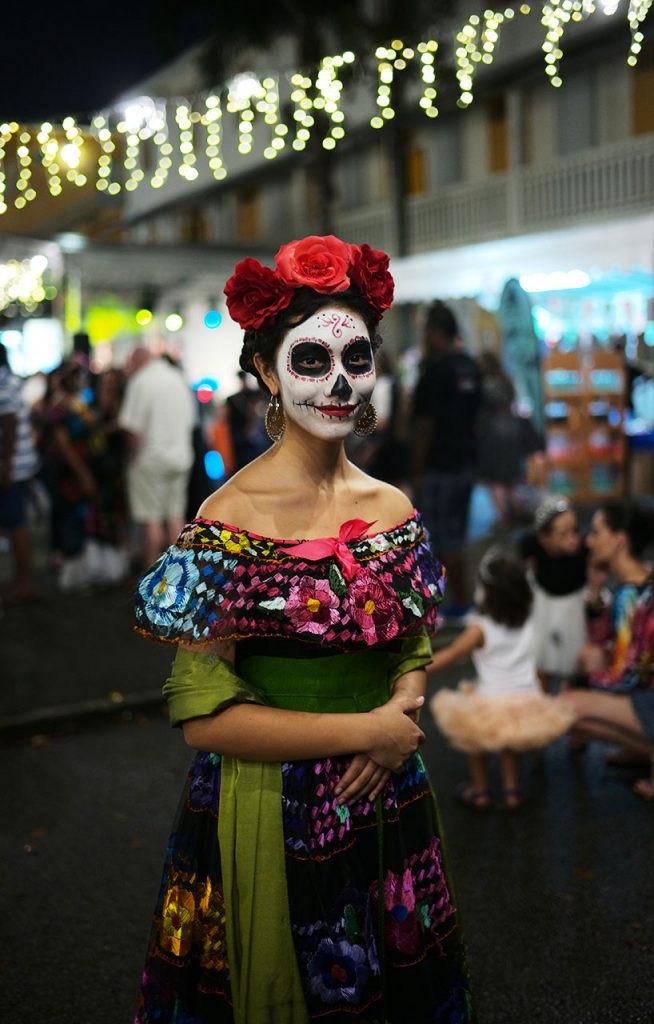 At the entrance to the outdoor festivities is a gigantic step pyramid reminiscent of Mesoamerican architecture.
This altar, also known as ofrenda, represents the amalgamation of Aztec beliefs and Catholicism in Día de los Muertos. The festival was originally held in the middle of the Aztec year, but was moved to coincide with All Saints' Day by the Spanish colonial rulers.
Ofrendas at home are usually as big as a dining table and contain three tiers; the one set-up here has seven and is elaborately decorated with various offerings.
A photo of the deceased who is invited to the altar is placed on the topmost tier, frequently with images of various saints and statuettes of the Virgin Mary. The middle tiers are then laden with the deceased's favourite items.
Food is a common offering, and usually comprises sweet bread and juice. If the altar is for a child, there would be toys as well.
On this particular ofreda, a box of cigars has been laid for Frida Kahlo, a Mexican self-portrait artist who was revered as an icon for feminism and the LGBT movement. No points for guessing what her favourite pastime was.
At the bottom of the altar are lit candles and marigold flowers, mostly orange. They signify the path that the deceased must take to reach heaven, represented by white flowers. Purple flowers symbolise mourning.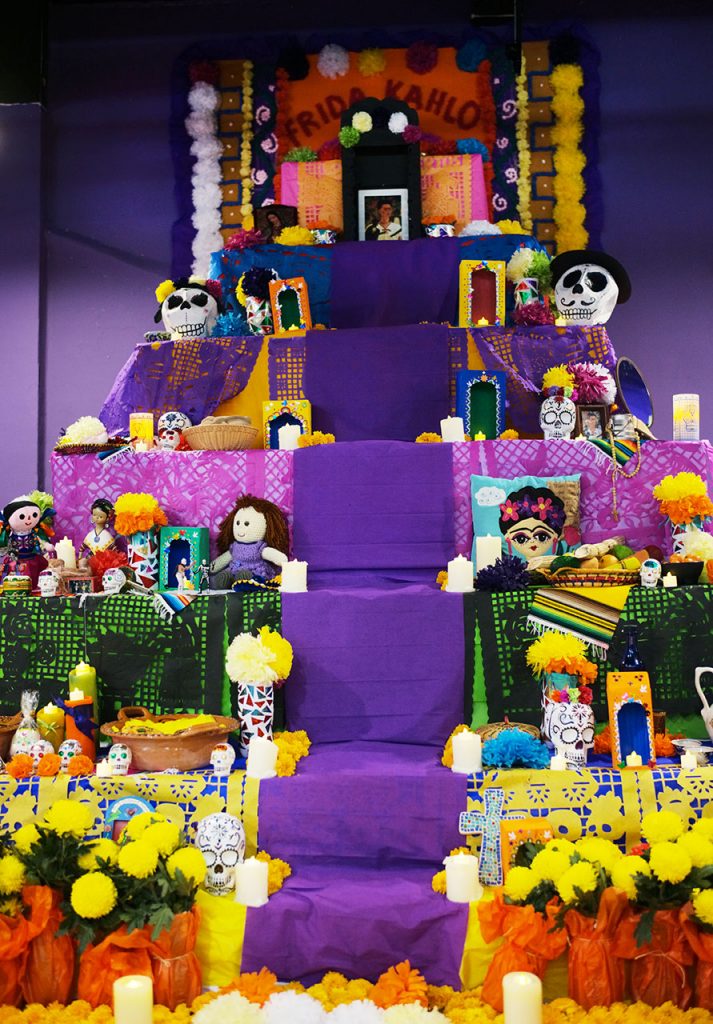 Gisela, my guide for the display, says that at this time of the year, the markets in Mexico would be brimming with marigold flowers and it's often a beautiful sight. In Singapore however, the flowers were hard to find.
I ask if funerals in Mexico are an equally positive affair. She replies, "Not really, most of the time we are still sad. But I have heard of families who held parties for the dead because the deceased specifically requested that they did not want anything sombre."
Marie, who is currently studying at an international school in Singapore, says that making the ofreda is also her best memory of the Day of the Dead celebrations.
"It's a family affair and everyone gets down to making the altar and preparing the offerings. It usually takes about two days to set it up, and I really miss it."
Looking at the ofreda, I wonder if this could be a solution to frequent complaints of the excessive incense smoke during the 7th Month. Instead of mass burning of Mercedes cars and iPads for the underworld, why not just create a little altar at home bearing these gifts and more for the deceased to bring back?
Or are we too superstitious, afraid to let the dead into our homes?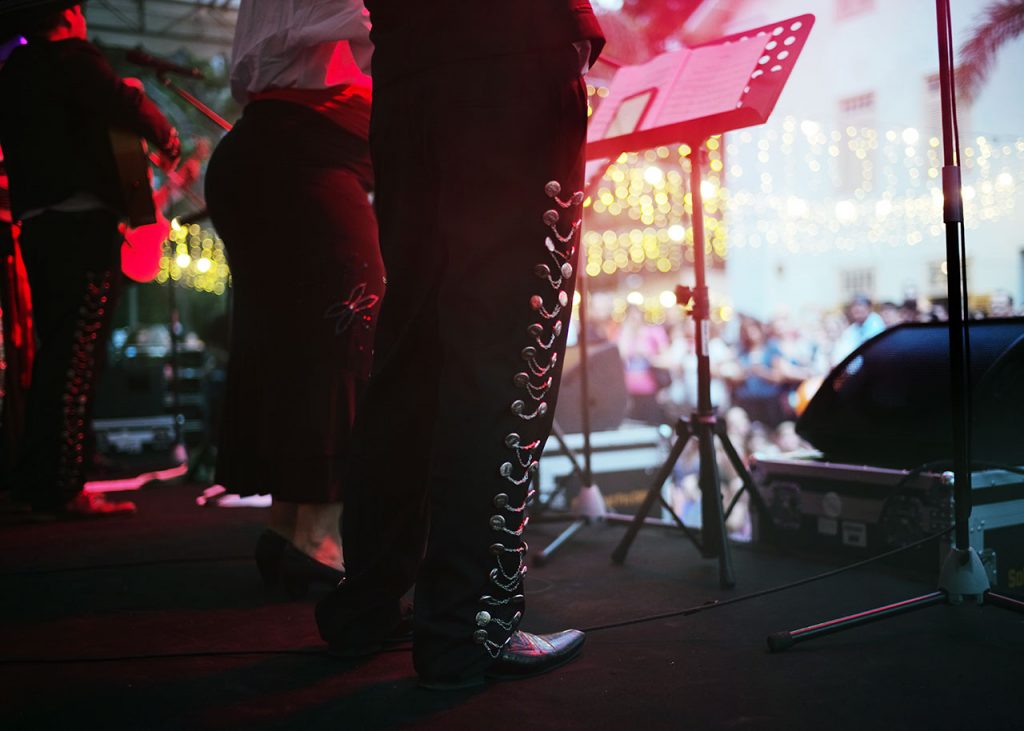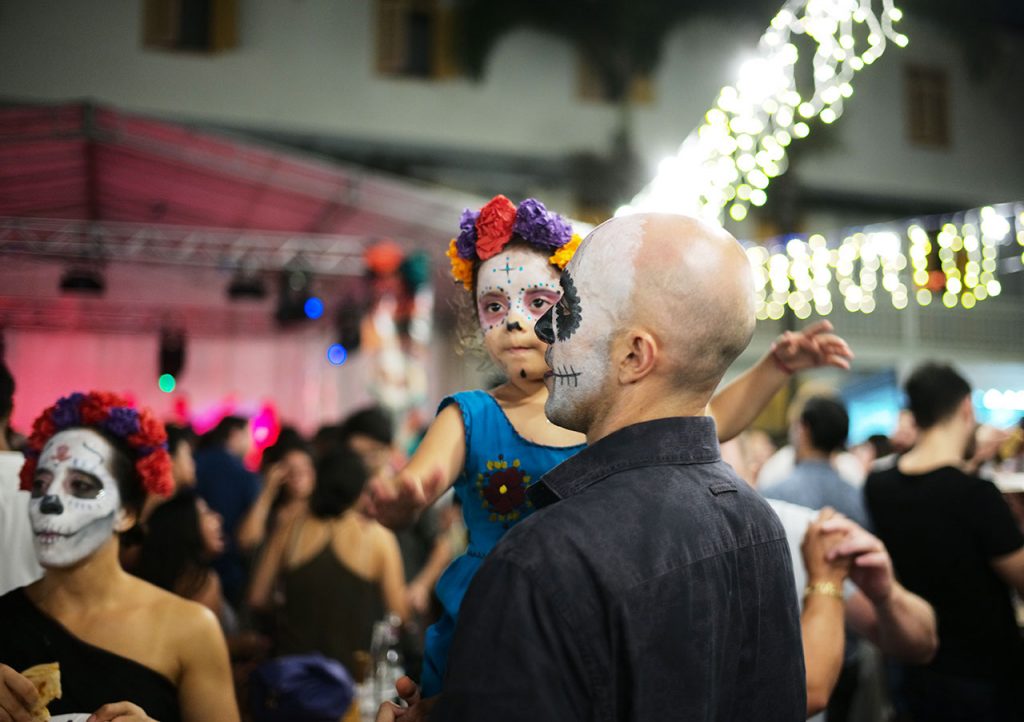 In the room where attendees are getting their faces painted, the lights suddenly go out. A bride emerges with a candle in her hands, followed by a procession of calavera bridesmaids.
The Spanish music that has been playing in the background throughout the event is cut, signalling what is probably the only solemn highlight of the night.
The women tread slowly with expressionless faces towards mock-ups of tombstones on a grass patch outside. The bride seems to be searching for something, but does not find it.
They circle round the graveyard and pause for the crowd to snap photos before exiting.
Marie tells me that the parade is a re-enactment of a Mexican tale of a mother searching for her two children who had presumably drowned after she left them to play by the river.
They were never found, and her spirit continues to wander until she finds them.
Gripping stuff. And I thought Día de los Muertos was not supposed to be scary?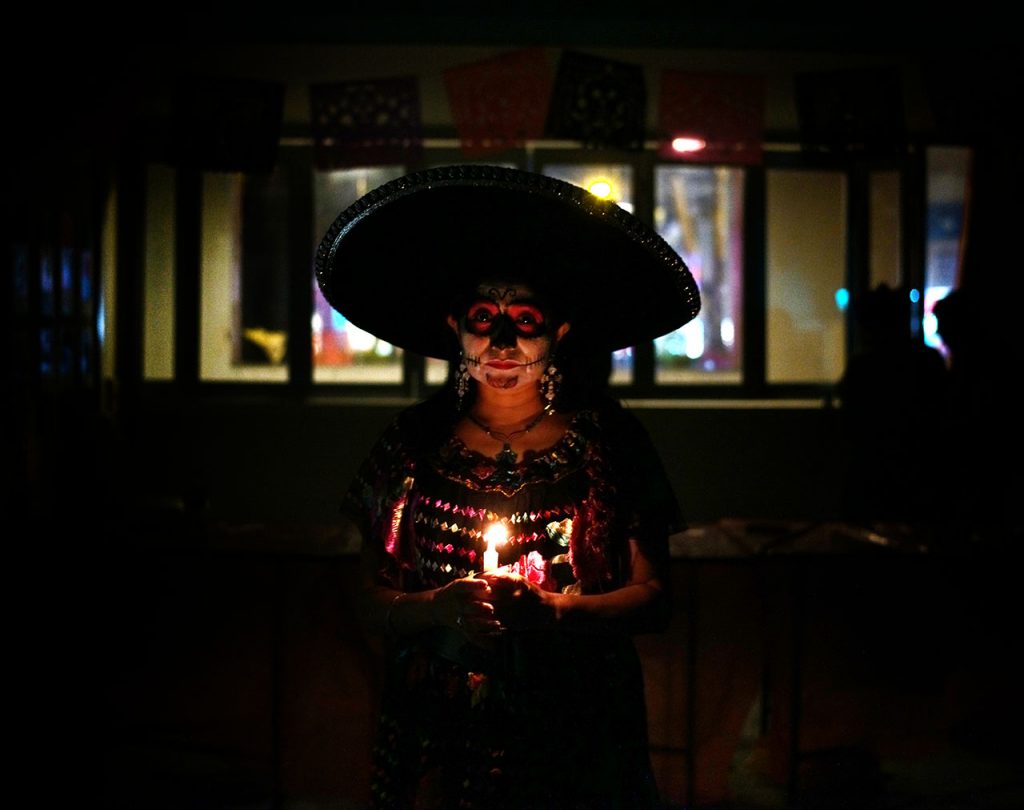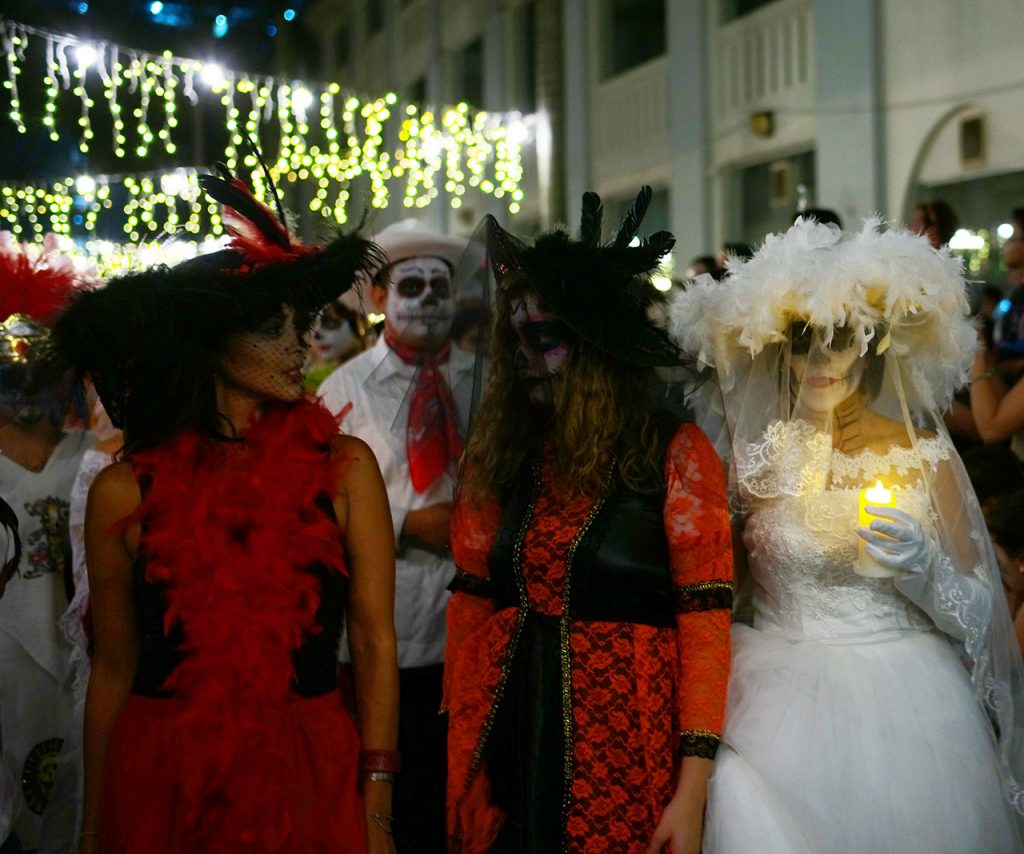 Thankfully, a Mexican band appears on stage shortly after, and they immediately light up the atmosphere with energetic renditions of Spanish classics.
In response, the crowd shows their appreciation by breaking into spontaneous, electrifying dance.
For one night, the old Beach Road Police Station transforms into a Mexican hell, where skeletons party and feast on tacos and Jarritos.