Images by Ilyas Sholihyn for RICE Media unless otherwise stated.
How do you fit decency and goodwill within 280 characters?
Let's switch the question. How does Twitter — a platform replete with dank memes, hot takes, witty quips, and fervent K-pop fandom — commit to doing good for society?
For Amanda Ang, it lies in ye old Peter Parker proverb: with great power comes great responsibility. As Twitter's Head of Public Policy in Singapore, she fully recognises the huge role technology plays in influencing the minds and hearts of the masses. Facebook, Google, Apple and Amazon practically run the world at this point.
To turn that power into efficient fuel for positivity, Twitter's public policy team acts as ambassadors to the governments, policymakers, regulators and civil society groups. That tight-knit relationship charts a roadmap for Twitter's social impact. Already, the collaborations have tackled pertinent social issues like digital literacy, internet safety and mental health.
And of course, credible Covid-19 updates. With Singapore having its fair share of conspiracy theories spreading around on Telegram, Amanda believes that an online
platform as monumental as Twitter should play its part in combatting online misinformation and misleading content.
But this is not a story about arguing with people who think Covid-19 vaccines make you magnetic. This is about how executives in Twitter — and many other companies both big and small — are learning how to do good in Singapore.
Beyond Trending Topics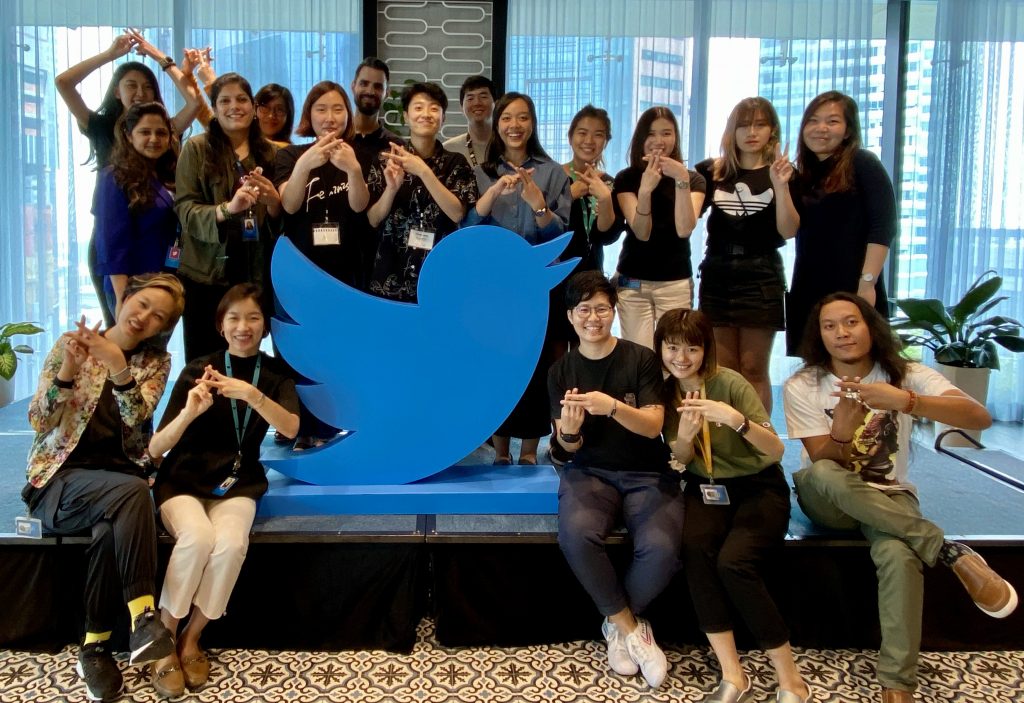 We live in an age of simultaneous large-scale philanthropy and heightened inequality. In an era where big tech holds the most powerful form of marketing and audience reach with troves of user data, it's only natural that the concentration of clout and authority is currently snowballing among those in the tech industry. As the world becomes inherently dependent on digital platforms, how does Twitter leverage this asset with the vulnerable? With empathy and diverse perspectives, Amanda tells me.
"Twitter is what's happening and what people are talking about. The power of Twitter is the ability to bring people from all over the world — no matter where they are from, no matter who they are, what their background is — together in a single place and a single platform to converse and have discussions so that they can solve common issues," she says.
Her passion for doing good is genuine. Having held prior stints in the civil service working on policy matters at the Ministry of Law and the Ministry of Social and Family Development, Amanda joined Twitter in 2019 for the rare opportunity to marry her experience in policy work with corporate giving.
Since the start of the pandemic, they've seen lots of people coming to Twitter — a result of wanting to connect to others while still sheltering in place. Sure, there are the usual discussions about the latest Marvel flicks and K-Pop gossip, but they've also seen deeper conversations about mental health. Coping with sudden major life changes is distressing, and the number of Tweets calling out for help reflects the amplified intensity.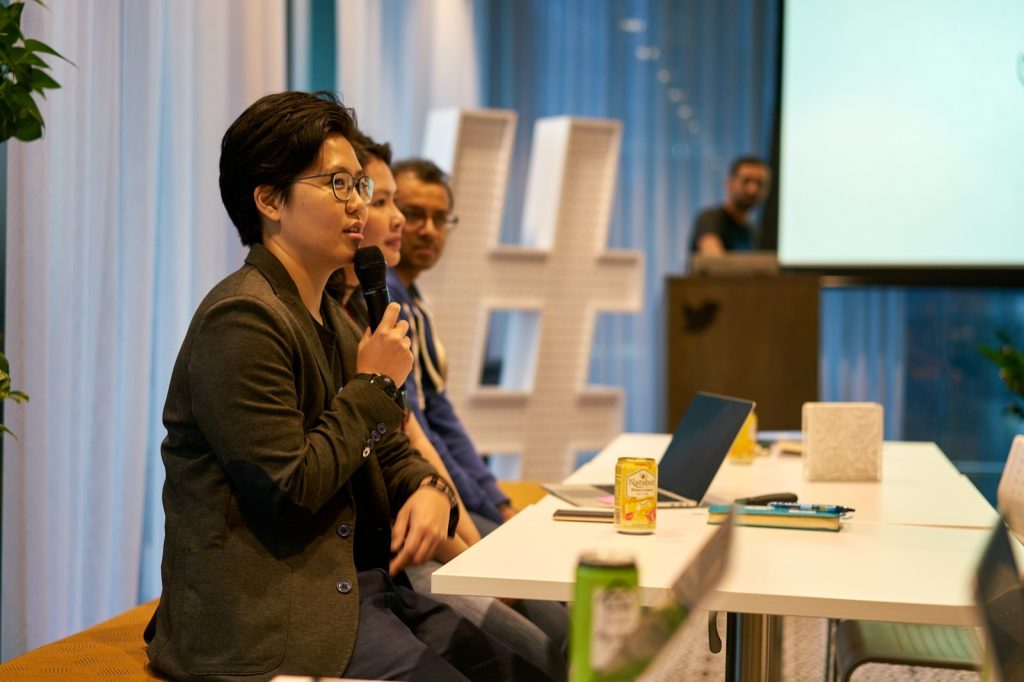 So Amanda and her team partnered up with Samaritans of Singapore (SOS) to build a notification prompt to support vulnerable individuals on Twitter. When people search for terms associated with suicide or self-harm on Twitter in Singapore, the prompts direct users to SOS's hotline, webpage and Twitter handle.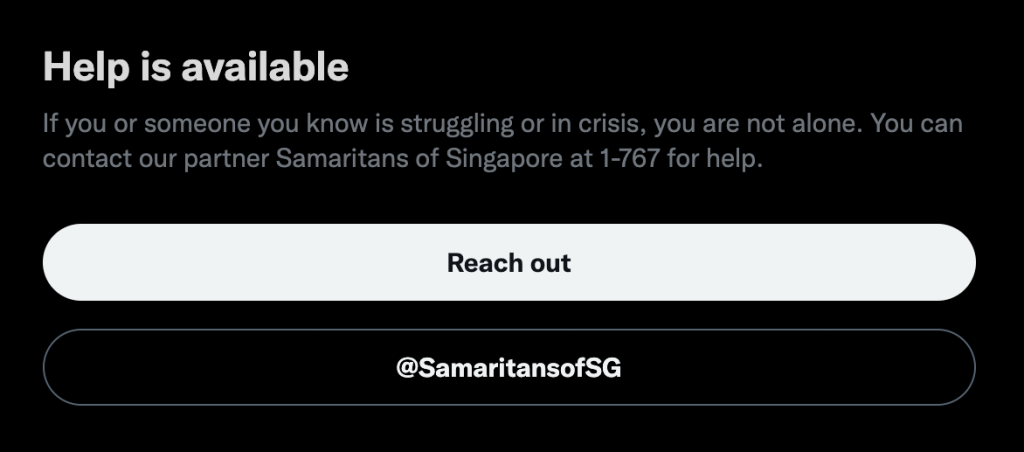 Knowing that help is available at the top of the page — and that you're not alone in this — offers a comforting hand. It's refreshing to know the good that Twitter does remains amplified permanently, in lieu of being a fleeting feature.
Though team Twitter has done plenty to give back to the community in the realm of mental health, internet safety, environmental sustainability, equality and civil liberties, Amanda surprisingly believes that there is still much to do. For that reason, she joined the Company of Good Fellowship.
Catalysts for Change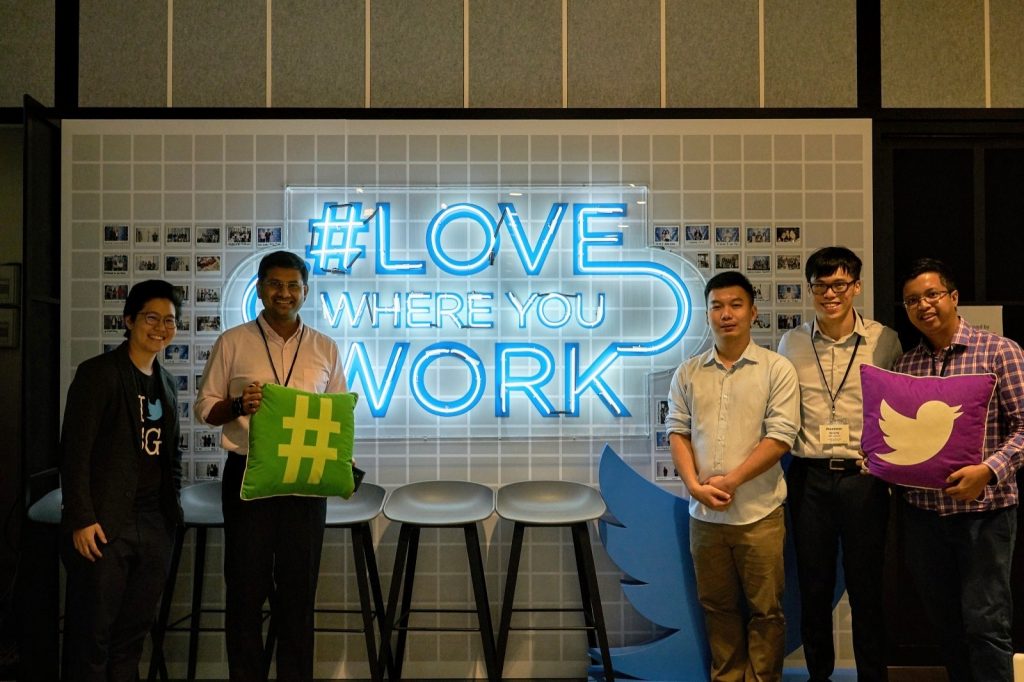 In a nutshell, the programme aims to impart corporate leaders like Amanda with the know-how to do good and be catalysts for long-term change within organisations to benefit business and society. The mantra: all organisations can drive positive change no matter their size or industry.
Developed by the National Volunteer & Philanthropy Centre (NVPC), the Fellowship takes participants through a five-month training programme filled with deep-dive sessions, mentorships, experiential learning and networking to sharpen the systems and design thinking that builds the fundamentals for sustainable giving.
When I interviewed Amanda, she was in the midst of finalising her Action Project — the culmination of the Fellowship in which participants design a CSR initiative to be implemented in their company. She's teaming up with another Fellow from Citibank for a mentoring programme called #WeInspire to equip disadvantaged youths with key digital literacy competencies and soft skills aimed at enhancing their employability.
She remembers being contacted by NVPC earlier this year, inviting her to take part in this year's intake.
"I thought, like, 'Hey, I have been working at Twitter trying to build up our philanthropy efforts, but I haven't really had any formal training into how to think about philanthropy'", Amanda laughs.
Impressed as she was about Company of Good's "very fleshed-out programme", she turned to the one person she knew with first-hand experience in the Fellowship: her boss, Kathleen Reen.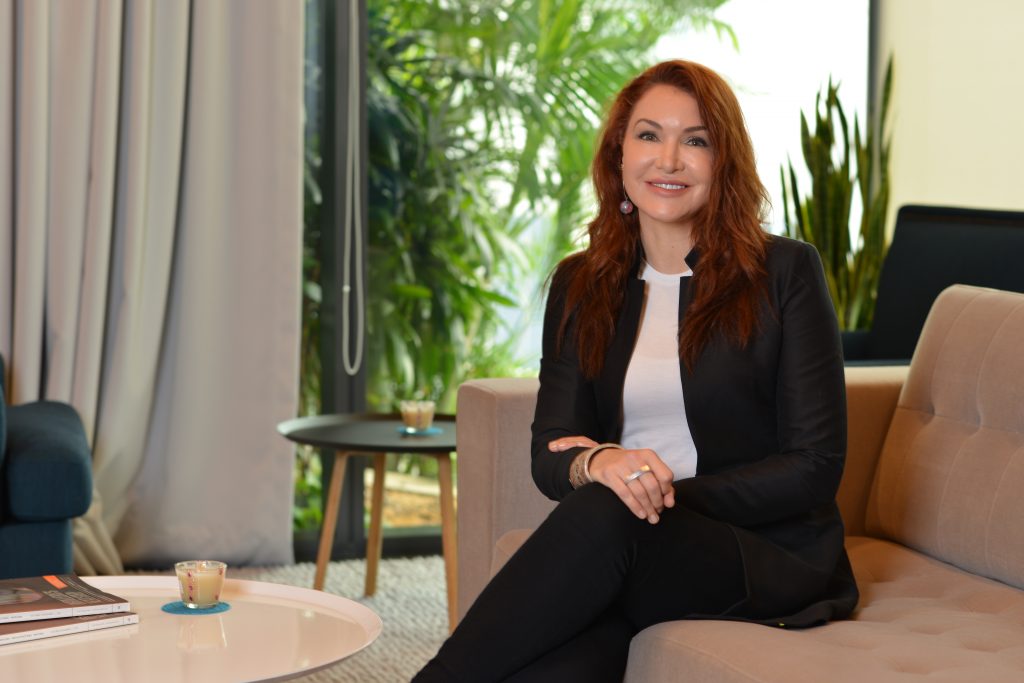 As a Senior Director of Public Policy and Philanthropy in APAC, Kathleen was hungry to learn all about the corporate giving scene in Singapore when she joined Twitter in 2016. So when NVPC invited her to be a part of the inaugural intake of the Company of Good Fellowship, she was excited.
"It was an extraordinary experience," Kathleen recalls.
"It opened a world of relationships; an opportunity to really discover new and fresh ways on what was happening in the world of philanthropy and corporate giving in Singapore. And also how other companies were thinking about expanding their engagements in social issues and what they would do."
For her, it was a great opportunity to learn what companies were doing across Asia, especially how they were scaling their own corporate giving programmes across a diverse range of geographies, cultures and demographics. With the value that the Fellowship provided for Twitter to build relationships with other companies, there was no hesitation in recommending it to Amanda.
Corporate Social Purpose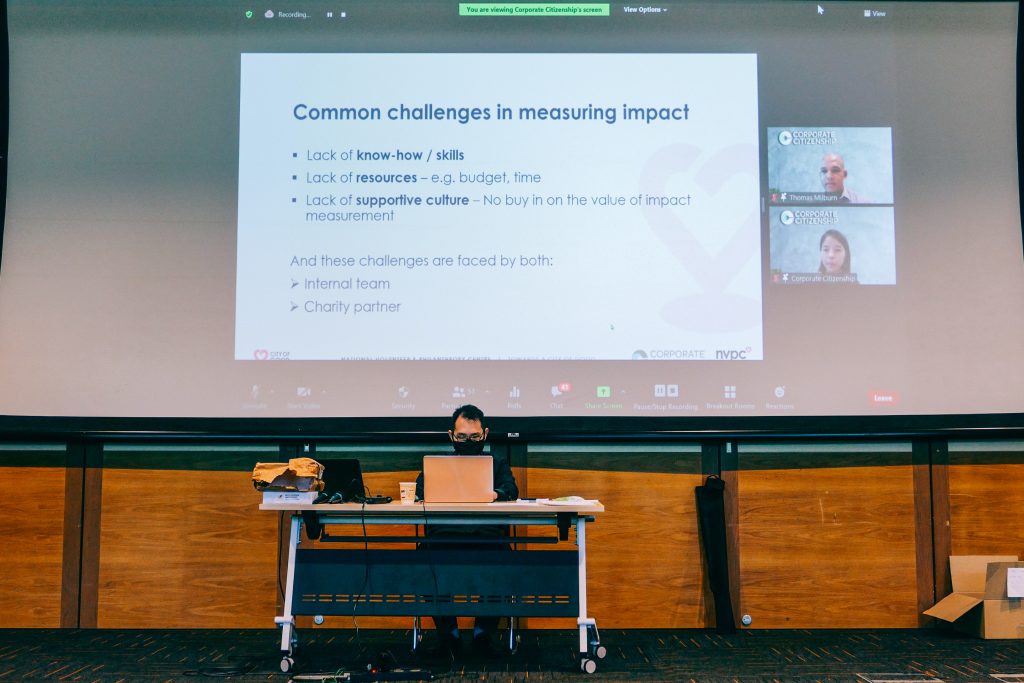 Intrigued by Kathleen's rave review, I sought to find out for myself if Company of Good Fellowship could change my mind on corporate virtuosity. I've seen too many times how corporations can be full of hot air when it comes to these things; marking off a CSR checklist after a one-and-done charity project.
By the time I attended a learning session with the current Fellowship intake (now in its fourth run), the participants were already midway through the programme. Company of Good informed me that I'd be observing a session about how to measure societal impact and how to evaluate community engagement. We'll also be treated to a human library segment involving industry experts, where they'll share their stories and field questions from participants.
I'll be honest: it got pretty overwhelming. What with all the social sector language, dozens of PowerPoint slides, and things like 'framework development', it was a lot to take in for someone whose idea of corporate giving is organising a fundraising event like Michael Scott's Dunder Mifflin Scranton Meredith Palmer Memorial Celebrity Rabies Awareness Pro-Am Fun Run Race For The Cure.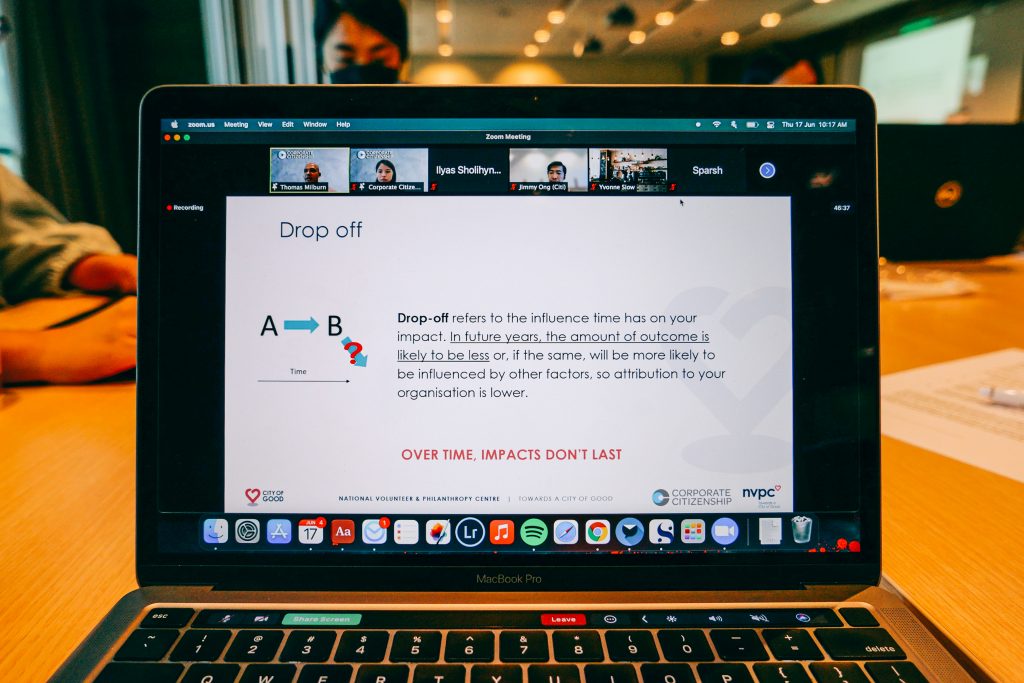 The 40-odd Fellows in the room and streaming in via Zoom, on the other hand, proved to be engaged learners, asking all the right questions to the session's facilitators from Corporate Citizenship. I learned that the facilitators are veteran consultants in managing businesses for societal impact, providing methodologies for companies to benchmark their community-giving.
But more importantly, I gleaned how refreshing the insights were. Impact measurement is a mindset, people. It's not about simply introducing processes for corporate giving; it's about establishing a culture where constant reflection and learning becomes part of the way people work in a company.
From there, participants had to identify the needs of the community — a crucial starting point before figuring out what the organisations will want to address. It could be the high number of unemployed youths, an issue that could be rooted in difficulty in accessing training courses or out-of-date training methods.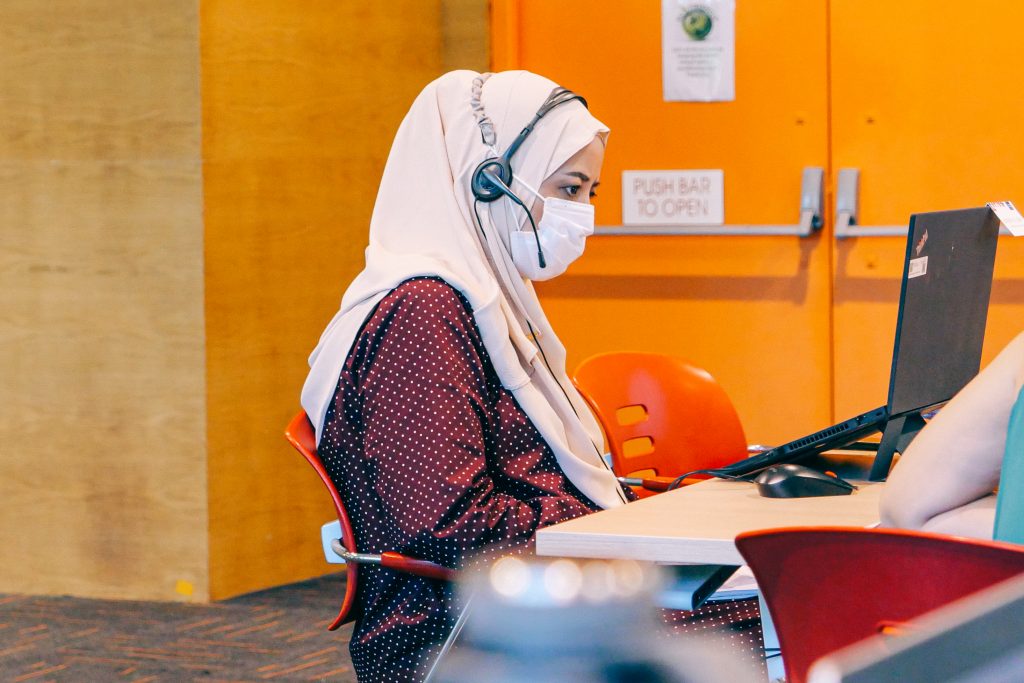 Thanks to the inquisitive Fellows, facilitators clarified uncertainties about workflow, financial planning and administrative costs involved when trying to address a social issue. Technically, a complete newbie like me could use the methodology in RICE too.
There is no one-size-fits-all approach of course, but the takeaway here is how organisations should shape their style of corporate giving with an outcome-driven approach as opposed to a task-driven one. What this does is ensure a long-term impact on the community. But more importantly, an attitude that championing causes and doing good should always be an ongoing process that can be improved upon.
"They've given us a lot of frameworks and tools revolving around how we can look at better investing our resources, how we can look at integrating and institutionalising initiatives better within the community. So it's more sustained, and it's scalable," Amanda offered when I asked about her thoughts.
I'm surprised too by the breadth of companies taking part in the Fellowship. I've noticed executives from Singtel, Amazon, Cold Storage, Timeliss and Boxgreen in the intake, and I'm sure there are more I missed out. What an opportunity to rub shoulders and network.
Mentorship Matters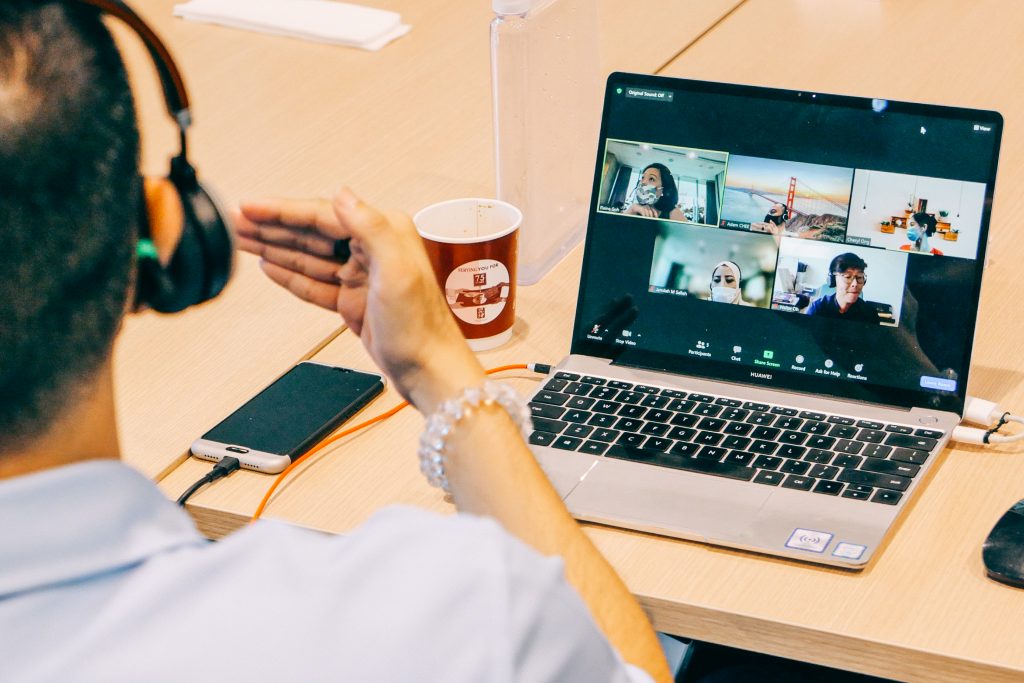 What the participants were looking forward to that afternoon, however, was the chance to learn about the finer art of social impact from experts in the Human Library section. I sat in a huddle session with Fellowship alumnus and mentor Benjamin Chua, the CEO and founder of Speco, a professional cleaning services company that specialises in its own sanitising antimicrobial coating.
Company of Good informs me that Benjamin is a source of pride for the Fellowship, an exemplary Fellow who harnessed what he learned to build his cleaning technology business into a social enterprise. The man left a career in the public service out of sheer determination to do good: Speco is dedicated to employing and empowering marginalised members of society. His employees include ex-offenders, the retrenched elderly, the homeless, persons with disabilities and other vulnerable folks.
His sharing session was illuminating. The man laid out his thought processes in the journey of building a profitable business that also champions the marginalised — a feat that doesn't come so easy when it comes to dealing with employees with troubled backgrounds or mental health conditions. The heart and the mind must remain open, he imparts, but there are also some limits to what he can do as someone who wants to run a sustainable outfit.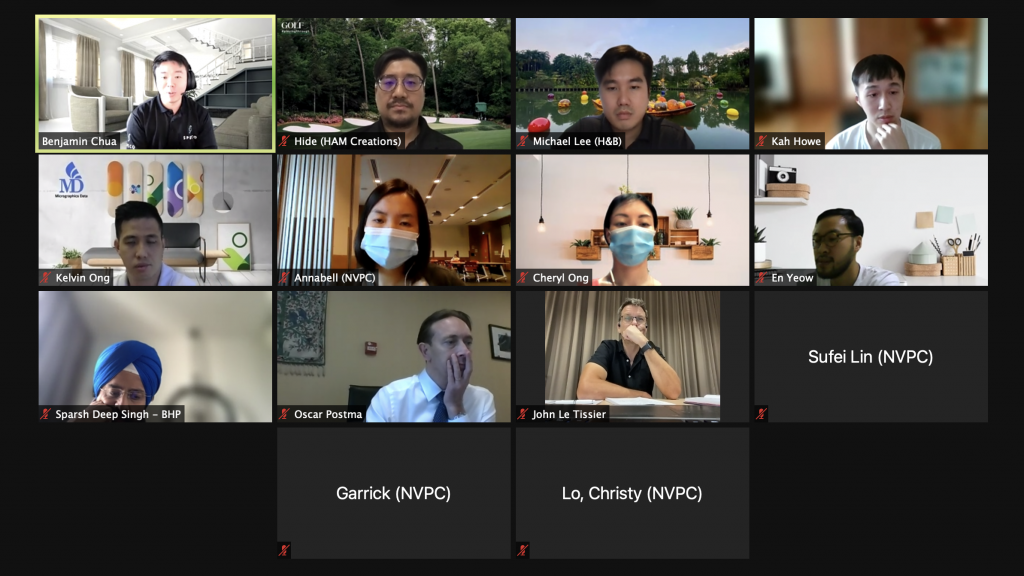 "Find compassion with precaution," Benjamin says, and the Fellows agree. The sharing session reveals the reality of doing good on a corporate level, and I see that his story connects with the participants — especially those who might have ambitious plans for their own initiatives.
While the process can indeed be tough at times, Kathleen believes that the private sector still has a duty to step up and step in as responsible corporate citizens.
"Given the role that the private sector has in public life for everyone, they will be and are being held more publicly accountable. We agree with the approach that companies, no matter how small or large they are, have a role to play. And that it requires constant learning, and constant investment in order to be effective," she remarks.
Amanda agrees: "From my experience with the Fellowship, and from the interactions that the Fellowship has brought up, it doesn't matter how big or how small your company is, everyone has opportunities to do good, and everyone faces very different challenges."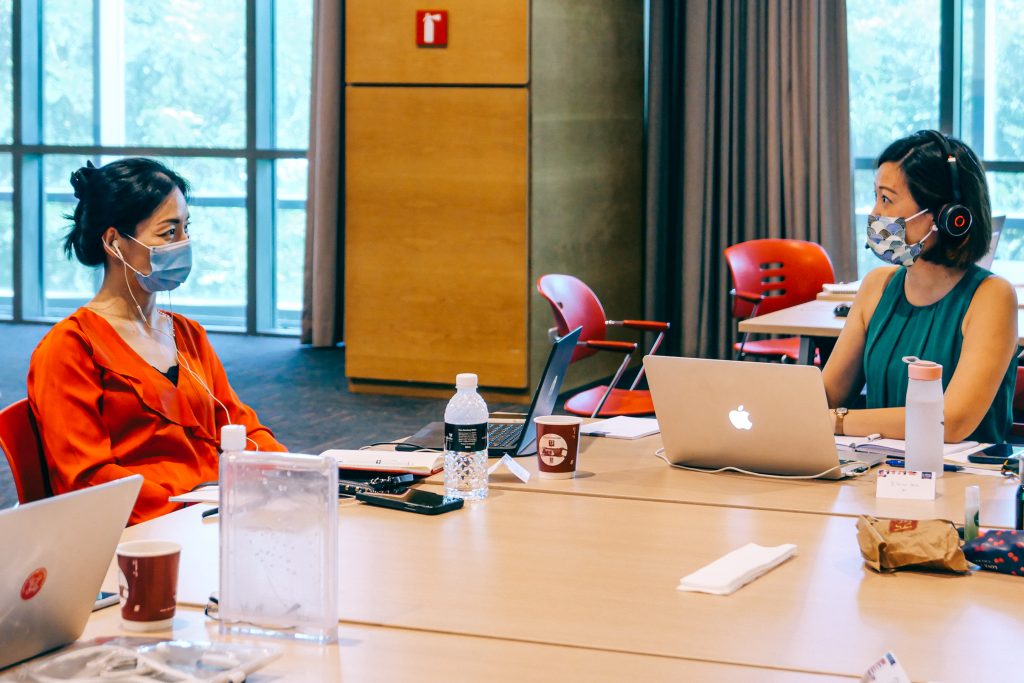 As much as the Fellowship offers solid training on both the basics and advanced technicalities on the art of corporate giving, I concur with Amanda's belief that its biggest value is uniting everyone from different companies to stand behind a common goal: positive social impact for Singapore.
In any other scenario, it would have been relatively unlikely for these folks to sit down together and hash out a collaborative plan — especially if they're competing businesses or come from dissimilar industries.
"When you bring everyone together into the same room, we're able to share the opportunities and challenges that we've seen, and to give advice and share how you navigate away from the challenges and turn them into opportunities," Amanda declares.
"And it's the experience and the expertise from that group of Fellows that are with me — the 40 of us that are together — that we've really been able to learn about how to scale up and grow our corporate giving initiatives more meaningfully."
I think it was economist Milton Friedman who tried to deconstruct the idea of corporate social responsibility in the '70s, a response to the emergence of social movements and debates over how companies should ethically make money. Just as it was back then, the public of today fully expects companies to integrate social concerns into everyday business practices.
It's a simple enough tenet that business leaders tend to forget in the pursuit of profits. The Company of Good Fellowship hopes to impart the idea that doing good is for the long term, something to be inculcated permanently as conscious capitalism.
We're all increasingly online, and with Twitter shaping the conversation layer of the Internet, it's only natural that it should stay beholden to the needs of its users. And if the digital natives of today are looking to platforms like Twitter to answer the big questions about life, it's only right that they answer in the most socially responsible way possible. In 280 characters or more.
---
This story is brought to you by Company of Good.
The Company of Good Fellowship is a talent development programme that grooms high-potential business professionals to catalyse change to benefit both business and society. The Fellowship seeks to develop a community of leaders who will strengthen the ecosystem for doing good in Singapore.
Applications for the next Company of Good Fellowship intake are now open! Find out more here.