Photography by Ilyas Sholihyn
Department stores, cable TV, traditional work hours — just some of the many things millennials have been blamed for murdering. To the list of industries apparently getting slaughtered by Generation Y, add one more: diamonds. Doesn't matter if they're mined from the earth or manufactured like lab-grown diamonds.
What is a diamond, anyway? Chemists would say that it's pure carbon, not unlike the graphite found in pencil lead. Romantics would call it a symbol of everlasting love, a celebration of a glorious union of souls and a sign that anything or anyone can emerge stronger under pressure.
Ask a sceptic like me and I'd probably have said that diamond rings are overpriced pieces of shiny minerals.
Like many other married couples in my generation, diamond jewellery didn't play any part in me and my wife's proposal or wedding ceremony. Call it non-traditional, call it cheap or call it an intentional push against performative romance, but we opted instead for another rock for our wedding bling: sapphire. This, after we got pushback from our parents on both sides against our initial decision to get dinosaur fossil rings from Etsy.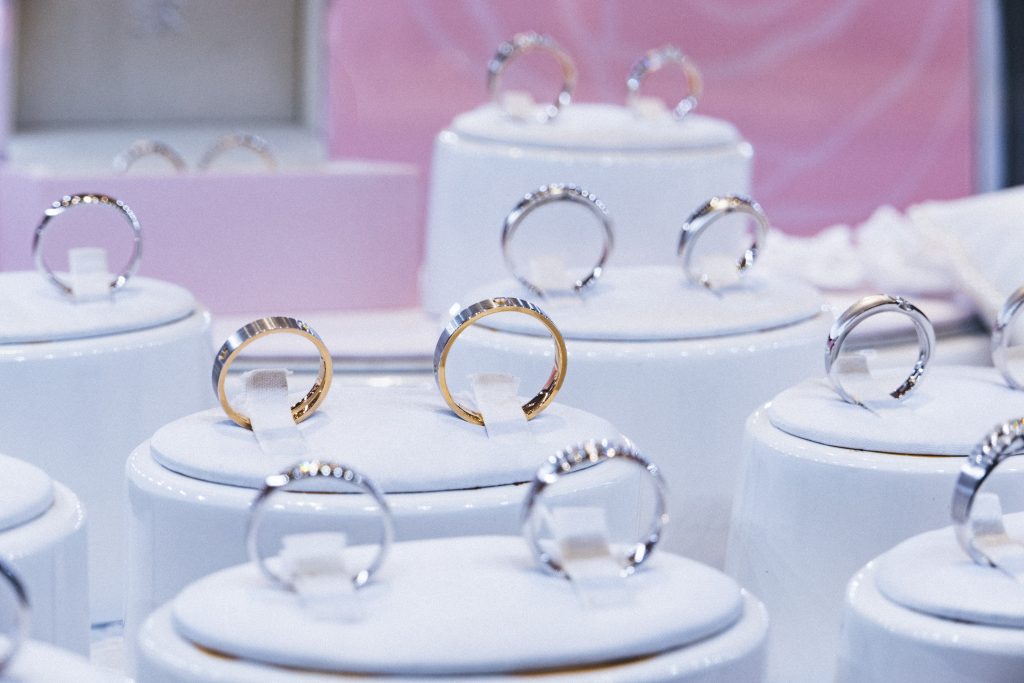 Velociraptor bone rings aside, the idea of splurging thousands of dollars for diamond jewellery just held no appeal to either of us. The romantic significance was also lost on our families, who weren't really exposed to the sentimental Western notion that you had to have valuable diamond engagement rings slipped onto each other's fingers as a gesture of love and commitment.
Plus, I'm sure that nearly everyone has already read that Atlantic piece or watched that Adam Ruins Everything clip: diamond engagement rings are the greatest marketing campaign of all time.
Still, I acknowledge that many others my age (especially outside my ideological bubble) don't actually share the same view. And that's fine! Really, it's okay if you believe that the institution of love, marriage and romance is intrinsically intertwined with the gleaming elemental properties of pressurised carbon. At the risk of getting called out for repeating gender-specific charges, diamonds are a girl's best friend after all, with decades of rom-com flicks and Friends episodes solidifying this affirmation.
The One with the Bling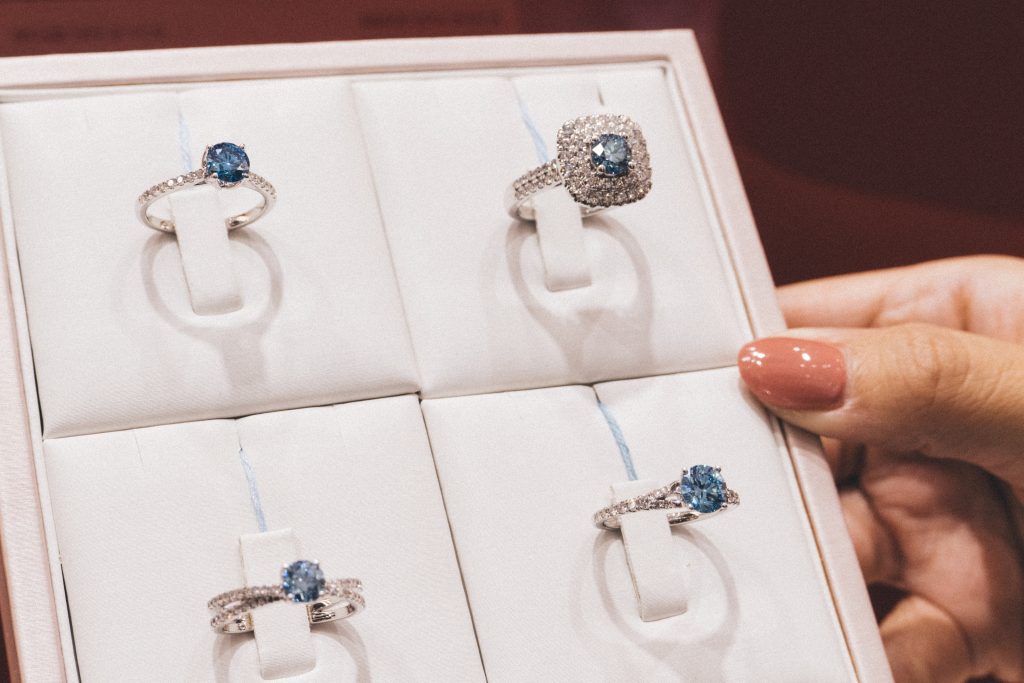 "Eh, don't hate on Friends man," Jonathan said after I pointed out just how horribly the sitcom has aged since the 90s.
Even if jokes about sexual assault and fat-shaming wouldn't survive today, the idea of getting engaged with expensive diamond rings certainly has. While the marriage of Chandler and Monica didn't exactly motivate Jonathan to get a dazzling $3,500 diamond ring for his own proposal last year, he acknowledged how the sitcom (and pop culture in general) played a part in his purchasing decision.
In hindsight, the 30-year-old IT manager recalled that his now-fianceé Diane didn't even have to drop hints about what ring she wanted after three years of dating. In fact, Diane wasn't really into diamond jewellery—she preferred crystals.
"I mean, I wasn't really that particular lah about the rock," the 27-year-old offered, laughing about how she was afraid of putting on her engagement ring in public for fear of getting mugged (the proposal was carried out at night somewhere along Changi Beach, the couple's go-to hang out spot).
"But after putting it on I realised that, wah, it's actually quite pretty. I didn't even dare ask how much it was. I said yes [to his proposal] of course, but not because of the diamond ring lah".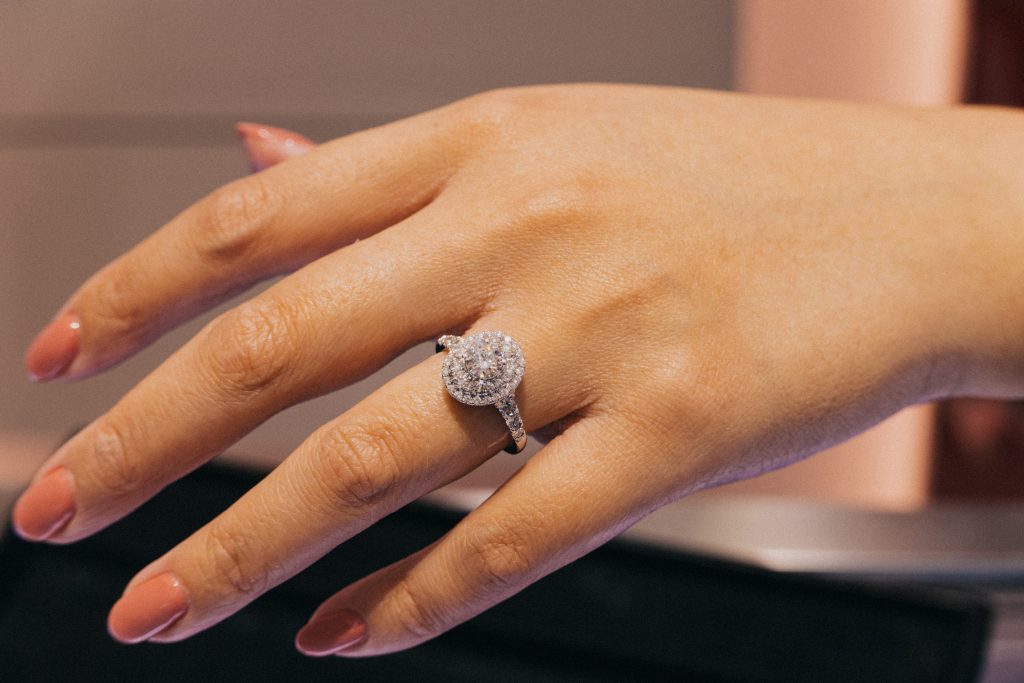 Jonathan sheepishly admitted that, yes, he did concede to the traditions of yore: a man should spend three months of his salary on an engagement ring. Except he couldn't bear to part ways with that much money, so he simply settled on a ring that cost him a single months' income—he did have to save up for the actual wedding ceremony and their future BTO flat.
"Okay fine, I fell for a marketing campaign. But trust me, my heart grew ten times bigger when I saw her face change when she saw the big-ass diamond ring I bought," he remarked.
Then there's the fact that he had to make some material sacrifices for a few months to scrounge up enough money for the ring, which made him reflect on his relationship with Diane, further affirming his belief that she was The Right One.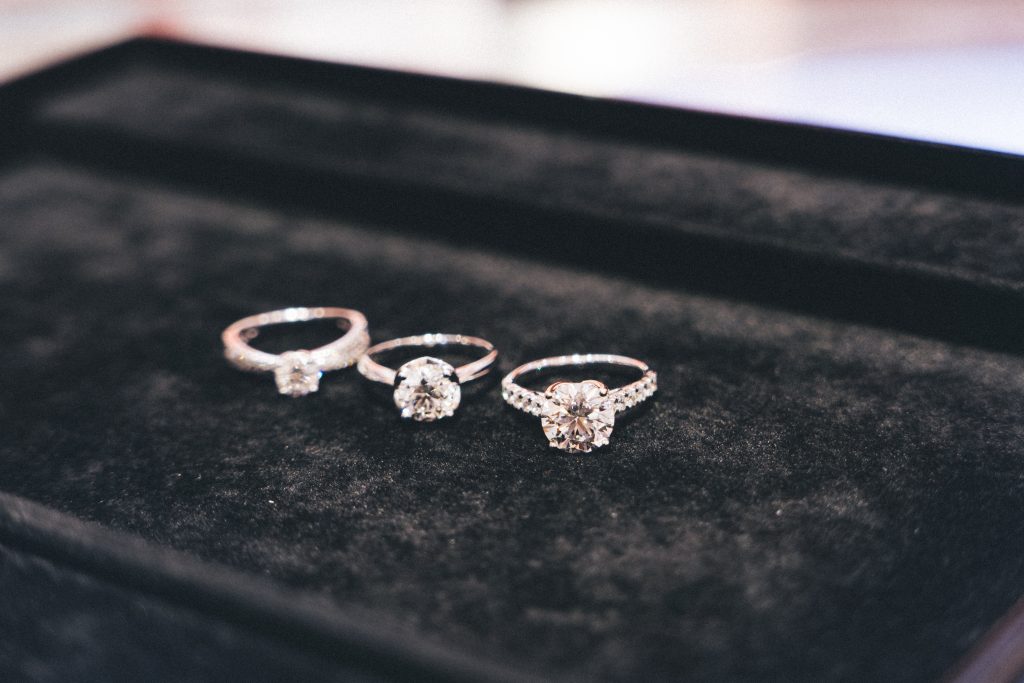 Therein lies the value of diamonds for these two. Ironically, it was Jonathan who utterly believed in the power of love (I physically winced typing that) within diamond jewellery. Diane, not so much. But she genuinely appreciated how he had to forgo buying a Playstation 5 for her.
Diamonds from Doha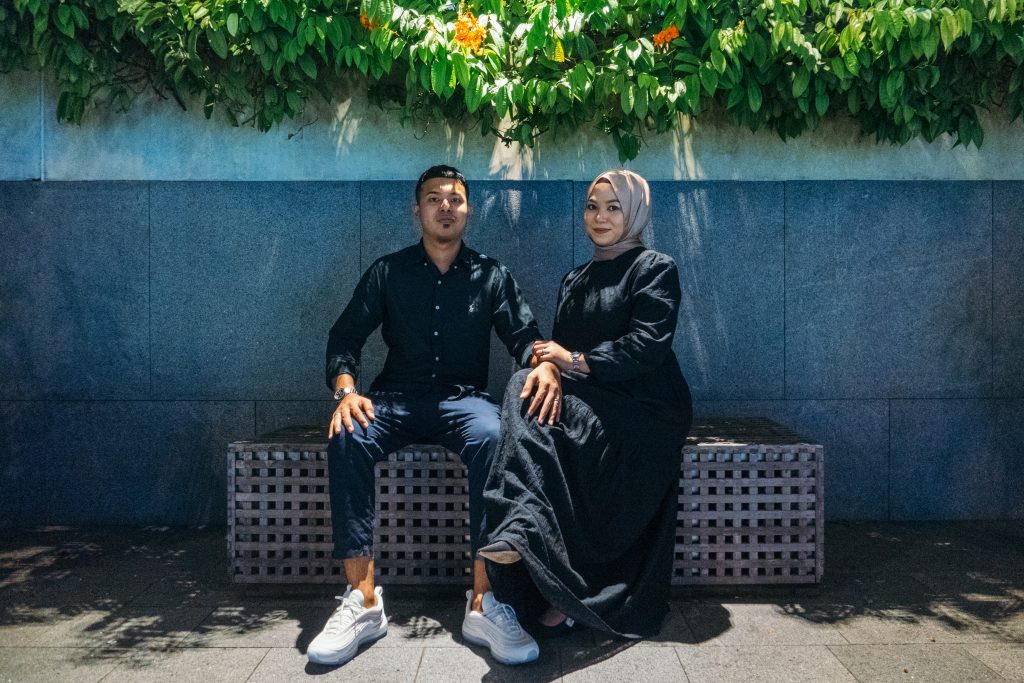 It was the other way round for Nadia and Zulfadly. The former absolutely loves diamond rings, while the latter, well, he simply had to pay for it.
According to the married couple—both 31 years of age—the proposal back in 2016 had been pretty chill. A former stewardess with Qatar Airways, Nadia had been back on leave and was spending her days off with Zulfadly. Without ceremony or bent knees, he simply popped the question, asking if she wanted to be his wife.
Holding the rationale that they were at the right age to get married, she said yes. At that point in time, they had only been dating for about six months.
"It was actually pretty simple… I don't know how we were so carefree and easygoing about this!" Nadia laughed.
The process to look for an engagement ring, however, wasn't as casual. After the mutual agreement to get hitched, the couple went on the hunt for one in Doha, Qatar, where she was based back then. Various rings were perused in various stores across the city until Nadia came across the one she wanted: a solitaire diamond ring.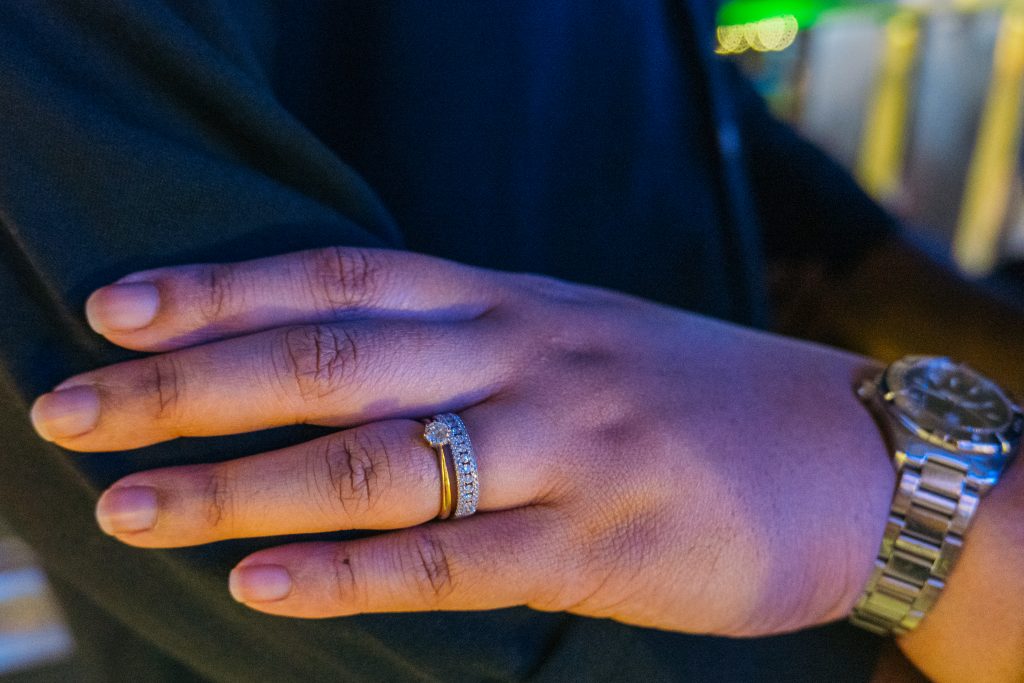 "I wanted a solitaire diamond ring no matter how small it was. I think it's just a girl's thing lah, you know," she described her thought process. It wasn't a bespoke ring either — what she got was a simple band with a 0.34-carat round cut diamond affixed on top of it.
Not that the specifications were super-important to Nadia. For her, she chose it based on how nice it looked and how well it fit.
"It really wasn't a tough decision to make on my part because I already know what I want. All he had to do was just pay."
"Hmm!" Zulfadly chimes in, chuckling.
As someone who didn't need to count diamond rings into the budget for my own marriage, I was curious to know how he handled it, considering the other expenses he has to bear in mind. Costs of living have been rising after all, and putting aside a 4-figure sum for a shiny mineral doesn't sound prudent—especially for a couple about to start a life together.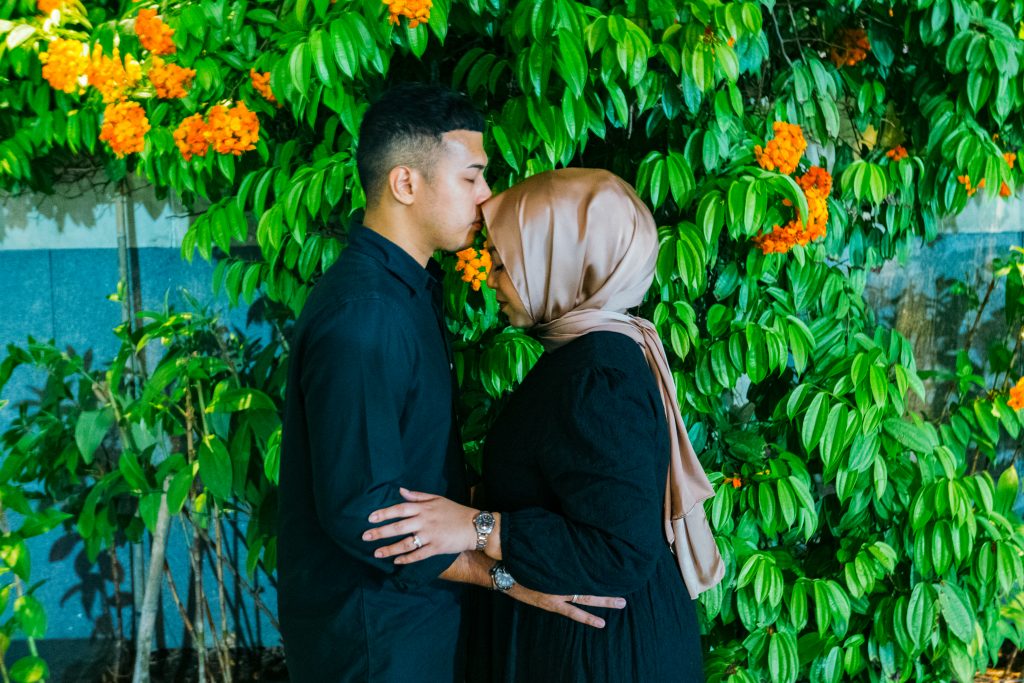 "I mean she really likes diamonds so she…" Zulfadly trailed off.
"…has to have it lah?"
"Ya!" he exclaimed. Happy wife, happy life. Fortunately for him though, Nadia was able to shave off a good $900 off the cost of the engagement ring as the jewellery store in Doha offered discounts for Qatar Airways crew. In the end, the engagement ring came to a little over $2,000.
On a practical note, the couple mentioned how they set aside a maximum budget for their diamond wedding rings, which was another $2,000 forked out in the end. Nadia makes the money count—she wears both rings on a daily basis.
It's a markedly different thought process than mine or my wife's. Both of our sapphire-encrusted rings are kept in a box by a vanity table, waiting to be whipped out and worn on special occasions like weddings, anniversary outings and International Fried Chicken Days.
So the truly important query then. Why are diamonds so important to this couple?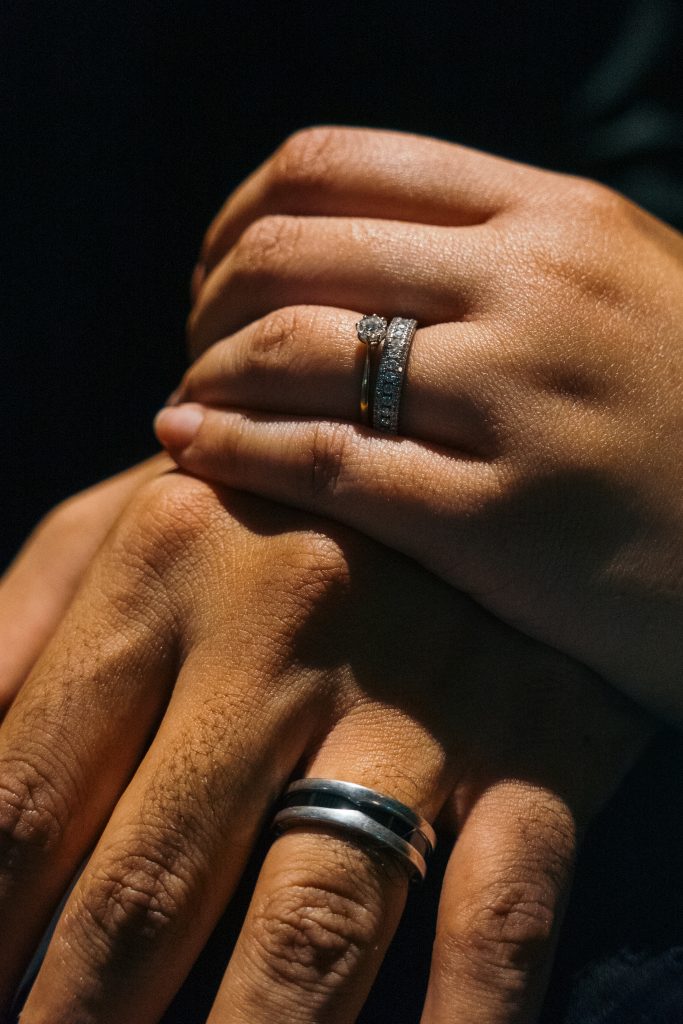 "For me, diamonds last forever. It symbolises longevity, a token of love which I would want to keep and have for the rest of my life," Nadia offers, considering the thought that she could also pass it on to a future daughter.
"In the Malay-Muslim community, [the jewellery of choice] has always been gold. But for me, I wanted something that would stay with me throughout my marriage and the rest of my life."
Her husband had a pragmatic response.
"Diamonds are a woman's best friend. So whatever that makes her happy… okay, let's go!"
Lab-grown Love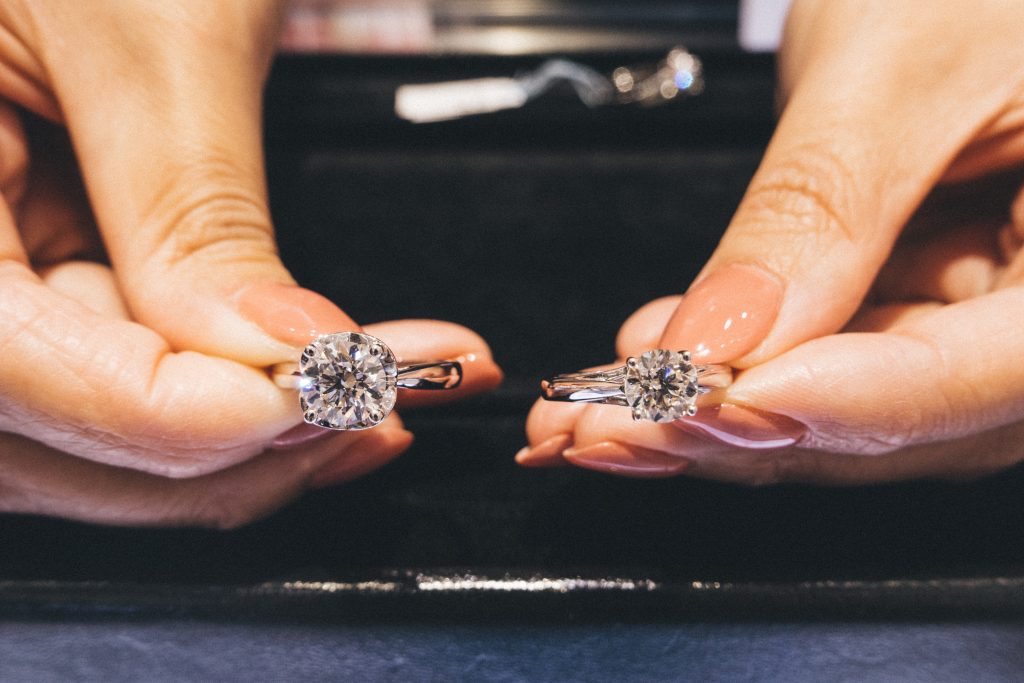 Personally, the biggest hurdle to buying diamond rings has always been its cost. Nadia and Zulfadly agreed, recounting how they've always looked out for anything that cut the price tag down. That wedding ring Nadia got? It was initially tagged at $3,000. But there was a sale going on, and to get further discounts, they would have to sign up for some kind of membership—which they did.
One solution to the wallet-draining anxiety would be going for lab-grown diamonds like the ones under SK Jewellery's Star Carat collection. Though every bit the same chemical, optical and physical properties as mined ones, Star Carat Diamonds are priced as much as 50 per cent lower than their conventional cousins without losing the authenticity. Because the same diamond-growing process is replicated with technology, the costs borne from labour and other expenses involved in mining are subtracted.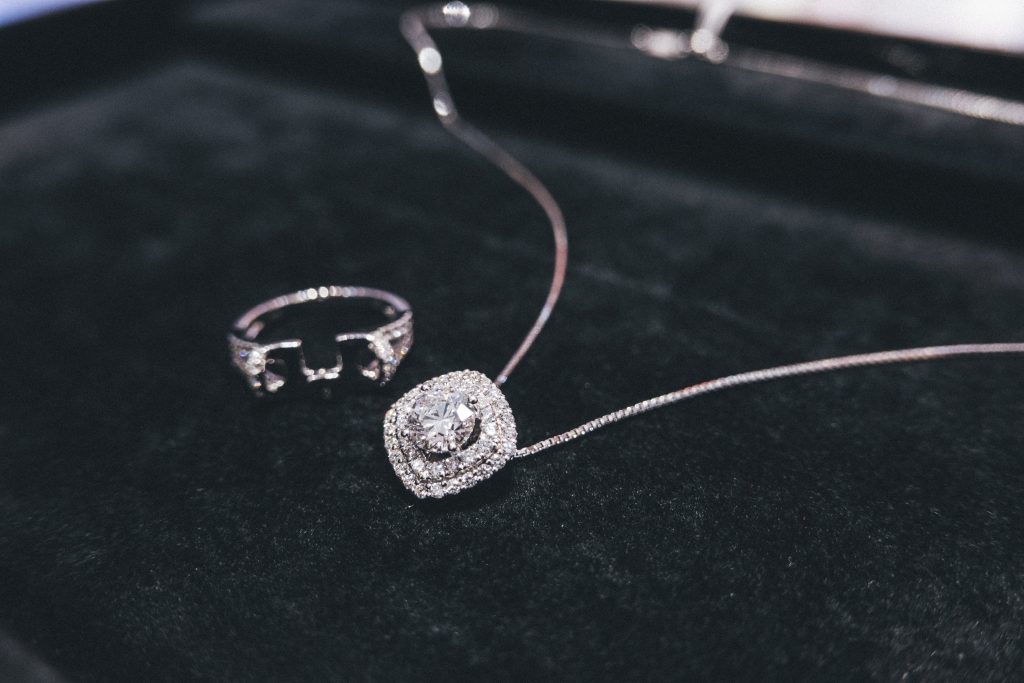 If diamonds are an aspiration, might as well go for something just as premium at a cheaper cost, no?
"I would give them a go. I don't see why I shouldn't. If I can get a lab-grown diamond with a bigger carat size at the same price as mined diamonds with a smaller carat size… the choice is pretty obvious," Nadia remarked after I brought up Star Carat Diamonds. Her husband didn't have to say much; the man would be happy to pay less.
"Oh, hell yeah. I probably should have known about these diamonds when I was going to buy something for Diane," exclaimed Jonathan when I showed him the Star Carat collection on my phone.
I tried asking if sustainability and ethics would be an attractive notion too—57kg of carbon are released into the atmosphere for every single carat mined. Any mining process, diamonds or not, also pollutes the soil, water and air surrounding the mine, leaving behind a long-term ecological impact.
"I guess that would make me feel better if I bought lab diamonds. But I'm just thinking more about the nicer designs I could have bought with the same amount I paid," he mentioned, pointing at a picture of the ravishing Star Carat Bloom Blue Diamond, which was $3,248—a couple of hundred bucks off from the one he bought.
Taking a Shine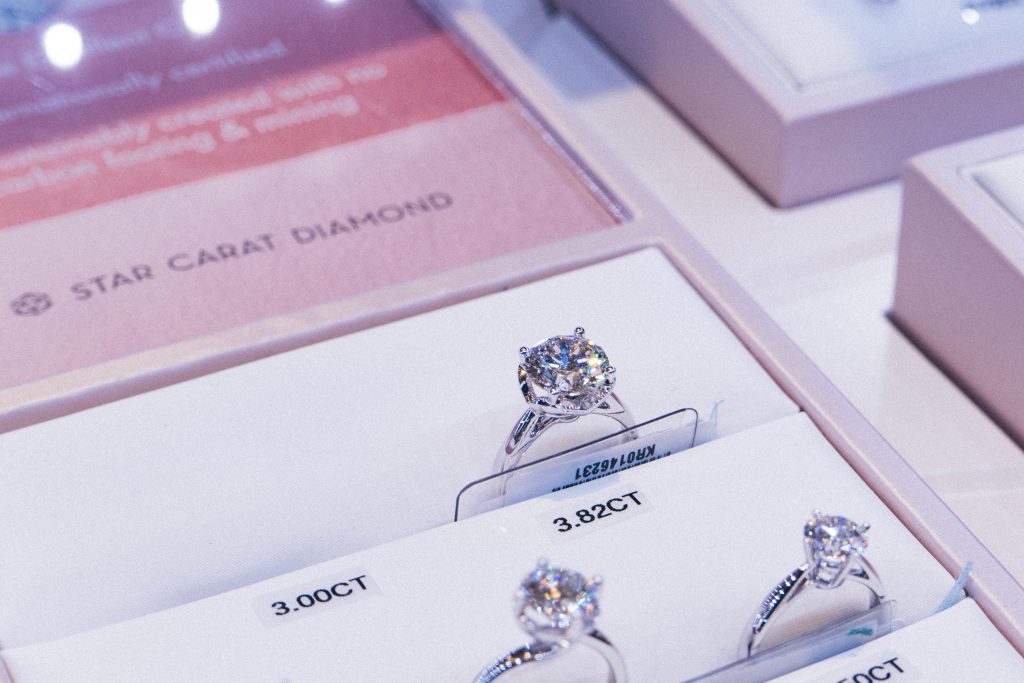 I have to admit, I set out with this story pretty confident that millennials really are guilty of leading the diamond industry to its demise. I've been proven wrong, but that's a good thing: Nadia, Zulfadly, Jonathan, Diane and many other folks our age still hold positive conviction that these pretty minerals stand for more than just a bunch of pressurised carbon. For these couples, it's pretty simple: diamonds forever, diamonds promise eternal love.
Through their eyes, I don't see the tired cynicism that plagues many in our generation—I see the belief in romantic symbols and gestures that keep the passion of relationships alive. Technology may have changed how these rocks are produced, but their meaning and significance will forever remain the same.
---
This piece is brought to you in collaboration with SK Jewellery.
Book an appointment with SK Jewellery to view the full collection of Star Carat Diamonds and receive a $50 voucher for use with a minimum spend of $200 in stores. Get $100 off your Star Carat Diamond purchase (above 0.3 carat) in stores too. Not applicable with other promotions or discounts.
Share your dream engagement bling ring with us at community@ricemedia.co.