"The Peranakans are fussypots!" Chef Raymond Khoo, owner of The Peranakan and a Peranakan himself, laughs.
"Most Peranakans, no matter how good your food is, they'll say their mother's food is better."
To serve Peranakan cuisine in the brutal food and beverage industry, then, is like playing Overcooked with one hand. If you even want a chance at surviving, it's best not to mess with the traditional recipes of babi pongteh, otak-otak, ayam buah keluak, chap chye …
Indeed, Chef Raymond discloses, "None of the recipes are mine. They're my mum's and grandmother's. This is what I grew up eating. I just make the place look pretty!"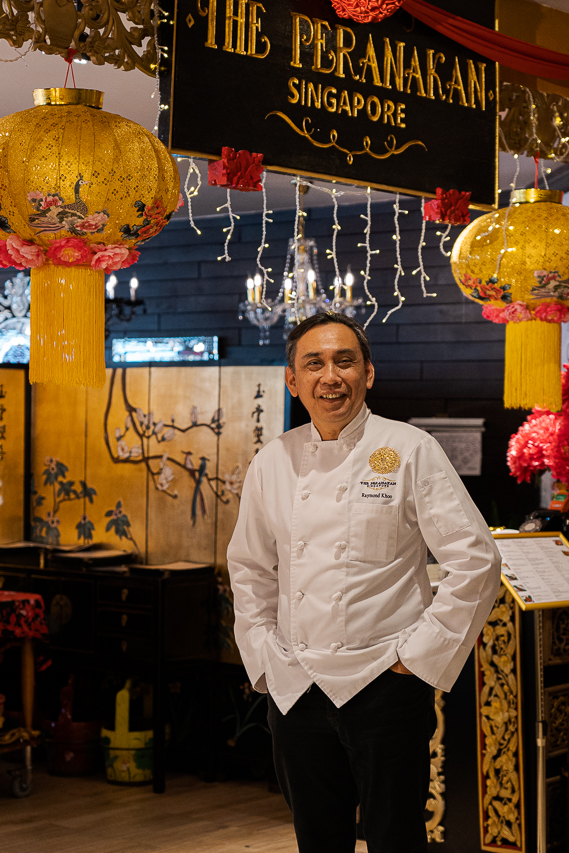 Except that he
has
made some pretty radical innovations to traditional Peranakan dishes: imagine babi pongteh without the babi, ayam buah keluak without the ayam, and you'll have an idea of what he has been busy with.
Yes. Vegan Peranakan food. If you don't consider that a contradiction.
But isn't that like going to a steakhouse and not eating steak? Can we really call vegan Peranakan food Peranakan—especially after taking into account how protective most Peranakans are of their cuisine?
I pose this question to Chef Raymond, and he is quick to explain that it was only in recent times that meat became commonly used in Peranakan cuisine.
"In the days [of my mother and grandmother], they eat a lot of vegetables. Whatever they grow: tapioca leaves, anything else … In those days, fish [and meat] were really quite a luxury."
Still, Peranakans today have grown used to their babi and ayam, and familiar flavours are what they crave. So Chef Raymond was, understandably, beset by trepidation when he first had the idea to roll out a fully vegan set menu at his restaurant.
"Usually when you want vegetarian food, you go for Chinese vegetarian. It's like … the same thing everywhere. But nobody has attempted to do Peranakan vegetarian. So, I thought, 'This is a good opportunity for me to showcase what we do.'"
After months of visiting vegetarian restaurants and trial and error in the kitchen, Chef Raymond finally launched his vegan Tok Panjang Baba set.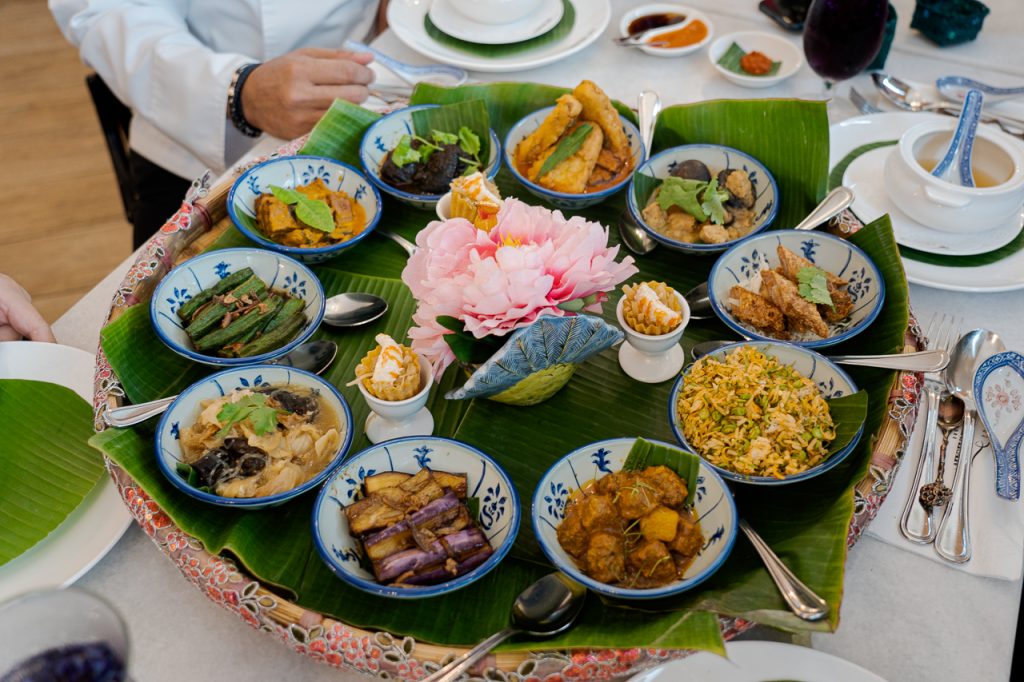 I got to try the vegan Tok Panjang Baba set during my visit—it's a ridiculously but delightfully ostentatious affair.
First, the sup bakwan kepiting is served by a member of the service staff, kicking off the spectacle innocently enough.
But mere moments later the restaurant is filled with a wonderfully kitschy 90s song: Time for us to come together / Time to have some fun / Make this moment last forever / Join us every one! / Sayang, oOoOooh, sayang! before a huge-ass platter of banana leaves is rolled towards you, upon which bears 10 dishes consisting of everything you could ever want and didn't know you needed from a Peranakan meal.
In the space of my stunned silence, Chef Raymond proudly pronounces, "We are the first Peranakan restaurant to serve vegan food."
Vegan, paleo, gluten-free, dumpster—I would happily stuff my face with any type of food if it came to me in such a regal procession.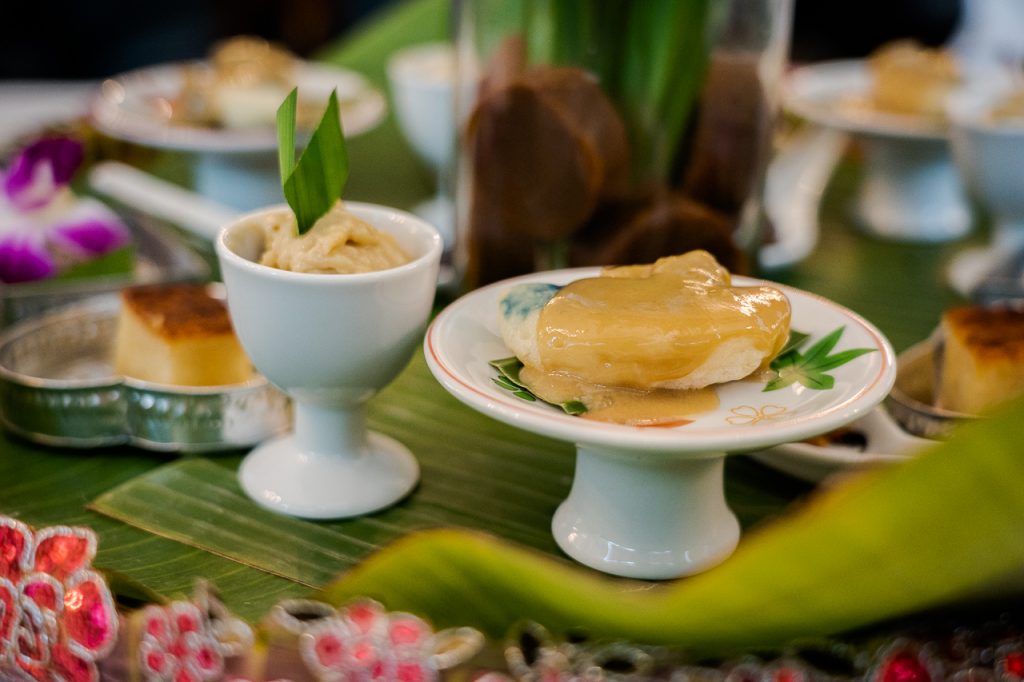 To be honest, I wasn't blown away by the
vegan aspect
of the food. This feast belongs to the category of vegan meals in which plant-derived substances pretend that they are meat, not the type in which vegetables and grains are celebrated for what they are.
In other words, the vegan ingredients here are substitutes, not stars.
This is not to say the meal was bad. On the contrary, I think it was a compliment and affirmation to what Chef Raymond was attempting to achieve: to preserve the essence of Peranakan food with vegan ingredients. For me, Peranakan food is found in the aromatic blend of spices; of chilli, garlic, shallots, lemongrass, ginger, galangal, (secret ingredients)—more than in the chew of a chicken thigh.
And these flavours came through during the meal.
The 'babi' (read: omnipork, a mushroom- and soy-based pork substitute) buah keluak tasted redolent of wet earth, of summer truffles and musky dark chocolate all at once. The 'ikan' ("fishless fish," Chef Raymond explains, not very helpfully) assam pedas flaked convincingly in my mouth, but I needed no convincing once the sour tang of the tamarind gravy hit my tongue.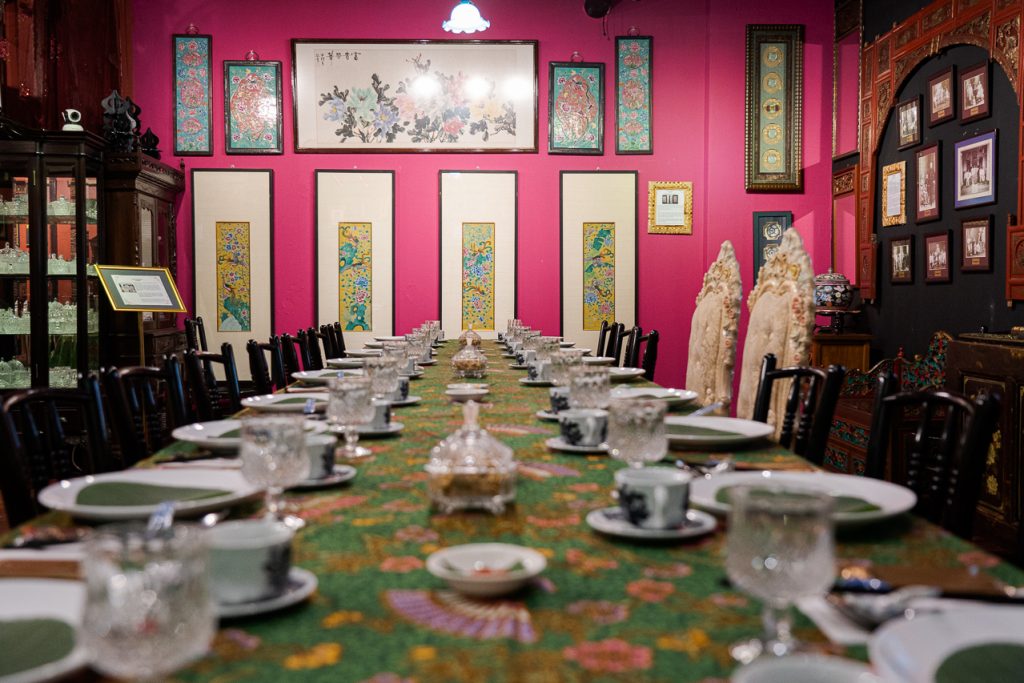 Again, this is just my opinion, that of a filthy non-Peranakan. Food is culture and heritage, and thus is so much more than just adhering to a recipe or flavours. I
t's also about an
ineffable
essence, a badge of belonging, like how champagne must originate from Champagne, France, or it's just a boring bottle of sparkling white wine.
Wasn't Chef Raymond afraid of the reaction of hardcore Peranakans, of the "fussypot" bibiks?
Chef Raymond exclaims, "Of course I had that initial fear! Like I said, Peranakans are fussy about their food because after cooking … [the bibiks always] go play cherki. And then they share recipes, they share food … And everybody will ask, 'Why yours never cut nicely?'"
When he first launched his vegan dishes, these ladies would say, "'Wah you do Peranakan [vegan] ah,' and all these things … [but if] you ask all the older ladies to eat vegetarian, I tell you, they'll stare at you, that killer look."
However, as word got out, Chef Raymond's vegetarian menu grew in such popularity that it comprises about 20% of his restaurant's revenue today. Thanks to the vegan option, his restaurant even hosts a contingent of 20 to 30 monks who visit every week, still garbed in their saffron robes.
Surprisingly, "The first people who came to try this were the Peranakans," Chef Raymond says. And they enjoyed it—which is, really, not surprising, given the quality of Chef Raymond's spice blends and generous heapings of buah keluak.
The meat is after all only a vessel, a bearer of spice and sauce.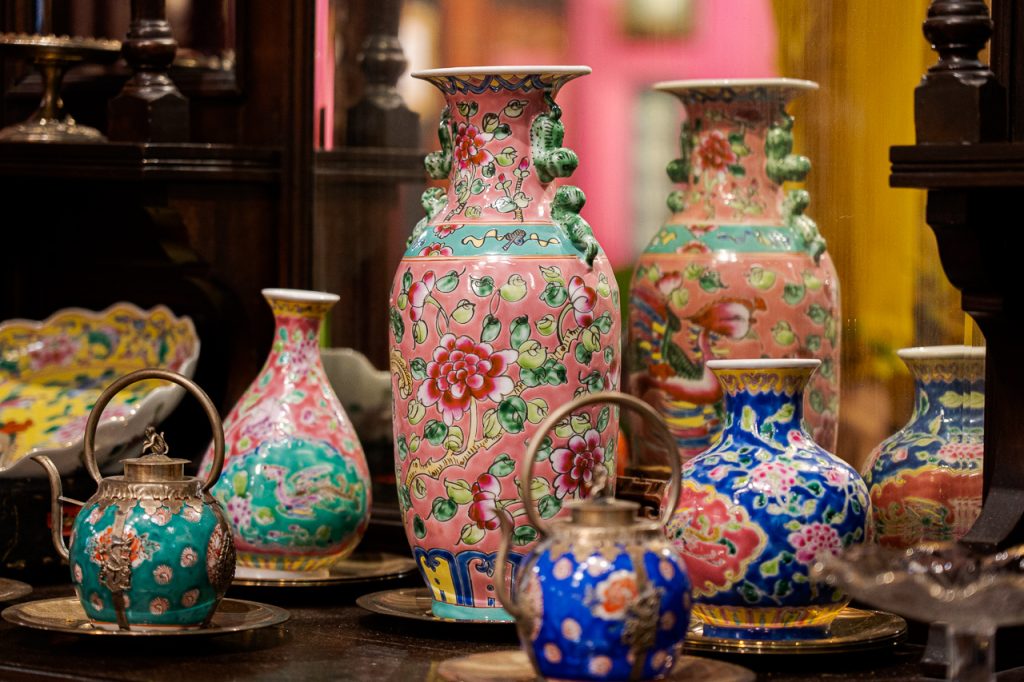 I ask Chef Raymond if diners who order his vegan dishes are motivated by ecological concerns such as the lower carbon footprint of meatless products.
Rather anti-climactically (and, one might say, "anti-climatically"), his diners are choosing his vegan dishes largely because of their own bodies, not the environment.
"I think it's more health concerns. 70 to 80% of them are like, 'I want to eat healthy, I don't want to eat any meat.' Only 20 to 30% are real vegetarians," Chef Raymond observes.
When I raise the possibility that we might all have to switch to a vegan diet because of the climate crisis—and ask him what impact this will have on traditional cuisines that rely heavily on meat produce—Chef Raymond is sanguine.
"We can survive … 40% to 50% [of the people who choose the vegan option] are young people. They may not be familiar with Peranakan food, but they hear vegetarian Peranakan, they don't mind coming to try."
This is a statistic all the more encouraging because it's precisely these young people who, in Chef Raymond's words, "[would rather go to eat] Italian, go to a burger joint, but rarely say 'let's go eat Peranakan'."
Yet, after tasting the explosion of flavours that is Peranakan food, these young diners often return home and "trace [their parentage], and they kind of find their Peranakan roots through food," according to Chef Raymond.
Contrary to my initial perspective that vegan Peranakan food is some new-fangled trend that dilutes the culinary heritage of Peranakan food—fusioning an already fusion cuisine—it might, in fact, be the answer to rejuvenating itself for a younger audience.