3 AM: Jurong Fishery Port.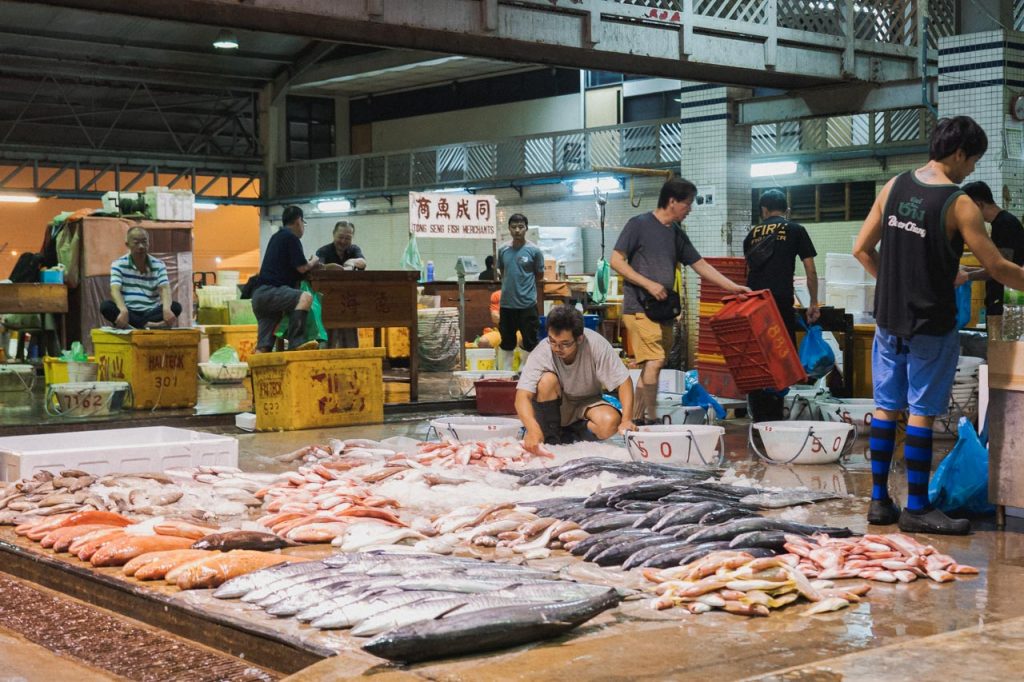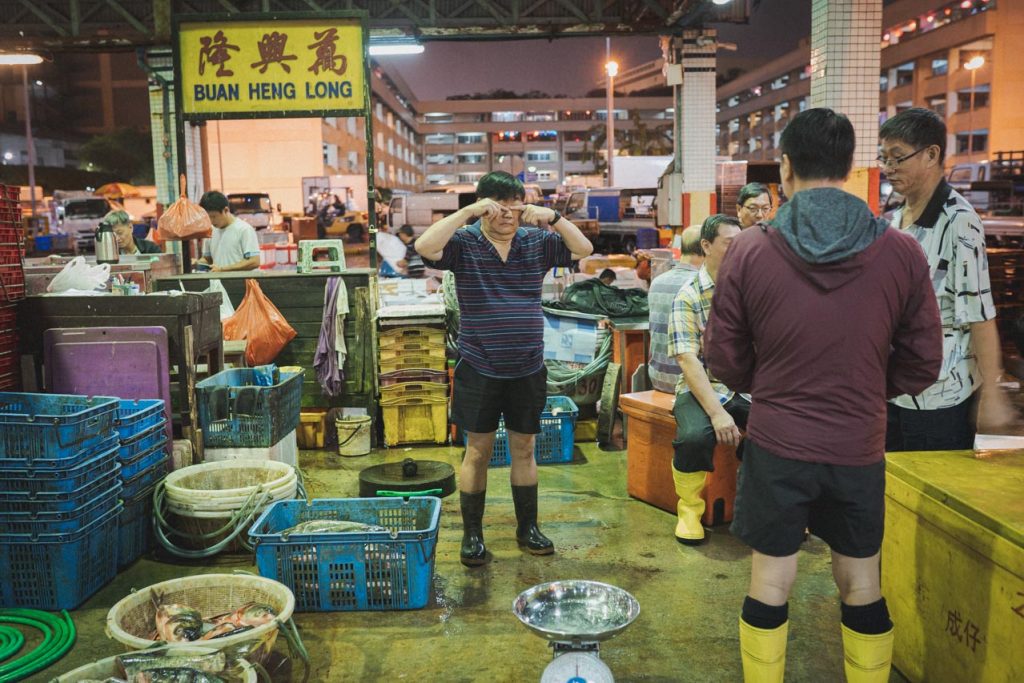 It's 3 AM, the December rain is crashing down, and fish juice is seeping all the way into my socks. Wearing my Chucks to Jurong Fishery Port is one of the worst decisions I have made all year. The other is going to bed at 12 AM for a day that starts at 2 AM.
But any residue of sleepiness is quickly banished by the overpowering smell of thousands of freshly caught fish sprawling haphazardly on the concrete floor of the complex. Snappers, groupers, mackerel, and schools of fish unidentifiable to me comprise the riotous mix of orange, pink, shimmering silver, all waiting to be bought and stir-fried or simmered into soup.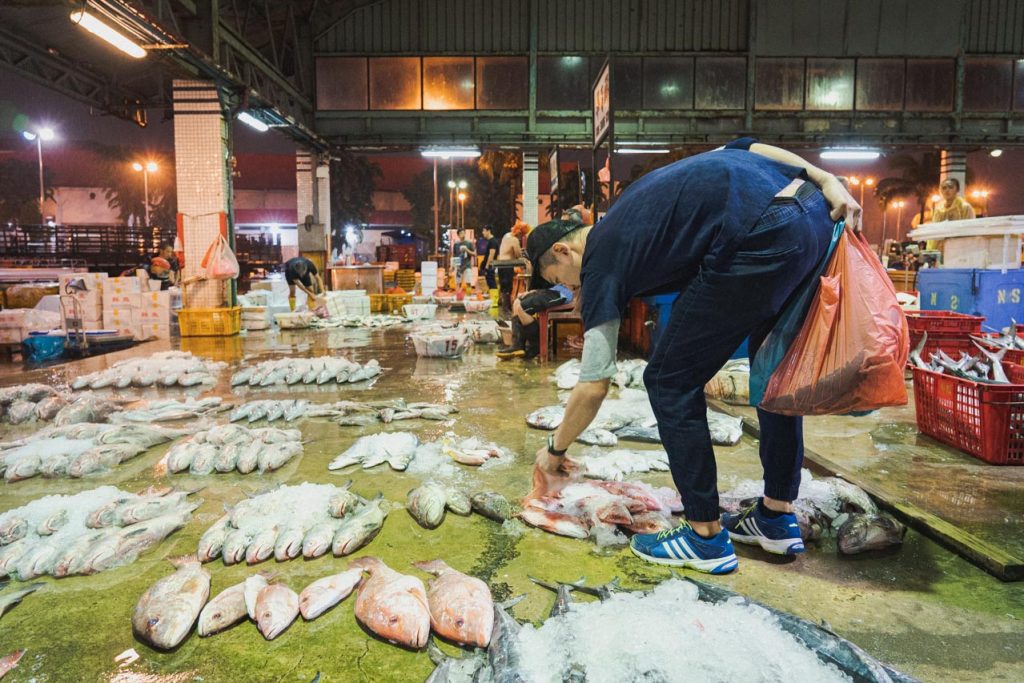 One of the people eagerly molesting the fish is Chef Ivan Yeo, who, at 38, is the chef-owner of The 1925 Brewing Co., a brewery and restaurant that he set up with his brother and uncle.
This is our first time meeting and I couldn't pick him out at first. Dressed completely in black with a The 1925 Brewing Co. cap and the beginnings of a Van Dyke beard framing his face, Ivan looks more like a hip Japanese tourist than a man who has internalised the rhythms of the market.
"I've been coming here for the longest time," he tells me over the din of the rain and general cacophony of the market. "My dad used to come here every Chinese New Year to get the freshest fish and he would bring us along. It's a ritual."
"Now, I come about 2 to 3 times a week. When you handle the ingredients yourself, you learn about it. The batang fish is getting mushier. It never used to be like this. But the surrounding waters are getting warmer. Climate change."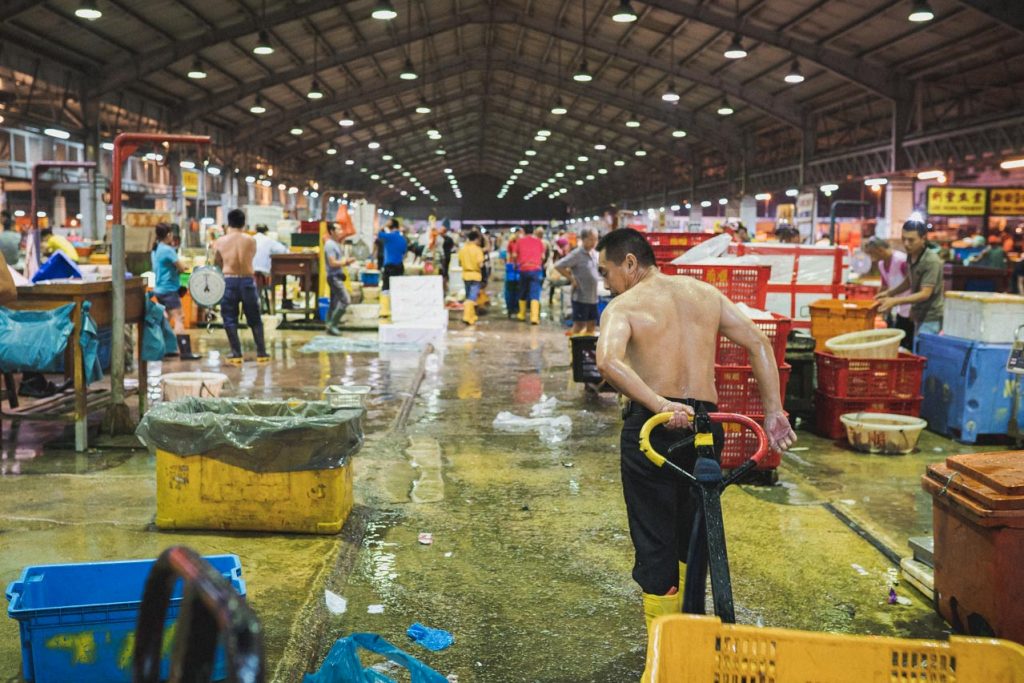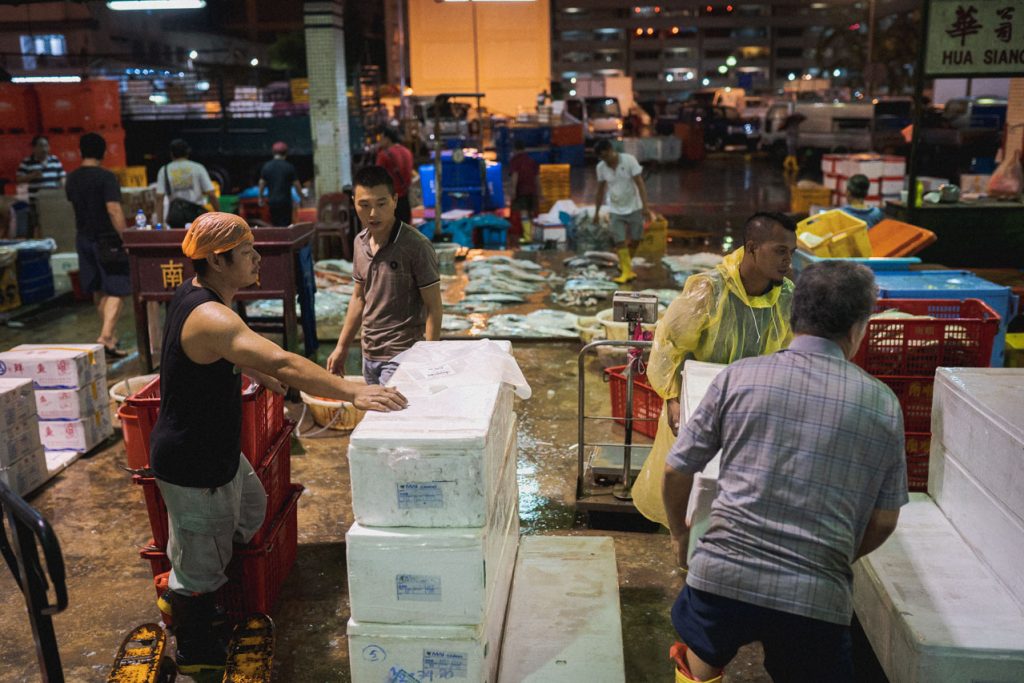 Around me, fishmongers stomp about carelessly, snug in their thigh-high rubber boots. They wheel styrofoam boxes stuffed with just-caught fish along the narrow pathways between stalls; when we are in their way, they yell at Zac (RICE's photographer) and me and gesture for us to
get the fuck out of their way
. One flings a still-full packet of black coffee at where I was standing just 5 seconds ago. The coffee seeps onto the floor, a black star exploding in slow motion.
We try our best to make ourselves vanish: we are intruders in their realm, after all.
3:40 AM: Ivan's van, en-route to The 1925 Brewing Co. at Joo Chiat.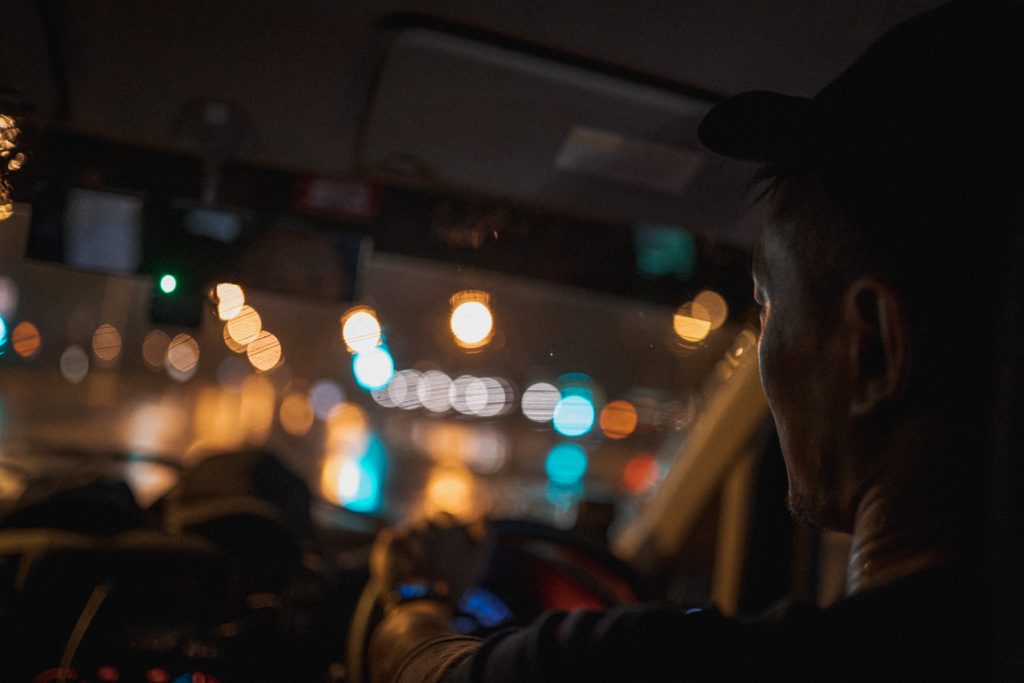 Ivan zips through the market like someone high on sugar and caffeine. Within 15 minutes, he has finished his prodding and purchasing and, with evident satisfaction, loads his van with 2 batang, 1 red grouper, and 1 white snapper.
Still grouchy with lack of sleep, I ask him from what hidden reserve he musters this energy. Is he on Ritalin? Did he meditate and go to bed really early last night?
"I've been awake since 9 AM yesterday! On the days when I come to the fishery port, I don't sleep at all. I just power nap through the day. In this line, it helps if you have insomnia!" he chirps.
"Actually, I like to come alone at this hour—some people do yoga to destress—this is my yoga."
As I make myself comfortable on the cooler containing the fish he has just bought, Ivan's van starts winding its way along the southern shore of Singapore to his restaurant at Joo Chiat.
4:40 AM: Arrival at The 1925 Brewing Co. at Joo Chiat.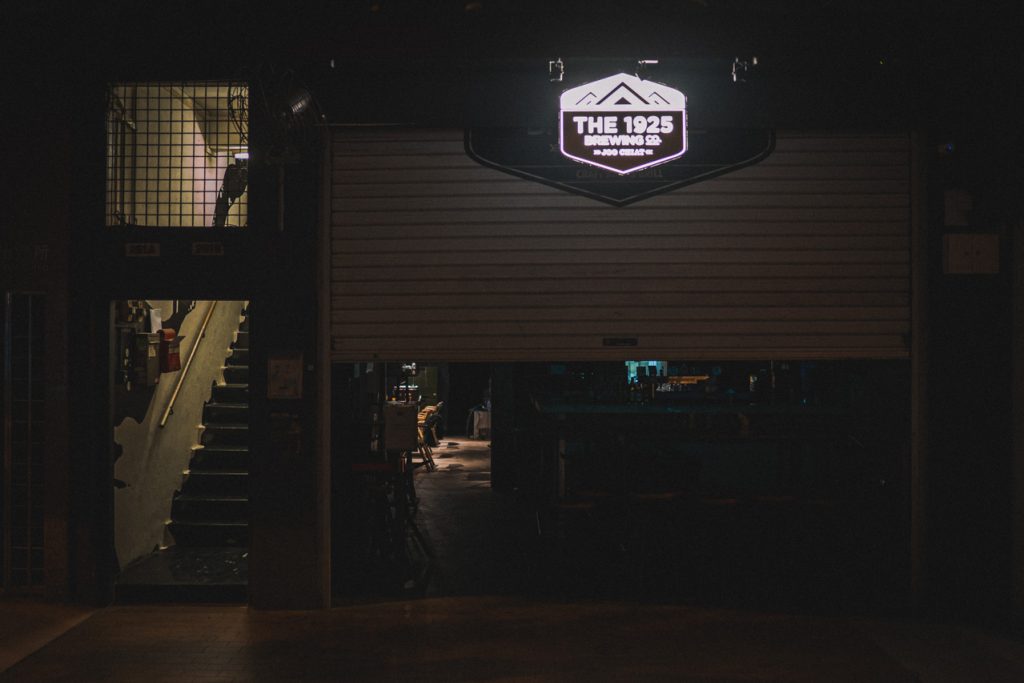 Zac and I clamber down Ivan's van. The street is still dark and deathly quiet; even the birds have yet to wake. I squelch my way into Ivan's restaurant. Even at the inhuman hour of 4:40 AM, it's a cosy space with the sort of unfinished look that homes, not commercial spaces, have.
"We built everything ourselves," he announces proudly. "The tables, chairs, the decorations. We have a very hands-on culture."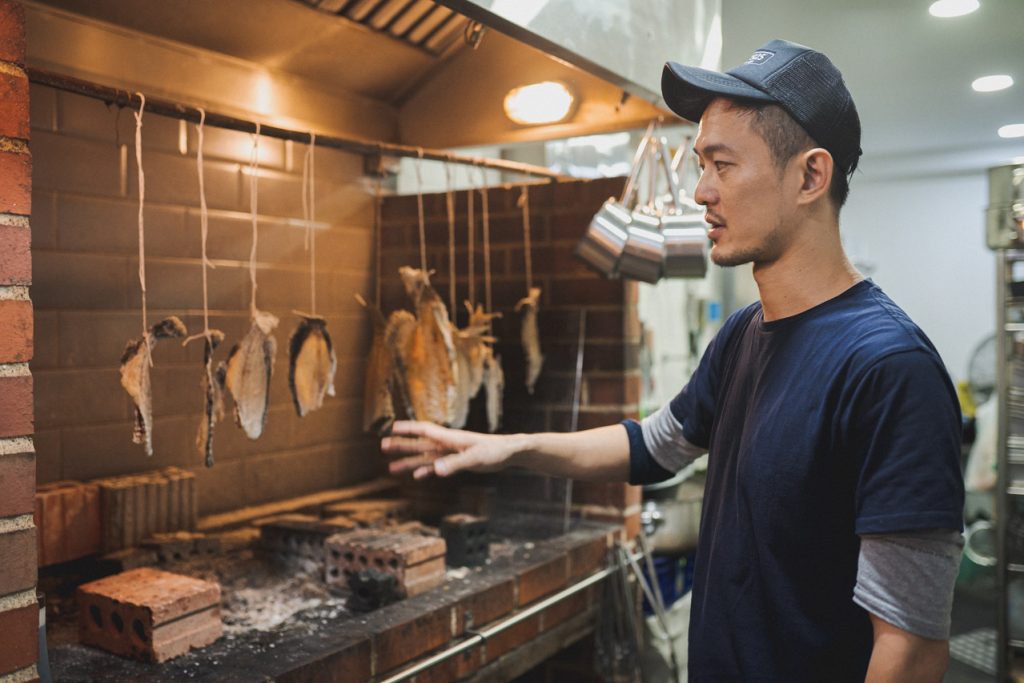 Ivan leads us into the kitchen and I immediately notice there is no burnt wok or gas stove for enormous flames in his kitchen. Instead, there is a brick-lined area that houses a charcoal fire stove. Remnants of ash, evidence of yesterday's cooking, still lie scattered on the stove.
"Cooking with a charcoal fire stove is a more intimate process," Ivan explains. "You monitor the heat, not time, unlike a gas stove. So you must see the texture, sound, and colour changes of the food. But this automatically gives your food that 'grandma taste'—because that's how grandmas cook."
Above the stove, carcasses of carefully filleted fish hang salted and drying. They're waiting for their turn to be pulverised into powder, bones and all. After that, Ivan will blend them into his home-made teepo that he uses to give his dishes an instant umami bomb. Traditionally, teepo comprises dried sole fish only, but Ivan uses a mix of fish to give his a more complex taste.
"Mackerel gives a gamey flavour. Red snapper and grouper have a sweeter taste. It's like whisky—you need a blend of fish."
Ivan gives me a whiff of the box storing his teepo. The smell hits me like a truck: it's like Ivan somehow captured the fleshly essence of the ocean, which, I guess, is essentially what his teepo is.
4:50 AM: Filleting the fish.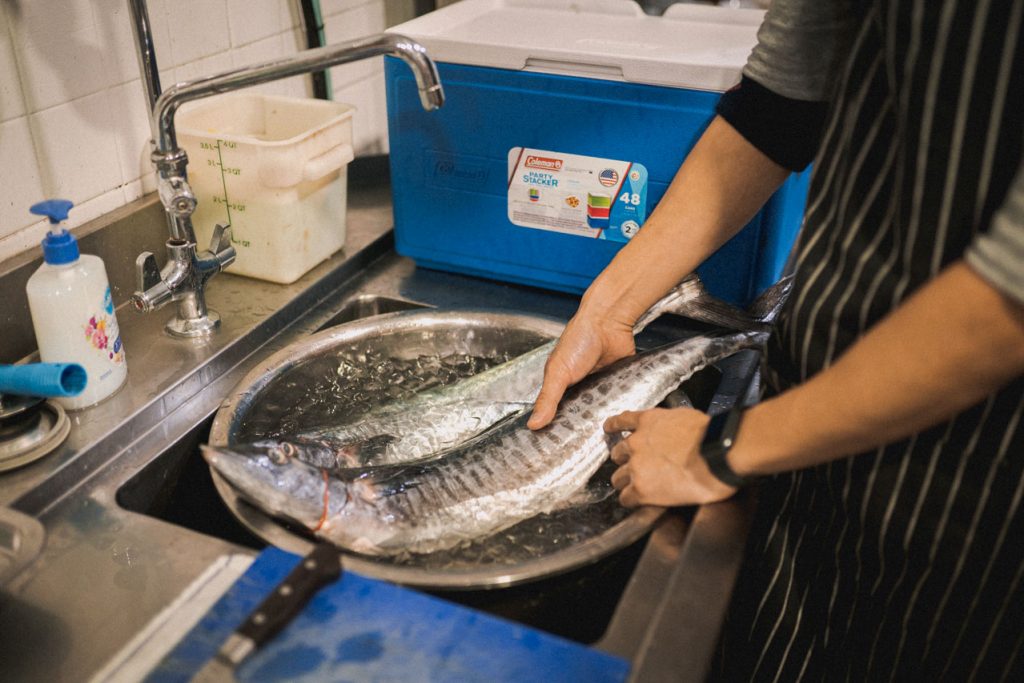 Before he even unloads his morning's purchase of fish, Ivan spends a good 10 minutes or so sharpening his knife. I have a dreadful phobia of sharp things (apocryphal family legend has it that, when we were both children, my evil, violent sister once chased me with kitchen knives in her claws), so I stay at least 2 metres away from Ivan.
"I get off doing this," Ivan says absent-mindedly while he deftly flicks his knife across the whetstone.
No one responds to that pregnant innuendo—no one but me has a filthy mind in the morning, I guess—so I suppress my infantile giggle and allow the merest, "This?" to escape my lips.
"Preparing fish in a quiet kitchen."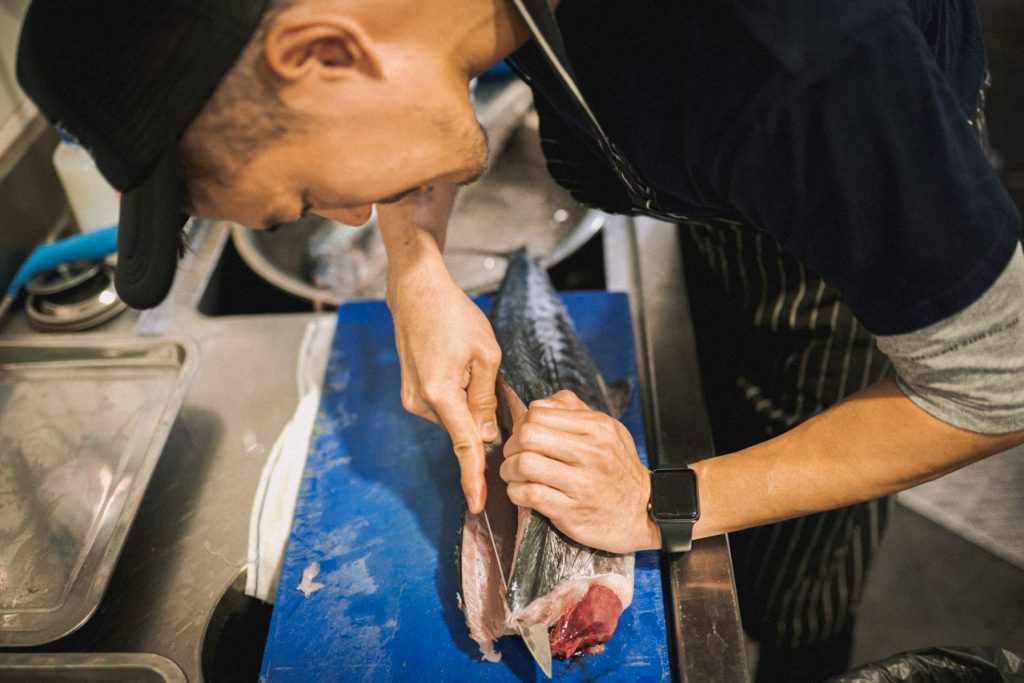 Once Ivan is satisfied that his knife is lethal enough to slice through thin air, he starts slicing through the fish—the batang first—with bold, confident strokes that are, at the same time, guided by a granular precision.
If he didn't go to culinary school, how did he pick up his knife skills?
"Like everything else, I learnt by doing. Initially, I cut a lot of fingers. Made excessive cuts on the fish. And was slow as hell," Ivan says self-deprecatingly.
But today, Ivan is as familiar with the anatomy of the fish as he is with, say, that of the human body. "This is the urethra," he offers helpfully as he holds up a wine-red, oblong organ in front of my face. I feign interest in it then back off inconspicuously.
"This reminds me of a funny story. When I was young, I used to eat fish roe with my porridge at this stall. One day, it was sold out, so the uncle asked if I wanted to try male one. Without thinking, I said yes. When I ate it, the whole thing burst in my mouth. I only realised later male fish don't have roe."
Ivan turns introspective at this memory.
Fish semen tastes like crap.
In fear he was spontaneously going to serve me a dish of fried batang urethra, I retreat further from him.
Maybe I am not as stealthy as I imagine I am, because Ivan kindly changes the topic, saying, "We decide on the night's menu after preparing and assessing the quality of the fish." How is the quality of today's fish? He repeats his lament: "When you cook with fish, climate change is obvious. In the span of 3 years, you can already tell a difference in the quality of fish. A really good one comes once every 2 months when they used to be common in the past. It's sad."
The respectful relationship Ivan has with his ingredients is obvious. Apart from talking about them like a partner, he also conveys each chunk of batang flesh to a waiting tray like a mother cradling her newborn baby to bed, and tucks them in with the same care.
But the most remarkable thing, to me, is that he kept his Apple Watch on through the whole process of stripping the fish.
5:30 AM: Salted, hung, dried.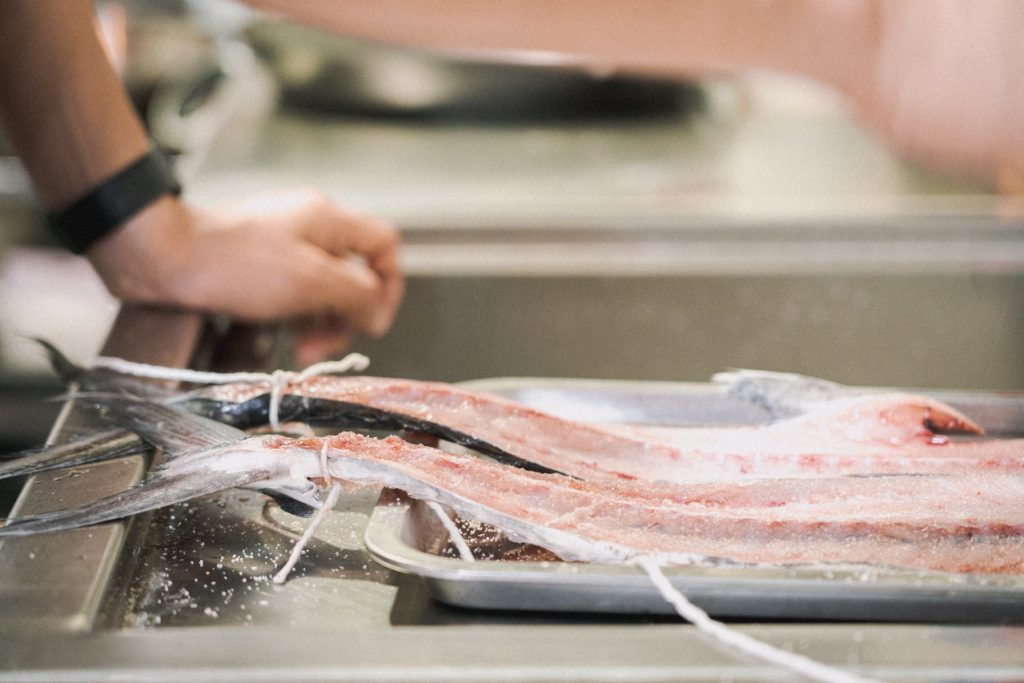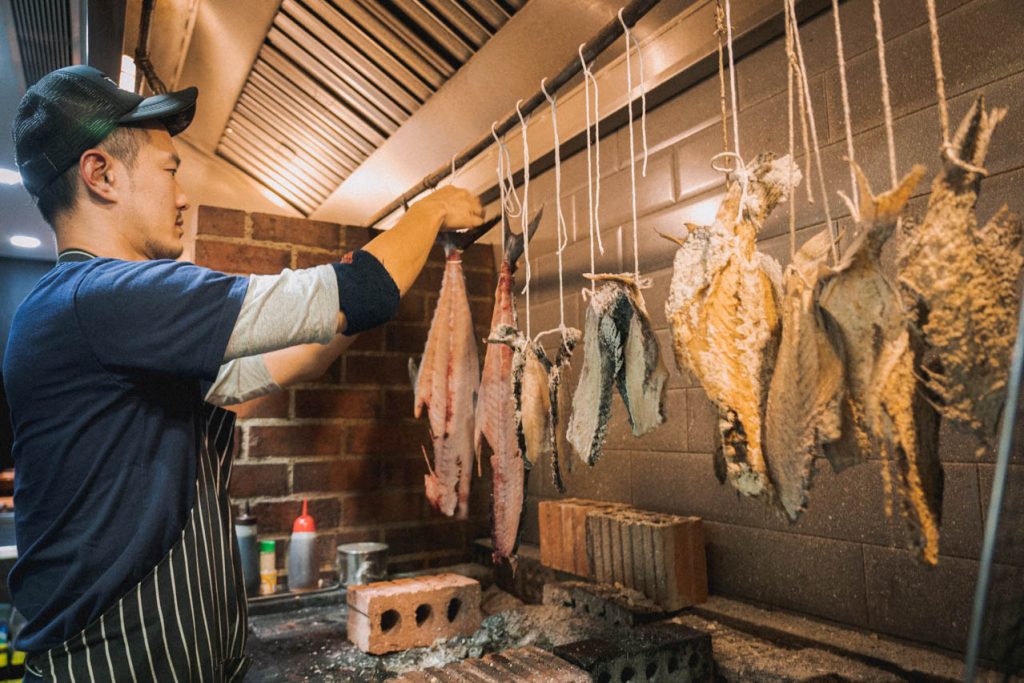 After reducing the fish to its mere bones, Ivan saltbaes the carcass generously and ties it up a la Mr Christian Grey. The two newly denuded batang join the rack of dangling fish; it'll be at least 2 months before they are ready for use.
At this point, Ivan usually heads to his brewery at Mandai to check that his beers are bubbling away happily, but he is shifting his schedule around today to accommodate Zac and me. Not possessing the superhuman stamina of Ivan, we are already wilting in his restaurant's chair, and he can see that, so Ivan dismisses us home so that we can catch a quick nap before reconvening for lunch. In the meantime, he'll head home as well, shower, and spend some time with his son.
12 PM: A cai fan lunch at Yishun.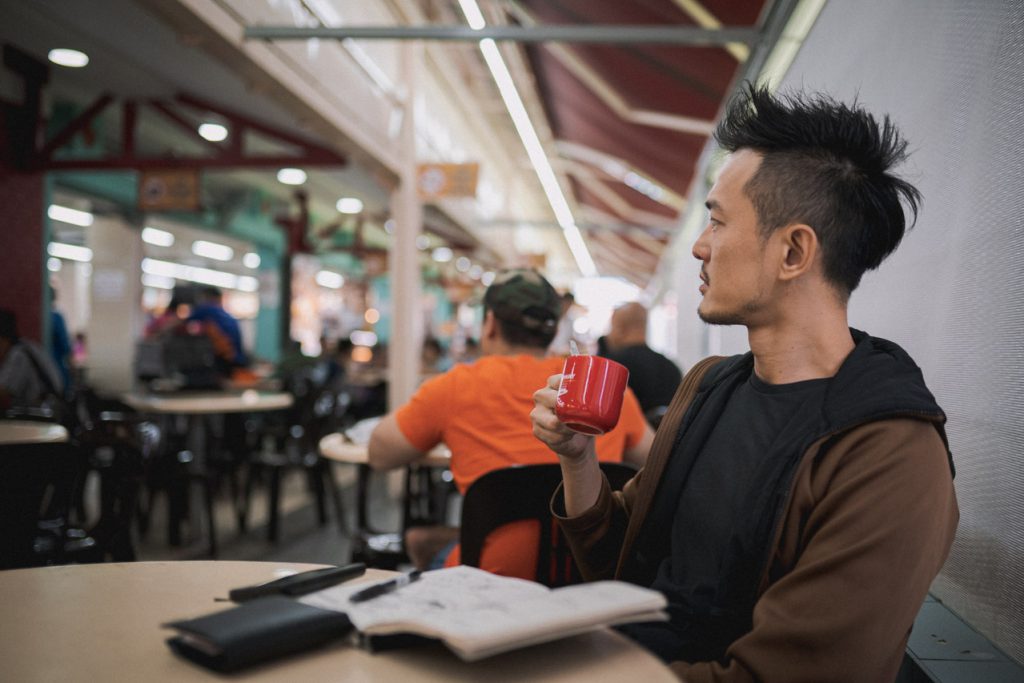 I arrive as Ivan is already finishing up his plate of cai fan (3 veg and rice) while scribbling into his notebook. He's looking improbably fresh; his hair is still damp—either with water or pomade—and his eyes are bright and piercing.
For the first time in 9 hours, we are free from fish carcasses and my brain is rested, so I take the opportunity to ask Ivan the harder-hitting questions. Like: why on earth would someone with no experience in the F&B industry set up a restaurant in Singapore, a notoriously inhospitable environment for restaurants? In 2019 alone, popular eateries like Non Entrée Desserts, Chili's, Glory Catering have shuttered their doors; Michelin-starred chefs weren't spared this bloodbath either, with Joël Robuchon and Andre Chiang closing their restaurants last year. So who does this young upstart whippersnapper think he is?
Ivan has no illusions about himself nor his business. "Before I joined F&B just 7 years ago, I didn't know what pinot noir was. It's wine, just drink it!" he lets loose a laugh that mixes equal parts male bravado and self-belittling.
"I don't know a lot about cooking. So I don't dare to say I have passion for food. Anyway, I find 'passion' a meaningless word today. It's like weed ['the grass, not the drug,' he clarifies]. It spreads fast, it's shallow, it's non-committal."
'Passion' [is] a meaningless word today.
When they experience their midlife crisis, some people buy fast cars, some hit the gym, some join a monastery. Ivan opens a restaurant. Prior to his current role as chef-founder ("I only became a chef because my head chef left and my sous chef fucked up"), Ivan was a creative director at a media company.
But he grew jaded of a life measured out in empty coffee cups and cigarette butts. "So I joined a band playing percussion," Ivan says. "We would go into the kitchen for staff meals. Being in the kitchen environment sort of rekindled my interest in food."
"I considered going to culinary school, but I knew I was too impatient for that. So I did everything myself, I learnt from trial and error."
"Basically, I tested what every grandmother says about cooking and see what's true," Ivan laughs. Then he sobers up quickly, reflecting, "Nobody bloody explains anything. That's why cuisines are dying. The older people don't think recording their techniques or recipes is a big deal. So I've been documenting a lot. I have a journal of exchanges with older Teochew chefs."
"You know how the French have 4 master sauces? We Teochew have 128 different condiments. Salted egg, preserved olives, kiam chye, fish sauce … and when you combine them, it's just endless. That's why Teochew porridge is bland, soupy. It can hold all the condiments together."
"Or did you know sashimi originated from the Teochew region in China?" Ivan asks us.
We didn't.
"Exactly. I don't want my son growing up eating McDonald's thinking it's our culture. That's why I started this. It's using food as a medium to preserve our heritage."
1 PM: Shopping at Sheng Siong.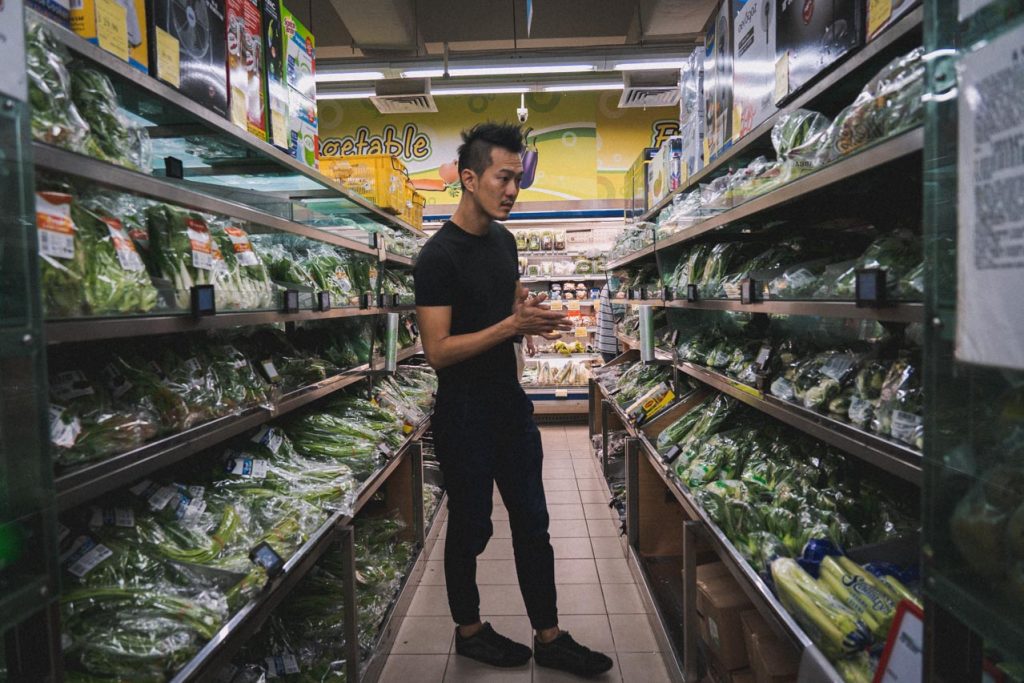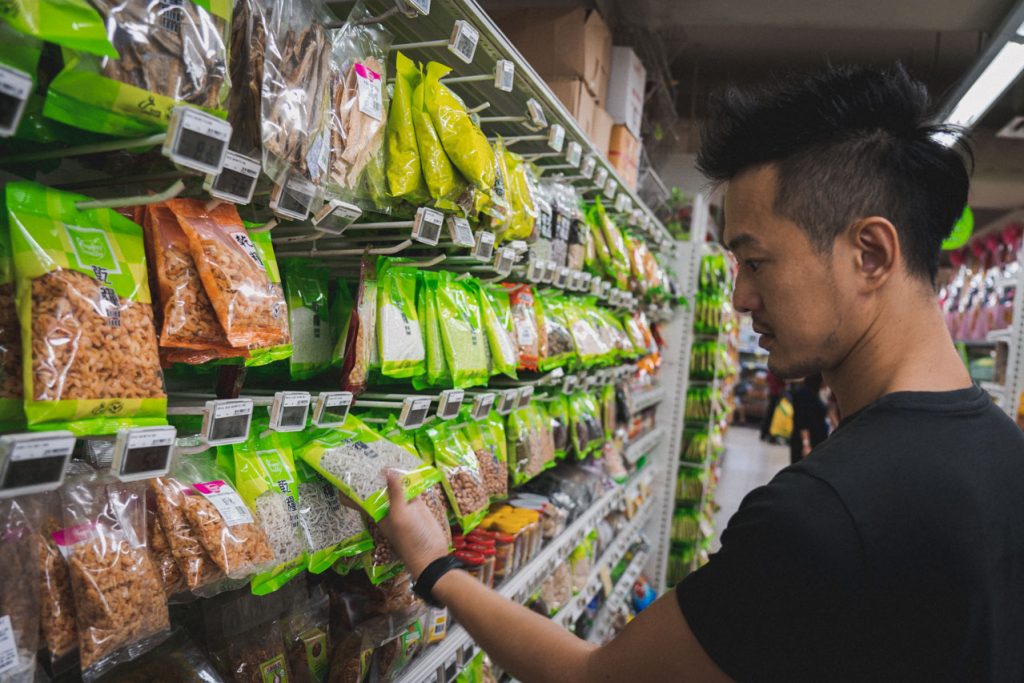 Ivan, somehow, seems more intensely focused on choosing his vegetables and herbs than he was at the fish market. Not daring to interrupt this trance he's in, I linger back and let the camera do the talking. I'm somewhat disappointed as I was looking forward to picking up grocery-shopping tips from him, but, speaking as an individual sick of people sluggishly nudging empty trolleys through crowded aisles, it is a pleasure to see someone stride so purposefully through a supermarket.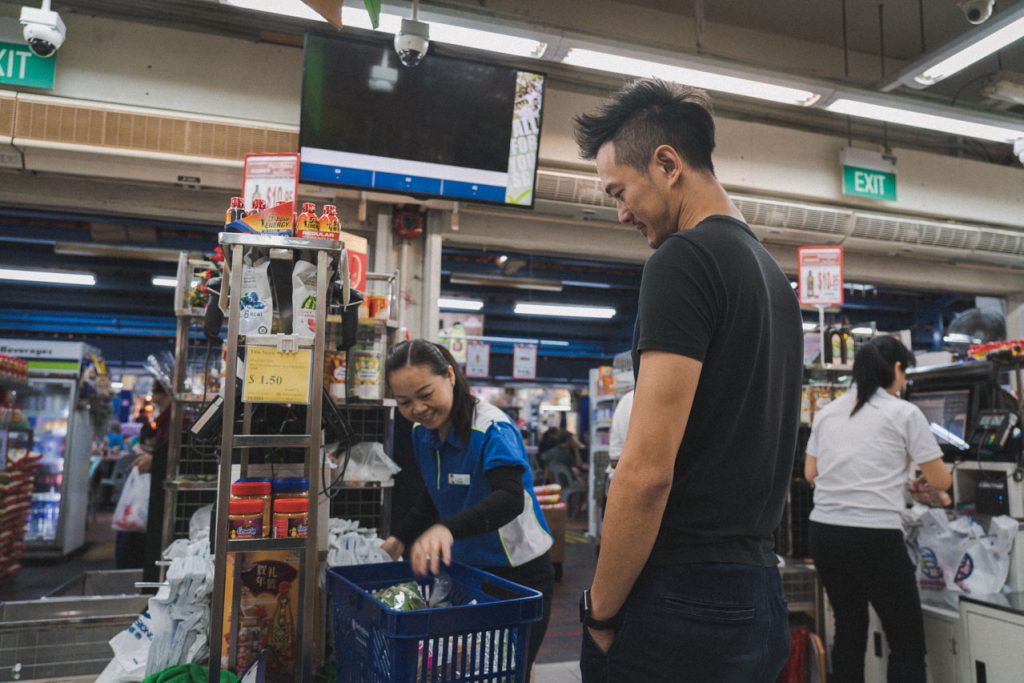 Even with his complete absorption in evaluating produce, Ivan doesn't forget to say hello to the various staff members of the shop. The auntie manning the fish counter bids him a good morning; he greets and flashes a dazzling smile at her. Does she see him frequently? "Yes, yes, every day, very familiar already," she replies.
Half-way through our shopping expedition, a conscientious staff member, noticing Zac lugging around a huge camera with a lens that looks like a miniature bazooka launcher, politely asks if we have permission to shoot in Sheng Siong.
"I'm one of the Sheng Siong chefs," Ivan explains. I bask, undeservedly, in his reflected glow.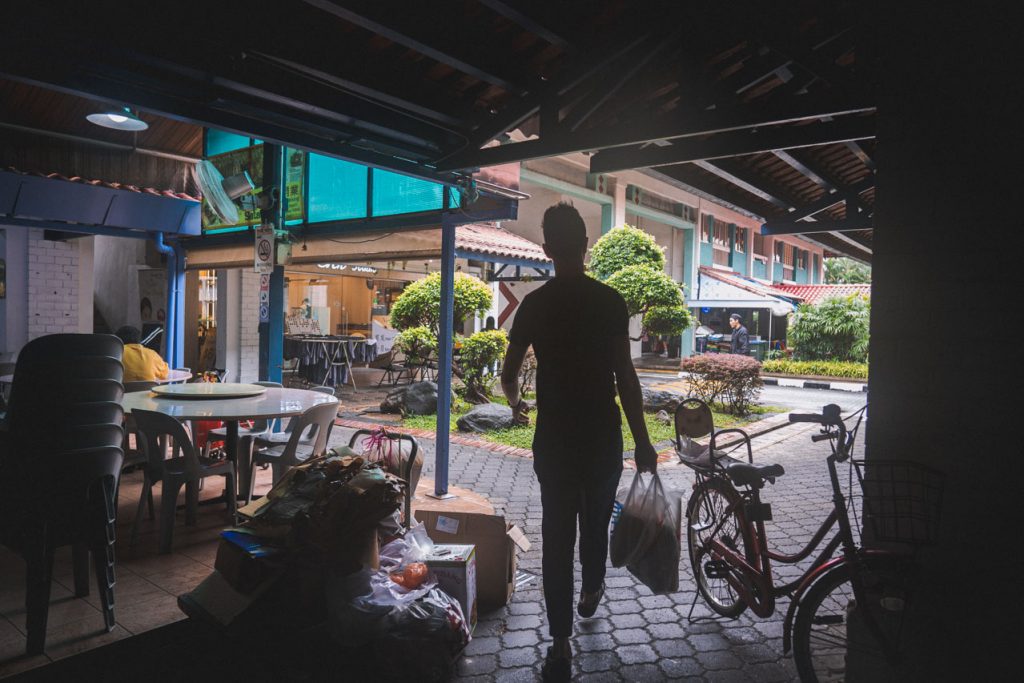 2 PM: The 1925 Brewery Co. Brewery at Mandai.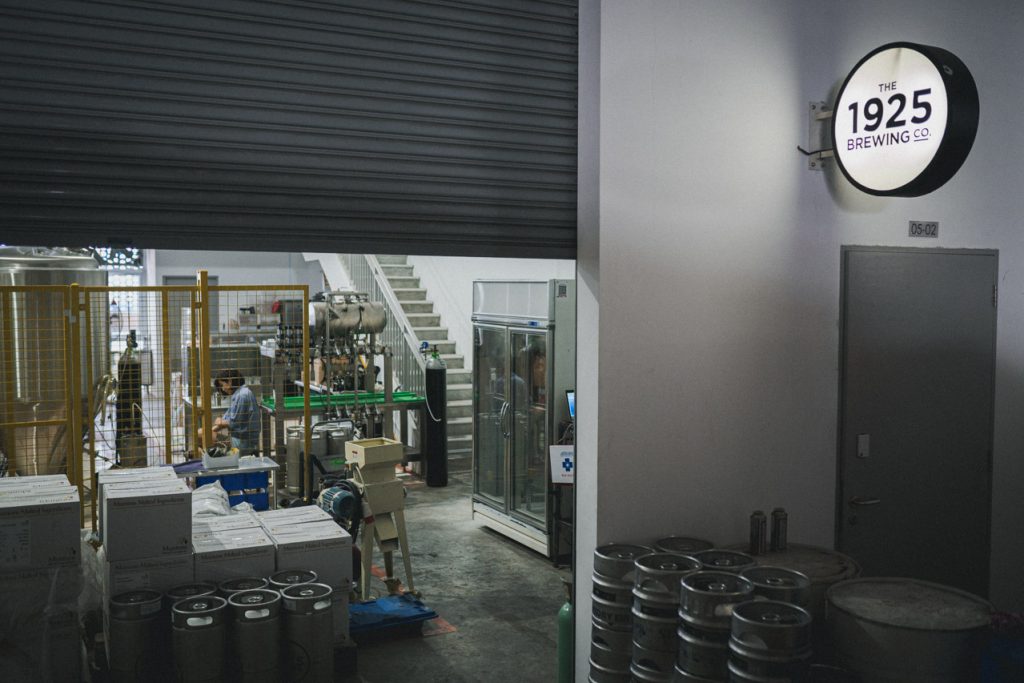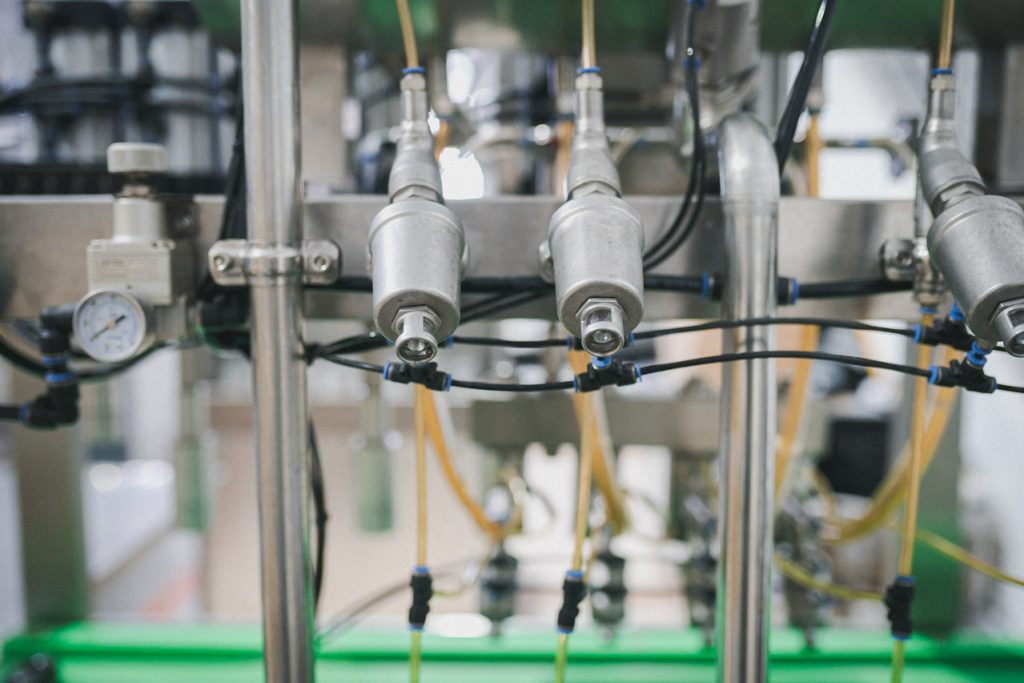 If Jurong Fishery Port was olfactory hell, Ivan's brewery is pure bliss for my nose. I'm not that heavy a beer drinker, but the sweet scent of hops and malts undergoing whatever chemical reaction within the huge industrial tanks completely enraptures me. I might have gotten drunk on the heady perfumed air alone.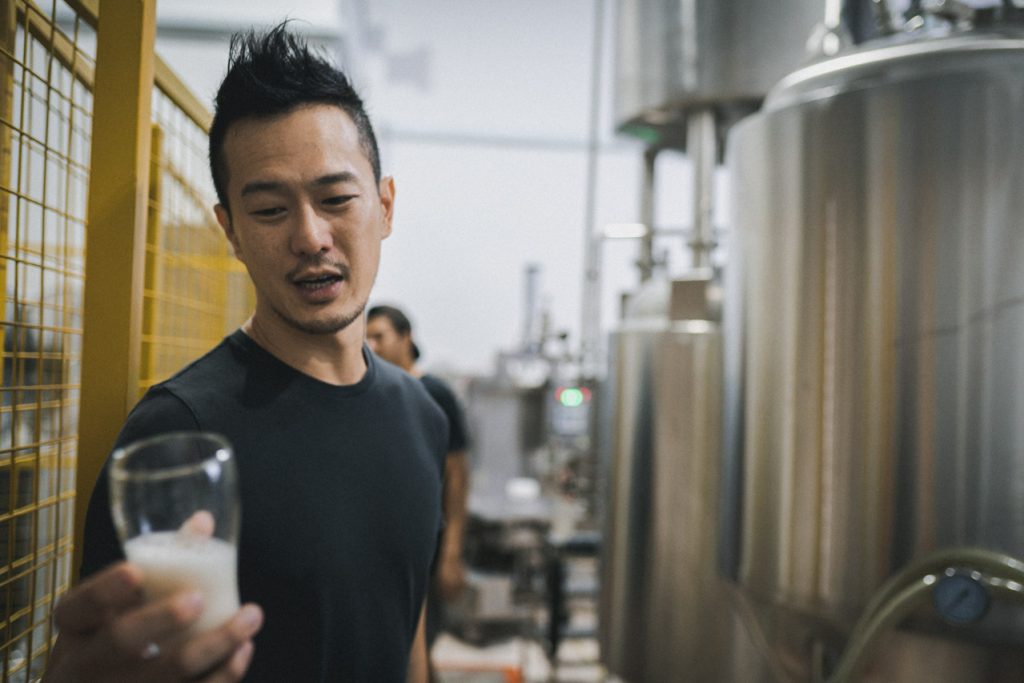 Aside from making sure I am not losing my mind (I am not), Ivan doesn't have much to do at his brewery. He has a quick chat with Kevin and Xin, the 2 people overseeing the cavernous complex containing at least 6 beer tanks, to make sure nothing is in danger of exploding (I'm exaggerating, of course), has a small sip of the beer straight from the tank to check its quality, and is done.
All this happens while Zac and I are standing behind a bright yellow fence, ogling from afar. Ivan explains apologetically that it's part of government regulations. Alcohol is a very, very controlled product in Singapore, so all sorts of authorities and rules are involved in the running of a brewery.
"They have to know where every millilitre of your beer goes," Ivan sighs. "I came into F&B to escape paperwork. But the amount of paperwork you need to do when trying to set up and run a brewery? It's just disgusting."
Small price to pay for being able to soak yourself in this smell, in my opinion.
7 PM: Back at The 1925 Brewing Co., Joo Chiat.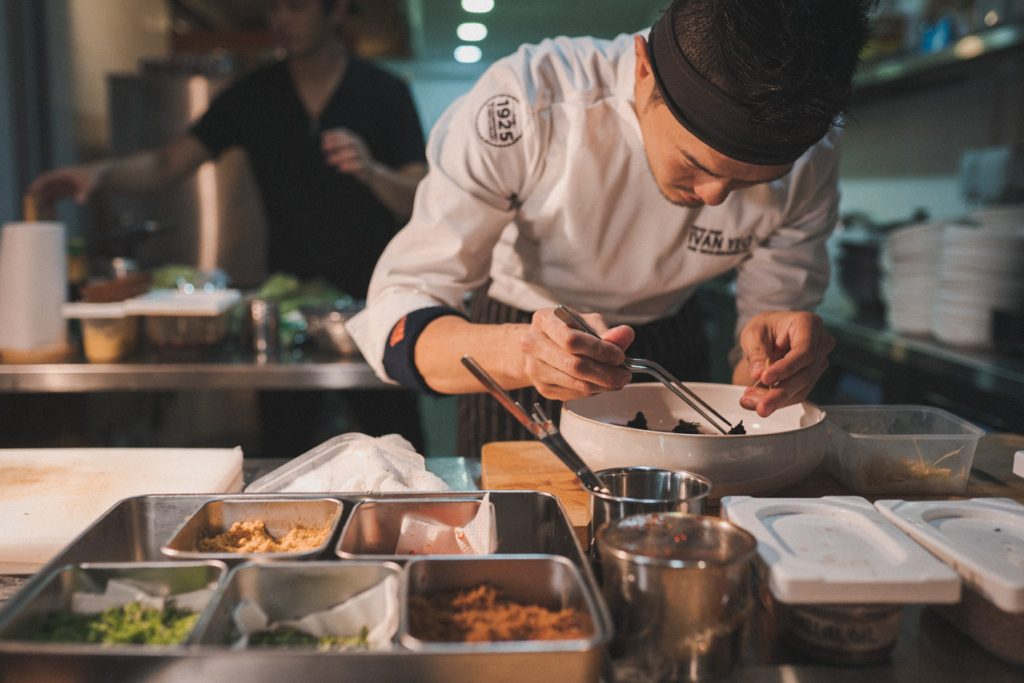 After 14 hours, I'm back in Ivan's restaurant. Has it been only 14 hours? It feels like an age ago. I suddenly understand why Mariah Carey says that she does not acknowledge the passing of time: for time is a flat circle.
Unlike the eerie silence that permeated it at 5 AM, this time, The 1925 Brewing Co is humming with quiet efficiency. Because of the freakishly lovely weather lately, most diners are nursing their beers and food al fresco. From the open kitchen ("Actually, the open kitchen is for chefs to look out and see the people they are serving, for that human connection. Not for people to look in."), I can see that Ivan is too busy to talk to me so Zac and I are left to our own devices.
And what do 2 adult men left to their own devices do? They order beer and use it as a lubricant. Socially.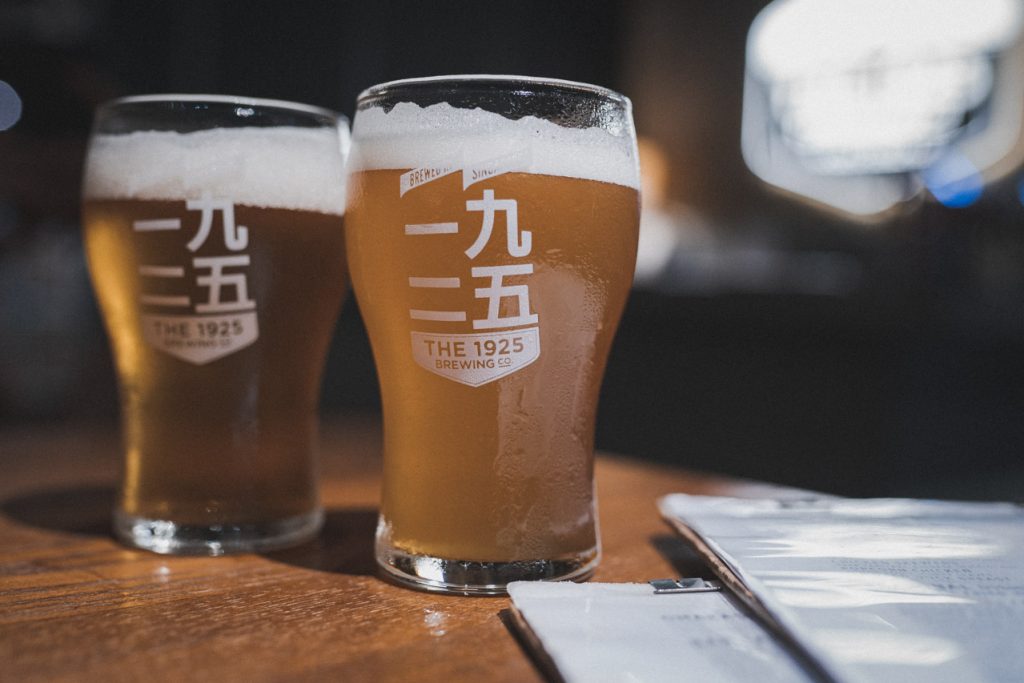 Zac has the Yellow Van, an easy-to-drink pale ale; my poison of choice is the Liang Teh. At first it tasted, disappointingly, like plain ole beer to me—it is only in the lingering aftertaste that the chrysanthemum flowers bloomed in my mouth. Think of this as Birds of Paradise's white chrysanthemum ice cream in beer form. What could be better?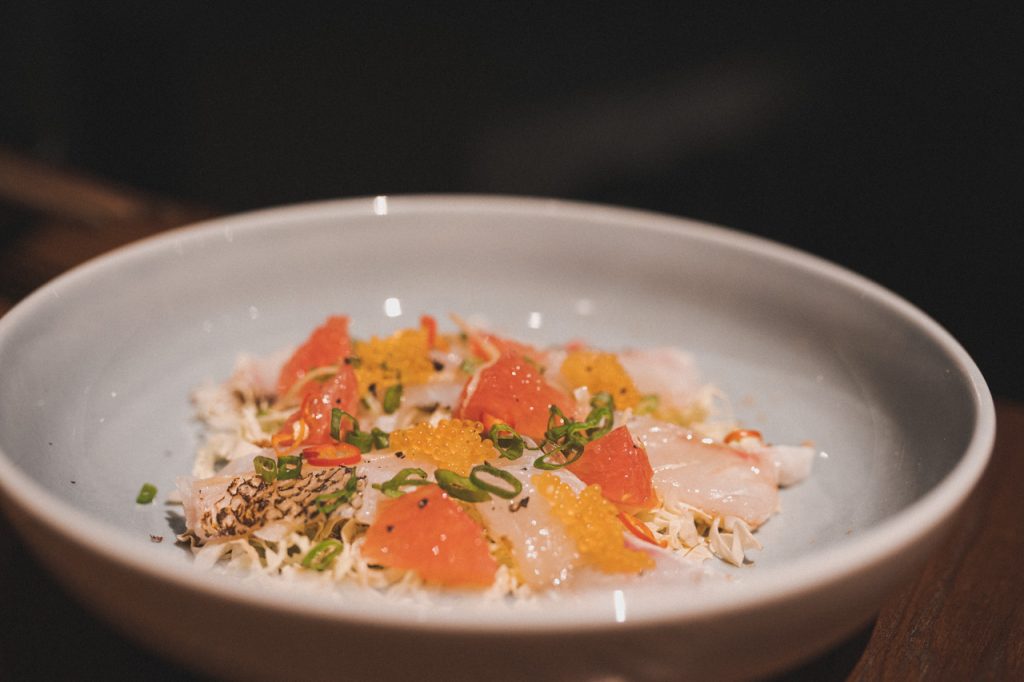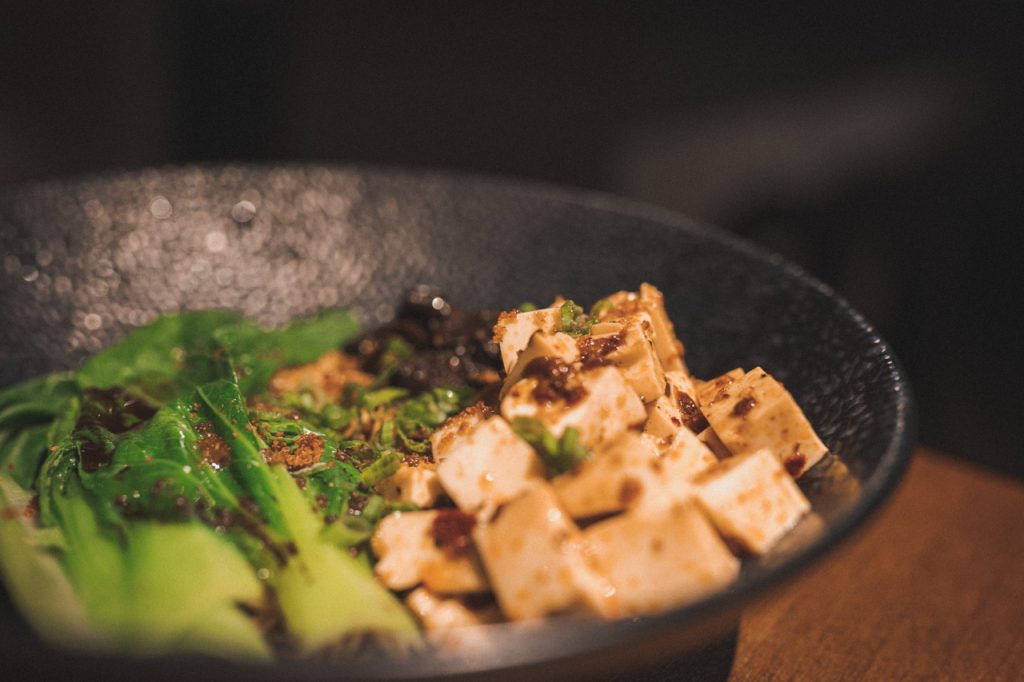 Next to arrive are the Chaoshan Ceviche and Tofu Boat Noodles.
The ceviche—what ang mohs call yusheng after they soak it in citrus juice—is delightful, but in my opinion, you can't improve the taste of fresh raw fish that drastically, even with the dish's clever accoutrements of grapefruit and fish roe.
It is the more prosaic-sounding Tofu Boat Noodles that blows my mind. At first, it just tastes like a really refined bowl of braised mushroom noodles. Then the aged beer vinegar in the sauce creeps in and suffuses my entire mouth. How do I describe it? Imagine a piquant and floral vinegar, dark with plum- or wine-like undertones that gives anything it coats a complex roundness.
Like so many innovations, this elixir was gifted to the world because someone "fucked up". In this case, Ivan wanted to make a cask-aged dark beer, but "fucked it up and forgot about it," he says. Even though it was completely sour, he was "lazy to dump it," so he left it sitting in its cask. When he eventually got around to opening the cask again, he realised that the liquid tasted like an aged, 17-year-old balsamic vinegar he'd had at another restaurant.
Only better.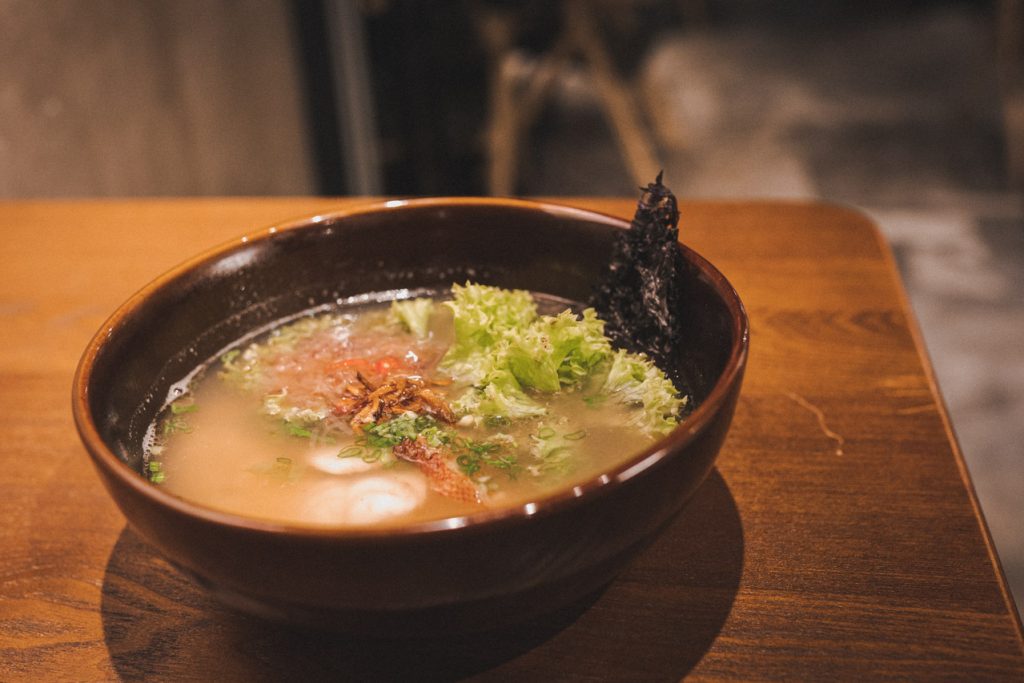 Then, a surprise. The Traditional Teochew Fish Porridge, usually available only for lunch, is sent to our table with compliments from the chef. Drinking the broth, which is made with the teepo I snorted earlier today, I feel like an ocean god to which 1000 fishes sacrificed their souls. In short, it's an insane umami bomb, almost too intense to sip on its own. But when paired with the rice grains, the porridge is the perfect dish to have on a rainy December night.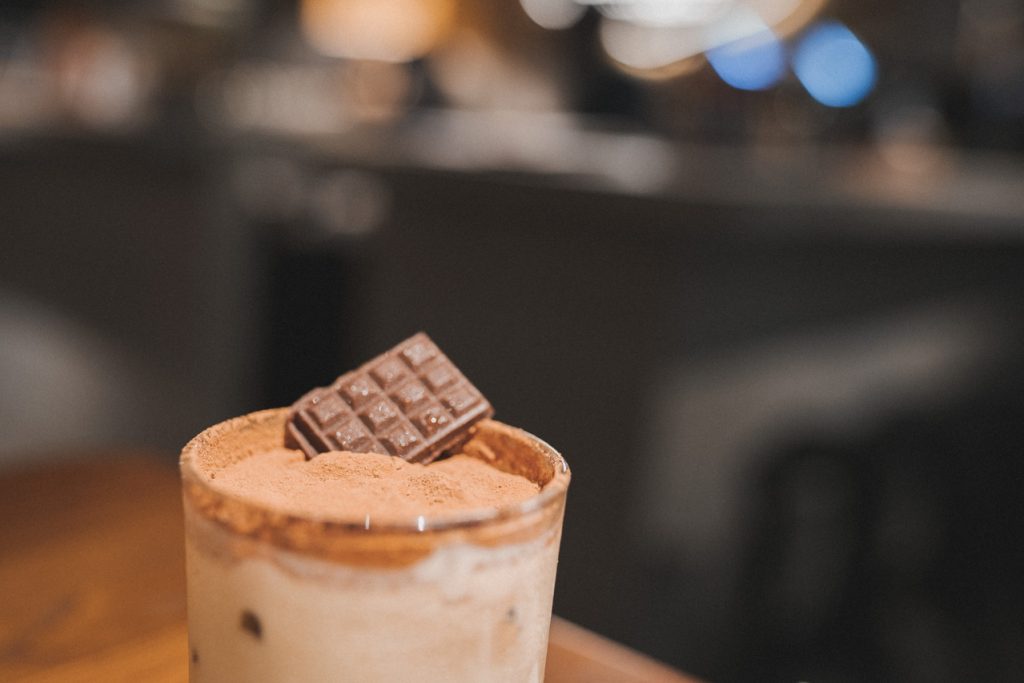 The tiramisu here is apparently rated the best in Singapore, but as someone who shuns the evils of sugar, I cannot pass a fair judgment on it. I am, however, devoted to my job, so I selflessly shove a spoonful into my mouth. The ladyfingers are positively drenched in coffee liquor. I sputter a bit. Zac shrugs, "I don't taste it leh."
Five minutes and an empty tiramisu cup later:
"Okay, I feel it now."
9 PM: The last dredges of the night.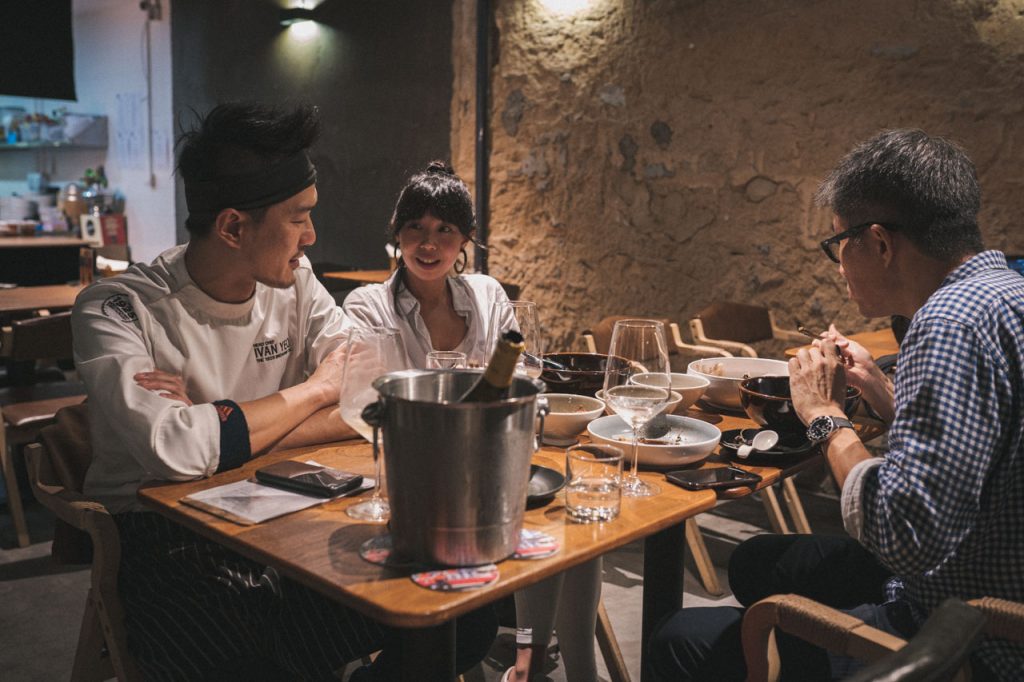 As the night winds down, Ivan finally gets a chance to catch a breather with his friends, who are visiting his restaurant today.
Some of his regular customers bid him farewell before they leave. So do Zac and I. We are fed and watered and ready to collapse into bed.
But not Ivan. After the kitchen closes at 11 PM, he will do a thorough scrub down of the place, order supplies for the next day, and complete some administrative tasks. On a good day, he gets home at 1 AM.
On the train home, Ivan's quip about passion kept revolving in my head.
"Passion is a meaningless word," he said. That may be so. It's a common adage, in the local bible of pragmatism, that passion cannot sustain a life. But when you make it your life, as Ivan has, then you have no choice but to make it work, even if it means staying awake for 40 consecutive hours or seeing your 2-year-old son for just 2 hours a day.
You make it work.
This is not a sponsored post. The author is just a masochist who really likes food.
Did reading this article take you 40 hours? Send us an instant email at community@ricemedia.co