Top image: Google Maps screengrab
This story is part of RICE Media's Storytellers initiative, a mentorship programme for budding content creators to learn about the art of creative non-fiction. This piece is a product of a partnership between RICE Media and Singapore Management University (SMU) for its Professional Writing module.
---
Known for its high-end cafes, chic bars, and upscale luxury housing, Holland Village is often referred to as the playground for Singapore's elite and expats.
The upscale neighbourhood is not one we commonly, or if ever, associate with the presence of hardship. With Holland Village's image of opulent nightlife, it's hard to imagine the impoverished living among the affluent.
The truth is, just a stone's throw away from your favourite cafes like The Daily Scoop and Sunday Folks lies Block 1 Holland Close, a singular block of rental Housing Development Board (HDB) flats in the estate. An oddity, considering it's located on the same stretch of road that sees million-dollar listings on the housing market.
The red and white coloured block is home to Singaporeans struggling on the margins of one of the wealthiest countries in Asia—many of whom are elderly and living alone.
Pervasive Loneliness
Auntie Sek Har is an 83-year-old residing at 1 Holland Close for almost 16 years.
Since her younger brother moved out of their shared 4-room HDB flat in Teck Whye, she had no choice but to downsize to a smaller unit.
"When my brother moved, I could not continue living in our 4-room flat alone," Auntie Sek Har shared. "So, I decided to move here. I also have a few friends in this area, so that's nice."
Auntie Sek Har is the oldest of three children and is unmarried. She is one of the lucky ones—she still keeps close contact with her siblings and meets them for dinner on the weekends.
But many other residents in Block 1 Holland Close are not so fortunate.
Having been abandoned by their families and left to fend for themselves in their old age, these older folks struggle to stay afloat financially due to depleting savings or a lack of financial planning in their younger years.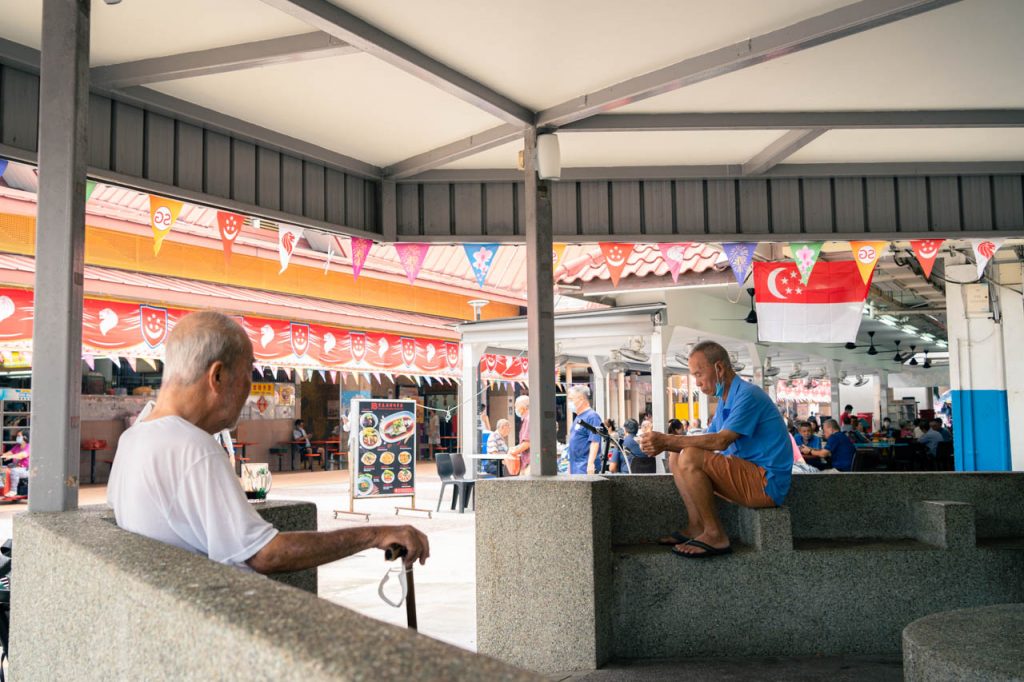 According to the Housing and Development Board (HDB), most applicants under the Public Rental Scheme draw monthly household incomes of less than S$1,500.
Elderly folks who are alone can submit their applications to rent these homes from the government. If there are other people in the same predicament, HDB will link them up as roommates.
For these elderly residents living alone, their only form of social interaction comes from chit-chatting with their neighbours or attending recreational activities at the active ageing centre at the block's void deck.
"We have a lot of fun here," Auntie Sek Har offers. "The social workers are like our friends too; we exercise together and play mahjong."
Fei Yue Active Ageing Centre operates every weekday, hosting a myriad of activities to engage the lonely elderly folks living in the block. Social workers are also a form of emotional support for these elderly folks, taking care of them in place of their family members.
On weekends when the active ageing centre is not open, the residents of 1 Holland Close spend their time at the block's void deck or nearby coffee shops with their friends.
Auntie Sek Har shares that she likes to frequent Ghim Moh Market with her friends on weekends to enjoy their breakfast and kopi.
Of course, there is a dissonance of ideas of what constitutes breakfast in Holland Village, a hotspot for the brunch-eating types.
"Aiyo, I see so many young people all the time at the cafes, especially on weekends… But it's not really my thing. Everything there is too pricey and not to my taste," says Auntie Sek Har.
"We feel more comfortable at the local markets and coffee shops!" she says, laughing.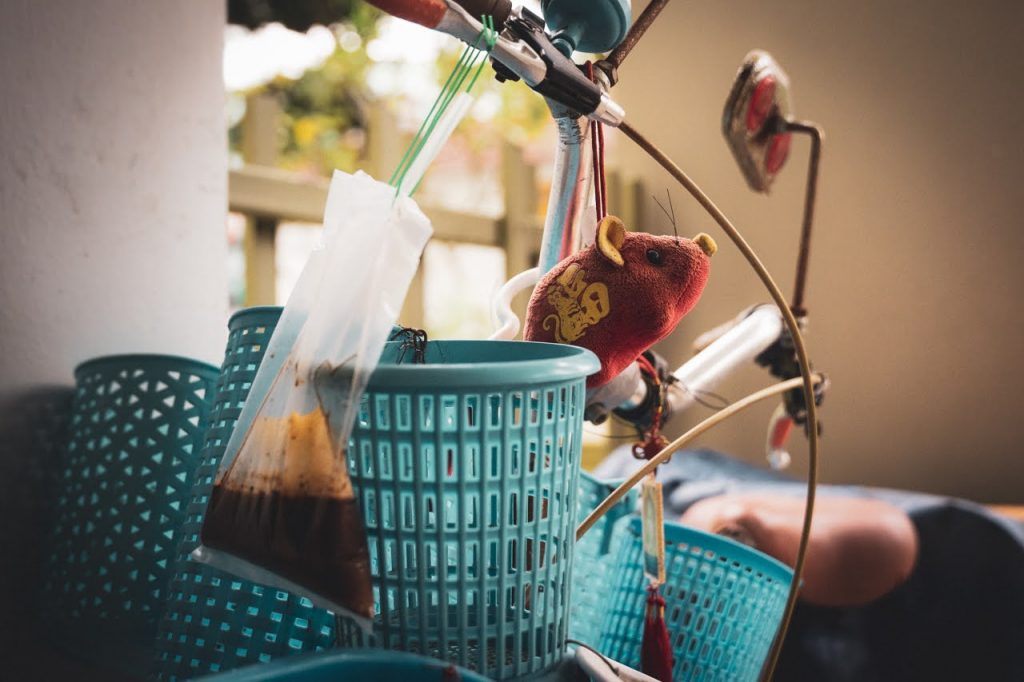 Rental Flats
Built in the early 1970s, Block 1 Holland Close comprises 319 one-room flat units.
Unlike other HDB flats in the area that tower over 28 storeys high, 1 Holland Close only spans 13 storeys. Evidently, the block also looks much older than the rest.
One-room rental flats, such as those at Block 1 Holland Close, are offered under heavy subsidies from the government.
The monthly rental fees start from as low as S$26, which may not even be enough for some of us to cover our routine weekend brunches or weekly coffee budgets.
Upon looking out their kitchen window, residents are greeted with the sight of private housing at Chip Bee Gardens. Each unit in these housing estates can easily soar to around S$5 million.
Private housing aside, even the purchased HDB flats in the area are for sale on the market at close to the million-dollar mark or for rent at S$3,000 a month, minimally. As of writing, a five-room flat at 5 Holland Close is up for sale at S$1.2 million.
Compared to the spacious units in surrounding housing blocks, the one-room flats at Block 1 Holland Close average around 18 square metres, smaller than most basic hotel rooms.
The Widening Gap
Again, Auntie Sek Har is only of the lucky ones. For many of her peers in Singapore, retirement is becoming more expensive. Leaving the workforce can turn into a pipe dream.
Auntie Sek Har continued working part-time to support herself and only fully retired not too long ago when she could no longer physically keep up with manual labour.
Like many others in the block, Auntie Sek Har is under the ComCare Assistance scheme administered by Social Service Offices (SSOs) to aid low-income groups in difficult financial situations. She is a beneficiary of monthly cash assistance for living expenses and aid in monthly household bills, among other assistance.
It can be argued that these financial assistance schemes are dwindling in efficacy.
Research has shown that there has been an unchanging, and in fact increasing, demand for financial aid services in spite of the ongoing initiatives to alleviate poverty in Singapore.
And despite low unemployment rates, studies have shown that a substantial number of people in Singapore are considered "working poor"—struggling financially despite being employed.
But poverty is a multi-faceted issue that cannot be solved through simple one-way financial hand-outs to those in need. Over-reliance on financial hand-outs will not help these people break out of the poverty cycle.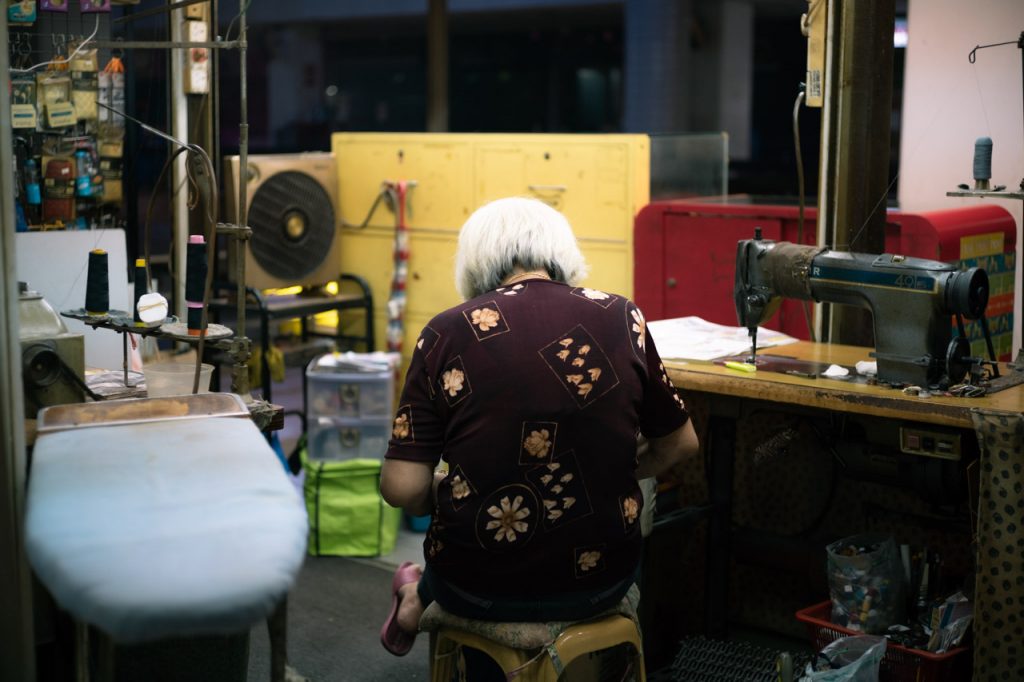 The Daily Struggle
For Block 1 Holland Close's residents, social support is imperative in helping them get by. Especially since they live in Holland Village.
Auntie Sek Har shares that grocery stores in the vicinity—such as Cold Storage and FairPrice Finest—tend to be too expensive or too westernised and do not suit her taste.
"I don't mind travelling a little further to Sheng Siong at Tanglin Halt or the Holland Drive wet market instead to buy my groceries. It feels more comfortable shopping there—also more affordable," Auntie Sek Har remarks.
Like her, many other folks in the area also frequent these alternatives. They're a bit inconvenient to get to, but at least these places are easier on their pockets and more suited to their lifestyle preferences.
Thankfully, social workers drop by the block every month to donate groceries and necessities to the residents' doorstep to ease this burden.
These residents know that living large like their Holland Village neighbours isn't sustainable. For them, financial prudence and literacy are key to their survival.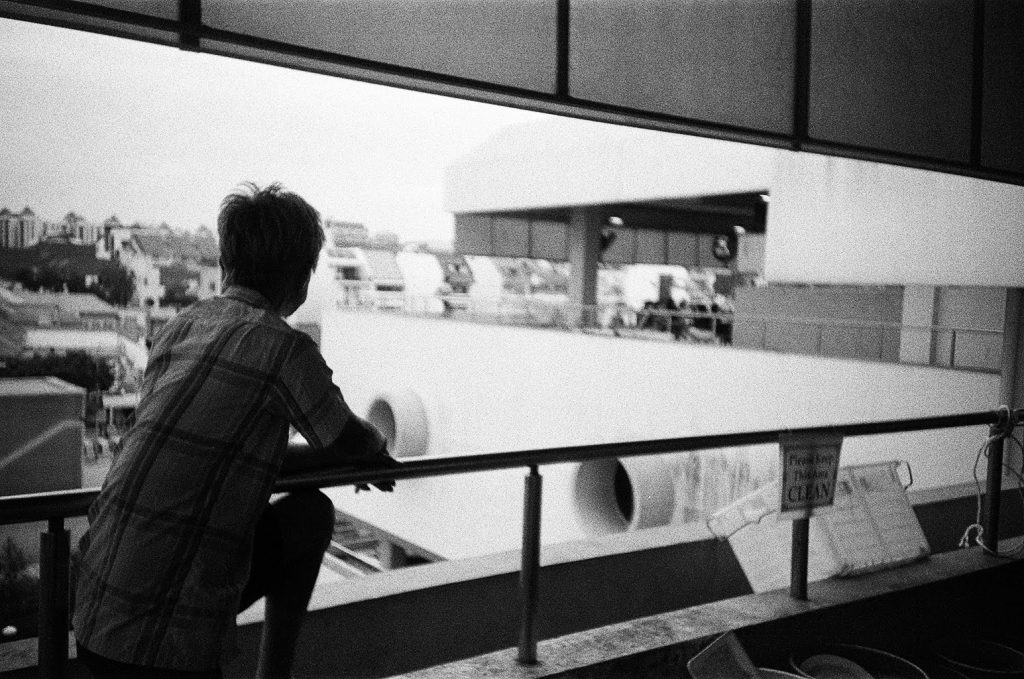 In Auntie Sek Har's case, she is already considered reasonably prudent in spending. She knows what she should or should not purchase.
"I don't really take note of how much I spend every month. But I will agak-agak (estimate) if it's not too expensive, based on my experience and knowledge, then I will buy," says Auntie Sek Har.
This is unlike many others who struggle to differentiate between their needs and wants and often make financial decisions that are not in their best interests.
This 'disability' often stems from their problem of scarcity and financial stress, which hinders their ability to make long-term decisions—their attention is overly focused on immediate problems, causing them to disregard their long-term interests.
And inadvertently, this continues to trap individuals in the poverty cycle.
Shifting Away from the Abstract
Holland Village is just one of the many estates in Singapore where the rich and poor lead parallel lives. HDB estates in Chinatown and Jalan Kukoh are prime examples.
Singapore's lack of a poverty line reinforces the view that poverty does not exist in the country—and that domestic poverty is a far cry from those present in the global scene.
The resulting impact: The plight of the poor becomes invisible to many.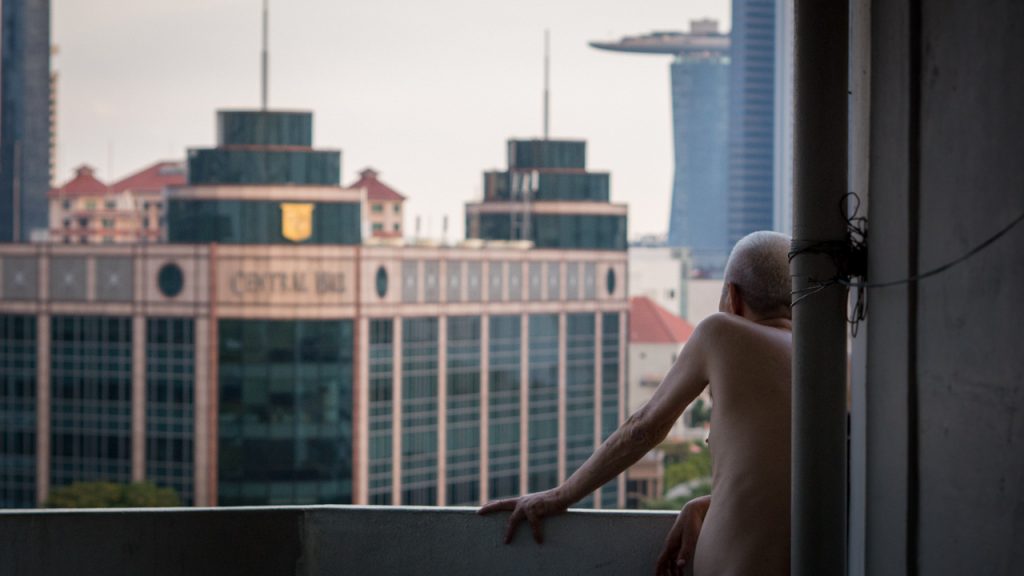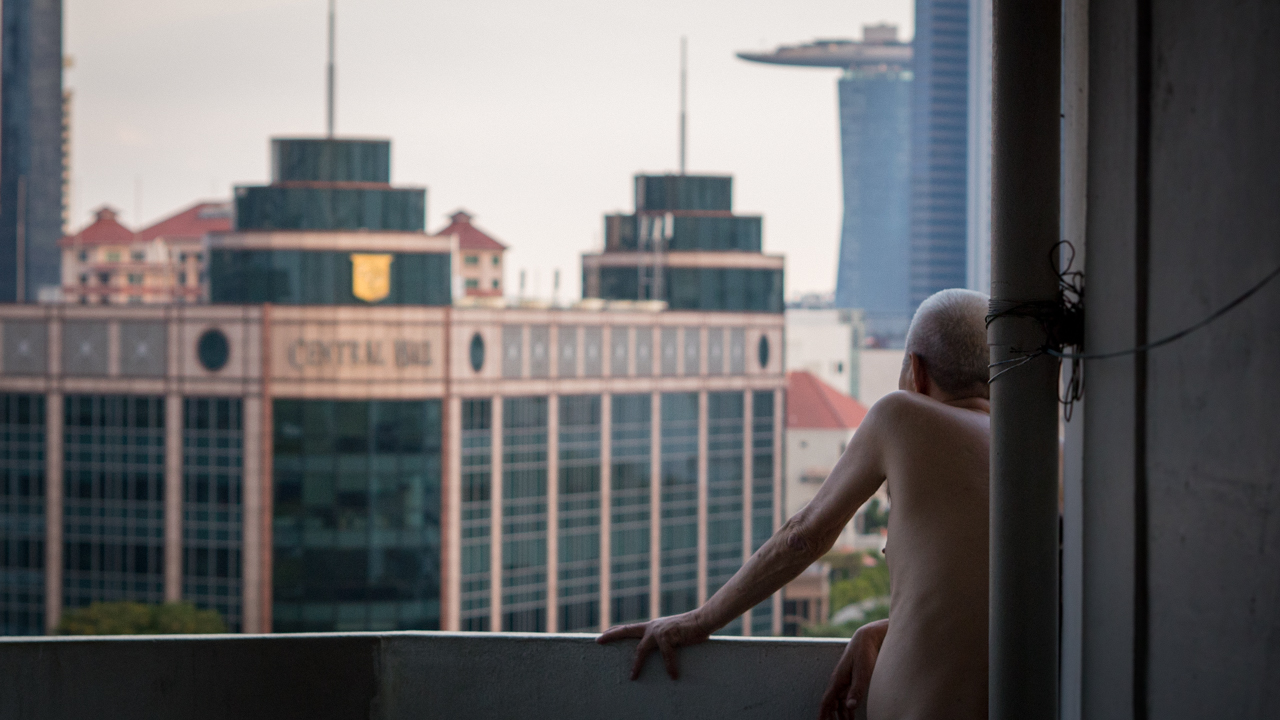 Understandably, according to Minister Chan Chun Sing, the presence of an official poverty line could lead to problems such as the 'cliff effect', where welfare schemes are only available to those below the line while ignoring others who genuinely need support.
However, it is worth exploring if instituting an official poverty line—not just for cosmetic reasons but with actionable structural reforms that follow—could have benefits that far outweigh this fear.
An official poverty line would show the recognition of poverty's existence in the city-state, shining more light on the plight of these low-income groups.
"An official poverty line needs to be established in Singapore to assess the extent of the poverty, which would serve as the foundation for future policies," says Workers' Party (WP) parliamentarian Jamus Lim.
Without defining the problem, poverty in Singapore remains an ambiguous concept that many Singaporeans struggle to understand or even see.
The truth is that poverty is all around us. They walk beside us on the streets, sit beside us on public transport, or even clean up after us at food courts and public spaces.
They walk past us as we make our way to Wala Wala for booze and bar bites. But as we gear up for a night to get wasted with friends, they could be making their way home to a small flat at 1 Holland Close to spend a quiet evening in solitude.
---
If you haven't already, follow RICE on Instagram, TikTok, Facebook, and Telegram. If you have a lead for a story, feedback on our work, or just want to say hi, you can also email us community@ricemedia.co.