All images and videos by Zachary Tang for RICE Media unless otherwise stated.
"I was considering between being the ice cream man or selling lemonade," Chen Ke Long tells me.
I'm watching the 23-year-old father of three wrangle a stack of plump lemons on his counter.
"Eventually, I decided to sell lemonade because there are lesser licenses needed than selling ice cream."
Shimmering in a shade of cloudy yellow, his homemade lemonade appears ordinary, resembling something store-bought. But with a sip, a delightful spritz of citrusy and tangy flavours of the lemonade left a delicate aftertaste that soothed my senses.
"Anyone can make lemonade at home," Ke Long admits bashfully.
"So when my videos reached 100K views during my first week of selling lemonade through TikTok, I was very surprised."
Under the handle @ke_long, the lemonade maker is slowly making his way up in the local TikTok scene. Requests for strange blends like 'Lemonade and Bandung' and 'Lemonade and McFlurry'—along with multiple "How to buy?" questions—fill up the comment sections of his videos. Ke Long diligently sifts through all of them as he uploads content two to five times daily.
I'm meeting Ke Long today at his parent's five-room Woodlands flat, where he resides with his partner and kids. Dressed casually in a brown T-shirt and black shorts, Ke Long walks me to his kitchen. He lightly drags his feet—perhaps, a habit of fatigue—but he does his best to stay spirited, responding warmly to my incessant questions.
His dark eye circles and slightly hunched shoulders exude the weariness of being a young dad of three.
The Lemonade Man
A video of a man tasting a mix of lemonade and Sprite appeared on my For You Page one day.
A click into his account was a delve into more of such videos—him concocting lemonade with different soft drinks at his audience's behest. It is the 'shock' factor in these clips that still draws the attention of new audiences.
Trade secrets are secrets for a reason, so it was puzzling to see him openly sharing his recipe with his audience on TikTok. But it endeared him to a loyal audience to score him many lemonade orders and a decent following of 3573 and 124 thousand Likes as of writing.
A growing number of Generation Zs, including Ke Long, have chosen to set sail on their own unconventional journeys—becoming tattoo apprentices, thrift shop owners, and now it seems, online lemonade sellers. The throughline: Go against the valued norm of work in the corporate world.
The decisions of these Gen Zs—fuelled by a strong desire for self-fulfilment—are explained in a 2022 Randstand survey, which revealed that 41 percent of Singaporean respondents in a recent survey, aged 18 to 67, would rather be unemployed than be unhappy with their job.
56 percent of these respondents also believe that their personal life is more important than their work life. Some unemployed Gen Zs are even unbothered by their jobless status.
Particularly for young parents like Ke Long in alternative careers, the amount of income following their choice of career might raise some eyebrows. After all, these individuals are stereotypically expected to find stable jobs to provide for their families.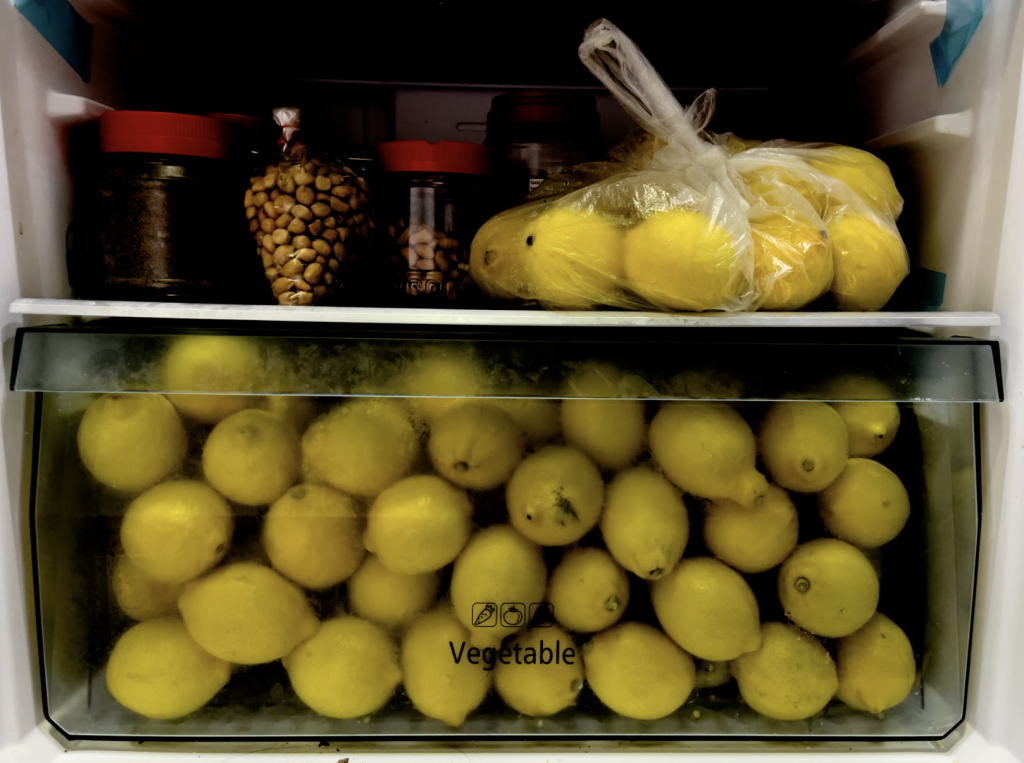 Ke Long, however, is more concerned with perfecting his craft. "I'm still adjusting the lemonade recipe and experimenting to find the best flavours. It's easy to do this as I'm a home-based business," Ke Long explains as we peek into his fridge.
It opens to reveal the bottom compartment filled to the brim with lemons. "I have a lemon supplier, so I pay S$38 for 113 lemons. This is a way better deal, as it is almost half the price of the lemons in Sheng Siong, where I bought the fruits at the start."
"I think—and I hope—that I'm reaching the $1 profit from a 325 ml cup of lemonade. This takes one or two lemons to make," Ke Long shares, as he grabs a couple of lemons, his chopping board, and trusty old knife.
"It's difficult for me to calculate the math and accounting in this; I'm not very good at it."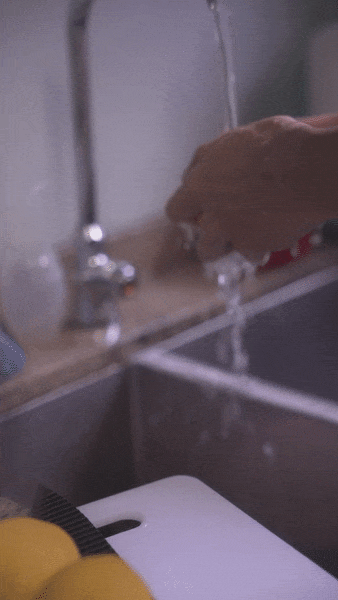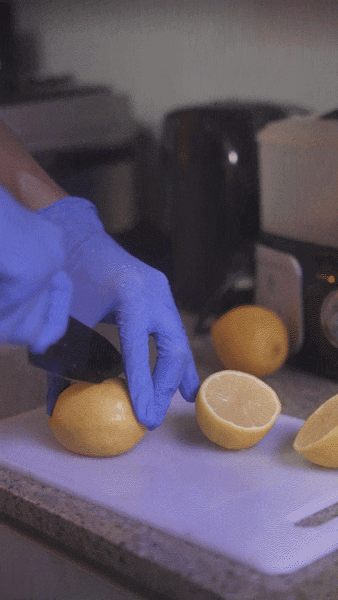 The Squeeze
After placing a lemon on the chopping board, Ke Long meticulously positions the sharp tip of the knife before gently pushing his wrist down. A clean slice.
"How did all this start?" I ask.
"It's not at all a touching, complicated story, like everyone thinks," Ke Long continues, never taking his eyes off his precious yellow money makers.
He recalls the afternoon he chanced upon a video by famed content creator and hustle culture proponent Gary Vee, who was buying lemonade.
"Lemonade seems very simple. So I just thought, why not try selling it?"
The spark of inspiration came at the right time for Ke Long. He had been looking for other income alternatives besides his previous stint as a GrabFood delivery rider.
Ke Long explains that delivering food is not his ideal long-term job. He also experienced many off-putting aspects of the role, such as the prolonged waiting time for food orders and long travelling distances with little returns.
"I originally wanted to switch to selling ice cream, but many licenses are needed. Since I was also thinking of selling lemonade, I called the Singapore Food Authorities. I was told that selling lemonade from home is perfectly legal."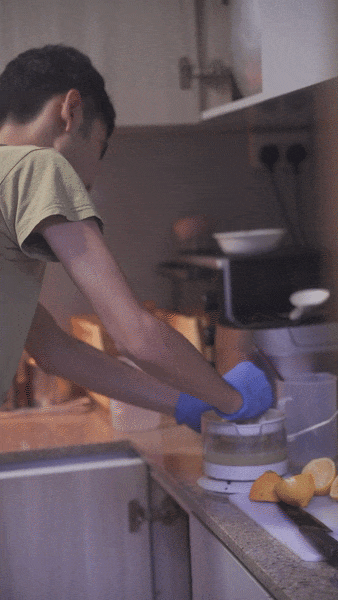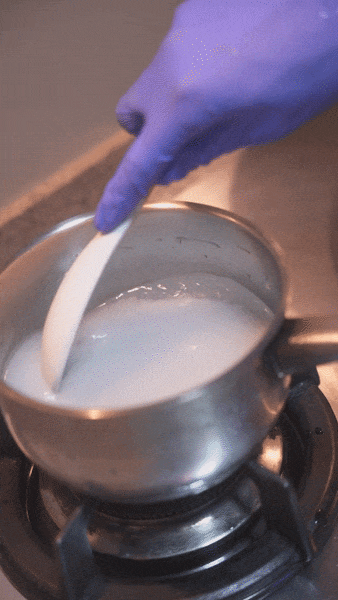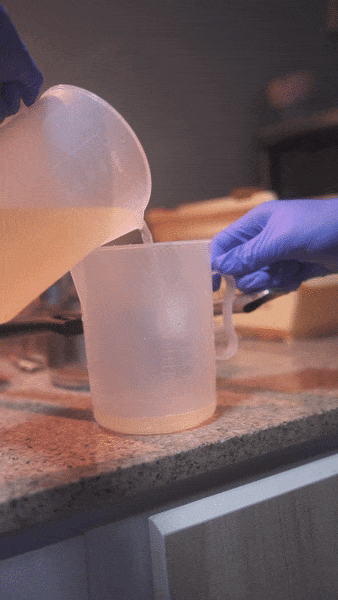 Of Lemons, Lemonade, and TikTok
After slicing the lemons, Ke Long fishes out his prized device from a cabinet—an electric citrus juicer. Jaw clenched, back slightly hunched, and arms visibly straining, he clamps a lemon half onto the whirring juicer.
The slow, loud drone of the electric juicer fills the kitchen, drowning out Ke Long's short, careful pants, which I managed to catch only because I was standing nearby. Beads of sweat form on his forehead.
"I don't just make one cup, I make litres of it, so my hand gets tired," Ke Long explains mid-juice, sounding slightly out of breath.
"The sugar syrup takes a lot longer to cook. So my girlfriend helps me because it can be quite time-consuming."
A petite lady with dark wavy hair, clad in a loose-fitting grey shirt and shorts, flashes me a shy smile as she enters the kitchen. Ke Long introduces her as Chanel, his partner and mother to his three kids. Although Ke Long and Chanel stay together, they are not married.
The duo stands side-by-side in their culinary workspace, assuming their pre-assigned roles. Ke Long juices the lemons while Chanel takes on the last step of filtering the lemon pulp out of the puree. In the kitchen, the pair has a silent camaraderie, a tacit understanding from knowing each other for many years.
Afterwards, they wordlessly prepare the sugar syrup—heating a mixture of equal parts sugar and water on the stove at low heat. This interaction is almost meditative, an efficient workflow guided not by charts and SOP but by warm familiarity instead.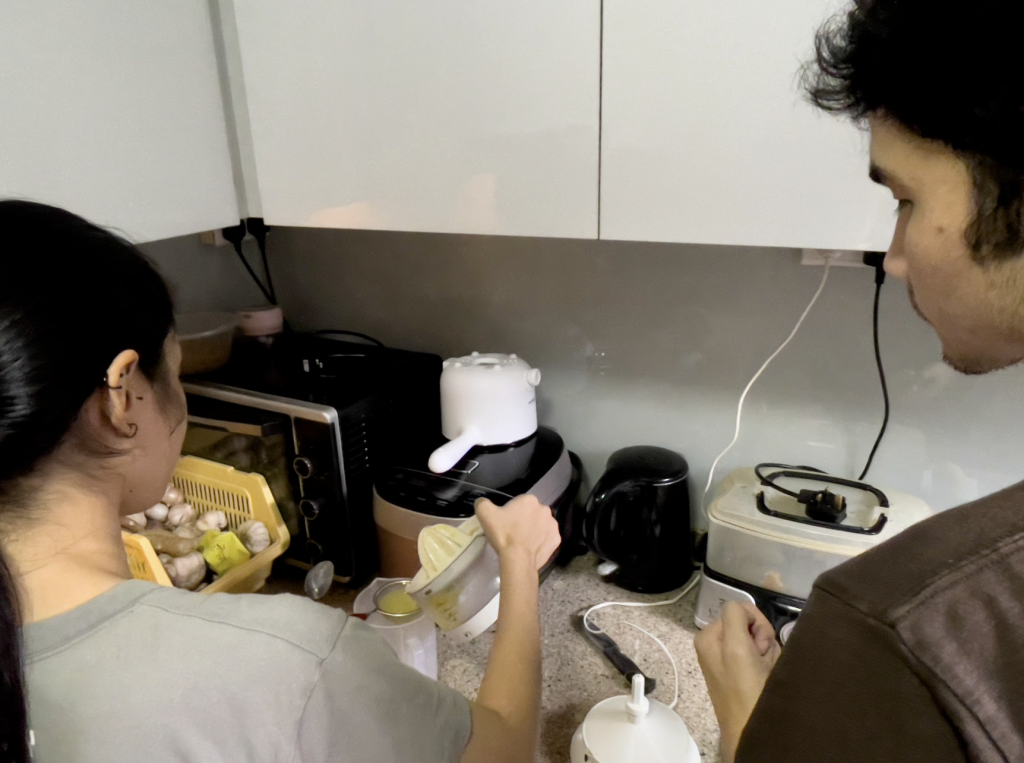 Lemons, Rinse, and Repeat
Ke Long wakes daily at 10 am while his partner prepares to send their kids to school. His day begins in the kitchen—slicing and juicing lemons and brewing the sugar syrup for the day's orders.
Still, the amount of orders the lemonade man gets a day heavily depends on his TikTok. "If I don't post on the weekends, then on Monday and Tuesday, I won't have orders at all."
Most of Ke Long's customers opt for pick-up at the nearest two MRT stations, Woodlands and Admiralty.
"I normally walk to Admiralty MRT station to deliver the orders, so I don't charge extra fees for delivery. But for orders picked up at Woodlands MRT Station, I have to drive, so I charge an extra S$5.30 for delivery, as per Grab Express rates."
Occasionally, he gets requests to deliver to further locations. "For places as far as Bedok, the delivery can be as high as S$14.30."
Ke Long sighs, explaining how the exorbitant delivery fee has brought in criticism from the TikTok audience. He remains helpless about this situation.
Often, Ke Long dissuades his far-flung fans—especially those living in the east—from purchasing his lemonade.
"The delivery fees are costly and it's not worth it. I'm happy enough when people watch my content already."
On days when Ke Long has some spare time after completing his orders, he ideates new content ideas such as sharing his experiences buying lemons, making lemonade, and sharing with followers what goes on in his daily life.
In the evening, he fetches his children from school before starting a live stream on TikTok that can end as late as midnight. He ends his day after editing his footage into TikTok clips.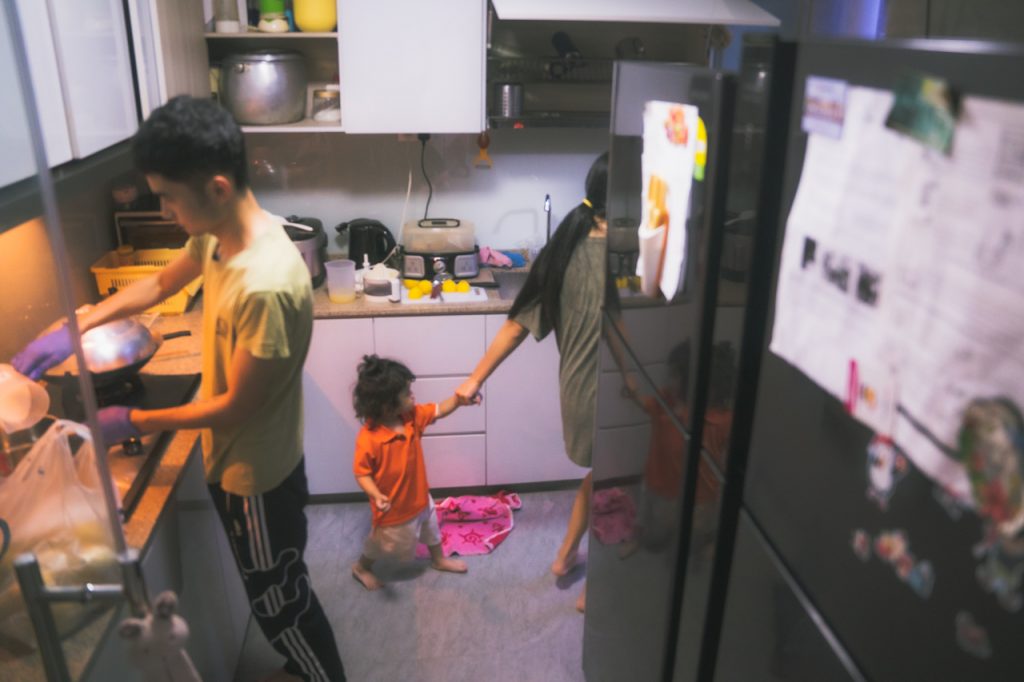 The Acidity of the Business
Ke Long only makes a few hundred dollars each month, an amount that's just enough to cover his daily expenses. He affirms, however, that the low profit, although inherently unattractive, is not an aspect he regards as negative. "Luxury is just a want, not a need."
"I love what I do—making content, hosting, and editing videos," Ke Long shares with a smile, shrugging his shoulders. "And since there's no clear separation between leisure and work, it doesn't feel like I'm toiling away—unlike how one would view working."
For Ke Long, whose aspiration is to work in a media company, a lemonade business marketed through TikTok is a self-fulfilling choice of occupation for him.
Even at the start of his lemonade business, he enjoyed making videos and interacting with the audience. Chuckling, he recalls the things that customers do to get featured on his account.
"There are many older audiences as customers; I was quite surprised," Ke Long says gleefully. "I didn't know that the older generation also uses TikTok."
The most fulfilling part of his job? Receiving a smile and sincere mutter of "thank you" from customers when he passes them their lemonade.
"It made me realise that I should be thinking about serving people, not just making money. If people are happy, they will come back to support me."
Customers aside, Ke Long also befriended a few like-minded entrepreneurs on the platform. A few of them, like Tommy from Nothing But Cheeseburgers, often shares his business insights with Ke Long. Another friend, the boss of Coconut and Fam, a coconut shake stall, occasionally provides Ke Long guidance on how the business world works.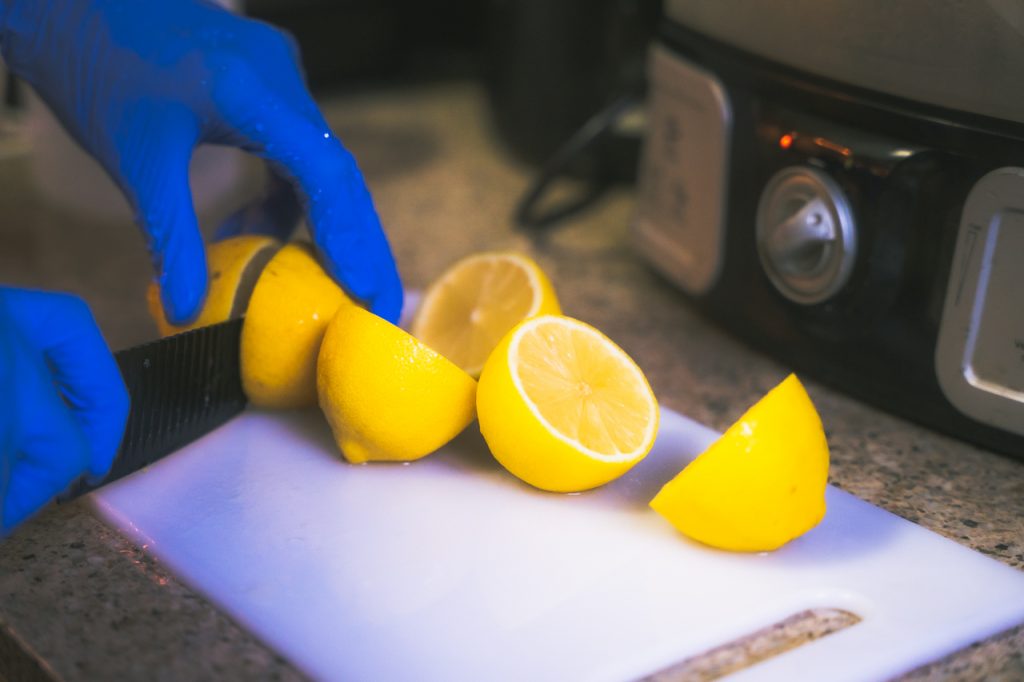 When Life Turns (Slightly) Sour
"At my age, I'm expected to work a stable, full-time job. And especially since I have three kids," Ke Long points to the picture frame, perched on the couch stand. "People all say, 'Should you really be doing this? You have children'".
Indeed, the 'iron rice bowl' mentality in Singapore—the preference for secure jobs that provide a shatterproof income pipeline—is still prevalent in today's society, venture capitalist TRIVE's Managing Partner Christopher Quek divulged in a 2020 CNBC article. Quek believes that this pragmatic mindset would take generations to clear.
Due to his unconventional job choice, Ke Long has been receiving hate online. Part of the typical vitriol he receives are commenters saying he does not earn enough to support his three children and partner.
Indeed, the volume of criticism has gotten to him, Ke Long says with a doleful smile. He expresses his hesitance to continue uploading TikTok videos.
Pausing, Ke Long asks me in a low voice, "Is what I'm doing really right?"
"Many people hold onto societal stereotypes, like how one is supposed to be working a full-time office job in their early twenties, and then have their own house and car, before having kids. They like to impose that on others," he emphasises.
"Because of this, many people are too hard on themselves to meet these expectations. I strongly believe this needs to be talked about more."
Ke Long pointed out that he has worked in the food and beverage business for most of his life. Before his job as a Grab delivery rider, he worked as a hawker selling yong tau foo.
Although being a hawker had been a perfectly stable job, Ke Long had to work on the weekends—which meant he wasn't spending enough time with his children. This pushed his career transition to be a delivery rider.
"I didn't receive higher education, so I have limited options job-wise. When I turned 21, I remember hating myself. I kept asking myself, why am I not having a full-time job that can earn me around S$2,000 monthly like all my peers?"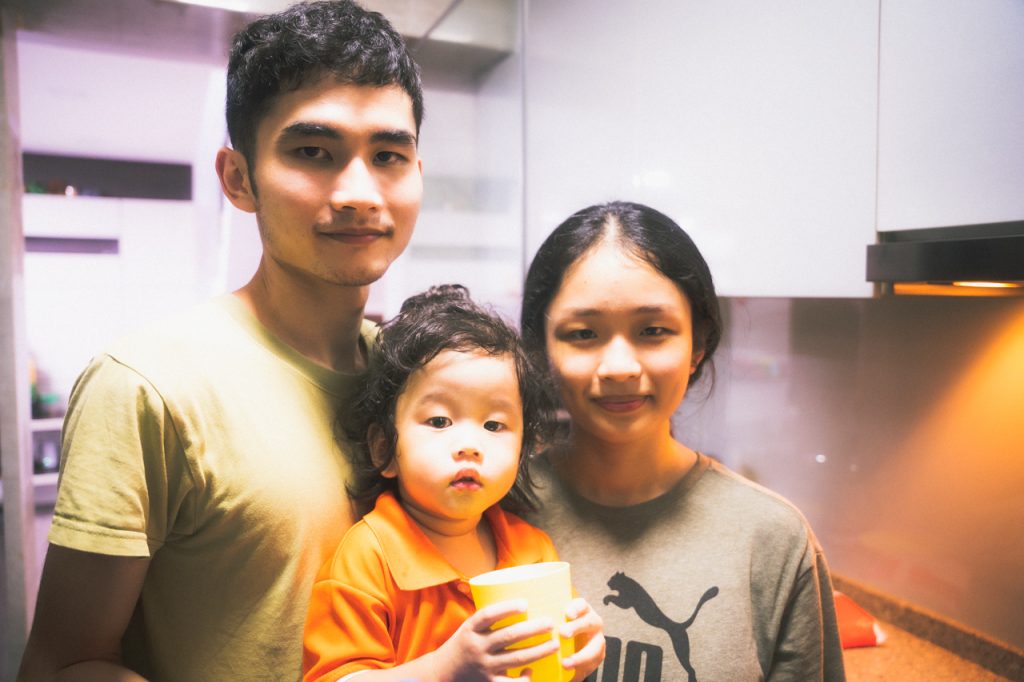 A Lemon-loving Father
Given his playful, adventurous content and bubbly online persona, one would never have envisioned Ke Long to be someone who has been through his fair share of hardships growing up, which inadvertently affected his career prospects.
"Sometimes, I have doubts about my business because I have three kids," Ke Long reveals. "But then again, I have limited job options and I'm not the smartest person, so I'm just doing what I know."
Nevertheless, Ke Long tries his best to overcome his shortcomings. "I want to move forward in life, and I'm willing to work as hard as possible with this lemonade business."
In the future, he wishes to open his own lemonade shop. The lemonade man understands that starting and sustaining a home-based business—like any other start-up—is not easy.
Selling lemonade on TikTok full-time is unorthodox, yes. But Ke Long is still devoting time to his children by being present during their childhood and providing for them to the best of his abilities.
To mark the end of our conversation, the family man encourages me to make the best of my life. "Just look at me, I have three kids, and I'm trying this stupid shit," he laughs.
"Even in our forties or sixties, I believe that there will always be time. If you want to try anything, just go for it."
---
If you haven't already, follow RICE on Instagram, TikTok, Facebook, and Telegram. If you have a lead for a story, feedback on our work, or just want to say hi, you can also email us at community@ricemedia.co.