Top image: Zat/RICE Media
Curious stares and inquisitive glances crowd the newest outlet of Beach Road Scissor-Cut Curry Rice at VivoCity (of all places) on an ordinary Friday afternoon.
From the blindingly dazzling spotlights, professionally-taken photos of their founders, and storied history plastering the walls, I won't blame anyone if they aren't convinced this was that Beach Road Scissor-Cut Curry Rice. Or even that it's just another mall addition peddling Hainanese curry rice to unsuspecting VivoCity patrons.
"Imposter! Poser! Sell-outs!" I imagine them crying out.
Everyone can calm down because, indeed, it is that Beach Road Scissor-Cut Curry Rice from Jalan Besar making its sparkling mall debut.
And like any self-respecting Singaporean who is a little too obsessed with food, one has to wonder whether it will taste the same.
After all, nothing gets Singaporeans more riled up than the supposed standards of their food falling below impossibly high expectations. I'm not afraid to admit I might even be part of this complain-y hoi polloi. Still, investigations have to be carried out.
I want to say I'm off to a good start. But I'm running a smidge late to meet my dining companions at Beach Road Scissor-Cut Curry Rice's first standalone outlet in a mall. I blame Vivo City's labyrinth corridors—it can be quite the maze.
The quickest way to get there (as I've learned from briskly walking through endless corridors) is a whiz through Fairprice Xtra at Basement 1, where your prize awaits. The prize is curry rice, for those still unsure after about 200 words about it.
Beyond the worry of judgement from friends who are convinced I have poor time management (I do), I fear the outlet would be swarming with ardent and hungry fans of curry rice—today being its first day of operations and all. Because, obviously, bad food on top of an insufferable queue is just insult to injury.
Gleaming, Shiny, and Steaming
There is no mistaking this is Beach Road Scissor-Cut Curry Rice—there's an image of a giant pair of scissors on their signboard, accolades on the walls, and an impressive spread of dishes in trays to set the scene.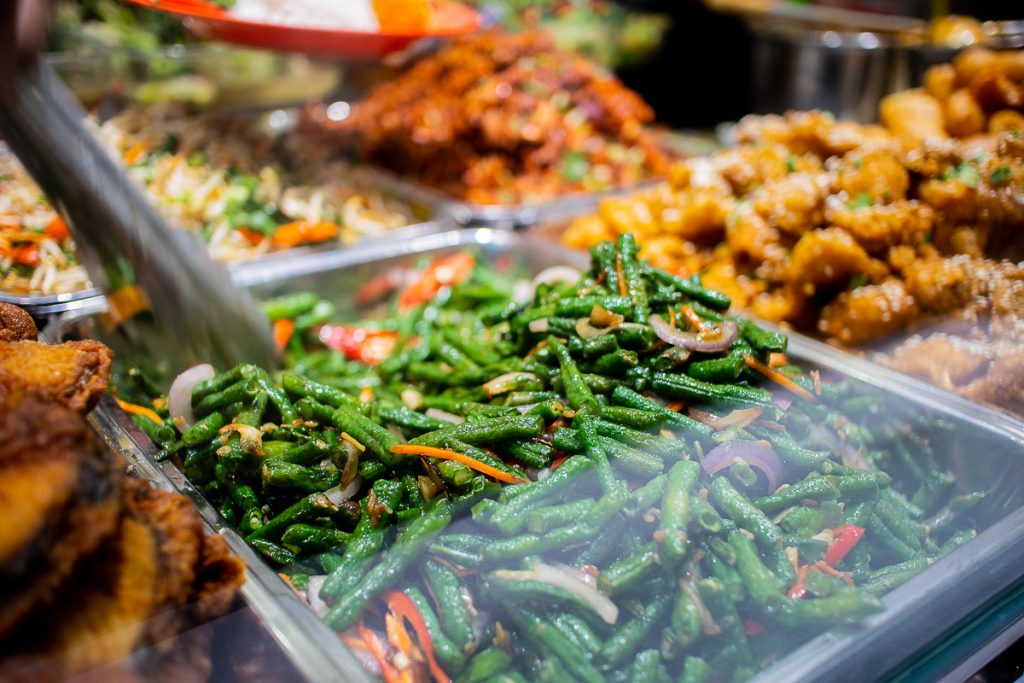 Here, their famous crispy pork chop is piled high next to a deep dish of deliciously craggy fried eggs—all are displayed safely and sanitarily behind a glass case. To the right sits their famous braised pork and chap chye amongst a vast array of dishes—all gorgeously and suitably illuminated, of course.
There is a certain old-school charm to the outlet, very much in the vein of Hawkers' Street @ ION or even the now-defunct Chinatown Food Street. There's a clear and proud homage to its past, albeit heavily curated and sanitised in its presentation.
If anything, the outlet at VivoCity is friendly and easy to approach for Singaporeans who've never heard of Beach Road Scissor-Cut Curry Rice. Especially so for tourists wanting to try a wonderfully messy plate of saucy rice.
Yes, I know. I am equally perplexed that there are Singaporeans who have never tried Singapore's greatest and messiest treasure (looks at my Editor, Zat).
Goodbye Stress Ordering
Indeed, messiness is the charm and piece de resistance of Beach Road Scissor-Cut Curry Rice. If not one of its most endearing qualities.
After all, a plate of curry peng here is only as good as the trademark splatters at the corner of the plate. Here, Scissor-Cut's famous curry sauce liberally and carelessly blankets the carb and proteins nestled underneath.
Still, differences abound. Unlike its Jalan Besar or Beach Road outlets (where ordering involves a smattering of "I want that, that, and that"), the Vivo outlet presents its menu with carefully stylised images with the curry gravy notably drizzled on the side.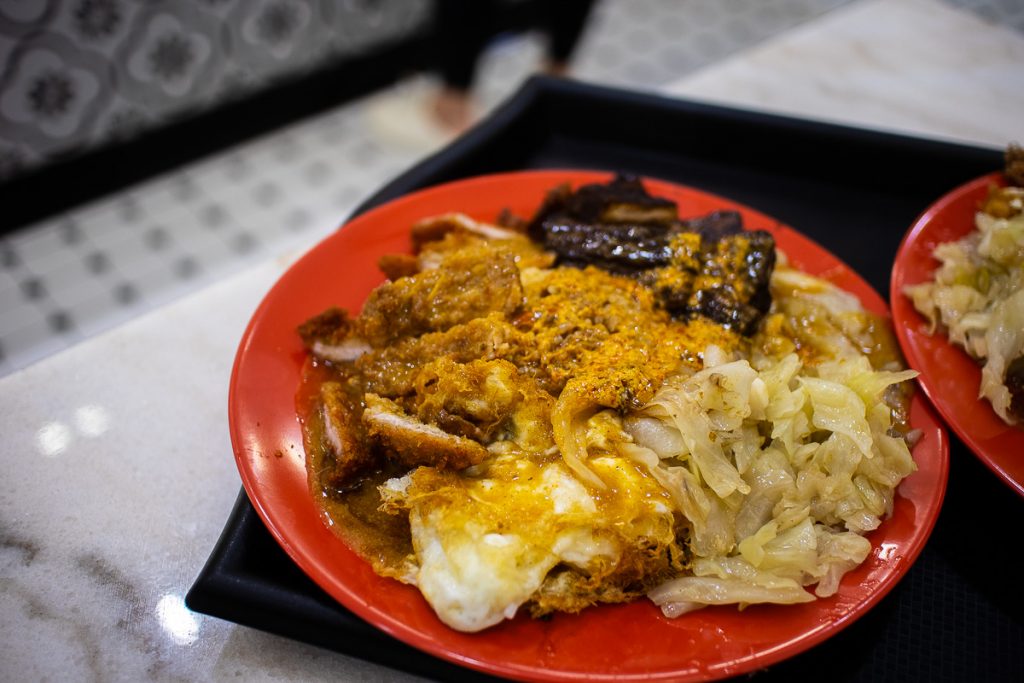 There's the Traditional Set (S$8.50) with the usual suspects of Beach Road Scissor-Cut Curry Rice, an upsized Jumbo Set (S$11), and a Sharing Platter (S$16) that can feed up to two people. Or one. Who's judging?
Their menu even comes with ala carte options where the individual prices for each item are helpfully listed. Finally, no more guessing when it comes to the price of the food as you gesture "that one, the chicken, that one" your way through an order.
One of the many charms of eating at any of Beach Road Scissor-Cut Curry Rice outlets is knowing precisely what you want before ordering and taking the least amount of time to communicate it. The testy uncle standing behind the counter with a ladle won't indulge you for more than a snappy two minutes—or seconds.
Needless to say, it can be highly stressful for a first-time visitor, a tourist who doesn't speak English (yes, the servers can switch effortlessly between English and Chinese dialects), or an annoyingly indecisive diner.
Now, at this VivoCity outlet, you can dally and peruse for as long as you like before joining the queue. How innovative, how thoughtful.
Of course, some will say that the panicky process of choosing dishes with a brusque server is part of the authentic experience. For me, I see this outlet as a gentle and calming introduction to curry rice that is less intimidating and certainly less anxiety-inducing.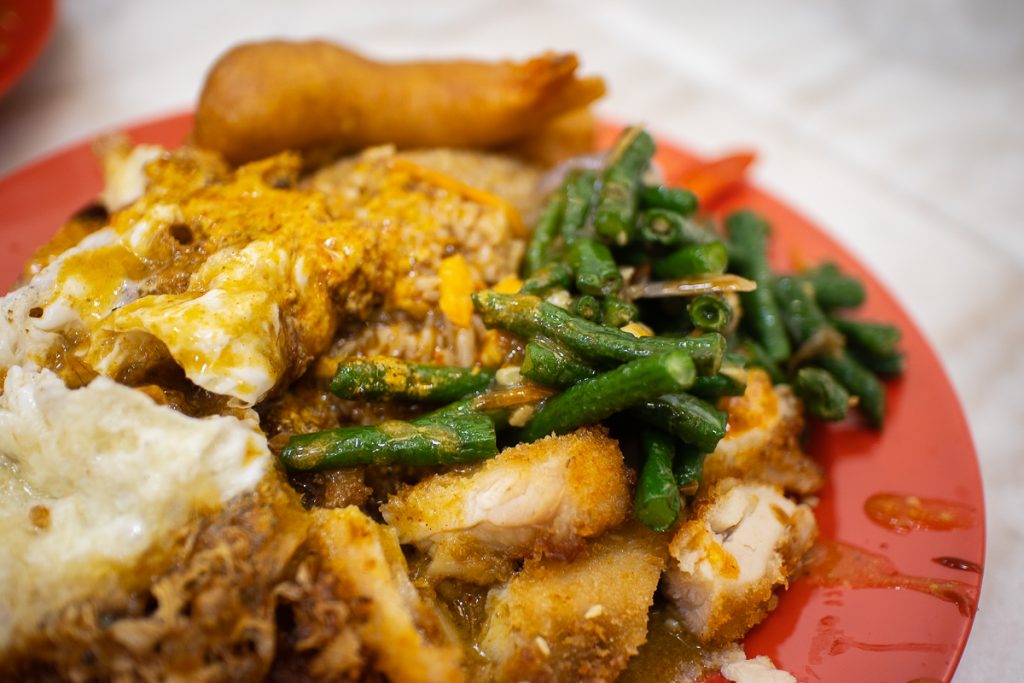 Equally Messy, Equally Good
With the introduction of set meals, ordering is a breeze. A Traditional Set ($8.50) holds all the hits of Beach Road Scissor-Cut Curry Rice: pork chop, braised pork, cabbage, and a fried egg. Yes, the signature scissors are still being used to cut individual portions of food.
Then comes the glorious ladle of their curries and a generous heap of braised sauce.
When it comes to taste, I'm happy to report that there are few discernible differences between this plate and the serving at Jalan Besar.
The gravy remains lusciously rich and thick, but with a more pronounced spice that lingers on the tongue. Soaked in the medley of sauces, the pork chops are still as moreish as I remember them to be. Throw in a gooey fried egg with crispy edges, and a meal here instantly becomes dependable, comforting, and intimately familiar for rabid curry rice fans.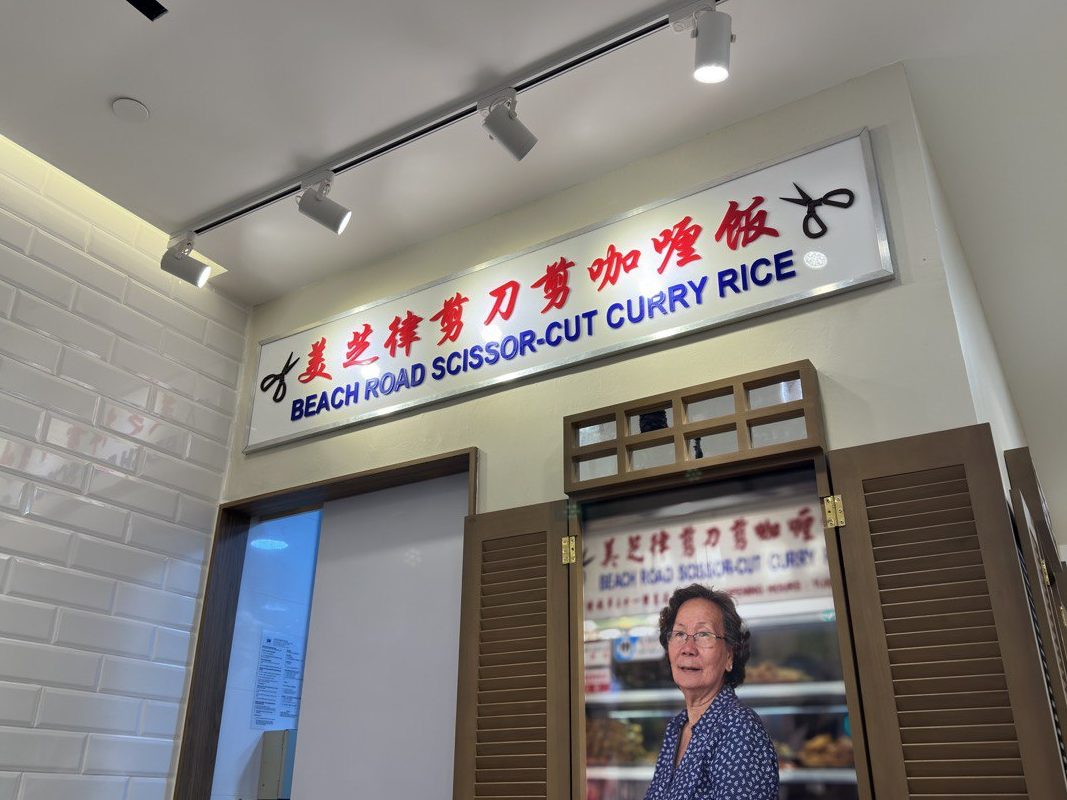 The Future of Heritage Food
It's hard not to be sceptical when an institution as beloved as Beach Road Scissor-Cut Curry Rice makes its way into a mall.
As great as malls are (and you know you love them), they are typically home to normcore F&B chains and restaurants. Understandably it's hard to imagine an ugly delicious plate of Scissor-Cut curry rice fitting within its bowels. VivoCity feels too… you know, clean.
Purists in Hawker Food groups on Facebook will defend to their deaths the irreplaceable charm of the whirl of an oversized fan that hasn't been cleaned for months, the slick grease of the floors, and the occasional impatient car horn when you dine at the Jalan Besar outlet.
I reckon the outlet's mall location might even attract new, younger Gen Z fans (and their TikTok accounts) who will eventually make their way to the one at Jalan Besar out of curiosity—a win-win if you ask me. And I imagine STB would promote this to no end to curious tourists.
So if you still carry doubt in your heart about whether you should swing by Scissor-Cut Curry Rice at VivoCity, put those misgivings aside and live a little. And, no, this is not a sponsored post, Facebook commenters. I just really, really love curry rice, okay. It's my thing. Let it go.
---
If you want to share your story with us or have feedback on our work, email us at community@ricemedia.co. If you haven't already, follow RICE on Instagram, TikTok, Facebook, and Telegram.