Top image: Stephanie Lee / Rice Media File Photos
Whenever surveys such as those by Ipsos Public Affairs and Blackbox Research are conducted to assess public sentiments on Section 377A of the Penal Code, the results often conclude that most Singaporeans back the law to be retained. The government would then use these results to rigorously defend the need to keep the colonial-era legislation on the books but not enforce it.
That was 2018. Since then. attitudes seem to have taken a turn.
On Thursday evening (June 16), Ipsos Public Affairs released its latest findings on a study of 377A conducted with 500 Singaporeans and permanent residents.
The survey showed that 44 per cent of them support the law, down from 55 per cent in 2018.
Similarly, the statistic for those who oppose 377A rose from 12 per cent in 2018 to 20 per cent in 2022.
For those in the pro-repeal camp, this is seen as an optimistic and progressive sign, bringing Singapore one step closer to the outcome many in the LGBTQ+ community have been advocating for a long time: a full and complete repeal of 377A.
Still, while the latest statistics have made clear that 377A has lost its majority support, we wonder if the difference could be more significant if only to portend that, in no uncertain terms, any support for keeping 377A on the books is but an outlier opinion.
How well do Singaporeans know about 377A?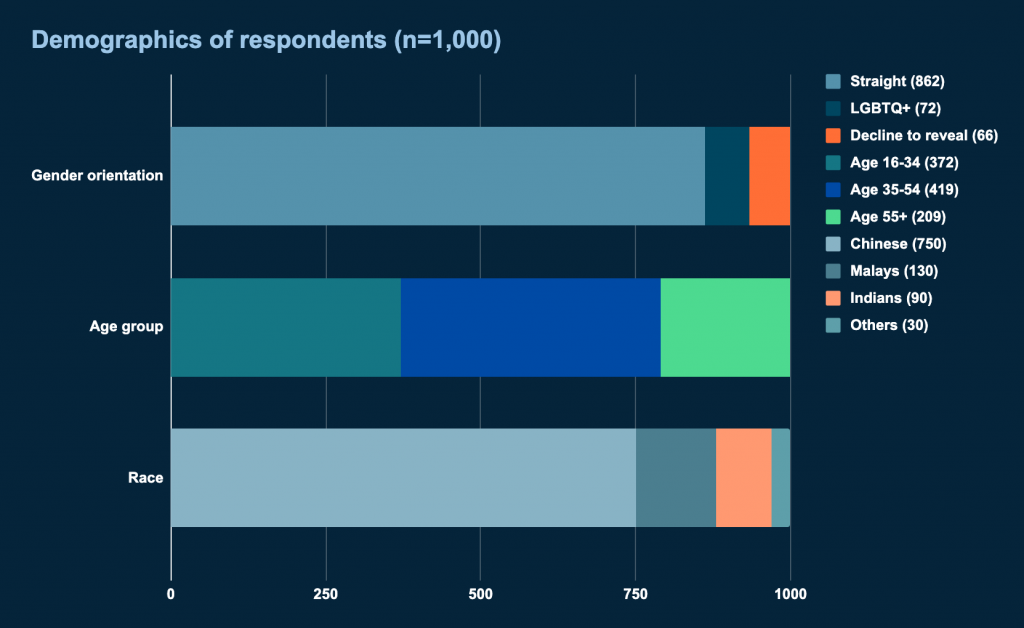 A survey we commissioned with online market research firm Milieu Insight last month with 1,000 Singapore citizens may give us a clue as to how more support for repealing 377A can be achieved. Essentially, it boils down to education.
To the question of how much they knew about Section 377A, nine per cent said they are well-informed about it, 42 per cent said they know a thing or two about it, and 50 per cent shared that they know nothing about it.
In another question asking respondents if they knew the reasons behind the enactment of 377A, only 12 per cent said they were well-informed about the reasons. 67 per cent knows a thing or two about it while 20 per cent knows nothing about it at all
Mr Leow Yangfa, the executive director of Oogachaga, tells us that he wasn't surprised at the low level of awareness of the law. Oogachaga is a local non-profit organisation working with the LGBTQ+ community.
He said via email: "(This is) especially since it is irrelevant to many and does not directly impact the vast majority of people in Singapore who are not part of the LGBTQ+ community."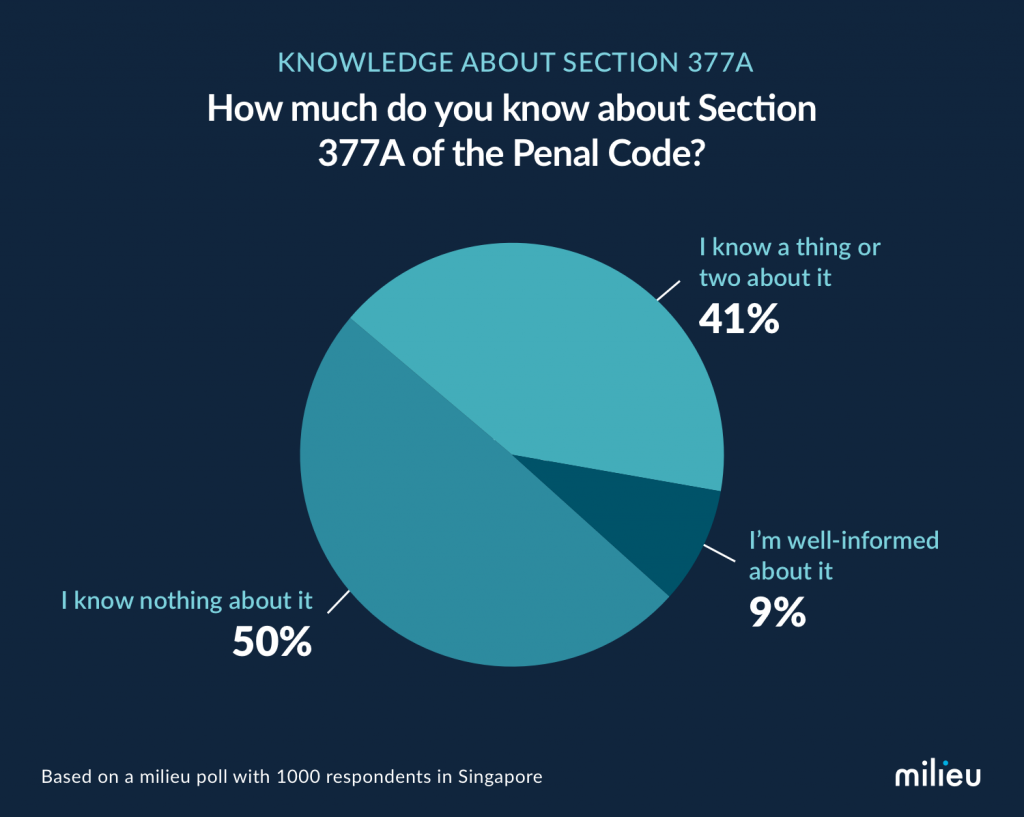 To have more accurate sensing of ground sentiments on 377A, it is imperative for Singaporeans first to understand the law.
For instance, how many are aware that this law, introduced in 1938, was not a creation by the current Singapore government but a colonial legacy left behind by the British? Do Singaporeans know that according to documents recently declassified by the British government, the colonial masters introduced 377A because of racism and not homophobia?
The role of education in forming opinions
The value of educating Singaporeans about Section 377A cannot be undermined. Our survey showed that knowledge of the law greatly affects how our respondents view the current state of LGBTQ+ rights in Singapore.
For instance, 54 per cent of respondents who know nothing about the law indicated that nothing needs to be done about LGBTQ+ rights in Singapore and were okay with the way things are today.
Contrast that to 68 per cent of respondents who are well-informed about the law who indicated that more should be done to improve LGBTQ+ rights.
These results, while concerning, becomes more perplexing when we look at how many respondents think LGBTQ+ people experience discrimination in Singapore.
84 per cent of well-informed respondents and 79 per cent of respondents who know a thing or two about the law agreed that LGBTQ+ people experience discrimination.
Surprisingly, of the respondents who know nothing about 377A, 69 per cent agreed that LGBTQ+ people do experience discrimination in Singapore.
What this means is that the group of respondents who don't know anything about the law is entirely aware and cognizant of the discriminatory injustices faced by the LGBTQ+ community but thinks nothing needs to be done to improve the state of rights for them.
Further, only 13 per cent of respondents who don't know anything about 377A thinks that having different rights based on sexual orientation is unfair. From this group, 25 per cent indicated that it's fair while 62 per cent have no opinion about it.
Mr Leow shares that this could be due to the relative lack of human rights education and awareness in the country, said Mr Leow.
He said: "Perhaps many respondents were unfamiliar with the idea that human rights are universal and inalienable, and not some 'foreign' concept", adding that Singapore as a member of the United Nations is also a signatory to its Universal Declaration of Human Rights.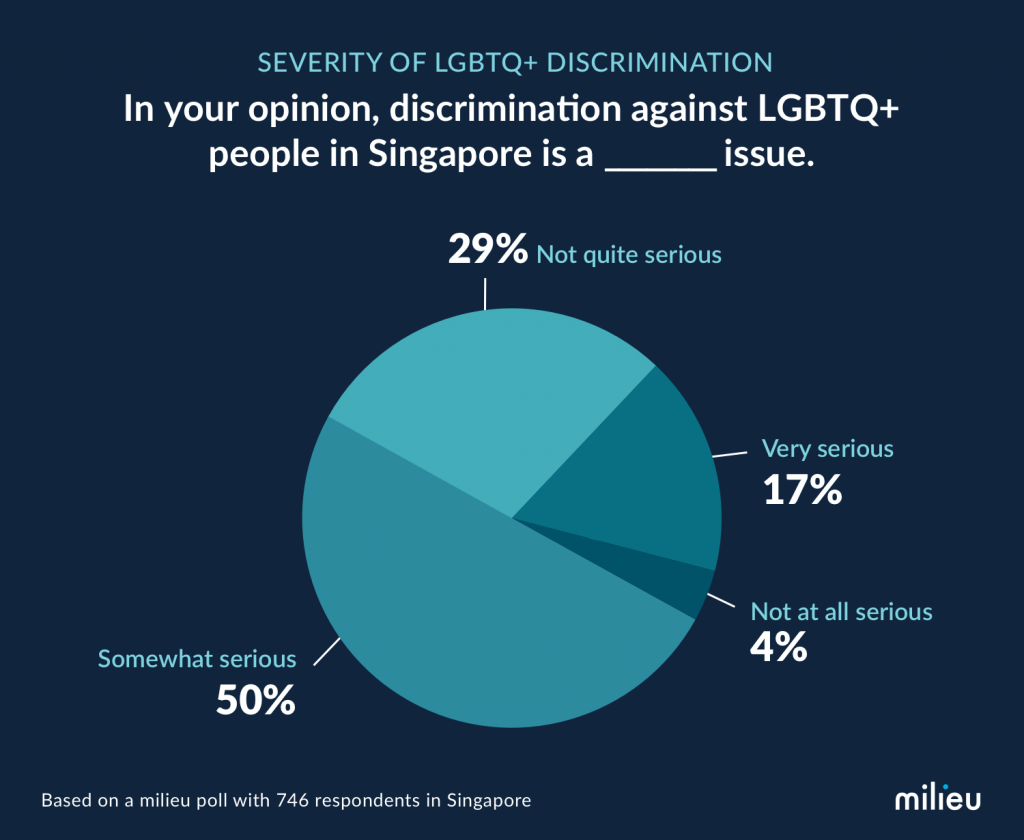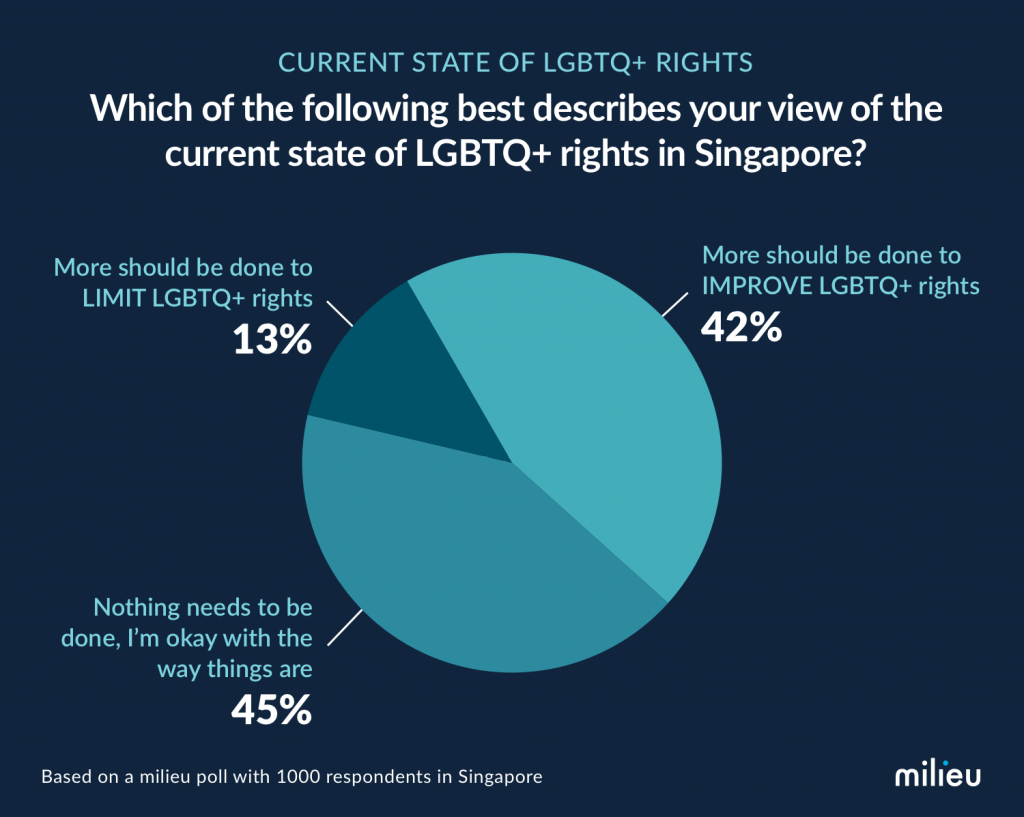 Out of sight, out of mind
Our survey also painted an expected yet unsettling picture: those ignorant about 377A tend not to know any LGBTQ+ individuals.
Of the respondents who know nothing about 377A, 58 per cent don't know anyone from the LGBTQ+ community. Contrast this to the well-informed respondents, 91 per cent of whom personally knows someone from the community.
Without fruitful interactions with LGBTQ+ people to learn and understand their lived experiences, many who are ignorant about 377A continue to feel that nothing needs to be done to improve the current state of LGBTQ+ rights. They are either more prone to think that it is fair for fellow Singaporeans to have different rights based on their sexual orientation, or hold no opinions.
We asked Pelangi Pride Centre's lead volunteer Jordan Tang what he thought about the survey results. The centre is a local LGBTQ+ community space and resource centre established in Singapore in 2003.
"From the survey results, it is evident that there is still a need for education about Section 377A, the reasons behind its enactment, and the lived experiences of discrimination that the LGBTQ+ community faces. Safe spaces like Pelangi Pride Centre would be needed for such education to take place, as well as to provide support and resources for all LGBTQ+ people."
The way forward with 377A
It has been almost two decades since the government made a policy pronouncement on 377A. Putting aside public sentiments on the issue, their propensity to repeal this law is high.
Already, the government is putting in resources to kickstart a series of consultations and conduct a survey the same month as the delivery of Mr Shanmugam's parliamentary statement—even as some criticised the survey for being flawed.
In Singapore, we often see engagements with various stakeholders as a sign of an imminent policy change. Besides soliciting views from the ground, the government usually uses these sessions to lay the ground and convince Singaporeans of the stance they intend to take.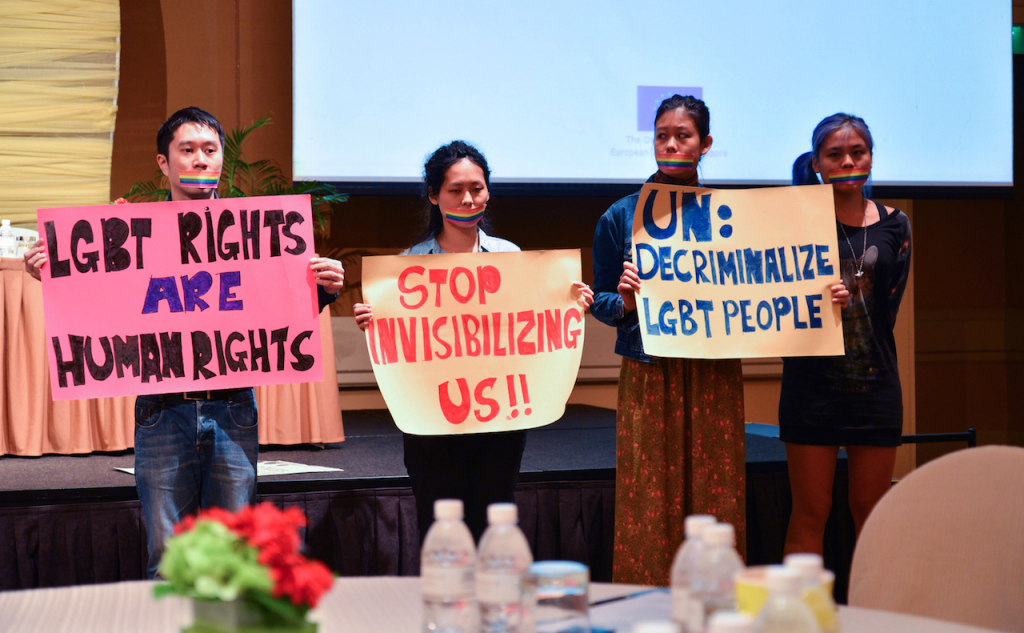 But even if the government plans to repeal 377A and eventually does so, how much of a victory would it be for pro-LGBTQ+ activists? Again, this will depend on the scenario, and there are two possibilities.
One is that the government repeals 377A, followed by a series of policy changes such as legalising same-sex marriages and conferring LGBTQ+ couples the same housing rights as their heterosexual counterparts.
Two, the government repeals 377A but maintains or strengthens the status quo for everything else. This might include making amendments to the Constitution that properly and clearly define what marriage means in Singapore law.
A probable compromise
With the government's continued emphasis on the nuclear heterosexual family unit as a bedrock of Singapore society (2022 is dedicated as the year of celebrating the heterosexual family unit), it is unlikely for them to make monumental moves by going with the first option, which will be too startling a step for society. Moreover, making radical steps is not typical of the Singapore government.
Instead, what's foreseeable is a Goldilocks approach via the second option—a middle-ground, not too hot and not too cold approach that aims to placate both sides of the fence.
What that looks like is anybody's guess.
Oogachaga's Mr Leow opined that: "Perhaps we could also infer that since awareness of 377A is at such a low level, any future repeal of it would also not have a significant impact on the lives of most Singaporeans?"
Recently, Law and Home Affairs Minister K Shanmugam said the government is already consulting "diverse groups of Singaporeans" on the way forward with this law. Still, in anticipating an outcome from the government, either camp should not crave a perfect victory. Instead, it will be more reasonable to expect a compromise which should, hopefully, bridge the divide between the pro- and anti-LGBTQ+ groups.
All these possibilities remain as speculation, of course. Nevertheless, it is a speculation that the way forward will be a trade-off for both camps, which isn't perfect, but at least it will no longer be the uneasy compromise we have today.
---
The online poll we commissioned was conducted by Milieu Insight. Fieldwork was conducted in the week of May 19, 2022 to May 22, 2022 with 1,000 respondents and the results are broadly representative of the Singapore citizen population aged 16 and above by age, gender, and ethnicity. The margin of error is +/- three per cent with a 95 per cent confidence level.
Milieu Insight is a consumer research and analytics company that connects businesses directly with their target audience for market research. The company collects consumer opinion data across a multitude of lifestyle topics and sectors through a proprietary mobile app known as Milieu Surveys. Milieu's customer platform, known as Canvas, offers businesses a wide range of tools for accessing, analyzing, and visualizing high-value and timely consumer opinion data to help power better decision-making and strategy. For more information about Milieu Insight visit: www.mili.eu.
If you haven't already, follow RICE on Instagram, TikTok, Facebook, and Telegram. If you have a lead for a story, feedback on our work, or just want to say hi, you can also email us at community@ricemedia.co