All images by Zachary Tang for RICE Media unless otherwise stated.
Kelvin was 11 years old when he followed his father to the Guardian pharmacy in Bukit Batok. His father was keen to speak to a pharmacist—he wanted to quit smoking.
For as long as he could remember, Kelvin's father had been an avid smoker. Changing a long-time habit is tough. Gathering the courage to change is even tougher.
Kelvin's father decided it was time when Kelvin's uncle passed away from cancer. His late uncle was also a heavy smoker.
At the Guardian outlet, Kelvin was barely able to overlook the counter. But he remembered one thing: the pharmacist was exceptionally empathetic and knowledgeable.
She patiently answered all the questions his father posed–he had many–and recommended some practical actions he should follow. She also offered nicotine patches and a guiding hand.
Several sessions later, Kelvin's father managed to stop smoking. Under the positive influence and patient guidance of the pharmacist, Kelvin's father curbed the habit for good.
"That was when I wondered, 'is this how you can help people live healthier?'," says Kelvin.
Kelvin is now into his second year as a pharmacy student at the National University of Singapore, thanks to a prestigious scholarship. He wants to be just like the pharmacist he met as a child.
But do others see the profession as he does and give pharmacists the same admiration and respect?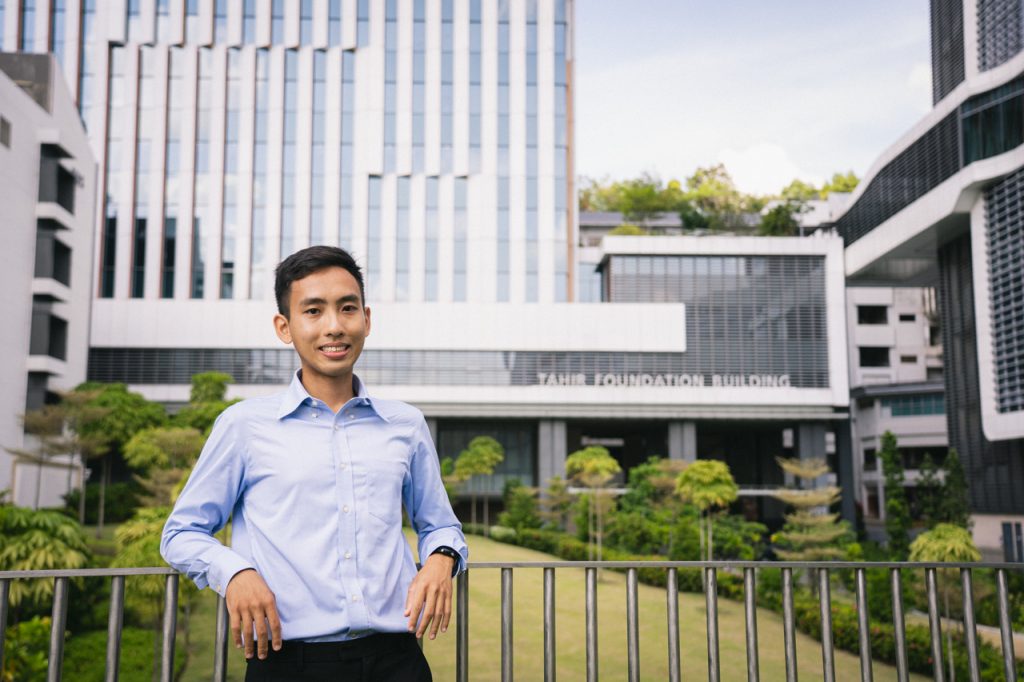 Prescription for Charm
If anything, the past two years have entrenched just how incredibly important doctors are. They are heroes; the white coat saviours with a checklist of endless demands and a ticking clock to work against.
They are the–usually dashing–main characters in TV dramas and reality shows. Often, they shoulder emotional arcs through the hazards they face in the line of duty like what you'd see in House and The Good Doctor.
In real life, they stepped up amid a global health crisis and braved stress and burnout to save lives. The role of a doctor is to diagnose patients—through that, the road of recovery ahead is set. A pharmacist, on the other hand, is someone who walks alongside patients, helping and guiding them every step of the way post-diagnosis.
"I believe all of us are equally important, especially in this pandemic," notes Sia Chi Hon, a pharmacist at Ng Teng Fong General Hospital.
"Pharmacists, like the ones who work in the neighbourhood pharmacies, are closest to the public. They're there to provide immediate and relevant health advice for anyone in doubt," Chi Hon adds, with an emphasis on "anyone".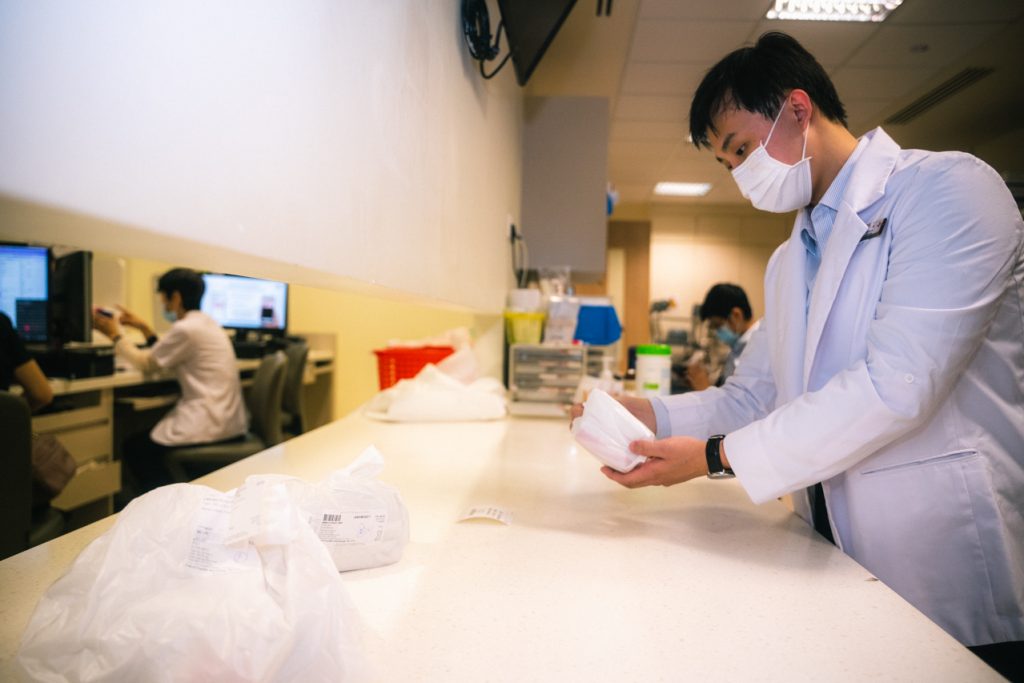 Chi Hon sees himself as a gatekeeper of sorts. "A patient may come to the hospital to visit a cardiologist, a nephrologist, and a skin specialist on the same day. Medications are prescribed at the end of each session.
"I step in to screen it all, to see if they react with one another. So doctors can find alternatives or adjust the dosage accordingly."
It's no surprise that when healthcare is mentioned, doctors come to our minds first. Or nurses, psychologists, and even radiographers.
What comes to mind when we think of a pharmacist? The person standing behind a counter in our neighbourhood health and beauty stores? Our last point of contact in a hospital visit, where most people would (understandably) want to collect their medicine, MC and leave quickly? When it comes to healthcare depictions on TV, the bigger picture is rarely fleshed out.
"What most people don't know is that some pharmacists also offer specialised outpatient pharmacy care services. Instead of visiting their doctors, patients have come to us to follow-up on specific chronic illnesses," says Nicholas Teo, a pharmacist at KK Women's and Children's Hospital.
Nicholas runs a pharmacist-led eczema clinic with his team, teaching patients about their conditions and the treatments needed, whether through in-person appointments or video calls. "It empowers them and their family to take care of themselves," he says.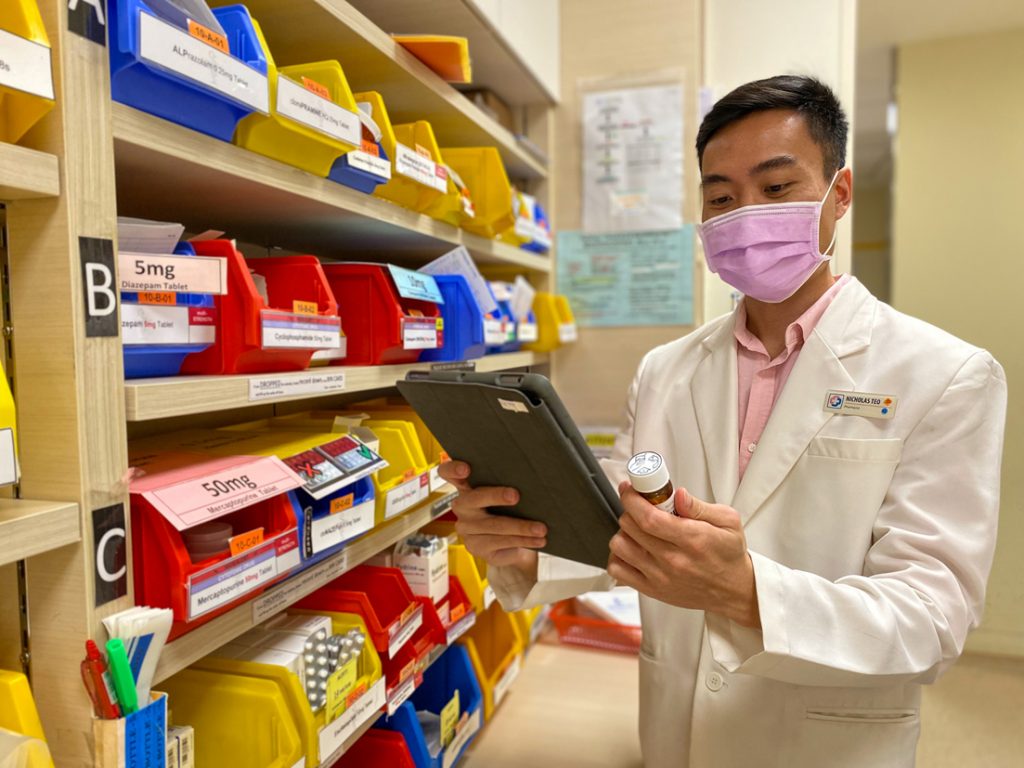 Kelvin believes pharmacists "possess the greatest and widest knowledge of drugs" compared to other healthcare professionals.
"Even as a pharmacy student, I am already learning how drugs interact with one another," Kelvin explains. "How they work together to help patients, and how to best tailor them for patients." He sees pharmacists and doctors as "interconnected".
"We are inseparable," he adds with a smile.
Pharmacist Matters
Kelvin comes across as scholarly and dignified, almost to a fault–after our interview, he bowed to say goodbye. Otherwise, his maturity and confidence are immediate and magnetic.
More importantly, he is open and reassuring, the kind of personality that would make the most vulnerable patient feel at ease.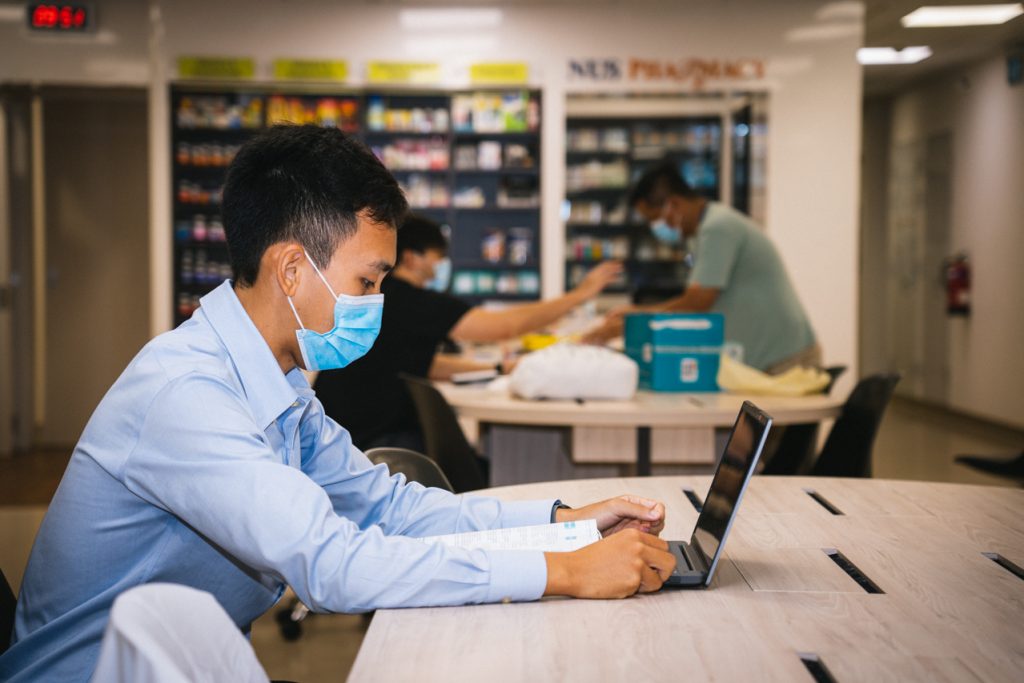 "My father didn't know I was inspired by the pharmacist who attended to him," Kelvin admits. "I never told him."
His family never questioned his career choice. During the pandemic, however, they became nervous about his safety serving on the frontline.
"I assured them: healthcare professionals would be vaccinated first," Kelvin laughs.
Some believe changing the "boring image" of pharmacists is a tricky thing — there's even a study exploring if pharmacists have sex appeal. They don't engage in anything "dramatic" or "actionable" enough to generate tensions or do-or-die dilemmas that the public won't normally experience in everyday lives.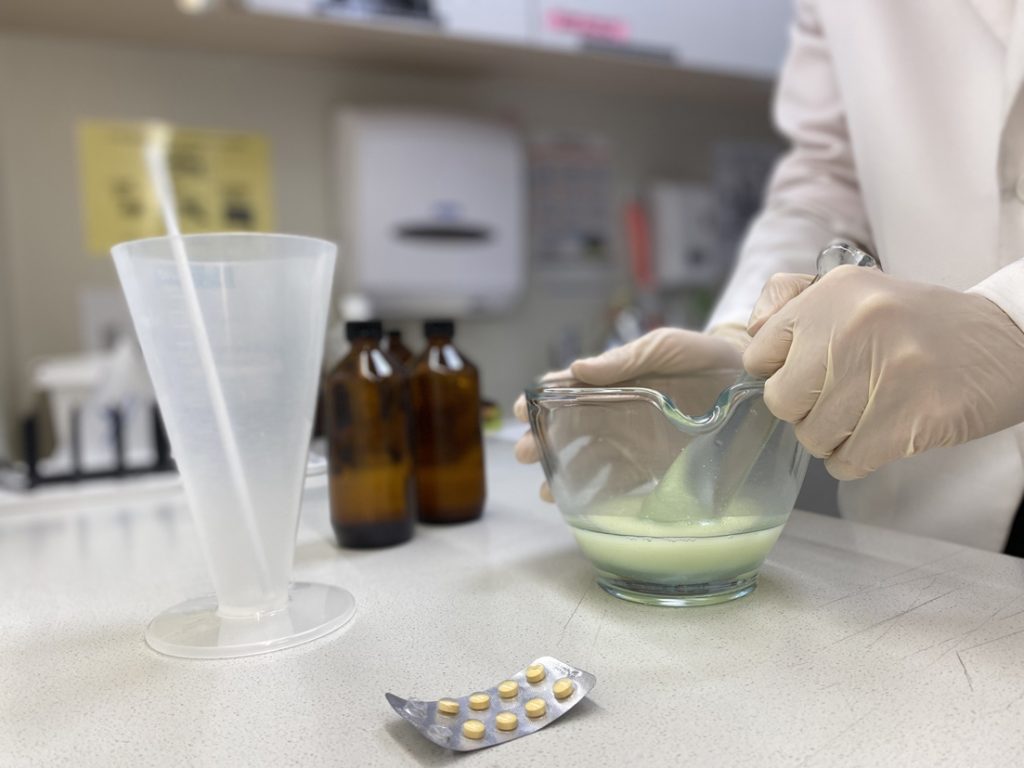 "I think the public may not fully understand what we do because pharmacists are not someone you see on the forefront, unlike doctors and nurses," says Nicholas.
"This is slowly changing," he adds. "Many of our long-term patients have a good understanding of what we do, and they are thankful."
In a nutshell, even if we don't see enough pharmacists on TV, there is still much more happening behind the scenes.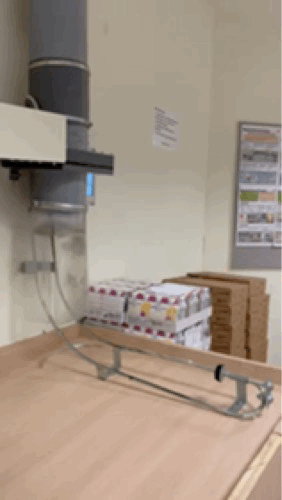 As we move towards a more diverse yet ageing future, pharmacists will be there to make sure we take our medications responsibly.
"If patients do not comply with their medications, they won't be able to better control their chronic illnesses," says Nicholas. "This will result in some serious implications."
Diabetes, strokes, heart attacks: pharmacists can step in to prevent them from happening.
"Our paramount role will be to help people manage illness, so they become healthier, reduce their personal burdens and healthcare costs in Singapore."
Preventive care will soon be the primary focus of our healthcare system under Healthier SG. All Singaporeans will get to work with their chosen family physicians to develop personalised health plans. They will also be able to go for regular health screenings and vaccinations.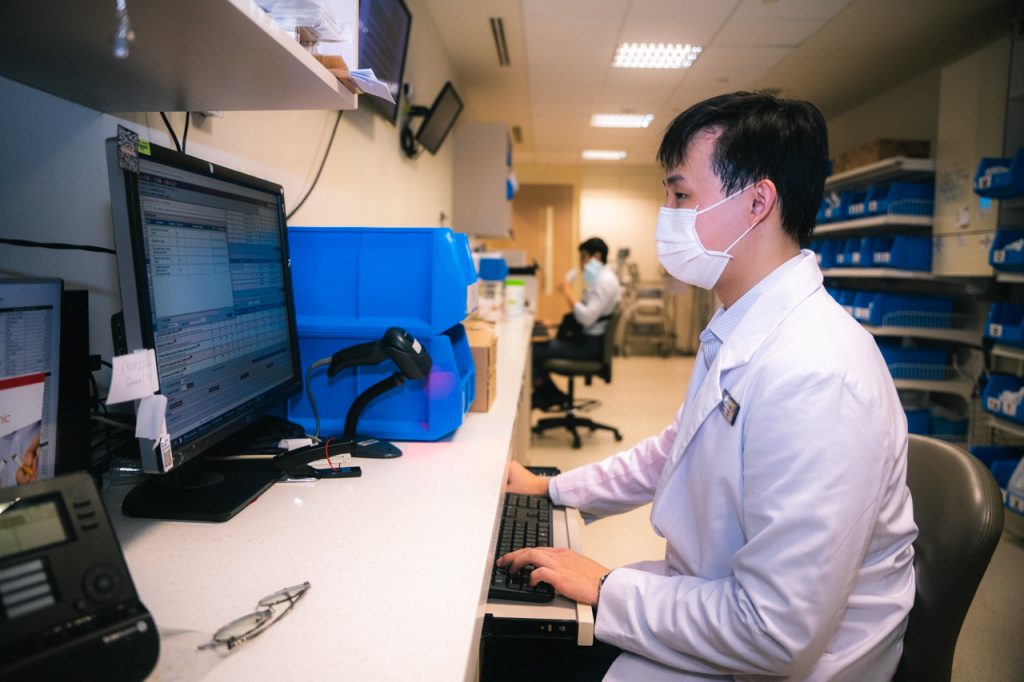 "What we are building is a multidisciplinary team," adds Chi Hon. "We aim to provide patients holistic care at the community level. On the pharmacy side, I believe we will take on more hats under Healthier SG. Some of us would undergo further training to have prescribing authority, others will work closely with patients to ensure they have no issue with the medications."
No "i" In Healthcare
Nicholas and Chi Hon are where they are today after receiving the Healthcare Merit Award from MOH Holdings (MOHH). The award singles out students with distinct academic performance and a zeal for healthcare.
Kelvin believes he won't be able to accomplish his aspirations without the MOHH Healthcare Scholarship, which eased the burden of paying off fees.
Now, he's free to think about going for internships, overseas exchange programmes or additional healthcare-related studies. Kelvin hopes to better understand healthcare systems abroad and bring whatever he learns back to Singapore.
On top of the Healthcare Scholarship Award Ceremony, Kelvin also attended the Healthcare Scholars Induction Camp. In the process, he got to know his fellow scholars that were pursuing other healthcare disciplines.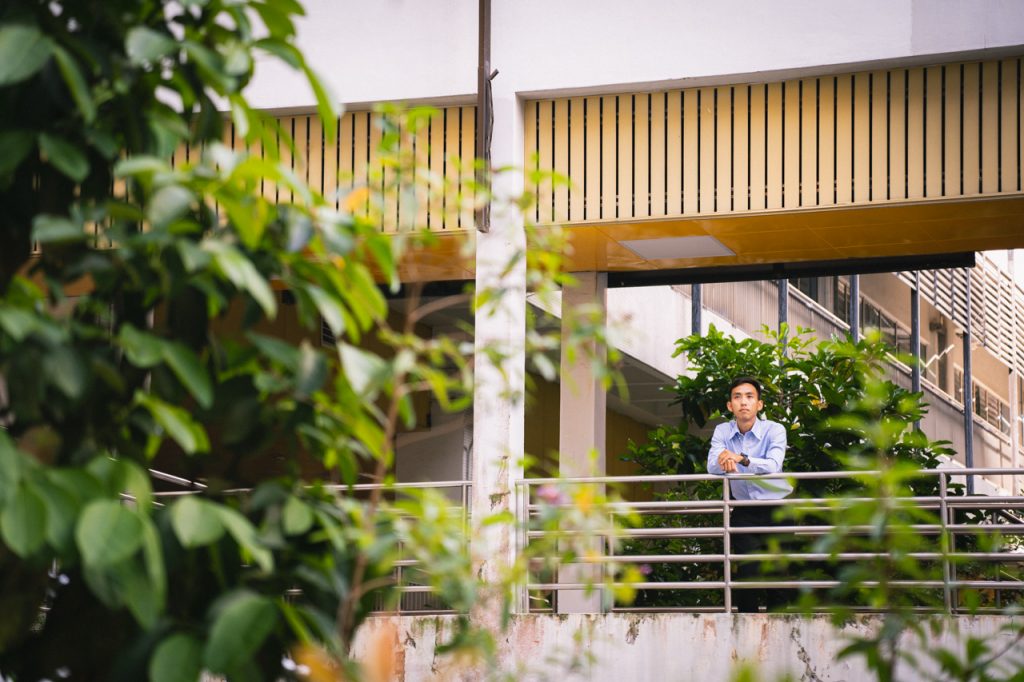 In the long run, Kelvin wants to meet others like him – people who have decided to dedicate their lives to a profession that is often demanding and overlooked. He also wants to form meaningful bonds and network with people outside of the pharmacy circle to find new ways to work together.
After seeing the good that a pharmacist did for his father, Kelvin is paying it forward with the people he knows best: his family.
"I will try to share what I have learnt in class with my family, be it health tips or good routines," says Kelvin.
"I am glad that they take my advice. I guess this is a good start—for myself as a pharmacist and for my family, leading a healthy life. I was once inspired by a pharmacist. Now it's my turn to inspire other people."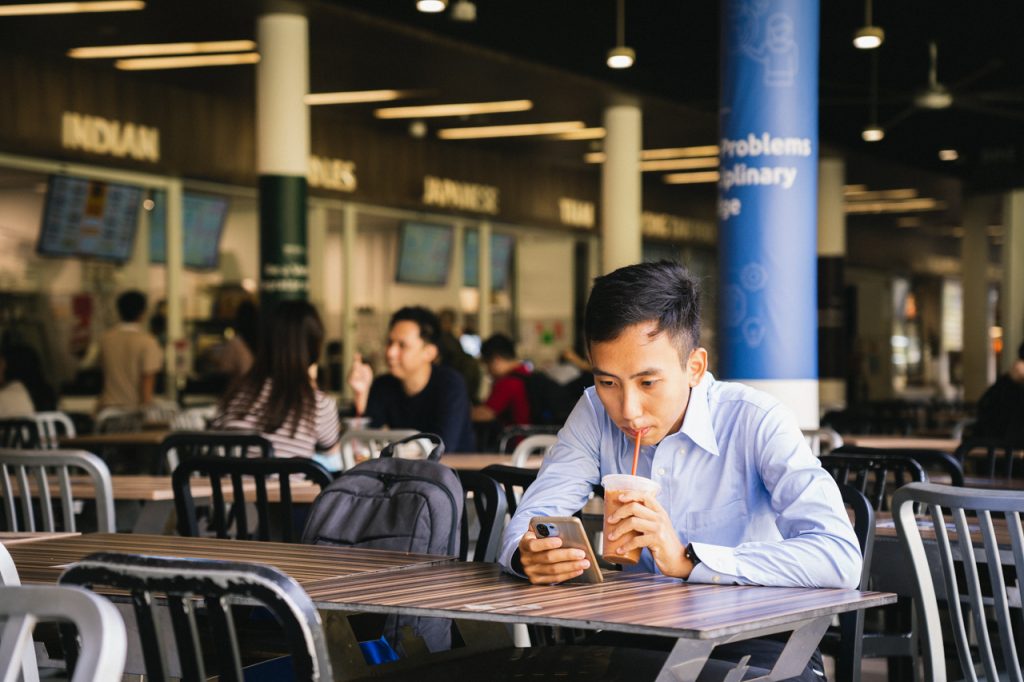 Indeed, pharmacy needs more people like Kelvin, Nicholas, Chi Hon and others who use #whatwedoinpharmacy on Twitter. They're the ones who debunk myths and misconceptions around the profession by showing the public what they do.
Next time, whether we are reading about or meeting a pharmacist or any other healthcare professionals, the truth lies in the details—the healthcare sector is not a one-man show. It's a team effort.
"This is why I think it's very hard to create a TV programme about what pharmacists do," Nicholas says. "We are helping you a lot more than what you see on TV." There may never be a drama series for pharmacists, but perhaps that's the point. Their work is crucial between the escalating moments of intensity, heartbreak and drama.
"The public should feel free to approach any pharmacist," says Chi Hon. "Don't just see us as 'dispensers'. We have the expertise to address many of your medical queries and we are in the community. So, don't be afraid."
---
This article was brought to you by Healthcare Scholarships. The application window for Healthcare Scholarships will open in Sept 2022.
If you haven't already, follow RICE on Instagram, TikTok, Facebook, and Telegram. If you have a lead for a story, feedback on our work, or just want to say hi, you can also email us at community@ricemedia.co.