All images by Hykel Quek for RICE Media unless otherwise stated.
I stand at the solitary bus stop which serves the residents living at Blocks 210 to 218 Marsiling Crescent/Lane.
For residents of the estate, this bus stop is the quickest and most affordable connection to the nearest MRT station—the lone portal to the rest of Singapore.
These blocks recently acquired under the Selective En bloc Redevelopment Scheme (SERS) will make way for the expansion of the Woodlands Checkpoint. It's an upgrade that is intended to meet future traffic demands.
What this means is that the residents here will have to move out of their homes by the first quarter of 2028.
The estate is flanked by Woodlands Waterfront on one side and dilapidated warehouse buildings on the other. It's quiet and tranquil—an old-world charm to the place that is hard to find in the nook and crannies of the city.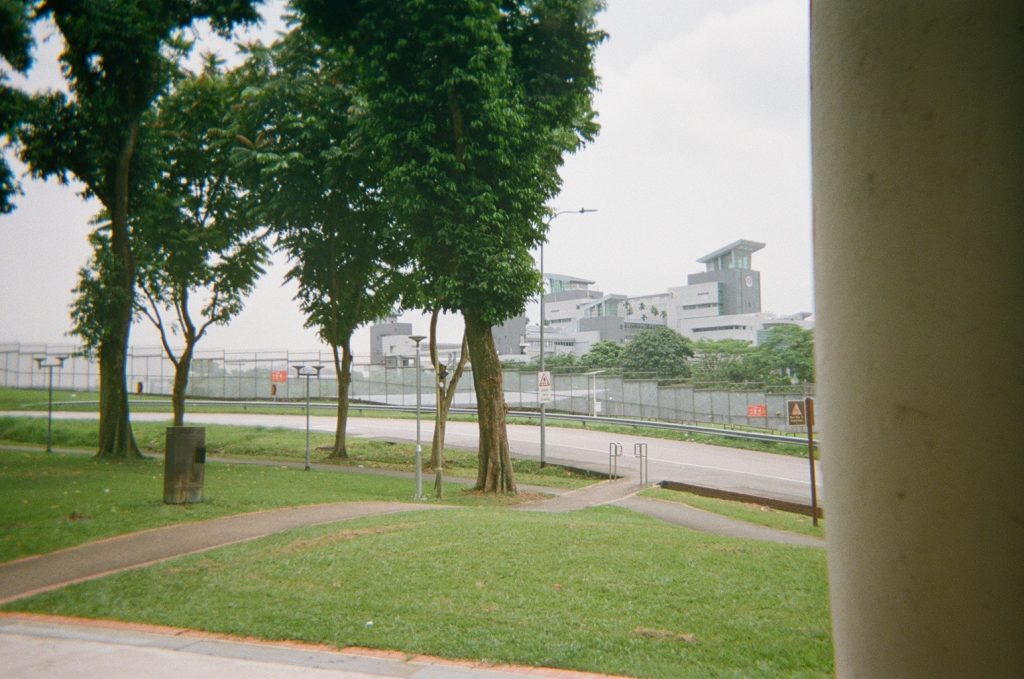 Strain your ears, and you can hear the low-rumbling hum of the traffic of the Woodlands Causeway in the distance. The monotony is occasionally punctuated by the urgent horns of a frustrated motorist—probably looking to clear the borders as quickly as possible.
Very few housing estates in Singapore have such a view. Here, residents are close enough to neighbouring Malaysia to make out blurry outlines of Malaysian vehicles and citizens going about their day.
The Woodlands Immigration & Checkpoints Authority Building stands just beyond the horizon. Against the background of lively Johor Bahru only a mere kilometre away, the building sticks out like a monolith with its wearisome grey hue.
It's a stoic gatekeeper of all who enter and depart. It would also witness the massive overhaul of this part of Marsiling in a few years time.
To Be Displaced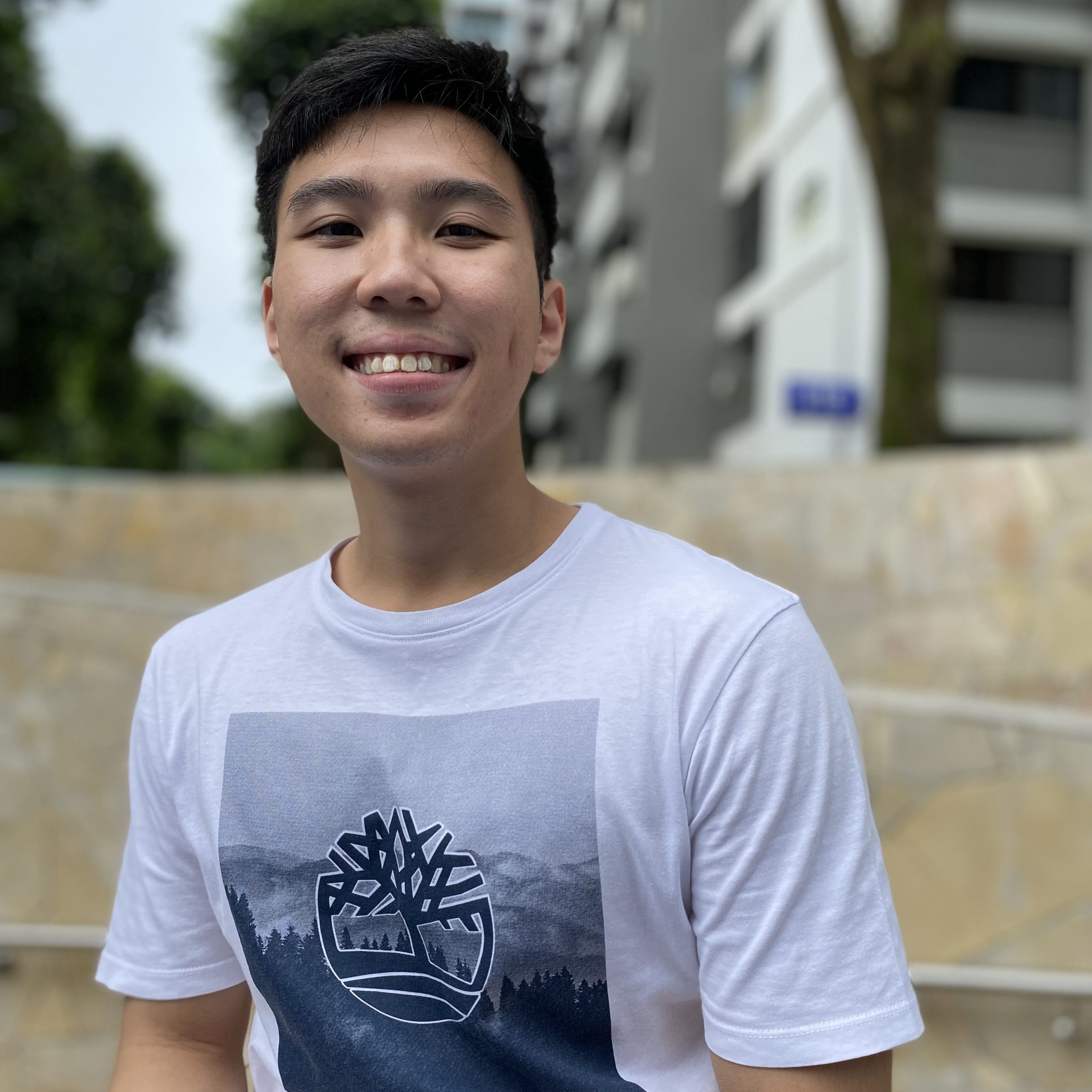 22-year-old Cedric, an undergraduate, has lived at this housing estate for 20 years. When news of the en bloc broke, he was disappointed but not surprised.
Aunties gossip. And gossip travels far. Far enough for Cedric, several decades younger, to hear rumours of a potential en bloc months before the news broke.
"I found out before my family did. I saw the news on my phone and told them," he recalls. We linger at the entrance of Lucky Star Eating House, the main coffee shop of the estate, just after lunch hour.
Living and working on the fringes of Singapore has its downsides. Aside from the Marsiling Market a few bus stops away, it's hard to find a place to dine out.
Lucky Star Eating House hosts them all—estate residents, immigration officers from the checkpoint, and factory workers from the nearby industrial estate.
28-year-old Anis, who works in public relations and has lived in the estate for 23 years, received the news with some amusement.
"I joked around and said I was being displaced. Beyond that, it's kind of a mixed feeling. I knew sooner or later I'll have to move out."
Her levity soon gives way to a more serious reflection of legacy. "When I start my own family, it feels weird that I cannot show my kids my childhood home. It just won't be there anymore."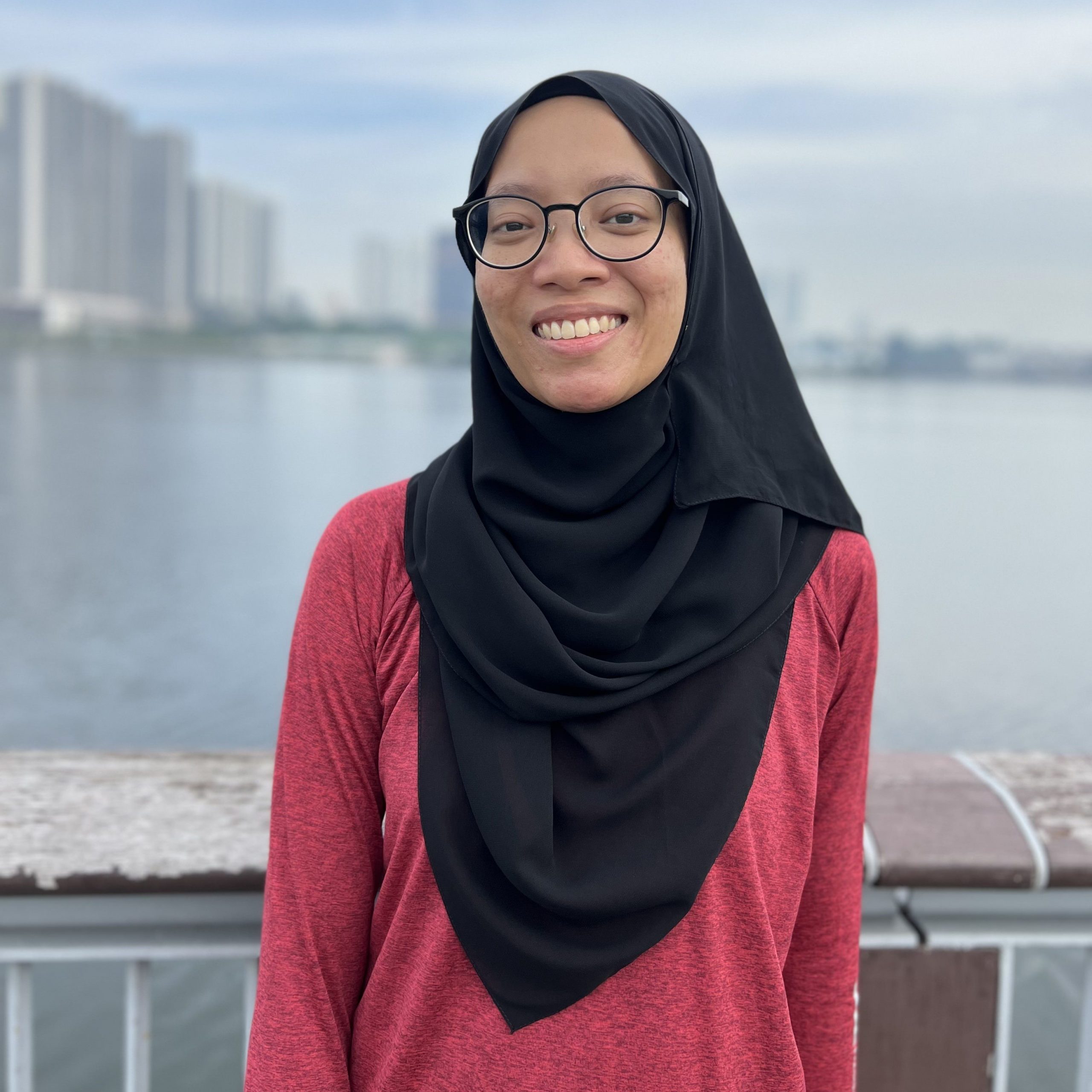 Of course, to struggle with being relocated to a new place in the name of progress is not new in Singapore. OG villagers in Singapore's kampungs gradually resettled in high-rise public flats after the nation gained independence in 1965.
Anis and Cedric, in a striking parallel, are simply part of the same trend. Now, there's a modern twist—from one HDB estate to another one that's yet to be built.
As part of the SERS scheme, residents of the estate are given priority for a new Build-to-Order flat. It's located closer to the heart of Woodlands and comes with a new 99-year lease—a striking (and often lauded) feature of the full compensation package disbursed to them.
Other benefits include a S$30,000 grant to buy a new flat at a subsidised price, and a waiver of administrative and booking fees for the replacement flat, resale levy or premium concessions.
There's also a removal allowance capped at S$10,000 per flat.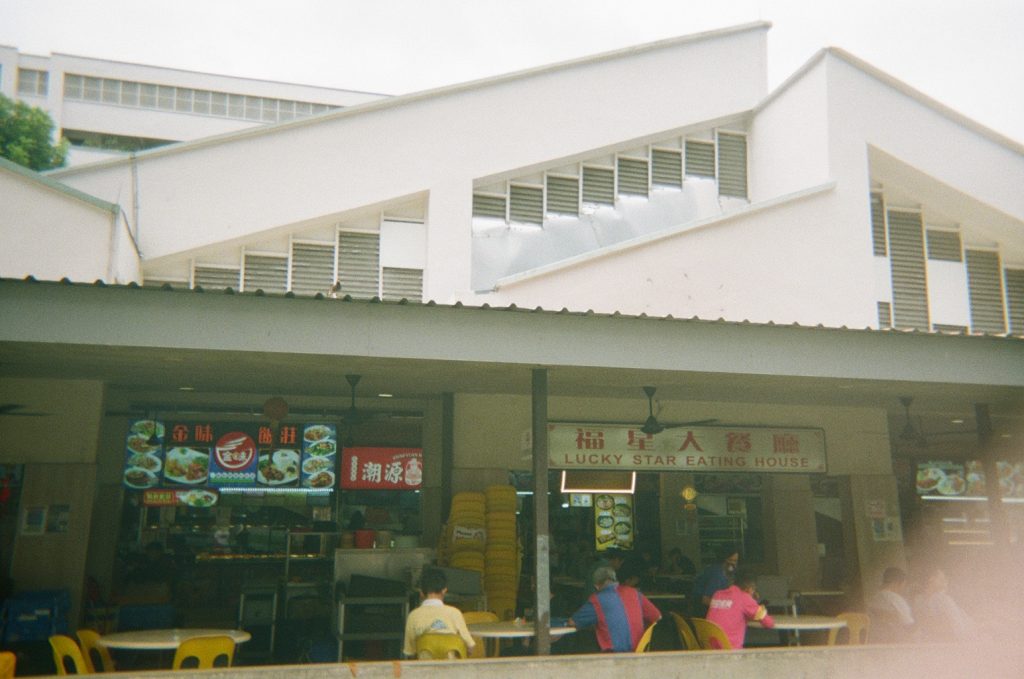 Memories of Marsiling
Still, monetary compensation can only do so much to replace memories tightly tethered to the place.
Cedric tells me that he will miss taking that specific bus route to Marsiling Market on weekend mornings with his family. His feet know the precise path he walks to the estate's lonely bus stop.
He details the route. A sharp left turn which cuts across the perimeter of an empty void deck, across patches of grass beaten down by footsteps, through the stone-laden path for foot massages, and he reaches his destination.
Can you put a price on familiarity and nostalgia? Cedric doesn't think so.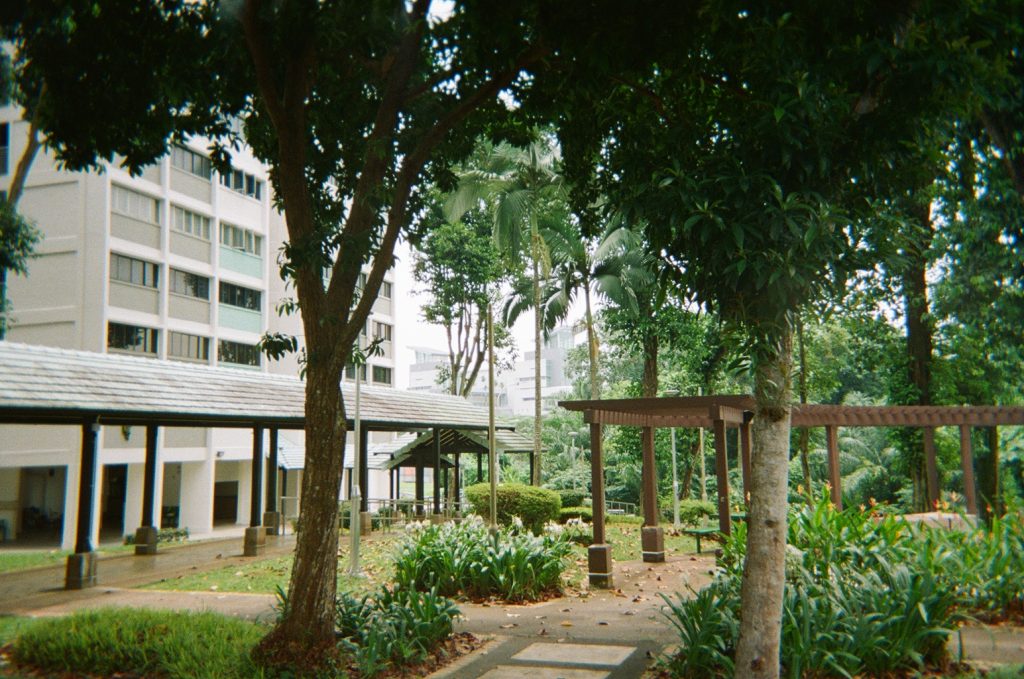 "The estate does not have much longer on its lease. But I'd rather take a shorter lease and keep the place than a new house with a fresh 99-year lease," Cedric ruminates. "Nostalgia and familiarity cannot be quantified."
We traverse the estates' void decks and reach their perimeters. Like a solitary castle, the estate stands on the edge of a gentle slope which leads to the entrance of Woodlands Waterfront. Just beyond it is every Singaporean's go-to getaway for long weekends: Johor Bahru.
Anis tells me that during the lockdown, Malaysians who were barred from crossing the border to return home, would park their bikes at the estate and just stare across the causeway.
Now, the Causeway has resumed its brisk business and reputation as the world's busiest land crossing. Traffic today is, as expected, heavy and slow-moving in both directions. Cars and buses inch forward at a snail's pace. It's the Causeway that never sleeps.
Isolated from the rest of the estate is a fitness corner—Cedric's favourite spot as a calisthenic enthusiast. "I don't think any other fitness corner in Singapore has a view of Malaysia. It's peaceful here and allows me to focus."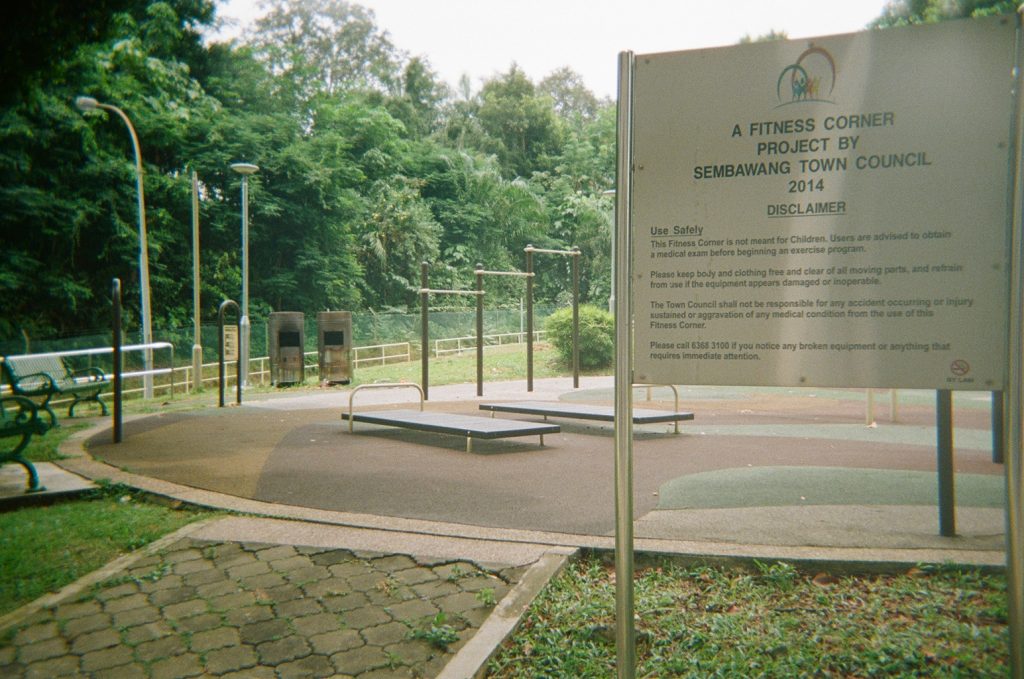 Not Your Typical Neighbourhood Notice Board
Not far away from Cedric's safe space is your typical neighbourhood noticeboard at the void deck. It just so happens that Cedric's favourite spot is closest to the noticeboard that saved Anis' sister's wedding.
"My sister was going to be married at An-Nur mosque near Marsiling Park on a Saturday," Anis recounts. "We already invited some of our neighbours. But the day before, we had to relocate the wedding to the nearby Marsiling Community Club because of government regulations."
"Thankfully, my neighbour had previously collated a directory of some of the residents living in my block with their names and unit numbers on an A4 sheet of paper.
"He pasted it on the noticeboard. So we knew that he had their contact information and he passed it to us." It's for safety, Anis adds on, detecting my apprehensiveness.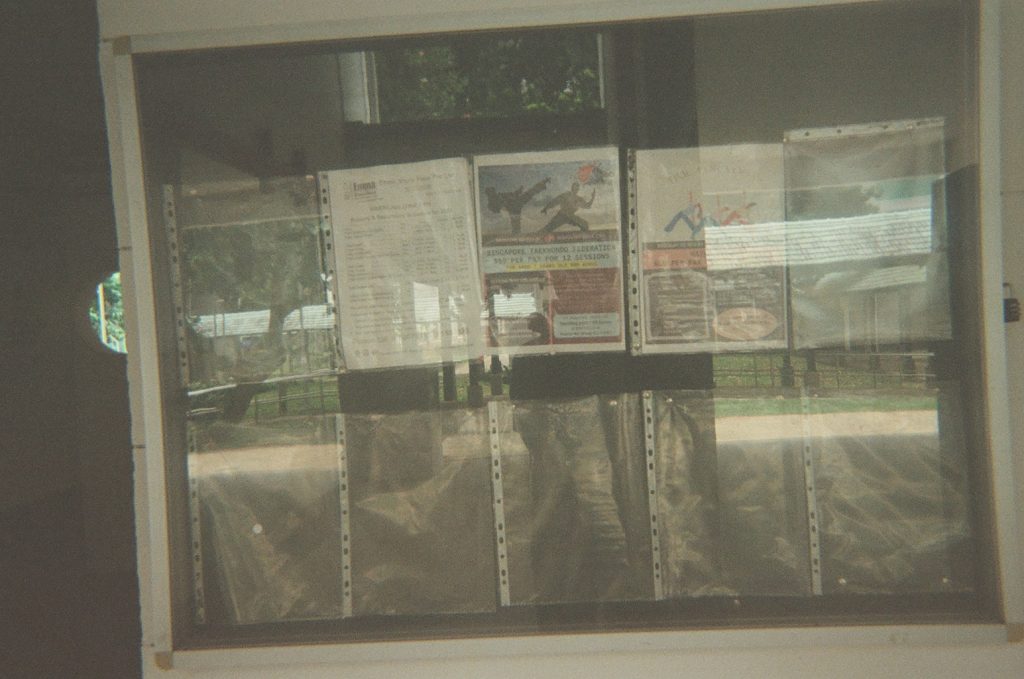 Almost like a public directory, it was hard to suppress my visceral reaction towards possibly inviting strangers to your doorstep.
Perhaps having the information so openly displayed in the neighbourhood can be a positive thing. Folks that are nonplussed about privacy are emblematic of the surrounding culture of the neighbourhood—where residents trust each other enough to have such intimate details out in the open.
Armed with the directory, Anis' family managed to contact and inform their neighbours of the change. Everyone eventually turned up at the right location and time.
Anis looks out into the estate's sprawling open-air carpark—a feature distinctive of older HDB estates, back when space could be afforded. I ask her whether the new 99-year lease compensates for the relocation—the same question I posed Cedric on my previous walkabout. She's hopeful.
"With a new lease, it's a chance for my parents to start anew as they move into a new phase of life. Now, they have grandkids so it's about creating new experiences in a new place," she answers, her gaze still locked onto the car park.
"A lot of the residents are moving to the new place so the atmosphere will be the same. All you want in a new place is good neighbours."
A Tale of Two Countries
Despite their differing opinions about the spanking new 99-year lease, they agree on one thing: to end the walkabout at the Woodlands Waterfront. I gingerly scale down the gentle slope leading to the entrance on both occasions, the expanse of Malaysia opening up.
Cedric admits that he's tired of questions about whether he goes to Malaysia to buy groceries. He doesn't. He does, however, get to enjoy the celebrations of two independent countries.
The first is the televised parade on Singapore's National Day. The second is the fireworks he sees and hears across the causeway on Malaysia's Independence Day.
"It's like my own little Marina Bay. But better," he concludes.
Sure, the sleek imposing Marina Bay Sands towers are quite a view. But, it's not a view of a whole other country.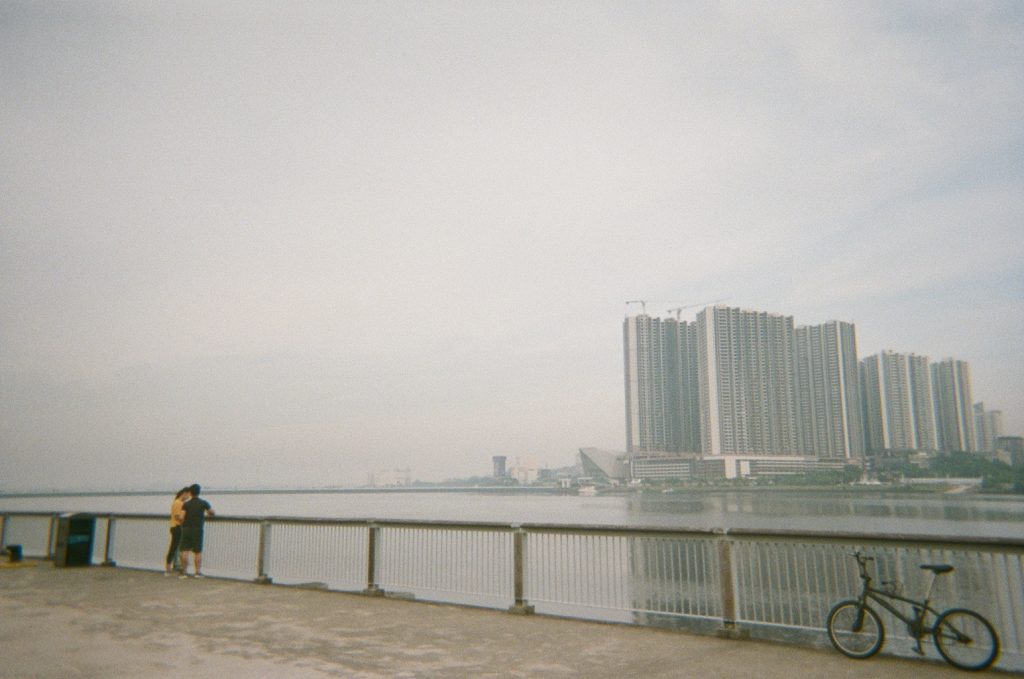 A lone blue umbrella stands at the side of the gentle slope. Under it, lounge chairs are positioned toward Johor Bahru's skyline. "People come here and sit down just to watch the skyline. Sometimes they bring food and drinks and watch the sunset here," Cedric explains as we walk into Woodlands Waterfront.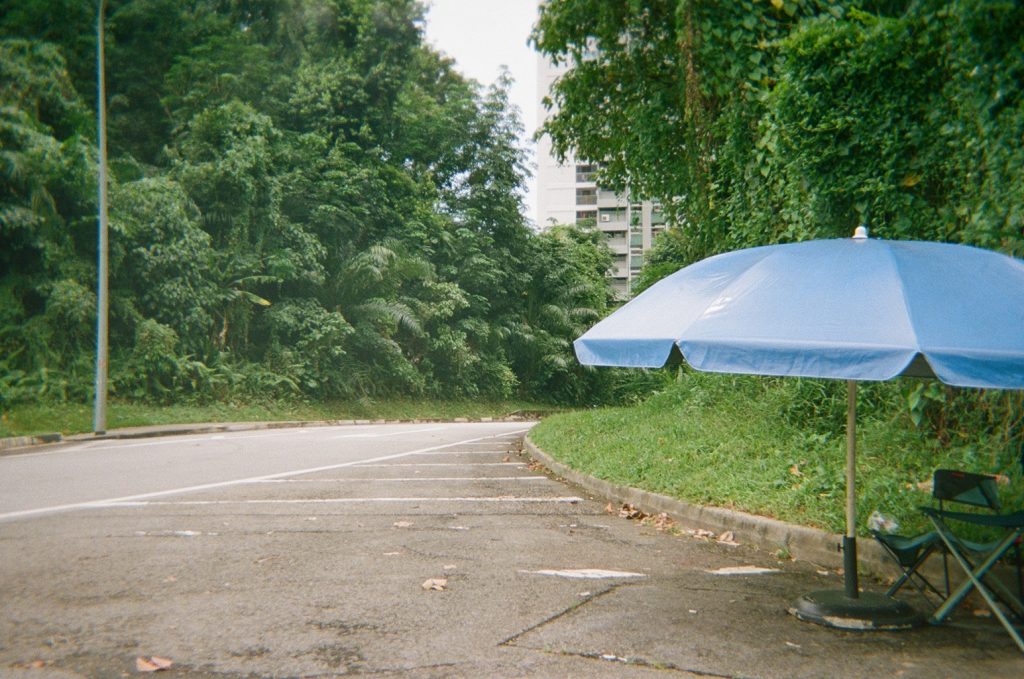 Anis sees the gentle slopes as her private entrance to the waterfront. Being so close to Malaysia, she fits perfectly into the northern resident trope. She often heads into Malaysia for grocery purchases or just to relax after work when bad traffic conditions subside. It's an easy hop over the borders since she can check the traffic simply by sticking her head out of the window.
That said, calling such a unique estate home does come with its own annoyances. Anis receives frequent visits from journalists and photographers asking for quotes or to take pictures of the causeway from her window. About three times a year, she estimates.
"The weirdest question I've been asked was after an interview. The journalist, in a personal capacity, asked whether I was selling the place because he was interested. I think it's the view."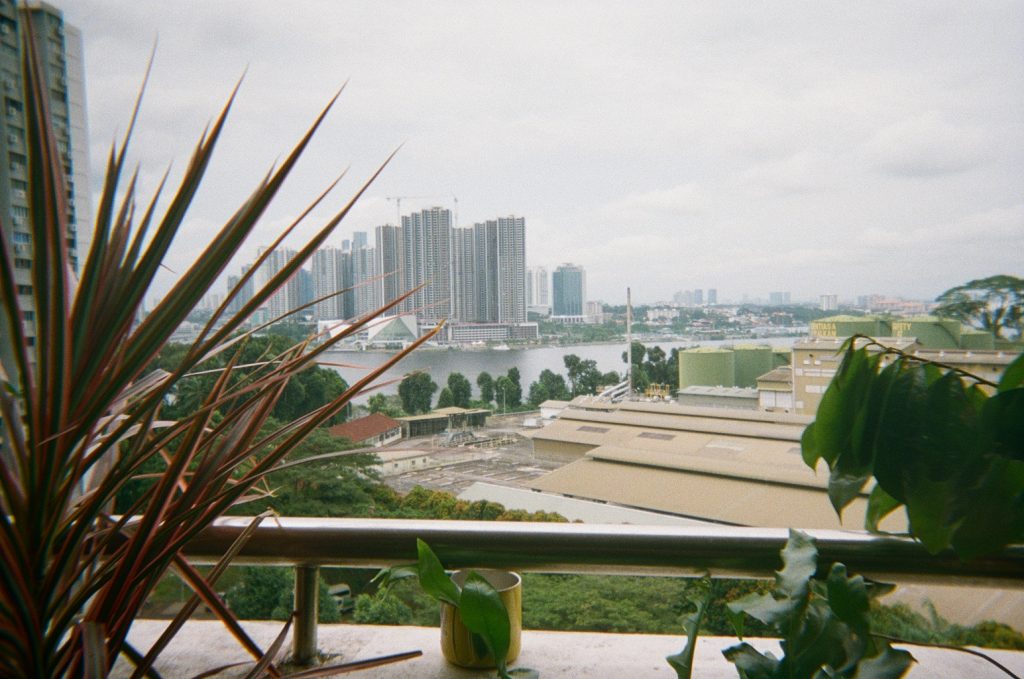 Memories Make a Home
Back at the bus stop, I wait for the only regularly scheduled bus service that takes residents of the estate to the Woodlands Bus interchange. Access to civilisation, I quip to myself.
Perhaps in land-scarce Singapore, where notions of development are equally underpinned by ideas of sacrifice, the quintessential Singaporean feature is one of full acceptance of impermanence. Like people, places change. And change, in most cases, is good—if you're willing to accept it that is.
From disappearing kampongs to merging of JCs—and I hate to employ truisms—flux is the only constant. Especially in Singapore where a place is made and remade several times over generations. And, in some ways, we're lucky if the places that hold our fondest memories still physically stand.
"The scenes of this place are ingrained in my mind. When I move to a new place, I'll probably have to rebuild those memories again," Cedric explains in his closing message.
Access to civilisation, or rather, bus 903 arrives. I snap one last quick picture for my memories' sake as I leave the estate. I make a mental note to visit the Marsiling Estate one last time before it transforms and disappears into the new Woodlands Checkpoint.
---
If you want to share your story with us or have feedback on our work, email us at community@ricemedia.co. If you haven't already, follow RICE on Instagram, TikTok, Facebook, and Telegram.